Malaysian Grand Prix, full report all three classes
Maverick Viñales put in a formidable performance at the Shell Malaysia Motorcycle Grand Prix, picking up his second win of the 2019 season in emphatic style. The Spaniard raced clear of a recovering second-place Marc Marquez, with Andrea Dovizioso fending off Valentino Rossi for P3.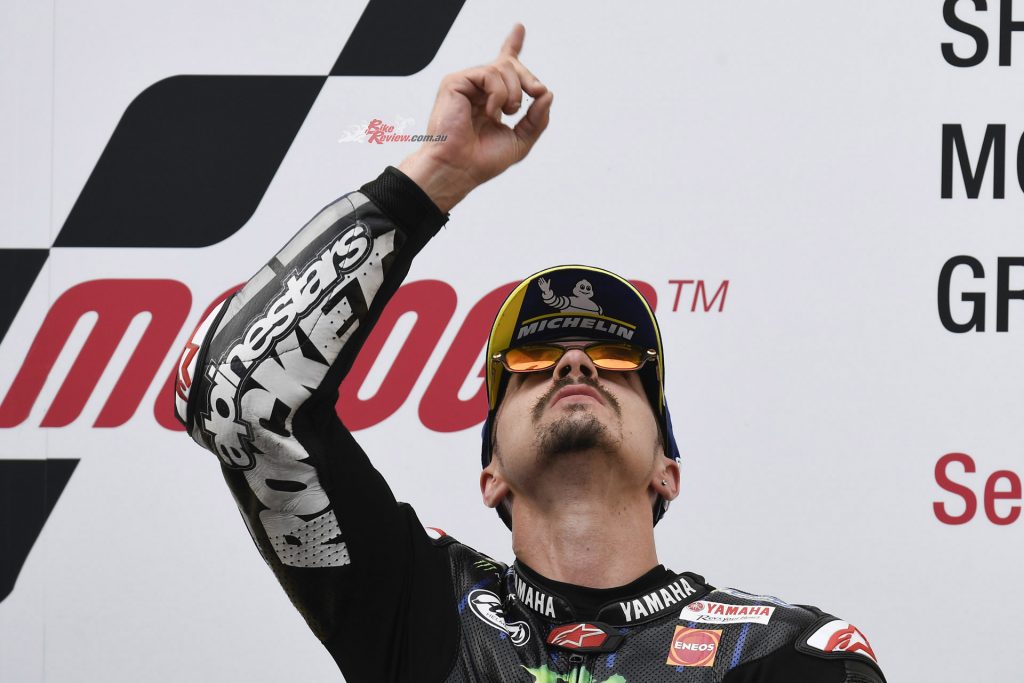 It was Jack Miller (Pramac Racing) who somehow shot up for the holeshot from the second row, the Aussie bravely heading round the outside to take the lead from front row starter Franco Morbidelli (Petronas Yamaha SRT) as his teammate – and polesitter – Fabio Quartararo lost out. Marquez and Dovizioso, meanwhile, had made lightning starts to move through from P11 and P10 respectively, already well up in the fight at the front. At the very front though, Viñales was already stalking his prey.
It didn't take long for the number 12 to strike, snatching the lead from Miller at Turn 11 as Marquez passed Morbidelli for P4. A frantic first lap wasn't over yet though, as Dovizioso then battled Miller for P2 at Turn 14 and Turn 15 and both headed wide – allowing Marquez to pounce. He sat Miller up, but the Australian shot back past heading into Turn 1. That was only good news for Viñales, with the Spaniard already six tenths clear at the front.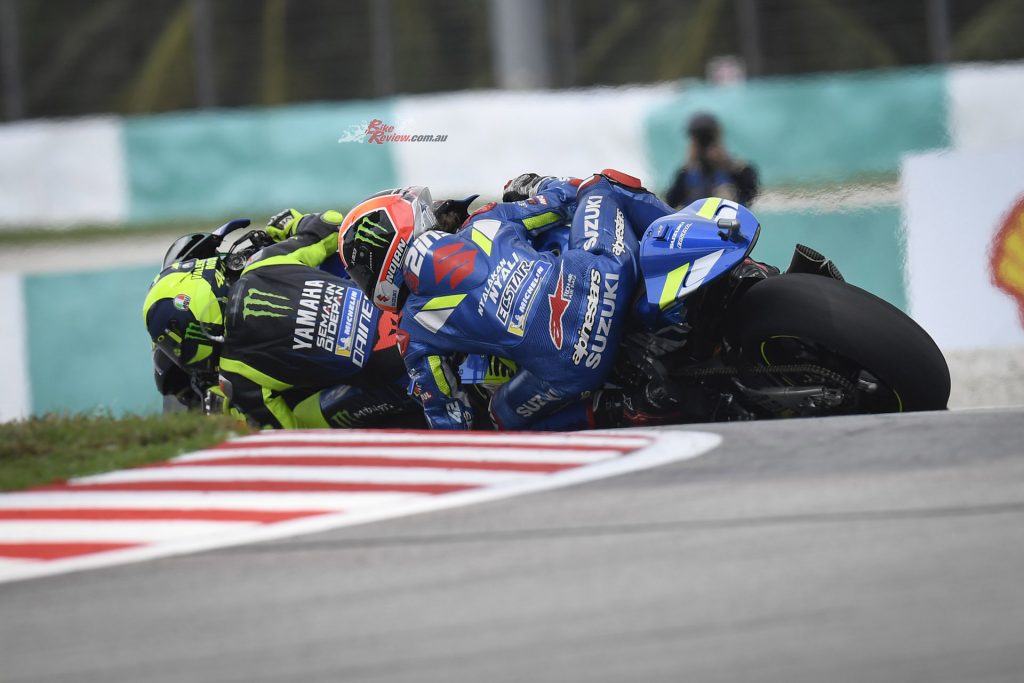 Like Australia, Marquez said, he knew he had to try and get in behind the Yamaha to stay with him and it didn't take too long for him to finally dispatch Miller. Reeling Viñales in, however, looked like a serious mountain to climb this time around, with the gap well over a second. A tenth here and a tenth there got chipped away, but the number 12 machine in the lead had a healthy gap – and wasn't for slowing down.
It seemed, then, that the fight behind Marquez was going to remain the fight for third. Dovizioso grabbed it from Miller on Lap 4 and Rossi was threatening too, with 'The Doctor' finally dispatching Miller not too long after – and the Australian suffering an almighty moment as he hung on to his Ducati.
Shortly after that, things got even more heated between Miller and Alex Rins (Team Suzuki Ecstar) at the final corner as Rins went for the inside and the two made contact. A front bit of fairing flew off the Suzuki and both stayed up, but they were forced to watch the fight for third between Dovizioso and Rossi start to peel off into the distance.
Even further into that distance, the timing screens signalled Viñales had broken his rivals. A second and a half became nearly three as a mistake became the only hurdle between him and the win, with Marquez equally safe in second. And a mistake never came from either, with Viñales pitch perfect to take his – and Yamaha's – second win of the season and bounce back from Australia in incredible style. Marquez took second and gained an impressive nine places on the way after his Q2 crash.
The fight for third, try as he might, would not go the way of Rossi. Rins had closed in to make matters even closer, and every advance 'The Doctor' made on the Ducati was repelled as the Suzuki also started to threaten. Dovizioso, as ever, was a demon on the brakes and the nine-time World Champion just couldn't make a move stick, although a few lunges at it made for a great battle between the two Italians. 'DesmoDovi' took it by a few tenths over the line, with Rossi forced to settle for fourth and Rins completing the top five.
Miller, meanwhile, slipped back into the clutches of the Petronas Yamaha SRT duo and Johann Zarco (LCR Honda Idemitsu). Morbidelli came out on top in that fight for sixth and he was top Independent Team rider in the race on the team's home turf, and that combined with Quartararo's tougher day at the office in seventh nevertheless means Petronas Yamaha SRT are Independent Team Champions too. Miller took P8, and Zarco, sadly, didn't finish.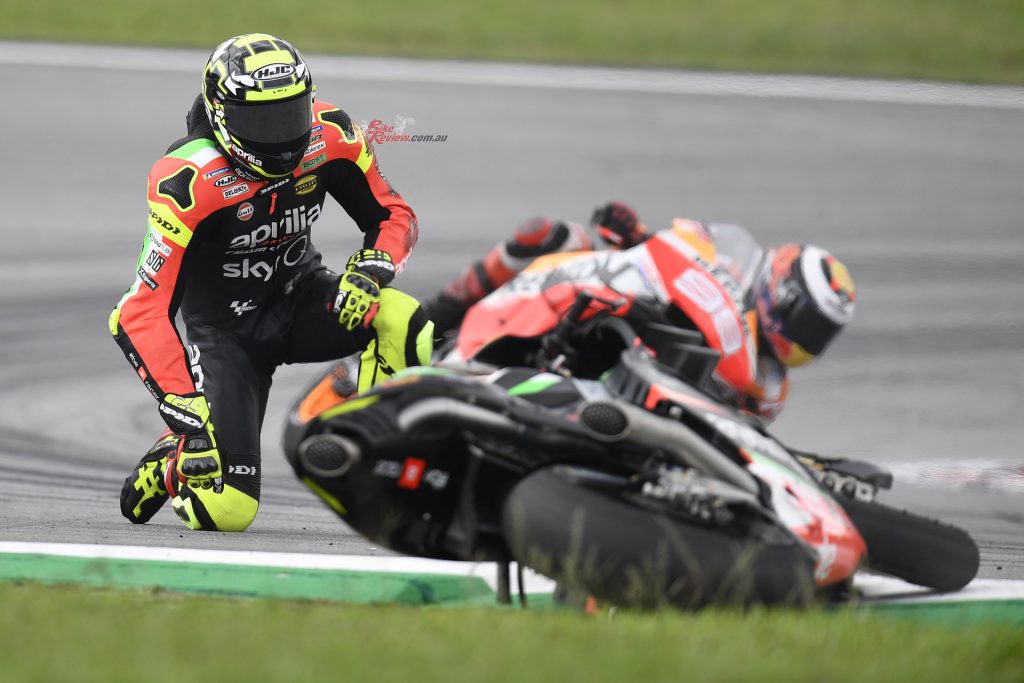 The Frenchman showed a big step forward in his second race weekend on a Honda, but it ended early after a pass from Joan Mir (Team Suzuki Ecstar) went awry, crashing Zarco out of the top ten. Mir would get a Long Lap Penalty for the incident, and that dropped him back below Danilo Petrucci (Ducati Team), who took ninth.
Pol Espargaro (Red Bull KTM Factory Racing) battled through to take P11, ahead of a close duel between Francesco Bagnaia (Pramac Racing) and Aleix Espargaro (Aprilia Racing Team Gresini) that went in favour of the Italian. Jorge Lorenzo (Repsol Honda Team) beat Mika Kallio (Red Bull KTM Factory Racing) to 14th as the two completed the points.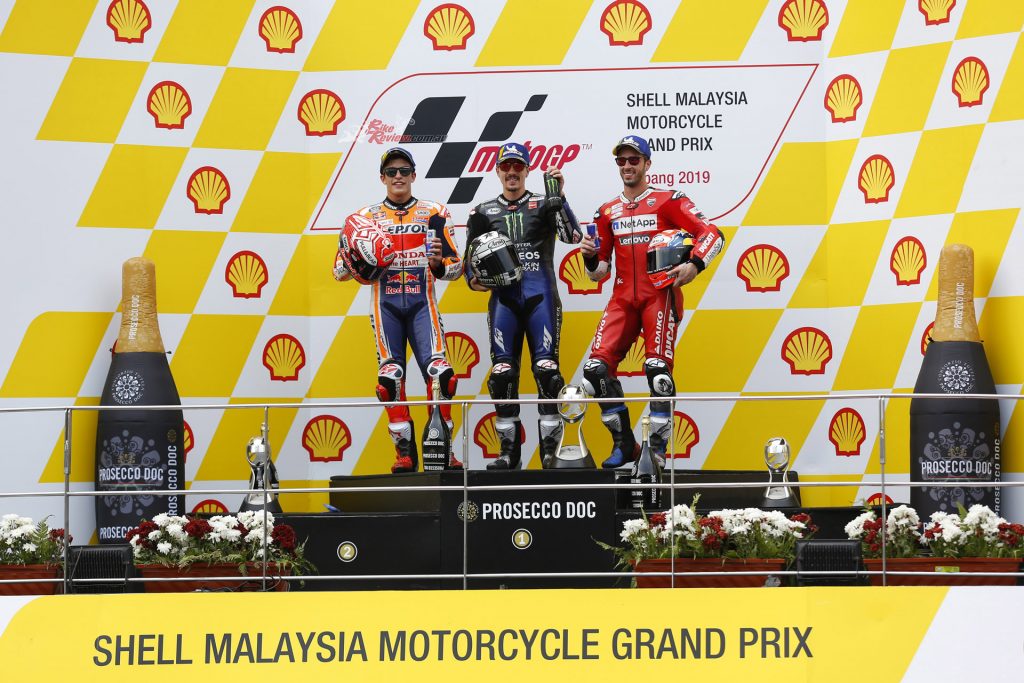 Maverick Viñales: "Honestly I have to say this is one of the times in life I've been the happiest. After the Australia crash I felt I won the race, because I attacked in my head…but then actually crashed. It was a bit of a disaster but we arrived here with everything clear, the bike was on a great level all weekend from FP1 since the first laps so we pushed, pushed and pushed and made a gap, which was important. I then tried to control the race which wasn't easy; especially mentally it was very tough, but I have to congratulate the team because all weekend they did an awesome job."
MotoGP results: full results here
1 – Maverick Viñales (SPA – Yamaha) 40'14.632
2 – Marc Marquez (SPA – Honda) +3.059
3 – Andrea Dovizioso (ITA – Ducati) +5.611
Moto2
In the Shell Malaysia Motorcycle Grand Prix, Brad Binder (Red Bull KTM Ajo) did all he could to take the Championship down to the wire against Alex Marquez (EG 0,0 Marc VDS) as the South African won for the fourth time this season, but it wasn't quite enough. Marquez took second under immense pressure to wrap up the crown, with another key rival, Tom Lüthi (Dynavolt Intact GP), completing the podium.
It was Binder who took the holeshot, the KTM rider slicing straight across off the line to cover Marquez and staking an early claim on the win. But the number 73 stayed calm and retained second, a few important places ahead of Lüthi as the Swiss rider failed to gain from fifth on the grid.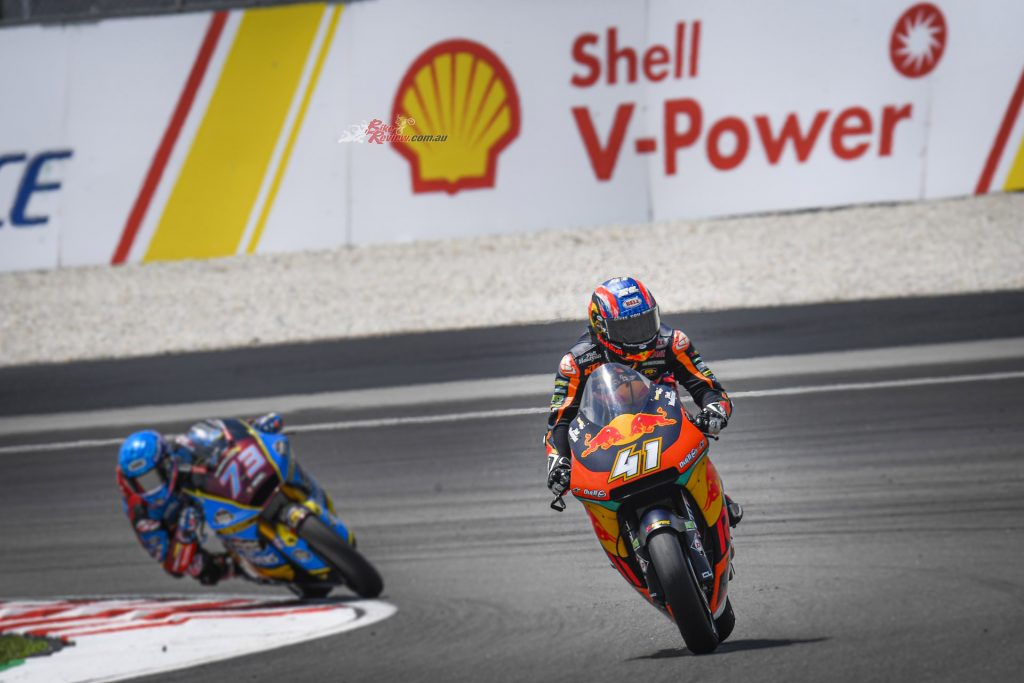 Early on it seemed the front two had the pace to escape, but a moment for Marquez at the final corner was a definite warning shot as the Spaniard had to fight off front row starter Nagashima to keep second. That he did, however, and he set off on the chase behind Binder once again before the South African made an error of his own.
An open door on Lap 3 saw Binder relinquish the lead AND let Nagashima through as Marquez was left in some clear air at the front, but with the tables turned the number 41 was equally able to cut the gap. And when the pass came, it was pretty brutal. After a quick look at the final corner that Marquez repelled, Binder attacked at Turn 1 and pushed both slightly wide – emerging on top as the number 73 was forced back into second.
The cat and mouse would be played out in pace from then on, with Binder able to stay a few tenths ahead and Marquez solid in second, holding a similar gap back to Lüthi. The Swiss rider had very much arrived on the scene, nipping past Nagashima after an error from the Japanese rider.
The three men at the top of the standings were now in their own private battle, and none would budge. A bit of time gained here became some lost there, and all that was left for each to do was stay calm under the pressure. Binder did that to cross the line for victory number four of the year, but Marquez was equally steadfast. The number 73 took podium number 10 to crown himself Moto2™ World Champion as Lüthi took another rostrum in third, agonisingly close to keeping the battle alive to Valencia.
Fourth went the way of Vierge after a solid ride, with Jorge Navarro (Beta Tools Speed Up) completing the top five for an improvement on a tough Saturday. Iker Lecuona (monday.com American Racing) beat Lorenzo Baldassarri (Flexbox HP 40) to sixth, with Nagashima ultimately crossing the line in eighth. Marcel Schrötter (Dynavolt Intact GP) and last year's winner, Luca Marini (Sky Racing Team VR46), completed the top ten.
Augusto Fernandez' (Flexbox HP 40) tougher run of form continued in P11, ahead of Nicolo Bulega (Sky Racing Team VR46), who was top rookie. Fellow debutants Fabio Di Giannantonio (Beta Tools Speed Up), Jorge Martin (Red Bull KTM Ajo) and Marco Bezzecchi (Red Bull KTM Tech 3) all crashed out, so the fight for Rookie of the Year goes down to Valencia with 'Diggia' ahead.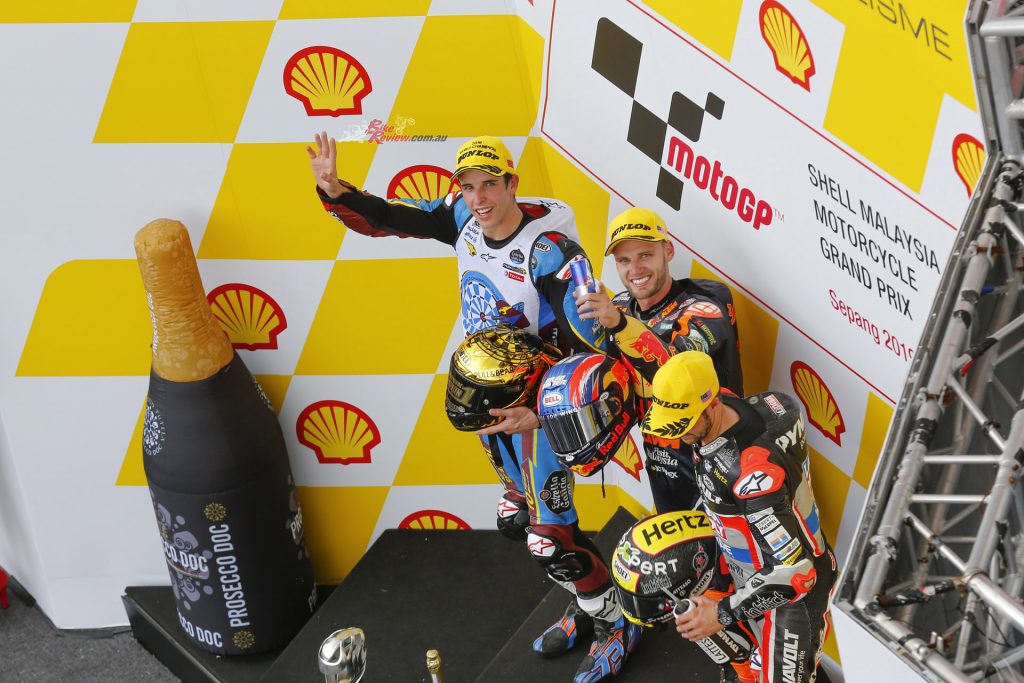 Mattia Pasini (Tasca Racing Scuderia Moto2) was 13th, with Remy Gardner (ONEXOX TKKR SAG Team) able to take P14 despite an incident with Sam Lowes (Federal Oil Gresini Moto2). Dominique Aegerter (MV Agusta Temporary Forward) completed the points.
Brad Binder: "We did everything we had to do, everything within our power we accomplished today. We knew it was an outside chance coming here because we knew it would need a lot of bad luck for the other guys. At the end of the day we did our job and that's that, to walk away with the win today was incredible and we'll just keep building for the future.
"I almost crashed, as I went for the front brake I didn't realise how much less front grip there was than all weekend and I locked the front wheel, I was lucky to stay on! But all in all I can't complain, it was a good race and I did my best. It was mistake free except that one…oh and I also almost crashed on the last lap to be fair!"
Moto2 results: full results here
1 – Brad Binder (RSA – KTM) 38'07.843
2 – Alex Marquez (SPA – Kalex) +0.758
3 – Tom Lüthi (SWI – Kalex) +2.683
Moto3
Lorenzo Dalla Porta (Leopard Racing) made it four wins so far this season with an impressive victory in the Shell Malaysia Motorcycle Grand Prix, attacking on the final lap to escape the huge fight for second. Sergio Garcia (Estrella Galicia 0,0) took his first ever Grand Prix podium in second, with Jaume Masia (Mugen Race) completing the podium after a stunning comeback from last on the grid. The Spaniard didn't get away for the Warm Up lap and faced a mountain to climb.
It was Tatsuki Suzuki (SIC58 Squadra Corse) who took the holeshot from second on the grid – or it seemed so – but Arenas had different ideas as the KTM rider shot through from third into the lead out of Turn 1. Polesitter Marcos Ramirez (Leopard Racing) was quick to attack, however, taking over at the front and Suzuki then following him through. The Japanese rider took over at the front not long after as the freight train settled in, but drama wasn't far away.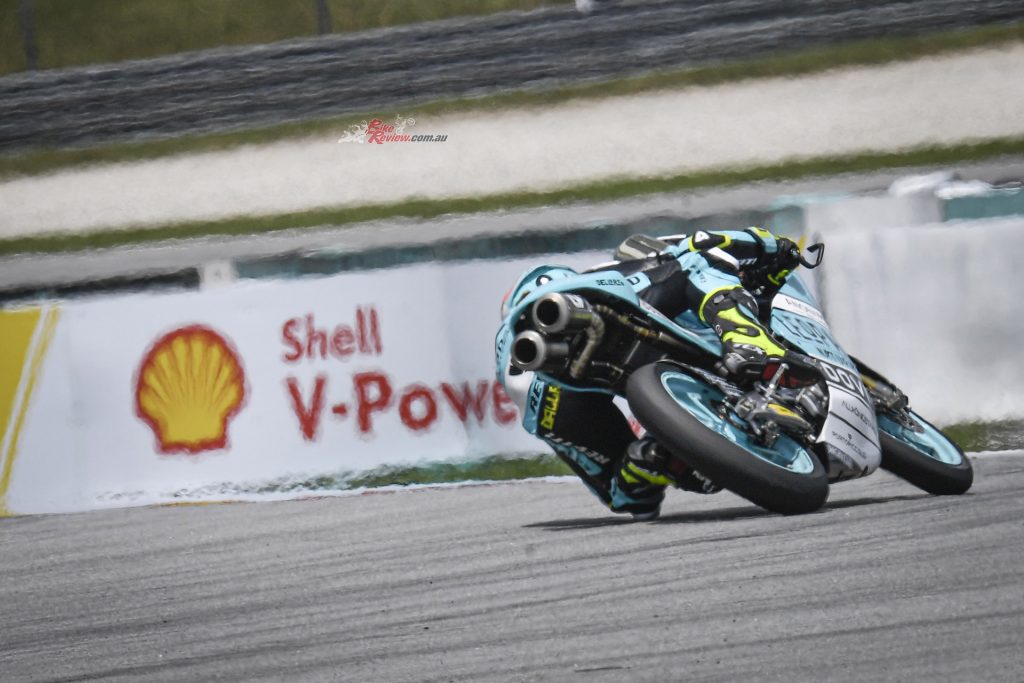 A few laps in it was Gabriel Rodrigo (Kömmerling Gresini Moto3) heading the race but the Argentinean then suddenly highsided from the lead, with Suzuki unable to avoid him and immediately caught out before Alonso Lopez (Estrella Galicia 0,0) also hit the stricken bike. That left a gap in the group and a gaggle of four up ahead – Celestino Vietti (Sky Racing Team VR46), Dalla Porta, Albert Arenas (Gaviota Angel Nieto Team) and a stunner from Masia, who was up from the back.
On the chase there were a few fast names, however, and sure enough the likes of Tony Arbolino (VNE Snipers), John McPhee (Petronas Sprinta Racing), Garcia and Aron Canet (Sterilgarda Max Racing Team) closed them back down, recreating the freight train.
And so, back to a ten-rider fight for the win, from Dalla Porta and Vietti to Ramirez in P10, the heat was on as the elbows started to come out. By the final lap it was a smaller squabble but some familiar names at the front, with Dalla Porta leading over the line for the penultimate time – and Vietti looking a likely candidate to challenge him to the wire.
Into Turn 1, the rookie struck for the lead but the World Champion was quick to respond at Turn 4 as Vietti struggled to keep it under control, initially losing the position but then able to turn that into a counter attack to slice back into the lead. Dalla Porta again fought back, this time at Turn 9, and that would be all she wrote for the race win as Vietti then got shuffled a couple more places back just behind him.
The number 48 shot towards the final corner with a healthy enough gap and a little breathing space, but there was little of that in the fight to complete the podium. With Garcia, Arenas, Vietti, Ai Ogura (Honda Team Asia), Ramirez and McPhee all within at least a shout of a rostrum, the last corner was the decider and earlier for some.
Arenas was the man who lost out first as he slid out of contention, with Garcia coming out on top in the fight for second and Masia completing his pretty fairytale-esque race as he completed the podium from the very back of the grid. Ogura got the better of Vietti and ensures the Rookie of the Year fight rolls on to Valencia, with the Italian left off the rostrum despite an impressive race.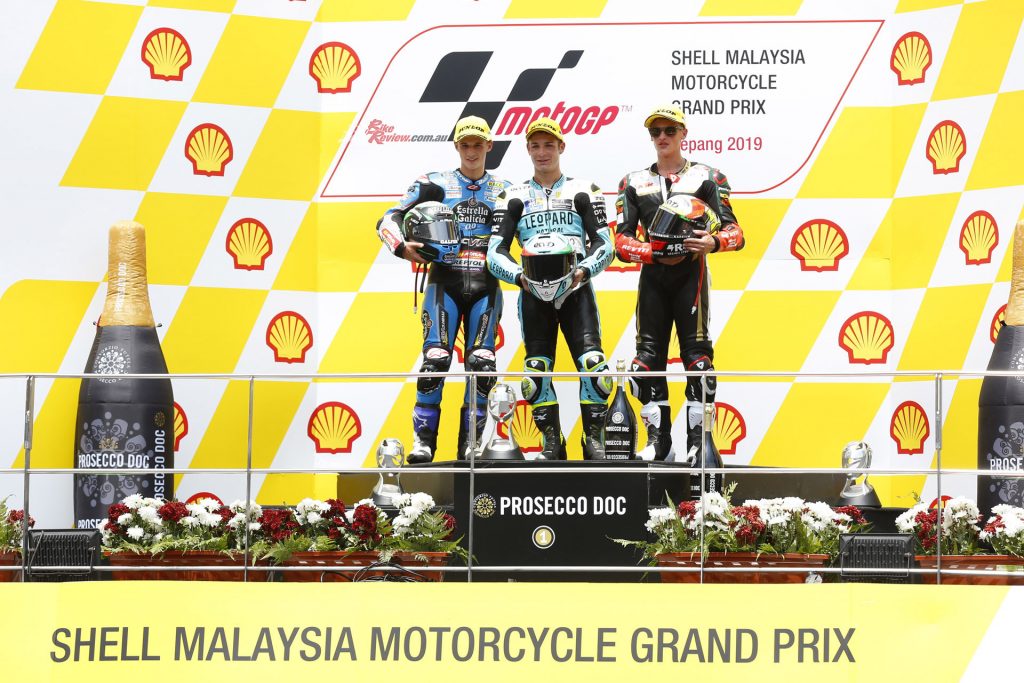 Ramirez recovered to sixth after running off avoiding the early race Rodrigo-Suzuki-Lopez incident, getting the better of McPhee as the Scot took a solid seventh. Canet was a little further back in P8 although he pulled out a few tenths on Arbolino, with Niccolo Antonelli (SIC58 Squadra Corse) completing the top ten as he continues he fight back to full fitness.
Romano Fenati (VNE Snipers) took P11 ahead of Arenas, who managed to remount and take points, with Filip Salač (Redox PrüstelGP), Raul Fernandez (Gaviota Angel Nieto Team) and Riccardo Rossi (Kömmerling Gresini Moto3) completing the points.
Ayumu Sasaki (Petronas Sprinta Racing), Andrea Migno (Mugen Race) and Kaito Toba (Honda Team Asia) crashed out in an incident, with Darryn Binder (CIP-Green Power) another man who'd been in the fight before crashing out. Sasaki was declared unfit due to a hand fracture.
Lorenzo Dalla Porta: "I said it to the media in pitlane and in the interviews on the grid that I just wanted to enjoy this race and win, so I did simply that – enjoy it and take victory in the race. It's fantastic to do it, and thank you to all of my team and to my family!'"
Moto3 results: full results here
1 – Lorenzo Dalla Porta (ITA – Honda) 38'01.355
2 – Sergio Garcia (SPA – Honda) +0.401
3 – Jaume Masia (SPA – KTM) +0.803