MotoGP: Sunday Race Reports From Rd 8 In Germany
Eleven races in a row, eight in MotoGP, 30 laps, 25 points and 581 days: an emotional return to the top step sees eight-time World Champion, Marc Marquez, remains unbeaten in Germany. It's been a tough year for the Spanish rider, but this could just be the morale boost he needs.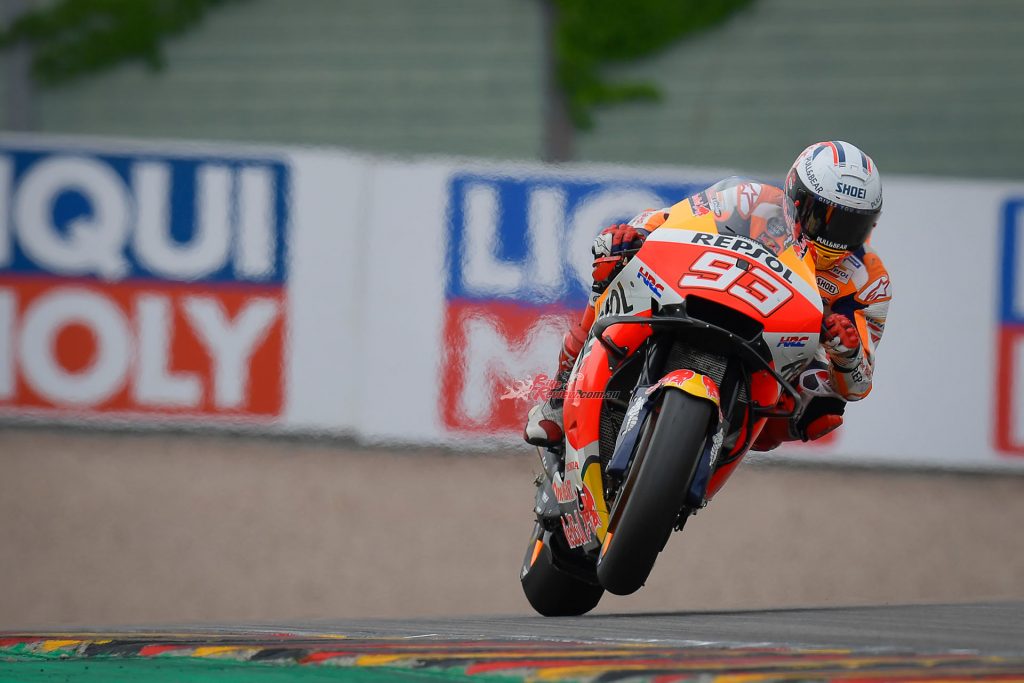 581 days ago, Marc Marquez (Repsol Honda Team) stood atop the MotoGP podium in Valencia. It was a normal Sunday for the eight-time World Champion, another notch in an ever-increasing roll call of history made and victories earned. There was no Covid-19, the grandstands were full and always had been, and the number 93 was on top of the world.
Three surgeries, nearly a season on the sidelines and a whole different world later, Marquez is back on top of that rostrum – and he did it in style. Taking over at the front early on and then putting the hammer down even as rain threatened, the number 93 withstood ever-increasing pressure from Miguel Oliveira (Red Bull KTM Factory Racing) to take his 11th win in a row at the Sachsenring, which is also his eighth in a row at the venue in the premier class. 30 laps leading to 25 points, prefaced by 581 days.
---
---
Oliveira pushed as much as he could but makes it three podiums in a row as he comes closer than most ever have – or will – to taking the throne from the King of the Ring, with Fabio Quartararo (Monster Energy Yamaha MotoGP) increasing his Championship lead in third place.
It was Aleix Espargaro (Aprilia Racing Team Gresini) who took the holeshot from the off though, with Marquez blasting through into second and standing Quartararo up as the number 93 made it immediately clear he'd be racing to win in Germany. Johann Zarco (Pramac Racing) then struck against Quartararo too as El Diablo initially lost out a little, with one man doing the opposite: Brad Binder (Red Bull KTM Factory Racing). The South African stormed up from P13 to seventh on Lap 1.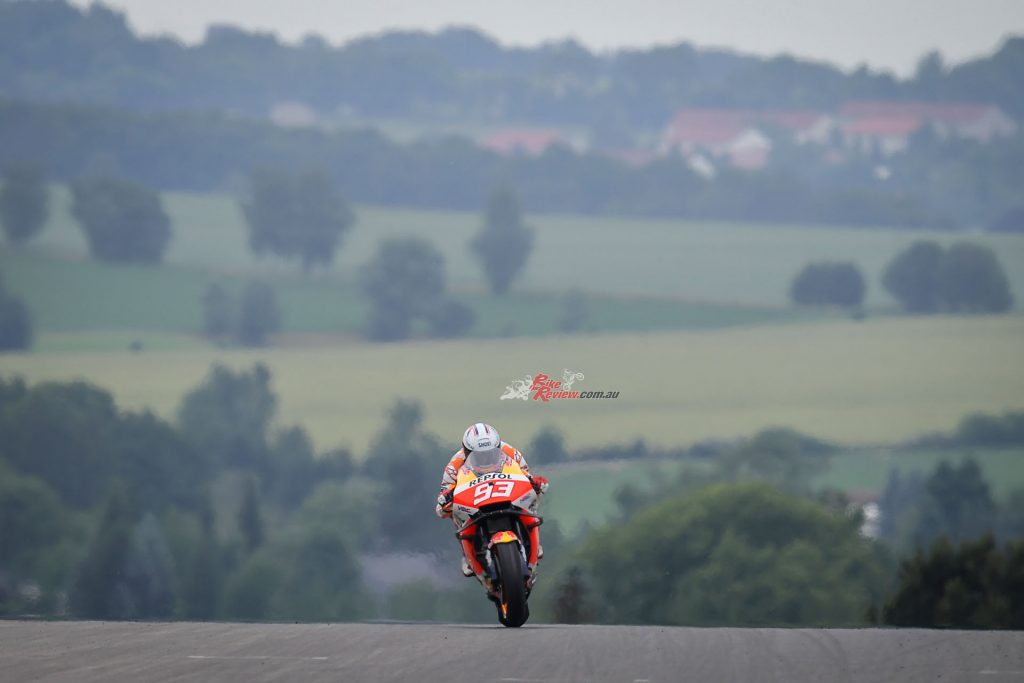 By the end of said Lap 1, there was another move further ahead as Marquez struck for the lead at the final corner. Past the Aprilia of Aleix Espargaro there and staying ahead into Turn 1, it was a statement of intent but the number 93 couldn't shake him off just yet. Next time around the two went toe-to-toe again, but Marquez retained that lead… and then began to grow it as the white flag came out.
The Sachsenring is no stranger to spots of rain, and as a few began to fall the flag showed that riders could, if they so chose, come in to change bikes. Marquez' reaction to that, as Aleix Espargaro dropped back, was to push even more – and sure enough, the bravery paid off with a nice cushion leaving him with some breathing space at the front.
---
---
Meanwhile, Jack Miller (Ducati Lenovo Team) and Oliveira had made their way past Quartararo and then Zarco before also slicing through on Aleix Espargaro. By a third of the race run, Oliveira struck against Miller too, the Portuguese rider taking over in second and inheriting the task of trying to chase down Marc Marquez at the Sachsenring. But boy, did he try.
Two seconds became 1.9 became 1.8, with the KTM rider in the groove as he tried to haul in every meter possible on a charge for the front. Chipping away a tenth here and a tenth there, it seemed to be a matter of time, surely, before the Portuguese rider caught up? The gap was steadfastly going one way: down.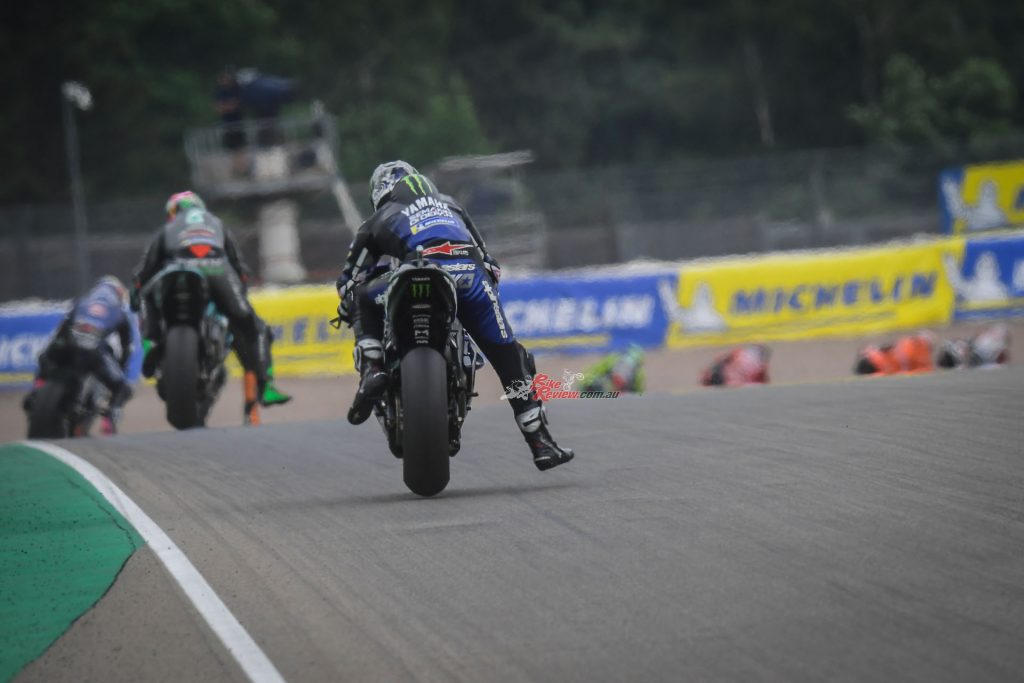 With only a handful of laps to go, it looked like game on. From hovering at 1.2 to suddenly only nine tenths, Oliveira showcased more great racecraft to back up his stunner in Barcelona. But Marquez wouldn't be fazed. It went back up over a second as the eight-time World Champion responded and then, suddenly, that seemed it was it: one more tenth, then a few more, and suddenly the Honda had a second and a half in hand once again. Now, all that was left was to bring it home.
That Marquez did, with a nod of his head to the Repsol Honda Team waiting on pit wall as he secured that incredible eighth premier class win in a row at the Sachsenring. An achievement that would have made headlines alone, if not for 581 days and career-endangering injury in between his trips to the top step of the MotoGP™ podium. Tears, cheers and some serious emotion poured out as one of the truly great comebacks saw the eight-time World Champion wrap up another premier class victory.
---
---
Oliveira, after calling time on his charge, came home in second for yet another podium – his third in a row – ahead of Quartararo as the Frenchman made up some previously lost ground to round out the rostrum. Just behind him, Brad Binder came home fourth to make it an even better day for KTM.
Fifth place went to a Ducati, but not the early scene stealers. Francesco Bagnaia (Ducati Lenovo Team) was near the end of the points on Lap 1, the Italian seemingly out of the fight for the front. But he made steady and impressive progress to eventually pip teammate Jack Miller to the final place in the top five, the Aussie forced to settled for sixth. Also seemingly somewhat forced to settle were Aleix Espargaro in P7 and, in the end, Zarco down in eighth, losing some ground to Quartararo in the standings.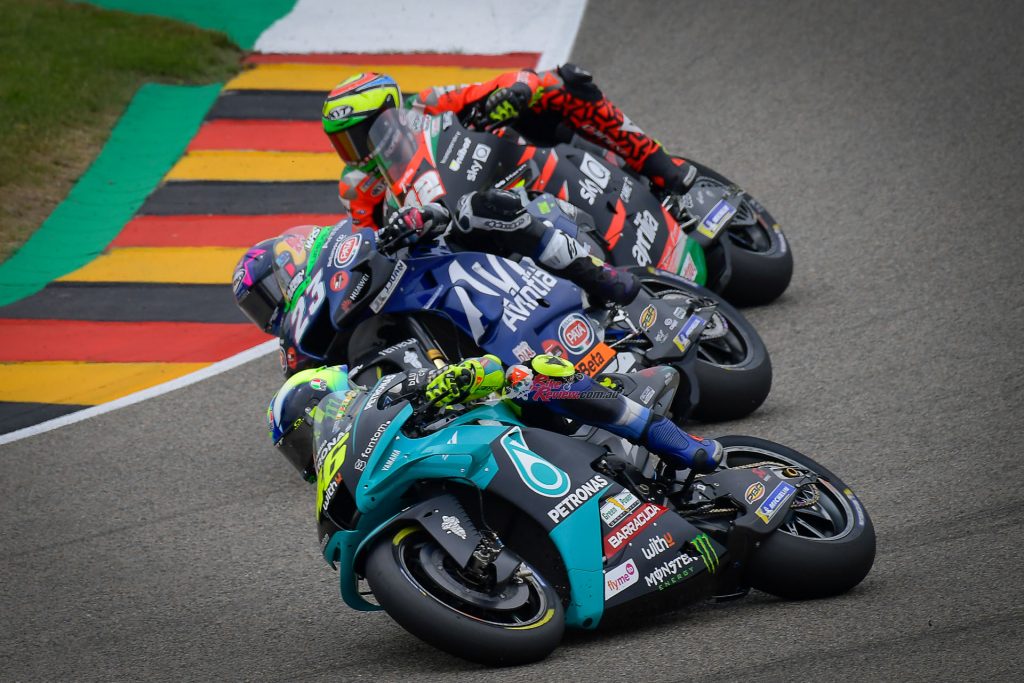 Joan Mir (Team Suzuki Ecstar) likewise made an early charge into the top ten, but the reigning Champion's challenge bottomed out before he could attack any further forward, the number 36 taking home ninth although just two tenths behind Zarco. A little further off that duel, Pol Espargaro (Repsol Honda Team) completed the top ten.
Alex Rins (Team Suzuki Ecstar), despite his injury struggles, came home in P11 and just fought off the attention of the likewise-returning Jorge Martin (Pramac Racing). The number 89 was top rookie at the Ring and took some solid points after earlier fighting further forward. Takaaki Nakagami (LCR Honda Idemutsu) was 13th ahead of Valentino Rossi (Petronas Yamaha SRT), the Doctor taking two points. Completing those points was Luca Marini (Sky VR46 Avintia) as he beat fellow rookie and teammate Enea Bastianini (Avintia Esponsorama) to P15 by a tenth.
---
---
There are a few usual frontrunners missing from that list. After a difficult qualifying, Franco Morbidelli (Petronas Yamaha SRT) and Maverick Viñales (Monster Energy Yamaha MotoGP) had their day go from bad to worse at the start as they were running last. It didn't get better from there either, with both staying on but coming home as the final two finishers split by a few tenths. Alex Marquez (LCR Honda Castrol) and Danilo Petrucci (Tech3 KTM Factory Racing) also failed to score after they crashed out together, and Lorenzo Savadori (Aprilia Racing Team Gresini) slid out.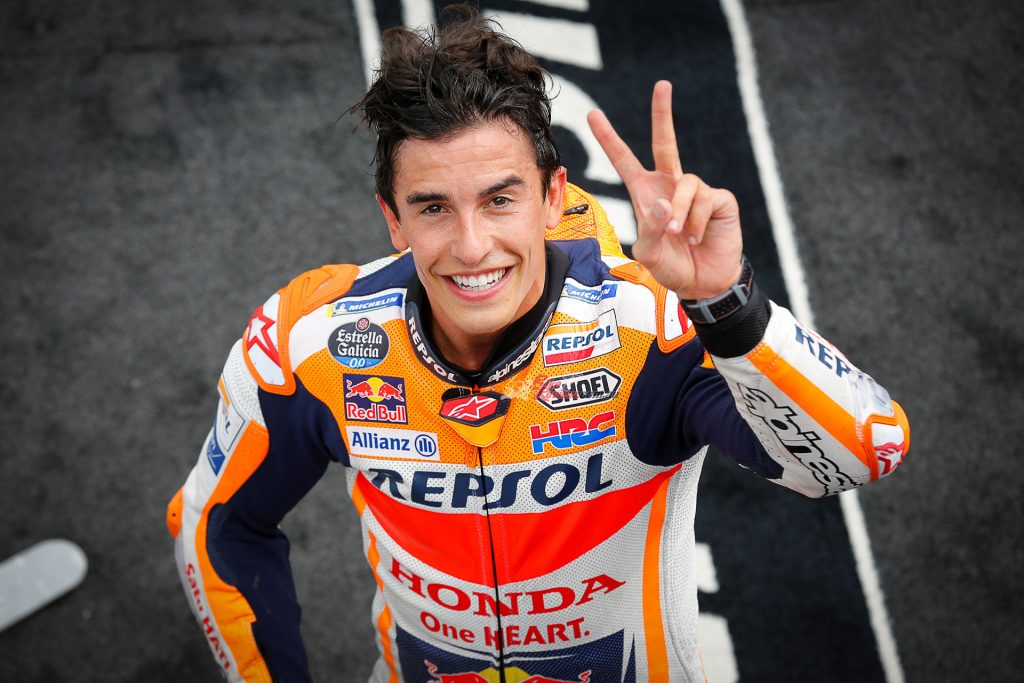 Marc Marquez: "It's one of the most important and hardest moments of my career, today I knew it was a great opportunity, the mentality wasn't easy because I'm coming from a hard situation with three 0s in a row but I said today is the day. Before this weekend I thought I'd fight for the podium and try and be close with the top guys. The victory was a low possibility but I said if it's perfect conditions, I'll try. When I saw a few raindrops on Lap 4 or 5, I said 'it's my race'. At that point I pushed and kept the same pace as before, when the second stop started I pushed even more, and I said, 'ok it's time to take a risk'. I took it in those laps, then the second race started with Miguel. He pushed a lot, but it was really hard to keep concentrating, all the memories from the last year were there in my mind. But we did it, and we'll do it again."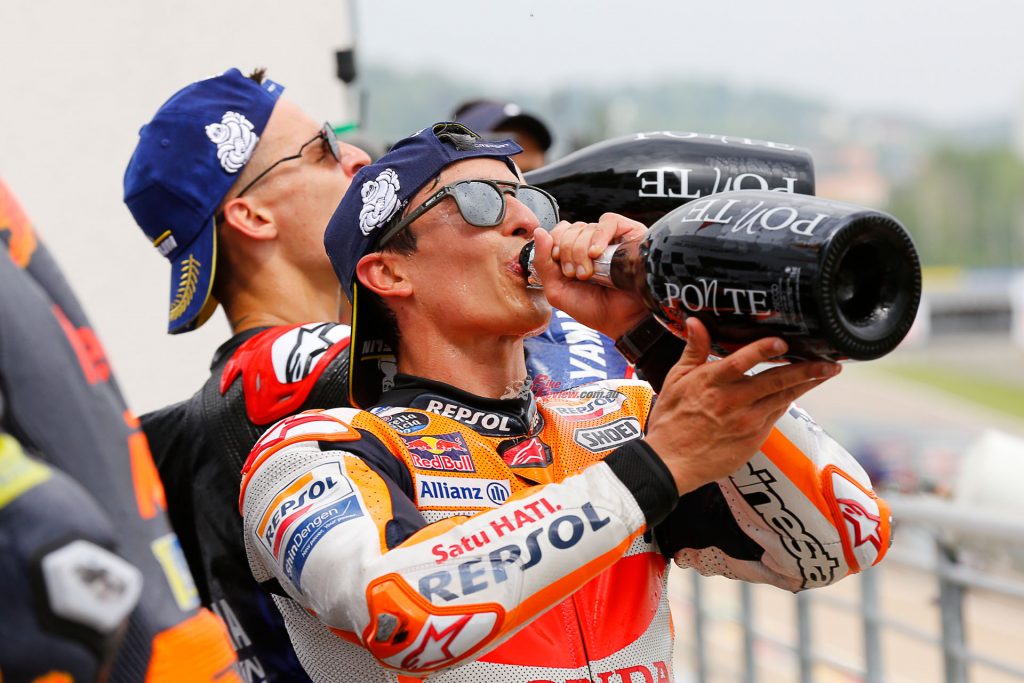 ---
MotoGP podium (Full results here)
1 Marc Marquez – Repsol Honda Team – Honda – 41:07.243
2 Miguel Oliveira – Red Bull KTM Factory Racing – KTM – +1.610
3 Fabio Quartararo – Monster Energy Yamaha MotoGP – Yamaha – +6.722
---
Moto2™
The Championship leader is the first Australian to win three in a row in the intermediate class, as well as the winner of Moto2™ race number 200. Remy Gardner (Red Bull KTM Ajo) waited a little while to take to the top step in 2021, but the Australian has now done it three times in a row and is the first from his nation to do so.
Another imperious performance saw him enjoy what looked almost like a track day at the Sachsenring, with teammate Raul Fernandez initially on his tail before sliding out. Aron Canet (Aspar Team Moto2) returned to the intermediate class podium in second, with Marco Bezzecchi (Sky Racing Team VR46) locking out the rostrum in third.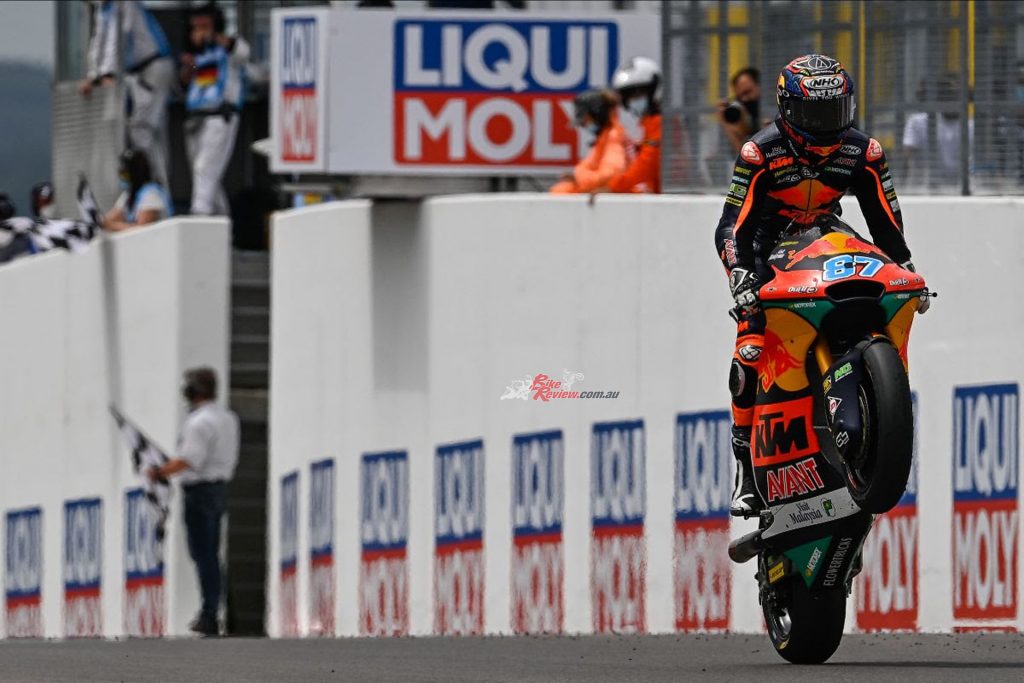 As the lights went out it was Fernandez and Gardner who got the jump down into Turn 1, whilst Fabio Di Giannantonio (Federal Oil Gresini Moto2) got a terrible getaway and was left mired down in fifth. Xavi Vierge (Petronas Sprinta Racing) was up to third ahead of Bezzecchi, who held position from his starting place. It was also a good start from Jorge Navarro (+EGO Speed Up), likewise holding his position from the start of the race. 
It became clear from the early stages that the race would be between the two Red Bull KTM Ajos, with Fernandez leading until Gardner got ahead of him at Turn 12 on Lap 2. Whilst both were racing away at the front at a rate of around a second a lap, it would be a mistake that would see the title pendulum swing in favour of Gardner: suddenly, Fernandez tucked the front at Turn 3. The rookie faltered for the first time in 2021 and the Australian was left to race against concentration, and himself. Crossing the line for his third win in a row with some real breathing space, he got the job done and now leads by 36 points over Fernandez in the standings…
Canet was left in second and the Aspar rider pushed to stay there, with a big gap slowly but surely diminishing as the race went on. Bezzecchi was the man on the chase but just came up a second short, nevertheless taking the podium after repelling the attentions of Di Giannantonio, who was forced to settle for fourth.
---
Sam Lowes (Elf Marc VDS Racing Team) pinched fifth place in the closing stages to deny Marcel Schrötter (Liqui Moly Intact GP), although the home hero had fought valiantly from 17th on the grid. Jorge Navarro, Albert Arenas (Aspar Team Moto2), Marcos Ramirez (American Racing) and Cameron Beaubier (American Racing) completed the top ten, that for Arenas a first Moto2™ top ten and Beaubier giving America a third top ten of 2021.
The final lap also saw numerous positions squandered, as Xavi Vierge (Petronas Sprinta Racing) crashed out of sixth place at Turn 1. Then, further down the order, Joe Roberts (Italtrans Racing Team) crashed from 11th, also at Turn 1. Then, at Turn 8, it was Ai Ogura (Idemitsu Honda Team Asia) who crashed out from fifth, promoting Lowes vs Schrötter.
There was also drama for Augusto Fernandez (Elf Marc VDS Racing Team) and Jake Dixon (Petronas Sprinta Racing) earlier in the race as the two collided at Turn 12, resulting in Dixon running off and Fernandez going down.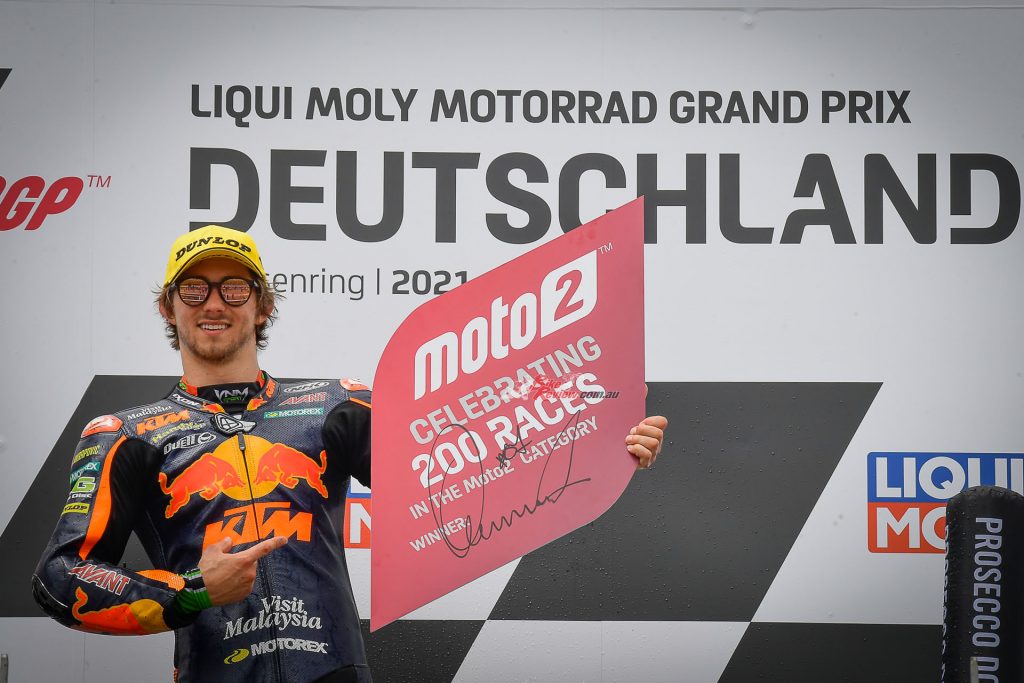 Remy Gardner: "Before the race my brother messaged me, 'yo go win it today! You'll be the first Australian to win three consecutively in the intermediate class!' I guess I'm making history so that's cool! Honestly I expected a hard battle today, Raul's been really strong all weekend, I thought Diggia would be there, I don't know what happened. Especially in Warm Up Raul had better pace than me so I was expecting a good long fight. I knew Raul would struggle a bit with the front tyre but I saw I had a bit more pace in the first laps so I passed him and just tried to go, but being smooth. Then a few laps later I saw plus 4 and a half, or something like that, and I was just trying then to not lose concentration. It was a really long race, a lot of laps around here. Happy to get those 25 points, it was an extremely important day for us."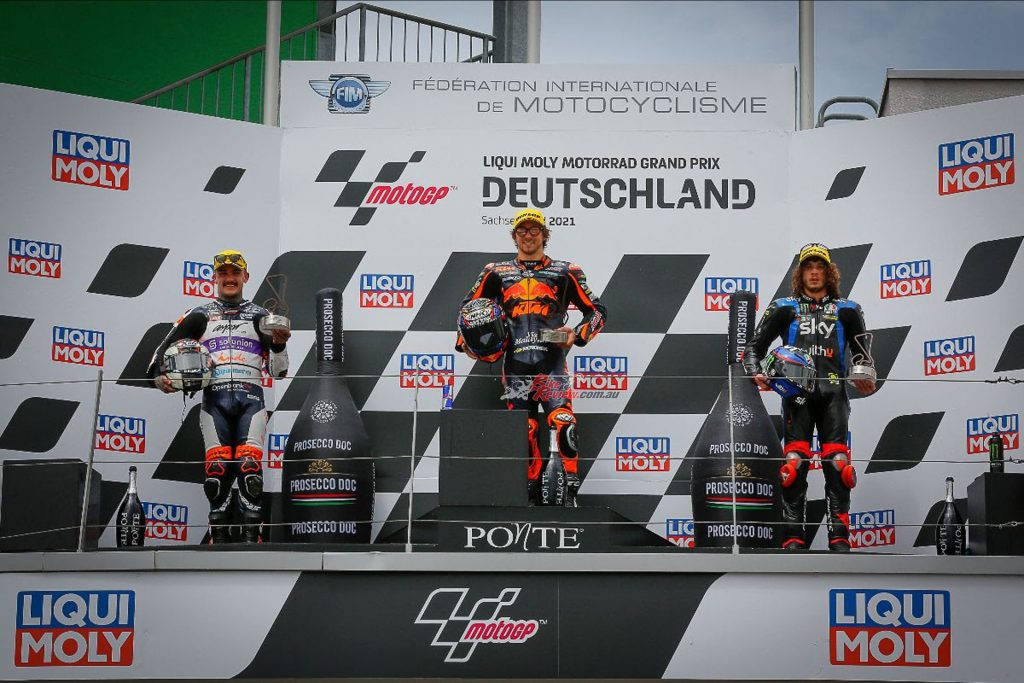 ---
Moto2™ podium (Full results here)
1 Remy Gardner- Red Bull KTM Ajo – Kalex – 39:39.191
2 Aron Canet – Aspar Team Moto2 – Boscoscuro – +6.158
3 Marco Bezzecchi – Sky Racing Team VR46 – Kalex – +7.030
---
Moto3™
Pedro Acosta (Red Bull KTM Ajo) took back the Moto3™ momentum at the Liqui Moly Motorrad Grand Prix Deutschland, the rookie sensation slicing through to fight at the front and then holding off Kaito Toba (CIP Green Power) on the final lap.
Toba took his first podium since his 2019 win in Qatar after an impressive Sunday's work, with Dennis Foggia (Leopard Racing) completing the podium after leading much of the race and then seeing Jeremy Alcoba (Indonesian Racing Gresini Moto3) get a one position penalty for exceeding track limits and then failing to give the place back.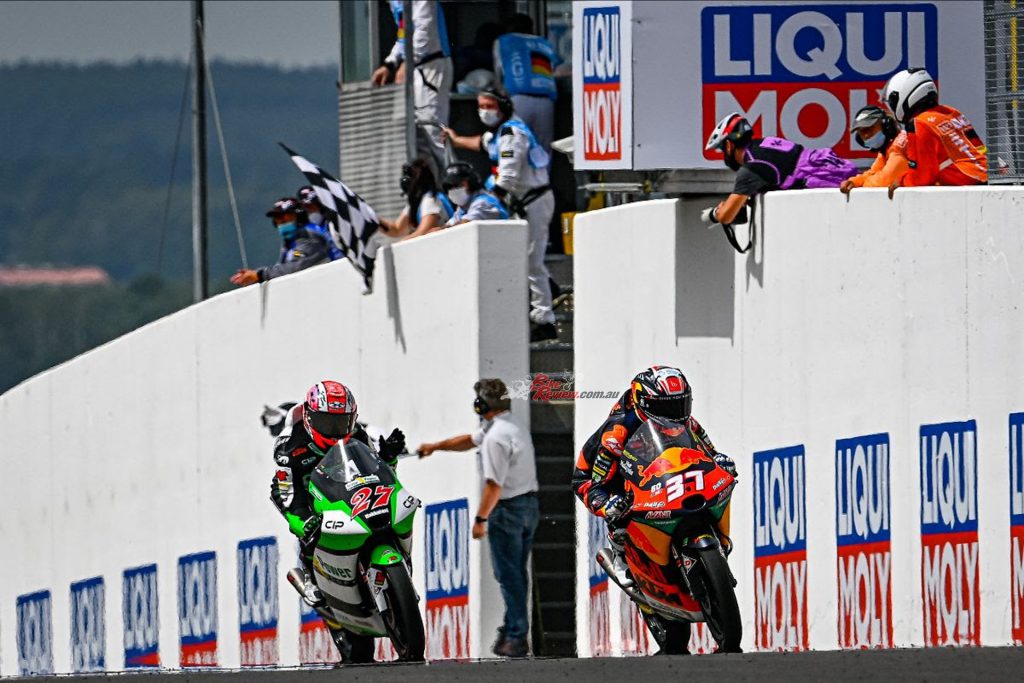 By the exit of Turn 2 it was Tatsuki Suzuki (SIC58 Squadra Corse) into the lead, the number 24 fighting off Toba through Turn 1 as the two made an initial break, but soon the number 27 fought back and headed through to lead the train at the front. Darryn Binder (Petronas Sprinta Racing) soon bolted into pitlane for his ride through as Foggia hit the front, before Yuki Kunii (Honda Team Asia) crashed from the lead group after he found himself on the outside of Jaume Masia (Red Bull KTM Ajo). Masia got a Long Lap penalty for the incident not long after.
Meanwhile at the front, it was Foggia vs Acosta but the Italian held strong, leading a few laps with no one able to get past. When they did though, it was once again Toba and Acosta on the attack, the two making their presence felt in the early stages.
With 15 to go, a multi-rider shuffle at Turn 1 saw Romano Fenati (Sterilgarda Max Racing Team) make contact with Deniz Öncü (Red Bull KTM Tech 3) and the Turk crash, as well as Lorenzo Fellon (SIC58 Squadra Corse) as he got caught up in it. Öncü was able to rejoin down the order, before even more drama hit not long after. Masia overcooked it at Turn 1 and slid out, and Yamanaka crashed tagging Stefano Nepa (BOE Owlride). That also caused Fenati to run off in avoiding action. The Italian got back on track in P13 but ten seconds off 12th, and then received a Long Lap penalty for his earlier contact with Öncü.
---
After the carnage and run offs, there were 10 riders in the front group, followed by the duo of John McPhee (Petronas Sprinta Racing) and Elia Bartolini (Avintia Esponsorama) a few seconds. The Scot had earlier been shuffled down the order avoiding the Öncü incident. Fenati was another eight seconds behind them, with Andi Izdihar (Honda Team Asia) in P14 and then Binder, with the South African on for a point after a drama-free ride past the crashes and run offs that had been ahead of him.
Back at the front, Foggia raced on. And by six to go the Italian was creating a little daylight behind him, with Acosta the man on the chase – directly followed by his closest challenger in the points, Sergio Garcia (Gaviota GASGAS Aspar Team). It didn't last long though, with the gap chopped down and Acosta back at the head of the train. Alcoba was on a charge through the order, but the Spaniard exceeded track limits on the way and was told to drop a position…
Onto the final lap, it remained the Championship leader in the race lead and the number 37 kept the hammer down. He held his nerve against Foggia, who tried a move for the lead at Turn 7 but ran wide. Alcoba also then pushed his way through before Toba followed suit, the Japanese rider then challenging Alcoba for second. He got him at Turn 12, before setting his sights on Acosta going into the final corner for the final time…
---
Acosta, however, couldn't be stopped and increases his advantage to 55 points, as well as giving KTM their first Moto3™ win at the Sachsenring since 2014. Second went to Toba, his first podium since the Teruel Grand Prix in 2020, and Alcoba crossed the line in third – but hadn't complied with the penalty. He was therefore demoted, with Foggia onto the podium.
Andrea Migno (Rivacold Snipers Team) took fifth behind Alcoba, with Niccolo Antonelli (Avintia Esponsorama) classified sixth as Sergio Garcia and Tatsuki Suzuki were demoted a place each into seventh and eighth, respectively. Rookie Xavier Artigas (Leopard Racing) took ninth, in the end the last man in the front group, with Izan Guevara (Gaviota GASGAS Aspar Team) completing the top ten a little further back.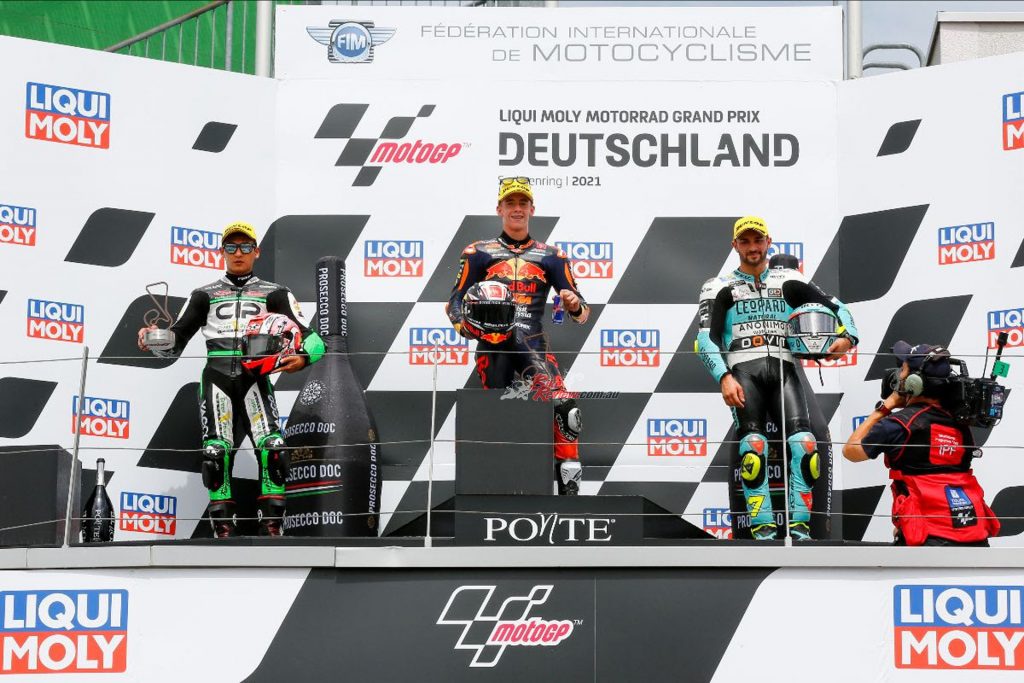 Pedro Acosta: "It was a hard race, so long. it was difficult to manage the tyres, but I think the team gave me the best bike they could give me. I think I can only say thanks to the team, the guys that help me everyday to improve, and I can't say more."
---
Moto3™ podium (Full results here)
1 Pedro Acosta – Red Bull KTM Ajo – KTM – 39:38.791
2 Kaito Toba – CIP Green Power – KTM – +0.130
3 Dennis Foggia – Leopard Racing – Honda – +0.259
---