MA and Auto-sport Alliance Parter Up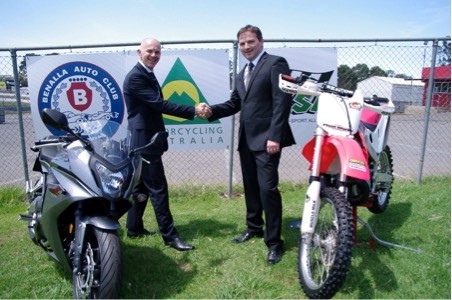 Motorcycling Australia (MA) and the Australian Auto-sport Alliance (AASA) are pleased to announce a new partnership that will see motorcycle licences and events returning to MA in 2016.
The new agreement stems from AASA's decision to transition out of supplying permits for motorcycle events, and ends the period of AASA providing licences for motorcycle competitors.
AASA will focus attention on motor vehicle activities only, and motorcycle events held at circuits such as Winton Motor Raceway and Wakefield Park Raceway will now be sanctioned by Motorcycling Australia.
As part of this transition, AASA will move away from insuring and permitting motorcycle activity at recreational, club, state or national levels across Australia.
Chris Lewis-Williams, CEO of the Benalla Auto Club Group (which owns AASA) said the move will benefit motorcycle competitors all over Australia.
"The Motorcycling Australia team consists of Australia's most prominent motorcycle racing experts, and from a commercial perspective it made absolute sense for them to take over sanctioning motorcycle events at the Benalla Auto Club venues, Winton and Wakefield Park," Mr Lewis-Williams said.
"AASA's decision to move away from motorcycle events will be highly beneficial to our core customers – car racing competitors – as it will simplify our business practices and allow us to concentrate on what we do best."
Motorcycling Australia is the internationally-recognised governing body for motorcycle racing in Australia as affiliated by the Fdration Internationale de Motocyclisme.
Motorcycling Australia has a long history of providing motorcycle sport in Australia to the highest standards of competition, fairness and safety, through MA's commissions, committee and passion of the organisation's highly experienced and dedicated MA-licensed officials and coaches.
David Cottee, Motorcycling Australia CEO said, the new partnership is an exciting development for MA in a new era for the organisation.
"MA is very pleased to assist the AASA in this new partnership. MA's primary focus is providing access to the sport for as many participants as possible across the country. This relationship perfectly meets our key values of 'Ride, Race, Enjoy!'," Mr Cottee said.
"The Benalla Auto Club is an impressive organisation – owning Winton, Wakefield and AASA. MA's partnership with the club is one of a number of key elements to a successful future for MA. This is a great opportunity to provide a new level of service to passionate motorcycle competitors around the country."
Both national and club AASA motorcycle licences will be transitioned to the MA system. Current AASA national licence holders will be contacted shortly to arrange a conversion from their AASA licence over to a MA national licence. The current period of the licence will be honoured by MA to ensure these competitors are not financially disadvantaged.
Current AASA club licence holders will be converted to MA individually and club licence holders are requested to contact the relevant state controlling body in their state to arrange the change to an MA licence (details below). The current period of the club licences will be honoured on application.
Promoters, clubs and organisations planning to hold motorcycle sport events under AASA in 2016 and beyond are encouraged to contact the local MA State Controlling Body as listed below: