Phillip Island MotoGP kicks off
Ahead of track action for the Michelin Australian Motorcycle Grand Prix, there was one last chance for something a little more out of the ordinary as some of the grid came face to face with some locals – of the furry or scaly kind.
The animals were a koala, a kangaroo and a black headed python from Maru Koala and Animal Park – guess which critter was the least popular – and the humans were Aleix Espargaro (Aprilia Racing Team Gresini), Moto3 title challenger Joan Mir (Leopard Racing), home riders Remy Gardner (Tech 3 Racing) and Broc Parkes (Monster Yamaha Tech 3), and Danilo Petrucci (Octo Pramac Racing).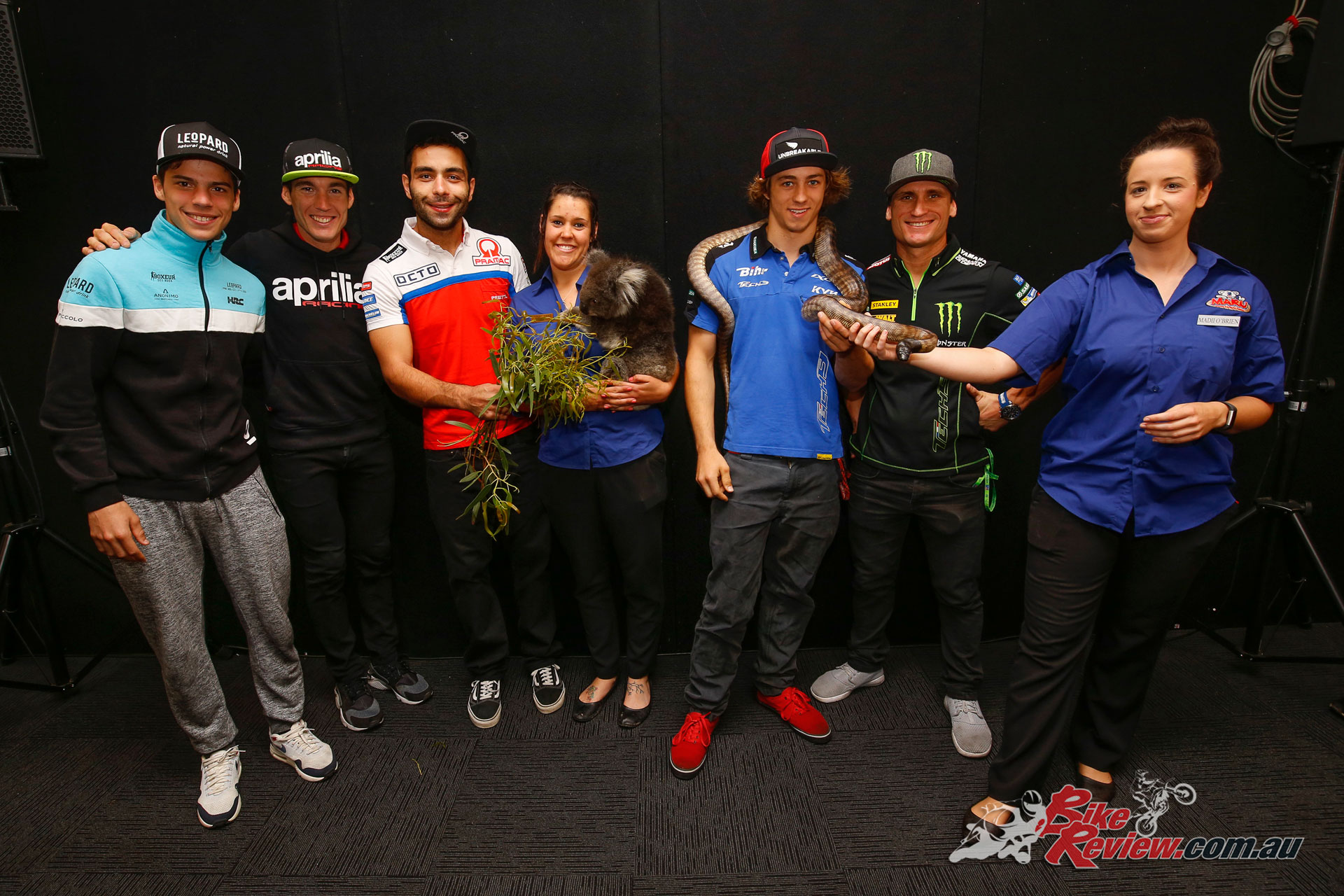 When it came down to it, only Gardner was brave enough to go face to face with the python – but there was something else bothering Petrucci, as he later explained in the Press Conference: the kangaroo was going to give him a kiss…and then got put off by his beard.
After the encounter with the wildlife, it was time to talk shop in the Pre-Event Press Conference – with Championship leader Marc Marquez (Repsol Honda Team) joined by the man who trails him by just 11 points, Andrea Dovizioso (Ducati Team), third in the Championship Maverick Viñales (Movistar Yamaha MotoGP), Motegi podium finisher Petrucci, Team Suzuki Ecstar's Andrea Iannone and home hero Jack Miller (EG 0,0 Marc VDS), who comes back from injury after missing the Japanese GP following a leg break in training.
The reigning Champion was first to talk, with the first topic the Championship and the duel last time out.
"We're at a very important moment, Motegi was a great weekend and some great last laps. We lost only five points so this was important too. Anyway, here in Phillip Island is normally a track I enjoy more than Motegi. We'll see how the result and level are but as always try to be on top from FP1, work well for the race and then we'll see – because the weather is also something interesting here. In Australia, I've had some ups and downs, especially in 2014 and 2016 when I crashed when leading with some seconds of advantage. When I win at Motegi I crash here but this time I was second at Motegi!
"We are fighting for the Championship so the approach of the race is much different to last year and we'll try to compensate our level with the risk because that's important to manage well. We'll see after qualifying if we can fight for the victory or it's time to think about the Championship. Dovizioso is the most dangerous rival but I still have half an eye looking at Viñales because he's far but not far enough – so we need to control Dovi more, but the strategy and mentality is the same: push and if we can take one more point we'll try to the final corner – like at Motegi," concluded Marquez.
Dovizioso was the next to weigh in, also doubting the weather this weekend but marking more his speed in Japan than the win.
"Everybody enjoyed the battle, it was really nice last weekend the way we worked and how we arrived in the race – we arrived ready and we managed it in the best way. The fight was really nice and it's important to continue like this and work in the same way. We know here a lot of riders are very fast and Marc especially on paper, so it will be difficult but we're enjoying the moment and we have to work in the same relaxed way and improve in the weekend, like we have done in many weekends this year.
"This is the target, but like Marc says, the weather looks unstable as it can be here, the wind and the rain, everything can happen. So we have to go day by day. During the races, winning has a big effect on the rider but especially the team. Mugello was very important to win for myself but also for the team. We've created a really good situation in the box, small things have a big effect by the end of the season and we're fighting for the Championship. The last race, more than the battle we won on the last lap, I was happy about the speed I had during the race, and me and Marc did different during the race. That was important for me and my team in terms of being competitive in the Championship – more than the fact that we recovered 10 points."
It's not a two horse race just yet, however, with Viñales a little further back with a 41 point deficit – but it isn't over until, mathematically, he can no longer challenge. The focus is now simply winning, with no pressure
"Here is a track I like, in preseason it was the track where I was fastest and most consistent but we arrive here in a different way with a completely different bike. I can't wait to start and it's a track I enjoy. I'm thinking only about riding, explained Vinales, "Motegi was a difficult race, we tried everything at 100% and finally we didn't get a positive result but we have to forget it. There's no pressure now. Now it's not in our hands, our opponents would have to make a mistake so it would be difficult. Now we'll just try to enjoy it, get the Yamaha at the maximum level and try and get another win. We hope for a dry race because it's when we're more competitive but in the wet we have to improve, and we do for next year. We can't change the situation, we just have to improve it."
Danilo Petrucci is one man who doesn't want the situation to change – with another podium last time out; his fourth of the season. And in the wet – so would he prefer a repeat with the weather in Australia?
"I think I could be one of the happiest guys," says the Italian. "But I would prefer a fully dry weekend and I was cold a lot during Motegi. Jokes aside, I think arriving here five days after my last podium is a good thing. I have nothing to lose! I haven't had a good result here and the long corners don't help me with the tyre consumption. But this situation is a bit different this year and for sure I think I can be fast in the dry, but we can enjoy it!"
Another rider whose result in Motegi was a huge boost is Andrea Iannone (Team Suzuki Ecstar), who got his best result of the season so far and the best result of 2017 so far for the Hamamatsu factory – fourth. "For sure Motegi was the best weekend of the season for us. I finished the race in fourth, we have worked hard throughout the year, especially at Aragon test. When you arrive in this position you see the hard work, but it was a strange race due to weather, I don't know the potential in the dry. I am very charged up for 2018 because we've work hard."
Jack Miller (EG 0,0 Marc VDS) was the final man in the hot seats, as he gets ready for his home GP – and comes back from injury after missing Motegi.
"I even think I surprised myself with the turnaround," said the Australian. "It was a small accident and it snapped. Maverick asked me just then how I broke it as he was with me at the time. It's been a busy time for me trying to get it back to working order. I probably could've made it to Japan but the quick turnaround wouldn't have been good by the time we got here or to Malaysia. I want to finish the season in the best way possible for my team and Honda."
The former Phillip Island Moto3 winner also said he's had some pressure to come back quickly after the incredible performance of Valentino Rossi (Movistar Yamaha MotoGP) after his leg break – and that two-wheel Australian legend Chad Reed had even texted him to start the countdown to beat the Italian to it. But Miller is thrilled to be able to race at home again, "It's a great race for me, the fans are crazy, the weather is crazy. As we have seen today, it's Baltic and yesterday it was hot. I'm really looking forward to getting the weekend underway. I sat on a bike yesterday at the pre-event and it felt good, so I think we're in good shape."
The Australian GP is certainly in good shape, with the Championship still a scorcher and the battle set to go down to the wire. Don't miss another classic battle on the Island, with the MotoGP race set for 16:00 local time on Sunday (GMT +11).