Pirelli Rider Lap Records At ASBK
Pirelli riders achieved three new lap records at the most recent round of the Australian Superbike Championship using Diablo Superbike and Diablo Supercorsa tyres available to all riders in the ASBK championship.
Barbagallo, Australia – Round 4 of the Yamaha Motor Finance Australian Superbike Championship presented by Motul Pirelli saw some impressive results for Pirelli riders across all classes. Three new lap records were recorded at this round, with two of these privateer riders, showing the capabilities of the Pirelli Diablo Superbike and Diablo Supercorsa tyres at the Western Australian circuit.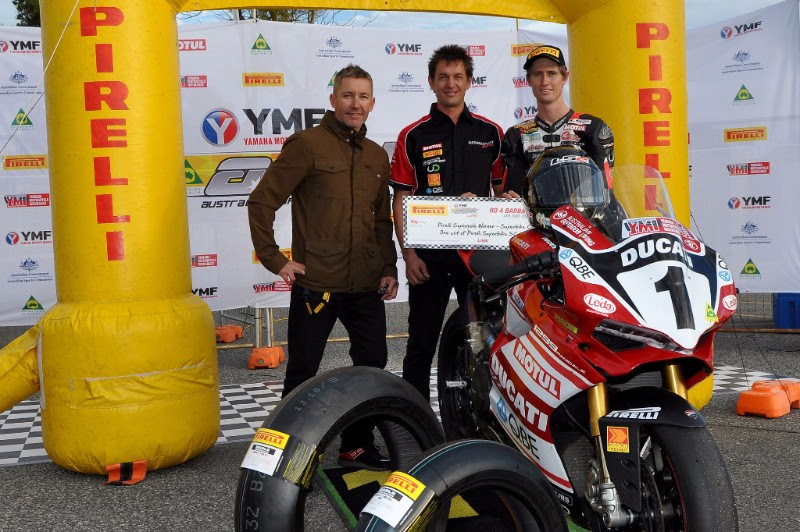 Superbike
In the Superbike class the Pirelli charge was led by Mike Jones (Desmosport Ducati) who took out the Pirelli Superpole on Saturday with a time of 55.02. Jones followed this up with the race 1 win on Sunday and a new race lap record of 55.49 achieved also in race 1.
Mike achieved these results on Diablo Superbike 120/70R-17 SCX 1699 front and Diablo Superbike 200/60R-17 SC0 rear. With a 1st and a 3rd across the two races, Jones finished 2nd for the round. Fellow Pirelli rider Troy Herfoss (Crankt Protein Team Honda Racing) finished 5th in class at this round, with Pirelli riders filling 5 of the top 10 places for the round.
Supersport
In the Supersport class, local WA privateer Sam Clarke took both race wins on Diablo Supercorsa 120/70ZR-17 SC1 front and 180/60ZR-17 SC1 rear. Clarke also used this combination to achieve a new lap record for the Supersport class of 57.18, showing the race pace and also consistency of this tyre combination available at motorcycle stores around Australia.
Callum Spriggs used the   190/60ZR- 17 rear SCX at this round for 3rd overall, as he developed his Cube Racing Kawasaki along with this new tyre size. Pirelli riders again featured in more than half of the top ten riders in this class as the tyre of choice.
Production Classes
In the Production classes Pirelli riders again featured heavily.
In the over 300 Production class the new Diablo Supercorsa 110/70-17 SC1 and 140/70-17 SC2 combination saw Callum Alderson claim a new lap record and 2 race wins on his Yamaha R3, while experienced campaigner and Australian Motorcycle news staffer Veteran Paul Young also achieved strong results on his KTM.
In the Under 300 class, Drew Sells used this same combination to take the round win with Pirelli, ahead of a gaggle of Pirelli riders.
Clubsport 600 and 1000
In the local Clubsport 1000 category  many local MCRC of Western Australia riders chose to race on Pirelli tyres, as they do in the popular WA Championships throughout the year. Leading the pack was local rider Scott McCue, who scored both race wins in this hotly contested class using 120/70R-17 Diablo Superbike SC1 front and 200/60R-17 Diablo Superbike SC1 rear for race success at Barbagallo.
The Championship now takes a break until the beginning of August, when it returns to Morgan Park raceway in Warwick (QLD).
Pirelli motorcycle tyres are Imported and Distributed exclusively in Australia by Link International.
www.linkint.com.au.