Having completed CSS Levels 1 & 2, Winston headed to Phillip Island for a ride day... Words: Winston Taylor Images: SDPics.com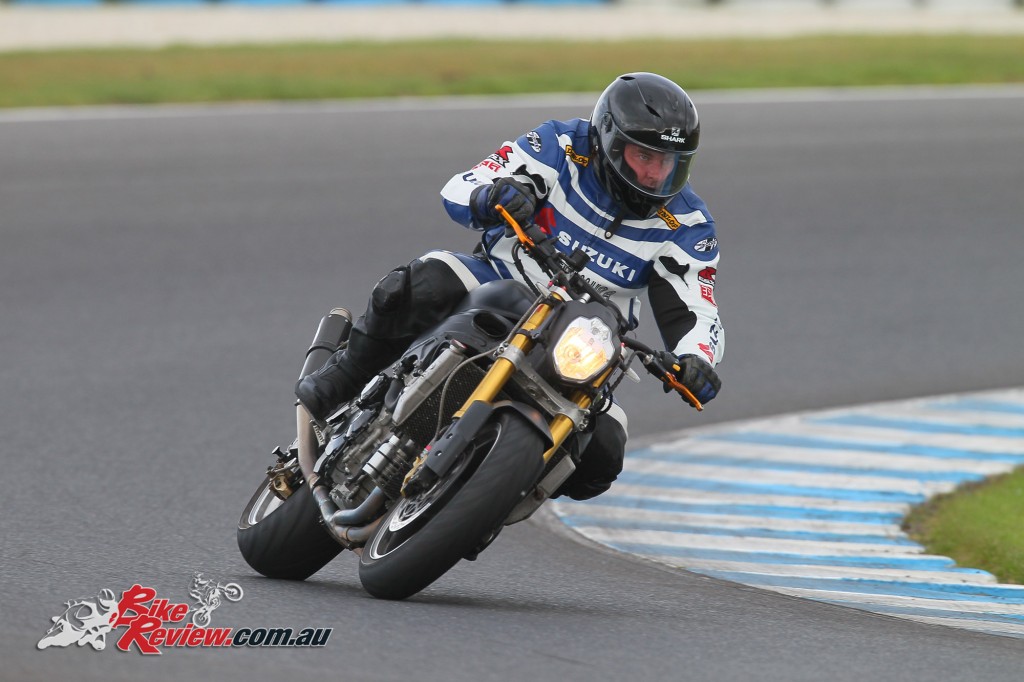 After Level 2 of the California Superbike School I was super excited to book a track day at Phillip Island. I'd been there 15 years ago to watch some historic race cars before I started riding and always thought it looked like a great track to drive or ride one day.
The weather forecast was dry and very windy. I was excited to arrive at the track with my mate Tony and get set up. I thought White group would suit me and after fueling up and lowering my tyre pressures we gathered around for the rider safety briefing.
We were shown the different flags and what they meant, as well as the passing rules. There were four groups and each session was 20 minutes long. Being first timers we had a second briefing explaining more detail specific to the track and what to expect.
Our first session on the track started with two orientation laps behind an instructor at a slow pace to familiarise ourselves with the track, before we were set free.
I started off pretty slowly and spent a few laps getting heat into my tyres, and quickly found the track has a lot more elevation than the TV shows and is super-fast in some sections. The bottom of the straight and coming out of the Southern Loop were also very windy, especially on a nakedbike. The first session was over too soon and into the pits we came.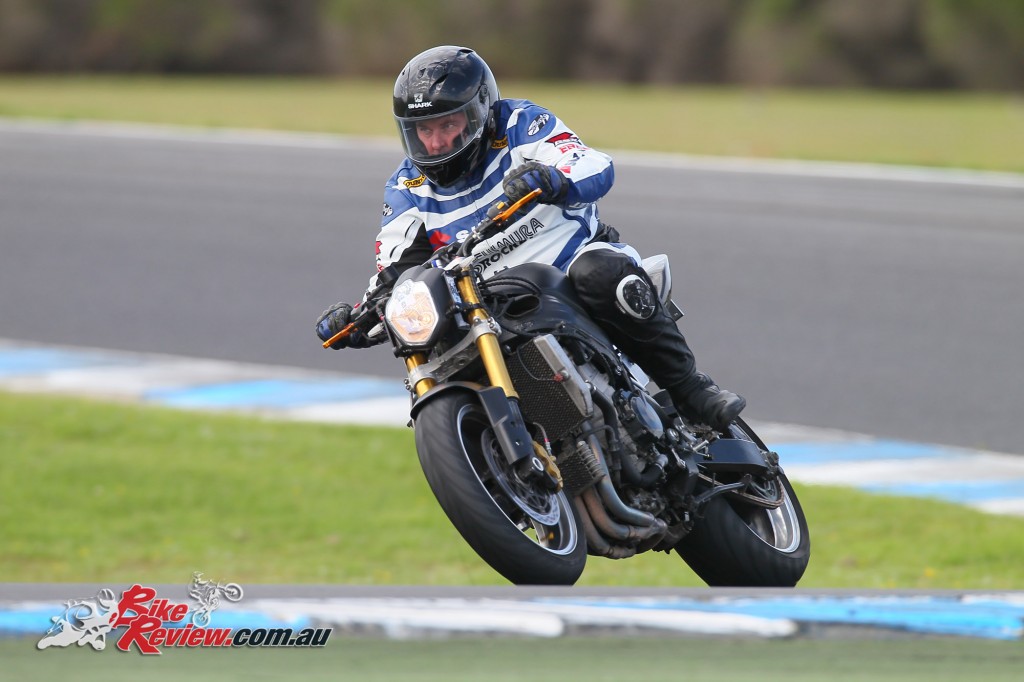 As the sessions ticked by I was having a great time and braking later and trying to get on the gas as early as I could coming out of the corners. I was experimenting with what gears I should be in around the track but was backing off under the bridge on the straight when the wind hit me and I was getting passed by a few bikes because of this.
THE TRACK
Turn 1 has a positive camber to it and I found that I could go around it faster than I first thought. I tried a little more entry speed on each lap but it still seemed like I was going too slow (which I probably was)!
Turn 2 seemed to go forever and I wasn't sure what the correct line was around it. I tried to enter the corner a bit wide and then tuck in and concentrate on the point that I could get on the gas for the big run down to the ultra-fast and scary Stoner Corner.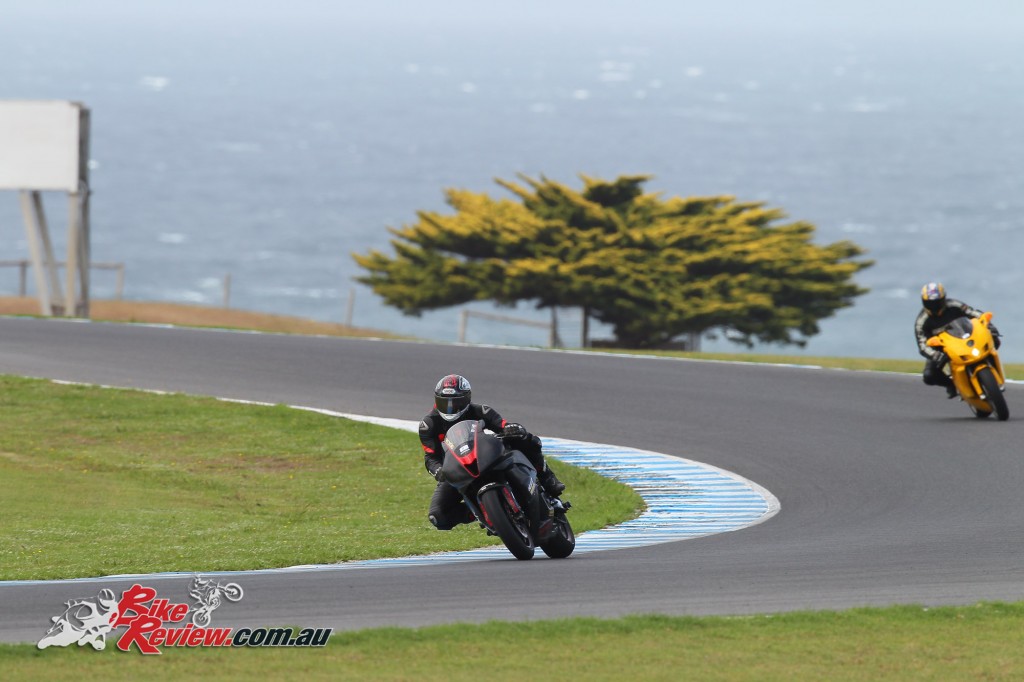 The run into Turn 3 was mighty quick and mighty fun, with big revs in fourth gear and I started backing off early before this corner. As the laps rolled by I forced myself to hold it on for a bit longer each time. At times the wind was really gusty here which made it hard to hold the line I wanted. Tony was talking about holding it flat through here but I never got to that point. Maybe with some better tyres and some bigger gonads…
Turn 4 was the hardest braking I had ever done and I was grateful for the safety of the exit road that thankfully I didn't have to use. I passed a lot of bikes here up the inside. I also passed a guy sliding along on his bum (he was OK)!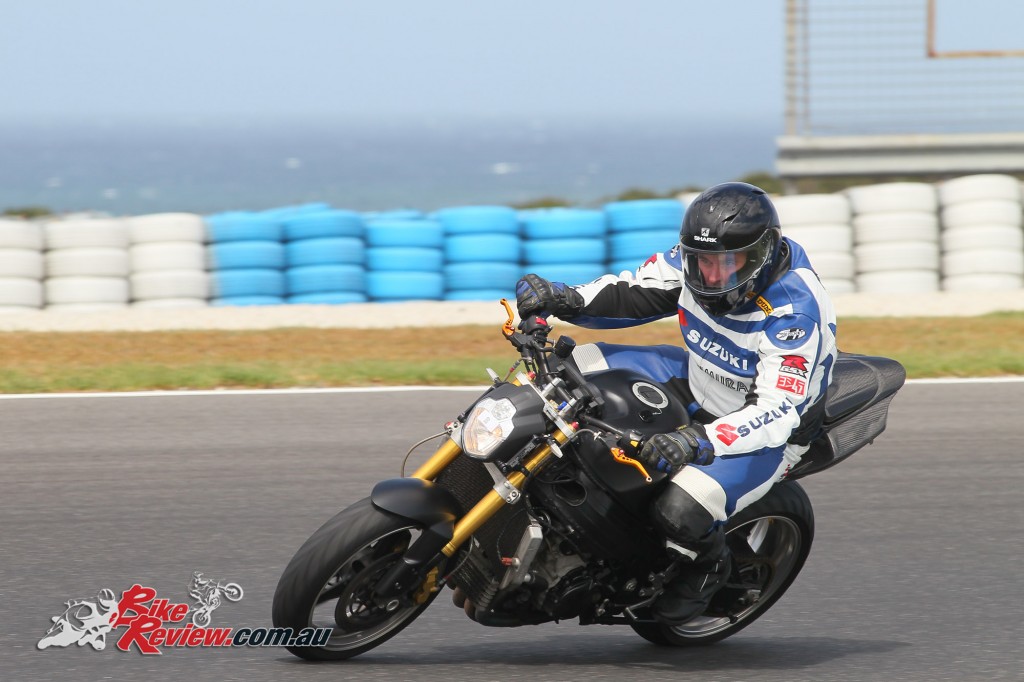 Turn 6 is a nice lefty and I found it a little deceiving as it took me a while to realise that I could wind the power on earlier than I thought for the run up to the Hayshed.
Turn 7 was full throttle left kink and then a quick change of direction to the ultra-quick Hayshed. I tried to hide my fear in this corner and tip the bike in as quick as I could, while focusing on the edge of the track up ahead, as I knew running wide onto the grass in fourth gear would not be fun.
Turn 9, or Lukey Heights is a big left-hand sweeper where I put a few moves on slower riders on the outside and after a brief moment on the gas it was hard braking down the hill to turn 10, MG.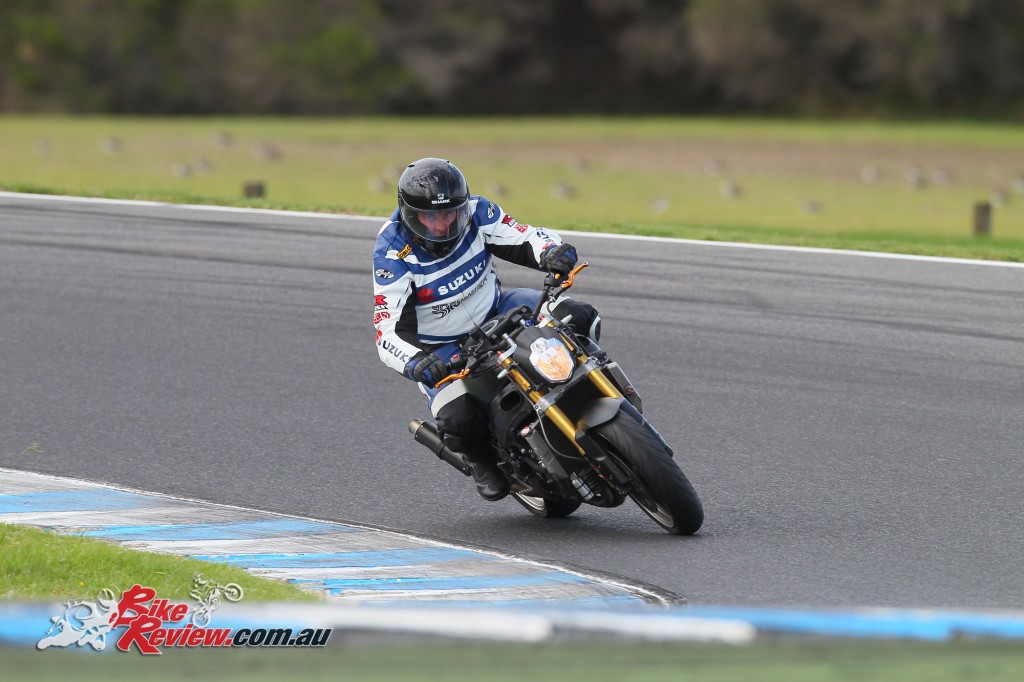 Turn 10 is really tight and slow and I short shifted out of 10 into Turn 11 and then onto the gas for the big lovely cambered Turn 12. Earlier in the day I took this in third gear but changing into fourth before the corner seemed to be better for my bike as it was one less gear change for the straight.
It was hard on the gas down the straight and I had to brace myself for the howling wind to hit me under the bridge. There is only so much tucking in a 100kg guy can do without fairing!
Then into another lap. It was sensational fun!
THE VERDICT
The day was run by very professional staff who were super helpful if I had any questions. There were a couple of delays due to fallen riders who I hope were OK. I did see a very nice Yamaha R1 on a trailer with massive damage, which was a bit of an eye opener as to the dangers of making a mistake on a fast track like this.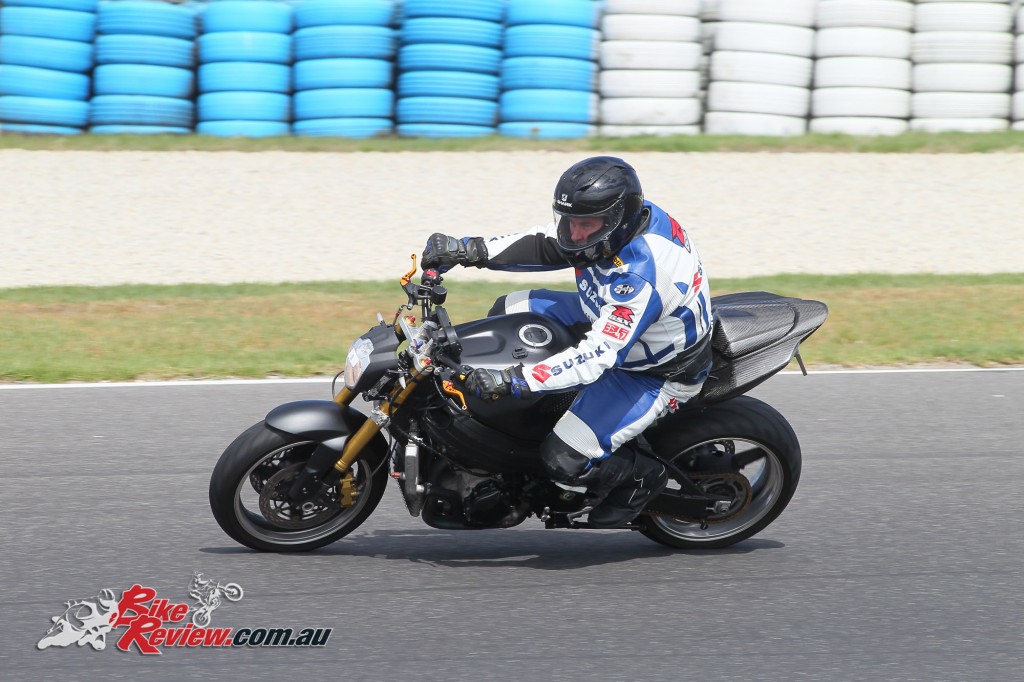 Many thanks to Steve Brouggy and his team for an excellent ride day. I cannot recommend a track day like this highly enough. Even if you're a beginner on small capacity bike, I guarantee you will leave the track with a smile that will last for days afterwards.
We now plan on making this trip an annual event and I am looking forward to returning on some stickier tyres and improving my lap times. It was great to watch some of the riders in the red group do low times and even though you needed a calendar to record mine, at the end of the day in my opinion the winners are the people with the biggest smile.
Phillip Island Ride Days Info & Requirements:
You can visit the official Phillip Island Ride Days website at phillipislandridedays.com.au for all the information you'll need, if you're at all unsure about anything it's best to contact Phillip Island Ride Days in advance, rather than hope it's OK on the day. Their job is to make the experience as fun and safe as they can for everyone and they are very helpful!
Pricing starts at $235 for pre-season sessions – booked online, and at $285 for main season periods – booked online. Garage hire, gear hire, motorcycle hire and combined motorcycle and gear hire are all also available. There is an additional fee for turning up without a booking and places can be scarce, with sessions booking out quickly, so booking is recommended.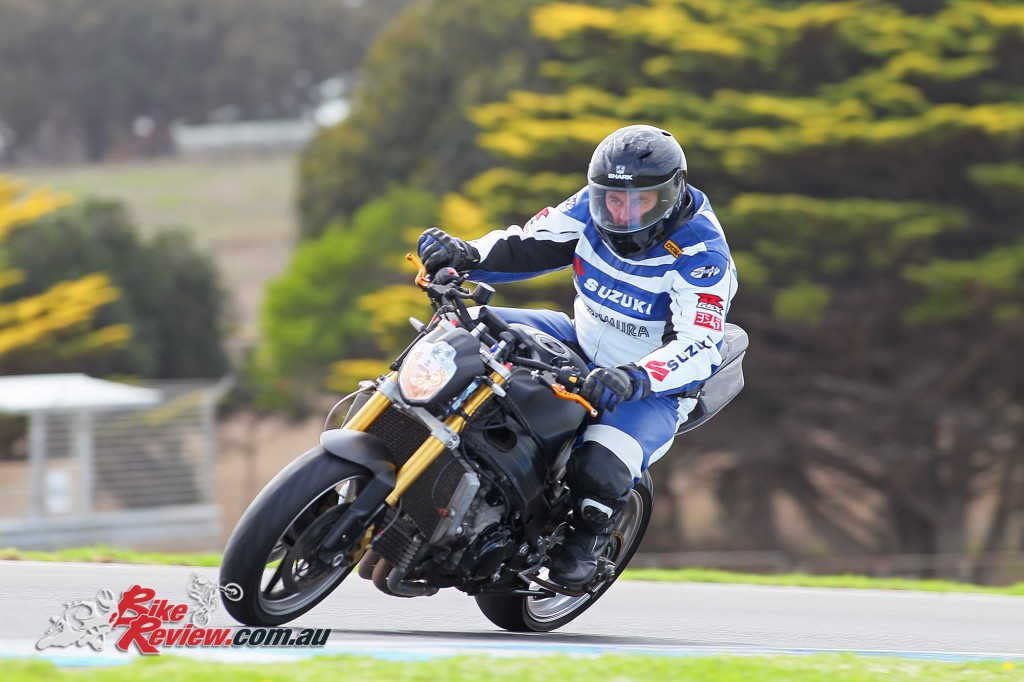 Licence & Protocols:
You will need a current, valid motorcycle licence for the machine you will be riding to participate, with Learners Permits and recreational licences not accepted at Phillip Island. Some Competition Licences may be accepted but contact Phillip Island Ride Days to check.
Following the marshals instructions according to the flags on display is very important, it's their only means of communicating to riders on track and ensuring a safe environment for everyone. It's a simple, logical system, and you'll be briefed before being allowed on track. You can also check out the flag system on their website.
When overtaking at least 2-3 metres should be left between you and any other rider, to ensure the safety of all riders and because rider speeds and skill levels can vary even within the four groups that are run.
Four groups are run for Phillip Island Ride Days, with up to 40 riders in each. White group is for first timers and slow track riders, or slow to medium speed road riders. Yellow group is for more experienced track day riders, those who have had some formal training or are medium to fast road riders. Green is for medium to fast road riders or those on the faster end of yellow, with track or advanced rider training experience. Red group is for very fast, experienced track riders, or racers.
Motorcycle:
Your motorcycle needs to be roadworthy and track worthy and will be scrutineered. You can see the full list on the Phillip Island Ride Days website here. You may be refused access if it does not meet these requirements. Motorcycles must be ADR compliant and new tyres are available for purchase at the track.
Lap timing is also prohibited, as are filming devices.
Gear:
Gear requirements include:
Leather jacket and leather pants which zip securely together (no textile clothing permitted);

Leather motorcycle boots (boots must come up to at least mid calf height, have hard reinforced ankle support and overlap pants or pants must overlap boots, so as no skin or other clothing can be seen);

Leather motorcycle gloves – gloves with carbon fibre or Kevlar knuckling and/or palms are strongly recommended (gloves must overlap jacket sleeves, i.e. no wrist length gloves);

Full-face helmet minimum of Australian AS1698 standards, visor must be correctly secured;

Back protectors are not mandatory but strongly recommended.
You can also check out Winston's California Superbike School experiences at Sydney Motorsport Park (Eastern Creek) from the links below: