The Ride Vision Collision Aversion Technology system is now available in two versions. We put the top spec Ride Vision Pro to the test on an F 900 XR in a range of scenarios and come away impressed...
Early this year we had the fortune to test the Ride Vision Collision Aversion Technology system by test riding a BMW F 900 XR decked out with the kit. It was a great experience and an eye opener to how much AI can help make the roads a safer place for us riders…
You can read the technical info on the Ride Vision system in the breakout below, it has some great features. Out on the open road is the true test and aside from knowing you have full HD quality cameras recording front and rear, with accident playback should the bike go down, it really is great having that extra blind spot alert and distance alert information as two extra inputs to your own physical and mental awareness system you use while you ride.
---
---
We all have our own routine when it comes to keeping our brain informed of what dangers are around us while we ride, and most of us have found a pattern or 'system' that works for us. Adding these two prompts further fills the gaps that can be missing. The system works with you, not for you, but most definitely helps add an extra layer of surety before you make certain decisions on your bike.
As we left the meeting point and rode off, the left lane I was in soon merged into a single lane. I moved to the right just as another bike was approaching, and although I had done a mirror and head check, by the time I moved to the right, the other bike was right there but in my blond spot. 30-seconds of riding and I had already had one alert. I realised immediately that this is a great tool for any rider to have.
---
Onto some suburban roads, a particularly busy main road near a school, with a few servo's and shops, I wanted to see if the alert lights would be triggered by parked cars, which would be annoying! They are not, which is great. The system calculates values via vision of moving objects, so approaching stationary cars at low speed or riding alongside them will not trigger unwanted warnings.
On the 60 – 80km/h main road multi-lane Pacific Highway I noted alerts for both vehicles I was approaching and vehicles about to pass me. I also purposely approached a vehicle ahead at a faster than usual speed and on the braking/distance alert immediately. It was impressive, and could be a great tool for commuting and lane filtering work too. I reckon every motorcycle courier, highway patrol, ambulance or security motorcycle should have this system fitted for sure – plus you get the footage!
On the motorway, the Ride Vision system is brilliant. First of all, merging from an on ramp is safer, as you are alerted about any vehicles driving in the slow lane that are in your blind spot. You can't enter a motorway looking backwards the entire time, so the Ride Vision alerts really help support your own head-checks. Once settled on the motorway, the system quickly adapts to where you are and what is around you and the alerts start to come in, helping you be more confident in your head-check and mirror check decisions before lane changing, and making you more aware in general.
---
---
The Ride Vision alerts will come in if you have a vehicle in your blind spot as you move to change lanes, if you are approaching a slower vehicle ahead in another lane or directly in front of you and there is a rapid change in speed difference, or if a vehicle is about to pass you in a lane to your left or right. It also works well if an approaching/passing vehicle has a long trailer or caravan. Out on the open highway, the system works to perfection, as well as any blind spot detection system I've sampled on four wheels over the years in various well equipped cars. I'm yet to try the Ducati system.
SAMPLE OF TRIP DOWNLOAD VIA APP
---
Overall I was really very impressed with the Ride Vision system. Personally, I have limited peripheral vision due to an ABI, so having these blind spot alerts just made my life so much easier and I will be looking to use the system on my next long term project bike, as I really see no excuse not to have this extra layer of survival kit out on our crazy roads, particularly for the price, which starts from $729 RRP for the Ride Vision Lite, to $789 RRP for the Ride Vision Pro. You can buy them here.
---
Editor's Note: If you are reading this article on any website other than BikeReview.com.au, please report it to BikeReview via our contact page, as it has been stolen or re-published without authority. 
---
TECH INFO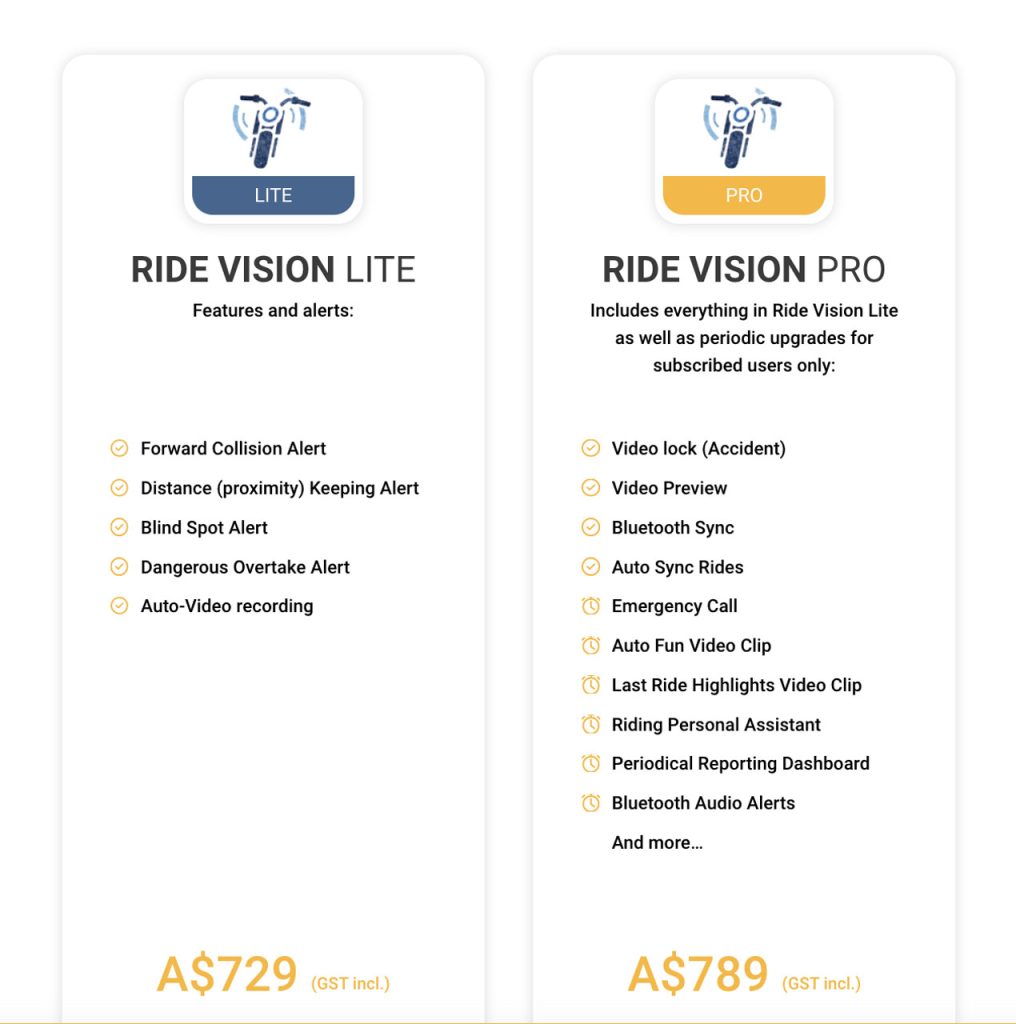 ---
The system works by using two small wide-angle cameras mounted on the rear and front of your bike. They transmit footage to Ride Vision's onboard processing unit, where a patented algorithm is used to detect and notify riders of collision threats in real-time. It's a compact set-up and a neat fit.
---
---
According to Ride Vision Australia, the benefits of the lifesaving functions are clear, with preliminary data indicating a 60 per cent reduction in potentially fatal collisions which is due to the systems Artificial Intelligence based anti-collision aftermarket system and in turn increases road safety for motorcyclists.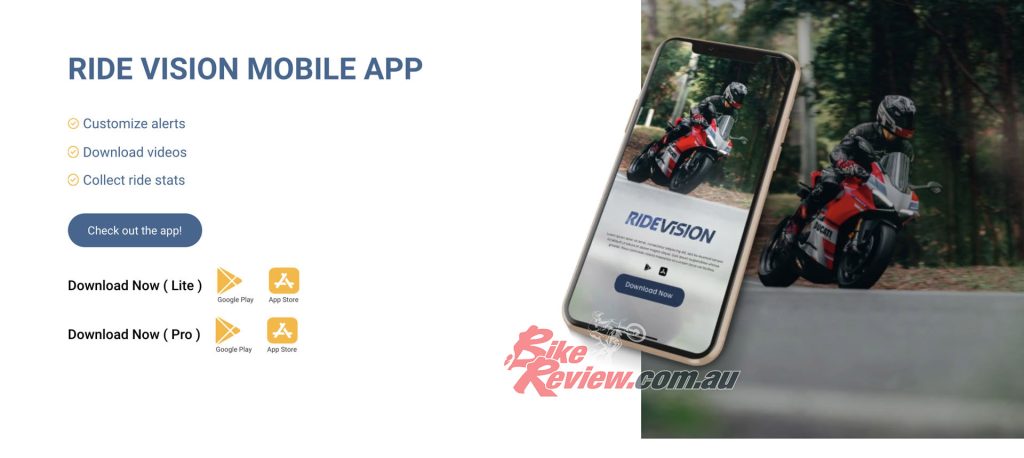 ---
To watch tech videos click here and check out the support page, where there are some useful videos and tips!
---
We bumped into the owner of Ride Vision Australia, Steven Munitz, while out testing before Xmas. We had the opportunity to have a good look at the system that he had installed to his own bike, a BMW F 900 XR, and got the rundown on how the set-up works.
Visit Ride Vision Australia's website and check out some the info, and have a quick look at the vid.
---
To read more about this visit Ride Vision Australia here.
---
RIDE VISION VIDEO
---
---
The Verdict | Product Review: Ride Vision Collision Aversion Technology