The 2022 Harley-Davidson Road Glide has broken cover here in Australia. Nick took one for a spin to see what the Bagger life is all about! Words: Nick Ware. Photos: Heather Ware.
I feel like saying I upgraded to the Street Glide ST's 'big brother' when I swapped for the 2022  Harley-Davidson Road Glide ST, but they're practically the same size and an extremely similar machine. That being said, I thoroughly enjoyed my time on the big bagger…
---
Check out Nick's review of the 2022 Street Glide ST here…
---
Realistically, the Road Glide has a bigger presence, with the solid mounted front fairing, that is significantly larger than the Street Glide ST's batwing. Personally, the aggressive styling and twin front headlight bars are tops in my books. The solid mounted fairing on the Road Glide offers a number of benefits for the taller rider, which may in fact be an issue for some smaller riders.
---
---
The larger, solid front fairing sits a little further away and gives the impression of 'more space' between you and the front wheel. Additionally, the gauges are spread out across the front, and the touch screen display is a bit more of a reach. This wasn't a problem for me, I actually prefer the layout, however, if you're already worried about size and distance, it's worth considering… 
The Road Glide ST offers a decent amount of storage, particularly in the front fairing. On the left and right you have two quite deep, flip-up lids that easily hold your phone, wallet, and keys. A locking mechanism on these wouldn't go astray, even a wireless phone charging system could be implemented. Regardless, they're perfect to chuck your gloves in. The 2022 model lacks a pillion seat is a bit of a disappointment for me, but the aftermarket option is always available.
The Road Glide ST is immaculate on the freeway, with very little wind buffeting, courtesy of the huge, solid front fairing. With cruise control set, the morning commutes were an absolute breeze. I typically would expect either a heated seat or grip option on a bike of such calibre, but hey, can't have it all.
---
"The Road Glide is immaculate on the freeway, with very little wind buffeting, courtesy of the huge, solid front fairing."
---
Around town, the fairing being mounted statically makes the front end feel weightless, no pushing a heavy dash and headlight around. The Road Glide ST actually feels quite nimble and balanced at slow speeds, and eager to tip in at higher speeds. 
The Road Glide ST definitely favours the taller rider for bar positioning, and I had issues with the intake on the right-hand side getting in the way of my leg. Regardless of my position, my shin always leans up against the pipe, and it is particularly difficult to tap the rear brake pedal without adjusting and bring your leg first out to the side. I'd suggest lowering and/or extending this if you're considering the Road Glide and are a taller rider.
---
---
The Milwaukee-Eight 117ci is a beast and offers more than enough torque to get the big bagger going. Sitting at 120km/h on the freeway is a breeze, and I can easily drop back to fifth, or even fourth for overtakes. It would've been nice to have seen some bigger HP numbers, but I think with a few upgrades, we'll start to see some proper 'performance baggers' out of these new Road Glide ST's. Besides, the Harley-Davidson range is all about grunt and torque, not so much power!
The ST models sit 15-20mm higher than the Specials, which makes riding a little more comfortable around town, especially when it comes to potholes and bumps on the freeway. Unless you're really interested in building a performance bagger, the factory suspension setup is more than adequate, for me at least.
---
---
In terms of audio, this BOOM! Box GTS system is something special, and if you're one to crank Springsteen full-noise, at 140km/h in a bandana and singlet, it's the audio system for you. The system offers some fantastic smartphone integration, and the GPS functionality is incredibly easy to use.
---
---
Overall, the Road Glide is a beast, with fantastic styling, intimidating road presence and surprising performance, you won't be disappointed. The price is definitely up there at $45,995 but if I had the money, I'd have one of these parked in the garage in a heart-beat!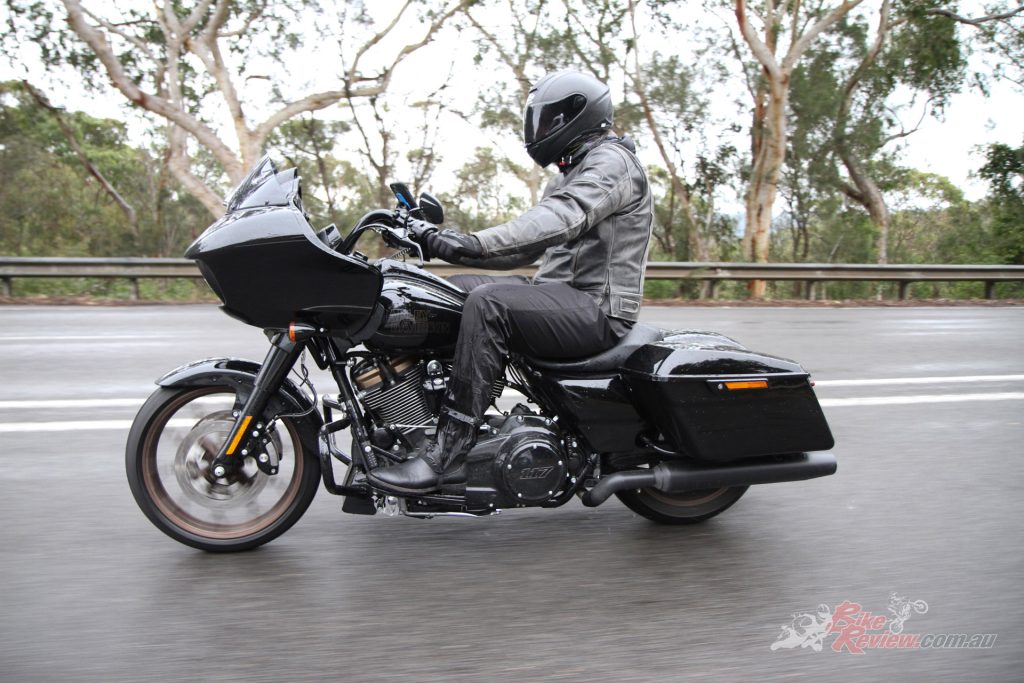 Tech Talk
The Milwaukee-Eight engine, the ninth Big Twin design in the company's storied lineage, is a clean-sheet design that combines the classic look, sound and feel of Harley-Davidson Big Twin engines with improvements in every aspect of engine performance. For 2022 Harley have gone with the 117ci engine over last years 114ci.
Retaining the classic 45-degree V-Twin cylinder angle, the Milwaukee-Eight engine produces 10 percent more torque (varies per model) than previous year models and features four-valve cylinder heads that offer 50 percent more intake and exhaust flow capacity.
The Milwaukee-Eight engine is counter-balanced to cancel 75 percent of primary vibration at idle, retaining the classic feel of a Harley V-Twin while being very smooth at highway speeds. A new heat management strategy for all Milwaukee-Eight engines improves rider and passenger comfort.
Four-valve cylinder heads (two exhaust and two intake valves per head, eight total) promote airflow through the engine and contribute to power output, and dual spark plugs ensure more complete combustion to maximise power and efficiency. Advanced cylinder head design, dual knock sensors, and precision cooling allow a 10.0:1 compression ratio for strong torque output and acceleration, while a single camshaft helps reduce mechanical noise so a richer exhaust tone can predominate.
Emulsion-technology rear shock absorbers feature a single knob to hydraulically adjust pre-load for optimal ride and control. The 49mm forks with dual bending valve suspension technology deliver linear damping characteristics for a smooth ride. Reflex linked Brembo brakes with ABS are standard.
---
---
Electronic cruise control holds a steady speed for comfort on long rides. A Daymaker LED headlamp pushes out an impressive punch with a bright-white beam that lights up the road. Smart Security System with proximity-based, hands-free security fob offers peace of mind.
---
---
Introduced first onto the 2020 model, Harley-Davidson's RDRS assist system adds an even further degree of safety for the rider. The functions are as follows:
Electronically Linked Braking (ELB) applies braking effort to both wheels when the rider uses either the hand lever (front) or foot pedal (rear) brake control, which can help many riders achieve better braking performance.
Cornering Electronically Linked Brakes (C-ELB) takes into account the motorcycle lean angle. C-ELB will alter the proportioning of brake pressure between the front and rear brakes when braking while cornering in an attempt to improve the ability of the bike to maintain the rider's intended path.
Anti-lock Braking System (ABS) is designed to prevent the wheels from locking under braking and helps the rider maintain control when braking in a straight-line, urgent situation.
Cornering Anti-lock Braking System (C-ABS) is a variant of ABS that takes into consideration the lean angle of a two-wheel motorcycle, or the lateral acceleration of a Trike model. The brake pressure required to limit wheel slip when cornering is typically or lower than the pressure required under straight line operation.
Drag-Torque Slip Control System (DSCS) is designed to reduce excessive rear-wheel slip under deceleration, which typically occurs when the rider makes an abrupt down-shift gear change or decelerates on wet or slippery road surfaces.
Cornering Drag-Torque Slip Control System (C-DSCS). On models equipped with C-DSCS the action of DSCS may be tailored when cornering, based on detected lean angle (two-wheel motorcycles) or lateral acceleration (Trike models).
Traction Control System (TCS) is designed to prevent the rear wheel from excessive spinning under acceleration when travelling in a straight line.
Cornering Traction Control System (C-TCS) is designed to prevent the rear wheel from excessive spinning under acceleration when going straight or cornering.
Vehicle Hold Control (VHC). The primary function of VHC is to keep the motorcycle from rolling, making it easier to ride away when starting on a hill, a bridge or a parking ramp.
---
---
Everything is controlled through Harley-Davidson's awesome 5.25 full colour TFT screen. Options can be changed through the tactile buttons on the bars, which also controls the cruise control, or the touch-screen itself. Your smartphone can be connected via Bluetooth to display notifications and play music. Other features include a Tyre Pressure Monitoring system (TPMS) and a USB charging port.
---
---
There are two paint options – Vivid Black or Gunship Gray. The front fender is trimmed for a sporty profile and lighter look and standard-length saddlebags replace the extended bags on Street Glide Special model. A Heavy Breather intake with forward-facing exposed air cleaner element reinforces performance-first styling, while the new solo seat gives the Road Glide ST a lean and aggressive look.
---

2022 Harley-Davidson RoadGlide ST Specifications
Price: From $45,995 (ride away)
Colours: Vivid Black or Gunship Gray
Warranty: Two-years unlimited km
Service: 1600km then every 8000km
Claimed Power: N/A
Claimed Torque: 168Nm@3500rpm
Wet Weight: 382kg
Fuel capacity: 22.7L
---
Engine: Air-cooled Milwaukee-Eight 117 V-Twin, 1923cc, 103.5 x 114.3mm bore x stroke, 10.2:1 compression ratio, ESPFI, two-into-one-into-two exhaust
Gearbox: Primary drive: 34/46. Six-speed ratios – 1st: 9.593, 6.65, 4.938, 4.0, 3.407, 6th: 2.875 Final Belt 32/68 Clutch: Wet multi-plate, cable actuation
---
Chassis: Mild steel; tubular frame; two-piece stamped and welded backbone; cast and forged junctions; twin downtubes; bolt-on rear frame with forged fender supports; MIG welded.
Rake: 26° Trail: 173mm
Suspension: 49mm dual bending valve forks, Premium standard height hand-adjustable rear suspension
Brakes: 300mm rotors, Four-piston fixed calipers (f), 300mm rotor, two-piston floating caliper (r), ABS
Wheels & Tyres: Bronze Prodigy wheels, 130/60 – 19in (f), 180/55 – 18in (r), Dunlop
---
DIMENSIONS
Wheelbase: 1625mm
Seat height: 715mm
Ground clearance: 140mm
Overall Length: 2405mm
Lean Angle: 32/31 degrees
---
Instruments: Multi-language multi-function touch screen digital full colour TFT display, handlebar mounted controls, Central Screen, BOOM! Audio System with GPS and touchscreen, charging port in fairing, LED lighting all around.
---
Editor's Note: If you are reading this article on any website other than BikeReview.com.au, please report it to BikeReview via our contact page, as it has been stolen or re-published without authority.
---

The Verdict | Quick Test: 2022 Harley-Davidson Road Glide ST