It's been 12-years since the last press test of MotoGP machines. Wild, loud, scary beasts. We could never have predicted the next test... The silent Energica EGO Corsa MotoE machine... Test: Alan Dowds Photography: Jesus Robledo, Energica
Is electric racing the kiss of death for motorsport? Or a decent alternative for the future? Our man Alan Dowds tried the very best in electric bike racing – the Energica MotoE bike that runs alongside the MotoGP championship. Here's what he reckoned of it…
Things change. The top class of motorbike racing started out on single-cylinder British and Italian four-strokes. Then multi-cylinder Italians and Japanese dominated, before we turned to 500 two-strokes, then back to four-strokes; 990cc V-5s and the like. We dabbled with 800cc, and even production-based CRT machinery, before finally heading back to 1000cc four-strokes. Big transformations for us enthusiasts – but minor, evolutionary stuff overall.
But there will be some revolutionary changes coming – maybe sooner than we reckon. No matter what old-timers like you or me say, the internal combustion engine is – probably – on the way out. The planet's burning, Australia's taking a fair chunk of the heat, and whether we like it or not, we'll all be moving to electric vehicles sooner or later.
For transport first, obviously – but what about motorsport? Electric bikes have been around for a while now in the off-road sector, where Oset trials bikes and Alta MX machines have had patchy success. But what about top-end circuit-based racing? Surely that will be sticking to high-octane gas…
Maybe not. I'm stood in the pit lane at Valencia's Ricardo Tormo circuit in Spain. It's the morning after the last MotoGP round of the season, and all the superstars are sleeping off the end-of-season party in their emperor-spec motorhomes behind me (some of them only got to bed an hour ago…) And parked up in front of me is a quartet of slick racebikes, in test-livery black fairings, with sponsors' logos subtly picked out in white.
Now, this would be unusual in any case – the last journalist test ride on the MotoGP bikes was back in 2007. But there's an extra layer of novelty here, because none of these machines have exhausts, clutch levers or gearchanges. They're Energica Ego Corsa race bikes – the control bike for the MotoE championship which rounded off its maiden season yesterday. Energica and Dorna have invited a few journos along this morning for a short, sweet ride on the bikes, to spread the word on how electric racing is going – for good or for ill.
I'm a little on the tense side. Now, that's fairly normal for me before a big track ride, especially on a World-Class racebike. But there's another level of nerves on top, because this is a totally novel experience. I've ridden a few electric bikes, scooters and dirt bikes over the years – but nothing like this. Plus, we just had a fairly sobering pre-ride briefing from the team manager, warning us about the tyre temperatures, especially on the little-used right hand side of the rubber. The track temperature on a late November morning is decidedly chilly, despite the sunshine. And during the race yesterday, I'd watched a few of the best riders in the game throwing their electric racebikes up the track with some gusto.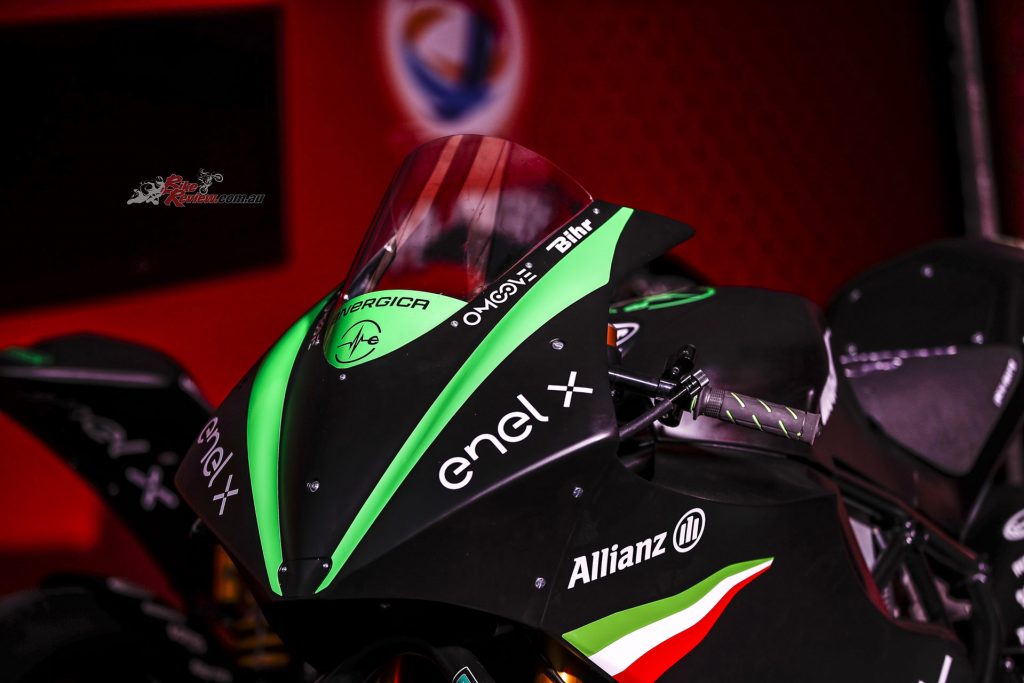 To round it off, it had taken 8 (eight) marshals to drag each bike out of the gravel. Because the large robotic fly in the electric bike ointment is the weight of the batteries they use. The Ego Corsa weighs in at almost 260kg; around the same as a loaded BMW R 1250 GS Adventure, 30kg more than a Suzuki Hayabusa, and not far off a Honda Pan European.
On the plus side, we have some top-notch chassis kit in operation to handle the mass. The frame is a hefty steel tube trellis, that looks like it could hold up a small railway bridge. The swingarm is a beefy braced aluminium fabrication, and there's high-end Öhlins suspension both ends: a modified Ohlins Hayabusa R&T USD fork up front and a totally bespoke single-tube rear monoshock. Brakes are by Brembo – GP4 nickel-plated monobloc calipers, chomping on 330mm rotors. The tyres are perhaps the best news though – Michelin slicks, custom-made not only for the MotoE bike, but also for this track.
Time to go. The grinning techs take the tyre warmers off and wave me over, I stretch up and over the tall, firm race seat, and just about get a tiptoe down, cursing my stumpy pins for the thousandth time. The Ego is accommodating enough from the rider's perch: twistgrip, Brembo brake master-cylinder, a smattering of colourful Skittles-shaped buttons, and a large colour TFT. That TFT dash is disconcerting though: there's no tacho of course, and the readouts and warning labels seem more like something from a science experiment than a racebike.
I flick the 'starter' switch over and get a green 'GO' light on the dash. Off we go down the long pit lane, in relative silence, with only a whining hum beneath me (at least I won't be waking the Marquez brothers et al from their slumbers), gingerly feeling my way. Onto the track, head through turn one, and then slam open the 'gas' down the short straight to turn two.
I'd been warned to keep the pace up, or the alien-spec slicks might cool down too much, so I'm keen to do that (while also trying to go steady while I get used to the beastie). Braced for the weight, I start braking early for turn two – and everything falls right into place. The track-firm suspension hardly dives at all at the front, the Brembos haul down the 340-odd kilos of Ego plus Dowds with ease, and I'm turned in, through turns two and three, and powering out before I know it. Super-steady through the right-hand turns four and five, then get the hammer down (carefully!) for the rest of the lap.
By the end of that first circuit, I'm settled right in. This is no fat, wobbly, unwieldy beast, barely fit for the track (don't be so hard on yourself Al – Ed) – it's actually a very well set-up machine, that just happens to have some extra mass tacked on. Round the final turn, and it's time to see what the powerplant can do down Valencia's massive main straight.
Quite a lot is the answer. It's not got massive top-end: around 160bhp is low for even a super-naked road bike these days, but the instant torque you get from the 300V, 120kW three-phase AC motor is very impressive. Add in the twist'n'go advantage, and you have pretty agile performance. It doesn't quite cancel out the mass, but it feels far livelier than the paper spec's would suggest.
Another factor that impresses more with each corner is the 'throttle' response. The reaction from the twistgrip is excellent, super-intuitive and direct, with masses of fine control. Valencia's final turn goes on for a looooong time, but I felt right in charge of the thrust from the rear wheel all the way round, constantly modulating the throttle with immediate response and feedback.
The last lap comes around all too soon. My brain has totally adapted to this new beast – I've stopped going for autopilot downshifts already, the front-end feels natural and compliant, and I'm ready for how far I need to lean to get my stumpy knee down on the deck. And it's a proper blast. Perhaps the best bit is the thing I was most worried about – the tyres. Michelin's finest hand-made slicks are the tyres of the Gods and wasted on the likes of me of course – but it's a huge pleasure to experience them. All the grip you can eat, super feedback from the front on the brakes, and mega stability, these are the tyres you wish you could have on every ride.
Similarly, the ultra-spec Brembo brakes are doing great work, considering what they're up against, the Z04 pads giving stomping power and intimate feel. And the Öhlins suspension provides a proper magic-carpet ride, very firm, yet compliant when the extensive weight transfers from one end to the other. The whole chassis is a treat in fact – it's 'on rails'-stability mid-corner is matched to pretty nimble turning when you need it. As you'd expect, with the best suspension and chassis set-up guys in the business looking after it, for some of the best development racers around.
Back into the pits, I'm grateful that I didn't throw this priceless piece of electro-gubbins into the gravel, and I hand her back to the techs for a scrub-down and an hour on the high-tech fast charger for the next group of riders.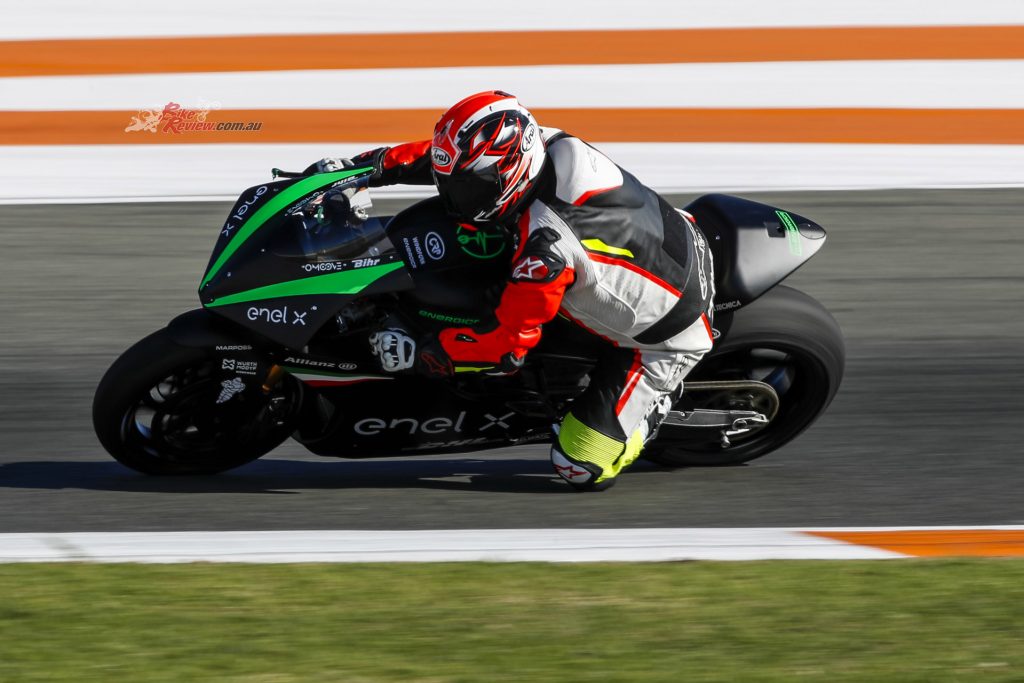 Things change then – but perhaps not too fast in this case. The Ego Corsa is a sorted piece of work, and I'd be more than happy to spend a track day on one at Brands Hatch, Donington or Sydney Motorsports Park (so long as I had a fast charger!) But it's not really ready for top-class racing prime time just yet. The limits of the weight are clear and even with all that battery power, it still only lasts seven laps (plus one cool-down lap). So if you're worried about petrol racebikes disappearing any time soon, you can probably relax – for now at any rate…
Next month we have a test on the road going Energica Ego. Head to the Energica site here and have a look at their amazing range. Stunning bikes… and for the season 2019 results of MotoE click here. We also have some stunning MotoE galleries we ran throughout the season here.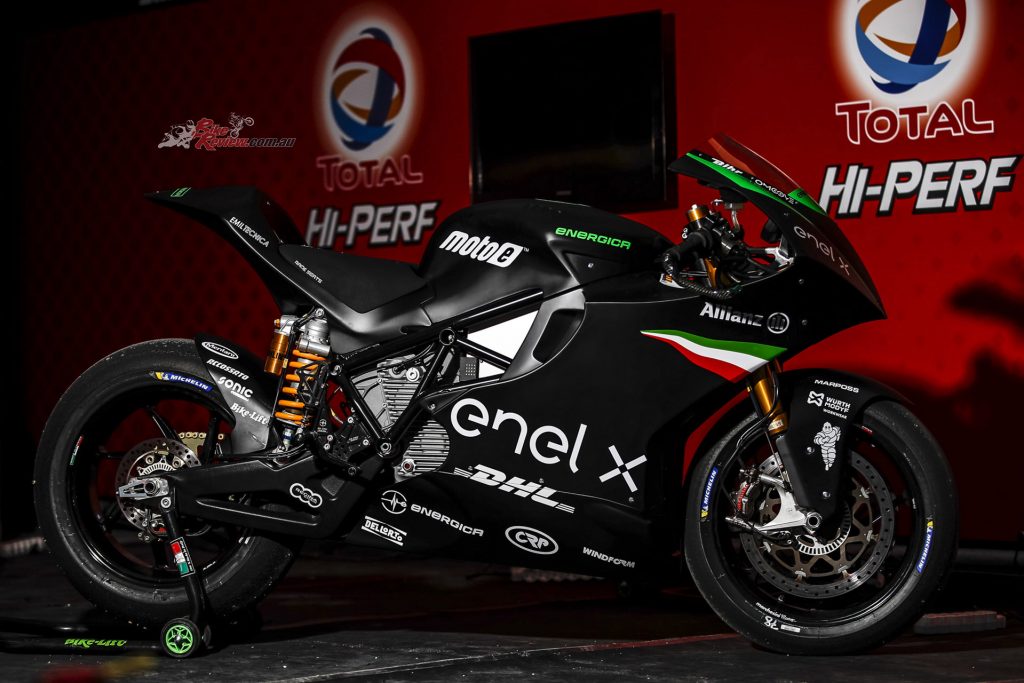 2020 Energica EGO Corsa Specifications
Claimed Power: 120kW 300V
Claimed Torque: 215Nm
Weight: 260kg
Engine: 300V permanent magnet AC, oil cooled
---
Chassis: Tubular steel trellis frame, cast alloy swingarm
Rake: N/A°
Trail: N/A mm
Suspension: 43mm modified Ohlins Hayabusa R&T inverted forks, 13-15Nm springs, Ohlins internals, Ohlins shock 130-150Nm spring
Brakes: 330mm steel T-Drive rotors (f), Brembo GP4 Nickel-plated four-piston monoblock radial-mount calipers, Z04 pads, and Brembo master-cylinder, 220mm rotor (r),Brembo caliper
Wheels & Tyres: Forged alloy wheels, Michelin MotoE developed slick tyres.
---
DIMENSIONS
Wheelbase: 1465mm
Seat height: 810mm
Overall width: 870mm
Overall Length: 2140mm
Overall height: 1166mm
Instruments: MotoE TFT display – Cobo 4.3in.
---
2019 Energica EGO Corsa MotoE bike gallery
The Verdict | Racer Review: 2019 Energica Ego Corsa MotoE Bike
The amazing Energica Ego Corsa is the special edition Energica Ego built for MotoE racing. Alan Dowds was lucky enough to be one of the media invited to test the bike at Valencia a few weeks ago. Here's what a normal mere mortal thinks of the amazing bike… check out our Energica Ego Corsa MotoE review.