Steve Martin's famous 1296cc Period 5 Katana is the wild ride of the pack, with 185hp, 140ft-lbs torque and a top speed of 260km/h… Words: Jeff Ware, Photography: SD Pics, Heather Ware
A chance to ride the TBR D&D QBE Suzuki Katana that Steve Martin has made so famous at the Phillip Island Classic a few years ago, along with the Giles and Roberts Katanas, was a blast. These things are so trick that we thought it was time to revisit them with a series of posts, particularly with the current hype around the new KATANA. First off, here's the #99 bike…
Not only have I always been a fan of the Katana and all classic era Japanese fours, I've always admired the drag racing engineering brilliance and huge list of achievements Trevor Birrell and Dale Gilbert have collectively amassed over the past 30-years.
Then of course, there's the pure awe of watching Steve Martin reeling off insanely fast laps on this bike, like his 1:38.373 on the Saturday of the Classic. What a lap…
The Trevor Birrell Racing/D&D Industries/QBE/Suzuki team came together when Trevor and Dale were looking for a new challenge from a life of drag racing. They all visited the Phillip Island Classic in 2009, along with friend the late Peter Kerr of Racebike Services. Dale and Trevor were introduced to Steve Martin via Peter, who was an original sponsor and mate of South Australian Steve.
12 months later Steve blew everyone away on a Katana built by the guys and things went from there, the team winning the Phillip Island Classic in 2010, 2013 and 2014 and BSFS 2012. Dale and Trevor brought in their long time drag racing supporters, Castrol and Serco, while Steve brought in Pirelli tyres and QBE Insurance to form their team along with other team sponsors Suzuki Australia, Bendix, Venhill, Light Alloy Engineering, Race Bike Services, MCR, Springwood Suzuki and Dunlop.
Steve's #99 TBR Katana
The #99 is the most famous bike in classic racing and for good reason. When it arrived on the scene back in 2010 at the Phillip Island Classic, Steve smashed everyone taking pole position and four wins from four starts! Not bad for a bunch of drag racers with a gun rider!
Trevor Birrell is famous for his big four-stroke air-cooled engines, particularly Suzukis. He started drag racing in 1982 and earned Nine Australian Championships and 17 National Records between 1982 and 2011.
Dale started drag racing in 1984 and soon started building bodywork and chassis for drag bikes and has won more than 10 National Championships.
After the previously mentioned hook up at PI, the guys realised they had enough parts to have a go. Initially using a braced standard frame then moving to chrome-moly in 2011.
The engine is based on the mighty GSX1100 and was built to a tight budget using TBR's 30-years worth of spares and plenty of know-how from Trevor.
The barrels are bored and sleeved to take the 79mm JE custom order forged pistons, which are decompressed slightly. With a 66mm stroke the bike is 1296cc. There are two types of head used by Trevor, a big port head and a CNC ported head. Gilesey's bike runs the CNC head as he likes the aggressive punch, while Steve uses the smaller port head but more aggressive cams, Steve prefers this type of power delivery than the more aggressive initial throttle opening of the other engine set-ups.
The #99 bike runs Pirellis and the rear tyre is not able to sit on the narrow 5.5in rim correctly, contributing to grip issues. The gentler mid range allows Steve to open the throttle earlier but the thing still spins up a lot once the tacho hits 6000rpm, as it is quite a peaky power delivery.
Valves are stainless steel and oversize and Trevor currently gets two race meetings before the head needs a service. Titanium valves and brass alloy seats are high on the priority list but at $150 a valve versus $30 a valve, budget prohibits this for now. Springs are APE and titanium retainers are used.
The camshafts Steve runs are TBR units and quite aggressive, while Giles and Roberts run Yoshimura Stage III and cam timing is secret!
The standard crankcases are used, although EFE are slightly stronger internally than GSX/Katana cases, they are identical externally. The team have a few sets of EFE cases but Steve's bike runs Katana cases.
The crankshaft is GSX1000S, a special edition Katana built for endurance racing homologation, such as the Castrol 6 Hour. The cranks were stronger and had bigger conrods and are still available as an OEM part.
Trevor uses these after welding and balancing. He also bronze bushes the small ends as they get extremely hot and gudgeon pins turn orange so need to be replaced regularly!
The gearbox is standard GSX with heavily undercut gear dogs and a modified detent mechanism, however, the biggest upgrade is the GSX-R1000K6 slipper clutch and Light Alloy Engineering clutch cover. Some challenges have arisen with the gearbox autoshifting when the clutch releases into turns, as it was not designed to be unloaded, but Trevor is working on an improved detent setup between races.
The exhaust system is a sexy Yoshimura period replica titanium four-into-one and fuelling is via Keihin 35mm smoothbore carburettors. The team have extensively tested with 37mm and even 39mm but the 35mm items offer the most controllable power.
Ignition is by MSD MC-4 using a single ignition curve. The MSD ignition has a huge range of capabilities and in future could be used to help some traction problems, with programmable gear specific ignition curves on hand, multiple switchable maps and rev limits the MSD system could help Steve with tyre life and traction via switchable maps, particularly towards the end of a race. It's a great system used a lot in drag racing. Spark plugs are NGK J10A items.
The engine is wet sump, runs Castrol 10w40 oil and a Lockheed oil cooler and fuel is Avgas. Starting is via remote external starter. A trick addition are quick-release engine mounts, another trick from the drag racing world.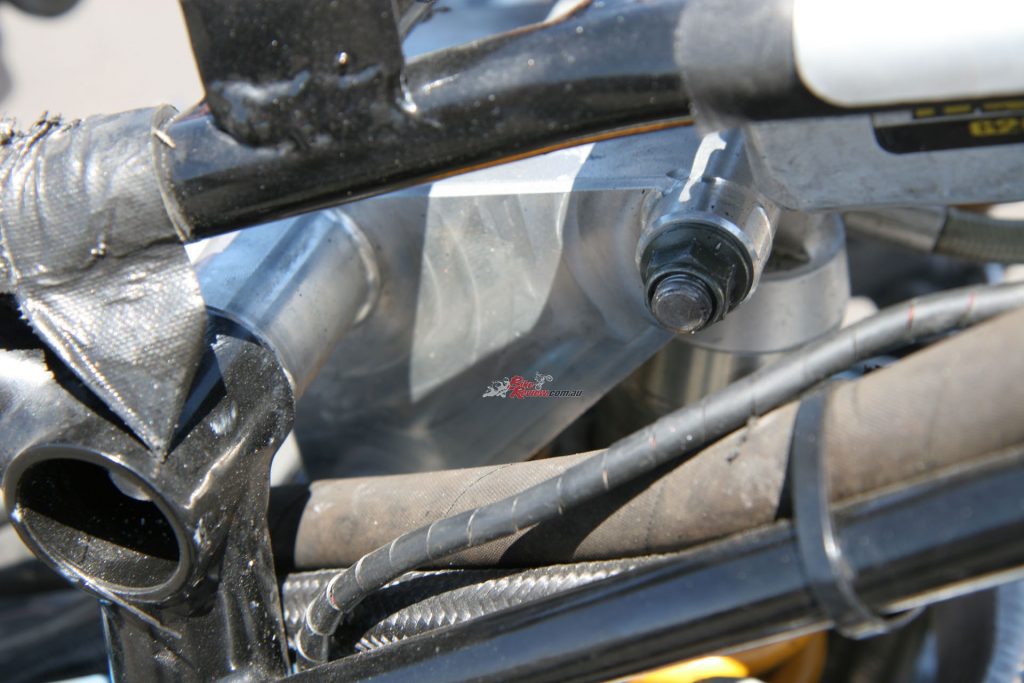 The chassis is a work of art. Dale Gilbert is a renowned drag racing chassis engineer and applied his skills to this road racer. After building a jig off a stock Katana frame, Dale built the chrome-moly frames by hand, heavily bracing them.
The three frames are all different spec as per rider's choice; with the #24 frame an original steel item to mute the critics out there and prove the team can be competitive on a stock frame.
Once the frame is fabricated, it is measured and aligned at Motorcycle Crash Repairs in Victoria using a Scheibner digital measuring system and aligned on a Globaljig frame straightener. The frames are not painted, saving weight and making repairs easy at the track.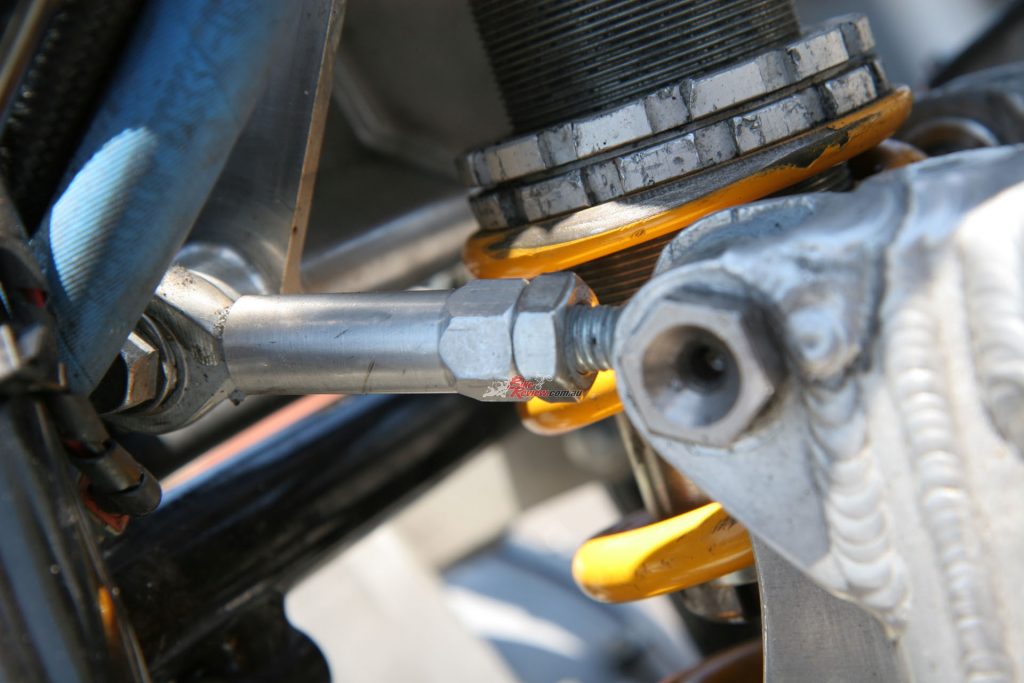 The swingarm was originally a $50 unit from an RF900 but rules changed and a hand made braced swingarm had to be fabricated. This was done by Light Alloy Engineering and is a work of art.
The wheels are GSX-R1000 front and GSF650 rear, with Manta rotors and AP Lockheed calipers fed by Venhill lines and squeezing very trick Bendix Carbon-Matrix pads. Shocks are Ohlins and the forks are CBR600F2 with Ohlins internals. Racebike Services Tony Hamilton tunes suspension.
All billet parts including the triple-clamps are made by Dale on his CNC mill. The dash is a single centrally-mounted Auto Meter Phantom tacho with an oil warning light, a tether on the left bar is also fitted and a kill switch on the right. Grips are Renthal and the throttle is from a KX250 Kawasaki, while the 'bars themselves are chrome-moly aftermarket items.
The bodywork is stunning and also hand made by Dale Gilbert. From a distance you swear it has the original grey pillion seat on it. Amazing job…
On Board the #99 TBR Katana
The first thing I noticed about the #99 katana was the rolled back feel – a lower ride-height than the other bikes. The front felt taller and I felt like I was really sitting in the bike rather than on it, more like an original Katana. The 'bars are widely spaced and under the triple-clamp but still feel tall by modern standards. Grips are ultra-thin, which I found really hard to hold and have a relaxed grip on.
The footpegs are close to the seat and being an old girl there is a nice long reach to the 'bars, which helps to duck behind the tiny fairing. Overall it's a good fighting position.
The 1980s superbike feel is something else. A big wide air-cooled motor protruding out either side under a narrow, long fuel tank mounted to a narrow frame really gives me the impression I'm about to ride a big motor with handlebars and wheels bolted to it!
The siren goes off and the guys get the remote starter out and fire the beast into life. The servo pie and large strawberry Moove I had for breakfast, well, hangover cure, is churning in my stomach. For some reason I thought a Berocca to wash it all down would help but it ain't helping now. Damn I shouldn't have opened that second bottle of red last night…
Worse – I've got my brand new Ricondi custom suit on for the first time and I was a full 8kg lighter when I was measured for it! Time to lose my reputation as the fastest A Grader in Australia with a triple-chin, I reckon!
Well if anything is going to snap me into life it's a bloody big-engined Katana so I roll out pit lane onto the track. The Pirellis are straight off the warmers and time is limited so I don't muck around, knee is on the deck in turn one. I fire out of one to two and can't believe the power of this thing – really, it's amazing up top, or at least feels that way with the delivery.
As soon as I change direction for turn two I feel the chassis difference on Steve's bike. The steering is quick, ultra quick in initial turn, but a bit of muscle is required to get the bike over on its side for the run through the apex. I'm struggling and running wide.
I feel like I can't lean the bike fully over. I push on for a lap and figure it out then try and have a bit of fun. First run onto the chute I notice the Pirelli really sliding around as the bike weaves and bucks wide open in fourth gear (it also pulls fifth there no worries!).
I grab fifth 100m or so before the start line and do my best to tuck my lard in behind the screen and fairing. This bike is wickedly fast but does not feel quite as fast as the other two at the end of the straight. I still absolutely blast past a BMW S 1000 RR and two Fireblades! Hahah. Suckers!
Sitting up and peeling into T1 on the brakes I almost oversteer, then pull the bike on its side through the turn. It's hard work and I take my hat off to Steve. He must be a fit old bastard!
Opening the gas the initial drive of the big port motors is not there but once the engine is revving higher the acceleration from T1 to T2 is amazing. Hard on the brakes helps me get the bike on its side for the double-apex through Southern loop.
There is some sidewall pumping from the rear tyre out of Southern Loop and then the run to Stoner Corner and the corner itself is a blur. It is literally a blink form T2 to T3. I'm in fourth through Stoner corner, pinned to the stop on the exit and it's superbike fast. As I approach Honda I think about the escape road then decide to give the brakes a good squeeze.
I'm amazed at how good they are and the familiar feel of the Carbon-Matrix pads is there immediately. They need heat and they cool by Honda so the first bit of initial braking is not there then they get hot and bang you have brakes for the lap until they cool again on the chute…
I pull it up for Honda. Again, initial steering moment is super quick but then I find it hard to complete the turn and keep it on its side nice and tight. The power delivery off Honda causes wheelspin. I also notice I'm carrying a full 1000rpm less than on the other bikes as I can easily hold second gear for Siberia while on the others I felt I needed to grab third briefly. I'm told Gilesy just revs it to 10,500rpm in second there!
Through Siberia the #99 machine is good once in the turn and fires off the corner like a missile. This is where these bikes feel really fast, from Siberia to Lukey Heights. Holy crap! Even the seagulls don't scare me as I've got a massive air-cooled engine to take them out with!
Lukey Heights arrives quickly and I crack the throttle to get balance and a bit of drive, but I get wheelspin. Amazing.
Braking into MG is easy, the powerful brakes and firm front end and lower rear ride height mean Steve's bike is stable here. The gearbox is super heavy in shift and the throttle is also heavy, so I feel a bit clumsy here, in and out of the corner where you short-shift to third.
Driving through T10 takes a bit of finesse as the Pirelli wants to light up, then it's 9500rpm in third before grabbing fifth for the ride of your life through the final corner, the big Kat wheel spinning and wheel standing onto the chute like the angry beast it is.
I did another few laps and that was enough for me. My arms usually don't get that sore and I can ride a superbike all day long as I'm just relaxed on a bike but, my hands were cramping and every muscle in my upper body strained. It was either the Katana or the pie but I'm blaming the Katana…
At the end of the test I could not get the grin off my face.
Hats off to the team who have proven that drag racers can go road racing with great success.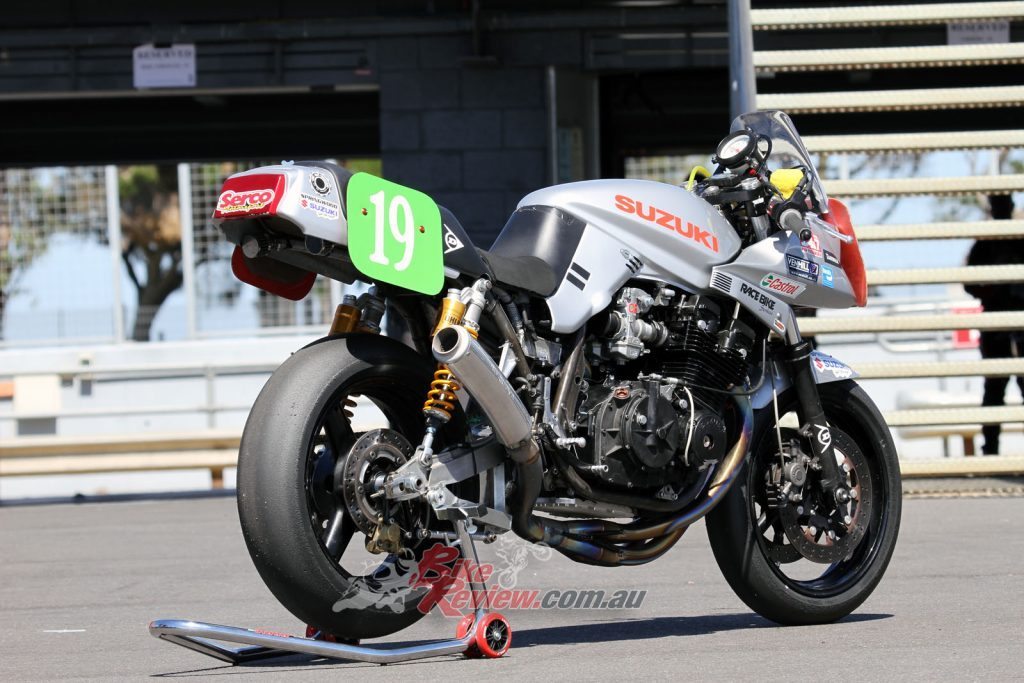 The Three TBR Katanas
I also managed to test the #19 bike of the legendary Shawn Giles as well as the #24 steel framed bike of Brendan Roberts on the days, which will both get full features soon. All three bikes were very different and it is amazing how they achieve the same lap time in such different ways.
Shawn's #19 bike was on rails, tall in the back, low in the front with soft forks and smooth, linear power delivery from low rpm to the peak. It was easy steering and not tiring to ride.
Brendan Robert's #24 bike, which has the steel original heavily braced frame, was the fastest straight-line bike of the trio with monster mid range and top end power, smooth delivery but not as smooth as the Giles engine, and a nice handling set-up but pretty flexy and with plenty of headshake.
Brendan's bike had to be manhandled a fair bit more and had a firmer suspension set-up too. Steve's bike was a wild animal, with the shortest chrome-moly frame here and the most aggressive engine, she sure was a loose unit that could do with some sitting in a dark room calming down! YeeHaa!
SPECIFICATIONS: #99 Steve Martin TBR Katana
ENGINE: Trevor Birrell Racing engine. 1982 GSX1100 Katana based engine, 79 x 66mm bore x stroke, 1296cc, 10:1 compression, GSX1100/Katana crankcases, Suzuki GSX barrels bored and resleeved to accept 79mm, Wiseco forged alloy pistons, Wiseco rings, GSX1000S polished and welded crankshaft, Suzuki main bearings, big end bearings and conrods, CNC ported cylinder-head, oversize valves (+3mm EX, +4mm IN), RD valve springs, modified valve seats, Yoshimura stage III cams, GSX-R1000K6 slipper clutch, standard plates and heavy-duty springs, modified shift drum, undercut gear dogs using standard five-speed gearbox, GS750 primary drive gears, 35mm Keihin smoothbore carburettors, titanium Yoshimura exhaust system, MSD-MC4 ignition unit, D&D Industries billet engine covers and remote starter access, Lockheed oil cooler.
CHASSIS & BODYWORK: Dale Gilbert D&D Industries chassis and bodywork, hand made chrome-moly tubing with additional bracing in steering head and swingarm pivot areas, 20mm shorter than standard Katana, standard Katana steering head size and rake angle. Frame is measured on a Scheibner measuring system and straightened on a Globaljig frame aligner at Motorcycle Crash Repairs. Light Alloy Engineering swingarm, Ohlins shocks, CBR600F2 forks with Ohlins internals, GSX-R1000 3.5 x 17in front wheel, GSF650 5.0 x 17 rear wheel, Pirelli slicks, Manta rotors (f), AP Lockheed dual-piston calipers, stainless rotor, Suzuki caliper (r), GPX-Pro GPS lap timer and data loggers (testing only), D&D Industries fibreglass bodywork, D&D Industries CNC billet triple-clamps, billet rearsets, all CNC billet parts made by D&D Industries, aftermarket chrome-moly handlebars.
PERFORMANCE:185-horsepower, 140ft-lbs torque, top speed Phillip Island 260km/h, best lap 2014 Phillip Island Classic 1:38.373.
The Trevor Birrell Racing Team
Team Owners: Trevor Birrell and Dale Gilbert
Engine builder: Trevor Birrell
Chassis engineer: Dale Gilbert
Suspension engineer: Tony Hamilton
Tyres and team co-ordinator: Chris Cameron
Pit Crew: Riley Gilbert, Chris Godeassi, Scott Snibson, Andrew Allen
Riders: Steve Martin, Shawn Giles, Brendan Roberts
The Verdict | Retro Racer: revisiting the Steve Martin #99 TBR Katana
A chance to ride the TBR D&D QBE Suzuki Katana that our mate Steve Martin has made so famous at the Phillip Island Classic, Barry Sheene Festival Of Speed and in various QBE Insurance ads was a dream come true.