The new Suzuki KATANA is a well priced, engaging, high-performance naked that turns out to be more than just a pretty face... Review: Jeff Ware Photography: Patrick Galang TDJ Media
The new Suzuki KATANA was first unveiled at EICMA last year and Suzuki Australia began to roll out a sales drive for the much hyped model. Pre orders for the bike were taken and the price promised to be under $20k. A free $1000 limited run KATANA Arai lid was thrown in and 90 per cent of the first delivered models were sold. Now the bike is on showroom floors and lucky owners have taken delivery. We recently rode the bike. Here is our full GSX-S1000 KATANA review…
The KATANA World Launch was held in Japan and it was in freezing, snowing conditions. A quick Google or YouTube search will reveal that the reviews from that event don't give much of an insight into riding the bike. The UK launch was next, also held in rainy, cold conditions. Luckily for us Aussies, Suzuki Australia decided to launch the bike in Queensland (on the Gold Coast), to give us the best opportunity to properly sample the beast. It worked and we had an awesome ride. The bike, for me, was a real surprise…
Firstly, to get it out of the way, this is not a retro themed bike or a modern retro. One look at it shows it is a thoroughly modern model, with some tributes to the Katana styling and name, and a platform based on the fantastic GSX-S1000 and GSX-R1000 models. Suzuki made it well clear to us that they never intended to build a retro bike. This is a new Katana. A super naked. Simple as that.
Walking around the bike in the foyer of the luxury Marriott Hotel on the Gold Coast, I'm instantly drawn to the black and red model. It just looks so much better in the flesh than the press shots. The bike has the same muscular and angular toughness that the original KATANA models were so unique for. At the same time it has the high performance stance of the GSX-R1000 and the hypernaked menace of the GSX-S1000. The finish is fantastic, almost all parts are blacked out and the only thing that stands out as ugly is the exhaust collector box and pre muffler, which needed to be black…
Walking over to the silver model, the most famous KATANA colour, I'm not in awe as much as I was when drooling over the black bike. The silver finish is deep and luscious, the bike looks more like a KATANA than the black example, but it's just not as menacing to me. I'm told there and then that the silver will grow on me. It did… and by the end of the two days I had changed my mind. It's silver for me.
The Ride
After a short but informative presentation and a KATANA / Japanese themed dinner at a Japanese restaurant, I was feeling like I was back living in Tokyo again. Heading off to kip after a few amber refreshments, I could not help but think about the ride the next day. I was pretty excited and even had my gear laid out ready to go.
In the morning I was wide awake by 5:00am. I could not get breakfast out of the way fast enough – an early 7:30am start was scheduled and the bikes were lined up out front ready to be thrashed. The excitement was building like it does with a new model but more so this time given the hype of the Katana – and it felt pretty special to be able to ride the bike a day before it was officially released here. One of the good sides of my job…
Hopping on my silver steed for the day, the first time I had, I familiarised myself with the controls. Being an ex GSX-S1000 rider I felt at home immediately. I was disappointed the clutch lever had no span adjustment as it was too close for me. Aside from that, the controls fall to hand easily as most bikes do. Ergonomically, the KATANA feels unlike any nakedbike around. The 'bars are wider than the GSX-S, taller and further forward. The seat is jacked up and angled toward the tank, while the 'pegs feel miles back, either due to the seat position or they have longer rearset brackets. The 'pegs are high, as well, so there is a lot of flex at the knee. The tank is narrow but not as narrow as I expected. The dash looks trick but is super busy and during my ride at a glance I could only read speed or gear. The mirrors are small due to the shape but well positioned.
Firing the KATANA up is cool. Like the GSX-S, one press of the button and we had four Kat's fast idling with a pretty menacing growl for a stock bike. Suzuki worked hard on the GSX range to get tuned sounds and did a good job. I'd still be putting a slip-on on the bike first job…
Heading off for a ride through suburbia en route to the hills, the KATANA is a breeze. With a full fuel tank and being a tall bike, it is no lightweight, but at low speed the Kat is easy to balance and weave through traffic. The throttle snatch is there and quite annoying at low speeds in the first three gears. It's a sudden snap when the throttle is initially opened and well documented with the GSX-S1000. I never bothered to fix it on my GSX-S and wouldn't with the KATANA. For me it's not a deal breaker, simply short-shifting in town and using a higher gear stops it completely, then the Kat becomes a silky smooth commuter. Only at super low first gear or second gear traffic, when you have no choice but to ride in that range, it can become taxing but rear brake and clutch sorts it out. I rode in TC 3 in the traffic.
The engine is a gem and as smooth as you like, with no vibes whatsoever and a steady 80ºC in traffic, only exceeding 100ºC at a standstill, when the fan kicks in to regulate it. There is no heat on the legs to speak of and I was wearing jeans. Flipping through the dash menus and TC controls is simple and can quickly be done at the traffic lights. It's a nice easy going, basic bike in the suburbs with tall but suitable gearing – and it definitely gets a lot of attention and second glances. Town / traffic braking is easy thanks to progressive initial bite, strong back brakes with good feel and the confidence of ABS. The ride is firm and so is the seat, hinting at a bike that wants fast corners more than traffic lights…
Out of town and into the hills, the KATANA came alive. That same easy going nature of the commute is present, it's not a balls-out fully committed sports naked but it is more than capable of carving up corners and the acceleration from 6000rpm onwards is arm stretching…
Back a gear and with that KATANA-themed tacho display climbing past 7000rpm, the trees are flashing by in a blur of timber and leaves. The KATANA keeps accelerating and the torque is monstrous. My neck is strained, my knees are squeezing the tank and I am holding wide 'bars, wide-eyed, with a big wide grin as I chase the group through the twists and turns of the hills behind the Goldy. What a buzz…
The KATANA's sportsbike bones are a massive advantage here, as the bike transforms from a kitchen knife to Katana sword, slicing through the mountainside with precision, agility and finesse. Acceleration is on hand anywhere, in any gear. The middle-range is immense, while the top-end is intense. The clutch action is smooth and the slipper clutch allows fast corner entry with well modulated engine braking. On the way out, in the upper rpm and at speed, there is almost no throttle snatch. Fuelling is clean and the throttle is predictable. The gearbox is accurate and positive in shift but lacks a quickshifter. It takes me most of the day to remember that, as most bike have one now I'm just not used to shifting the old fashioned way – a quickshifter would be top of my shopping list on the KATANA.
With handlebars so wide, steering is quick and very little effort is required to flick the KATANA on it's knife edge. Initial turn is lightening fast, the bike then needs some persuading to get through the next third of lean angle, and doesn't like to be held at half lean where it tries to stand up, but once pushed through to full lean, it stays there and holds a line through a turn nicely. It loves to be shown who is boss, braked hard into a corner, quickly flicked on its side, then fired off the turn. This style makes for extremely fun and rewarding riding on the KATANA and is not at all tiring. Ground clearance is OK, however, my boots kept touching down.
High speed straight line stability is good but be prepared to strain your neck muscles unless you put your chin on the tank. Those 'bars make you a wind sock and today I have sore shoulders and a sore neck… Top speed is, err, fast. Apparently.
A place where there could be some improvement is stability over mid-turn bumps. The forks are well sprung and the compression and rebound a good compromise but high speed compression, sharp bumps, cause a jolt through the front-end that can cause the front tyre to skip and is quite unnerving. At the back, mid-turn sharp bumps are OK, however, mid-turn dips or rises on the road get the rear shock going on like a pogo stick, then the bike wants to stand up and run wide. However, my experience with the GSX-S1000 was that I eventually dialled a lot of that out, though, without replacing the shock and re-valving the forks it was never eliminated. Remember, this is a bike that is well under $20k ride away…
Hard braking at a fast pace is too easy. The KATANA is a heavy machine and big (as in tall), yet the Brembo brakes, despite a conventional master-cylinder, stop the bike no problem. There is no shortage of stopping power, so long as you keep on squeezing the span-adjustable lever and pressing on the rear pedal. The ABS is good, however, I would like cornering ABS on a future model and would be happy to pay the premium for it. With that would come an IMU and improved TC. Speaking of which, I didn't feel it working as the Dunlops hook up so well but the basic TC system in not intrusive and it is nice to know it is there, particularly with so much power and torque on hand!
Firing the bike off turns in the lower speed switchbacks, I get to indulge in the induction noise and exhaust note, neither of which I could hear at speeds over 80km/h. It sounds hot at low speed, adding to the fun factor.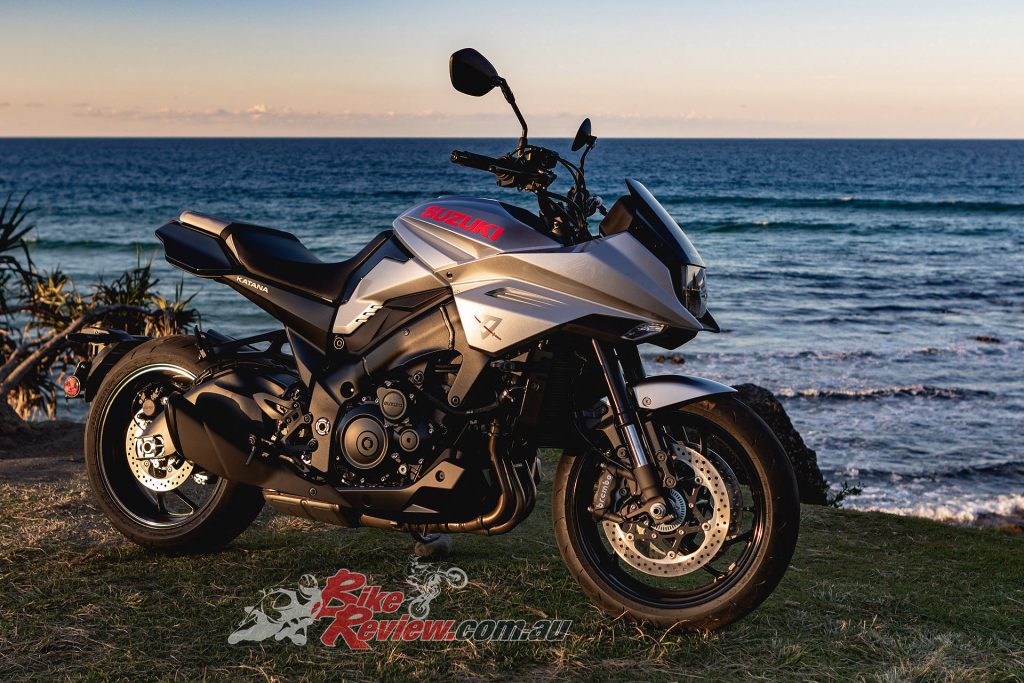 In the switchback turns, the seating position was fantastic. At first I felt locked in on the bike but soon realised there is freedom to hang off enough – and in the tight stuff there is no need. The KATANA likes the weight central, pushing the suspension down and driving the tyres into the road. Footpeg input helps with direction change, although at 187cm I was cramped in the leg department and had to stretch when possible. We stopped plenty of times anyway, so it wasn't an issue. The longest stint was an hour or so, and I was still comfy on the bike. By the way, parking, the sidestand is dead easy to flick down – something of a rarity these days! Steering lock is lacking though, so U-turns are wide.
After 160km on the KATANA the fuel reading showed that there was a range remaining of 11km. Apparently Suzuki have been copping it for the 12L fuel tank. I really don't understand why. There are servo's everywhere, it's not a bike you would want to ride more than 160km – 200km on in one hit and it isn't a touring bike. The range is fine and as good as a 20L tank was a decade ago thanks to modern fuelling…
Conclusion
I have to say, as sceptical as I was about the KATANA, I am really impressed. It's not just a pretty GSX-S1000. It is a new model that is different enough to stand on its own and be called the new KATANA. The bike is super stylish, great quality, extremely engaging at a fundamental level and that means grins in all conditions, every ride. It is basic, yes, but it is competitively priced and there isn't much around to compete against it in that price range. It is a great urban poser, a fun commuter and a blindingly capable sports machine. To top it off, the 2020 Katana is surely to become a collectable model. Make mine silver, thanks…
Way of The Sword
Styling
Sleek, sporty profile with sharp, sweeping lines

Inspired by the original Katana, but a totally modern look

Sharp front end and clean rear end

Distinctive new LED headlight and LED front position lights

Satellite rear fender extending from the swingarm

Red logo decal inherited from the legendary 1980s KATANA

Black upswept muffler
Ergonomics
Upright riding position

Raised handlebars

Two-tone seat designed for comfort and looks

825mm seat height

Slim where the tank meets the seat
Engine
999cc liquid-cooled inline-four

K5 GSX-R1000 derived highly modified long-stroke engine, 73.4mm bore and 59.0mm stroke, as found on current GSX-S1000 models

Maximum output 110kW (150PS)@10,000rpm

Maximum torque 108NM@9500rpm

Suzuki Dual Throttle Valve (SDTV) system

Suzuki Exhaust Tuning (SET) system

Custom 4-2-1 exhaust system

Lightweight, compact and rigid aluminium frame

Lightweight braced aluminium swingarm

Fully adjustable 43mm KYB inverted front forks

Radial mount four-piston Brembo front brake calipers
Electronics
3-mode traction control (1, 2, 3 and off)

Low RPM Assist (lifts rpm 500rpm on takeoff)

Suzuki Easy Start System

Back-torque limiting  (slipper) clutch

Dunlop tires with custom-designed pattern

Antilock Braking System (ABS) standard

Full-LCD instrumentation
Accessories
Red Brembo calipers

Axle sliders

Heated grips

Carbon-fibre engine covers

Coloured embossed seat

Tinted screen

Various decals and bodywork protection stickers
2020 Suzuki KATANA Engine
The KATANA powerplant has been refined and re-worked from the mighty K5 and GSX-S1000 engine to compliment the new nakedbike. Basically, the powerplant that got such a cult following, is designed to give more acceleration and throttle response. The engine was chosen as it has a long stroke for better mid range than the current GSX-R engine, because of its crank and gearbox layout permitting the desired frame design, and due to its proven reliability through multiple championships.
Bore and stroke remains 73.4 x 59mm, allowing for a compact combustion chamber and flat top pistons. This gives a broad spread of power throughout the rev range. The engine dimensions remain the same with cylinder pitch at 80mm and the same horizontally split crankcases and crank/input/output shaft layout. Cylinder angle is 23 degrees. There are some new parts – such as FEM (Finite Element Method) pistons that are three per cent lighter, helping with acceleration. The new camshafts are designed to optimize valve timing for the street, whereas the GSX-R1000 was tuned for the track. Iridium spark plugs heighten spark strength and therefore combustion efficiency, contributing to higher power, more linear throttle response, easier start-up and a more stable idle.
The cylinders are SCEM plated (Suzuki Composite Electrochemical Material) to improve heat transfer and durability. The compression ratio is 12.2:1 versus the GSX-R K5 ratio of 12.5:1 over the previous model's (K4) 12.0:1. Valve size and port shape is unchanged.
The gearbox remains the same and the back torque limiting clutch is also retained.
44mm throttle-bodies are used, utilising the SDTV (Suzuki Dual Throttle Valve) system, where the secondary valves are servo controlled. The injectors are 10-hole long-nose units. The airbox is all-new, as is the exhaust system, which features equaliser pipes between cylinders one and four and, two and three. The catalytic converter is at the header collector box, which then joins the large volume exhaust chamber. The muffler features a flapper valve, or SET (Suzuki Exhaust Tuning) system. Throttle position, gear position and engine rpm determine the opening of the servomotor driven valve, controlling pressure waves for optimum performance.
A highly efficient radiator keeps the engine cool, as does a newly designed liquid-cooled oil cooler.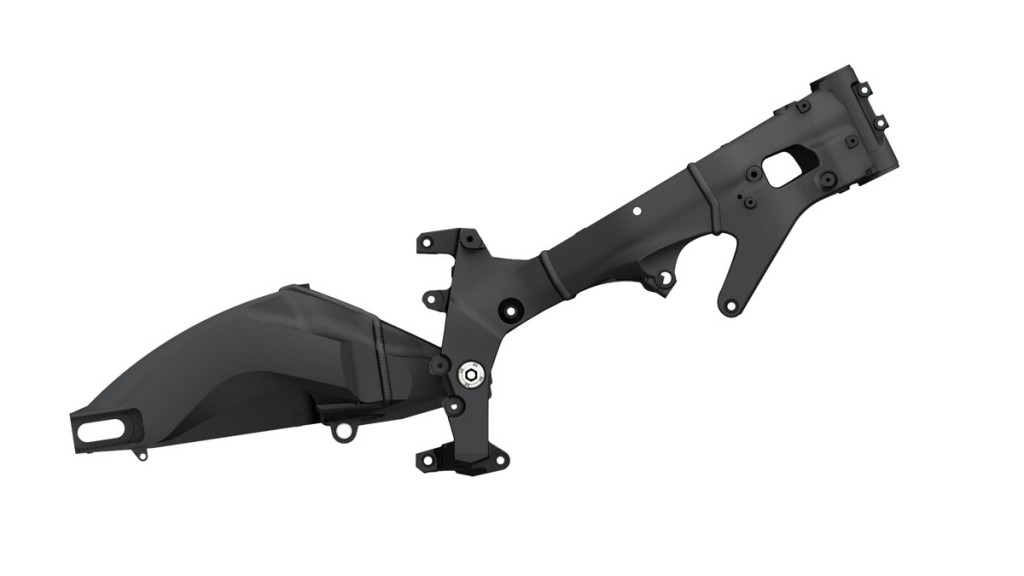 2020 Suzuki KATANA Chassis
The chassis design brief was it had to be good in city traffic, on highways, rural roads and twisty roads.
This was achieved with an all-new frame that is lighter than the GSX-R1000 frame. The frame was designed with FEM analysis technology and the main rail forms a straight line from the steering head to the swingarm pivot. The actual swingarm is straight off the 2015 GSX-R1000. Rake and trail figures are 25 and 100mm while seat height is 825mm.
The forks are KYB fully adjustable 43mm inverted units with 120mm of stroke, while the shock is a link type unit with a 63mm stroke. It is adjustable for preload and rebound only.
The Brembo four-piston monoblock calipers have 32mm pistons and squeeze 310mm rotors. The calipers are the same as used on the current GSX-R1000. ABS is by Bosch.
The wheels are six-spoke cast alloy units manufactured by TRP. The standard tyre is the Dunlop Sportmax Roadsport 2 with a 120/70 – 17(f) and 190/50 – 17(r).
2020 Suzuki KATANA Electronics
There is a basic non IMU traction and ABS system. There are three traction control settings to choose from as well as 'Off'. It's a very easy system that is operated by a left 'bar toggle switch, with the level displayed on the dash.The TC system monitors front and rear wheel speeds, throttle position, crank position and gear position 250 times per second and quickly reduces power output when spin at the rear wheel is detected.
The ABS control unit is supplied by Bosch and weighs just 640 grams. It monitors front and rear wheel speed 50-times per wheel rotation and matches stopping power to available traction. I tested the system purposely in many conditions and found it good enough but there is no cornering ABS.
The KATANA tribute LCD instrument cluster is packed with features. It includes speedo, tacho, odo, dual trip meters, gear position, water temperature, range, fuel consumption average and instant, traction control mode and fuel gauge – plus a clock.The KATANA also features a one-press starter button (no need to hold it down) and you don't have to hold the clutch in to start the bike.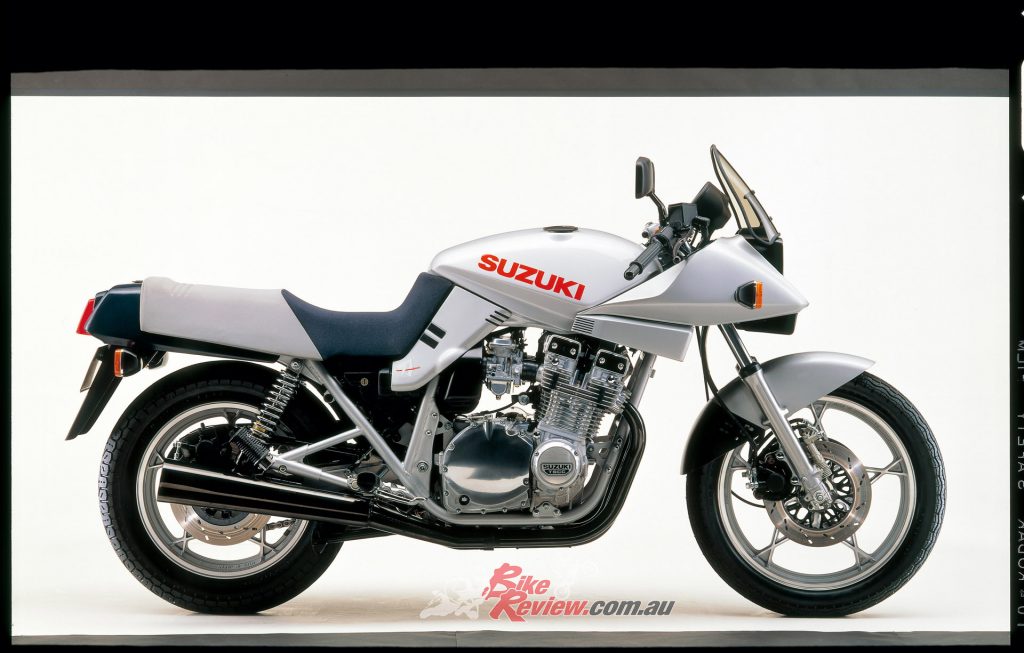 Here's what Suzuki had to say of the new KATANA:
Having poured its heart and soul into forging the original KATANA, Suzuki never lost its passion for the model. Fast forward to the fall of 2017 when the KATANA 3.0 Concept model by Motociclismo Magazine was introduced at EICMA in Milan. Designed by famed motorcycle designer Rodolfo Frascoli and built by Engines Engineering, this new vision of a thoroughly modern KATANA sparked a fire in the hearts of all.
Listening keenly to the feedback from EICMA Suzuki felt this was the right time to introduce a modern version of the legendary KATANA. Development began soon after, with a team of designers and engineers burning the midnight oil in Hamamatsu until satisfied they had brought together all the elements necessary to create a new legend with the 2020 Katana.
The KATANA was developed to be a sporty-looking standard street motorcycle that takes lean, mean retro flair and evolves it to offer thoroughly modern styling and performance.

Built to deliver the exciting ride one would desire in a current 1000cc class motorcycle, the KATANA is also designed to provide easy control over that power and a comfortable riding position
At the heart of the KATANA's powerful performance is a long-stroke 999cm3 inline-four cylinder engine producing 110kW (150PS) power at 10,000rpm with 108Nm of torque at 9,500rpm. Both the induction roar and exhaust note are tuned to heighten the visceral senses, whilst also contributing to performance and combustion efficiency.
Power is transferred to the tarmac through a back-torque-limiting clutch, Suzuki's three-mode traction control system and new Dunlop Sportmax Roadsport 2 tyres featuring an inner structure designed exclusively for the new Katana.
The compact, lightweight twin-spar aluminium chassis is engineered to provide agility, ease of control and a fun-to-ride character riders will enjoy. It is also aimed to perform best in real world riding conditions on public roads, in city traffic, on the highway, or on rural and twisty roads.

43mm KYB inverted front forks are designed give a ride that is sporty yet plush. They feature fully adjustable damping, rebound, compression and spring preload. A single KYB rear shock features adjustable rebound damping and spring pre-load.
310mm Fujico disc rotors are paired with Brembo radial mount Monobloc front brake calipers featuring four opposing 32mm pistons to provide powerful braking performance. The Bosch Antilock Brake System (ABS) control unit is extremely compact and light weighing only 640g.
Distinctive styling points abound. The LED headlight and LED front position lights accent the sharp lines of the cowling that covers the custom-designed instrument panel.
A black and grey two-tone seat features a stepped design that maintains the sleek profile of the KATANA while ensuring a comfortable riding position and positive footing for the rider. Passenger comfort is also a priority, with the seat strap design ensuring secure grip.
The KATANA introduces a small rear fender supported by the swingarm that hugs the rear tyre. Moving it, along with the rear LED indicators and license plate holder, to this position eliminates parts extending from under the seat to give the tail section cleaner lines and a tougher, lighter new look.
The 2020 Suzuki KATANA is on sale now in Australia.

2020 Suzuki KATANA Specifications
PRICING: $18,990 RRP Ride Away
CLAIMED POWER: 110kW@10,000rpm
CLAIMED TORQUE: 108Nm@9500rpm
CLAIMED WET WEIGHT: 215kg
FUEL CAPACITY: 12L
ENGINE: Liquid-cooled, four-stroke, forward-inclined parallel four-cylinder, four-valve per cylinder, DOHC, 73.4 x 59mm bore x stroke, 999cc, 12.1:1 compression, 44mm throttle-bodies, Suzuki Exhaust Tuning (SET), 4-2-1 exhaust system
GEARBOX: Constant mesh, six-speed
CLUTCH: Back-torque limiter wet multi-plate
CHASSIS: FEM designed alloy frame, alloy braced swingarm
Rake: 25 degrees, Trail: 100mm
SUSPENSION: 43mm KYB fully adjustable telescopic forks, 120mm travel, KYB rear shock, link type single shock, rebound and preload adjustment
BRAKES: Bosch ABS system, Brembo radial-mount four-piston calipers, 310mm rotors, 220mm rear rotor with Nissin caliper, Nissin conventional master-cylinder
WHEELS & TYRES: Cast alloy six-spoke 17in, Dunlop Sportmax Roadsport 2 120/70-17in (f), 190/50-17(r)
DIMENSIONS:
Seat height: 825mm
Overall height: 1110mm
Overall length: 2125mm
Wheelbase: 1460mm
INSTRUMENTS: Multi-function LCD display
The Verdict | Review: Launch report, 2020 Suzuki GSX-S1000 KATANA