Review: 2016 Ducati Scrambler Sixty2
The Scrambler Sixty2 is the latest Learner Approved entry level Ducati to arrive Down Under... Here's our Ducati Scrambler Sixty2 LAMS review. Test by Jeff Ware Photography by hobo.com
Deputy Editor Kris Hodgson recently tested the Ducati Scrambler (here) and was blown away by just how much fun the bike is. There is a trend at the moment heading back towards the days of the basic bikes of the 1970s and 1980s, when most bikes were naked and two wheels, a throttle and brakes were all that was required for fun. Back then a nakedbike had to do it all – tour, race, scratch, commute… and they did it well.
Basic motorcycling can be so much fun and offer a feeling of one with the bike – a real pure freedom. The fun factor creeps in and the serious side gets forgotten. It's cool… and the reason I have my own personal collection of 1980s bikes to tinker with and ride.
With the LAMS market a very strong one Down Under, Ducati only had the Monster 659 to service its up and coming Ducatisti and needed some more options. With the amount of accessorising available plus three great colour choices, the Scrambler Sixty2 has filled that gap nicely and at $11,990 + ORC the price is competitive, particularly considering the Ducati quality components such as a Desmo L-twin, Brembo brakes, alloy 10-spoke wheels, Kayaba shock and quality finish.
So if you are a Ducati fan but are only new to bikes, then the Scrambler Sixty2 is now an option for you. It's also a good bike for those that are fully licensed but just need something fun to get around town on.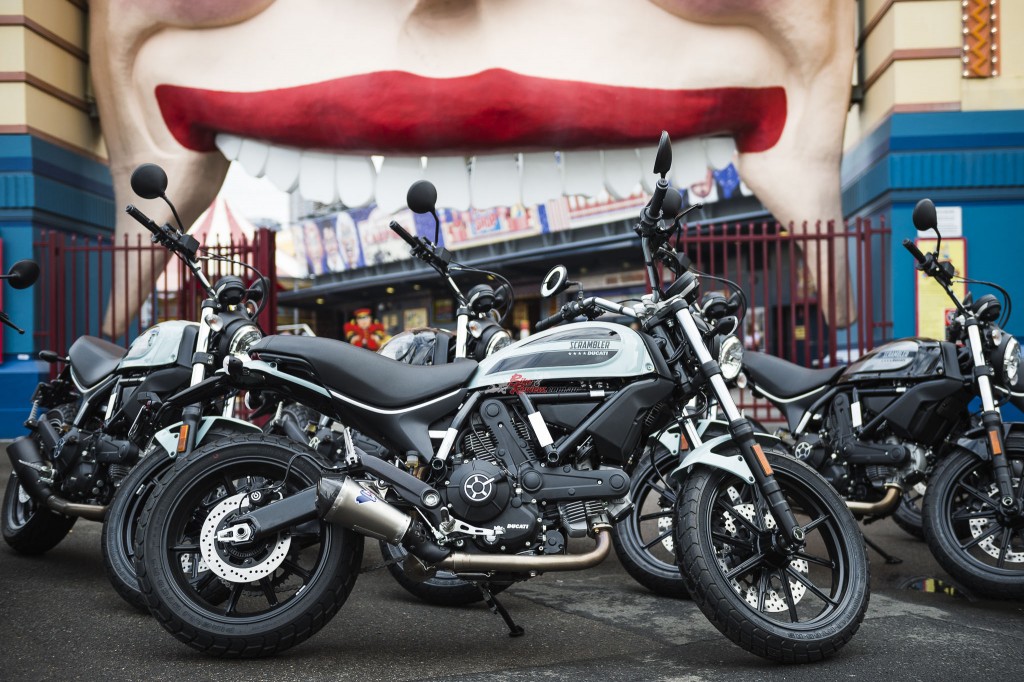 The little 399cc Desmo engine is never going to set any records but that is not what the bike is about. The bike is about being easy to ride, unintimidating and fun and it ticks all those boxes.
My short ride was a half day around Sydney, starting out at Ducati Australia and New Zealand HQ in Homebush, heading to Luna Park on the North Side, shooting over to Bondi via Watsons Bay and then having a fang back to Homebush the back way behind Balmain, Five Dock and Concord.
It was a short ride but still a few hours in the seat with the traffic and so forth, as well as a combo of dry and wet conditions.
The Sixty2 is a stylish little machine and there were a few variations for us journalists (and a few celebs tagging along, namely TV host and DJ (Danny Clayton) and the band (Art Vs Science), including one at the event with low 'bars and a full Termi system that sounded fantastic, more like an old school thumpster than a V-twin. The colours look good but I have to say the orange gets the biggest nod from me. It looks sensational in the flesh…

The dual purpose Pirelli's, including a fat 160 rear, give the Sixty2 a tough stance and the flat track old school style wheels are a nice touch. I really like the stubby front guard and the back would look great with the OEM number plate fender lopped off leaving the stubby guard there as well.
The machined alloy highlights on the engine covers are also classy, however, the Cat converter and muffler leave a bit to be desired. The way manufacturers are restricted these days with emissions regulations there is no way to make a completely appealing to the eye standard exhaust system…
The Sixty2 is built to be affordable to the learner market. You are not going to get Panigale S specifications for $11,990 but you are going to get more than you get for a sub 10 grand learner bike and it is a Ducati, a real Ducati, that will hold resale value exceptionally well and comes with free street cred…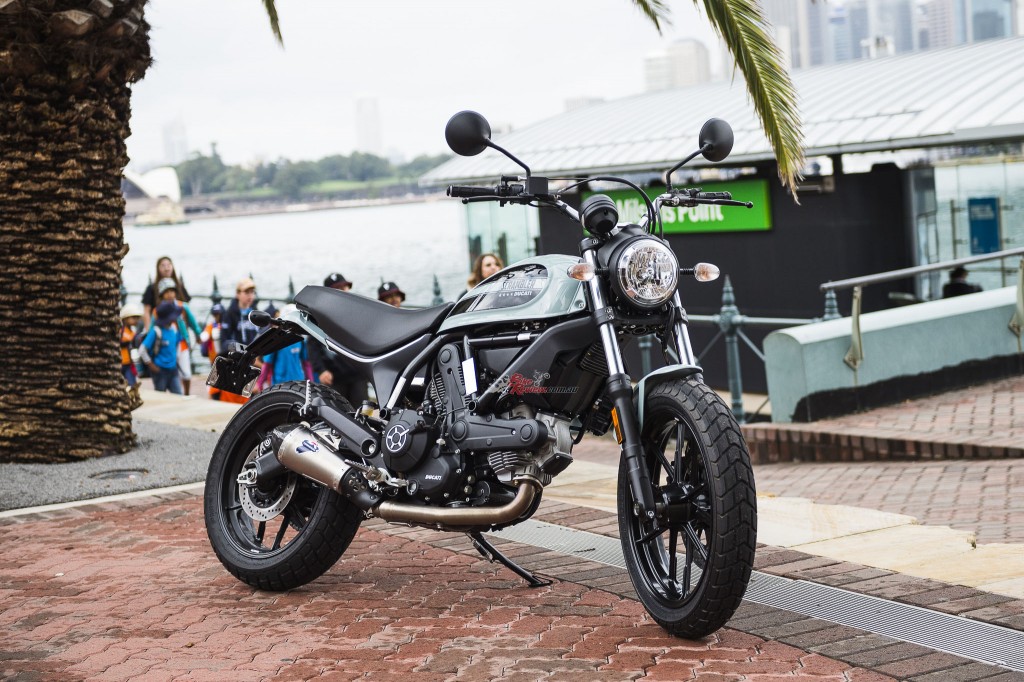 This is a bike that will appeal almost exclusively to the younger market. I'm 40 and at 95kg and 185cm the Sixty2 feels small. Looking at the wafer thin hipsters riding around me though, I can see how the bike fits the younger generation! I was once a skinny 60kg 20-year-old living in the Inner West and going to see bands every night in Newtown.
I read Drum Media. I wore brown cord flares and tight Astro Boy tee's, smoked Peter Stuyvesant and walked around listening to You Am I while Heather lined up for the latest Blur album. I get these people – I'm just 20-years behind them! The Scrambler is what the Yamaha RZ was to my generation, or possibly could end up that way…
Riding the Scrambler Sixty2 in a group definitely gave me a sense of being part of a club – a band of friends brought together by the love of a motorcycle model, so I can see it taking off here in the City areas…
What is it like to ride? In a word, easy. The Sixty2 has ultra conservative geometry, ensuring stability, mechanical grip and confidence with no surprises for the up and coming rider. The Brembo brake package is perfectly suited to the bike, with a forgiving initial bite on the lever but still plenty of stopping power on modulation and good feel braking into turns in wet conditions for example.
The rear brake is a tad wooden in feel to be honest but is fantastic for balancing the bike and manoeuvring around in the city traffic. The Pirelli MT 60 RS tyres are a great hoop, with plenty of side grip and wet weather grip as well. I even managed to touch a toe slider down in the rain on New South Head Rd on the climb up Heartbreak Hill, in the few moments I got to open the taps up a little.
Initial fork dive on the brakes is well controlled and the bike is surprisingly stable on the brakes considering the type of front tyre and large amount of front travel. A more open road test later will give me a better idea of overall suspension performance.
The bike is comfortable ergonomically, with high, swept back 'bars and a low seat, however, the 'peg to seat distance is OK and although I did cop a sore butt after an hour of heavy traffic I still rate the seat as comfortable.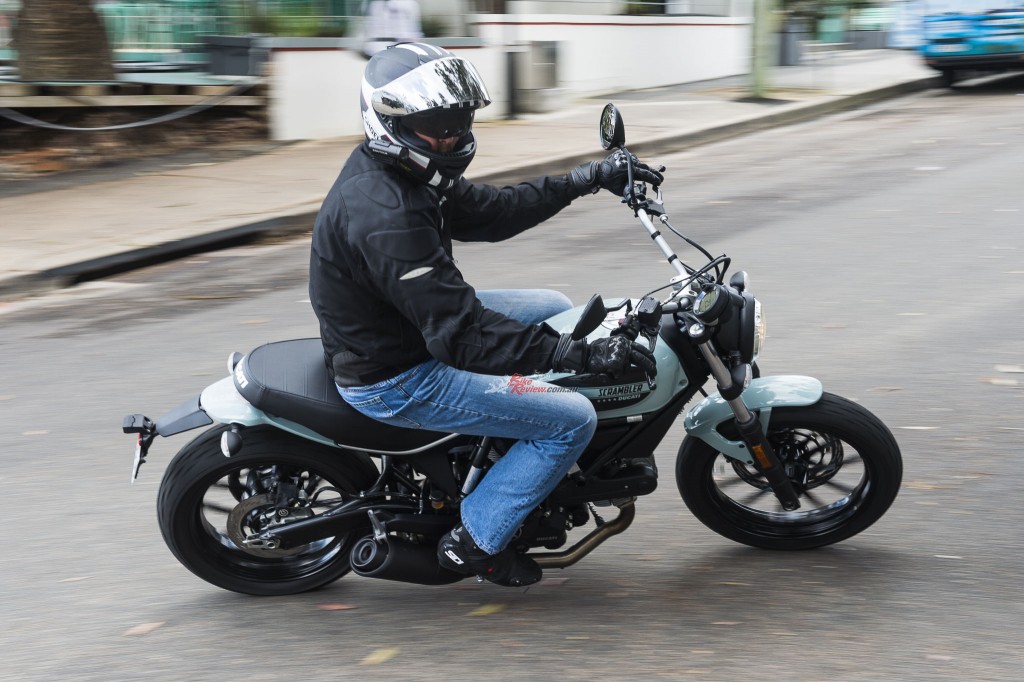 I found the dash a stylish unit but hard to read – I could not make out the rpm properly but had no trouble with speed or clock. Other small things are neat, like the switch blocks and starter button, however the sidestand is hard to put down with bike boots on and I had to reach down use my hand each time we stopped. It is nothing a small tab welded on could not fix…
The little Desmo is a sweet engine and ran like a dream all day. Considering the punishing we gave the clutch in the heavy Sydney peak hour, I think it performed very well, only getting snatchy after being literally fried for half an hour or so. With a tallish first gear and overall gearing, the clutch does cop a hiding around town needing plenty of slip, although my weight had a lot to do with this, needing a bit of clutch to get going. I would lower overall gearing if I bought a Sixty2 but a lighter rider would not need to.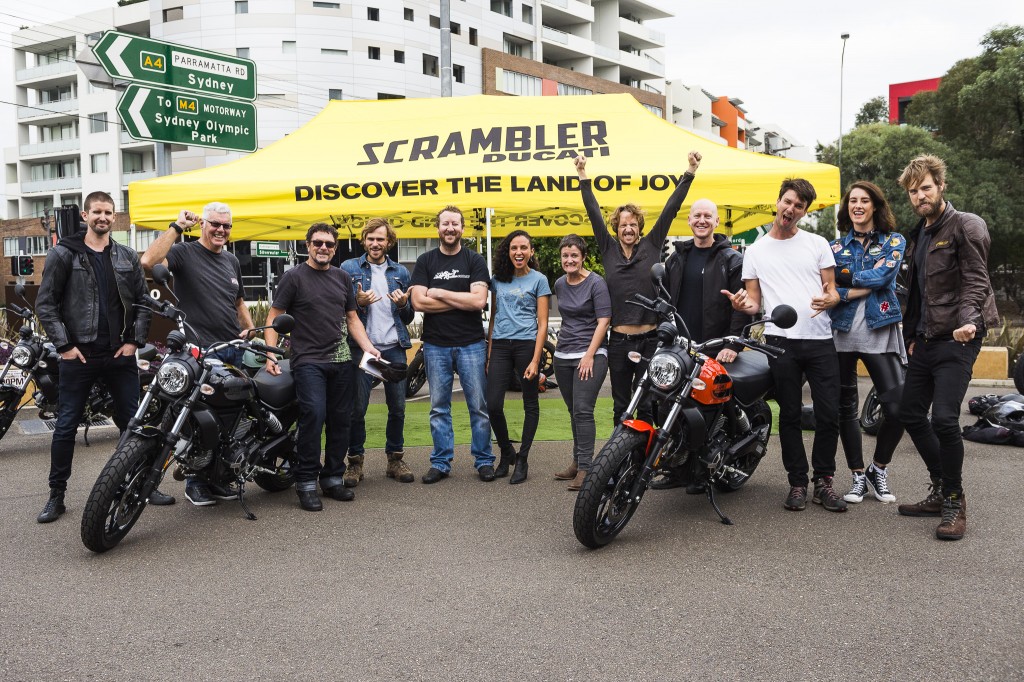 Once on the move the power deliver is linear and smooth, with a hint of throttle snatch on initial opening at ultra low speeds that is gone once in the higher ratios. There is enough of a top end kick to give you a laugh when fanging around the back streets of the city, making the revvy L-twin rewarding and even more fun.
Although the 'bars feel wide the bike is small and lane splitting is easy, with a great view behind from the large mirrors.
Overall, a fun bike that reminded me of my bike courier days in the 1990s, zooming around Sydney's CBD on my RZ125. Riding the Scrambler Sixty2 took me back to my 20s for a day – but it didn't go as far as making me grow a big beard and styling my hair thankfully!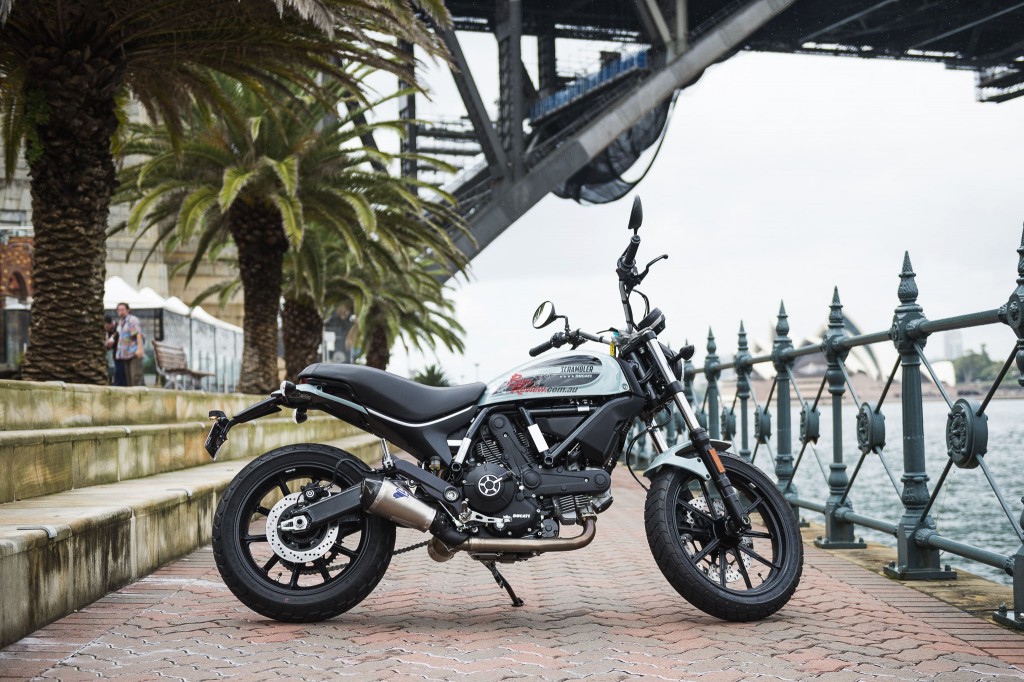 TECH TALK
A Desmodromic 399cc two-valve, air-cooled L-twin engine powers the Scrambler Sixty2. The bore and stroke is 72mm x 49mm, while compression ratio is 10.7:1. The engine features cast pistons with machined fly cuts, a single piece crankshaft, a six-speed gearbox and cable actuated wet clutch. Two injectors and a 50mm single throttle-body deliver fuel. The exhaust system is a steel two-into-one unit with an aluminium-covered muffler. The engine puts out a modest 40hp and 24ft-lbs, which are delivered in a linear way to make the engine a nice, tame enjoyable around town powerplant. Service intervals are 12,000km.
The engine is housed in a twin upper spar steel trellis frame. The swingarm is also steel. The front forks are 41mm Kayaba non-adjustable items while out the back a Kayaba shock is adjustable for preload only. The wheels are cast alloy 10-spoke dirt track styled items.
Stopping is taken care of by Brembo quality, with a two-piston caliper up front and a single at the rear, with 320mm and 245mm rotors plus ABS powered by a Bosch 9.1mp ABS system. The Pirelli MT60RS tyres are a semi off-road pattern.
The Scrambler instruments are all housed in a single old school styled unit that is actually a digital display featuring dual trip, rpm, speed, mileage, air temp, trip fuel, clock, fuel reserve and the usual warning lights. The headlight is glass with an LED surround, while the taillight is LED.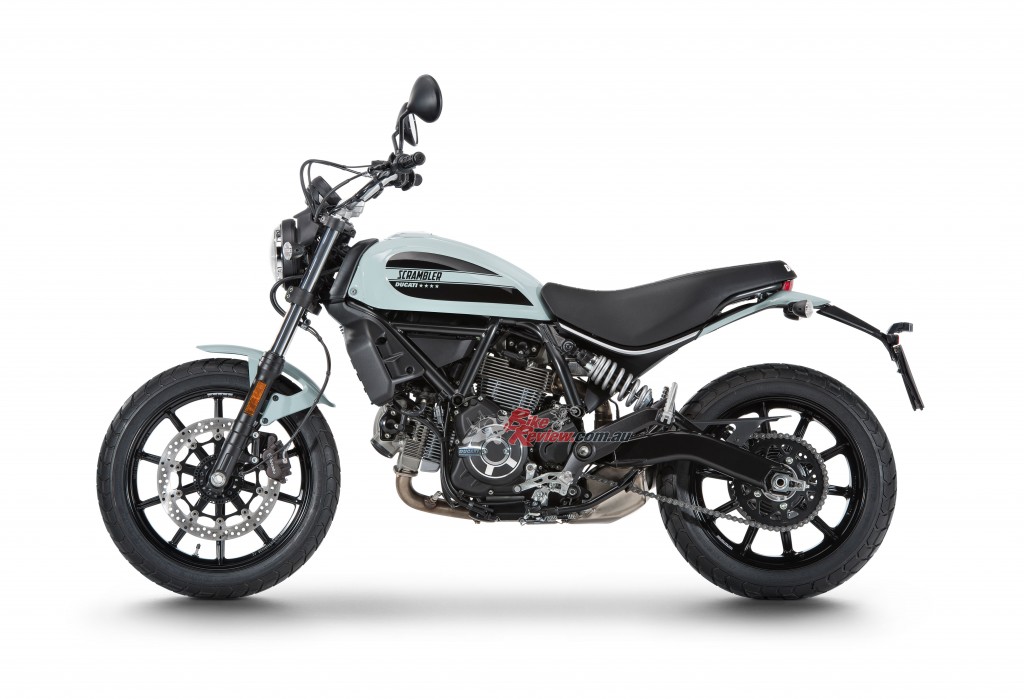 DESMO WHAT?
For those of you new to bikes or just to Ducati's, you may not even know what all this Desmo fuss is about! Well, here is a quick explanation by Ducati themselves…
Ducati Desmodromic is the engine valve closure system that has made Ducati famous all over the world. Thanks to this system, the intake and exhaust valves are closed positively and precisely using a technique comparable to that employed to open the valves. The term desmodromic stems from the Greek words desmos (link) and dromos (stroke); mechanically speaking, the term refers to mechanisms having a specific control to operate them in one direction (e.g. opening) and another, which acts in the opposite direction (closure or return).
However, the desmodromic concept is not a recent one and has been used in the motorcycle and car industries for some time. It first appeared, in a variety of forms, way back at the start of the 20th century. In 1956, the renowned engineer Fabio Taglioni set Ducati off along the desmodromic path: the first bike to feature the solution was the Grand Prix 125, which had three overhead camshafts, driven by a vertical shaft and a bevel gear.

From that point on, desmodromic history became a Ducati exclusive and in 1968 the company started producing this timing system as standard with the Mark 3 Desmo 350. This milestone of a motorcycle essentially had the same timing system as current two-valve twin cylinder engines like the one on the Ducati Scrambler, clear evidence of the concept's soundness.
Used on all Ducati models, the system is also employed on Ducati Corse's Superbikes and Desmosedici MotoGP bikes.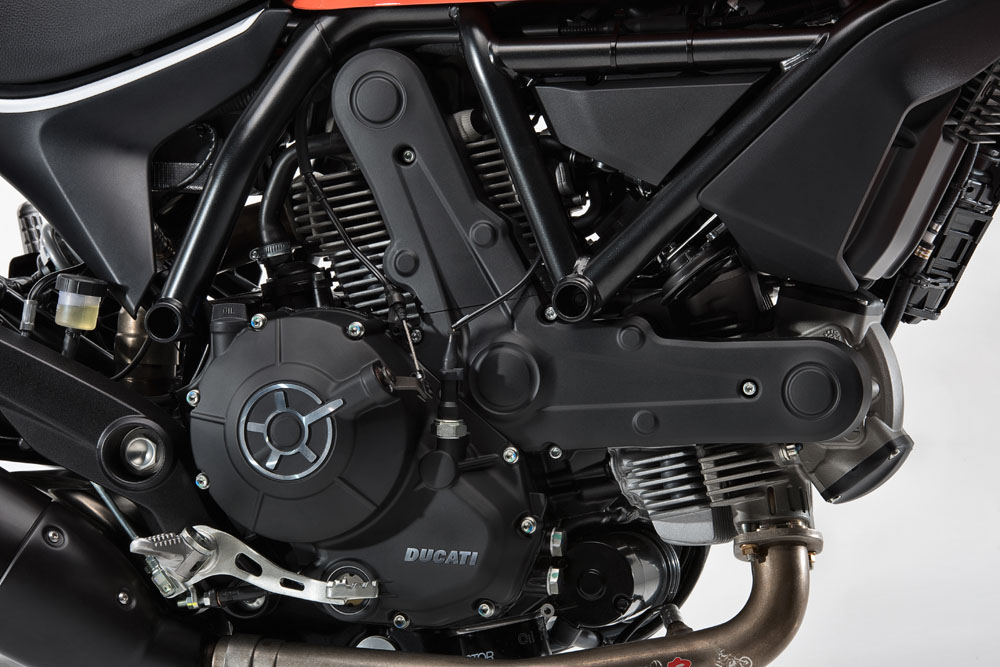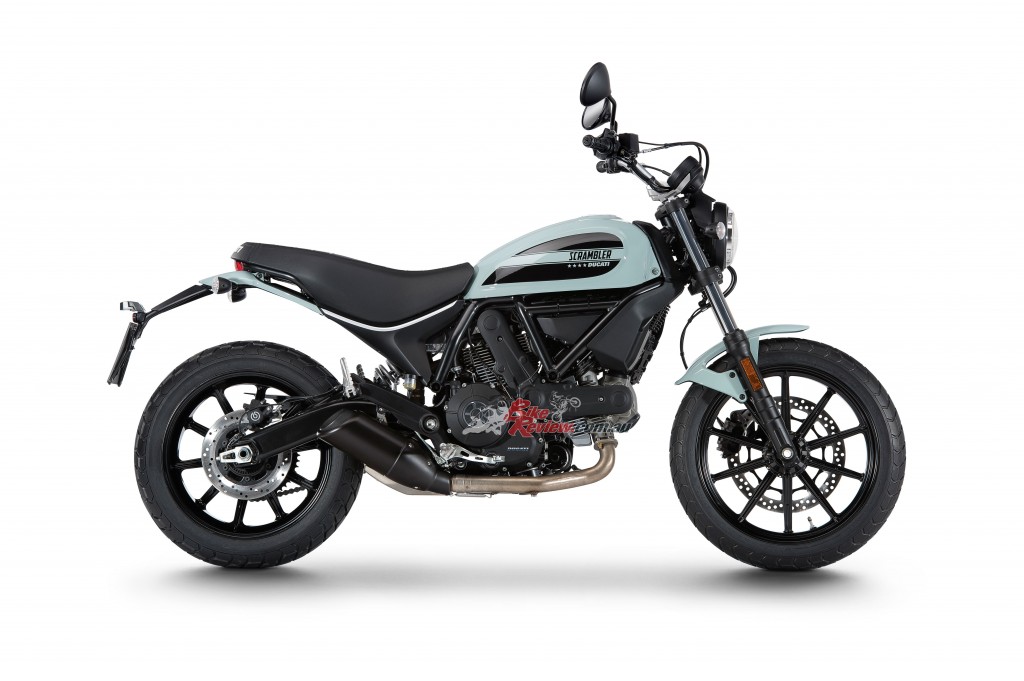 SPECIFICATIONS: DUCATI SCRAMBLER SIXTY2
ducati.com.au
scramblerducati.com
PRICE: $11990 + ORC
WARRANTY: Two year/unlimited kilometre
COLOURS: Atomic Tangerine, Ocean Grey, Shining Black
CLAIMED POWER: 30.1Kw[39.8hp]@8750rpm
CLAIMED TORQUE: 34Nm[24ft-lbs]@7750rpm
CLAIMED WEIGHT: 183kg wet
FUEL CAPACITY: 14L
ENGINE: Air-cooled Desmodromic L-twin, two-valves per cylinder, 72mm x 49mm bore x stroke, 10.7:1 compression, two-into-one steel exhaust, 50mm single throttle-body with two sub-butterfly injectors.
GEARBOX: Six speed
CLUTCH: Wet, multiple plate
CHASSIS: Tubular steel trellis.
SUSPENSION: 41mm Showa front forks, 150mm travel, Kayaba shock, 112mm travel.
BRAKES: Single 320mm front rotor, two-piston caliper, single 245mm rear rotor, single-piston caliper, ABS.
WHEELS & TYRES: Lightweight cast aluminium 10-spoke 3:00 x 18in (f), 4.50 x 17in (r), Pirelli MT 60 RS tyres, 110/80-18, 160/60-17.
DIMENSIONS:
Seat height: 810, 790 or 770mm available, 790mm is standard.
Overall height: 1165mm,
Overall length: 2150mm
Wheelbase: 1460mm
INSTRUMENTS: LED display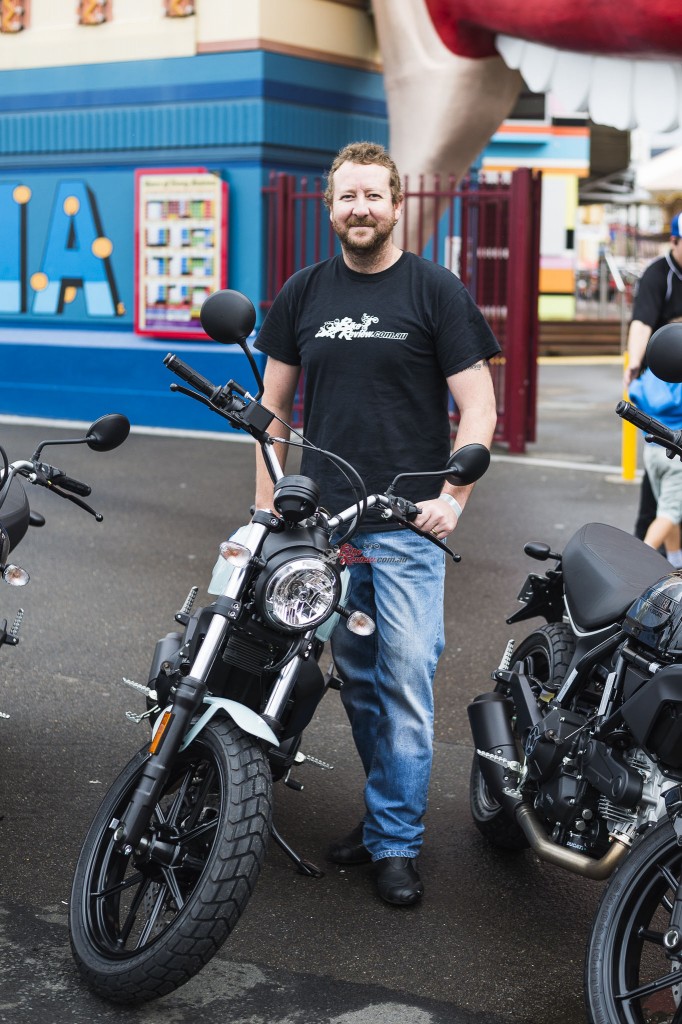 THE VERDICT | Review: 2016 Ducati Scrambler Sixty2
Easy to ride, great for the learner and it's a Ducati…