Review: 2017 BMW S 1000 RR Race
The ultimate sportsbike offering from BMW. Here is our S 1000 RR Race review: Test: Jeff Ware Photography: Kris Hodgson
It feels like forever ago that I jumped on a plane and headed over to Portimao for the World Press Test of the very first BMW S 1000 RR. It was late 2009 and BMW stunned the lot of us with the high level of its very first modern sportsbike. It was insanely fast, raw and high-tech but it was also peaky and had a few geometry gremlins.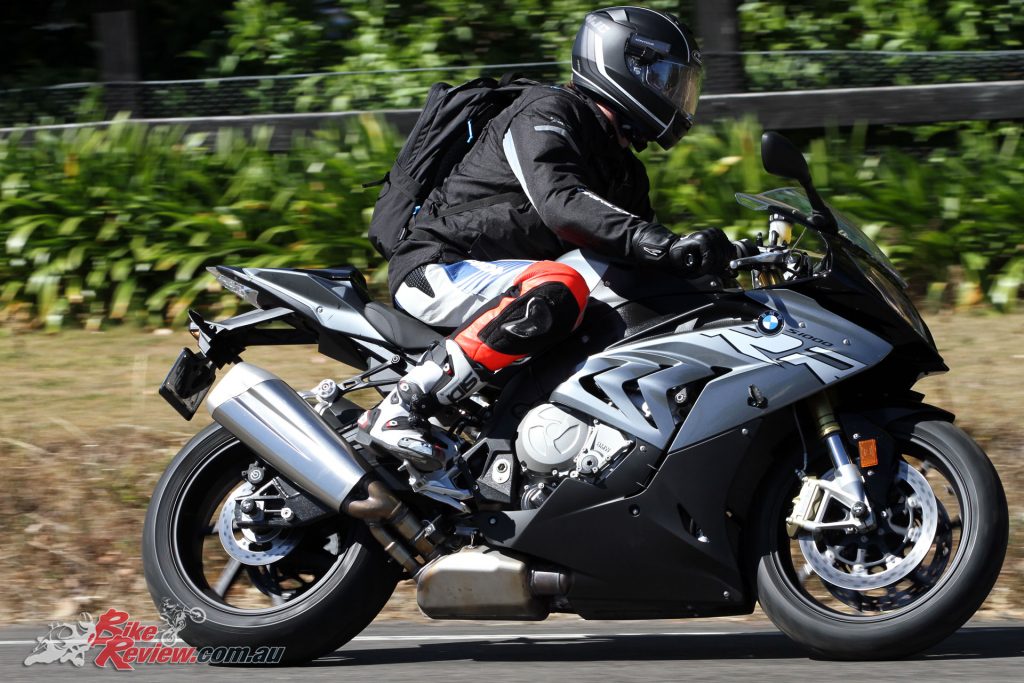 With a load of SBK experience under their belts the mighty RR was refined as the years went on and despite never quite tasting success in SBK, the S 1000 RR has lived on and evolved into one of the best sportsbikes in the world today.
Major changes in 2015 really helped, with a broader more useable spread of power and geometry changes that finally made the bike point where you look.
A host of radically brilliant electronic packages were also introduced and for 2017; the S 1000 RR is available in three guises – the S 1000 RR, S 1000 RR Sport and S 1000 RR Race – which come standard with some of the options previously available such as Rain, Sport, Race, Slick and User modes, Race ABS, DTC with banking sensor, ABS Pro and DTC (see breakout for variations).
So what are we riding here? We have the Race version, and we love it!
Having ridden every variation of the S 1000 RR over the years, I was really looking forward to sampling the Race version for 2017. The last S 1000 RR I reviewed was a 2015 model that had been decked out by BMW to similar specification to what we have here and it was a weapon. Unfortunately we had a few issues with the bike so I didn't get the full experience, so I was keen to get hold of this Granit Grey Metallic beast and see what it was like on the road.
Our press bike was stock standard aside from having Diablo Rosso III tyres fitted, which is why we stuck to road testing as they are a sensational road tyre but, having experienced the Diablo Rosso III on track, I decided it would be better to wait until we get the S 1000 RR fitted with more suitable track rubber for a track test.
Not that I was fussed. Exploring the countryside west of Sydney was just what I needed and with sensational Spring weather backing me, I set off on a 400km-loop of sportsbike adventure.
2017 BMW S 1000 RR Race – The Ride
A mid week ride on a BMW S 1000 RR Race is never going to be anything other than a horn way to spend a day and I was determined to make the most of it by taking off before the school run and chaos of four kids at home. I was up at a sparrow's fart and out the door so fast it was like I had an SBK title to win.
It was a chilly morning though, so the heated grips went on (my kind of sportsbike) and off I went in the drizzling rain. Yep. Rain. Not that I cared as I need to test in all conditions and this was perfect. I selected Rain mode, flipped my tinted inner visor up on my HJC and threw a DriRider Rally jacket over my Spidi's. Happy days.
Despite the rain by the time I got to the motorway I decided to turn right and use the Old Road. Wet, slick and with the sun just rising, the BMW was in its element in Rain mode. The DDC soft and compliant and the throttle equally as soft, with limited torque on tap and the security of the linked ABS system I felt really confident on the sketchy road and actually enjoyed the ride. The precise steering and revised geometry from a few years back is retained and I'm glad of that, as the bike really is one of the best handling motorcycles around now.

The Rosso IIIs are great in the wet and as mentioned, the heated grips are awesome. I prefer to use old-fashioned downshifts in the rain through, rather than electronically aided shifts, I just feel a lot more confident knowing something can't go wrong. A dodgy downshift can easily spit you off in the wet…
The brakes on this bike are way better than the previous S 1000 RR I tested, which I suspect had alternative brake pads fitted and for the first time ever, I had reported them to be over the top compared to other S 1000 RRs I'd tested. These ones are superb in the wet.
I hit the motorway after the detour and try the cruise control, which I find a bit hard to use due to the small buttons. I'm sure an owner would get to know it. I also noticed some vibrations on the motorway that quickly induced pins and needles, an issue I had with the previous model, a high frequency buzz through the 'bars and 'pegs between 4500 and 6000rpm, which is unavoidable at 110-125km/h. Aside from that, the bike is OK on the highway and anyway, this is a sportsbike not a luxury tourer!
Around town the S 1000 RR Race is a dream. It's comfy and purrs like a kitten. I switched to Sport and made my way through suburbia to meet up with Deputy Editor, Kris. En route to the meeting point I struck a small traffic jam and although I was in leathers and they are protective, I didn't get cooked with heat from the engine. I also noted that the clutch is smooth. The bike does feel a tad heavy at low speed though… at 208kg wet it is 4kg more than it was and no lightweight but none of the 1000s are these days, they are all pretty heavy.
The rain clears as the coffee is consumed and so we headed west for a massive loop of all types of riding, mostly fast! The first sections are super tight and twisty, mostly first and second gear, and the S 1000 RR Race was fantastic. Still in Sport Mode, the throttle was smooth and the brakes intimate in feel. I really have to say I didn't notice that the system is linked (the front lever applies some pressure to the rear brake but the rear brake acts independently).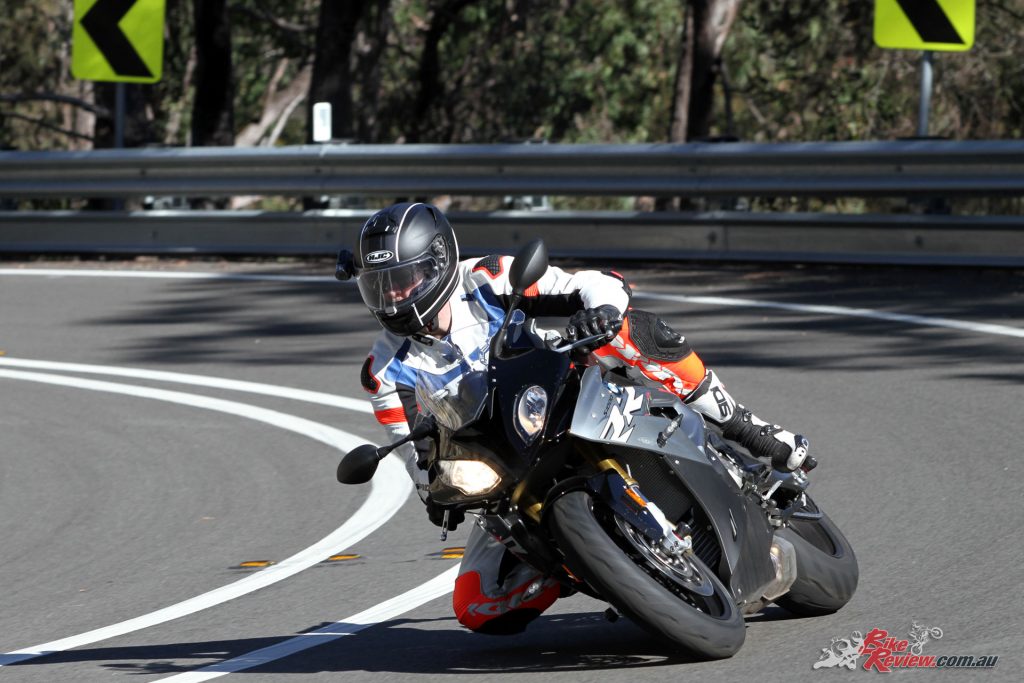 What I noticed immediately is how good the DDC equipped suspension felt. I could not notice any difference between the Rain and Sport mode at the lower speeds and obviously didn't push hard in Rain but as I pushed harder in Sport, in the dry, the bike just handled everything thrown at it.
I did not get a chance to check where the preload settings were front and rear (manually set even with DDC) but as far as DDC settings go, I left them in the standard pre-sets and this bike was much better than the previous DDC-equipped one I had on test, which can only come down to preload and someone buggering up the DDC settings for each mode on the previous bike. This one was amazing. Loads of support on hard braking, fast direction changes and aggressive acceleration, yet plush and compliant over bumps, never fazed.
After the tight section we headed down to a place called Sackville on a really bumpy but wildly quick road we use as a shortcut on our way to the Putty. Usually any sportsbike is hell here but worth the effort for the reward later. The S 1000 RR Race was an exception. Kris was on a nakedbike and thought I'd be suffering but I soon took off! The DDC really, for the first time, proved itself to me on that road.
The bike was firmly planted both ends at all times, the bike was stable and rock solid and I was confident and comfortable on the bike. It really was quite impressive; as was the 45km almost dead straight and extremely bumpy transport section to the twisties a bit later on. At least, comfy for a sportsbike anyway.
As we got to the serious twisties, and after a break, burger and a can of Coke (healthy Journo recharge), along with a tank of Premium Unleaded, I switched to Race and hit the curves.
I didn't notice much if any difference in power or throttle in Race but the suspension felt tighter. I could not feel a difference with the ABS or DTC. On the track the difference between the two modes is big and Sport really slows a lap up (I'm referring to my 2015 test) but on the road, even on the smooth surfaces, it's mainly the DDC that is noticeable. I push hard for a good while and soon make the sensible step of switching back to Sport and more relaxed damping control. The Rosso IIIs were feeling limiting as I got into knee down territory and the bike felt better in Sport and so therefore I did too.

Just like it was on the bumpy roads, the DDC is fantastic on the smooth twisties and the bike is in its element here. Turn-in, on or off the anchors, is accurate and the bike follows your line of sight, which is so important on the road. Once in a turn the S 1000 RR Race settles instantly and tracks through a turn like a scalpel. Throttle opening is smooth and predictable and the power is immense. Honestly, the mid-range and top-end acceleration of this bike is mental, particularly the top-end.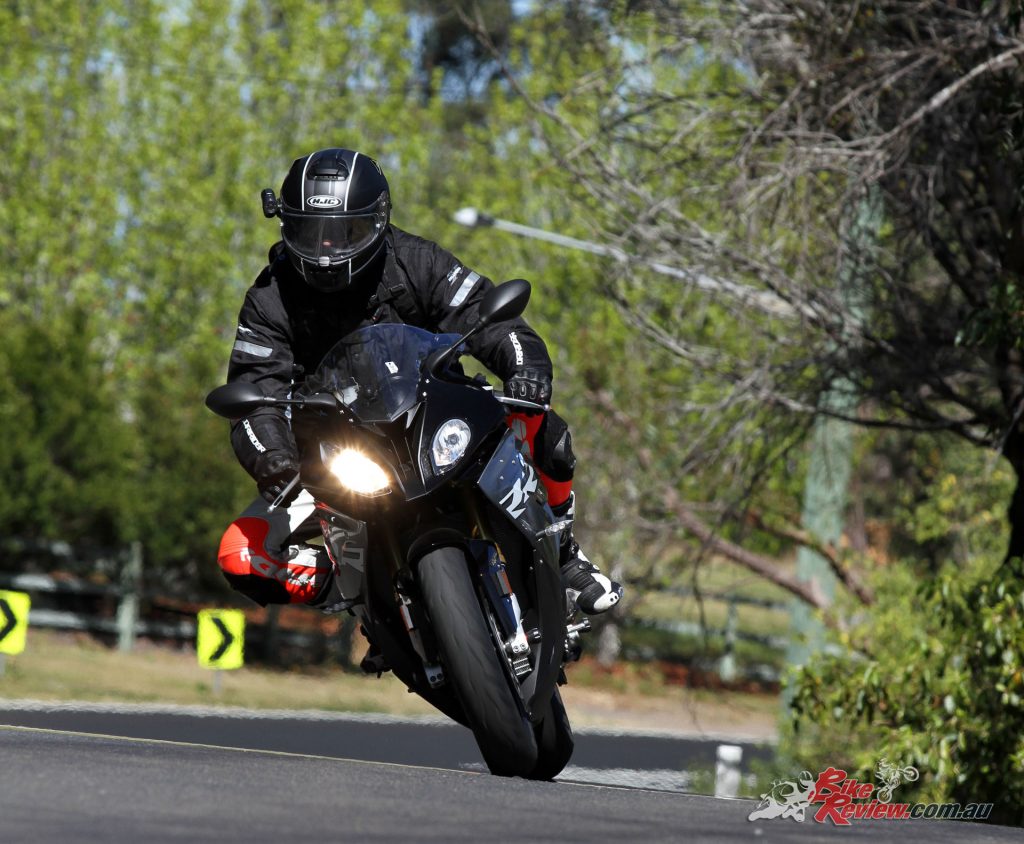 Upshifting is slick via the quickshifter but the downshifting feels a tad wooden in comparison. It is a little distracting just as you are approaching a corner. I'd prefer old school backshifting and have experienced better reverse shift systems.
Braking has always been a strong point of the S 1000 RR and it still is. The Race version has ABS Pro as does the Sport and that adds another level of braking performance to the Race ABS with cornering ABS. I can honestly say I didn't notice the ABS at all, which is always a very good thing as it means it doesn't hinder my riding when pushing hard and it also is there in the background for when I really need my skin saved.
One issue I had during the loop was losing lever pressure after prolonged braking in a section of approximately 15km of tight twisties. There are two possibilities for the cause, one is that the fluid was shot (the bike had come straight from a previous press test, which was a major sportsbike shootout), or this is a product of the cornering ABS, as ABS Pro adapts intervention based on the bank angle via roll, yaw and lateral acceleration inputs.
The more cranked, the stricter the ABS intervention. And this is done by relieving line pressure, so I am wondering if the constant braking at lean for such a long time resulted in low line pressure and the lever coming back closer to the 'bar. Could be either, but BMW have not had any issues to date so it was most likely fried brake fluid.
As darkness set in and we headed back towards Sydney, the S 1000 RR Race was the bike to be on. Comfortable, fast, great lights and even a decent level of screen protection makes it a fantastic street sportsbike. The dash I found difficult to read, aside from the big tacho, and I've mentioned the complex switches and vibes, but those things aside the bike is brilliant. I can't wait to get it on the racetrack so I can try the launch control and pit lane speed limiter just for kicks.
If you are interested in a BMW S 1000 RR Race, or any of the S 1000 RR range, drop into your local dealer and take one for a decent spin, not just around the block…
2017 BMW S 1000 RR Race Tech Talk
The 2017 S 1000 RR has a Euro-4 compliant in-line liquid-cooled four-cylinder engine, which has a peak power output of 199hp (146kW) at 13500rpm. The engine produces its maximum torque of 113Nm at 10500rpm. But more importantly for road riding, the bike has usable torque from 4500rpm up and this is very noticeable.
The improved torque increase is brought about by a complete redesign of the cylinder-head back in 2015, with new duct geometry and a new intake camshaft, which were given a fuller contour, along with lighter intake valves, which were 2g less each than the previous model.
Also, helping improve midrange performance was the new intake system that has shorter intake duct lengths, a larger intake vent in the fairing and a bigger airbox and considerably smaller servomotor for the throttle valves. The smaller servo made it possible to enlarge the airbox capacity and allowed it to be shaped symmetrically for all four cylinder intakes, in order to optimise power and torque delivery.
The throttle valves were also repositioned closer to the cylinder head for improved gas exchange cycle, especially in the mid-range. The intake duct length is controlled by a servo motor which is attached to the airbox, it uses the map modes to automatically adjust the intake duct length and generate maximum power and a much more linear torque curve. To help reduce friction losses, the cylinder barrels were integrated into the top half of the engine block. The top half of the engine block still accommodates the compact and lightweight six-speed gearbox.
The cylinder bore still measures 80mm while the crankshaft on the S 1000 RR is forged out of one single piece of heat-treated steel and runs anti-friction bearings, but has a traditional crank angle of 180 degrees. Both the main and the conrod bearing journals measure 34mm in diameter and also run anti-friction bearings, while the connecting rods are forged out of extra-light heat-treated steel.
BMW sharpened up the styling and went for a racier look with its lower more sloping front and higher sharper rear end.  The odd looking headlight switched sides. Not all of the changes were just for looks, like the reshaped and larger airbox intake vents repositioned for maximum airflow. The side fairings were also redesigned for improved airflow for the cooling system and to help disperse heat.
The new frame introduced in 2015 remains for 2017. It had been redesigned but still uses an aluminium bridge frame that is welded together from four individual cast pieces, with the engine tilted forward at an angle of 32°, with the engine integrated into the frame as a load-bearing member.
The steering head angle was increased by 0.5° to 66.5° without any change in the yoke offset, while the fork overlap of the immersion tubes was reduced by 6mm. This resulted in a shortening of the wheel castor by 1.5mm to 96.5mm. At the same time, the swingarm pivot point was lowered by 3mm and the wheelbase lengthened by 8mm to 1425mm.
The powerful Brembo brakes remain along with the suspension front and rear. New colours are available for this year and the Race version has all the cool kit standard – Race ABS, DTC, Riding Modes Pro, Cruise Control, ABS Pro and cornering ABS, Gear Shift Assist Pro, DDC, Heated Grips, LED indicators, Pit Lane Limiter, Launch Control, On Board Computer, Race shift pattern option, Forged Wheels, Single seat.
The three Riding Modes are Rain, Sport and Race and there is also Race ABS and Dynamic Traction Control as standard, along with a banking sensor for cornering ABC on the RR. Check out the BMW Motorrad Australia site for the differences between the S 1000 RR, S 1000 RR Sport and S 1000 RR Race.

2017 BMW S 1000 RR Race Specifications
Price: $25,690 + ORC
Warranty: Two years/unlimited kilometres
Colours: Granit Grey Metallic, Black Storm Metallic, Racing Red/Light White, Light White/Racing Red/Lupin Blue (latter two $150 and $765 extra inc pin striped wheels).
Claimed power: 199hp[146kw]@13500rpm
Claimed torque: 113Nm [83.34 lb-ft]@10500rpm
Wet weight: 208kg
Fuel capacity: 17.5L
Engine: Liquid-cooled, four-stroke, in-line four-cylinder, DOHC, four-valves per cylinder, 80 x 49.7mm bore x stroke, 999cc, 13:0.1 compression, DTC, GSA-P, Riding Mode Pro, cruise control
Gearbox: Six-speed
Clutch: Wet clutch
Chassis: Aluminium composite bridge frame, partially self-supporting engine, aluminium two-sided swingarm, Rake: 23.5°, Trail: 96.5mm
Suspension: (DDC), USD 46mm telescopic forks, (electronic compression and rebound adjustable), pre-load adjustable central spring, ASC (Automatic Stability Control)
Brakes: BMW Motorrad Race ABS, dual floating 320mm front rotors, Brembo four-piston radial calipers, single 220mm rear rotor, single-piston floating Brembo caliper
Wheels and tyres: Forged aluminium 10-spoke, 3.50 x 17in, 6.0 x 17in, 120/70ZR17, 190/55ZR17 Pirelli Diablo Rosso III tyres as tested
Dimensions: Seat height: 815mm, Overall width: 826mm, Overall length: 2050, Wheel base: 1438mm
Instruments:  Multi-function display onboard computer
S 1000 RR Race standard equipment: Race ABS, DTC, Riding Modes Pro, Cruise Control, ABS Pro and cornering ABS, Gear Shift Assist Pro, DDC, Heated Grips, LED indicators, Pit Lane Limiter, Launch Control, On Board Computer, Race shift pattern option, Forged Wheels, Single seat.
2017 BMW S 1000 RR Race Gallery
The Verdict | Review: 2017 BMW S 1000 RR Race
Great street sports roadbike. Performance and creature comforts.