Review: 2017 Suzuki GSX-R1000R
Suzuki is back to take the superbike #1 slot. Here is our 2017 GSX-R1000R Review... Test: Jeff Ware Photography: Steven Duggan, Andrew Gosling Video: Brendan Bell
It really has been a long time between drinks for the Suzuki GSX-R1000, with the last major updated model arriving back in 2009 and slightly upgraded in 2012 with new brakes. So we are talking seven years for a new model to arrive.
In that time there have been refinements and styling and colour changes but nothing else much to report on. It sure has been a long wait. So, has the wait been worth it? Will Suzuki get their dedicated GSX-R owners back from the other brands? After riding the bike at Phillip Island recently at the World Launch, I reckon they will be back in big numbers…
If you want a sportsbike and have access to $26,000.00 go straight to your Suzuki dealership and order a GSX-R1000R. Don't even worry about waiting and riding it. Just do it. Suzuki have sold over one million GSX-R's since 1985 and this model is the best one yet.
I could leave my report at that but I will take the time to tell you why, in my opinion, this is one of those bikes you really don't want to miss out on if you are an inline-four sportsbike fan and, even more so, a Gixer fan.
There are two versions of the new model, the standard GSX-R1000 and the GSX-R1000R. The R will set you back around three grand more than the stock bike and features Showa Balance Free forks and shock, launch control, ABS, quick shifter, lightweight triple-clamp, black LCD instrument face, LED position lights, three axis EMU and a lightweight battery. We only had the R version on hand and to be honest that is the one I would go for given the cost of suspension and other goodies. 
It really is hard to believe this is the sixth generation GSX-R and the wait has been so long, however, with declining sportsbike sales and increased super nakedbike and adventure sales growing globally – and a MotoGP program to get working, Suzuki chose to focus energy elsewhere for a few years.
However, Suzuki is made up of a team of engineers who are performance and racing enthusiasts and the GSX-R is still the flagship of the brand. Sportsbikes are still the pride of the fleet for all manufacturers and give the brand a model to showcase their incredible engineering and design capabilities.
Suzuki built the new GSX-R for one reason, to get back to the top spot and because they are enthusiasts that are passionate about their beloved GSX-R. Not for common sense motorcycling. Purely for passion and that is in their own words…
The new GSX-R, with over 600 new parts, is the most compact, most aerodynamic, most powerful, cleanest running and most technically advanced GSX-R yet.
THE RIDE AROUND THE ISLAND
Enough about that stuff. You can read my extensive technical breakout below for all of the nuts and bolts. There is a lot to take in, trust me!
So with five 20-minute sessions, three on standard tyres and settings, two on race rubber and track settings, I came away from the launch incredibly impressed with the GSX-R1000R. Not only is the engine another level of awesomeness for the sportsbike class, the chassis is now up to a level that it has, in all honesty, never quite reached against some of the other brands. The GSX-R in my opinion, has always been more engine than chassis. Now it is both plus has the modern electronics and style to match. It's back, baby!
I walk around the bike in pit lane taking it all in during a quiet moment to myself. The bikes we are riding are blue and look amazing, like MotoGP bikes for the street rider. The bike is of course familiar GSX-R but has been sharpened up and the new bodywork is spot-on.
The dash looks amazing and the wheels are stylish. The muffler? I ignored it. It is Euro4 compliant and I would take it off before the first service and fit a neat, loud slip-on, leaving the trick standard headers in place.
I hop on the bike for my first session. It feels compact and the first thing I notice is how low the top of the airbox cover/fuel tank is. The 'bars and 'bar position feel familiar GSX-R. The screen is quite low and the footpegs are high. A little cramped.
I fire the bike up with one push and it idles away with a typical GSX-R rumble, however, there is an element of refinement rather than the usual anger of the older engines. Traction control is on 3, engine mode Mode A. The quickshifter set to 2.
I head out for the out lap and flying lap behind the Suzuki test rider Hikaru Oshiro, then I see the green flag as I crest the hill onto the front chute, snicking fifth gear, head on the tank, time to go nuts.
My brain is trying to process the speed and acceleration as I snick sixth at the start-finish line and stick my chin on the lowered tank, just getting behind the low screen. A few seconds later I am nudging 290km/h and about to prepare for T1. My head is buffetting side-to-side violently for the last 100m of the straight, so much so my glasses fall off my face!
I sit up, quickly back-shift to fourth via the amazing reverse shifter, and peel into T1, getting right back on the gas for blinding acceleration to Southern Loop. Wow… Neat.
The previous GSX-R was hard work here, getting it into T2 and tracking on line, with vague front feel and brakes not quite strong enough. The new bike? I have my first serious grab of them and go deep into Southern Loop.
The stopping power takes me by surprise and is incredible, yet feel is sublime. The forks are so supportive, the bike just turns in and stays tight, easily taking the double-apex corner better and tighter than any other 1000 streetbike I have ridden here in 20-years testing. Amazing.
As soon as I get on the little ramp on the inside of T2 exit I go WOT and the bike hooks up with the traction control and fires towards Stoner Corner with superbike ferocity. Fourth. Fifth and almost flat through here the bike is on rails. I struggle to get out of the wind but there is no buffetting. I can't believe how fast I am traveling towards T4. This is a road bike? Seriously?
Now the new brakes really prove to be amazing. I sit up, backshift from fifth to second – 'click click clck' down on the lever and let the quickshifter do all the work, while concentrating on pulling the bike up for the right-hand hairpin. I've used a lot of two way quickshifters and this is the best one yet.
The brakes don't quite have the ferocious initial bite of some Brenbo equipped Euro bikes but they have more controllable power and equal power at that. Amazing. How my eyeballs stay in my head I don't know. Feel is intimate at the lever and the ABS is not too intrusive considering the bike has road tyres fittted.
I brake deep into the apex past the point of no return and pull it in, onto my knee, the bike steering in a consistent but agile arc all the way in, with no steps in steering and really predictable feel. Straight back on the gas towards Siberia, this spot is a test for any engine and traction control system.
If you have the revs right you can get hard drive off T2 and it is harder on peakier engines. You then have traction control these days to stop you flying high. With a longer wheelbase and countershaft to rear axle length the GSX-R tracks out of here beautifully.
The GSX-R engine does lag a bit off here though. I'm not sure if it is electronic control or bottom end punch lacking but I am not so excited between turns four and five. However, arriving at Siberia I know I've got some mumbo on as I have to give those Brembo brakes a good squeeze as I flick the bike in to the beautifully cambered turn, again it just hugs the inside ripple strip in a turn where the old bike would want to head a meter or wide on standard settings. The forks are amazing. First class.
Off Siberia I go full throttle and let the TC work hard as street the tyre struggles, shifting third, fourth and amazingly holding fourth gear through the Hayshed without rolling off, something I normally don't do on a 1000. Changing direction from Siberia into the first right kink of the Hayshed I really have to fight to turn the bike. The shock is soft here and stays compressed off Siberia on standard settings.
Into the thrilling Lukey Heights the reverse quickshifter is a gem. It is busy here, setting up for the turn, lots of wind, and not having to touch the clutch or blip the throttle is awesome. Drive over Lukey is stunning, the TC is brilliant but I almost overcook it into MG hairpin, which is steep, downhill and a right hand second-gear corner. Luckily the ABS controls rear wheel lift and I am able to safely pull the bike up, into the turn thanks to the stunning fork support, and back on the gas and off I go. Phew!
It is here I also love that quickshifter, snicking third for T11, driving hard on the side of the tyre towards the final corner. I find the shock a bit soft here also, making it a little tricky to keep the bike tight. Drive off MG out of the hole and up the little hill before flicking it left is not as strong as it could be. Again, it is hard to tell if this is electronics or engine.
Once I start gaining momentum and reach 10,000rpm off T11 the bike screams to the final turn with impressive speed yet is not at all aggressive. Tipping into T12 I found a little heavy just initially and I do feel I am losing lap time between MG and the straight, a place critical for lap time at PI.
Just a slight lack of 'punch' off the turns means I am arriving at T12 a bit slower than usual on a 1000, I reckon it is the rear tyre playing games with the TC, but once in the corner the bike tracked through like a 250GP bike and carried good speed onto the chute for another exiting lap.
After 20-minutes of this fun, three times on standard tyres, I head out on race rubber with track settings. The wind buffetting at the end of the straight remains, even with my head on the tank. Aside from that I am having a great time on the bike. Very impressive.
Heading back out on the race rubber, the bike is transformed. The standard RS10 front tyre was OK, but, the rear was not up to the demands of Phillip Island and was really not hooking up much towards the end of each session. I also had some big two-wheel drifts mid corner through the Hayshed so I was glad to get on the track tyres. So was the bike. It was 30 per cent better in every way. Two sessions on road rubber and three on race rubber would have been better as I was just getting the bike dialed in.
With the TC on 5 to begin with (Suzuki settings) I soon dialed that back to 2 then 1 then back to 2 again, finally settling on 3! That is the beauty of the traction control, it is not intrusive and very good. Usually I have to go to the lowest setting on a track but not on the GSX-R1000R. The increments in change between the 1 – 4 settings are quite close on the TC for track riding, while 5 – 8 there is a bigger change between settings for street use and 9-10 are for wet. This gives more accurate control.
Like with the street rubber, the chassis was sensational, just that everything was able to be taken that bit more. I had more rear preload and comp added but ideally I would also have liked separate ride height changes. Turn-in and line holding are the biggest improvements in the chassis, along with something that was lacking in the past front feel and confidence.
The Suzuki now fills me with front-end feel and confidence, which for me means I feel like I can now do anything on the bike and enjoy it, rather than worry I may not get away with certain cornering moves such as hard braking into a turn or line changing mid turn to overtake. I think, in my opinion, the steering is as good or better than the 1996 T model 750, which is legendary… It has taken Suzuki 20-years to get that feeling back in the GSX-R front-end.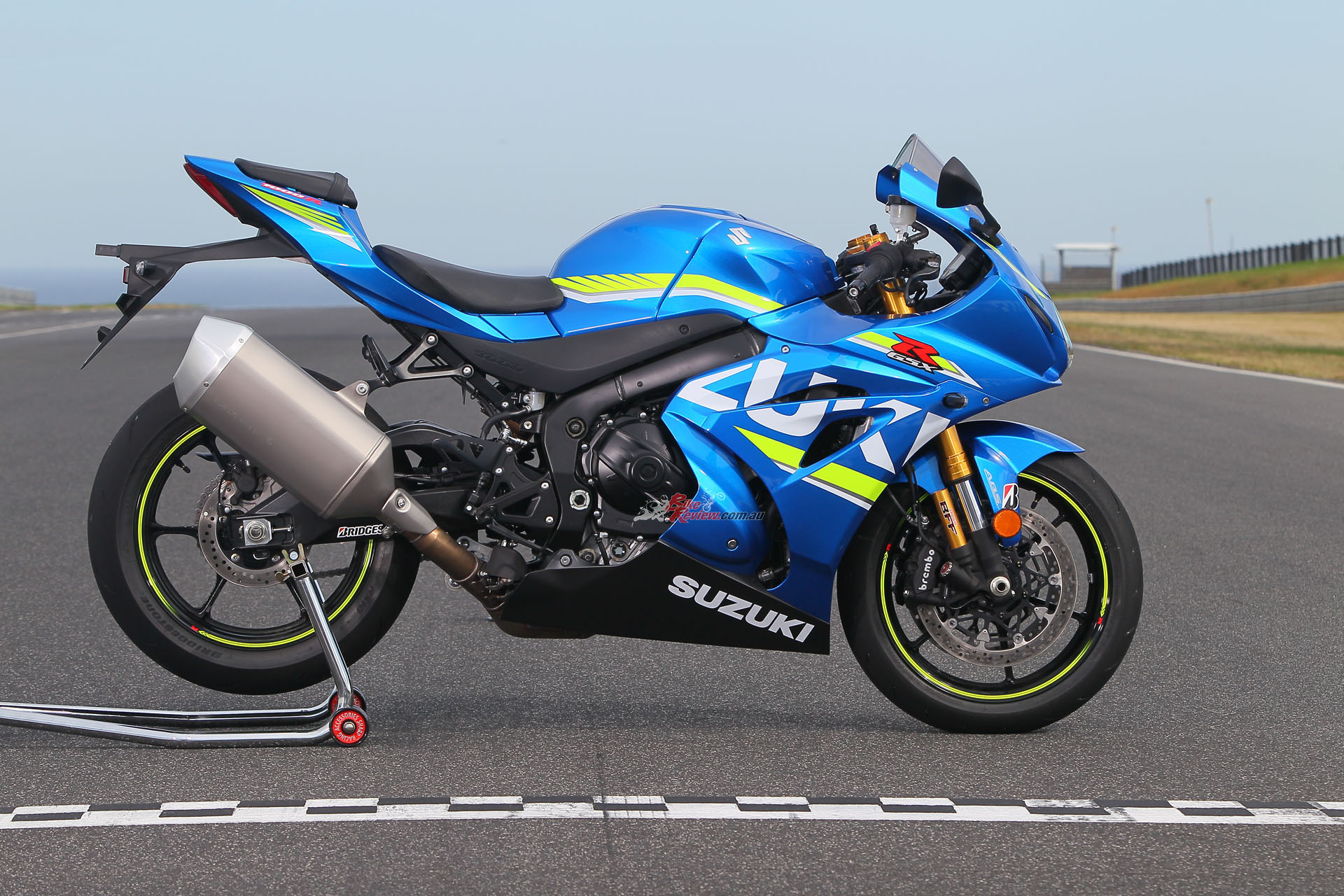 Anything I would change? Yes. The muffler of course. Also anyone my height or over (I am 187cm) will need a taller screen and also hugely benefit from 10-15mm lowered footpegs as they are very high. I would have liked to switch the ABS off once I got going on the race tyres, as it did hinder me into hairpins and at the end of the straight.
I also would like rear ride height adjustment. At minimum on an R spec $26k bike there should be a race ABS setting that allows more freedom and separates front and rear and stops anti rear wheel lift for serious riding.
The high tech dash? It would take some time for an owner to learn. I had a play with it but could not learn it in one day. I also could not read the tacho rpm after around 6000rpm while riding. All the info is black and hard to separate. One small thing, as an R version I wish it had a nice special edition badge or engraving.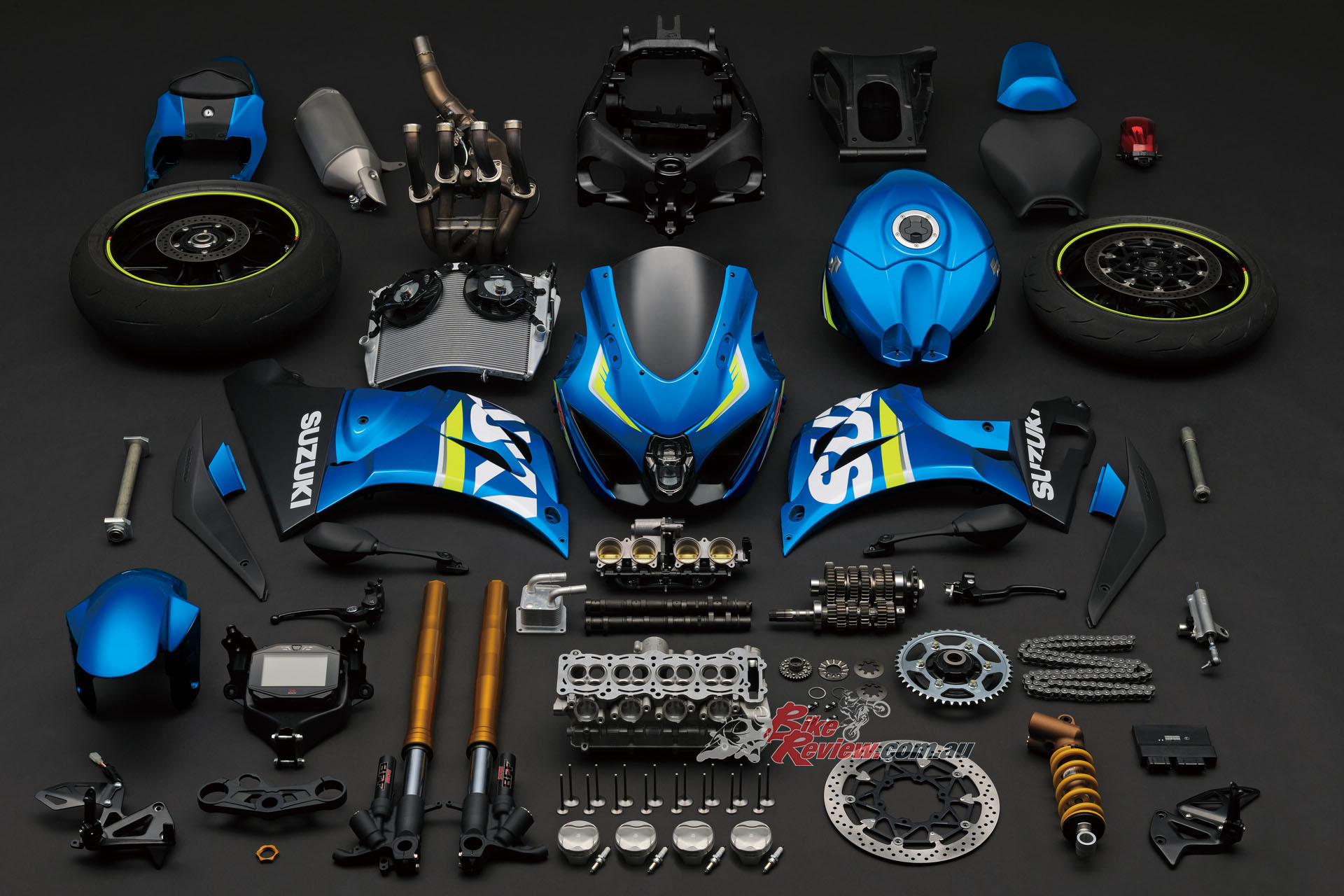 The new GSX-R1000R is very refined. Purists may feel it has lost its angry, mongrel nature and become more of a smooth operator but those who are enjoying the current level of technology in the sportsbike and supernaked category will appreciate the bike. The interesting thing will be to see how it goes racing and what the lap times are.
What will it be like on the road? Well, during the photo sessions I noted the throttle is silky smooth and even on Mode A it is nice. Mode B is even more pulled back and Mode C flat for the rain. The ABS would be good and the Balance Free suspension is sensitive to adjustments and gives a lovely ride on road, we know that from the ZX-10R, so all guesses are this will be a stunning street bike. We will tell you very soon!
Congratulations to the team at Suzuki, Shinichi Sahara (Project Leader), Eiji Sasaki (Engine Leader), Koji Kobayashi (Chassis Leader), Yutaro Kobayashi (Electronics) and the rest of the team at Suzuki Motorcycles for an amazing job. It was worth the wait!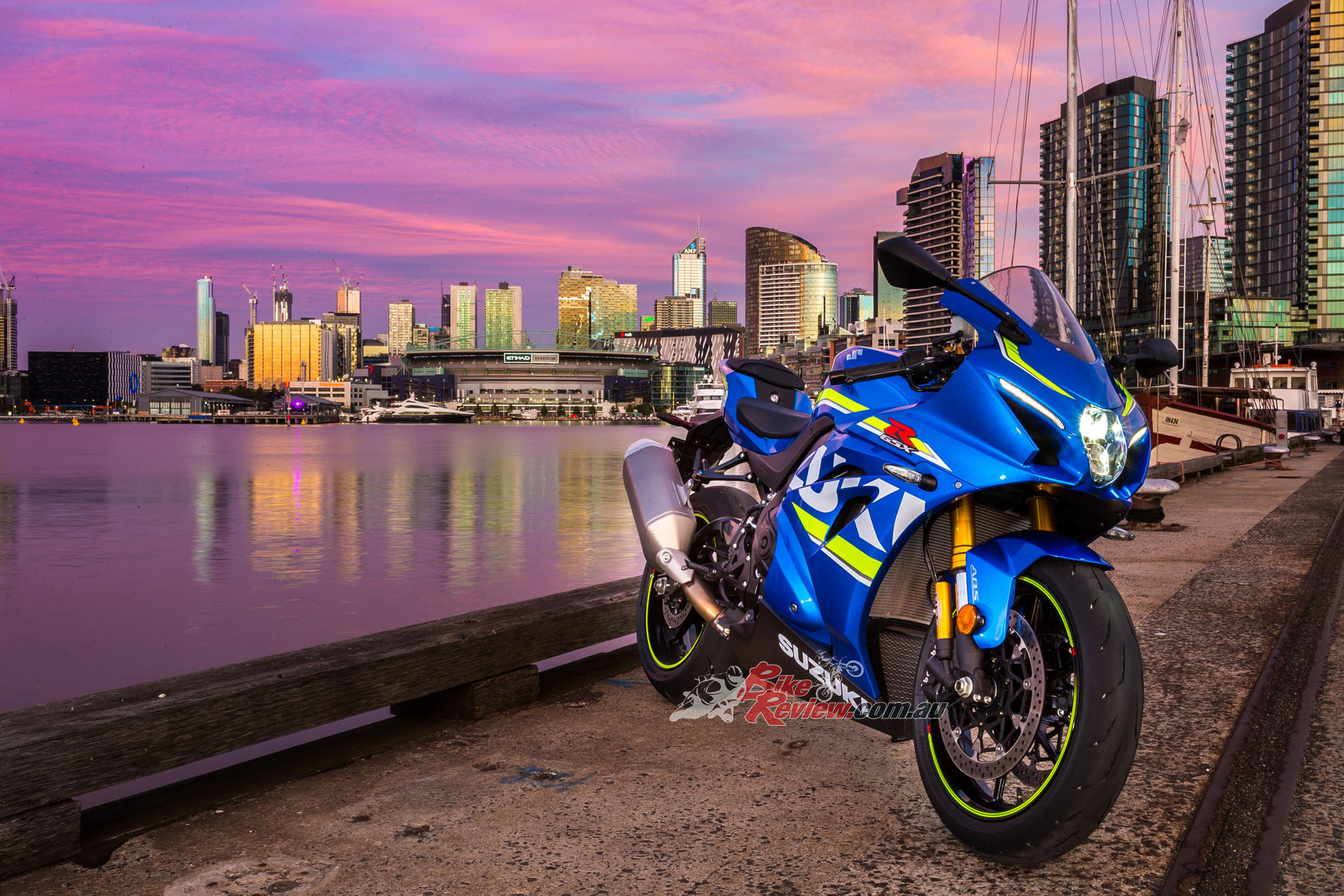 TECHNICAL TALK – ENGINE, CHASSIS, ELECTRONICS, STYLING.
The new GSX-R1000 engine is completely new. Bore and stroke has changed from 74.5 x 57.3mm to 76.0 x 55.1mm, with capacity up from 999.1cc to 999.8cc. Compression is up from 12.9:1 to 13.2:1, and redline is up 1000rpm to 14,500rpm. Output is claimed at 202hp, up from the previous 185hp. Torque up 1Nm, to 117Nm 800rpm higher up at 10,800rpm. The engine also more compact as you can see in the images below.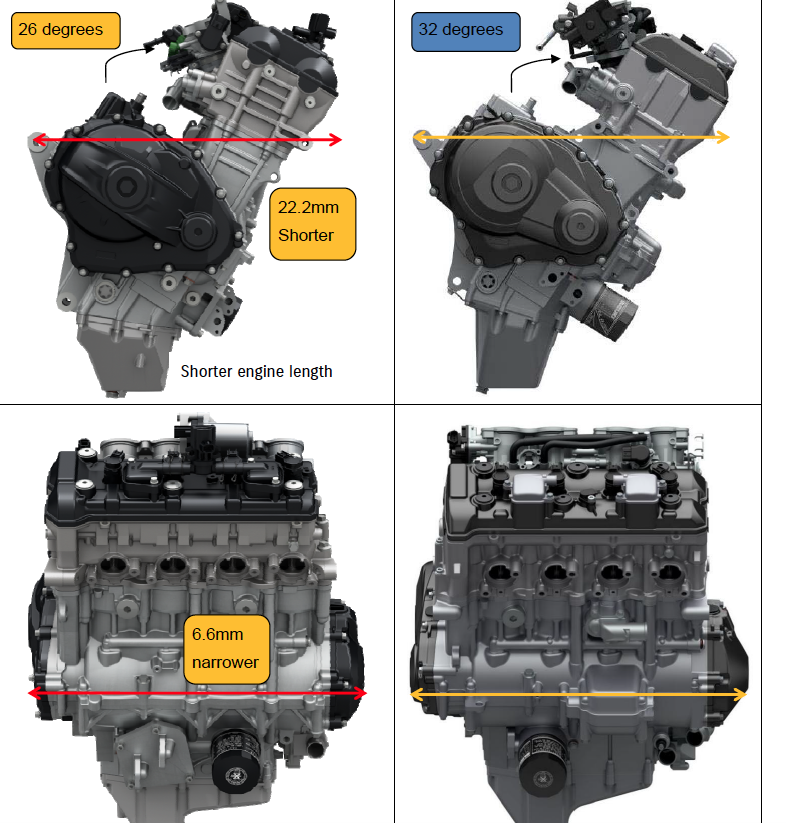 Suzuki wanted more power but it had to be broad power, so using MotoGP technology that they have been testing and using for years, they developed a Broad Power System, being Suzuki Racing VVT, Suzuki Top-feed injectors, Suzuki Racing Finger follower and Suzuki Exhaust Tuning Alpha.
The combination of all increase top-end without detracting from bottom end and mid-range.
The Suzuki Racing VVT (Variable Valve TIming System) is a compact, simple centrifugal system adapted from the MotoGP bike. The system is built into the intake cam sprocket and retards the intake cam timing 8º at the crank and 4º at the camshaft over a 1500rpm range from 10,000rpm so by 11,500rpm timing is fully retarded.
It uses 12 steel balls and slanted grooves to rotate the sprocket. It is pre-set using tension springs much like a throw-out clutch. In theory, it could be set at any number of rpm using varying weights and springs but Suzuki assured me changing it would be a waste of time as they have done all the testing  and I have no doubt they are 100 per cent correct!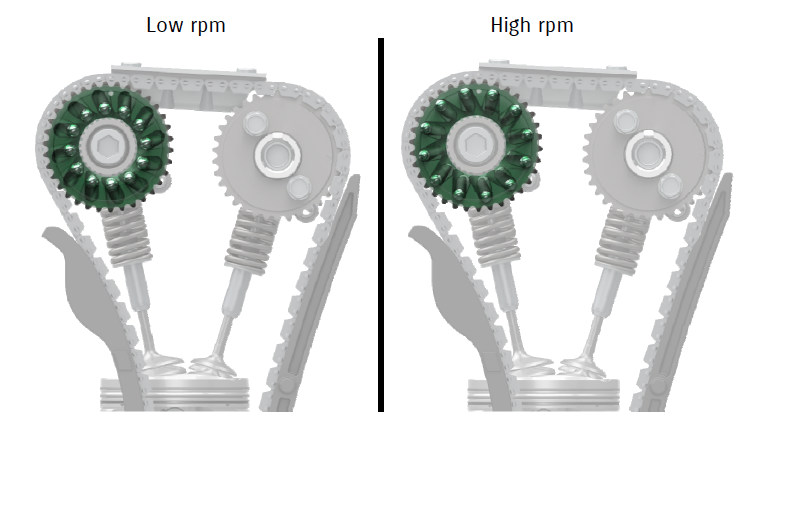 Another improvement is the use of finger followers rather than bucket and shims, allowing thinner walled, hollow camshafts operating the F1-style finger followers. Each is 6 grams lighter than a bucket and as it is on a pivot its moving mass is just 3 grams. This allows more rpm and valve lift, also improving valve control and response.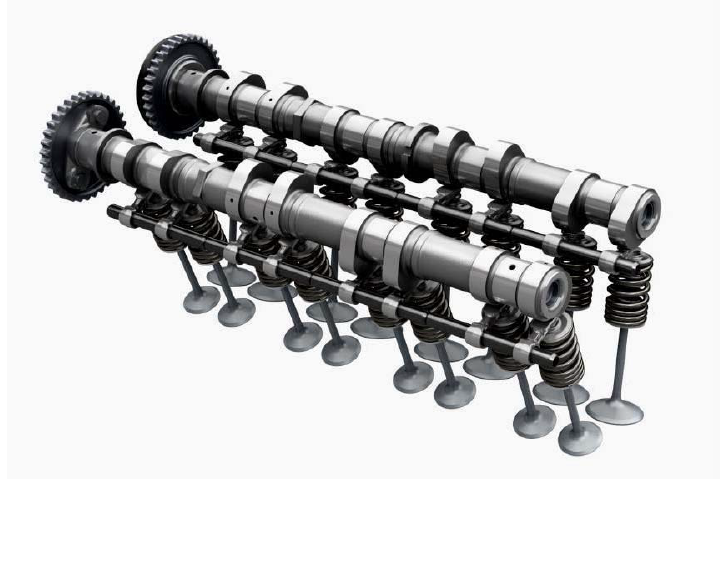 The new RbW downdraft throttle-bodies are 19mm shorter, more compact yet have a larger bore size of 46mm from 44mm, and have a single butterfly valve each and two ultra-fine 10-hole injectors. One is mounted at a steep angle in the throttle-body and the second located directly over the intake velocity stack. The airbox and filter are all new too.
The S-DSI system (Suzuki Dual Stage Intake) delivers the advantages of variable length velocity stacks. The system has dual stage funnels on cylinders 1 and 4 and conventional ones on 2 and 3. This gives good bottom end while optimising top end power.
Lastly for the Broad Power System is the trick Suzuki Exhaust Tuning-Alpha (S-AES). This is a thin-wall four-into-one. As well as the usual GSX-R SET butterfly valve between the mid pipe and muffler, there is now a servo operated butterfly between the header pipes of #1 and #4 and another balance pipe that connects #2 and #3 headers.
This usually increases top and and reduces bottom end by increasing volume but now remains closed at low rpm to retain bottom end and mid range then it opens at high rpm for top end power.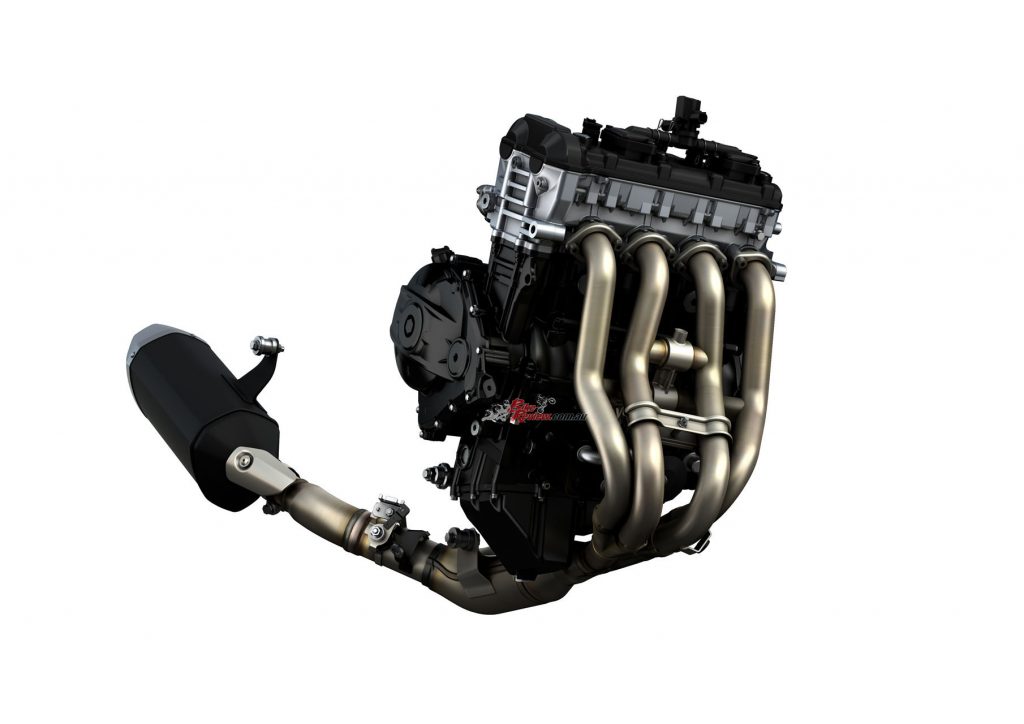 The firing order of the GSX-R1000 remains even, with traditional crankshaft phasing. Suzuki engineers felt that the extra weight due to a balance shaft, thicker stronger crankcases and mechanical losses due to overheating were losses that outweighted the advantages of the uneven firing order for an engine under 230-horsepower. It would also have increased the retail price of the bike.
The cylinders are 6º more upright than previously, making the engine 22.2mm shorter, reducing front axle to swingarm pivot line by 20mm. This was done to improve front feel while cornering, with the engine closer to the front wheel. The engine is also narrower for better aerodynamics.
To control over 200-horsepower, Suzuki needed a good electronics package. The IMU based advanced electronic management system uses a 32-bit dual processor ECM. The ECM reads throttle position, crank position, rpm, gear, front and rear wheel speed, IMU position and exhaust Oxygen content. The system then adjusts ignition timing, opens or closes the throttle valves, adjusts the injected fuel, maximises intake charge velocity, and operates the traction control.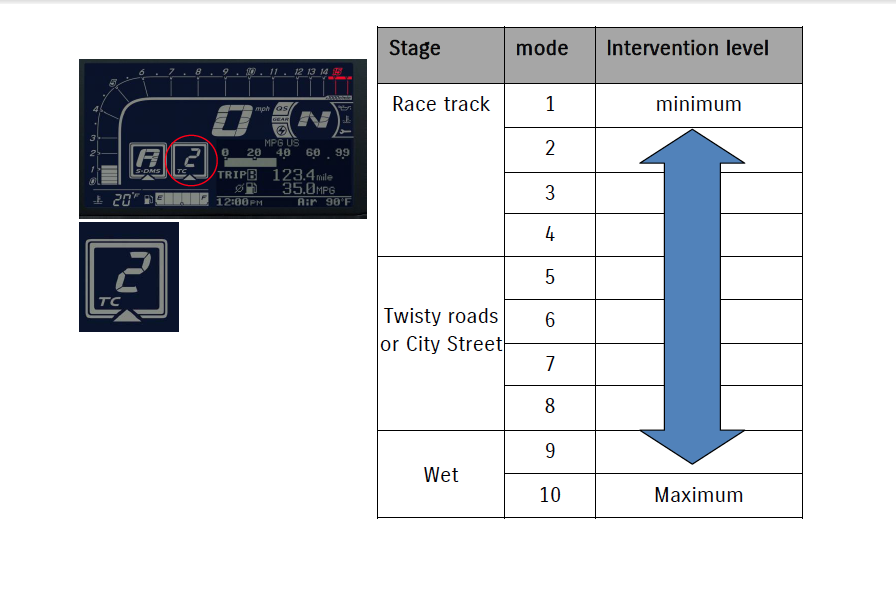 The Suzuki Drive Mode Selector (S-DMS) allows the rider to pick from three modes, A, B and C. This switches engine ignition maps to suit varying conditions as per the table below.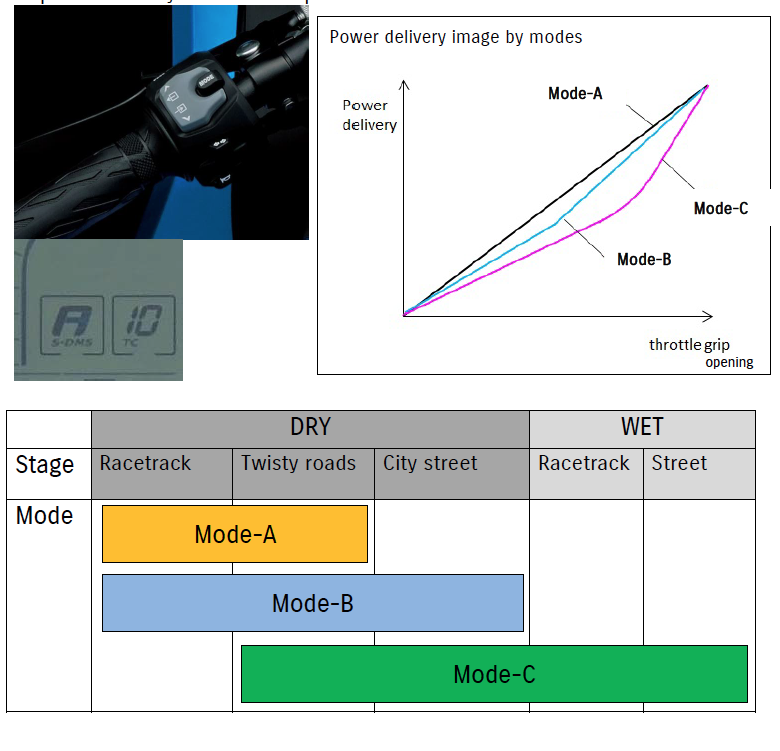 Traction control has finally arrived on the GSX-R1000. Called Motion Track TCS, the system allows the rider to choose from 10 different levels of traction intervention, depending on racetrack or road conditions and riding ability. The level can be changed while riding as long as the throttle is closed (as is the case with the Modes).
Power is controlled by managing throttle valves and ignition timing. It reads from the sensors every 4 milliseconds and calculates traction from six directions along three axis – pitch, roll and yaw.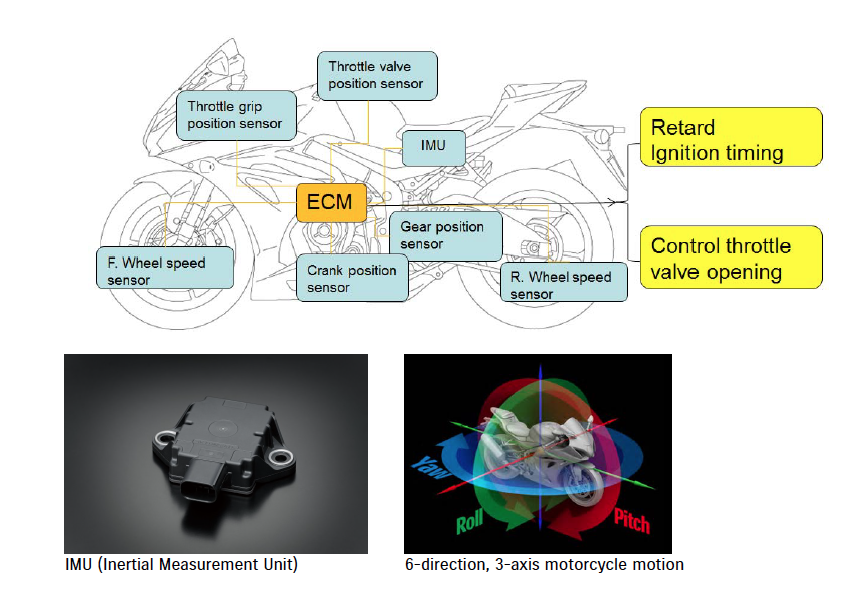 There is a two-way quickshifter now, which is fantastic. It allows the rider to shift gears up or down without using the clutch or closing the throttle. The system interrupts power delivery for between 50 and 75 milliseconds to allow a clean up or down shift. It also revs the engine on downshifts for smooth operation.
The GSX-R1000 also features Launch Control on the R version. Once the rider selects launch control on the left switchblock, the system engages special maps controlling throttle opening and ignition timing. It monitors twist grip position, throttle valve position, engine rpm, gear position, front wheel speed and rear wheel speed.
At the launch moment, the system will hold the engine at ideal rpm for launch. Once the clutch lever is released rpm is no longer limited but throttle opening is controlled to keep the engine at ideal torque for drive. It also helps limit wheelstand.
There is also a Suzuki Easy Start system, which is a one-touch system, and a Low RPM Assist system for slow riding, such as in traffic, helping prevent stalling.
The new engine has redesigned forged piston, DLC coated for reduced friction, along with new L shaped compression rings. The intake valves are now 31.5mm from 30mm, with exhaust reduced to 24mm from 25mm. They are now Titanium.
The gearbox cluster is new and is also now a cassette-type for quick removal and the clutch features SCAS (Suzuki Clutch Assist System) while the final drive is now a 525 chain as opposed to the previous 530.
All of the water jackets in the engine are redesigned for optimum cooling and there is an all-new dual fan radiator.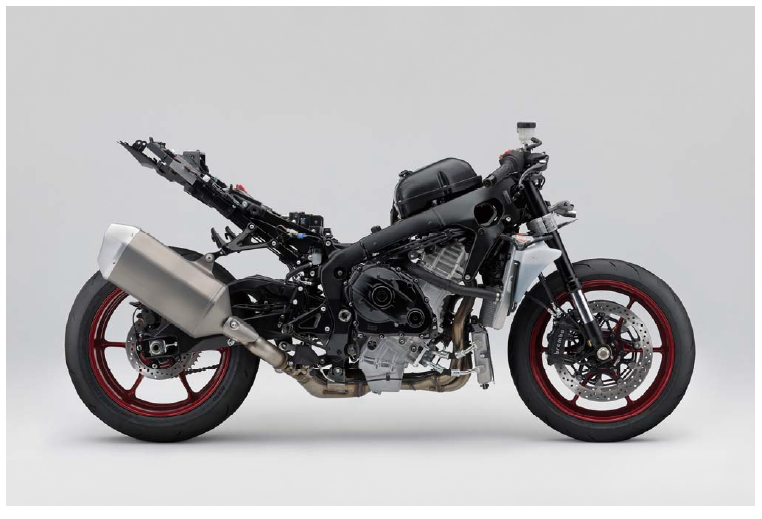 The all-new chassis is more compact, lighter and agile. It is designed to increase the rider confidence in Run, Turn, Stop performance. The wheelbase is 15mm longer at 1420mm, rake steeper at 23.2º from 23.50º, trail down from 98mm to 95mm, lean angle still 56º/56º, ground clearance 130mm, weight 200 (std), 202 (ABS), 205kg (R) versus previous 203kg/205kg so same weight basically. Swingarm pivot to rear axle is 40mm longer.
The frame is brand new and is 10 per cent lighter and 20mm narrower. The swingarm and sub-frame are also brand new, with rigidity improved in the swingarm and a 1kg weight reduction of the sub-frame.
There is an electronic steering damper and the top of the fuel tank is 21mm lower for better tuck-in.
Suspension-wise, there are big improvements. The R model as tested features Showa Balance Free Forks, which equalize oil pressure above and below the solid internal piston as it moves up and down, pushing oil out of the fork legs and into the other side of the piston via external damping circuits.
This isolates damping control from unequal pressure in the fork, giving better road feel, improved comfort and better grip. At the rear is a Showa Balance Free Rear Cushion Lite shock, which applies the same principles as the forks. The standard GSX-R1000 uses the popular Showa Big Piston Forks and a Showa shock.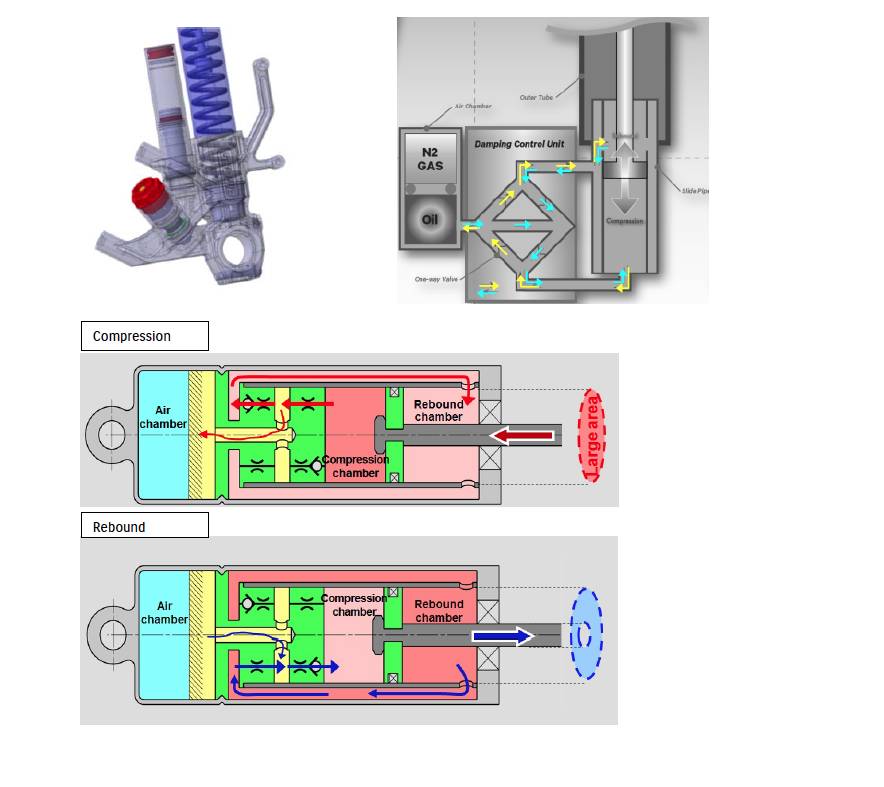 The brakes are new, with Brembo 320mm T-drive rotors replacing the outgoing Sunstar 310mm floating items. The T-Drive mounts have a larger surface area, enabling a reduction in carrier mounts from 12 to 10. 32mm Brembo radial-mount calipers are used along with a 19mm radial-pull master-cylinder. Wheels are new 6-spoke lightweight items and OEM tyres are Bridgestone RS10.
the ABS system called Motion Track Brake System works with the IMU to constantly monitor the bike. The system reduces rear wheel lift during hard braking, and is especially good on downhill hard braking.
The Aerodynamic bodywork is all new and is MotoGP-inspired. Lift has been reduced and CdA has been increased. The new fairing is 16mm narrower. New SRAD ducts are located closer to the center of the fairing nose, where air pressure is highest. There is even a slotted brake lever fitted to reduce brake drag at speed!
The mirrors are new and no longer have the indicators in them and even the fairing fasteners are more aerodynamic. Below image shows new versus outgoing.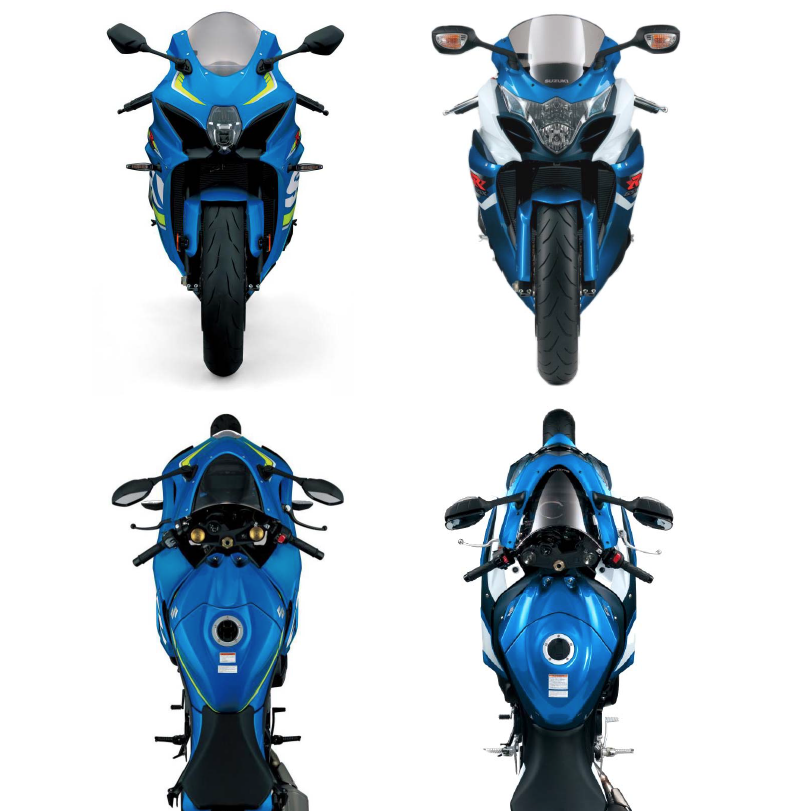 The instruments are brand new and high tech. A full LCD instrument panel is lightweight and compact and features six levels of brightness.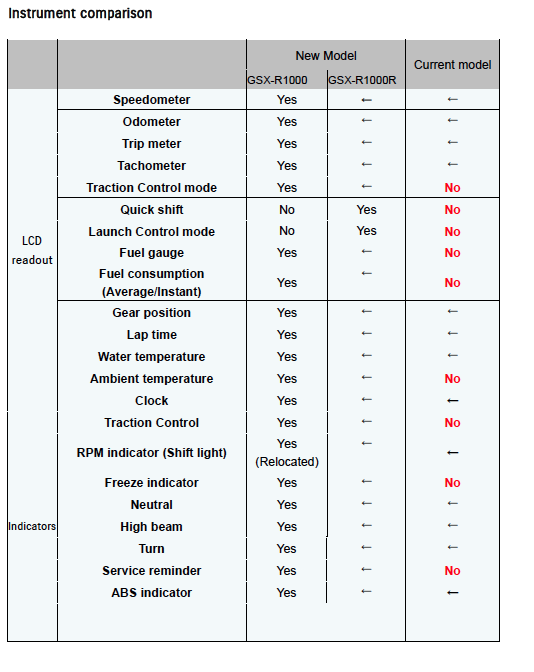 SPECIFICATIONS: 2017 Suzuki GSX-R1000/R
Arrival in Australia Late Autumn. 
Price: TBC range $22,000 – $26,000 std and R respectively + ORC
Warranty: Two-year/unlimited kilometre
Colours: Blue, Red, Black

Claimed power: 148.6kw[202hp]@13,200rpm
Claimed torque: 117.6Nm [88ft-lbslb-ft]@10,800rpm
Claimed weight: 205kg dry as tested.
Fuel capacity: 16L
Engine: Liquid-cooled DOHC VVT 16-valve four-stroke.
Gearbox: Six-speed cassette-style.
Clutch: Wet multi-plate slipper clutch.

Chassis:  Aluminium cast and extruded perimeter frame, alloy swingarm and sub-frame Wheelbase: 1420mm,
Rake: 23.2º, Trail: 95mm
Suspension: Front: Showa Balance Free Inverted  forks.
Rear: Showa Balance Free shock

Brakes: Front: Brembo 320mm rotors, Brembo radial-mount calipers, radial-pull master-cylinder, ABS.
Rear brake: Single dual-piston caliper and 220mm rotor.

Wheels & Tyres: Light alloy 6-spoke, 3.50 x 17in & 6.00in x 17in,  120/70 – 17, 190/55 – 17.
Dimensions: Seat height: 825mm, Overall Height: 1145mm Overall Length: 20175mm
Instruments: LCD Display.

2017 Suzuki GSX-R1000R Gallery
The Verdict | Review: 2017 Suzuki GSX-R1000R
The Gixer is back at the top again!