The Husqvarna Vitpilen 701 represents an all-new start for Husqvarna in the road segment... Test: Roland Brown Pics: Marco Campelli & Sebas Romero
Few bikes in recent history can approach the Husqvarna Vitpilen 701's ability to turn heads and attract cameras before even turning a wheel. The striking café racer, whose name means White Arrow in Husqvarna's native Swedish, was a star of Milan's EICMA show when unveiled in concept form in 2015.
Subsequent promotional tours of exhibitions and city-centre boutiques have given the 693cc single a high profile, especially among the urban café racer crowd that many manufacturers are currently fighting to attract.
Husqvarna's high-powered publicity drive was deemed necessary because the Vitpilen, along with its closely related sibling the Svartpilen (Black Arrow), represents not just a new model or even a new platform but a full-scale relaunch of the marque.
Now under KTM control, with production switched to the Austrian firm's Mattighofen factory, the brand that made its name with Swedish-built off-roaders is being reinvented as a manufacturer of style-conscious streetbikes.

That aim is clear from a glance at the production Vitpilen, which retains almost all of the concept machine's edgy lines. It combines traditional café-racer elements with modern design, from its round headlight and clip-on bars to the diminutive tailpiece. Shame the perspex-covered instrument panel doesn't match the quality of the TFT display of KTM's 690 Duke, on which the Vitpilen is based.
Parts borrowed from the Duke include the DOHC, single-cylinder engine, which is internally unchanged apart from minor gearbox mods and the addition of a two-way quickshifter. A revised airbox, modified ride-by-wire injection system and new, black-finished exhaust system don't affect the output of the four-valve motor, which produces a maximum of 75bhp.
Chassis layout is also taken from the Duke, notably the steel trellis main frame, which gains a new aluminium rear subframe for the Husqvarna's cut-down tailpiece. The specification mirrors the 690's with 43mm forks and rear shock from in-house suspension firm WP, plus Brembo's 320mm front brake rotor and four-piston brake caliper.
Arguably the biggest difference from the high-barred Dukes is the Vitpilen's racier riding position, thanks to low, clip-on handlebars. Inevitably that puts pressure on the wrists at low speed. At least that minimalist seat is slightly lower than the 690's, which helps make the fairly roomy Husky easy to manoeuvre, as does its light weight of just 165kg with a full tank.
The ride-by-wire injection system's throttle response is very sweet, as usual with the refined KTM powerplant. The single-pot motor judders at low revs, which can occasionally make a quick down-change necessary in town. But provided the revs are kept above 3000rpm the Vitpilen is smooth, thanks to the twin balancer shafts that make it feel almost more like a twin at higher speeds.
That helps give the Husky an enjoyably rev-happy character that is well suited to its leant-forward riding position, which makes much more sense once you're moving fast enough for the wind to take the pressure off your wrists. On the open road the Vitpilen rumbles along effortlessly at 130km/h, ready to press on towards its top speed of about 200km/h. It's quicker still when you make frequent use of the quick-shifter, which works superbly given positive pressure on the lever.
Chassis performance is another Vitpilen strength. Its suspension is a blend of 690 Duke and the more exotic 690 Duke R, with the standard model's shorter travel and the R's more sophisticated front forks, featuring plastic knobs on their tops for easy adjustment. On showroom settings it has delightfully light yet stable handling, backed up by abundant ground clearance, and grip from its Bridgestone tyres. It also brakes respectably hard, though less ferociously than the Duke R, with its superior M50 front caliper.
For all the Vitpilen's agility and overall quality, it's inevitably expensive for a relatively small-capacity single-cylinder roadster. Husqvarna's challenge in establishing the Vitpilen is emphasised by comparisons with the 690 Duke R, in many ways a more practical machine with a more upright riding position, bigger fuel tank, thicker seat, and superior electronics and cycle parts. Despite that, it sold in small numbers and is now out of production.
Husqvarna's bosses are aiming to make the marque Europe's third largest bike manufacturer, behind only parent brand KTM and arch rival BMW. Hence the subtly different line of attack with the Vitpilen 701 and its Svartpilen sister model, plus an eponymous pair of 401 models, based on the 390 Duke. All are aimed at that modern café-racer crowd of relatively affluent, urban-based enthusiasts, many of whom aren't hardcore motorcyclists but are happy to pay extra for what they regard as a premium brand.

Those who splash out on the Vitpilen 701 will enjoy a light, sweet-handling and above all stylish modern café-racer that is great fun on the right roads. The White Arrow is too expensive and impractical to sell in big numbers. But it points to an exciting future for Husqvarna, and achieves its main objective of putting the marque's new streetbike strategy in the spotlight.

Justin Maxwell, Husqvarna Senior Product Manager
"The Vitpilen has classic thinking but interprets it in a modern way, so it's a little bit different. We're aiming it quite broadly at anyone who likes motorcycles, anyone who likes simplicity in a motorcycle. It's really accessible; it has the technology but it's not complicated to use. It has good power and performance but it's not intimidating for riders who don't have a lot of experience.
"It's aimed at a very broad age range. The Vitpilen appeals to people who are very style based; who are looking for a sporty motorcycle with really sharp lines and aggressive looks. Husqvarna's first core value is premium. That translates into the products, and we will always keep a high level of quality because that is what suits the brand.
"I wouldn't say the 790 Duke is in direct competition with the Vitpilen. It's aimed at a rider who is a lot more brash and into racing. At Husqvarna we're not aiming for that aggressive, sporty style, so we appeal to a different type of person.
"Regarding how we develop Husqvarna, we can't confirm when the Svartpilen 701 will come out but it's not far away. Of course we have all the [KTM] platforms available to us to build on, but how we use these platforms is still to be decided. It would make sense to use the parallel-twin engine [from the 790 Duke] but would we do it in as a Vitpilen or Svartpilen, or more of a travel style motorcycle? That is still to be decided… or, to be more accurate, it's still to be announced!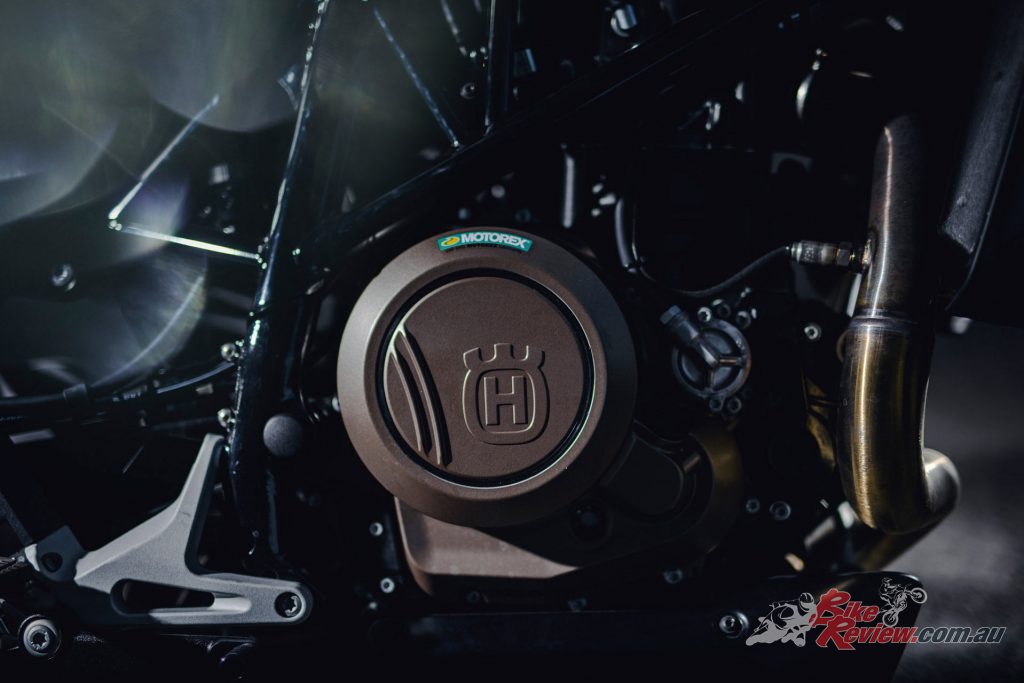 "I can't confirm whether we would use the V-twin engine. That is available but if you put the V-twin into the Vitpilen you lose accessibility – it becomes aggressive and sporty, which is a bit intimidating for many riders. It would have to be done correctly, and there's nothing on the cards yet.

"The company has a big electric strategy going on. We're exploring a lot of the technology, we're developing quite rapidly and will release some snippets towards the end of the year. Whether it's off-road or in street motorcycling, the strategy is to offer a line-up of electric motorcycles in the future. That sits well with Husqvarna. It really suits our brand to have electric motorcycles as well."
Husqvarna Vitpilen 701 Tech Features
Handlebars
Clip-on bars that mount directly in the black-finished top yoke confirm the Vitpilen's status as a café racer, and make the single more comfortable at speed than in town.
Front brake
A four-piston Brembo caliper biting on a 320mm disc gives the Vitpilen respectably strong stopping power, but there's no Duke R style M50 caliper or cornering ABS.
Front suspension
The 43mm WP usd forks give 135mm of travel, and can easily be fine-tuned for compression and rebound damping using the adjusters at the top of each leg.
Fuel tank
Although the Vitpilen's stylishly moulded cover hides a fuel tank that holds only 12 litres, the economical engine means that's enough for a range of over 160km.

Instruments
Among the less impressive aspects of the Husqvarna's design is the round instrument console, which can't match the sophistication of the 690 Duke's TFT display.
Engine
KTM's familiar 693cc LC4 engine, which features twin overhead cams, four valves and twin balancer shafts, is enhanced with the addition of a two-way quick-shifter.
Frame
Husqvarna borrowed the 690 Duke's trellis frame of chrome-molybdenum steel tubes, and added a new aluminium rear subframe to support the Vitpilen's diminutive seat.
Exhaust
The Vitpilen's freshly designed exhaust system, which features a pre-silencer beneath the engine, helps retain the 690 Duke's 74bhp output while getting through Euro 4.
Closest Rival
KTM 690 Duke
In some respects the Vitpilen's rivals are other café racers like Ducati's Scrambler Café Racer and even BMW's R nineT Racer but in performance terms it's far closer to the KTM that supplies its engine and frame. The Duke's upright riding position means it's more comfortable in town; arguably less so at speed. The KTM gains with its bigger tank and lower price but can't match the Husky's novelty value or streetwise image.
Specifications: 2018 Husqvarna Vitpilen 701

Price: TBC
Warranty: Two year, unlimited kilometre
Colours: Back/white and black
Claimed power: 55kW[73hp]@8000rpm
Claimed torque: 74Nm[54.5ft-lbs]@6500rpm
Dry weight: 157kg
Fuel capacity: 12L
Engine: Liquid-cooled, single-cylinder, four-stroke, 102 x 84.5mm bore x stroke, 690cc, 12.7:1 compression, six-speed gearbox, Keihin EFI and EMS with RbW, double ignition
Clutch: APTC slipper clutch, hydraulic
Gearbox: Six-speed
Chassis: Chromium-Molybdenum steel trellis frame,
Seat height: 865mm, Wheelbase: 1466mm
Suspension: 43mm WP usd telescopic with compression and rebound damping adjustment (R) WP monoshock with preload and rebound damping adjustment

Brakes: Single 320mm disc, four-piston Brembo caliper (R) Single 240mm disc, single-piston Brembo caliper

Wheels & Tyres: Cast-aluminium, 3.50 x 17in, 5.00 x 17in, 120/70 – 17, 160/60 – 17, Bridgestone S21 tyres

Instruments: Digital multifunction display

2018 Husqvarna Vitpilen 701 Gallery