Kawasaki hit the nail on the head with the Z900RS's looks, so how does it ride, and what does $17,999 On The Road Ride Away* get you? Test by Jeff Ware, Images by Heather Ware
Japanese manufacturers in general like to look to the future and much less at the past. Even when it comes to celebrating iconic models from the 1970s, '80s or Noughties, aside from the odd paint job it is a fairly rare thing. The Euro brands tend to be much more emotionally in touch with that soft spot motorcyclists have with particular models from the past.
I understand the way the Japanese big four need to distance themselves at times, as like a band, they can't keep on playing old hits like some sort of RSL Club legends… However, every now and then we are treated to a retro themed bike that really does work in every way and the Kawasaki Z900RS is definitely one of those.
For those too young to know the background of the Zed, please take time to check out the history of the original Z1 here in this great article by Mick Withers before you continue to read this review…
The Z900RS is not just a painted and polished retro version of the Z900. It is just about completely redesigned. The frame, engine tune and internals, bodywork and more is completely new. Check out our technical breakdown of the bike along with our video review of the Z900RS Here.

The first thing I noticed about the Z900RS when I picked it up from Kawasaki HQ for a week long test was the finish of the bike. Kris had attended the unveiling at the Sydney Motorcycle Expo and the launch night in the City, so I hadn't actually eyeballed one in the flesh. I knew how good the bike looked in pictures but was really surprised at the paint, chrome and polished bits.
A good look over the bike revealed some neat touches, like upgraded braking, traction control, stunning paint particularly on the tank, chrome badges, lots of wiring and cables hidden, nice chrome and polishing work. It looks like a hand built bike that has had a lot of love put into it. I was impressed by this, as I am super fussy when it comes to finish and quality. The Z900RS would suit the type of person happy to pay for a premium product rather than save a few dollars and not be quite satisfied…
So there is not much argument about the looks of the bike. Kawasaki get a big tick there for winning at that fine balance between stimulating the senses and getting fans reminiscing about the good old days, while still causing the newer generation to stop, turn around and take a double look. Modern and retro done right and it rarely happens so well…
So enough about the looks, and you've hopefully read the technical breakout I said to click on, so what is the beast like to ride? Surely a bike like this is built to be parked and admired, right? Wrong. Very wrong. This is no hipster Harley, this is a real weapon that engages the rider…
I'll start with the fire up surprise. Thumb the bike into life and you are greeted with a deep, raspy and mean sounding gurgle like no other standard bike. Kawasaki have very smartly tuned the exhaust to bypass the main chamber at idle and as gas velocity increases it goes into the collector and quietens up once the revs rise. It's a cool idea. The system is actually double-skinned, as you can read about in the tech section.
Hopping on the bike I realise just how tall it is at 835mm. Wow. I'm 185cm and I would not want to be 1cm shorter. Kawasaki had to change the frame rails position and the sub-frame and head-stock area to accommodate the narrow original Z1 tank shape, thus the taller seat.
The bike is hefty but a lot of that is the height of the fuel and engine. So off the stand it feels quite heavy but on the move that falls away. Still, it is a big bike to manhandle and for the experienced rider.
The riding position is really relaxed, bolt upright, wide bars and a big seat that is supportive. The footpeg rubbers ensure comfy and vibe free feet and legs and the slim tank gives that old school feel, as do the modern meets retro chrome clocks with trick digital center display dash. Switchgear is all standard fare, they are good but I would like them to be chrome.
Heading out of Sydney on the Z900RS was fun. It certainly turned a few heads and I would say many non-motorcyclists even took a second look. I had two bikes give me a long look at lights and a nod.

The sound of the bike idling away like an old-school superbike breaks up the monotony of Sydney traffic and stop start riding, so that was fun. The engine is a belter in town as it just has so much torque on tap and it pulls like a V8 with handlebars from 2000rpm onward in any gear. The clutch is grabby around town but I suspect it was just the press unit I was testing had been punished a little as the rear brakes were also spongy. Wheelies? Nah…. Not us!
I didn't test out the pillion scenario but it looks roomy enough and there is a cool chrome grab rail as a genuine accessory, which I would be putting on.
I had the traction control set to 2. There are three settings, 1, 2 and Off. I left it on 2 for all the around town riding and it was nice to have it there, particularly as I spent most of my week in the rain, where the system along with the ABS is a great back up on a big, powerful bike.
I've read a lot of reports and also had emails and comments (check out our Z900RS YouTube video review) referring to bad throttle snatch on the Z900RS, however, I did not have an issue with the bike I had. It was nice and aside from some slight snap that is less than most modern bikes it was silky smooth. There is mega torque from 2000rpm and getting back on the power above 2000rpm results in beast mode so that could be mistaken for a snatchy throttle.
The bike has an Economical Riding Indicator on the dash apparently, which gave me a laugh, as most owners will never see that baby light up, not when the bike has enough engine character to make even the most sensible rider go like it's the opening lap of the 1972 Castrol 6 Hour.
The revised cylinder-head, camshafts, compression ratio, airbox, shorter low gear ratio and the upright position all combine to further enhance the feeling of acceleration and give that true old school grunt that is gone from many modern inline fours these days.
The fuelling is spot on, power amazingly linear like it has two engines, one for power and one for torque, a look at the attached Sydney Dyno graph will tell you more. Amazing tuning by Kawasaki.
The gearbox feels old fashioned though, with a long throw between gears, something I don't recall noticing on the Z900. It could be a linkage design. Either way, the ratios are modified but work well, with a shorter first, taller top and a two tooth difference on the overall. The actual gearbox action is positive and glitch free. The clutch, as mentioned, slightly grabby off the line but not an issue once on the go. Into turns the slipper clutch works well modulating engine braking.
Overall the Z900RS engine is extremely engaging and fun to use, making the riding experience more special than it is on most new, standard bikes as a result. I had a similar feel with the Z900, but more from a hooning point of view as it is in a much sportier, revvier state of tune than the RS.

Now there is no point having an awesome engine and style with a bad chassis, but it has been done before and we all know that unfortunately. However, this time Kawasaki score three out of three – Style, Engine, Chassis – as the Z900RS handles as good as it looks.
With semi-adjustable front and rear suspension and a lay-down rear shock, you would not expect the Z900RS to win the WSBK championship but the truth is, the suspension is fantastic and I actually didn't touch a clicker or spring all week, rare for me. The suspension package has a good balance between firm and comfort, meaning fast riding on grippy smooth hotmix is not a problem yet the bike remains composed and comfy on bumpy roads.
The high speed (sharp bumps) gave a bit of a jolt through the wide handlebars at times but I would not compromise the cornering ability for that comfort. Braking hard, the front is well supported, even if the brakes are pulled on suddenly. However, with a bit of finesse at the lever rather than jamming them on I was rewarded in the fast stuff by a more balanced bike.
The rear end could get harsh over a series of bumps but overall worked really well in a wide range of punishing conditions from full throttle hairpin exits to top gear flat out roads.
Braking is a strong point. The four-piston monoblock radial calipers house sintered pads and squeeze 300mm rotors. They are a step up from the Z900 and are fantastic. Initial bite is strong, there is loads of feel at the lever even though the lever is quite chunky, and unlimited power. The ABS is brilliant and I did some test emergency stops as I usually do and I was impressed but how far I had to push before I could get the tyre to break away and the ABS to kick in. The rear brake despite having excess lever travel still had good power.
Cornering on the Z900RS is a matter of muscle, which is very fitting given the Z1 was the first true big capacity muscle bike. With the weight carried high, along with what must be a hefty exhaust system, those big handlebars come in handy. The Z900RS has stable steering that requires a firm hand to get it pointing where you want to go.
It always complies and tracks with accuracy and confidence, it just needs a good strong message telling it where to go. Once on its side and in a turn, the Z900RS is planted and tracks through a turn well, with plenty of ground clearance and there is good grip and feel from the OEM fitment tyres. The 180 rear helps with the turning of the bike also, and changing direction from full lean to full lean is easy thanks to the big bars and narrower tyre. The suspension settles quickly and with the brilliant throttle response, getting the bike balanced is very quick and easy.

The seating position and overall ergonomics work for commuting, touring or aggressive cornering so all in all the Z900RS is a very capable bike in the hills.
If you are serious about a top spec nakedbike that is going to stand out from the crowd, give you guaranteed grin factor and most likely have a good resale value, then this could be the bike for you.
It'd make a great daily rider, but I could not do that to a bike this special. It could be a collector's item one day but right now it is there to enjoy out on the road. Congratulations to Kawasaki on a great machine, the first to score a complete 10 on BikeReview.com.au!
Check out Kawasaki's website for a full range of accessories and a dealer locator.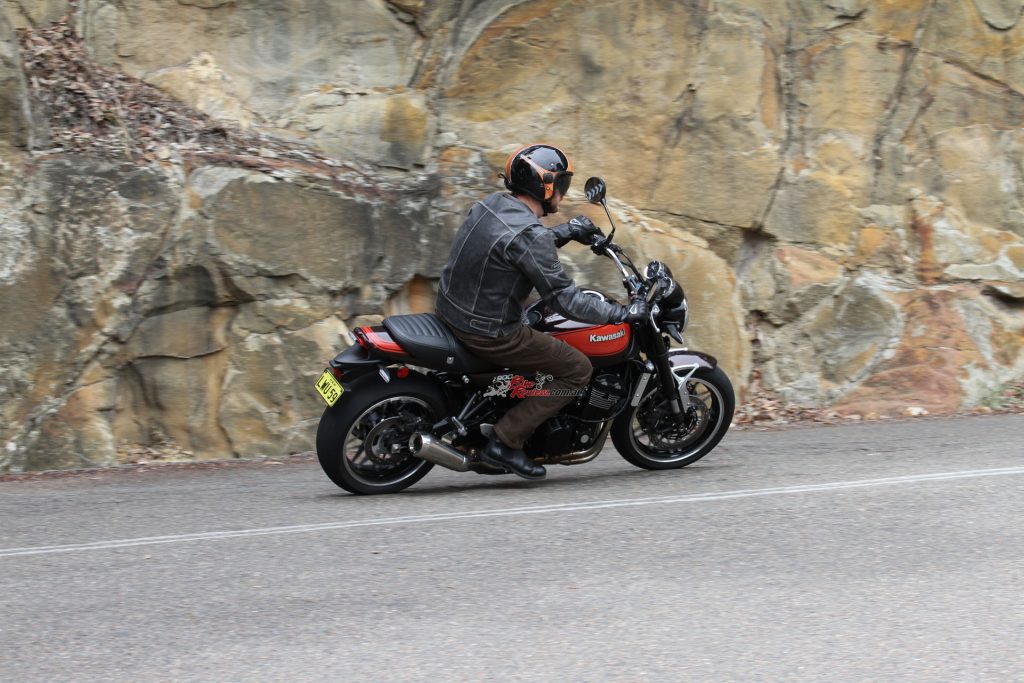 2018 Kawasaki Z900RS Specifications
Price:$17,999 On The Road Ride Away*.
Warranty: Two years/unlimited kilometre
Colours: Metallic Spark Black, Candytone Brown/Candytone Orange, Metallic Matte Covert Green/Flat Ebony
Claimed power: 82kW [111hp]@8500rpm
Claimed torque: 98.5Nm[72ft-lbs]@6500rpm
Weight: 215kg
Fuel capacity: 17 litres
Engine: Liquid-cooled DOHC inline four-cylinder, 16-valve four stroke, bore and stroke: 73.4 x 56mm, displacement: 948cc, compression ratio: 10.8:1, four 36mm Keihin oval throttle-bodies, with oval sub-throttles
Gearbox: Six speed
Clutch: Wet multi-disc
Final ratio: 15/42
Final drive: Sealed chain
Chassis: Trellis, high-tensile steel
Wheelbase: 1470mm
Rake: 25 degrees
Trail: 98mm
Suspension: 41mm inverted fork with rebound damping and spring preload adjustability, 120mm travel, Horizontal Back-link with rebound damping and spring preload adjustability, 140mm travel
Brakes: ABS, Dual semi-floating 300mm petal rotors, dual opposed four-piston radial mount monoblock calipers, single 250mm rear petal rotor, single piston caliper
Wheels & Tyres: Machined cast alloy wheels, 120/70 ZR17 (58W), 180/55 ZR 17 (73W)
DIMENSIONS
Ground clearance: 130mm
Seat height: 835mm
Overall height: 1150mm
Overall length: 2100mm
Overall width: 865mm
Instruments: LCD centre display with analogue style tacho and speed.

2018 Kawasaki Z900RS Gallery
The Verdict | Review: 2018 Kawasaki Z900RS
This is one of those special bikes that only comes along every few years. Kawasaki have got it spot on. At least, we reckon they have… The Z900RS is styling, comfortable, seriously well equipped and very good fun to ride. Yes, it is a premium price but the value is in the detail. Great job by Kawasaki…