Over the past 12-months we have been riding the range of ShiftCam Boxer powered BMWs. The R 1250 R is just about as much fun as you can have with two-cylinders, handlebars and an engine... Review: Jeff Ware Photography: Luci Luci
The BMW R 1250 R is the most high-tech and powerful naked Boxer yet. With 100kW and 143Nm, the punchy twin does 0 – 100km/h in just 3.4-seconds and has a top speed well over 200km/h. It sounds angry, it looks fun and it is. It's also a pussycat through town…
After spending a fantastic day on the versatile BMW R 1250 RS Exclusive (check out my Video Review here) and a relaxing night talking BMW with the crew, it was my turn to hit the hills on the naked version, the R 1250 R Exclusive.
The R Exclusive comes with the same extras as the RS Exclusive, being the Pure Tank Cover, Touring Package (Dynamic ESA, Keyless Ride, Nav Prep, Cruise, Centre Stand, Pannier Mounts, Luggage Grid), and Dynamic Package (Daytime light, White LED blinkers, Gear Shift Assist Pro, Riding Modes Pro). The up-spec will set you back $4,700 over the base model. It's a fair chunk of coin but gets you a serious number of goodies… Total price for the R Exclusive is $25,965 + ORC.
I really enjoyed the RS but it was the R that had my eye most of the previous day. From any angle, I just love the look of it. That Boxer twin is shown off, the TFT dash stands proud and there's nothing but a set of fat alloy tapered 'bars, forks and a front wheel ahead. To me the styling is much tougher and less conservative than some of the previous models and with the gold highlights of the forks and calipers standing out against the black frame and green (Pollux Metallic Matt) finish the Exclusive looks the goods. Maybe the rack could be dropped unless needed but aside from that it looks horn… Even the big chrome muffler is OK but would soon be replaced with an Akro… The silver bellypan and engine shrouds top off styling for me.
Once on board the R the first thing I notice of course is the ride position, which is not as radically different to the RS as it looked to me. It's a bit more upright, the tapered 'bars feel wider and they are slightly pulled back. The fantastic TFT dash is prominent and that's all there is in view. Nice…
---
---
I set it up on Dynamic Mode, which a sportier step up from Road and is part of the Dynamic Package that is standard on the Exclusive. There is a Dynamic Pro option as well that is configurable but I just leave it on Dynamic. I also set the Dynamic ESA to the hardest rear preload, solo rider. These are my base settings and I leave them all day, happy with the way the R is…
Like the RS version I rode, the R I am on has the 820mm seat option, which is too low for me. I'm average or just above it at 187cm tall and my legs are at close to full flex when I sit on the bike. It'd be great for shorter riders, however, and is an easy seat swap for taller riders. Aside from that, I feel good on the bike and as we hit the road, I'm quickly falling for the R. It just feels more of a hooning bike… but as I discover, it still has good manners for more 'mature' riders.
---
---
Just by snapping the throttle open on the way out of town and soaking up the meaty exhaust note and that distinct Boxer growl I'm starting smile under the lid… I know fun is on the way when I can't behave myself in traffic. Already, the shorter wheelbase (-15mm) and increased trail (+16.2mm) give the R a totally different feel to the RS, particularly with the leverage of the 'bars.
As we get out of town and hit the corners the sharper handling of the R stands out immediately. There's no escaping 239kg but the way the weight is carried leaves a brilliantly balanced bike that only starts to feel heavy when the rapid direction changes get repetitive or when under extreme braking. Aside from that I only notice the weight when wheeling the bike around to park it at lunch…
---
---
With a whopping front footprint there is next level mechanical front grip on the R 1250 R, it's a BMW specialty, so my confidence is high, meaning I'm having a blast as I flick the bike through the hills. Ground clearance is mega, it's hard to believe there are two massive ShiftCam heads poking out each side (which incidentally are not heating up my legs like on the RS), the Gear Shift Assist Pro is reliable and accurate but really needs a heavy foot compared to on the RS, the throttle action is silky smooth, ultra-responsive and that stunning engine just revs… and revs… and revs more. It's easy to feel the ShiftCam operating on constant revs, but when revving through the range I couldn't feel it at all. BMW have taken the Boxer donk to next level with this thing… And efficient, with BMW claiming a healthy 4.75L/100km average. With 18L that's a good 400km ride.
Considering the range of roads and conditions, I'm impressed with the suspension. The inverted forks equipped with Dynamic ESA are supportive under all braking conditions, keep the wheel on track cornering, even over sharp bumps, while at the back support is there spring and comp-wise but there is some lack of rebound control at times mainly when on the throttle off turns, when there is a series of sharp bumps. Still, I am super impressed and on the touring sections when I pop it in Road the bike becomes comfy and even plush… The motor is smooth while cruising, with virtually no vibes.
---
---
I know how good the braking package is after my RS test, however, the brakes on this R have had enough and the lever is coming back close to the throttle grip. I set it to max span but unfortunately it isn't on the improve so I can't brake to full potential on the bike. It isn't going to spoil the ride though – and I'd say is a result of serious braking punishment by the Aussie press during the launch days!
In terms of ride comfort, the big plus I am finding as we ride the open countryside roads is that I am cooler on the R than I was on the RS, thanks to the lack of fairing and more airflow around the cylinders, plus, surprisingly, there is much less wind noise and buffeting from the front of the bike. The RS screen was just wrong for my height, whereas the R's TFT dash and the headlight seem to be perfectly directing air over my lid.
---

---
Just like I did on the RS, I play around with the 6.5in TFT, which after using it on the S 1000 RR, C 400 X I'm getting familiar with and more and more impressed. I love the connectivity for calls and navigation, not so much music for me, but the functions and displays are appreciated and many riders would be right into that stuff.
This sort of feature level has me thinking as the ride mellows and we return to the BMW dealer. I've just had a day going nuts on an extremely capable performance motorcycle that would stand against any performance nakedbike on the market, beating the majority of them in most conditions, that has now morphed into a mellow, sensible urban transporter. A luxury, high-tech, high-end one. That makes me realise just how much bike this is for under thirty grand with the good bits…
Overall, despite the ride being a shorter one than I did on the RS (by a fair bit), I rode the R enough to know that it is a bloody fantastic motorcycle and a truly fun nakedbike. It'd be a great choice for an everyday ride, with weekend scratching ability and even touring thanks to the range of luggage, accessories and generous a 221kg load limit. For me? I prefer it to the RS purely based on the more engaging and exciting ride the open position and altered geometry offers.
---
Video Review, BMW R 1250 R Exclusive
---
Tech Talk, Engine
The new R 1250 R and R 1250 RS achieve a whole new level of power and torque. BMW claim it was also possible to significantly optimise refinement and running smoothness – especially within the lower engine speed range. The Euro4 engine has improved fuel consumption.
BMW ShiftCam Technology has been used for the first time in the serial production of BMW Motorrad engines: this enables variation of the valve timing and valve stroke on the intake side.
Other technical changes to the engine relate to the camshaft drive – now taken care of by a toothed chain (previously a roller chain) – an optimised oil supply, twin-jet injection valves and a new exhaust.
The boxer engine goes a step further with boosted performance figures across the board. In the latest generation it has a capacity of 1254cc (previously: 1170cc). The ratio between bore and stroke is now 102.5 to 76mm (previously: 101 to 73mm).
It has an output of 100kW (136hp) at 7750rpm and generates a maximum of 143Nm at 6250rpm (previously: 92kW (125hp) at 7750rpm and 125Nm at 6500rpm. With a seven per cent capacity increase, the new boxer engine offers 14 per cent more torque and nine per cent more output than its predecessor, making it the most powerful production BMW boxer engine ever.
The boxer engine remains air/liquid cooled and the gearbox and clutch are integrated in the engine housing in the new boxer engine. This provides benefits in particular in terms of overall weight due to the omission of numerous bolt connections and sealing surfaces, but also in terms of the torsional response of the unit as a whole. In addition to a design that saves both space and weight.
---
---
Power transmission to the six-speed gearbox, which has been further optimised in terms of gear shifting, is via a multi-plate wet clutch. The clutch system is fitted with an anti-hopping mechanism. The brake torque of the engine is now passed to the rear wheel at a reduced level during coasting.
Chassis
The R 1250 R chassis comprises of a two-section steel frame with a bolt-on sub-frame. The engine is a stressed member. Front forks are 45mm inverted units and the rear suspension is made up of a cast-alloy single-sided swingarm, BMW Paralever, WAD spring strut with remote preload adjustment and rebound adjustment standard.
Travel is 140mm at both ends, while castor is 126.6mm and rake 62.3mm. The wheelbase is 1515mm. The brakes are dual floating 320mm rotors with four-piston radial-mount calipers at the front and a single 276mm rotor with a two-piston caliper at the rear. Conventional master-cylinders are employed.
The wheels on the R 1250 R are die-cast aluminium, with a 3.50 x 17in front and a 5.50 x 17in rear. 120/70-17 and 180/55-17 tyres are standard fitment.
The total length of the R 1250 R is 2165mm, width is 880mm and seat height is variable with the options of 760mm to 840mm possible. 820mm is standard. Weight is 239kg ready to ride.
Electronics & Variants
Standard modes are Rain and Road and all models come with Riding Modes, ASC, ABS and Comfort Package (Chrome exhaust, Heated Grips, Tyre Pressure Monitoring) and adjustable levers as well.
The Exclusive comes with the addition of a Pure Tank Cover, Touring Package (Dynamic ESA, Keyless Ride, Nav Prep, Cruise, Centre Stand, Pannier Mounts, Luggage Grid), and Dynamic Package (Daytime light, White LED blinkers, Gear Shift Assist Pro, Riding Modes Pro). The HP comes with the addition of the Touring Package, Dynamic Package and a HP Exhaust and HP Tank Cover. The Option 719 goodies can be found here.
The Dynamic Package includes Riding Mode Pro, an overarching system that incorporates riding modes Dynamic and Dynamic Pro (configurable) for high level control and adjustability. The Dynamic Package also features a Daytime Riding Light, White LED Indicators and Gear Shift Assist Pro.
---
---
Dynamic Traction Control (DTC) combines with the selectable riding modes and contributes to dynamics and rider safety by calling upon networked sensors to rapidly determine and act upon rider inputs such as power delivery and incline angle. DTC makes a significant contribution to riding dynamics and road safety, providing invaluable assistance particularly under changing riding conditions and on low grip surfaces.
All R 1250 R and R 1250 RS models feature BMW Motorrad ABS. New Dynamic Brake Control (DBC), which is also standard fit across all models, provides additional safety when braking by avoiding unintentional accelerator activation. The engine control unit reduces drive torque during braking to make full use of the braking power at the rear wheel. This keeps the motorcycle stable and shortens the braking distance. BMW Automatic Stability Control (ASC), which is standard equipment across all variants, aids confidence in a variety of riding conditions by providing the best possible traction.
---
---
ASC eliminates rear wheel spin and enhances power transmission to increase active riding safety, particularly on wet roads. All R 1250 R and R 1250 RS models come standard with preload and rebound adjustable forks as well travel-dependent damping for the rear suspension strut.
BMW Motorrad Electronic Suspension Adjustment (ESA) automatically adapts to the situation and provides automatic compensation in all load states.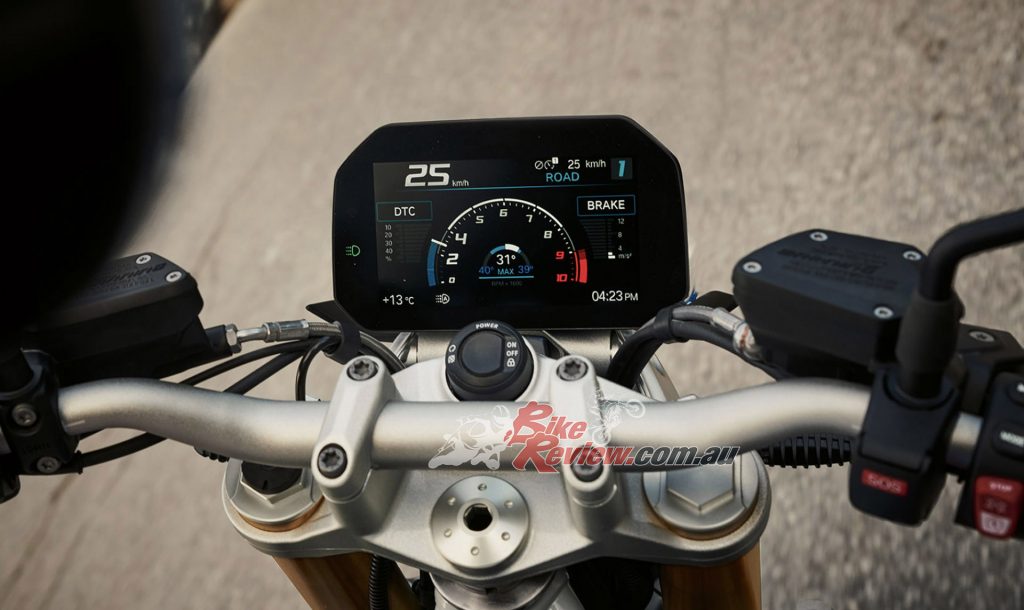 This allows finely tuned adaptation of the motorcycle to riding conditions, achieving advanced damping comfort and a stable ride response. ESA can be optioned for select grades within the Touring Package, which also includes Keyless Ride, Navigation Prep, Cruise Control, Centre Stand, Pannier Mounts and Luggage Grid. All models feature Connectivity as standard including a high-definition 6.5-inch full-colour TFT screen. This system, in conjunction with the standard BMW Motorrad Multi-Controller, allows the rider to access vehicle and connectivity functions swiftly and conveniently.
Intelligent Emergency Call is also standard on all models to provide further reassurance for riders. It summons the fastest possible assistance in the event of an accident or in situations of emergency.
2019 BMW R 1250 R Specifications
Price: From $23,600 Ride Away. Please visit model page for full prices here.
Colours: Black Storm Metallic, Light White Lupin Blue Metallic Racing Red, Pollux Metallic Matt, Option 719 Stardust Metallic
Warranty: Three-year, unlimited kilometre
Claimed power: 100kW/136hp@7750rpm
Claimed torque: 143Nm@6250rpm
Kerb weight: 239kg
Fuel capacity: 18L
---
Engine: Air/liquid-cooled two-cylinder four-stroke boxer, 1254cc, 12.5:1 compression ratio, 102.5 x 76mm bore x stroke, four-valves per cylinder, two overhead spur gear driven camshafts, counterbalance shaft, variable intake camshaft control system BMW ShiftCam
Gearbox: Constant mesh 6-speed gearbox with helical gearing system, shaft final drive
Clutch: Wet clutch with anti-hopping function, hydraulically activated
---
Chassis: Two-section frame concept consisting of main frame with bolt-on rear frame, load-bearing engine, cast aluminium single-sided swing arm
Steering head angle: 62.3º Castor: 126.6mm
Suspension: BMW 45mm inverted forks, 140mm travel, BMW Motorrad Paralever rear, WAD spring strut, 140mm travel, continuously adjustable spring preload by means of hand wheel, rebound-stage damping adjustable by hand wheel. Option: Dynamic ESA
Brakes: Twin front disc brake, floating brake discs 320mm, four-piston radial brake calipers, single rear disc brake 276mm, two-piston floating caliper, BMW Motorrad Integral ABS as standard, disengageable.
Wheels & Tyres: Die-cast aluminium wheels, 3.50 x 17in front, 5.50 x 17in rear, 120/70 ZR 17, 180/55 ZR 17
---
Dimensions:
Overall length: 2165mm
Wheelbase: 1515mm
Seat height: 760 – 840mm (820mm std)
Max height: N/A
Max width: 880mm
Instruments: Full-colour TFT dash.
BMW R 1250 R servicing & warranty
The BMW R 1250 R range is covered by BMW Motorrad Australia's three-year, unlimited-kilometre warranty. The warranty period also includes comprehensive roadside assistance, available 24/7 every single day of the year. Scheduled BMW Motorrad service and maintenance costs can be covered by a single, one-off advance payment with BMW Motorrad Service Inclusive (BMSI), which is available in two packages: Service Inclusive or Service Inclusive Plus.
---
---
BMW Service Inclusive covers a wide range of maintenance work, including oil service, oil, air and fuel filter change, the 1000-kilometre first check, valve clearance check, fork and gearbox oil change, spark plug replacement, and CVT belt change. The BMW Service Inclusive Plus package also covers front and rear brake and disc changes. Both Service Inclusive and Service Inclusive Plus can be selected as either a three years / 30,000 kilometres or five years / 50,000 kilometres program and is transferrable.
---
2019 BMW R 1250 R Gallery
---
---
The Verdict | Quick Test: 2020 BMW R 1250 R Exclusive
The BMW R 1250 R is one seriously capable nakedbike. It's fast, fun and it is packed with technology. We test the Exclusive version, which is $25,965 AUD + ORC and comes with the Comfort Pack, Touring Pack and Dynamic Package plus lots more.