Jeff heads to Estoril to ride the all-new BMW S 1000 RR. With every part of the bike redesigned, it is the first complete overhaul of the model since its release... Review: Jeff Ware Photography: BMW Motorrad
With every part on the motorcycle redesigned it is safe to the the new S 1000 RR, BMW Motorrad's flagship motorcycle, is a completely new model. In an environment of declining sportsbike sales it is refreshing to see a manufacturer put their engineering and technical wizardry proudly on display and on sale…
We headed over to Estoril, Portugal, to take a spin on the first majorly overhauled S 1000 RR, cutting some laps on the amazing Circuito do Estoril… See our Video Review: 2019 BMW S 1000 RR World Launch, Estoril here.
THE RIDE – 2019 BMW S 1000 RR
BMW test rider, all-round good guy and 250 GP hero Jurgen Fuchs turns to us and asks, "You guys haven't ridden here before. We will take it easy for a few laps, I will show you the way".
Somehow, having experienced riding with Jurgen on previous S 1000 RR launches (I won't expand on the 3am drive around Portimao years ago doing jumps in a BMW M3), somehow, I knew that 'easy' was a load of crap and he was going to cut loose for us.
Firing up the M Package S 1000 RR for the first time, I'm met with a wild, highly tuned rumble. I'm excited. It has been a long trip from Sydney. I look around at the other guys and off we go, the only reservation I have are the tyres. I just don't know why the M Package, at a racetrack, has the road and 10 per cent track S21s on it. As brilliant as they are on the road (Tyre Test: Bridgestone's Battlax Hypersport S21), I know the limitation here will be the tyres well and truly before anything else…
We ride out of Estoril's pit lane, the giant grandstands eerily empty but the history of the place definitely present as the S 1000 RR engines echo off the concrete walls either side.
Onto the track at turn one, Jurgen turns and looks at us, then takes off. On cold, new, unscrubbed rubber, we are into it.
The bike doesn't feel familiar at all. If it didn't have BMW badges on it, it could be another brand. It feels so light, so flickable and smooth.
Carefully following the lads around this incredible circuit for the first lap to get familiar and warmed up, Jurgen showing us the neat lines with his distinctly smooth 250 style, the S 1000 RR is immediately impressive. However, even without hard braking, the brake package stands out. It just doesn't have the feel and power of before. The traction control on my bike is working overtime as the rear tyre tries to smoke up in the long, third gear right-hander.
Jurgen pins it and we all go. It's a special moment for me, three legends on a legendary track, riding at my pace, Jurgen Fuchs, Steve Martin and Cameron Donald. We have the track to ourselves and I'm already grinning as I sit up to brake from 280km/h at the end of the long straight.
The pace increases, with smooth riding and super neat lines from Jurgen, who did 26,000km of testing on racetracks for BMW with this model last year! My left knee touches down for the first time, in the first tight left hairpin. This is the first time I realise the bike is too soft for me in these settings (Pro 1 pre-set by BMW for the session) as the rear sags and the bike wants to go wide.
On the gas, the electronics fight the bike and as we up the pace the S 1000 RR starts to feel more and more like a 600 supersport bike power-wise. The traction control is pulling everything back. It's frustrating me as we have limited laps (three 15-minute sessions) but I need to learn the track enough to push hard later.
The sighting lap turns into seven of them as Jurgen urges us to keep riding with him even after we were signalled to come in, I think he is enjoying the company of Steve and Cam for a change from us usual journalists. So off we go, head down, I literally rode the wheels off the bike in the soft settings and it was a laugh. I'm sure the other guys were cruising. Top speed was just over 290km/h and by the end of it I am happy I know the track well enough to get on with the job…
My first solo 15-minute session comes after a quick rest. I ask one of the staff to change the settings for me to give some more support on the front under brakes, which is where, at 90kg, I always have a problem. I head out and this time run through my usual testing range I have developed over the past 20-years in the job.
Tucked in and powering onto the chute at full throttle, I tuck in tight and shift through the 'box via the quickshifter. Set in road pattern, the shift is firm but smooth. I go as fast as I dare, again nudging 290km/h, before sitting up and braking hard for turn one, the 80km/h right-hander. I flick the bike right, left, and right then hard on the gas. So light, so flickable. The biggest stand out is the weight. The bulky feel of the outgoing model is long gone. This feels like a 600. Amazing…
The torque is brilliant and I take advantage of that mid-range boost powering down the hill to the right-hand, off camber up hill turn three. Braking deep, late and at lean angle after messing up the entry is a heart-in-mouth moment. Thankfully, the ABS saves the day as the tyre lets go. I'll know next lap…
Drive uphill to turn four is stunning. Turn four is a long, increasing radius flat left leading onto a very fast kink. I don't feel comfortable here. Lack of tyre feel, soft suspension and I can't get the revs right as I can't carry the speed I want to.
Off this turn, the S 1000 RR is scary fast. I try to hold on with my knees and lock on, shifting up through the 'box, then knee on the ground at 230km/h through the turn five kink, where a big dip that would surely unsettle most bikes is soaked up by the Beemer and it's ingenious suspension system.
Tucking in again, I realise how well I fit on the bike and although it is tiny, the screen and fairing completely isolate me from the air pressure. I get to glance at the dash here also, which I must say is the easiest to read of all the sportsbikes on the market.
Hard braking for the awesome parabolica, turn six, I notice the very first signs of brake fade for the day. It's worrying me, as I haven't really started to push hard yet… What will the brakes be like later?
Holding a line through turn seven is so easy. Knee down, run it wide, pull it back in tight at will and stand it up to power it out at full throttle for the long run to turn seven. I would not be able to do that on the previous model. This MY19 is so nimble and raceable in terms of track position changes…
The wheelie control goes mental as the bike screams past 9000rpm and rapidly, I really mean rapidly, goes to maximum rpm before I brake hard for turn seven. Flick it right and drive it hard to turn eight, an awesome quick-flick right hander, I power the bike up to the ultra-tight switch-back chicane, turns 9 and 10, that honestly would be hard even on a 250 GP bike, but the S 1000 RR makes easy work of it.
Now the fun part, letting those incredible electronics keep me out of the ambulance as I hold it on through the turns 11 and 12 esses and into what is definitely one of my new all-time favourite corners, turn 13, parabolica Ayrton Senna… driving through turn 11, I enter 12 with a little front brake on, then flick it right into turn 13 before grabbing third for this amazing long corner, feeding the power on all the way through, the rear wheel is trying to break away but the DTC is reeling it in. The front lacks feel and is a worry… Once a little upright, I open the tap to full and let the beast rip. It's mind blowing…
After lunch our bikes had Bridgestone Battlax V02 slicks fitted and the appropriate settings implemented. I was chomping at the bit to get back out there, waiting in pit lane to jump on my bike…
Well, what a difference. It was like riding an entirely new model again… It is amazing what grip can do. Within a few corners I am already going faster than I could on the OEM tyres and thanks to Nate, a BMW test rider, for setting up the ride mode and suspension for me, the bike feels fantastic.
Loads of grip, feel, support at both ends and whoa… serious power. In fact, to me it doesn't feel all that much slower than the HP4 Race to be honest, I might even like it more as it is so easy to ride and the electronics are just incredible. Although the HP4 Race audible DTC is something I do love that this hasn't got… Top speed is now over 295km/h thanks to the drive onto the chute, in fact, I am using a gear higher through the final turn on the slicks!
Everything feels better and all is going so well until five laps in I have one hell of a big scare. Tucked in at over 290km/h, I sit up to brake for the 80km/h turn one and the bike is stuck in top gear as the quickshifter fails and I try to manually backshift but the gearbox won't do it. Luckily, I have two things up my sleeve – slicks with ABS Pro, and I had already eyed off the run-off ramp at the end of the straight during our slow sighting lap and noted it was unswept and has loose gravel on it.
So, my option is to get the clutch in, full brakes and trust the ABS, and get the thing turned. I manage, somehow, then I force the bike down into third gear and ride it back to the pits. Had I been on the S21, I would be typing this from a hospital in Portugal for sure… scary stuff.
The BMW mechanics quickly took the bike and closed the roller door, then rolled a fresh one out for me, but sadly the flag came out. I never did get an explanation about what happened, or at least not one that I believe…
During the wait for my third and last ride I did two tracking video laps on a stock bike with completely destroyed S21s, trying to keep up with a fast racer girl on slicks, this gave me the chance to further sample the electronics as the bike slide all over the show. Impressive. And fun!
For the final session everything is smooth. New slicks, racier settings, race shift pattern and the temperature had come up to match the stunning blue skies over Estoril.
It was only 15-minutes, but it was one hell of a memorable and thrilling 15-minutes and although I didn't get a chance to experiment with any electronic settings, I did get a more intimate knowledge and appreciation of the bike and the big standout for me was feel and feedback from the new Flex Twist frame, awesome Marzocchi suspension electronic control, which felt just like a well valved track bike, amazing power and sensational ergonomics.
The negatives? The brakes did not cope with the higher pace, the lever was coming back to my knuckles and I had to adjust it, and to be honest, they were not that good. Initial bite is OK but there is not a lot of stopping power and they fade quickly. They feel out of date and not up to current standards. Whether or not the wrong pads were in for the situation or not we will find out when we get the bike ourselves. It was the main point of discussion among the press between sessions.
All up, this was a quick test, three 15-minute sessions, one cut short, plus a seven-lap viewing session and a two-lap photoshoot. I learned enough though, for the track test, and as soon as we get one here at BikeReview HQ you'll be the first to know how good it is in the real world but the bones can't be argued with – it is light, torquey, full of safety rider aids and looks awesome…
TECH TALK – 2019 BMW S 1000 RR 
To achieve their target goals for the all-new 1000, BMW had to revisit and re-engineer every component. Not a small task, particularly in a rapidly declining sportsbike market. The result is a technical marvel that truly showcases BMWs ability to produce super high output, low weight and high-tech performance machinery…
Engine output went up by 6kW to 152kW, weight has dropped significantly from 208kg to 197kg (193.5kg M Package), torque is up to 113Nm and spread wider with 100Nm available from 5500rpm to 14500rpm. The new donk is an incredible 4kg lighter than previously and has a maximum rpm of 14,600 screaming revs.
The main goal for BMW was to make the engine more useable, without losing that top end hit. The solution was to come up with variable cam timing, which is called ShiftCam Assist. This increased low and mid-range as well as top-end. The system is unique to BMW but variable valve timing is not new in the class.

The BMW system uses a triple-section intake cam that has two cam lobes per valve, these shift over at 9000rpm in just 10ms as valve actuation transitions between the partial load and full load lobe, depending on whether the revs are climbing or dropping.
Activation is via electromechanical actuators. Valve lift is increased after 9000rpm. The intake and exhaust valves are Titanium and the intake valve stems, in a world first for a production bike, are hollow. Activation is via finger followers, as before, however they are 25 per cent lighter and DLC coated.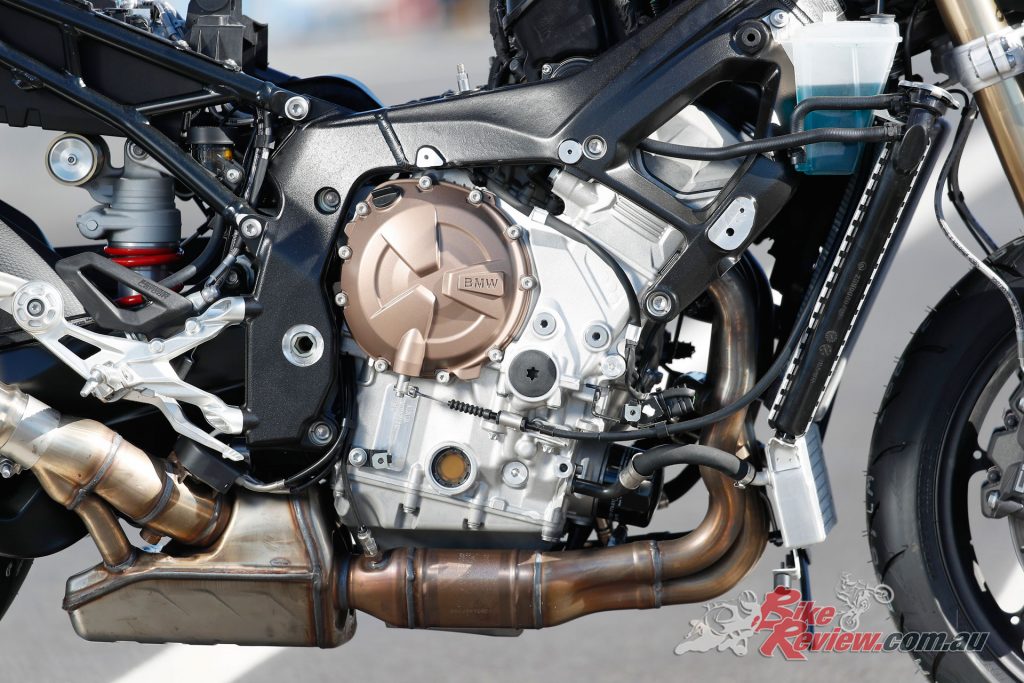 The upper crankcase hoses the gearbox and has the cylinders integrated into it. The cases are lighter, stronger and more compact. The cams are driven straight off the crank now, with no idler gear. The oil and water pumps are combined into one multi-pump unit, the starter motor now engages directly with the clutch, helping reduce width of the engine by 12mm. Height is also reduced, although it is not clear how. The ShiftCam system adds 1kg to the engine, however, the 4kg drop is impressive.
Variable intake lengths are used again, which open (shorten) at 11,700rpm. The intake ports, combustion chamber shape, airbox, intake tract are all redesigned. On the exit side, a completely new exhaust system is fitted, which is 1.3kg lighter. Made of stainless-steel, it features a three-way Cat and a front silencer as well as a rear silencer.
Not much is available about the gearbox and clutch, other than that they are refined and improved, with clutch actuation on the right side now. The quickshifter is standard and can easily be switched between race and road pattern.
The electronics package, standard and optional levels, is new and designed to optimise the new engine outputs. The Ride Modes include Rain, Road, Dynamic and Race plus you can opt for the Pro Modes (std on M Package), which allow further Race Pro 1, Race Pro 2 and Race Pro 3.
There is a huge amount of adjustability and only an owner could fully explore these over time, or if we had a long test period, but in short, there are four fixed basic settings – Rain, gentle throttle response and reduced torque in the low gears. Road, optimum road throttle response with torque reduced in the lower gears. Dynamic, same as Road according to the press kit, however, Dynamic is a sportier version of Road. Race, full power and quicker throttle response.
The Pro Modes Race Pro 1-3 can be configured by the rider for the conditions, including engine braking control. The DTC can be switched up and down on the go via a toggle switch.
Hill Start Control is standard, it locks the rear brake on at a gradient of plus or minus 5 degrees, shortly after the bike comes to a standstill. There is also a Pit Lane Limiter in all modes.
The suspension is new, supplied by Marzocchi and replacing the Sachs suspension. The forks are 45mm inverted units (previous were 46mm), and feature closed-cartridge inserts. DDC is standard but racers can now revalve the forks as per standard style forks, while still having the benefit of electronic damping control overall. The forks weigh 300g less all up as well.
The same goes out the back, the DDC valve is fitted with a conventional shim package. There is also an electrically controlled bypass valve and the oil flows parallel to this. If the bypass is activated, the oil flows through the conventional piston assembly only. This depends on Ride Mode and speed.
It means that the suspension works properly on the track now.
The basic DDC settings are linked to the Ride Modes. Rain and Road is sporty and comfortable. Dynamic is for smoother, faster country roads and mountains. Race is for fast sports riding or track days and Pro Modes are for serious track work.
All modes can be individually customised in standard and Pro, so it gets confusing, it's almost limitless.
The frame is new and is called a Flex Frame. This takes some of the stiffness out of the old models, which was always a characteristic of them, and gives a lot more feel to the rider. It's a welded four-cast frame with a 32-degree tilt forward, but the headstock area is reduced and the engine loaded a lot more. The frame weighs 1.3kg less now and is 13mm narrower.
The swingarm is all-new, weighing 300g less than before and is a single cast underslung unit, positioning the shock upright and further away from the heat of the exhaust and engine. On the M Package the pivot point is adjustable.
The swingarm / shock ratio has been altered from 1.9 to 1.6:1, along with the larger 46mm shock piston, there is a larger hydraulic operating flow and lower operating pressures. The triple-tress and handlebars are all-new, as are the footpegs and hangars.
The 17in wheels are either cast alloy or forged alloy or carbon-fibre (M Package). The stock wheels are 1.6kg lighter than the previous model. The M Package comes with thicker rotors, so some of the weight saving of the cast or carbon wheels is lost to the brakes, however, the brake rotors are up-spec.
Now for the strange part, the awesome Brembo monoblock calipers have been replaced by American Hayes calipers (never heard of them? Neither had I). There is no reason given by BMW and no mention of them in the press kit at all, however, the reason can surely only be cost saving.
I didn't look at them closely enough, but wish I did, as there is no mention of whether they are monoblock or not and no images at the right angle to see… The Brembo master-cylinder has been replaced by a Nissin item and the rotors are not specified.
ABS Pro is standard and DBC (Dynamic Brake Control) is optional.
There is a new 6.5in TFT dash that is insanely cool. It features everything to get even the most techo hardened person excited. The dash has four screen options, Pure ride for the main road ride details and three Core screens for track use, all accessed via the easy to use multi wheel on the left 'bar.
As well as the display of ABS Pro, DTC, DDC, speed, rpm, time, temp, odo etc, it is also possible to view bank angle in degrees, deceleration rate, speed warning, ave speed, ave fuel, trip 1 & 2, remaining range, total km, fuel level – all on the road.
On track you can view lap time, distance, lap specific speeds, max banking angle, DTC torque reduction Max, number of shifts, ave throttle opening, total laps, best lap.
The RR also features LED lighting all-round, with the indicators now integrated into the mirrors and rear indicators integrated onto the tail light assembly.
The styling of the bodywork is completely new and the RR is available in only two colour options, Racing Red or BMW Motorsports.
2019 BMW S 1000 RR HIGHLIGHTS
New 4kg lighter engine with ShiftCam technology, 152kW and 113Nm, wider range of torque from 5500rpm to 14500rpm

Newly developed Marzocchi suspension and Flex Frame, with the engine taking on more load bearing

Haynes brake calipers and Nissin master-cylinder at the front, Brembo rear

DDC (Dynamic Damping Control) with new valve generation as an option

11 to 14.5kg weight reduction (std and M version)

ABS Pro as standard, cornering ABS

New Ride Modes including Rain, Road, Dynamic and Race as standard and three optional modes Race Pro 1, 2 & 3

Launch control

Pit lane limiter

Shift Assist Pro two-way quickshifter standard

New TFT dash

LED lights
2019 BMW S 1000 RR OPTIONS
M Package – Pro Mode, Motorsport paint, M carbon wheels, M lightweight battery, M sports seat, M chassis kit with ride height adjuster and adjustable swingarm pivot.

Dynamic Package – Next generation Dynamic Damping Control, heated grips, cruise control

Race Package – Pro Mode, M forged alloy wheels, M lightweight battery, M chassis kit and adjustable swingarm pivot.

Other – Alarm, Passenger seat cover, RDC tyre pressure control, E-call.
There is a huge range of other options for the bike, check out your local dealer or BMW Motorrad website.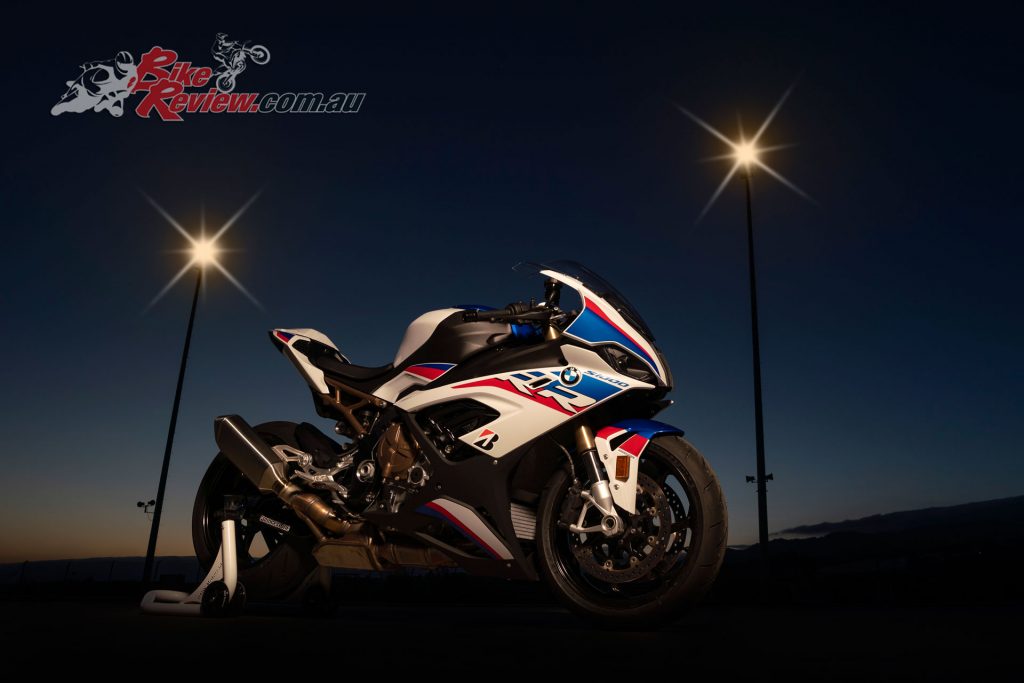 2019 BMW S 1000 RR (Std) Specifications
As tested – M Package: Includes Pro Mode, Motorsport Paint, M carbon-fibre wheels, M lightweight battery, M sport seat, M chassis kit with ride height adjustment and swingarm pivot adjustment. Mirrors were removed, tested on Bridgestone S21 then Bridgestone V02 slicks. 
Price: N/A as tested; Std. from $23,550 + ORC
Claimed Power: 152kW[207hp]@13500rpm
Claimed Torque: 113Nm[@10500rpm
Wet/Dry Weight: 197kg
Fuel capacity: 16.5L
Engine: Liquid-cooled in-line four-cylinder engine, 999cc, DOHC, 80 x 49.7mm bore x stroke, Valve activation via individual rocker arms, variable intake camshaft control system BMW ShiftCam,
Gearbox: Constant mesh six-speed
Clutch: Self-reinforcing multi-plate anti-hopping wet clutch
Chassis: Aluminium composite bridge frame, self-supporting engine, aluminium underslung double-sided swinging arm
Suspension: Marzocchi USD telescopic fork, slide tube diameter 45mm, spring preload, compression and rebound stage adjustable, Marzocchi central spring strut rear, spring preload, adjustable compression and rebound stage
Brakes: BMW Motorrad ABS Pro, dual 320mm rotors, radial four-piston Hayes calipers, single rear 220mm rotor, single-piston floating Brembo caliper
Wheels & Tyres: Die-cast aluminium wheels, 3.50 x 17in, 6.00 x 17in, 120/70 ZR17, 190/55 ZR17
DIMENSIONS
Wheelbase: 1441mm
Seat height: 824mm
Overall width: 846mm
Overall Length: 2073mm
Instruments: 6.5-inch TFT screen, multiple display modes
The Verdict | Review: 2019 BMW S 1000 RR World Launch Report