The Harley Street 500 is a popular seller at just $9995 Ride Away. Jack takes the only LAMS option from HD and lives with it for a week... Review: Jack Maguire Photography: BikeReview
Harley-Davidson's Street 500 has been around for a long time now but remains the only option for LAMS riders that want a bit of Harley action. It has gone on to enormous success in the Australian market as one of the highest selling road bikes here…
---
Don't forget to check out the Video Review and Tech section:
Video Review: Harley-Davidson Street 500 (LAMS)
---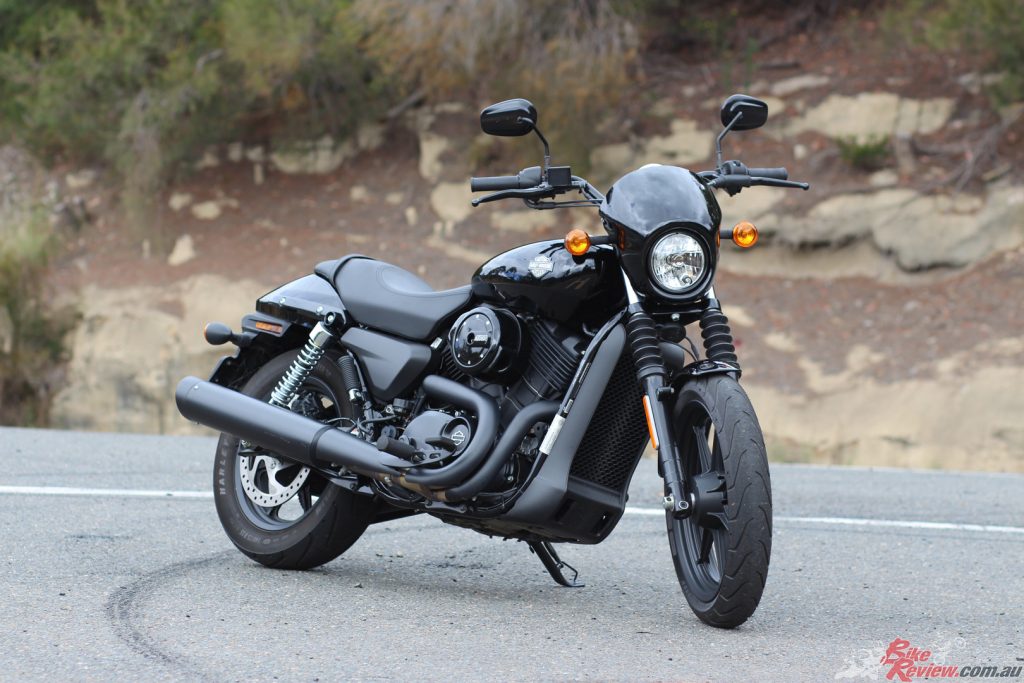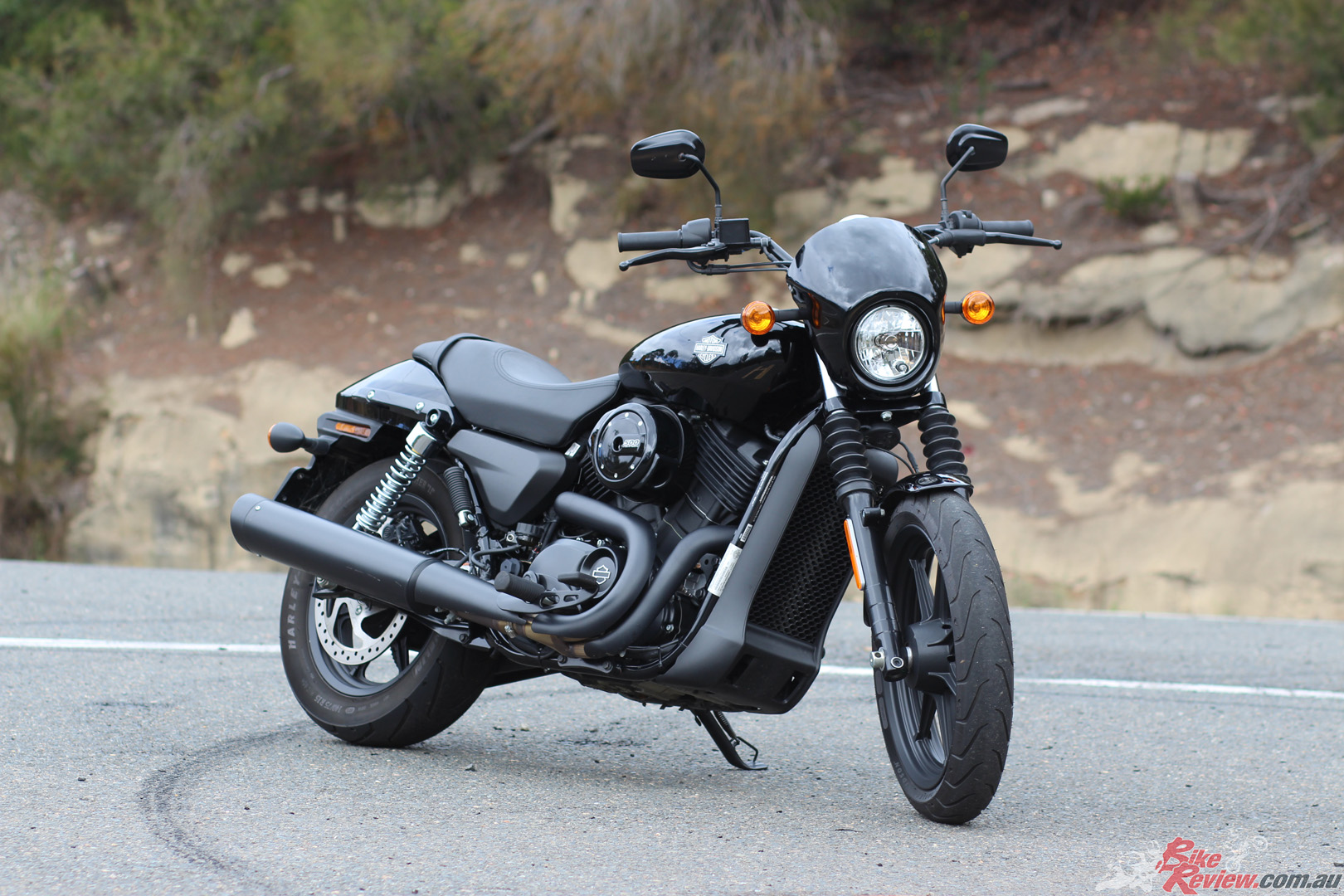 I spent a few weeks with the bike, a few years on from our first review and video review. It was my first Harley experience. When I rode the Vulcan, it changed my perspective and opinion on cruisers massively. I'll still probably opt for a sportsbike but it opened my mind to the idea that you could have fun on a cruiser, so I was excited to see how Harley's learner offering stacked up against a similar motorcycles in the LAMS cruiser segment.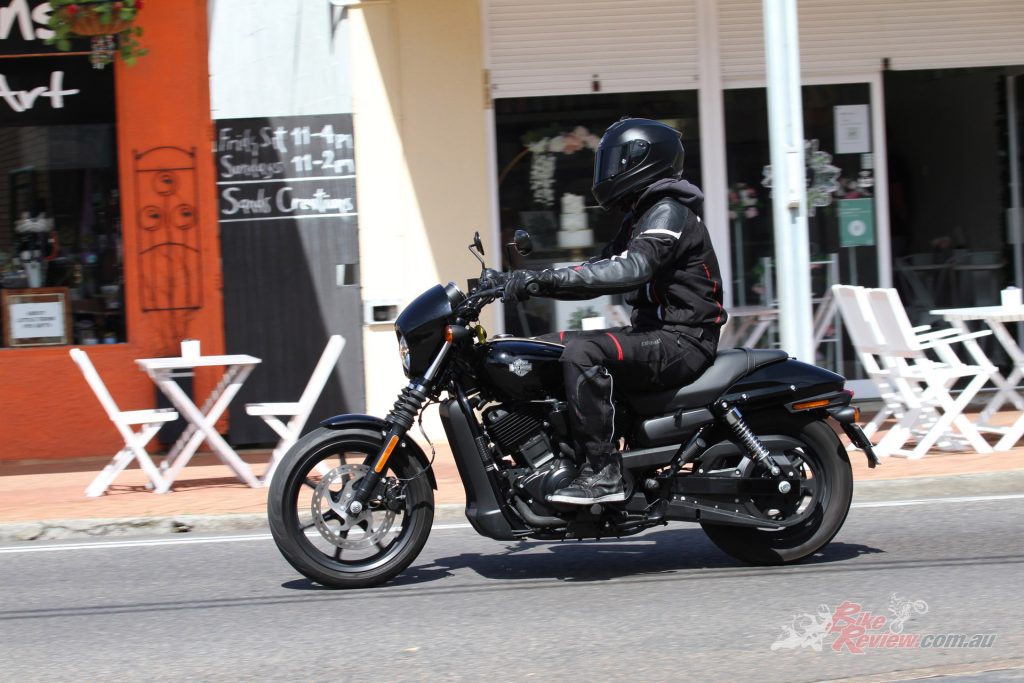 ---
---
---
Riding home, I thought to myself that buying a Harley is a bit like buying designer clothes, in that you can buy a plain white T-shirt from a designer brand for a three-figure sum, which will do the same job as a plain white off-brand T-shirt for a single-figure sum. My first impressions of the Street 500 were not great, but I thought I'd give it some time to prove itself to me… and it sure did that well. The bike felt really odd at first, with awkward controls, switches and ride position compared to Japanese and Euro bikes but once I got used to that, it started to make more sense.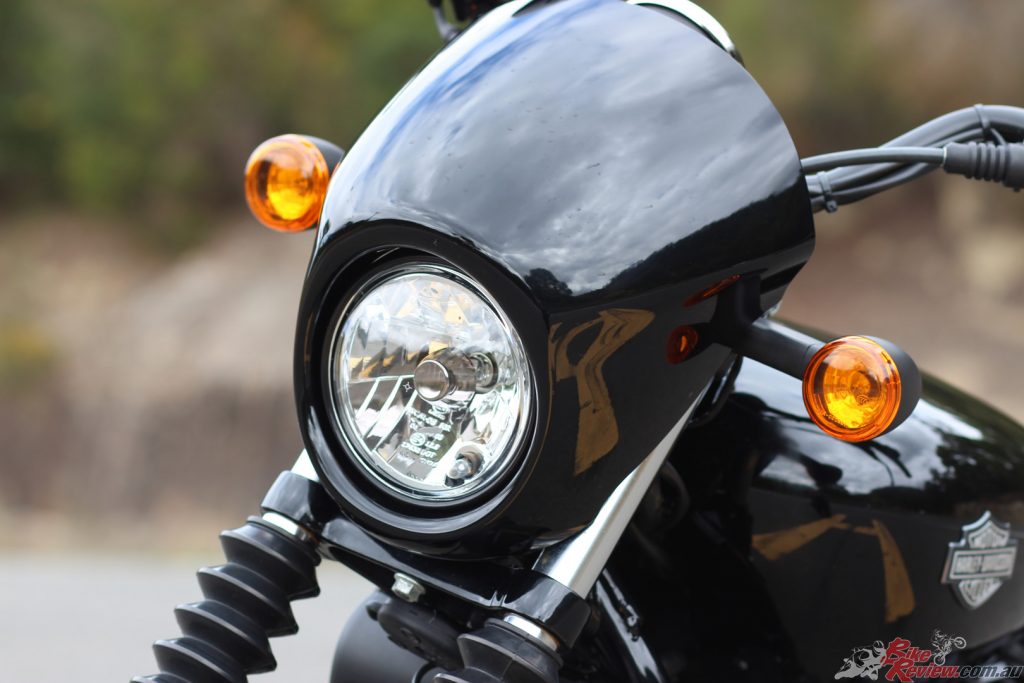 The styling of the Street 500 is unique. Personally, I think it looks great. The stance is long and low, with the headlamp and front cowl being classic Harley to a tee. I also love the look of that two-into-one exhaust pipe, it looks terrific. We received the bike in the Vivid Black colour, and I do have to say that the paint, while simple, looks fantastic. Not to mention that the overall finish of this bike seems to be of a really high quality and really impressed me.
The 494cc V-Twin powerplant is the first V-Twin I have experienced, and I found the characteristics of this motor to be generally very learner friendly and tame. It produces 40Nm of torque at 3,750rpm, and with a wet weight of 233kg, you can understand that this bike won't be the quickest machine. But really, it doesn't need to be and it's not what the Harley is built for. What's it good for? Big open roads and long highway miles where you can throw it in a high gear and cruise along.
Fuelling is really smooth, power comes on in a linear fashion and is really controllable, with a lightweight clutch to get you going. I would say that the Street 500 is definitely not quick off the mark but it doesn't need to be – you'll find the acceleration to be quick enough to stay ahead of traffic but tame so as to not scary yourself.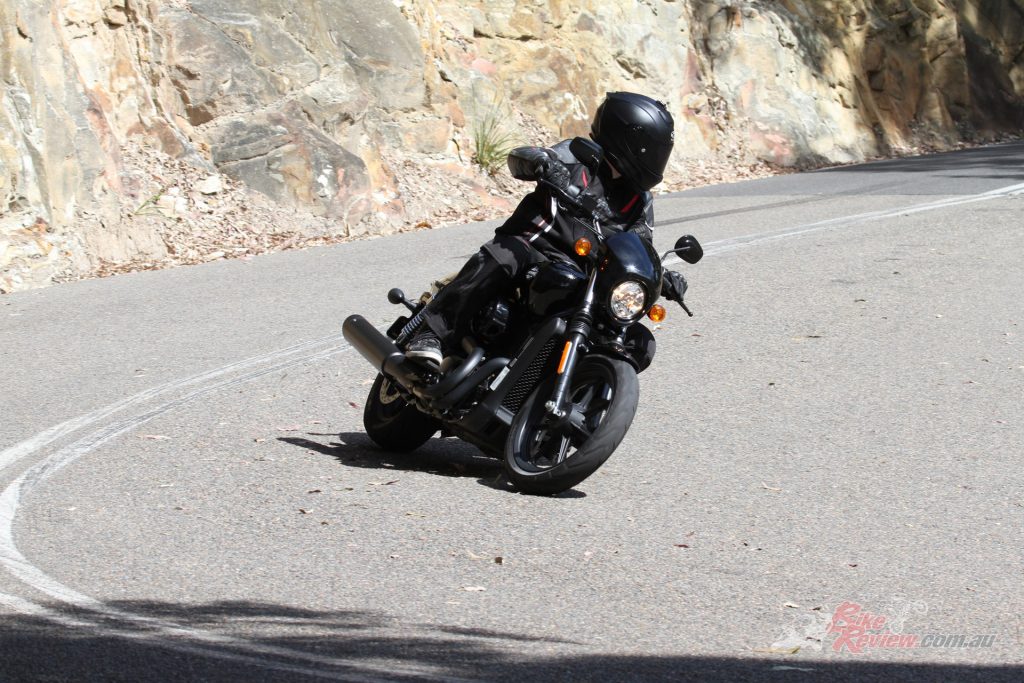 As mentioned, if you are used to traditional bikes, the controls on this bike feel odd. The high-beam switch is placed in a weird position that means I had to use my index finger instead of normally using my thumb, which isn't a big deal but took some getting used to. The indicator switch also feels quite bulky and was a little bit weird to use at first but again, was something I adjusted to over a few days of riding. Otherwise, reaching to the bars is easy and comfortable.
---
---
However, one of the biggest annoyances is the FOB, which doesn't always register when you turn the key and hence, won't allow you to start the bike. I was warned about this by Harley-Davidson staff when I collected the bike, and told that waving the FOB around the general seat area would resolve it, but sometimes it took a few goes to get it to register. It was very hit or miss and I could for-see it being an issue if you were in a rush and needed to get going on the ASAP.
When I first rode the Street 500 I thought that the handling was awkward. The front-end felt heavy and the bike would wallow at slow speeds, but this issue seemed to correct itself after picking up a bit of pace. Once we were up and going, the big open road was where the bike shined best, where the Street 500 proved to be really stable and soaked up much of the bumps in the road. But with my 183cm tall frame, I just wish the 'pegs were out in front a little bit more. It does get a bit cramped in the saddle and having the ability to kick out my legs would've been much better.
Backroad performance and handling on the twists was obviously not it's strong point, with very little ground clearance which saw me scraping pegs on pretty much every corner with little speed. There isn't too much initial bite in the brakes, with a comfortable amount of power and ABS which learners will definitely appreciate. Engine braking isn't overly aggressive either and I never had the rear lock up on me which is definitely a plus. The tyres a nice and grippy in both the wet and dry, and feel as though they have a gradual turn in and becomes more sudden as you lean in.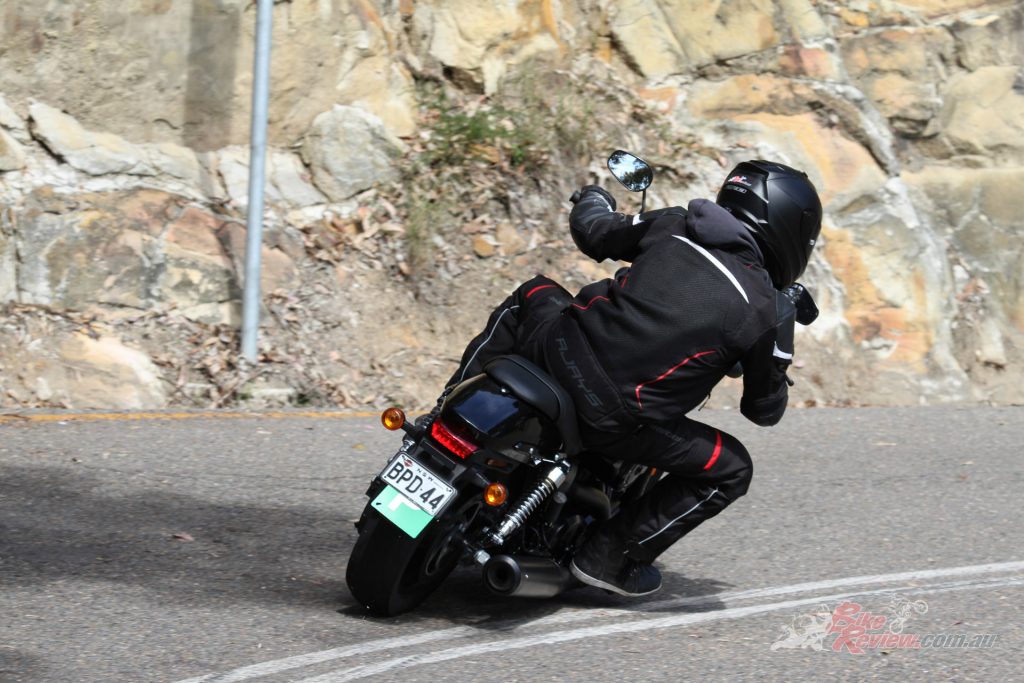 I was hard on the Street 500 when I first got it, but after a couple of weeks with it, it's actually grown on me! As a younger rider, it's easy to want to jump on every bike and flog it but with the Street 500 it is important to just take your time, ride with patience not urgency and enjoy the scenery.
Sure; this Harley weighs a heavy 233kg wet, has not a lot of ground clearance and tyres that look more like the ones you'd find on a small passenger vehicle, but it looks classy and the comfort is supreme. Not only that, but the quality of parts on the Street 500 is top notch and the options for customisation are massive, as is the case with all Harley models.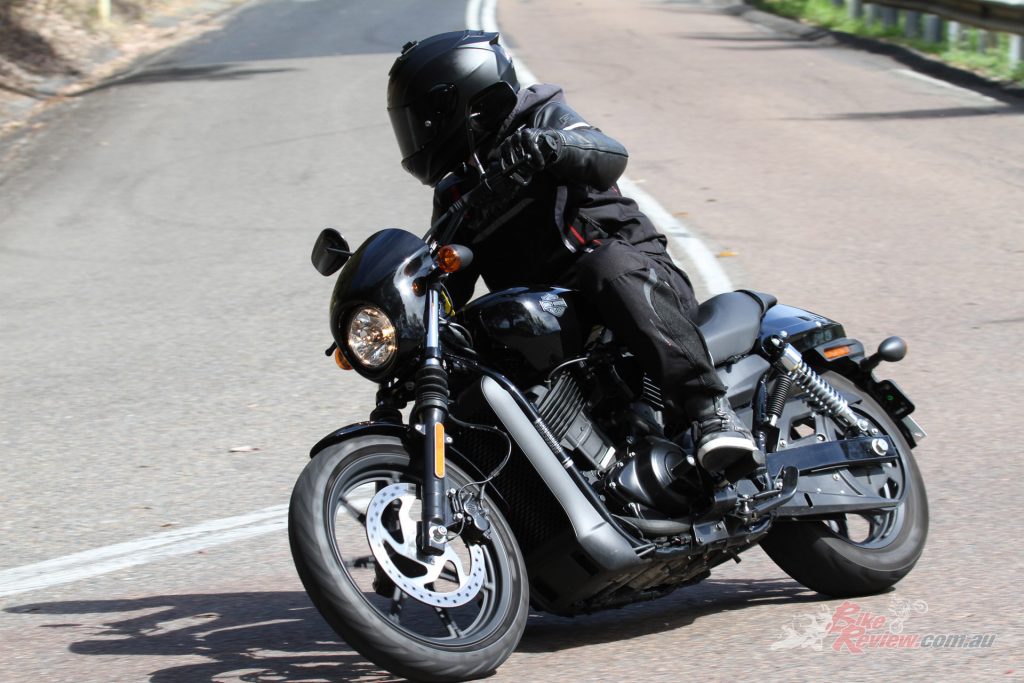 For quality, you can't go wrong with a Harley. Even though the Street 500 did not impress me to begin with, I think I'm going to miss just how comfortable the past couple of weeks have been, and I'll never forget cruising around in style on the Street 500.
---
---
Harley-Davidson Street 500 Tech Talk
On the Street 500 LAMS offering Harley-Davidson introduced the Revolution X 60-degree V-twin, with a capacity of 494cc and four-valves per cylinder, offering a refined liquid-cooled powerplant, with 41Nm of torque. Matched with a six-speed gearbox and belt final drive for low maintenance, the engine is finished in Wrinkle Black and features black covers.
---
---
Able to be run on 91 octane fuel, with a 13L tank the Street 500 is designed to be efficient and offer a range of up to around 350-370km/h (300km being a safe fill-up point), minimising the cost for new riders. A low fuel light shows when reserve is reached, with no fuel gauge.
---
---
Controls are mid-mount for the feet, with a forward bias and swept back 'bars give easy access to the grips and switchblocks, with a locking gas cap, standard immobiliser and siren aiding with security. The steering can also be locked at the ignition, while a low seat height of 710mm ensures easy reach to the ground.
---

---
Instruments are a single clock with speed, and a multi-function digital readout, with dash lights for ABS, indicators and all the usual. A mini-cowl from the headlight offers minimal wind protection, and reaches up to the instrumentation. Neither clutch or brake levers are adjustable, nor are the foot controls.
---
---
Forks are 49mm items, with dual rear shocks and preload adjustability, and both offer enough travel to handle a variety of conditions. Brakes are disc at both ends, with dual piston calipers, backed by ABS, and matched to a 17in front wheel, and 15in rear, both clad in the Michelin Scorcher tyre.
---
---
The Street 500 weighs 233kg on the road, ready to ride, with a wheelbase of 1520mm and rake of 32-degrees. There's room for a pillion on the one-piece seat, with rubber clad pillion pegs. Additional features include fork gaiters and steel tank badging.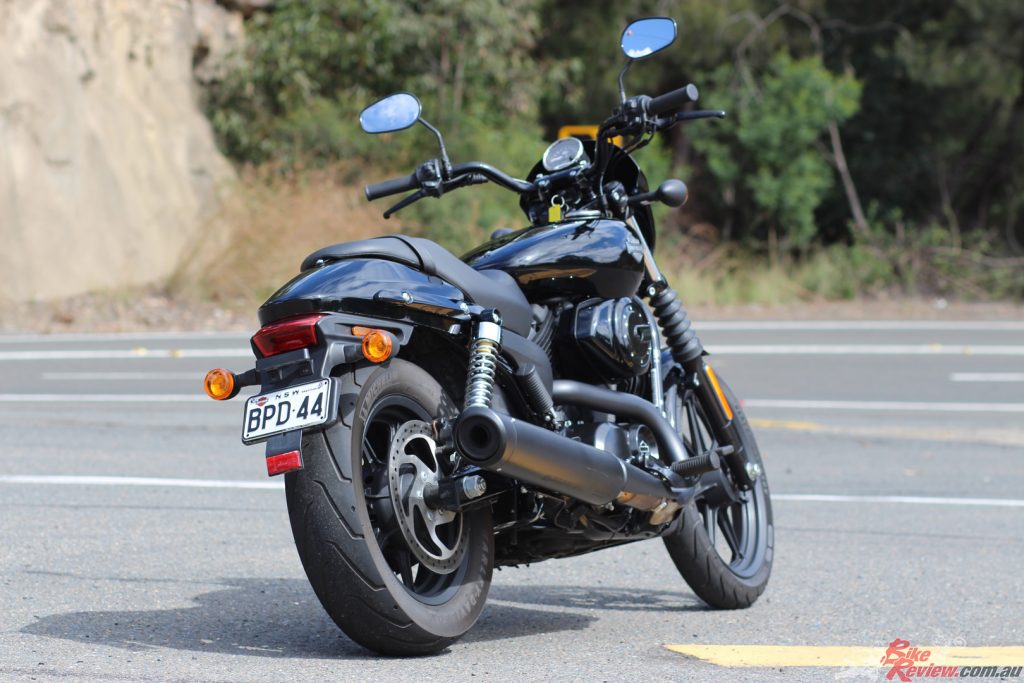 ---
2020 Harley-Davidson Street 500 Specifications
Price: $9,995 + Ride Away
Claimed Power: N/A
Claimed Torque: 40Nm[29.5ft-lbs]@3,750rpm
Wet Weight: 233kg
Fuel Capacity: 13.1L
---
Engine: Liquid-cooled, Revolution X V-Twin, 494cc, 69 x 66mm bore x stroke, 10.5:1 compression, SOHC, 35mm Mikuni single-port EFI, black two-into-one exhaust, belt final drive
Gearbox: Six-speed
Clutch: Wet, Multi-disc
---
Chassis: Steel backbone frame and steel box section swingarm
Rake: 32°
Trail: 115mm
Suspension: 41mm Telescopic fork with gaiters, twin coil spring over shock absorbers
Brakes: Single 300mm rotor front & rear, dual-piston floating calipers, ABS.
Wheels & Tyres: Black seven-spoke cast aluminium wheels, 180/80 R17, 140/75 R 15, Michelin Scorchers, 2.5 x 17in, 3.5 x 15in
---
Dimensions
Wheelbase: 1520mm
Seat height: 720mm
Overall height: 1060mm
Overall width: 820mm
Instruments: Single analogue speedo with digital multi-function display
---
---
2020 Harley-Davidson Street 500 Gallery
The Verdict | Review: 2020 Harley-Davidson Street 500
Harley's Street 500 is the brand's entry level offering, boasting the 494cc Revolution X V-Twin, cruiser styling and a well balanced brake and suspension package. Super smooth power delivery with a belt final drive and focus on low to mid-range performance ensure new riders will have an easy time learning the ropes, with room to grow their skills, and offers a strong stepping stone to their next Harley-Davidson.