The new Kawasaki Z900 has been updated to perfection with subtle changes and improvements rather than redesign. Here's our Z900 review. Test: Jeff Ware Photography: Jack Maguire
The 2020 Kawasaki Z900 has a host of new features over the previous model including Riding Modes, TFT dash and Bluetooth connectivity, KTRC, plus chassis and engine changes. The 2017 model almost scored a 10 from us. Let's see how the 2020 model made that score…
I was never a fan of the Z1000. I loved the engine but really could not learn to like the chassis, so when Kawasaki announced a new Z900 in 2017 (pictured below), a totally new bike, I could not wait to ride it. I wasn't disappointed. It was lighter, faster, smoother, more stylish and incredibly sharp handling. I scored it a 9.8 out of 10 in my review and only cut short due to the footpeg-to-seat clearance…
---
---
That cramped leg position (for taller riders only) has not improved much with a 25mm jump in seat height but with so many other extras, I'm letting it slide this time. After a week on the 2020 Z900, I'm convinced this could well be the best Kawasaki naked ever produced. Few bikes have ever scored a 10/10 from me and this machine nailed it.
So what's new for 2020? No major changes, just subtle refinements to an already amazing machine. The lightweight 13kg trellis frame remains but has had additional strength at the swingarm pivot point but the geometry remains that sweet 103mm trail/24.5º rake and wheelbase is up 5mm to 1455mm. The tyres are Dunlop Sportmax Roadsmart 2 and the suspension settings tweaked to suit the frame changes. The same 41mm forks remain as does the 3.9kg alloy swingarm and back-link rear suspension system and 120mm/140mm of travel front/rear.
The brakes and gearing are unchanged for 2020 but the bodywork has been restyled slightly and all lights including the headlight are now LED. The LCD dash is gone, replaced by a TFT display that has Smartphone connectivity via RIDEOLOGY THE APP and the Z900 now features new Riding Modes: Rain, Road and Sport. The supernaked also now has KTRC (Kawasaki Traction Control), which has three settings and can also be switched off. The exhaust and intake notes are retuned. There are two Power Mode presets, Full Power and Low Power (55 per cent) and a Rider manual mode that allows independent setting of KTRC, Ride Modes and Power Modes.
THE RIDE
Picking up the Z900 from Kawasaki HQ during COVID-19 restrictions, I'm given the rundown on the bike by KMA's Ryan Murden (once we say Hi and tap elbows!), who enthusiastically walks me through the new TFT display, connectivity, Ride Modes, KTREC and the rest of the updates. I was already exited about the bike. Now I'm itching to jump on and head off…
---
---
Eyeing the beast off, I don't mind the Metallic Spark Black with Metallic Flat Spark Black but I do prefer the green frame option because the frame is a work of art and looks stunning. I sit on the bike and it feels familiar. It's the same as before. Narrow. Short. Compact. The TFT dash looks so much more modern than the outgoing LCD display. I fire the Z900 up and I'm happy to hear that angry idle of old. It really does sound awesome even at a standstill. Looking forward to the induction noise at 9500rpm…
---
---
Those footpegs are still high and the seat low at 795mm, but that means good cornering clearance. The handlebars are level and slightly pulled back in bend, offering a near sportsbike bend at the elbow, giving an aggressive, sporty riding position that feel right even before the first corner arrives… The five-way span adjustable levers and the Kawasaki switchgear are well positioned and fall easily to hand.  The suspension feels firm and so does the seat. The mirrors are small but neat…
Heading away from KMA HQ, I decide to take a slight detour home. Rather than head the 100km straight up the M1 to the Central Coast, I turn left onto Victoria Rd and head West towards Windsor. I've got an impromptu 350km long way home planned already. I blame the Sugomi. Heather didn't buy it when I got home late. That's a story for another time though…
---
---
The clutch is so light, thanks to the three-spring Assist & Slipper clutch. Most clutches have six springs, so this one feels incredibly light as it did previously and on all Kawasaki models with the feature. The gearbox is unchanged, meaning it is silky smooth and cannot be faulted. I do feel let down by the lack of a quickshifter. The Z900 is begging for one… But the price is right without it. I don't like quickshifters in town anyway, however, out of town one would be welcome and add to the excitement.
The slick gearbox is a pleasure to operate through town, snicking each close gear as that inline four spins up effortlessly and eagerly, hinting at what is on tap once I get the urban sprawl long gone in the mirrors. It's a fun gearbox and neutral is easy to find. Fuelling in town is good but not quite as silky smooth as the 2017 model I tested. The KTRC, on level 2, is quite intrusive. Even accelerating hard off the traffic lights it kicks in. It isn't annoying but it is super sensitive. There is a slight amount of on/off throttle snatch (closed to open) that wasn't there in 2017. Probably related to the new electronics.
---
---
Aside from that, and it is really minor compared to many modern bikes packed full of cat converters and electrickery, the motor is silky smooth and virtually completely vibe free. Temperature is well regulated, with the thermo fan only kicking in during extended red light stops. The Keihin oval shaped 36mm throttle-bodies, fat 11.8:1 comp and light flywheel mean throttle response in the bottom and mid range is intense. It'd give any big V-twin a scare and blow other inline four nakeds into the weeds… I'm trying hard to behave myself. No way I'm turning KTRC off as I'll just be pulling wheelies everywhere and won't make it home with a licence! This is a very, very fast motorcycle…
The seat is firm and sporty in support but comfortable. The TFT dash is really easy to navigate and clear to see. I later download the RIDEOLOGY THE AP and install it on my iPhone XT. With the APP it is possible to make easy and quick adjustments to modes and KTRC, along with log trips, distance, fuel, speeds, settings and more… Check out the below video on the App. Not all features apply to the Z900, Z650 and Ninja 650 compared to the models with an IMU and more electronics.
---
---
Without the App, it is still possible to use the Bluetooth connectivity to access calls, messages and control music. I have some issues connecting at times during the test period but it could be my phone.
The TFT display offers a whole new extra experience to the bike and is basic enough to easily navigate, unlike some over complex ones that I find hard to get my head around. Like the bike itself, the dash is just enough without being over the top in any particular way and it compliments the Z900.
---
---
Finally the roads open up and the trees appear. Time to head through the hills, over the ferry and back up the Coast the long, long way. The first sections are hotmix and smooth, with fast, flowing high lean angle corners of third, fourth and fifth gears. I set KTRC to 1 and use Sports, Full Power.
The low ride position, weight balance and the 180-section rear tyre all add to the sweet geometry and the Z900 is all class. Loads of ground clearance and smooth, fast lines with millimetre-accurate apexes and it is not limited to smooth stuff. The engine? Hold on tight. It's arm-stretching fast…
As I reach a really bumpy and challenging test loop I often use out here, which is a sort of hill climb of 8km of smooth hairpins, followed by a bumpy, really bumpy, narrow fast road that is the downhill return, I switch the KTRC to 2, Road, Full Power. The Z900 is, as I expected, incredible on the climb, taking advantage of every inch of the grippy tarmac and powering off turns like a monster. Equally as impressive is the stopping force into them. The brakes are basic and need a big squeeze, but they pull the bike up rapidly and reliably with no sign of ABS interference. The rear brake is good for cornering (I use it a lot) but lacks the feel of some superior two-piston set-ups. It is still fine enough.
---
---
I reach the top and turn down the bumpy return road. This road is a true test of suspension and stability as well as steering and general geometry. There are plenty of tightening radius blind turns and crests and little run-off. The basic Z900 suspension is on stock settings and I have not touched a clicker or changed preload at all. The forks soak up the bumps so well, as does the shock, with progression and no sharp hits, while maintaining balance and support and keeping the Dunlops on the ground. I'm really impressed and attack the road with aggression, hard on the power and hard on the brakes all the way to the bottom, with no brake fade and no running wide. At the bottom, I step off for a drink and just stand there and admire the bike. I'm truly surprised at just how versatile it is proving to be…
The rest of the ride includes a long winding open road that is a mix of hotmix bliss and greasy crap. With KTRC on 2 and in Road mode the Z900 is a pleasure to tackle the trip on. It starts to rain and get darker as I cross Wiseman's Ferry for the run home on the north side of the river, a 70km journey of mossy, shady and wet narrow road that is also quick. With Rain mode, KTRC 3 Low Power the bike is a pussycat and so easy to navigate a safe run home on. Did I mention how smooth that motor is?
---
---
As I roll into my home town, after a full day on the Z900, I feel refreshed and I feel that nice satisfying feel we all get after a big ride. The adrenaline comedown, the feeling that the stresses of life have been expelled for a day, enough time to recharge and soldier on, particularly during these times. The Z900 gave me something I've needed for a while. It recharged my passion for motorcycles in a time when I was becoming overwhelmed at the start of the COVID-19 issues and so wrapped up and worried about my business and family that I began to forget that bikes are not only my livelihood, they are my life.
---
---
I head through my local drive through bottl'o and grab a bottle of wine and a King Brown (that's a Cooper's Pale Ale longneck), head home, park up in the garage, crack the beer and nail it while admiring the Z900 before heading inside with my gift for my patient wife. We all won in the end!
Over the coming week I used the Z900 as a daily ride, while doing another big loop on it the day I retuned it to KMA. Handing back the key was hard. It's a bike etched in my motorcycling memory…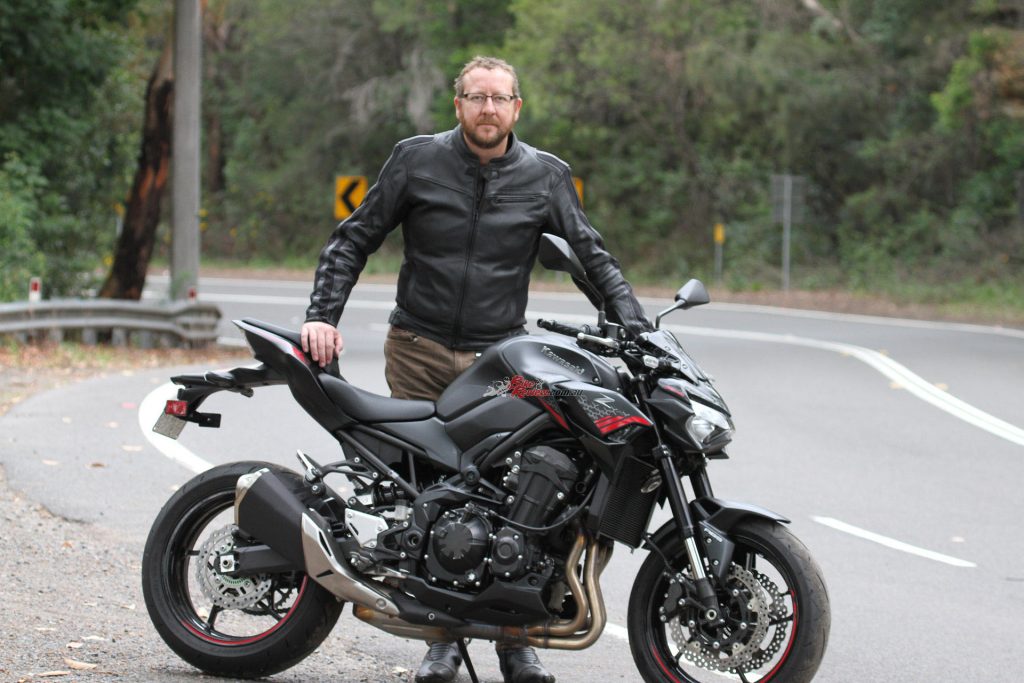 ---
2020 Kawasaki Z900 Tech Talk
Kawasaki's Z900 features a liquid-cooled 948cc in-line four-cylinder four-stroke 16-valve powerplant, with a bore and stroke of 73.4 x 56mm. Downdraft throttle-bodies are used, with a 36mm throttle bore and sub-throttles, for sensitive throttle response and good low speed and small throttle opening response.
Intake and exhaust valves are 29mm and 24mm respectively, with cast pistons manufactured with the same technique and materials used in the H2R, while cylinders are die-cast and feature an open-deck design. A lightweight crankshaft ensures a quick revving character, with a secondary balancer eliminating excess vibration.
Intake funnels are 50mm for the outer pair and 150mm for the inner pair, helping deliver both performance and a strong intake sound or 'howl' on aggressive throttle openings and acceleration.
After the 2014-2017 Z1000, the Z900 is the second model to benefit from "sound research" in crafting its intake note. Shape of the airbox was designed based on acoustic tests. The distinct intake note of the Z900 is clear and exhilarating. The frequency of the note varies with engine speed, adding to riding impact – especially at high rpm. Airbox inlet faces upwards, making the intake note easier to hear for the rider.
Revised internal construction for the pre-chamber and silencer contributes to a more voluminous exhaust note – much more audible on startup, when idling, and when snapping the throttle.
Short gear ratios from first to fifth and a sixth gear overdrive ensure a strong and punchy mid-range, without losing highway cruising capability. An assist and slipper clutch is also featured.
A high-tensile steel trellis frame weighs in at just 13.5kg, and uses five rigid-mount points with the engine as a stressed member.  An extruded aluminium swingarm weighs just 3.9kg and the sub-frame is a twin-tube design, which like the frame itself has been designed to follow straight lines, with as small bend angles as possible, for optimised stress dispersal.
41mm USD forks include stepless rebound damping and preload adjustability via the left fork cap, while the rear shock is a monoshock with linkage above the swingarm to reduce heat transfer from the exhaust, and features rebound and preload adjustability.
Brakes are four-piston calipers with resin brake pads on the front, with 300mm petal rotors, while the rear is a 250mm petal rotor with single-piston caliper. ABS is standard thanks to a Nissin unit.
A 795mm seat height offers an easy reach to the ground, with the footpeg, seat to handlebar ergonomics designed to offer a sport-naked feel.
The new TFT dash features a 4.3in colour digital screen with Bluetooth technology built into the instrument panel enables riders to connect to their motorcycle wirelessly. Using the smartphone application RIDEOLOGY THE APP a number of instrument functions can be accessed, contributing to an enhanced motorcycling experience, features include, Vehicle log, Riding log, Telephone notices, tuning and General settings.
A choice of Full Power or Low Power modes allows riders to set power delivery to suit preferences and conditions. Low Power modes limits output to 55% of Full Power. Along with Integrated Riding modes, riders can choose from 3 settings (Sport, Road, Rain) or a manual setting (Rider) In manual Rider mode, each of the systems can be set independently.
Kawasaki Advanced traction control system provides both enhanced sports riding performance and the peace of mind to negotiate low-traction surfaces with confidence. 3 rider-selectable modes offer progressively grater levels of intrusion to suit the riding situation and rider preference.
---
---
Other features include a Z-pattern LED taillight, luggage hooks built into the passenger footpeg stays, and lightweight five-spoke wheels. New LED headlamp, position lamps, license plate lamp and turn signals add to the Z900's sharper new styling. the tail lamp is the same LED unit as before.
---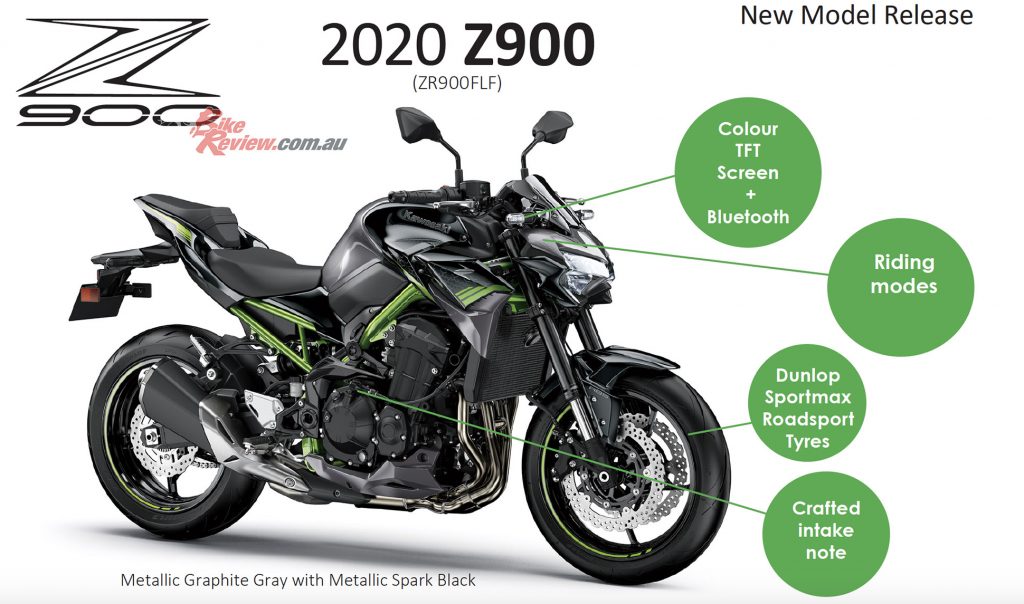 2020 Kawasaki Z900 Features:
New frame, revisions to the frame add strength to the swingarm pivot area.
Latest evolution of Z Sugomi styling, crouching stance, low-positioned head and up-swept head.
Dunlop Sportmax Roadsport 2 tyres.
All-LED Lights, add to the Z900's sharper new styling.
New TFT Colour instrumentation gives high-tech and high-grade appearance.
Rideology The App, Bluetooth Connectivity- enhancing the riding experience.
KTRC (Kawasaki Traction Control) provides enhanced sport riding.
New riding modes, including Sport, Road and Rain.
Colour 1: Metallic Graphite Grey with Metallic Spark Black
Colour 2: Metallic Spark Black with Metallic Flat Spark Black
---
---
2020 Kawasaki Z900 Specifications
Price: $12,699 +ORC (visit here and enter your postcode for Ride Away price)
Warranty: Two years/unlimited kilometre
Colours: Metallic Graphite Grey with Metallic Spark Black, Metallic Spark Black with Metallic Flat Spark Black
Claimed power: 92kW [125hp]@9500rpm
Claimed torque: 99Nm@7700rpm
Wet weight: 212kg
Fuel capacity: 17 litres
---
Engine: Liquid-cooled DOHC inline four-cylinder, 16-valve four stroke, bore and stroke: 73.4 x 56mm, displacement: 948cc, compression ratio: 11.8:1, four 36mm Keihin oval throttle-bodies, with oval sub-throttles
Gearbox: Six speed
Clutch: Wet multi-disc
Final ratio: 15/44
Final drive: Sealed chain
---
Chassis: Trellis, high-tensile steel
Wheelbase: 1455mm
Rake: 24.5 degrees
Trail: 103mm
Suspension: 41mm inverted fork with rebound damping and spring preload adjustability, 120mm travel, Horizontal Back-link with rebound damping and spring preload adjustability, 140mm travel
Brakes: ABS, Dual semi-floating 300mm petal rotors, dual opposed four-piston calipers, single 250mm rear petal rotor, single piston caliper
Wheels & Tyres: Five-spoke wheels, Dunlop Sportmax Roadsmart 2 120/70 ZR17, 180/55 ZR 17
---
DIMENSIONS
Ground clearance: 130mm
Seat height: 820mm
Overall height: 1065mm
Overall length: 2065mm
Overall width: 825mm
Instruments: TFT display
---
The Verdict | Review: 2020 Kawasaki Z900 Supernaked
The 2020 Kawasaki Z900 Supernaked is the second nakedbike category machine to score a perfect 10 on BikeReview.com.au – the other was the Z900RS… check out our full review on the 2020 Z900 to find out why…