The Aprilia Tuono 660 joined the RS 660 in Aprilia's new mid-range segment earlier this year. Simon rode one for a few weeks to see how it went on Australian Roads... Photos: Heather Ware
The Aprilia Tuono 660 has landed on Aussie shores and it is a worthy stablemate to the sublime RS660. The Tuono is the semi-faired version of Aprilia's latest mid-capacity platform and presents as a less sports oriented option to the range.
The Tuono 660 is a quirky but good looking motorcycle, wind tunnel approved and not looking like a crashed bike. The objective at Aprilia was to create an optimum balance between mass, power, handling and electronics in a package that suits all manner of riders and conditions. As with the RS, the overall package is one that shines brighter than the sum of its spec sheet numbers and components.
---
Check out our launch review of the 2021 RS 660 here…
---
The Tuono shares the same engine and chassis with the RS, however, with some fairly prominent differences that are not quite as obvious as the fairing and handlebar arrangement. In the engine department, Aprilia has managed to tune out 5 horsepower to bring peak output down to 95. I can't fathom why, but when riding the RS and Tuono back to back and against each other with Jeff, I could not notice any real difference in accelerative performance.
The power difference is perhaps compensated for by the slightly lower gearing of the Tuono, which has been engineered in for faster off-the-line response. Nevertheless, the engine, like a good sparkling wine, bubbles finely and smoothly, without acidity or sourness. It is such a cracking engine that I can't help but smile thinking about it in its feel, sound and zest for spinning. It is simply the best mid-capacity twin I have encountered and really is an engine that is your friend – always on hand to help and lift your mood.
---
---
Around 80 per cent of torque is available from 4000rpm and peak torque from 8000rpm, making for a very responsive unit, with peak power culminating around 10,000rpm. For a rider like me, the 660 motor is a nirvana of useable power and drive that thrills and stimulates the senses, without putting the fear of god (or worse) in you. It's a fun factory alright, not a fear factory.
Ergonomically, the revised and rubberised footpegs and the wideish handlebars are well located for all-day riding in an upright and relaxed position. The seat is adequately comfortable, too and the small screen does a reasonable job of redirecting the air as you punch through it. This combination helps defeat fatigue and makes the bike very easy to ride in all conditions.
The triple clamps have a different fork offset to the RS that quickens the steering response a little, which is excellent for both flattening gnarly traffic and for traversing your favourite twisties. It feels quite different to the RS, but not negatively. It is easier to throw around at the expense of perhaps slightly less high-speed stability.
---
---
To be honest, the suspension felt rather "soft", which made for a plush ride and induced a bit of wallow in certain cornering conditions. As you increase aggression and load up the suspension more, however, the chassis and suspension hits a sweeter balance where both cornering stability and line tracking improve. Being able to ride the RS and Tuono back to back certainly helped to identify some of these sorts of differences. The Tuono runs on KYB suspension, with the forks being different to those of the RS and has less adjustability and perhaps a slightly shorter stroke. The rear appears the same as the RS but may use a different spring rate for a more supple ride. Summarily, the suspension provides the best compromise for the intended purposes of the bike.
---
---
"To be honest, the suspension felt rather "soft", which made for a plush ride and induced a bit of wallow in certain cornering conditions."
---
---
The sophisticated electronic management systems are similar to the RS, however, without IMU-based lean-sensitive ABS control or quick-shift. These are available as options. Otherwise, most of the gadgetry is identical, with 5 ride modes (although I could only ever find three of them) and some levels of customisation. The ride modes don't affect overall power output, but tend to blunt the reaction of the engine to initial throttle use. In fact, I found that I became a bit more sloppy transitioning from off throttle to on throttle in 'individual' mode because of the immediacy of the engine response.
I could not feel a whole lot of difference between commute and dynamic modes. That said, the mode does affect the brakes also, with commute and dynamic modes being a lot more intrusive with the ABS / rear wheel lift mitigation. This was the case at the RS launch and actually increases the stopping distance required of the machine noticeably, which is not at all desirable. That said, you can create a custom set-up that applies the engine responsiveness, ABS sensitivity etc that suits you best.
---
---
I found commute mode to be very rewarding, particularly in traffic. The Tuono is a bonanza for traffic hooligans, being lithe and flickable and intoxicatingly and superbly responsive. The mirrors work well at urban speeds and help in "keeping you safe" by having an eye on what's behind you. It is impossible not to be exuberant when hurtling away from traffic lights or zeroing in on open spaces in traffic.
---
---
Although a bit wider than its counterpart, the Tuono can be easily trickled through stationary vehicles, with its inherent balance and smooth engine making for confident manoeuvring in tight spots. It is 100% addictive and so satisfying to leave other vehicles to bask in the 270 degree bark of the 660 twin. The Tuono demands it and will not be denied – so much so that I was refuelling every 2.5 days. I think that range is somewhere above 230km. Apparently. Using E10 or PULP made no difference to performance, as Aprilia have really gotten the combustion efficiency sorted.
The Tuono 660 really is a bike for all seasons. It's comfortable and easy riding nature blended with soulful and spirited performance and dynamic handling is sheer delight. In two-up mode, the bike retains trueness to its handling and still retains a good turn of speed, poise and balance.
Still, you need a pillion that does not mind a fairly small perch. The standard features of ride-by-wire throttle, customisable modes, LED lights, TFT display, electronic safety aids and cruise control, I think, are in step with high-end machines and maybe beyond much of the mid-capacity segment, especially if you add the IMU and quick-shift options. A curiosity here, though, is that the Tuono is only a few hundred bucks cheaper than the RS. This may make the choice between the 660 brothers less obvious for some. What is most important is you checking these excellent road bikes out.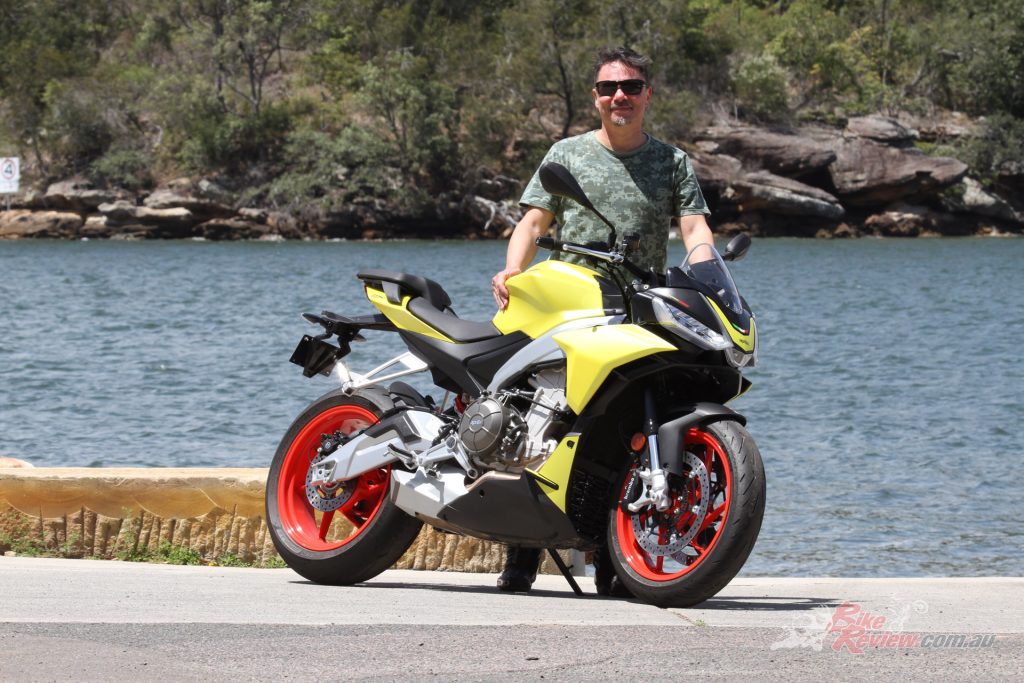 2021 Aprilia Tuono 660 Specifications

Price: $20,430 rideaway
Claimed Power: 70kW[95hp]@10,500rpm
Claimed Torque: 67Nm[50lbs-ft]@8,500rpm
Wet Weight: 183kg
Fuel capacity: 15L
---
Engine: Parallel twin-cylinder forward facing, four-stroke, 270-degree, eight-valve DOHC, liquid-cooled, chain driven cams, 81 x 63.9mm bore x stroke, 659cc, 13.5:1 compression, two-into-one exhaust, ram air, twin 48mm throttle-bodies, RbW throttle.
Gearbox: Six-speed with AQS up and down (optional extra). Clutch: Wet multi-plate with mechanical slipper, cable.
---
Chassis: Dual beam alloy frame with removable alloy sub-frame
Rake: 24.1° Trail: 104.7mm
Suspension: Kayaba 41mm USD with top out spring, aluminium radial caliper mounting bracket. Adjustable in rebound and spring preload. Travel 110 mm(f), Asymmetric aluminium swingarm. Single shock with top out spring and separate reservoir, adjustable in rebound, compression and spring preload. Wheel travel: 130mm
Brakes: 320mm rotors (f), Brembo radial-mount four 32mm piston calipers and radial pump master-cylinder, metal braided lines, ABS, 220mm rotor, Brembo twin 34mm piston caliper, ABS
Wheels & Tyres: Alloy, 17 x 3.50in (f), 17 x 5.50in (r) 120/70 r17 180/55 r17
---
Dimensions
Wheelbase: 1370mm
Seat height: 820mm
Overall width: 805mm
Overall Length: 1995mm
---
Instruments & Electronics: TFT display, Suite APRC with ATC (traction control), AWC (wheelie control), AEB (engine brake) AEM (engine map), ACC (cruise control) 5 Riding mode (Road e Track, 3 fix e 2 customizable)
The Verdict | Review: 2021 Aprilia Tuono 660