Alan Cathcart got a chance to take the new Triumph Speed Triple 1200 RR for a big road and track ride at the world launch. Check out his full review... Photos: Kingdom Creative & Chippy Wood 
Ever since John Bloor relaunched Britain's legendary Triumph marque in 1991 with a range of three- and four-cylinder motorcycles that dared to target Japan Inc. head on, Triumph has always done things differently, this is clearly evident in the 2022 Speed Triple 1200 RR!
---
Check out Alan's Speed Triple 1200 RS Review here…
---
Daring to be different meant Triumph dropped its four-cylinder 1000/1200cc models in '98 because, despite being the first to feature twin balance shafts in their engines to counter vibration, Bloor determined that these bikes were 'too Japanese'. He wanted Triumph's models to stand alone – hence the focus ever since then on various triples of different capacities, and – since the return of the Bonneville in 2000 – parallel-twins.
Of course, after Triumph made such a success out of going its own way with bikes that were unique in the marketplace, it was inevitable that these would end up being copied – hence Yamaha's range of MT-09 triples, MV Agusta's 675/800 models, and Royal Enfield's retro-style 650 parallel-twins. But John Bloor, his son Nick and the man they've charged with enacting their gameplan, Triumph's Chief Product Officer, Steve Sargent, have continued to forge the company's distinctly individual model strategies together with Triumph's head of engineering Stuart Wood, 57, a 35-year company veteran who joined Bloor's R&D team in 1987, three years before the debut of the first bikes bearing the revived British brand's historic badge.
---
Read Alan's Speed Triple history and Interview with Stuart Wood, who explains the Ohlins electronic suspension in-depth, here…
---
---
"We wanted to build on the basis of the Speed Triple 1200 RS we launched earlier this year, which has been an immediate success with 3,900 examples purchased in just the first six months it's been on sale," says Wood. "So we've aimed at combining the engagement and agility plus the pinpoint handling of a 765 Street Triple, with the performance and attitude of the latest generation Speed Triple 1200 RS, clothed in the styling of a traditional-type British café racer, expressed in a modern context. But above all it had to be enjoyable to ride on the road – despite its ready adaptability for use on a race track, we weren't interested in producing a racer with lights. Instead, we've focused on delivering a fast, thrilling and very capable real world road bike – and we hope our customers will agree that's what this is!"
It has indeed been quite a while since Triumph last featured an outright sportbike in its range – not since the 2006 demise of the much-loved Daytona 955i launched in 1997, in fact. This was a good bike with heaps of personality thanks to its then unique-sounding three-cylinder motor, albeit not quite up to its Japanese rivals in terms of outright performance. The middleweight Daytona 675 which replaced it proved a huge success, winning lots of multi-bike comparos against bigger one-litre Superbikes, and rumours have since abounded of Triumph ramping this up to produce a full-size Superbike successor to the 955i. But instead, Sargent & Co. have focused on expanding their offerings in the Adventure bike market, while seemingly ignoring the go-faster customer. Not any more, though.
---
---
But rather than tackle the Superbike market head-on by trying to compete directly with Fireblades, Panigales, R1s and the like, Triumph has decided once again to go its own way. Whereas when they originally created the Speed Triple back in 1994, Triumph's R&D team simply deleted the bodywork from the three-cylinder Daytona 900 sportbike, and changed the handlebars to produce a stripped-out sportbike, this time around they've done the opposite, and added a frame-mounted café racer style half-fairing and fitted clipons to make a semi-streamlined ultrabike out of a Naked hotrod.
The resultant 1200 RR retails in the Australia for $32,490 rideaway, with a two-year unlimited km warranty and 16,000km service intervals. That's for one in the Crystal White & Storm Grey colour scheme, whereas the Red Hopper & Storm Grey variant commands a slight premium – but both are much more visually striking than the rather anonymous-looking black or silver livery of the 1200 RS.
---
---
But beneath the RR's sleek, airy-looking styling with the single LED headlamp lies the identical cast aluminium chassis of the 1200 RS, as well as its engine in an identical state of tune. So the Speed Triple 1200 RR is essentially a 1200 RS with A half-fairing, an altered riding position with clip on handlebars, and Öhlins Smart EC 2.0 OBTI electronically adjustable semi-active suspension.
---
But beneath the RR's sleek, airy-looking styling with the single LED headlamp lies the identical cast aluminium chassis of the 1200 RS, as well as its engine in an identical state of tune.
---
But as I discovered in an action-packed day comprising the press launch in southern Spain, during which in a short but challenging 120km morning ride along the legendary A-397 Ronda road down to the coast and back I rode the Triumph in almost every single possible road condition ranging from drizzle and damp roads to sunshine and super grip, ending with three sessions on the glorious Ascari Race Resort's full 5.43km circuit, this is a bike that's much more than simply the sum of its parts.
---
---
For the changes that Triumph has made in creating the RR version have delivered a motorcycle with the same hugely impressive level of performance as the RS, but its own distinct personality. The result is not only the most powerful Triumph motorcycle ever built, but also arguably the most fun, and surely the most capable, to ride.
Little things mean a lot, and conceivably the single most significant element in the 1200 RR's personality switch over its forebear is in its riding position, which feels completely different. That's because Wood & Co. have fitted clip-ons rather than the high, wide, one-piece handlebar of the RS, with the result that your hands sit a massive 135mm lower and 50mm further forward on the RR, and while the seat height is unchanged at 830mm, the RR's footrests are now positioned 15mm higher, and 26mm further back.
---
---
This sportier, more stretched out stance is not only more aerodynamic, as well as delivering even more legroom for taller riders, but inevitably also puts more of your body weight on your wrists and shoulders. This in turn helps load up the front wheel for extra grip in turns, though not so much that it's excessively tiring – it's not as extreme as a Supersport stance, but you do notice it at lower speeds, where the airflow over the rather low screen isn't relieving the pressure on your arms.
The rest of the time you're having too much fun to complain, because as I discovered on a two-way run along that superb Ronda road doing my best to keep up with former British Superstock 1000 champion Taylor Mackenzie, with Aussie Superbike star Billy McConnell riding shotgun, this is indeed a super capable piece of kit.
"We knew we had to lift our game in creating the new generation Speed Triple motor, but we weren't prepared to do so at the expense of real world rideability on everyday roads," says Stuart Wood. "So we focused on providing significantly more power while substantially reducing weight, in order to provide much greater all-round performance than before via a much improved power to weight ratio, from a bike which the widest possible range of riders will continue to feel comfortable to be on."
---
---
So while still meeting Euro 5 compliance, the 2021 Triumph Speed Triple 1200 RR is the most potent and most torquey member of that family yet built, thanks to its completely new clean-screen larger-capacity transverse in-line three-cylinder motor shared with the RS, measuring 90 x 60.8mm for an 1160cc displacement, versus the previous 79 x 71.4mm model's 1050cc unit.
This delivers 178bhp/132.4kW@10,750rpm, a massive 49.5bhp/37kW step up from before on an engine redlined at 11,150rpm, 650 revs higher than previously, and the same horsepower the bike widely reckoned to be the finest real world ride currently available – the Aprilia Tuono V4 1100RR – delivered at birth. However, peak torque of 125Nm/92ft-lb@9,000rpm, a significant increase from the outgoing model's 111Nm/82ft-lb@7,500rpm, but delivered higher up the rev range, which means it's lost some of the old Speed Triple's lusty low-down grunt.
But while you're more conscious of that on the naked RS, it's not something you worry about too much on the RR, for the simple reason that you can't really help riding Triumph's new modern-era café racer like the half-faired Superbike it really is. Those horsepower numbers are all present and correct, but to really max out the brutally strong real world performance available from the Gen 3.0 Speed Triple, you need to rev it quite a bit higher than before, while still surfing that midrange torque curve which crests at 9,000revs.
Doing this delivers monstrous acceleration that's very well controlled by Triumph's electronic package linked to a Continental six-axis IMU, which features five riding modes – Rain, Road, Sport, Rider-configurable, plus a Track mode with minimal ABS and TC intervention at best, which are both anyway switchable. Settings are finely tunable via the backlit switch cubes and full-colour 5-inch TFT dash, and the My Triumph connectivity system is also fitted as standard. Both Android and IOS compatible, this enables phone call and music operation, Google Maps turn-by-turn navigation, and GoPro control.
---
---
Four-way adjustable lean-sensitive TC with integrated anti-wheelie control, both switchable, are also fitted, plus two-stage Cornering ABS. There's also cruise control, a lithium battery, keyless ignition and a two-way clutchless powershifter on which unlike on the RS I found it was hard to get consistently clean upshifts, maybe because the ignition/fuel cutout is too short in certain circumstances. But revving the Triumph motor out to five-digit engine speeds in the gears to the muted but still thrilling tenor tone produced by the Euro 5 compliant 3-1 exhaust, is two-wheeled utopia.
The pickup from a closed throttle is smooth and controlled, even in Sport mode – it's no less insistent, just without the snatchy pickup of some other sportbikes whose mapping displays excessive eagerness to get going. That's not to say the new Triumph is a laggard exciting turns – quite the contrary, in fact, since the precise throttle response allows you to wind it on harder, sooner, while leaned well over, without the TC kicking in to delay that muscular acceleration coming on strong in countering the rear wheel spinning up thanks to an over-fierce response,. Wood & Co. deserve real credit for delivering 178 bhp/132.4kW and 125Nm of torque to the tarmac so consistently controllably.
Thanks to a 12 per cent reduction in powertrain inertia, the engine is even more responsive and picks up revs notably quicker than the old Speed Triple – it feels sharper, and sounds sharper, too. Because of the all-new freer-breathing intake and 3-1 exhaust, this is rather improbably (given Euro 5 restrictions) the best sounding Speed Triple yet, with a visceral intake roar and trademark deep-throated triple exhaust howl. Just as on the RS, it's great to listen to this mechanical cantata from the hot seat, and this explains why there's no aftermarket exhaust can in the 35-strong list of accessories!
---
---
Triumph has included an updated version of its so-called 'slip-assist' clutch on the new Speed Triples, but it's a ramp-style slipper clutch by any other name, which retains enough engine braking still dialled in to help the excellent Brembo Stylema radial brakes stop you hard and late when you squeeze the adjustable lever, while ensuring good stability in stopping hard from high speed. The cable-operated clutch has a pretty light action, which was a welcome surprise considering how much torque it has to deal with. But this meant riding in Ronda traffic on wet roads was no chore – your hand doesn't get tired working the clutch repeatedly.
---
---
This new version of Triumph's streetfighter holds a line very well on the brakes, and it won't sit up on you if you stroke the front brake lever to lose a bit more speed, so that you miss the apex and head for the hedges, and the pickup when you get back on the throttle again is always measured and controlled. It also holds a line well round fast 120kph sweepers such as abound on the Ronda road, too. 
The RR's sportier riding position invites an even more aggressive attitude to riding this bike on both road and track, and the Pirelli Diablo Super Corsa SP tyres it's shod with are the ideal choice to do this with, versus the Metzeler Racetec RR K3s on the RS. Given their semi-slick tread pattern these trackday tyres also proved surprisingly grippy in conjunction with Rain mode in navigating the damp highways on my morning ride, but like all the Italian manufacturer's products they heated up quickly. That's partly thanks to their lighter weight compared to rival rubber, which helps acceleration through reduced rotational inertia, as well as lowering unsprung weight and optimises suspension response.
But even without that added bonus the Triumph RR's semi-active Öhlins Smart EC 2.0 OBTi electronic suspension provides a higher level of response and compliance from the 43mm upside-down fork and RSU monoshock with progressive rate link compared to the RS model's mechanically adjustable hardware from the same Swedish company. On the RS I'd complained about these being too stiffly set up, so you were made constantly aware of imperfections in the road surface – the whole setup appeared geared towards track use, where on the smooth surface of Donington Park there was none of the road shock I'd felt in riding on the highway, which in some faster bends with road rash in the apex had the handlebar dancing in my hands. It felt to be oversprung at both ends, so that I always felt concrete sealing joints or other surface imperfections though the handlebar and seat – but it handled brilliantly on track with the same settings!
---
---
On the RR this has been completely resolved, at the cost of a) that higher sticker price and b) a mere one kilo of extra kerb weight, even with the fairing added on – the RR scales 199kg with a full 15.5-litre fuel tank, split 51/49% frontwards (vs. 50.5/49.5% on the 198kg RS). That's pretty clever given that the Öhlins EC system entails carrying a total of four electric stepper motors – two in the shock for both compression and rebound, and one in each of the fork legs (compression on the left, rebound on the right) – which continually adjust both types of damping front and rear within 0.20sec of the suspension ECU deciding what's appropriate according to what the feedback it's received from the various sensors.
---
Improbable as it may seem, on pock-marked public roads this delivers a ride quality which can only be described as plush!
---
You can actually feel the rear suspension working away beneath you in a way I never experienced before, having only previously ridden a bike with semi-active electronic suspension on a smoothly-surfaced racetrack. Indeed, on the Ascari circuit I didn't get the same feedback – it just worked!
How so? Well, there are three settings for the semi-active suspension – Comfort, Normal and Dynamic – and the suspension control ECU monitors input from the Continental six-axis IMU, the brake-line pressure, the throttle position and the engine management system to provide optimum damping for that given moment – so it's monitoring angle of lean, the pitch of the bike, the brake force, and via the throttle position it's also monitoring the torque, and speed. You can change any of the settings via a Rider Preference interface, or even switch the electronics off and rely on the mechanical settings only. Or, ahem, as I will admit after getting hopelessly lost in attempting to out-think the computer, there's a default button which allows you to return to the way Öhlins said it should be.
The array of damp patches on the Ascari track surface gradually dried up as the day wore on, so that on my final session I could ask big questions of both the brakes and the suspension in at least a couple of the harder stops on the smooth-surfaced track. Grabbing a big handful of front brake in slowing from speed for a second gear turn didn't produce any excessive dive up front – but neither was there the dead feel it took me a while to get used to in three seasons of racing a hub-centre Tesi for the Bimota factory. That system allowed you to brake deep into a turn on the angle without freezing the front shock, in turn gaining valuable time as well as many metres on your opposition – and I suspect the same benefits pertain with the Öhlins EC system.
---
---
I got as brave as I dared in successive laps in those two hard stops, and while I couldn't feel the front suspension operating in the way I had on the rougher-surfaced highway, I honestly do think it gave the extra front end damping support I was asking for. It felt like I was going faster through the turns, anyway – though how much that was wish fulfilment I can't say till someone gets out a stopwatch! But there's a very good chance that the Öhlins EC system is that long-awaited best of both worlds between conventional front suspension technology, and an alternative front end like a Britten/Saxtrak or Fior or Tesi system. Kudos to Triumph for bringing it to the highway in this three-cylinder ultrasports café racer that's very much unlike anything else you can buy – for the time being at least!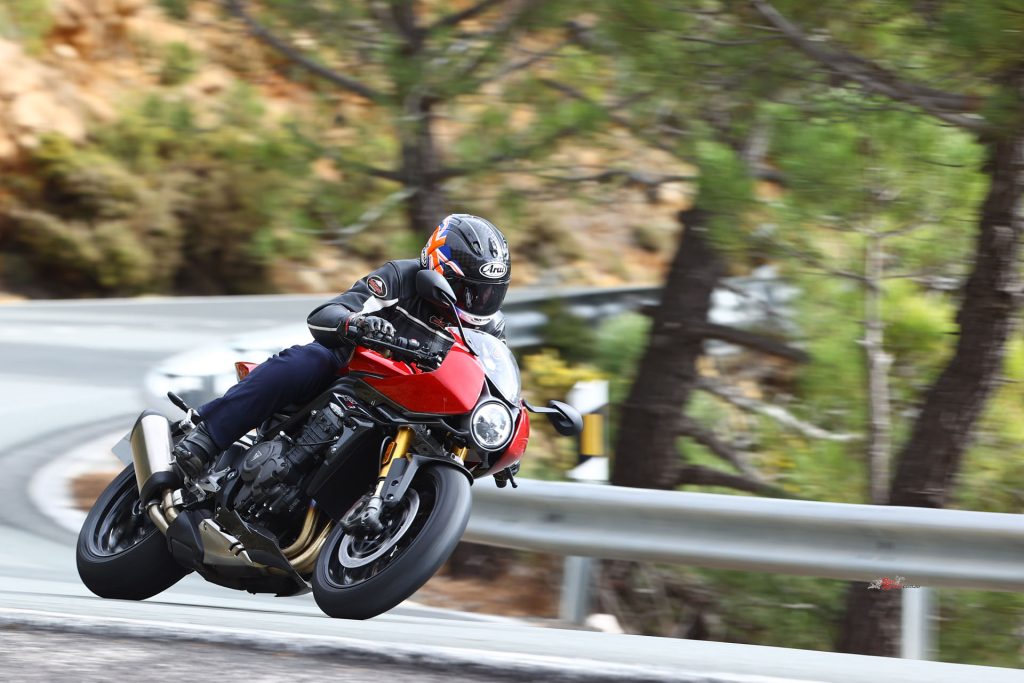 2022 Triumph Speed Triple 1200 RR Specifications
Price: Starting at $32,490 rideaway
Claimed Power: 132.4kW@10,750rpm
Claimed Torque:125Nm@9,000rpm
Wet Weight: 199kg
Fuel capacity: 15.5L
---
Engine: Liquid-cooled, 12 valve, DOHC, inline three-cylinder, 1160cc, 90.0mm bore, 60.8mm stroke, 13.2:1 compression. Multipoint sequential electronic fuel injection with electronic throttle control.
Gearbox: Six-speed, X-ring chain, wet, multi-plate, slip and assist clutch.
---
Chassis: Aluminium twin spar frame, bolt-on aluminium rear sub-frame
Rake: 23.9° Trail: 104.7mm
Suspension: Front – Öhlins 43mm fully adjustable USD forks, 120mm travel. Öhlins S-EC 2.0 OBTi system electronic compression / rebound damping. Rear – Öhlins monoshock RSU with linkage, 120mm rear wheel travel. Öhlins S-EC 2.0 OBTi system electronic compression / rebound damping.
Brakes: Front – Twin 320mm floating discs. Brembo Stylema monobloc calipers, OC-ABS, radial master cylinder with separate reservoir, span & ratio adjustable. Rear – Single 220mm disc. Brembo twin piston caliper, OC-ABS. Rear master cylinder with separate reservoir.
Wheels & Tyres: Front – Cast aluminium, 17 x 3.50in, Rear – Cast aluminium, 17 x 6.00in. Front Tyre – 120/70 ZR17, Rear Tyre –190/55 ZR17.
---
Dimensions:
Length: 2085mm
Width (Handlebars): 758mm
Height Without Mirrors: 1120mm
Seat Height: 830mm
Wheelbase: 1439mm
---
Instruments & Electronics: TFT Dash, Two stage ABS, Traction Control.
---

2022 Triumph Speed Triple 1200 RR Gallery
---
---
---