With some major upgrades to bring the KLR650 into the Euro4 era, and an adventure kit, the KLR just became an even better option for the thrifty adventure touring rider... Photos: Heather Ware
The mighty Kawasaki KLR has been a popular trail bike for almost 40-years, from the KLR600 of 1984 to 1987, when the KLR650 arrived, it has been putting smiles on riders faces for decades, all at the right price. We ride the go anywhere, anytime, in KLR time, machine…
---
Check out our review on the previous KLR650 here…
---
It takes a special bike to get me out riding on a Sunday these days, which kind of sucks, as I do miss those days of Sunday being bike day with mates. But riding upwards of 40 bikes per year, sometimes 60, I do enjoy having Sunday free for… working on bikes, or taking my son MX racing, or building model bikes, or watching bikes on TV. Sometimes I have a break from bikes altogether… Kidding…. Anyway, the KLR is one such bike. I rode it every Sunday that I had it.
The new KLR is the most updated KLR since Fast Eddie Warren was racing for Kawasaki in the Supercross Masters. Previously, the mighty 650 got a facelift in 2016. Before that, it pretty much remained the same from 1987. If any bike has stood the test of time, it's the KLR. Simple is fun. Simple is reliable and the old KLR has a fun, reliable, engaging character that makes it like a trusty mate. You can call on it anytime and it will deliver. Out of all of the bikes I've tested in the past 12-months, the KLR650 Adventure is the one I wanted to keep on riding the most…
---
---
Now fuel injected, with some suspension, chassis, ergonomic, engine and styling changes you can read about in the Tech Breakout, the KLR comes in at $11,436 R/A here in Sydney (add your postcode here for your R/A price). Great value for what is essentially a budget, big giant trailbike, which is basically what the KLR is. It's better on the road than off the road, but it is really good off road!
---
"The KLR650 is the kind of bike you ride around Australia on. It is begging for big miles, long lazy days with the lumpy single thumping along…"
---
The KLR650 is the kind of bike you ride around Australia on. It is begging for big miles, long lazy days with the lumpy single thumping along… It has a huge, and I mean huge, comfortable seat. It has a super comfy riding position, from the rider triangle that is spacious yet purposeful if you want to have a crack in either the twisties on the road or the trails in the bush…
---
---
It has rubber mounted footpegs for added road comfort (these get a bit slippery and dodgy feeling off-road, but are welcome on the road), it has the restyled huge fairings, adjustable screen (takes two-minutes with an allen-key, I ran it on the upper setting mostly), and a giant rear rack for a milk crate, small car, third pillion or a case of beer… or even a spare KLR!
The new KLR650 Adventure handles brilliantly on the road, as hard to believe as that may be. Anything below 10km/h can be tricky, it just feels a little top heavy, and you need rear brake, clutch and good balance, but over that speed and the KLR is spot on. Even with the huge wheels and lazy geometry, because of the skinny tyres and big handlebars, you can throw the KLR at corners like you would not believe, and even the stock Dunlops hook up OK on the road!
I surprised myself at how hard I could punt the KLR through my local twisties, let alone my mates who could not believe it! I put a lot of it down to the long travel suspension and decent ground clearance meaning you can literally hit any bump and ride through all of the hard-hitting sections without backing off or even getting a wobble. It more than makes up for lack of brakes or acceleration and is great fun…
---
---
More sensible riding is just as enjoyable. The KLR is ultra-nice on the freeway, sitting on 110km/h, it floats along like your favourite lounge chair on a cloud. It's a 1000km a day tourer, with an easy 350km range (400km in theory), no problems there. Cruise control would be lovely though… that and heated grips. Perfect. The screen gives brilliant protection on the highway, as do the handguards and the entire front fairing. The fuel tank is huge but shaped well. At 187cm tall, I fit the KLR like a glove.
So, it's fun on the tar and fun on the freeway, a blast around the suburbs and generally would be an easy daily ride. Then on weekends, you can turn left or right off the main road and head for the bush. All without changing any modes or suspension settings or ABS settings or TC settings or… you get the picture. In fact, I didn't even change tyre pressures.
---
---
The KLR just goes from tar to dirt and back to tar without even raising a headlight. It's all too easy and enjoyable. Long dirt roads are great, I did 40-50km dirt roads, just sitting down and thumping along KLR style and I saw things that I normally miss when I'm going an extra 100km/h on a big bore 160hp Adventure Bike… Very relaxing.
---
---
If you need to stand up a lot you may need bar risers, I'd go up at least 100mm, and the footpegs would need to go or you will slip and that could be knackering for the blokes! The gearlever and rear brake pedal are easy access, whether standing or sitting, but the clutch and front brake levers need moving for standing up.
But in all honesty, it's more of a sit-down cruising adventure bike… short shifting the big single, taking in the scenery and letting the new long travel very soft suspension soak up the bumps. Just don't hit anything too hard! Both ends are super soft, so a pillion or luggage may overpower the shock in particular, but there is preload adjustability. A few times I jumped it and it bottomed out really hard, so I was very cautious of ruts and washouts on the roads and trails. I appreciated the plush ride though.
The brakes are pretty good on the road, with heaps of feel and power from the rear and the front brake is good too. Off road, the ABS cannot be switched off and there is no off-road mode, so take care and brake very early so you don't end up in the trees, as the ABS will constantly stop you from stopping if you push it beyond gentle braking.
---
---
If you need to brake heavily, try and do it upright, preloading the front tyre progressively, then it will stop well without the ABS kicking in. Grab the brakes hard or tackle a steel hill, and you will be banging the gearbox down as quickly as your foot can tap to try and stop the bike with the engine!
---
---
Luggage-wise, the panniers are large and easy to take on and off. They are lockable and come with the bike. There is plenty of room for the pillion with the panniers on, too, and lots of grabrail options too. The only pillion complaint was that there is a bit of warmth from the muffler, which most people would replace anyway to get that lovely thumper note from the KLR…
---
The revised engine is a charmer. With really tall gearing, the KLR will happily chug along at 110km/h all day, while 140km/h is no issue and top speed is around 155km/h…
---
The luggage rack, as mentioned, is huge and the crash bars are everywhere! I forgot to try the spotlights, so can't tell you how good they are… A basic toolkit locks inside the top of the rear rack plate, which could be a pain if you have a topbox fitted.
The revised engine is a charmer. With really tall gearing, the KLR will happily chug along at 110km/h all day, while 140km/h is no issue and top speed is around 155km/h (tested on a private dirt road). It's got low power but a heavy flywheel, a wide flat torque curve and just thumps along effortlessly, with good fuelling all the way through. The gearbox is smooth and the clutch, although a tad grabby, is light and was getting better as the miles increased. Overall, a lovely engine that feels more refined now and with more useable, broad power.
---
---
The mirrors are basic round steel items and do the job, although there are a few times when they vibrate, which is no surprise. Switchgear all basic, easy to use. The Adventure has two 12V outlets, one USB socket behind two rubber covers on the left and a 12V round outlet on the right. There is a switch for the spotties, and the dash is super easy to read and basic (clock, trip, fuel, speed, odo but no temp).
---
The levers are not span adjustable, but are comfortably placed and the hand-guards are great. The forks have gators on them, and the radiator has a stone guard, which is fantastic. The bash-plate is plastic, so I would not expect much out of that. No centre-stand but the side-stand is easy to access.
With a massive fuel tank of 23L and a range of roughly 400km, you won't be stopping for fuel too often on the KLR. I only filled up twice in my two-week test of around 500 – 600km. The KLR never overheated, always started first few cranks, coped in pouring rain and searing heat, in mud, sand, dirt, and tarmac. Even peak hour traffic could not faze the mighty KLR.
For the price, to be able to do all of the things motorcycling can be, plus easily update the KLR650 to make it your own, it just seems such great value. If I bought one, I'd fit a pipe, or slip-on, an airfilter, maybe a tune if possible. I'd upgrade the bash-plate, shock and for internals only with valves and I'd swap the rubber mounted footpegs for solid, plus add the bar riders, then I'd ride off into the sunset! The mighty KLR. No wonder Kawasaki still make it…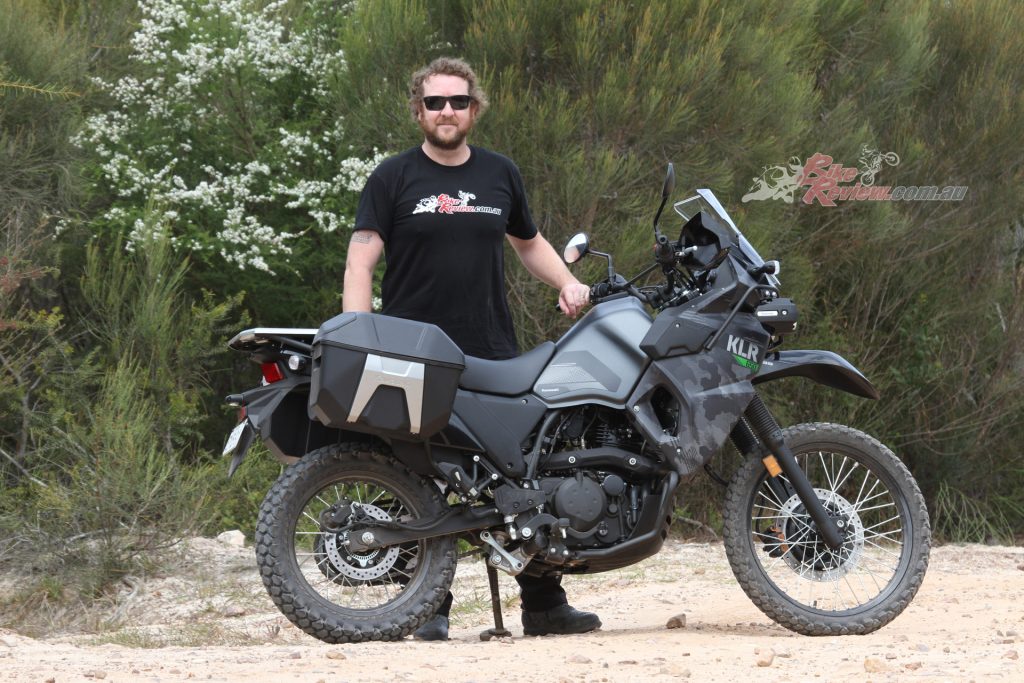 TECH TALK, KLR650 ADVENTURE
Since the first version was released in 1987, Kawasaki have advertised the KLR650 as the one bike to do everything. Kawasaki say the touring-hungry dual-purpose machine will eagerly travel long distances, while offering the versatility to accommodate off-road as well as the daily commute.
They also claim the 2022 KLR650 offers a riding position for terrific all-day-comfort, plenty of carrying capacity, an efficient engine and a large fuel tank for extended time between fill ups. It is as happy on a 10-minute run to the supermarket as it is on a 10-day cross-country tour. With a 21-inch front wheel and plenty of suspension travel, the KLR650 should strive in off-road situations.
---
---
For the 2022 KLR650, a change to fuel injection offers a claimed increase in reliability and fuel efficiency. A new fuel tank design that minimises residual fuel volume, numerous strengthened parts and increased riding confidence when carrying luggage, reduced vibrations and increased generator capacity contribute to improved reliability and ride comfort.
---

Both intake and outlet cam profiles have been revised, improving mid- range torque characteristics. Stronger cam chain guide material and shape contributes to reliability. Updates to the clutch (clutch release bearings have been changed from ball bearings to thrust-needle bearings)and transmission (revised 3rd gear dogs and shift fork) have been made to allow for the KLR to be an easier ride.
The rear frame is now integrated with the main frame to form a stronger skeleton for the bike, along with this, the swingarm was extended by 30mm. The swingarm pivot shaft diameter was also increased from 15mm to 17mm. Changes to the suspension were also made with front and rear suspension strokes increased to 200 mm and 185 mm, respectively, which Kawasaki say favours favour on-road riding performance while enabling off-road excursions.
2022 Kawasaki KLR650 Highlights
Fuel injection
LED lighting
Larger (300 mm) front brake with ABS
Longer range 23 L fuel tank
Digital instrument panel
Two-position adjustable wind shield
Large, strong aluminium carrier mounts
Increased generator output
Kawasaki KLR650 ADVENTURE extras (as tested)
Locking Panniers
Fog Lamps
Frame Sliders
DC and USB Sockets
---

2021 Kawasaki KLR650 Adventure Specifications
Price: $11,436 R/A Click here and enter postcode for R/A price
Colour: Cypher Camo Grey
Claimed Power: 28.5kW@6,000rpm
Claimed Torque: 51.5Nm@4500rpm
Wet Weight: 222kg
Fuel capacity: 23L
Warranty: 24 months unlimited km
---
Engine: Liquid-cooled, DOHC, single-cylinder four-stroke, 652cc, 4-valve, 100mm x 83mm bore x stroke, 9.8:1 compression, EFI, five-speed gearbox with wet clutch.
---
Chassis: Semi-double cradle, high-tensile steel
Rake: 30° Trail: 121mm
Suspension: 41mm telescopic fork, 200mm travel, Uni-Trak with adjustable rebound and spring preload, 185mm travel.
Brakes: Single 300 mm petal disc, dual piston, ABS. Single 240mm petal disc, dual-piston.
Wheels & Tyres: Spoked wheels, 90/90-21 (f) 130/80-17 (r)
---
Dimensions:
Length: 2280mm
Height: 1420/1455mm
Width: 970mm
Seat Height: 870mm
Wheelbase: 1540mm
Ground clearance: 210mm
---
Instruments & Electronics: LCD cluster, USB Port, 12V Socket.
---

2021 Kawasaki KLR650 Adventure Gallery
---

The Verdict | Review: 2021 Kawasaki KLR650 Adventure