The new age street sportsbike. Addictive, endearing and extremely good fun. Jeff spent a few weeks reliving his youth, without the smelly 2T fumes... Photos: HMC Photography
We've tested the HO version, we have taken the learner approved Yamaha YZF-R7LA edition for a big ride, spending a few weeks enjoying the life of a modern sportsbike riding learner, and it's a far cry from the editor's learner days of wild two strokers.
---
Zane attended the Aussie launch of the YZF-R7 HO at Sydney Motorsports Park, and he also had a short road spin, so check out his Launch Report and Track Test here…
---
I started my road riding life on a 1985 Yamaha RZ250FN when I was 16 and 9 months old, back in 1992. At the time, the RZ was an ageing but affordable performance 250 that was capable of far more than the average L plater could handle. When I think back to the fact, I was so young, still at school, riding the RZ to class, with zero road experience, I feel it was only luck that I'm here. Particularly that when I turned 17, I replaced the RZ with a TZR250 2MA!
---
---
The TZR soon got put into the armco, but that is another story. My learner mates had wild two-strokes, such as RGVs, RGs, RZs, RDs and TZRs, the odd KR or NSR too. Even an MVX! None of us had four-strokes… There was just nothing around back then that was appealing in any way in the 250 four-stroke road category, perhaps a Suzuki Across, but they were heavy and slow…
---
---
Back then I would not have ever imagined that 30-years on, almost to the month, I'd be riding a learner bike that was a parallel-twin 700 sportsbike that was learner legal. Sure, there are dozens and dozens of amazing four-stroke LAMS bikes out there, but this R7 is the closest in speed and performance to the old two-strokes, while handling much better, stopping better, looking better, and costing less!
But more importantly, the R7 has the same fun factor that us lucky riders got to enjoy in our youth before the fun police stopped us all from highsiding into oblivion every Sunday… I loved riding the R7 so much, I could hardly stop. Here's why…
---
"Back then I would not have ever imagined that 30-years on, almost to the month, I'd be riding a learner bike that was a parallel-twin 700 sportsbike that was learner legal."
---
Fun factor. Something the YZF-R7LA has by the crankcase full. It has the grin factor and engaging nature built into it that just can't be found in a lot of bikes, particularly in the LAMS class, where dreary, efficient engines are the norm, leaving manufacturers only the chassis and styling to thrill the kids with. This time, for Yamaha, it's an overall package and that cracker CP2 motor that combines to make what is essentially, and feels like, a big YZF-R3, which itself is one of the most fun motorcycles you are ever likely to ride, young or old!
---
---
I'll quickly touch on the styling. Big bike looks, a modern, compact R1, much more stylish in my opinion than the R6, and particularly cool from the side, with its long swingarm, 10-spoke wheels, fat tyres and sharp bodywork. It looks fast just sitting there. Easy on the eye, looks fun yet serious, not toy-like as the little 300 and 400s are… Everything is well finished and top quality, from the paint to the decals, fasteners, switches, and controls. The lights look, and perform, amazing and top triple-clamp gives the R7 a superbike feel visually.
---
---
The ride position is not full sportsbike/track bike – it's somewhere between an R6 and a street bike. It is still a head down bum up rider triangle, but straightening your arms means you can easily sit more upright. There is some weight on your wrists, as expected, but I did a seven-hour ride at one point, with no wrist discomfort worth noting. The 'pegs are high, but not around your ears, the tank is long, old-school style, so a bit of a reach to the clip-ons.
It's easy to see through the mirrors without breaking your neck, and tucking in behind the screen, head on tank, there is room and good vision ahead, even for an old bloke! The seat is wide, tall, and firm. Good for feel in sports riding, but great for bump absorption and firm but enough comfort. The tank shape allows for plenty of leg movement, and easy knee grip for hard braking, while giving good space for cornering, hanging off or 'locking on' when really having a go. Overall, the ergonomics are fantastic. All day comfort with sportsbike aggression when needed.
The left and right switches are basic, nothing special and no fancy modes or electronics to navigate. The throttle throw is super short, being the LAMS version, and I had it in two positions most of the time, wide open, or closed!
---
---
There is a bit of storage under the pillion seat, enough for a phone and wallet. The stand is easy to flick down and find, it leans a long way over, I used a piece of 10mm thick timber under it at home. The steering lock clicks in easy, the ignition switch is smooth and the dash, easy to navigate the few features but it's hard to see in bright sunshine. Something needs to be done there, as I could not see it half the time (whether I had sunnies on or not).
Riding the YZF-R7LA is just so much fun, mainly thanks to the chassis in this case, but the CP2 is still capable even in this restricted version. The bike is not as punchy or zippy as the MT-07LA, however, it makes great torque from 4000 to 6000rpm, and with long final gearing and wide gears, that 2000rpm covers a huge speed range. On the highway, the restricted CP2 struggles at 110km/h, where it vibrates and will not pull top gear for overtakes. Drop to fifth, bringing the revs up to 4700rpm, and there is punch for passing, or leave in top and it won't pull until 120km/h (also 4700rpm).
The LAMS CP2 engine has lots of engine breaking when the rpm drops, so you notice it around town and into roundabouts etc, however, a bit of old-fashioned annual slip on the lever does the trick. Once the revs and speeds increase, the engine braking decreases and the R7 flows into corners quickly, with good rolling speed.
---
"Once the revs and speeds increase, the engine braking decreases and the R7 flows into corners quickly, with good rolling speed."
---
Let that engine drop below 4000 or rev above 6000rpm, though, and progress will slow. The gearbox is superb, super slick up and down, one of the best I've felt. Top gear is very tall, however, plus a quickshifter is desperately needed.
---
---
As mentioned, I pretty much had the R7 pinned everywhere, yet I still got over 200km from each of the three tanks of fuel I used, in fact, each time I filled up at the 200 to 210km mark the tank only took between 7.5 and 8.5L, so there was still at least 3L in there, or another 80km. Great economy for a 700. I used 95 for a tank, PULP for two tanks, with no pinging at all. On those figures, the R&LA has a potential range of 300km… Not bad at all.
So, the CP2 is fun even when restricted but it's the chassis that ticks all the boxes for me. A tight frame but not racetrack dedicated and ready to spit you off over the first bumps, there is plenty of flex in there for feedback and keeping the wheels inline over our terrible roads. The suspension is firm, even for a street sportsbike, but the quicker I went the better it felt and the more I appreciated what Yamaha have done, as it works best sitting down in the stroke a bit and whether on smooth hotmix or bad bumps the R7 is super compliant.
---
---
I took three clicks of comp and rebound off the front, then put two clicks back in after a ride. I left the back, but I would take some preload and comp off is I was 5 to 10kg lighter, as it might be a bit harsh for some lighter riders (I'm 95kg). The steering is rock solid stable while still giving fast-accurate turn-in (with a bit of effort) and the R7 is beautiful into the first half of a corner, then stays on-line all the way out. A great handling little road bike…
---
---
I was impressed, even ground clearance is fantastic, and the S22 tyres are brilliant… The bike feels happy on or off the brakes, at full lean or half lean, when hanging off or just cruising sitting upright… It has responsive yet stable and confident geometry.
I only found the mighty YZF-R7LA lacking in one area, that being braking. The front brakes lack feel, initial bite, and power. I've read elsewhere how amazing the brakes are, so perhaps it was just our press bike, but I did a lot of riding and a hell of a lot of braking, with no improvement. Anyway, a pad change could fix it and newer riders will appreciate the less savage nature. The rear brake is good, with decent feel. Hard braking using both, the rear ABS does kick in early, so the rear wheel must want to come off the ground…
---
---
Riding the Full Power HO version
I had a quick spin on the full power bike when I dropped the LA back to Yamaha HQ. It was exactly as I expected it to be, which is perfection on two wheels! Fun, fast and flickable…
Not only was the suspension set up better than it was on my LA press unit, with a plusher ride over the bumps and more balance, the extra power transforms the R7 from a learner machine to a true weapon of a bike. It has long, flat torque but still a decent top-end hit for the road.
---
The difference in output is LA 38.3Kw[52.1hp]@8000rpm, HO 56.45kW[74.8hp]@9000rpm and LA 57.5Nm[42.5ft-lbs]@4000rpm, HO 68Nm[50ft-lbs]@6500rpm – so huge!
---
Where the LA falls away, the HO keeps on pulling, of course, just like the MT-07 LA and HO, as they share the CP2 engine. The difference in output is LA 38.3Kw[52.1hp]@8000rpm, HO 56.45kW[74.8hp]@9000rpm and LA 57.5Nm[42.5ft-lbs]@4000rpm, HO 68Nm[50ft-lbs]@6500rpm – so huge! With the power and torque much higher in the rpm on the HO, it makes for a more engaging sportsbike experience as well.
---
---
For some reason (pad condition or material), the brakes on the HO I tested were stronger in both initial bite and power over the LA anchors. And with the previously mentioned softer suspension set-up, and a nice front/rear balance (although the forks were truly soft), the steering was sharper and direction change more agile.
---
---
Overall, I'm completely impressed with the YZF-R7LA and HO. I had a lot of fun on the bikes, enjoy the size, and would happily have a HO version in the shed… As long as it had a pipe and quickshifter!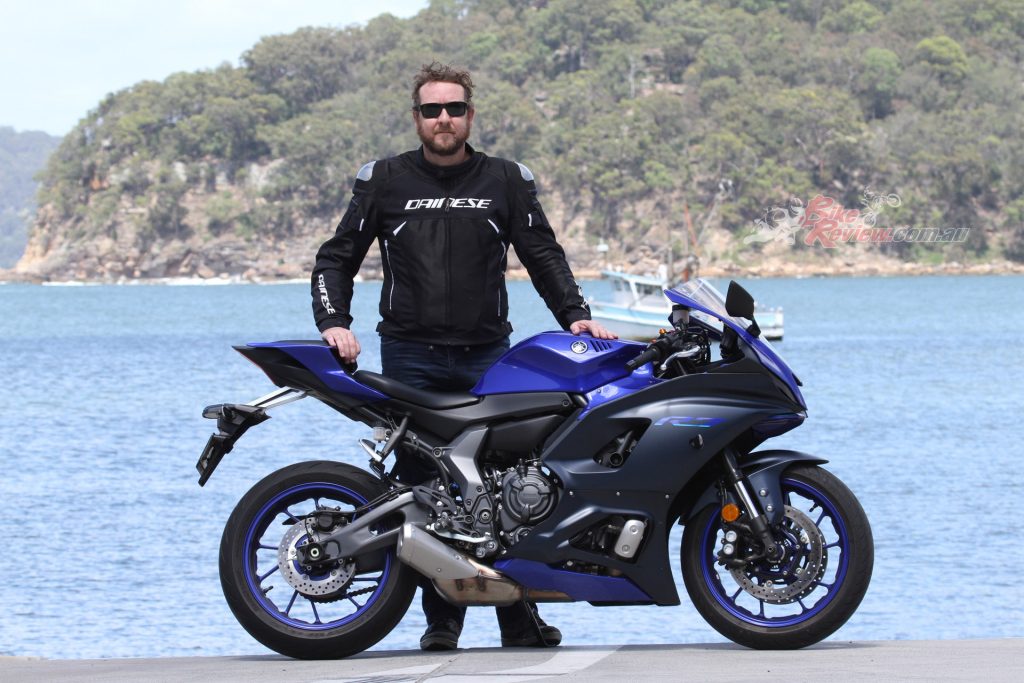 ---
Price Comparison – $14,049 Ride Away… $14,649 LAWGP ($15,049 HO – $15,649 HOWGP). R6 ($19049) MT-09 ($15,699)  MT-07 HO ($13,599), MT-07LA ($12,749)
---
Yamaha YZF-R7 Tech Talk
The all-new 2022 YZF-R7 is the latest model in Yamaha's supersport segment. Built from the ground up with a sleek ultra-thin lightweight chassis powered by Yamaha's proven CP2 engine, and enhanced with track-focused supersport features, Yamaha say the R7 embodies Yamaha's rich history of aggressive performance and racing dominance.
The all-new 2022 YZF-R7 bridges the gap between the entry-level YZF-R3 and the prestigious YZF-R1, offering a mid-level option for both new riders looking to grow into a more powerful motorcycle, as well as experienced riders seeking a sportsbike with supersport performance that fits within their budget. With a unique package of performance, price and sporty styling, the R7 is true to its R-Series DNA and the lineup's aspirational history of racing success.
---
---
YZF-R7 uses Yamaha's proven liquid-cooled, four- stroke, in-line two-cylinder, DOHC CP2 engine. Forged aluminium pistons with direct-plated cylinders integrated with the crankcase makes for lighter weight and excellent strength at higher temperatures, ensuring reliability at higher rpm.
The crossplane engine's 270-degree crank provides an uneven firing sequence with a more characterful exhaust note that emphasises torquey acceleration and linear power delivery for response at all engine speeds. Additionally, the R7 has an optimised secondary gear ratio for a sportier performance.
---
---
Yamaha claim the YZF-R7's ultra-narrow, high-strength steel frame provides excellent rigidity for a sporty and responsive ride by mounting aluminium centre braces near the swingarm pivot, which improve torsional rigidity. Rake, trail, and wheelbase dimensions have also been optimised for superb handling while cornering on a racetrack or a twisty road. The narrow, lightweight frame design has resulted in the slimmest bodywork found in Yamaha's supersport lineup and reduces air resistance while incorporating the rider's body into its design.
---
---
The 2022 YZF-R7 features inverted KYB 41mm front forks with optimised spring rates and damping settings for front-end feel during cornering and braking. The product specific settings make for easy and predictable behaviour, Yamaha state, with a stiff feel for twisty roads and racetracks. The forks are fully adjustable for preload, rebound and compression damping force. The inverted KYB front forks are mounted to the steering tube via a forged aluminium lower triple-clamp, and a gravity-cast aluminium upper triple-clamp.
---
---
Yamaha say the link-type Monocross shock with adjustable spring preload and rebound damping strikes a balance between ride comfort and sporty performance for capability across a wide range of uses, from urban commuting to track days. The rear shock unit is mounted horizontally, fastened to the crankcase for efficient use of space and weight, contributing to mass centralisation and further highlighting the bike's compact size.
The 2022 YZF-R7 is the first Yamaha model to feature a radial brake master-cylinder from Brembo. This new Brembo radial master-cylinder provides a more linear supply of hydraulic pressure to the radial mounted, four pot front brake calipers creating excellent controllability and stopping power through dual 298mm front brake rotors.
Yamaha say the comfortable new seat with material and cushioning used in the YZF-R1, combined with new low-profile fuel tank covers with deep knee pockets for optimal hip and knee positioning gives the rider freedom to move while also providing a firmly planted feel when leaned over. Separate clip-on handlebars are set in relation to the rider's hips and footpeg positions for an aggressive position allowing the rider to naturally grip the machine with confidence, especially when tucking behind the windscreen on twisty roads or on the racetrack.
---
---
The 2022 YZF-R7 features a new full LCD instrument panel. The high-contrast negative dashboard and its compact and lightweight multifunction display with larger displays for the clock, gear, trip meters and tachometer provide clear information. The use of spot colour gives an accent for the high-rpm range display – and new handlebar switches enables the rider to operate the meter more easily and efficiently.
---
---
The iconic R-Series M-shaped intake duct and twin-eye front design of the new YZF-R7 houses an adaptive bi-functional LED headlight. The R7 is also equipped with a new LED taillight and front and rear turn signals. Light and compact, Yamaha say the new LED lighting complements the next- generation style of the bike and reinforces the premium specification of the supersport class. Not only do the LEDs offer long life with minimal power draw they provide brilliant illumination for confidence and visibility day or night.

2022 YAMAHA YZF-R7 Specifications (LA in brackets)
Price: $14,049 Ride Away… $14,649 LAWGP ($15,049 HO – $15,649 HOWGP).
Warranty: Two-years unlimited km
Colours: Team Yamaha Blue, Performance Black, 60th anniversary livery ($500)
Claimed Power: LA 38.3Kw[52.1hp]@8000rpm, HO 56.45kW[74.8hp]@9000rpm
Claimed Torque: LA 57.5Nm[42.5ft-lbs]@4000rpm, HO 68Nm[50ft-lbs]@6500rpm
Wet Weight: 188kg
Fuel capacity: 12.8L
---
Engine: Liquid-cooled, DOHC, inline-twin, four-stroke, four-valve, 80 (78 LA) x 68.6mm bore x stroke, 689cc (655cc LA), 11.5 (11 LA):1 compression, lightweight one-piece two-into-one exhaust Gearbox: Six speed Clutch: Wet, multiple disc
---
Chassis: Steel Deltabox frame with alloy sideplates and alloy swingarm.
Rake: N/A° Trail: N/A
Suspension: KYB 41mm forks, fully adjustable, 130mm travel, KYB shock preload and rebound adjustment, 130mm travel.
Brakes: 298mm rotors (f), dual four-piston calipers and Brembo radial master-cylinder, 245mm rear rotor, two-piston caliper, ABS.
Wheels & Tyres: 10-spoke cast alloy wheels, 120/70 – 17 and 180/55 – 17 Bridgestone S22 tyres.
---
Dimensions
Wheelbase: N/A mm
Seat height: 835mm
Ground clearance: N/A
Overall width: 705mm
Overall Length: 2070mm
Overall height: 1160mm
---
Instruments: LCD multifunction dash.
---
The Verdict | Review: 2022 Yamaha YZF-R7LA & HO