Already a dominant force globally in SX and MX, Yamaha have grabbed the holeshot for 2023 with an all-new YZ450F. Check out our report from the Aussie launch... Photography: iKapture
With a reputation of often been one step ahead of their competitors in the MX/SX scene, Yamaha lays out undoubtedly some of the most competitive equipment in all categories, so I was very excited to be invited to test the all new 2023 YZ450F…
Being the most dominant manufacturer in Aus MX/SX with over 50 National titles, Yamaha have huge accomplishment status under their belt. In AMA MX/SX they have won 13 250 championships since 2014 and three 450 titles since 2021 too, as well as winning all 2022 MXGP classes including WMX and indeed being the creators of the four-stroke revolution since 1998!
---
---
Having missed the Team GYTR presentation due to flight delays, I arrived after dinner and had a chat to some of the CDR Yamaha team staff. What I noticed was that they sounded most excited about the weight difference and engine power on the new 2023 450F, explaining how they have tried to cut weight off almost every aspect from the clutch down to the throttle cable.
---
"Now producing approximately five per cent more power output, the engine rev limit is also increased by 500rpm, which had some of the other test riders present excited"…
---
Finding out the 2023 wet weight is only 109kg (full tank), 2.43kg lighter, than last year, was an absolute mind blow ¬– to shed that much weight off such a compact motorcycle is great work. The 2023 engine has been redesigned to be faster, lighter and have longer rpm pulling.
Now producing approximately five per cent more power output, the engine rev limit is also increased by 500rpm, which had some of the other test riders present excited, as weight and power were some of the areas they had been lacking in competitively.
---
Another point wanted by Yamaha's 450 riders was to make the body narrower, aiding rider movements on the bike, claiming they weren't given as much leeway as some had wanted. Therefore, Yamaha have come back with the intake ducts removed, the radiator shrouds 50mm narrower and the fuel tank 6mm too, which they say is a huge difference from last year.
---
---
Interestingly the rider triangle distance from 'pegs to seat to 'bars has slightly changed, with increased seat-to-footpeg distance and the 'bars one position rearward. Another major update comes from the redesigned aluminium bilateral beam frame that Yamaha say resulted in greater handling and a lighter feeling bike that absorbs bumps and gains traction easier.
All of that helps riders turn with greater confidence and more line choices, yet looks almost identical to last year's frame. Anyway, enough of that, check out the tech breakout for the detailed info, let's go and hit the track for a ride!
---
---
THE RIDE
Arriving at Ride Park in Melbourne and seeing the Yamaha truck and all the brand-new bikes was such a hype. I got changed into my new riding kit (review on the way) and jumped on straight away for a feel of the ergonomics. Yamaha asked my weight for the suspension set up, sorted it, and off I went for my first time on a 450 on an MX track, and my first MX ride for ages… I have to admit I was a bit nervous!
The electric start worked perfectly, and the throttle is instantly reactive, the 450 sounds bloody powerful! As soon as I opened the throttle, I knew I was in for fun ride. At the start I was quite intimidated by the YZ450's initial power output, riding around stiff as concrete and short shifting, which caused me to have an early stack on my second lap, losing it landing off a small single jump. Luckily enough I walked away relatively uninjured (but damn it hurt!) and kept riding. Getting more laps in helped me loosen up and start to get into a groove.
The power of the 450 just hits differently to anything I've ridden – getting it turned and driving out of the corners is just magical, there's so much torque and you can rev the hell out of it, and it will keep pulling. Riding in almost any gear on any part of the track will have you on the back wheel. I specifically loved second gear, even on this wide-open track, second gear has great drive at low speeds, and I could really run the gearing out in it thanks to the extra 500rpm.
The bike felt nice and spacious, especially up the front with the radiator size reduction offering the room to really get up the pointy end of the bike, when necessary, which helped to constantly move while learning a new track and adapting to corners, jumps and for when mistakes were made like running off line or getting caught up in deep ruts.
---
"Getting it turned and driving out of the corners is just magical, there's so much torque and you can rev the hell out of it, and it will keep pulling".
---
Braking into corners, I personally felt a little unconfident on the day when tipping in, yet there is loads of great feel and sniper precision using the rear backing it in. The brakes at both ends are good, with plenty of feel and power. I am confident that with more time I could get the front feeling right for me on the brakes. Riding full throttle out of the corners, I found myself feathering the clutch, balancing the immense power with the direction I wanted to go.
The clutch lever is nice and soft, so it won't wear your forearms out so fast. It's easy to feel the track even with all that power. I found riding the YZ450F aggressively was how it liked to be ridden, but with respect, keeping your upper body a little bit loose and tightening the knees, helping get through the whoops section and taking advantage of the awesome KYB suspension.
The suspension is great, thanks to the high quality KYB setup carried forward from the previous model, I felt confident landing short off jumps and still couldn't "case" the bike on landing. The pro riders seemed impressed by the suspension out of the box, and so did I.
---
---
I started following some of the pro riders, trying my best to keep up for the few corners that were thrown at me and man I felt strong through some! I must have brought the skill with me from my dirt track days, fast corners and braking were my strengths out there. Then the big jumps came along, and I was a little too afraid to hit those things!
The ones I did hit though were bloody brilliant fun, there were some strong gusts of wind too, so it made it hard to feel entirely comfortable when taking off. Through mid-air there's still that great reactive throttle to help lift the front of the bike to feel that extra confidence.
Stopping for lunch and speaking to some of the other test riders, they all seemed content with how the bike felt, the biggest difference was the reduction in overall width and a very noticeable difference in weight when flicking the bike around compared to the previous model. Smiles were all around the bike, the only con I heard was a rider said they couldn't find the edge of the seat properly.
---
"I can now say I have experienced riding arguably the fastest motocross bike available, on a full-sized MX track, with some outstanding riders…"
---
New interesting technological aspects of the YZ450F are the two mapping settings, with the button located next to the left grip on the 'bar (that also houses the kill switch). The blue light indicates the custom map is in use and no light means full power. The custom map was set up by the team pre-test and I had loads of fun trying to spot the differences.
On map two I did notice that the bottom of the rpm range seemed a little boggy when trying to get on the gas driving out on exits, but there was a slim difference compared to the (full range) max power on the standard map. The mapping is regulated using Yamaha's Power Tuner App, directly off your phone, which is outstanding.
---
There are several new features on the Tuner App and my favourite, creating your own custom maps! Or even quickly modifying engine characteristics in the new quick setting slide bar, which offers seven different power deliveries from smooth to aggressive for simplified tuning. I love it!
---
---
This is done by electronically manipulating the balance between fuel injection (FI) and ignition timing (IG) via a graph like interface. Not only does the app tune your engine but also features a lap timing analysis that can be checked after each ride, an updated holeshot device, and new traction control recorded through the ECU, edited and viewed from the app!
---
With it being over eight years since I've ridden motocross, I had the experience of a lifetime on the unforgettable YZ450F. Being surrounded by some great riders and cool people was fantastic. I can now say I have experienced riding arguably the fastest motocross bike available, on a full-sized MX track, with some outstanding riders now, so I'm walking home with my own accomplishment – and a big bruise on my side as a trophy!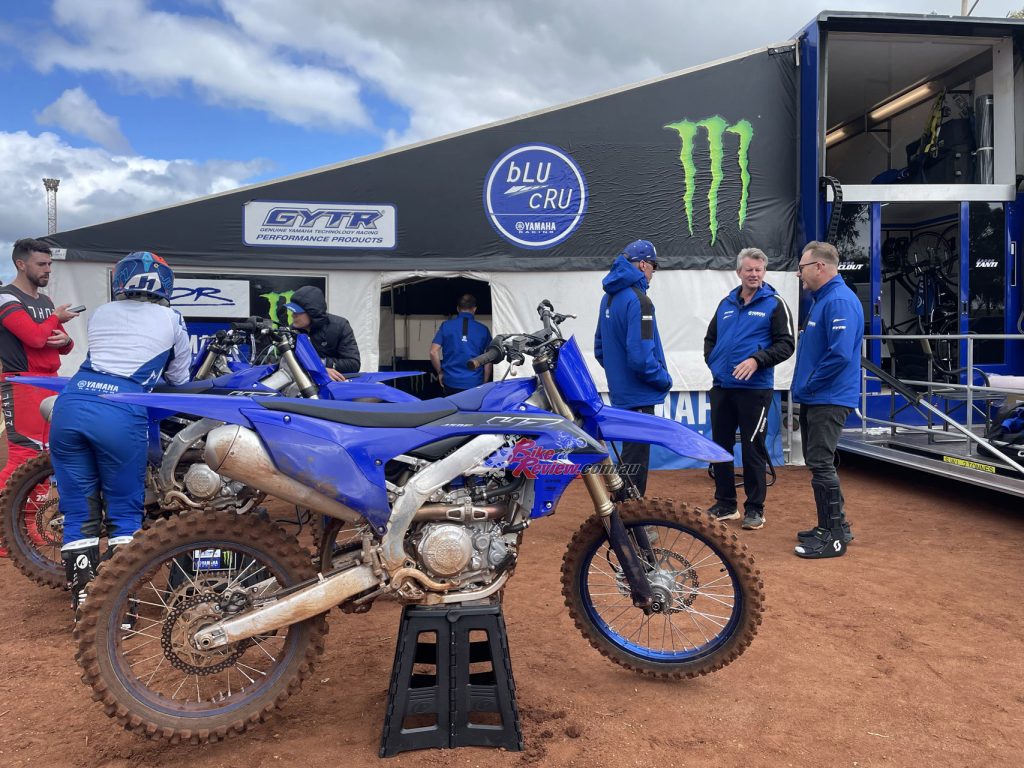 I really started loving riding the YZ450F by the end of the day and didn't want to bring the bike back in after the last stint I made. What can I say, Yamaha smashed it this year with the nimble and powerful 2023 YZ450F… Historically Yamaha been such a dominant team, working hard on their bikes, listening to their riders, and they don't fail to keep improving. With Yamaha tallying up their championships, this new update will certainly help them continue building their legacy counting many more and is undoubtedly going to be very competitive next year.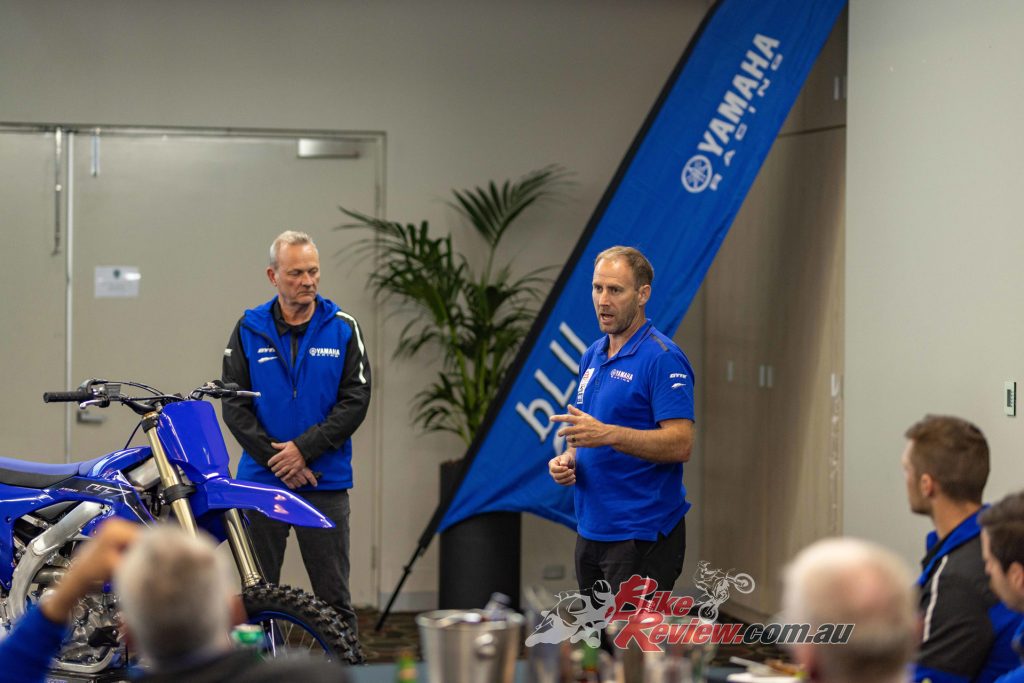 Tech Overview: 2023 Yamaha YZ450F
The new YZ450F features a completely redesigned aluminium bilateral beam frame, which according to Yamaha provides just the right amount of strength and flex for the perfect balance of stability and cornering performance. The result is a better handling machine with lighter feel, more agility and increased traction allowing the rider to enter corners with greater confidence and more line choices.
For MY23 YZ450F is specced with an entirely new engine featuring revised air intake, lightweight camshaft design, new cylinder-head with optimised ports and bigger intake valves, lightweight cylinder and piston, superior cooling system, lighter balancer with fewer vibes, lightweight generator system, a new ECU, plus new timing chain and tensioner.
---
---
The revisions don't stop there because there's a new lightweight clutch design that uses a conical spring with separate push lever for less bulk and better action, while the five speed transmission is now both stronger and lighter.
---
---
Yamaha say that excellent cornering performance and stability are achieved by reducing overall weight. The new lightweight chassis is more compact to give a more ergonomic riding position with optimised rigidity. Front fork settings are also optimised while a new wiring harness, lightweight footpeg brackets, new rear axle and rear brake and integrated handlebar switch all shave weight.
To further cement the M23 YZ450F's position at the top of the tree, new styling is specified with a slim shroud, shorter front mudguard, extended front fork protectors and new flexible riding position. Price is set at $14,549 inc GST ready to ride, available now.
---
2023 Yamaha YZ Range Price List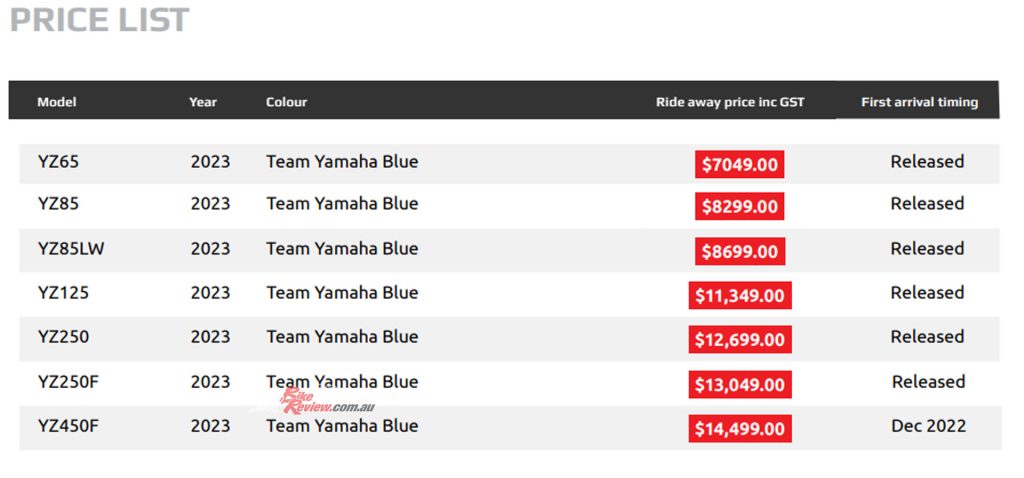 ---
Editor's Note: If you are reading this article on any website other than BikeReview.com.au, please report it to BikeReview via our contact page, as it has been stolen or re-published without authority.
---
2023 Yamaha YZ450F Specifications
Price: $14,549 R/A (Nov 2022 yamaha-motor.com.au price).
Warranty: N/A
Colours: Blue
Claimed Power: N/A
Claimed Torque: N/A
Wet Weight: 109kg
Fuel capacity: 6.2L
Fuel Consumption Claimed: N/A
Fuel Consumption (measured): N/A
---
Engine: Liquid-cooled four-stroke, DOHC, four-valve, 97 x 60.8mm bore x stroke, 450cc, 13.0:1 compression, dry sump, EFI, electric start, TCI ignition, five-speed gearbox, cable clutch actuation
---
Chassis: Frame: Bilateral alloy beam frame.
Rake: N/A Trail: N/A
Suspension: Fully adjustable inverted KYB fork, 310mm travel (f) Fully adjustable KYB shock, 315mm travel. Aluminum swingarm (r).
Brakes: 270mm disc, Nissin two-piston caliper (f), 240mm disc, Nissin single piston caliper (r), Nissin master-cylinders.
Tyres: 80/100 – 21in Dunlop Geomax MX33F (f), 120/80 – 19in Dunlop Geomax MX33 (r).
---
Dimensions:
Seat height: 965mm
Ground clearance: 350mm
Overall width: 825mm
Overall Length: 2180mm
Overall height: 1285mm
Wheelbase: 1480mm
---
Instruments & Electronics: N/A instruments, Engine Mapping, Traction Control, Launch Control, Lap timer via Yamaha Power Tuner app.
---
The Verdict | Review: 2023 Yamaha YZ450F Aussie Launch