The 2020 KLX230 is an affordable, small capacity dual-purpose motorcycle for learners or those after a basic commuter with off road ability... Review: Jack Maguire Pics: Jack, Heather
Much of my early childhood was spent ripping a dirt bike around at the family property and racing flat track at my local track. It's been at least eight years since I've swung my leg over a 'dirt bike', and even then – the last dirt machine I rode was only a little pit bike.
So when the opportunity arose to test Kawasaki's 2020 KLX230, I was anxiously excited. I was keen to rekindle my love for the dirt, but it had been some time since I had seen some dirt action and there were some cobwebs that needed dusting off. The KLX was the perfect bike for the task.
Kawasaki's KLX230 is an affordable road-going dirt bike for leaners and in my opinion is probably the best choice for new riders who are eager to spend some time on the dirt and have a sensible, putt-around bike, and was certainly the best choice of machine for the return to my grassroots.
Starting with the design; with bodywork that takes inspiration from Kawasaki's KX motocross machines, but is really quite simple and not flashy at all, however, I like that simplicity. While simple, the painted surfaces look good and the overall package is neat and tidy. It sits on big aluminium spoked rims, 21-inch at the front and 18-inch at the rear.
---
---
The ergonomics of the KLX230 are relaxed and upright with a relatively low seat height, which makes the commute to-and-from work or around town a really pleasant experience. All controls are easily navigated even with street gloves on and bulky boots, which is a big positive, however I wish there was some adjustability in the levers as the clutch was engaging even with the lever all the way in.
I also found that this bike was a little on the smaller side for me. I'm not overly tall at 183cm, but standing up and having relaxed arms gripping the 'bars wasn't going to be a reality. I'd have to fit bar risers, which is not an issue.
The KLX230 dash is very simple. It has all the basic features such as a speedometer, tachometer, fuel gauge, odometer, trip meter and clock, which is all I really need to know or care about when I'm riding, so I have no complaint about it's simplicity.
THE RIDE
The fuel-injected, single-cylinder, 233cc four-stroke motor produces a sensible 14kW of power and 19.8Nm of torque, which greatly contributes to my opinion that this is a good LAMS choice. Power and torque feels pretty linear overall but a little stronger in the low-mid range. This motor will only let you down on the freeway, where I found the bike struggles a bit to keep up with traffic particularly on an uphill climb.
The power is really easy to manage on the road and on the dirt, and made my return to slippery surfaces an easy and rather quite fun job. Understandably, this bike is no match for modern MX and Enduro bikes and it is not supposed to be, but it'll still set a pretty good pace through some tight trails and is really manoeuvrable thanks to the overall lightweight package. The mirrors do get in the way a bit on the trails though, and it wasn't uncommon to whack one of the mirrors loose on a tree branch.
For the street, the KLX230 is pleasant, comfortable and efficient. The rear shock is very soft, which allows the machine to float over bumps in the road which would otherwise cause spinal damage and chronic back-pain on any other motorcycle!
---
---
The seat feels budget IKEA lounge spec – in that my ass was comfortable for rides not exceeding half-an-hour or so, but felt a bit too hard after long hours in the saddle – so probably not the ideal choice if you spend a lot of time riding. The tyres provide a reasonable amount of grip too, even in the wet!
The six-speed gearbox is smooth, with a lightweight clutch that allows for good, smooth shifts. The brakes are also really good, with plenty of bite in them and decent power, but there is excessive dive in the forks. The KLX230 features Kawasaki's first dual-purpose ABS system, which worked well.
---
---
The bike averaged 3.14L/100km during my time with it, so it is pretty efficient if you ask me! The tank is rather small at a measly 7.5L though and freeway runs are particularly fuel draining.
2UP riding is also surprisingly comfortable, with loads of room to accompany a pillion. But again, comfort is only really a short-term affair on this bike particularly with a passenger. There is preload adjustability on the rear to accomodate the extra weight.
I feel that the KLX230 needs to be a little more resilient. I understand that this is a budget option, however, a small fall on the trail caused some significant damage on the bike, which I was shocked to see. Given that leaners are more likely to have an accident whether that be on the road or trail, one small mistake could easily cost you a bike. Stronger handlebars, levers and controls are needed.
Aside from that though, the 2020 Kawasaki KLX230 is a great all-rounder. It can do off-road work well enough for a bit of fun and is a pleasant road-riding experience too. It makes a great first motorcycle, and a good choice for new riders.
---
---
2020 Kawasaki KLX230 Tech Talk
The 2020 KLX230 features an all-new engine. A bore and stroke of 67.0 x 66.0mm yield a displacement of 233cc. Kawasaki claim the long-stroke engine offers robust low-mid range torque, pulling strongly and facilitating low-speed control.
A simple SOHC two-valve design reduces complexity and contributes to an easy-to-use character that lends itself to trail riding. A fuel injection system, featuring a 32mmm throttle body, delivers precise response, further facilitating control according to Kawasaki. With fuel injection, fuel delivery is stable regardless of outside air temperature or atmospheric pressure. It also ensures excellent starting characteristics, whether the engine is hot or cold, and contributes to clean emissions.
Kawasaki says a gear-driven engine balancer helps to reduce engine vibrations, ensuring smooth power delivery from idle to limiter. This contributes to greater comfort and increased ride quality. The exhaust pipe length was selected to contribute to the engine's low-mid range performance. The exhaust features a tapered silencer with an oval cross-section. Together with fuel injection, electric start offers hassle-free starting at the push of a button.
A six-speed transmission covers a wide range of street-riding situations and allows more comfortable cruising on the highway, Kawasaki states. It is also effective on long straights when trail riding. A 45/14 final gear ratio was selected as the ideal balance for both road and trail riding.
---
---
Designed from the start for dirt-riding use, Kawasaki claim the all-new high-tensile steel perimeter frame offers the handling stability needed for confident trail riding. Designing the engine and frame together allowed greater design freedom, enabling the engineers to achieve a compact chassis. 
Great care was taken to minimise engine height, which allowed an optimal frame line to achieve the ideal rigidity balance. Achieving an ideally positioned centre of gravity, and keeping the seat height low were also possible. The short 1,380mm wheelbase was designed for easy, manoeuvrable handling – another welcome feature for new and intermediate riders. High 265mm ground clearance allows riders to more easily clear obstructions they encounter, facilitating trail riding according to Kawasaki.
A combination of form and function, the frame was also designed to be easy to grip with the legs, offering superior chassis control to the rider. Seams between the shrouds, seat and side covers are very flush, which facilitates control as well as moving around on the bike. The flat design of the tank and seat was designed to give the rider greater freedom of movement when changing riding position, and facilitate sitting farther forward. In addition to trail riding, touring comfort was also a consideration when deciding the seat shape (width) and thickness. Thanks to the design of the KLX230's compact package, seat height could be kept to 885mm.
A 37mm telescopic fork handles suspension duties up front. Kawasaki states it's long 220mm of travel contributes to controllability even on rough terrain. At the rear, New Uni Trak rear suspension with 223mm of wheel travel, Kawasaki claims it provides great road holding ability and bump absorption. Single rear shock absorber with pressurised nitrogen gas is adjustable for preload, allowing riders to set the bike up for their weight or a passenger.
---
---
A 265mm front disc gripped by a twin-piston caliper offers strong, easy-to-control braking, Kawasaki claim. A 220mm disc operated by a single-piston caliper slows the rear. Kawasaki's first dual purpose ABS system, jointly developed with Bosch, was carefully tuned to enable both on-road and off-road use. Designed to assist riders to stop effectively in a short distance in either situation, dual purpose ABS offers additional reassurance to new and intermediate riders when riding on a low-friction surface.
---
---
Large-diameter aluminium wheels, measuring 21in at the front and 18in at the rear, are designed to overcome obstacles encountered on trails, greatly contributing to trail-riding performance. 
All-digital instrument panel offers at-a-glance information care of a large-display easy-to-read LCD screen. Features include a speedometer, odometer, fuel gauge, clock and indicator lamps. Brightness was a priority when designing the KLX230's headlamp, with a large-size 60/55 W bulb.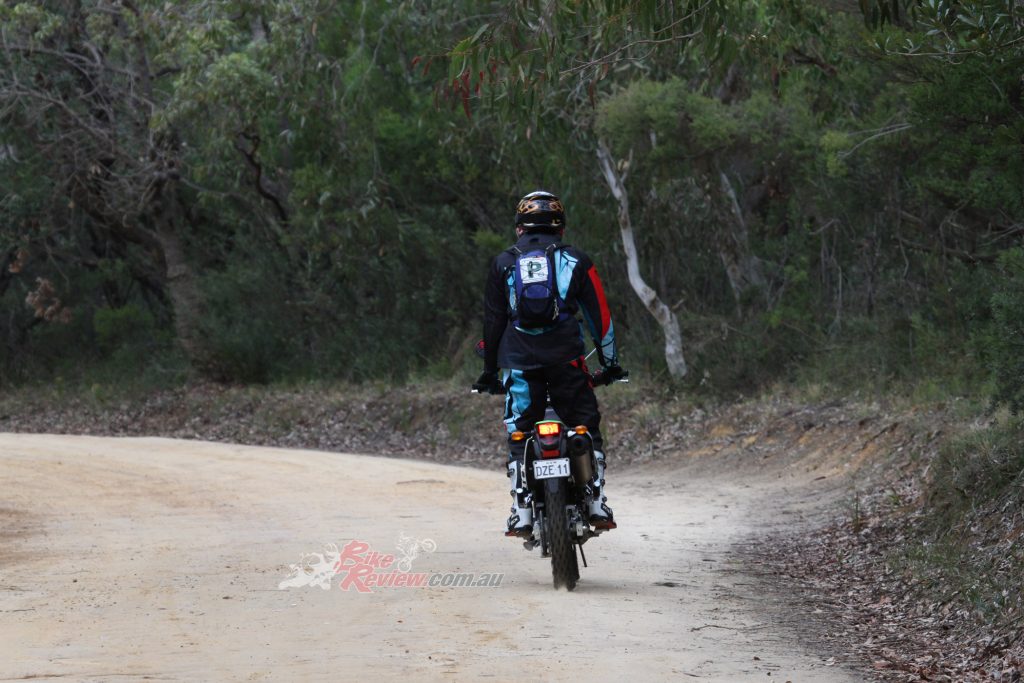 2020 Kawasaki KLX230 Specifications
Price: $5,999RRP + ORC (click here for the R/A price for your postcode)
Claimed Power: 14kW[18.8hp]@7,600rpm
Claimed Torque: 19.8Nm[14.6lbs-ft]@6,100rpm
Wet Weight: 134kg
Fuel capacity: 7.5L
---
Engine: Four-stroke, single-cylinder, SOHC, two-valve, air-cooled, 67.0 x 66.0mm, 233cc, 9.4:1, EFI, electric start
Gearbox: Six-speed
Clutch: Wet, multi-disc
---
Chassis: Tubular, semi-double cradle
Rake: 27.3°
Trail: 116mm
Suspension: 37mm telescopic forks, 220mm travel, single shock, 223mm travel, preload only
Brakes: 241mm petal rotor, two-piston caliper (f), 220mm rotor, single-piston caliper (r)
Wheels & Tyres: Aluminium spoked wheels, 21in (f), 18in (r), IRC Trails GP-21F knobbed tyres, 2.75 – 21 45P (f), 4.10 -18 59P (r)
---
Dimensions
Wheelbase: 1,380mm
Seat height: 885mm
Ground clearance: 265mm
Overall width: 835mm
Overall Length: 2,105mm
Overall height: 1,165mm
Instruments: Digital LCD display
---
---
2020 Kawasaki KLX230 Gallery
---
---
The Verdict | Review: 2020 Kawasaki KLX230, dual-purpose LAMS
The 2020 Kawasaki KLX230 represents great value for money and great versatility. It's a great bike for the local commute, and a great bike to get muddy on. A great first bike!