Unless you own a MotoGP or WorldSBK machine, you haven't got anything tricker than the BMW HP4 Race. We test it to find out what you get for $114,500 AUD... Review: Jeff Ware Pics: Dean Walters, Kris Hodgson
At 146kg dry and a staggering 215hp, the amazing BMW HP4 Race is the lightest and most powerful production superbike ever built by BMW. Is it quick? Hell yeah it is…

You can see our BMW HP4 Race Video Review here and I'm sure you will agree, the HP4 sounds amazing and is super quick down the chute and off the corners, even while short-shifting in damp conditions!
TRICK BITS – BMW HP4 RACE
With an electronics system that would be at home in MotoGP and the same level of suspension and brakes as WorldSBK, this is one serious track bike. In fact, with a carbon-fibre frame and carbon-fibre wheels the HP4 chassis is higher-spec than a factory World SBK racer. The frame is a bridge frame design and uses the engine, which is tilted at 32º, as a stressed member. The sub-frame is a carbon-fibre unit with four mounting points and the frame is tuned for flex and feel as well as mechanical grip.
The frame weighs only 7.8kg and is the very first all carbon-fibre production frame in the world. It is 4kg lighter than the alloy version and is made from a single piece of carbon-fibre using the RTM (Resin Transfer Molding). The wheels are 3.50 x 17in and 6.0 x 17in and are made with a manufacturing process known as braiding, where the wheel is wrapped/made in one continuous piece of carbon-fibre. They are 30 per cent lighter than alloy and gyroscopic forces are 40 per cent less.
The Ohlins FGR 300 forks and TTX 36 GP shock are identical to those used in MotoGP and World SBK while the milled and sheet aluminium swingarm is directly from SBK also. Each set of forks has a production serial number from 1 to 750, and they are specifically tuned for the HP4. Forks just do not get any tricker… The shock is also a customised TTX 36 GP shock, with multiple ride height and shock length availability.
Offset is set by BMW at 30mm but can be swapped to 26, 28 or 32mm. The rake angle is set to 24.5º (RR 23.5º) but can be ranged between 23.5º and 25.5º and trail set to 102.5mm of 95mm to 112mm (RR 96.5mm). The swingarm can also be adjusted 4mm in rotation and ride height 5mm either way.
The incredible brakes are similarly high-spec, being Brembo GP4 PR monoblock calipers, and are WorldSBK specification as are the 6.75mm thick 320mm T-type racing steel brake rotors. The calipers have friction reduction coated Titanium pistons, a billet monoblock radial-mount body, nickel-coated piston tunnels, nickel-plated body and are activated by an RCS 19 x 18 Brembo master-cylinder. The rear caliper is a Brembo four-piston fixed unit with Titanium pistons and nickel plating, squeezing a 220mm rotor.
The 215hp@13,900rpm engine revs to a staggering 14,500rpm and makes 90ft-lbs@10,000rpm. It has a close-ratio gearbox, reverse quickshifter and is WorldSBK and World Endurance specification. Based on the S 1000 RR engine, it shares the same cylinder-head with different, high-lift camshafts and cam timing, 13.9:1 compression ratio, variable-length intake funnels that are longer and wider, and a larger airbox.
The pistons and conrods are weight selected and balanced, the latter are forged Pankle items. The crank itself weighs 200 grams less than the S 1000 RR one, done by introducing bore holes in the crank webs and primary drive wheel.

The crankshaft is hand fitted with the plain main bearing clearances set to the optimum level and to further help reduce friction, Shell Advance Ultimate 0W40 is used and a special billet sump fitted. The oil pump has an adjustable regulator, while the S 1000 RR oil cooler and radiator are retained. There is no thermo fan fitted, however the water pressure is 1.8 bar, .6 bar higher than the S 1000 RR, raising the boiling point to well over 100ºC.
The stunning HP4 exhaust system is full Titanium, including the manifold flanges. The lightweight muffler is carbon-fibre and the bike is loud!
A very noticeable change in the engine is with the gear ratios. The HP4 close-ratio gearbox only shares third gear with the S 1000 RR. First and second gears are super long, while fourth, fifth and sixth are nice and close. The primary ratio is unchanged, while final gearing is variable from track to track. I did not check what gearing was fitted for SMSP but delivery gearing is 16/43 and it comes with 15, 17 F and 41, 42, 43, 44, 45 R sprockets.
The HP Shift Assist Pro is fitted and the gearbox is reverse-shift, or race-pattern, so is one-up-five-down. Auto-blip on the reverse shift is featured and there is an electronic engine brake system that can be tuned for engine braking level into turns.
When each HP4 engine is finished, it is run on a dyno, then the valve clearances are re-checked before it is sealed and fitted to the bike. BMW recommend an engine exchange every 5000km at a cost of approximately $17,000 EURO.
The electronics are mind blowing with a 2D logger and 2D dash. Wheelie control, audible DTC traction control, EBR engine braking control, pit lane limiter, launch control and lots more.

The wiring is reduced to minimum due to no need for any road going electrics and a lightweight Li-ion battery is fitted. Switchgear is straight form WorldSBK. On the R/H side is the red kill switch, blue riding mode options switch, pit lane limiter and starter button (black). On the L/H side the blue button is for DTC and EBR and the yellow button is the menu scroll button.
The DTC has 15-levels, -7 to +7 and 0. Riding Modes are Wet, Intermediate, Dry 1, Dry 2. The modes are all full power, they just offer different levels of rear wheel traction. Like Wheelie Control, it allows gear-specific adjustment and intervenes based on bank angle and slip. It cuts cylinder power completely, of one or more cylinders, depending on slip detected.
EBR or Engine Brake Regulation is 15-way adjustable from – 7 to + 7 including 0 and is gear-specific if desired. The Wheelie Control has levels 1 – 5.
Launch Control is automatically engaged when first gear is selected and reduces torque for maximum controllable drive, disengaging once second gear is selected. The Pit Lane Limiter is programmable and is activated by pressing the black button while riding in first gear.
The 2D dashboard is trick. It has a mechanic side for use in the pits and during warm up, showing oil and fuel pressure, coolant and oil temperature. When first gear is selected the dash switches to rider side and shows rpm, ride mode, DTC and EBR settings, temp and can show: lap time, lap time gap, best lap, brake pressure front, brake pressure rear, spring travel front, spring travel rear, throttle position, front wheel speed, rear wheel speed and lean angle.
Of course, being a track bike there is no ABS system. The bodywork is all carbon-fibre and the bikes, including the engine, are all hand assembled.
THE RIDE – BMW HP4 RACE ON TRACK
The opportunity came to test ride the HP4 when BMW Motorrad Australia's Marketing Manager, Nigel Harvey, invited us along to a BMW Experience ride day at SMSP. We were joined by BMW staff and Shane Kinderis of the Next Gen Motorsports team and Alpine Performance.
I love bikes. All bikes. Cruisers, nakedbikes, sportsbikes, adventure bikes, even the kid's PW50.
I'm always excited about upcoming rides. Occasionally, perhaps every few years, I lose sleep the night before a ride as I am so pumped. This is one of those occasions…
I arrive at SMSP for the early morning briefing and to give myself time to chat with the BMW staff, eye-off the HP4 Race and sink a hot coffee or two. Unfortunately the weather is looking dodgy, with dark clouds hanging over Western Sydney. The air is damp and it's definitely going to rain. BMW make sure I'm in the very first fast group session, just in case it is the only dry one.
As a result, it's a bit of a rush to get on the bike. I jump on a standard S 1000 RR to help Cam Donald and Glenn Allerton scrub new tyres in for customer rides and shoot out in the very first session of the day with the slower group to get my eye in, swapping bikes once to scrub a second set of hoops in.
The S 1000 RR feels blindingly fast, particularly after spending the month or two prior riding small low power bikes for reviews, so I am grateful for this opportunity. I can only imagine what the HP4 Race will be like and I need to be warmed up…
I pit at the end of the session and grab a sip of water before hopping on the HP4 Race for the first time. After a quick lever check and a run through the starting, stopping and DTC/Mapping switches, it is time to head out. Having this opportunity to jump off the road bike straight onto the HP4 Race gives me the best opportunity to assess the bike and I couldn't be happier.
The track is dry but the sky is dark as I fire the bike into life. Sitting on the HP4 while it quickly warms up at a fast idle, I have to say it doesn't feel much like an S 1000 RR. It's tall, firm, has a narrow thin seat, high rearsets, wide 'bars, and feels race ready. The weight difference is immediately noticeable. The S 1000 RR feels like it has a pillion on it compared to the HP4 Race and I haven't even moved yet.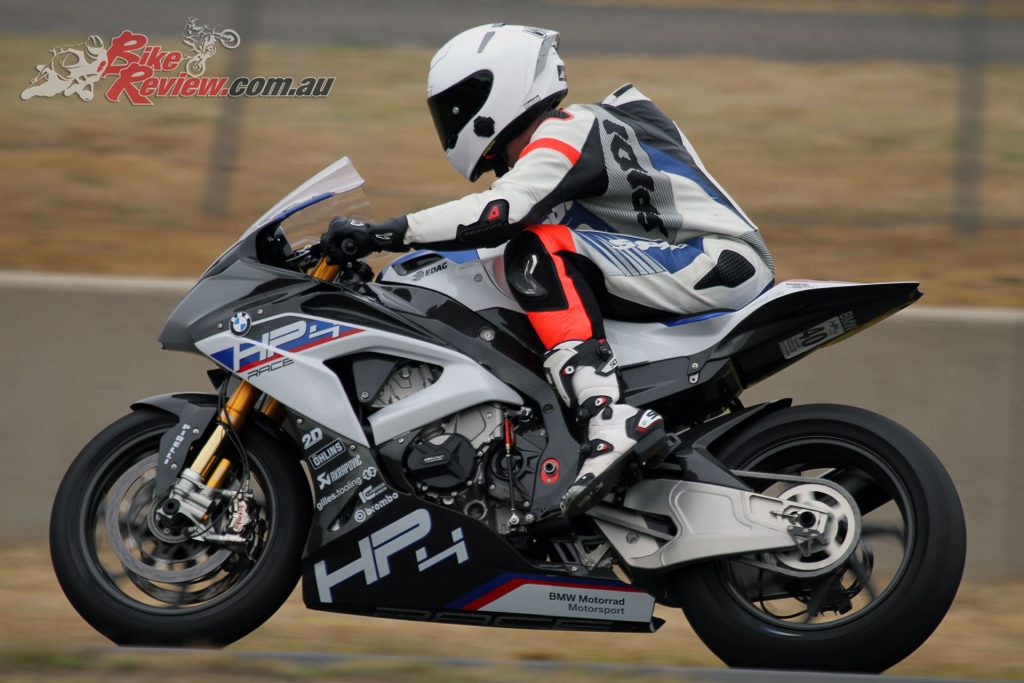 The engine gets hot quickly, as any tuned motor will,and as the bike does not have a thermo fan, I really need to get moving to get some airflow through the stock S 1000 RR radiator. I work my way to the front, select first gear (one-up) and I'm let out on track before the engine gets too hot.
Clutch release is silky smooth and take-up over a broad span of the lever, making it one of the nicest clutches I've experienced. I won't need it again until I pit, thanks to the reverse auto blip quickshifter. First and second gears are super tall but the engine pulls so strongly. I'm trying to keep some heat in the tyres as they are straight off the warmers and the track is cool so I need to push as much as I dare to get the most out of the session, particularly with the dark clouds looming.
By turn three, my knee is skimming the tarmac through the bumpy apex and I feed the power on over the hill to T4 and get a real surprise as the front wheel reaches for the sky. Holy shit. This thing is quicker than I anticipated. Wow.
I have to brake harder than I feel comfortable doing to get the bike into T4 on a tight line thanks to the speed but not surprisingly the HP4 Race just does it. The brakes and suspension and front feel is incredible. Amazing.
I settle down and get a rhythm going for the rest of the lap. It's easy and comes to me quickly. A good bike will do that. I feel completely confident and comfortable and wish I was racing as I tip into T9, scraping the entire side of my leg and knee and just about my elbow through the tight right-hander for the first time on a bike I've never ridden. Feels like I've been riding it for years…
Out of the T9 I explore the upper rev range some more. Fast is an understatement. It's so much quicker than a standard S 1000 RR it is almost as though the S 1000 RR is a LAMS bike. I kid you not… T10 arrives in a few frantic seconds and I don't reckon the front tyre was on the ground for all three gears as I shifted through the close ratios via the incredible quickshifter between T9 and T10.
I flick the $115,000 bike onto its side at full tilt, shift back a gear, hard on the brakes, shifting back another gear before throwing it on its left side and getting hard on the gas for a run through 11 and 12. The DTC is audible and is going bananas but working incredibly well. I've forgotten what the bike is worth by now. I'm too engrossed in this amazing experience.
I enter the chute for the first time and there is a quick rider on an S 1000 RR ahead. I pass the bike like it is a G 310 R. Unbelievable! Arriving at the super fast and sketchy T1 at warp speed, my brain is not ready, I get in hot but the bike just goes wherever I want it to and that feel on the brakes again is incredible even at such high speed.
The HP4 Race pulls fifth gear out of T1 like a supercharged V8. Definitely the quickest bike I have ridden down the chute at SMSP. Wow… this thing is freakin' angry.
I brake as late and deep as I can into T2 and I only just manage to hold on, such are the G-forces. The WorldSBK specification brakes are insane. Feel is next level, initial bite is not as super strong as I anticipated but that next small squeeze creates stopping power a fair way above what the standard average sportsbike will give you. In fact, aside from WordSBK bikes, nothing I've ridden is even ballpark for feel and power. It's a whole new limit.

The change of direction between the tightening radius T2 and into the right-hand T3 is always a challenge to execute quickly and efficiently on a large capacity bike but not on the HP4 Race. It's hard to comprehend that it is a 1000cc four-stroke based on a production bike. It feels like a GP bike.
The suspension at both ends is softer than I imagined and I'm not sure how it would be in a race situation lapping much faster but for me, here, now, I would not touch a thing. It makes the bike less tiring to ride and a real joy with lots of feedback. There is great balance and support while at the same time all bumps are soaked up silky smooth, particularly the bad sections like T3 apex.
Over the hill this time I manage a bit more finesse on the throttle and get more speed and less wheelie, I also get T4 entry right, grinning from ear to ear as I am able to carry 250GP corner speed through T4 at mega lean angle. Flick to the left, too easy, a dab on the brakes to wash some speed off and get the front down and turned then I fire it out of the uphill T5 left.
The bike pulls third gear up and over the hill amazingly easily, with great speed. Braking for T6 and getting it in tight is usually tricky but not on the HP4 Race. The grip is endless and the feedback intimate. Second, third, rev limiter into T8 for the ultra fast Corporate Hill.
What a buzz keeping the throttle rolling on while dropping into the off-camber blind entry, driving into the traction control with 215hp on tap, exhaust screaming as the audible pops get louder and faster, it gives a picture of the TC working and encourages me to wind on and push into the DTC and really trust it. I've never experienced that before with road bikes that just have a flashing light. As the BMW guys explained before the ride, it really helps to trust it and drive into it rather than back off or roll out.
Braking later than I ever have for T9, I tip in and a spray of rain comes over my visor. Bugger. It's damp this end of the track. I push on, desperate to get that one more lap before this ride of a lifetime is cut short. I roll off only slightly but still find my knee on the ground through the last three turns. The bike is on slicks. Amazing stuff.
Another mind-blowing run down the chute (check the video for the glorious induction noise) with no rain after the start / finish line, I get another half lap on dry tarmac. This time I push into T5 a little too hot, the front folds as I crack the throttle, but I keep winding it on and stand the bike up a tiny amount and on we go. It's amazing. I keep saying it… The bike talks so easily. It's nice to dance with near the limit…
The rain is misting down as I round Corporate Hill but I still feel confident and I want to stay out. I continue to lap as the rain sprinkles down, only slowing to the high 1:49s, low 1:50s, on slicks and my knee still touching on some turns. I get no slides, no nothing, and although there is no standing water on the track, I'm still amazed at the feedback of the chassis and the way it is letting me keep going with complete confidence.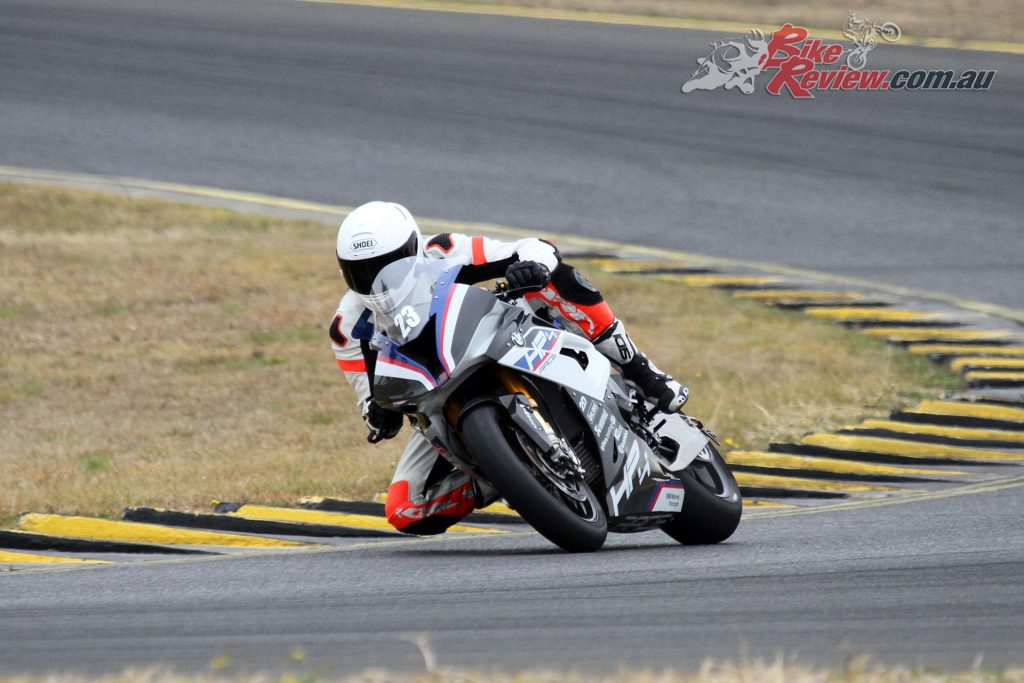 Eventually after six more laps I'm the only one out and get black-flagged. Apparently BMW were worried and wanted me in. I can't imagine why? Oops.
I can't stop smiling after the ride. It's something that will stick out as a highlight of my career. Thankfully I had a full session the next session, which was almost all dry, so got my full 40-minutes on the HP4 Race. There was quite a bit of traffic but I still managed to easily lap in the 1:40.0 bracket and with the best of the good sectors from each lap I'd say I would have had an ideal time in the 1:38s or even 1:37s on the bike in the conditions.
For me these days, that is super quick, and I would not be able to do it on many bikes at all. What a test. Stand outs for me are the sheer acceleration and braking forces, the brake and suspension feel and the stunning looks. I guess that is everything really!
Certain highlights in two decades of testing sit at the top of my 'best experiences' list: The ex-Kocinski Cagiva 500 GP bike is top, a fair few 250 GP bikes, 125 GP bikes, all of the 2011 WorldSBK factory bikes and World SuperSport bikes rate up there, loads of the ASBK machines over the years and plenty of wild turbo specials and new models.
Well, after two amazing 20-minute sessions at SMSP, the stunning BMW HP4 Race is sitting at the pointy end of that list with the GP two-strokes. Nothing can beat the 500 for sheer fear factor, or the WSBK bikes for exclusivity and blinding speed, but, after my ride, as an overall package, the HP4 tops my list as best ever overall track bike… For more info on the amazing $114,500* BMW HP4 Race visit the BMW Motorrad Australia website.

BMW HP4 Race Specifications
Price: $114,500* RRP (*NSW delivery).
Claimed power: 158kW[215hp]@139,00rpm
Claimed torque: 120Nm[90ft-lbs]@10,000rpm
Dry weight: 146kg (171.5kg wet)
Fuel capacity: 17.5L
Engine: Liquid-cooled inline four-cylinder four-stroke, DOHC, individual rocker arm valve actuation, 16-valve, 33.5IN/27.2EX, 48mm throttle-valves, 999cc
Gearbox: Six-speed, close-ratio EVO gearbox (Primary: 1.652, 1st: 2.388, 2nd: 2.000, 3rd: 1.727, 4th: 1.545, 5th: 1.400, 6th: 1.291 Final 2.647. Two-way quickshifter.
Clutch: Wet multi-plate, cable actuation
Frame: Carbon-fibre monocoque RTM frame with adjustable steering head angle and swingarm pivot point, load bearing engine. Aluminium swingarm, 604mm L, centre of rotation -3mm compared to K46MR3 (adj + – 4mm, + – 3mm, + – 2mm, + – 1mm). Rearsets eight-way adjustable, seat height three-way adjustable. Adjustable quick-change racing handlebars.
Rake: 65.5° adjustable +or- .5º, Offset: 30mm (adj 26, 28, 32mm) Trail: 102.5mm (adj 95 – 112mm)
Suspension: Ohlins FGR 300 forks, SD052 Ohlins steering damper, quick wheel change system, 130mm travel. Ohlins TTX36 GP shock, adjustable strut height and tension strut length, 120mm travel.
Brakes: Brembo GP4-PR monoblock 320 x 6.75mm our-piston calipers, T-floating racing brake 320mm rotors, RCS19 x 18 radial-pull master-cylinder. Brembo four-piston World SBK rear caliper, 220mm rotor, Titanium pistons.
Electronics: 15-level DTC, 15-level EBC multi-adjustable for multiple parameters. 2D dashboard, 2D datalogger, lap timer, GPS, recorder. Pit lane limiter, launch control, HP4 Race Shift Assist, World SBK buttons.
Wheels & Tyres: 3.50 x 17in (f), 6.00 x 17in (r), carbon-fibre wheels, 120/70-17 Pirelli Diablo SC2 slick / 200/60-17 Pirelli Diablo SC2 slick.
Wheelbase: 1440mm
Seat height: Adjustable
Instruments: 2D Dash.

BMW HP4 Race Gallery

The Verdict | Review: BMW HP4 Race
Sure it costs more money than most of us will ever have spare, and needs an engine rebuild every 5000km at a cost of $27,500 AUD, but who cares! This is the wildest, most amazing, fastest, craziest, most desirable production bike that any of us here at BikeReview.com.au have ever had our hands on… We rode it at Sydney Motorsport Park and we are still smiling…