Brian Gillen, Adrian Morton & Massimo Bordi met to discuss the Brutale RR. Eight weeks later they had the Rush 1000! Here's the inside story and the most comprehensive test yet... Review: Alan Cathcart Photography: Cristina Pertile
Essentially a radically remodeled Brutale 1000 RR streetfighter, both courtesy of MV's famed former progettista Adrian Morton, who recently left the firm after 16 years, the Rush is a still more extreme version and the most expensive naked money can buy….
The sold-out success of the hand-built, limited edition, 300-off examples which have been produced in recent months at the Italian trophy brand's Varese factory is proof that, as a key element of its Russian owner Timur Sardarov's strategy of focusing on unique high-end products that nobody else could or even would make, proves just how true the old cliché is that nothing succeeds like excess – except maybe even more of the same….
---
---
The Rush 1000 retails in Australia for $60,890 Ride Away, making it the most expensive street legal nakedbike money can currently buy. All units coming to Australia are currently pre sold, but MV Agusta importers, Urban Moto Imports, are trying to get some more from the MV factory.
Replete with heaps of carbon-fibre, a titanium exhaust, numerous magnesium castings, and undeniable in-your-face allure, just standing still the Rush looks ready to live up to its name on any dragstrip, making every traffic light you encounter the staging area for a standing quarter. It doesn't just have massive presence – it has serious attitude, too.
---
The Rush 1000 retails in Australia for $60,890 Ride Away, making it the most expensive street legal nakedbike money can currently buy…
---
The Rush got its name as a direct consequence of a top-level planning meeting of MV Agusta key execs, which convened in the company's lakeside Varese HQ in the run up to the November 2019 EICMA Milan Show, at which it made its debut. But at that stage – eight weeks before it broke cover, not months – it didn't yet exist! "The Rush actually got created on a whim," declares MV's American-born R&D Director Brian Gillen, 46, who heads up the 21-strong team of engineers and stylists in Varese charged with developing all the company's new models, alongside the comparable size workforce at the CRC design studio in San Marino.
---
---
"It came about during a meeting between myself, Massimo Bordi [legendary former Ducati chief engineer/GM, now MV's Executive VP] and Adrian Morton. We were doing a design review on the Brutale RR with the new four-cylinder engine, and looking at the images of the bike on the screen, I started to say to myself, "What if?" I've always been a big fan of Top Fuel Dragsters, and looking at the Brutale before us, I put a picture up on the screen of a Don Garlits dragster, with its spoked front wheels, its massive exhaust pipes out the sides, and the rear wheels shrouded with disc covers.
---
---
"Hey, Massimo, this bike would look really cool with a Top Fuel Dragster motif," and Massimo said, 'Yes, but I really love round headlights – you must put one on it!' – and then it was what if, what if, what if. So then Adrian Morton got in on the discussion, and very quickly what was supposed to be a project meeting on advancing the Brutale 1000 RR degenerated into something quite else – a discussion on how we could customise that very same bike into a two-wheeled version of a Top Fuel Dragster!" Morton apparently came back next day with a couple of sketches of what this EVO Brutale might look like, and all concerned – including their boss Timur Sardarov, when he was shown the images – liked the result so much they decided to build it. So, from there to get the prototype ready for the Show just eight weeks later was a big, er, rush – geddit?
So, beneath the Rush's radical in-your-face styling lies a similar platform to the Brutale 1000 RR that's now in volume production. This means the Rush uses the same radial-valve eight-injector (four Mikuni lower ones, and four Magneti Marelli uppers with an increased flow rate) 998cc short-stroke in-line four-cylinder motor introduced a year ago, and designed with a focus on reducing friction and enhancing lubrication en route to producing a claimed 205bhp[153kW]@13,000rpm, and 116.5Nm[86lb-ft]@11,000rpm.
---
---
That's with the stock road-legal Arrow exhaust, but fitted with an even better sounding and still Euro 4 compliant performance set of pipes from SC-Project – makers of race exhausts for Marc Márquez's Repsol Honda MotoGP team, Andrea Locatelli's World Supersport champion Yamaha R6, Michael Dunlop's TT-winning Paton Supertwin etc. – the Rush motor makes 209bhp[156kW]@13,600rpm, and runs safely to a 14,200rpm limiter, with 3 per cent more torque, which is also delivered more smoothly. All 300 bikes were built in 2020, so don't need to meet Euro 5 requirements mandatory from 2021 on.
At a time when other manufacturers are increasing capacity of their engines (Aprilia and Ducati being the most obvious such examples) to redress the effects of such regulatory hurdles as Euro 4 + 5, MV Agusta has travelled in the opposite direction, versus the 1078cc displacement of its previous range-topping Brutale 1090 RR. "You can obtain more power in one of two ways – either with greater displacement, or with extra revs," says Brian Gillen. "But with displacement we'd have had to go even bigger than 1078cc, if we really wanted to get what we were looking for from a performance standpoint. So we chose instead to go with a smaller displacement, but with a higher revving motor – and the result is considerably more horsepower."
So, the Rush 1000 motor uses the same 79mm bore as before, but with the stroke shortened from 55mm to 50.9mm for that 998cc capacity. This reflects MV's objective in redesigning the engine, which is basically to productionise what their next generation F4 Superbike engine would have been, had they continued to race it. "So, everything that we learned in World Superbike racing in 2015-2018 with Leon Camier and Jordi Torres has been put into an updated version of the F4 engine," says Gillen."
It's the motor that Leon Camier always wished he had, and maybe if we'd given him it he might have finished on the World Superbike rostrum at least once, instead of coming fourth all the time [actually, six times! – AC] without ever quite making it onto the box!" Add in a claimed dry weight of 186kg thanks to copious magnesium covers and titanium bolts, screws and fasteners, as well as carbon-fibre bodywork – well, what there is of it – and on paper at least the Rush 1000 has plenty to get excited about in terms of performance. This is more motor than a World title-winning Superbike had less than a decade ago.
---
---
The Rush's four-cylinder engine retains the same crankcases as before, but machined differently to incorporate an uprated lubrication system aimed at countering oil surge under the bike's massively enhanced acceleration. This delivers over 1G when the launch control button on the right handlebar is pressed, says Gillen, en route to an official 2.9sec 0-100km/h trap time – with lights and a horn, and Euro 4 compliance. Phew!
---
An official 2.9sec 0-100km/h trap time – with lights and a horn, and Euro 4 compliance. Phew!
---
Essentially, as on the Brutale 1000 RR what the R&D team has done is to copy the format of Mike Hailwood's 1960's MV Agusta World champion 500GP four, by creating an oil reservoir beneath the crankcase. This results in a semi-dry sump engine with reduced oil drag, while also positioning a splitter within the casing to minimise surge, and stop the oil rushing to the back of the crankcase under hard acceleration, thus starving the motor of lubricant. "Motorcycle physics haven't changed from the 1960s up to today. We simply reapplied the technology from back then, in a modern context."
The Rush's modified shorter-stroke crankshaft has altered lubrication channels and enhanced-spec bearings and carries forged titanium conrods (rather than machined from billet, so even stronger as well as lighter, to further enhance pickup) made by Oral Engineering in Modena, headed by former Ferrari F1 technical boss Mauro Forghieri. These carry forged, reshaped three-ring Asso pistons with cast-iron compression rings aimed at reducing friction.
---
This is more motor than a World title-winning Superbike had less than a decade ago…
---
The F4's 16-valve cylinder-head casting has been retained, but with quite different intake porting plus an all-new airbox with longer intake ducts, and new camshafts driven as ever by a central chain to obviate the inevitable twisting potential of a side-mounted camdrive, in delivering greater lift and dwell for the valves. Additionally, the revised combustion chambers housing those 31.8mm intake and 26.5mm exhaust radial titanium valves have now been machined to deliver a high 13.6:1 compression ratio that's another key element in obtaining the radically enhanced acceleration the motor offers – another play on the Rush name. Ho, ho….
Adrian Morton's ultra-esoteric short-ass Rush styling features clip-on 'bars which help your body weight load up the exquisite Kineo spoked front wheel for extra grip in turns, with a tall 845mm-high hand-stitched Alcantara twin-pad seat with j-u-s-t enough room for a passenger, who ideally should be short, light and very brave! Massimo Bordi's round headlight is all present and correct, but it's doubtful even he expected it to be quite like this full LED one (which looks to be a JW Speaker 8791) in a carbon shell, with cornering function via an array of LEDs that fan out around the lens.
---
---
Switch the ignition on, and these strobe in succession, then illuminate one by one the further the bike leans over, as determined by the six-axis IMU which also provides data for the cornering ABS and lean-sensitive traction control. Neat! The minimalist styling with a beer cap taillight includes vestigial MotoGP-style wings for extra downforce, while the forged aluminium rear wheel held on by a single CNC-machined nut carries a drag-style carbon-fibre shroud that's said to improve aerodynamics, yet doesn't appear to affect stability in sidewinds.
Beneath this frankly divisive but ultra-distinctive styling you'll either love or hate, the Rush uses the same rolling chassis as the Brutale 1000 RR, with its composite tubular steel trellis frame and single-sided swingarm fitted with mouth-watering hardware including multi-adjustable semi-active Öhlins electronic suspension with optional manual override, Pirelli Super Corsa SP tyres – the rear a fat 200/55 – 17 cover – and Brembo's range-topping Stylema monoblock calipers gripping twin 320mm floating front rotors via a radial pump, with a 220mm rear rotor and two-pot caliper.
---
---
These come with Bosch 9 Plus Race Mode ABS installed, with RLM/rear wheel lift mitigation, part of the electronic package delivered by the Eldor EM2.0 ECU. Besides the ABS this also provides four RbW riding modes (Race, Sport, Rain and Custom), switchable eight-level cornering traction control that's lean angle sensitive, cruise and launch control, and anti-wheelie control aka Anti-Lift Control by MV. This also incorporates a two-way quickshifter as standard, while connectivity between the smart-looking TFT dash (that's way more legible and easier to navigate than anything MV has previously furnished) and your smartphone allows settings to be adjusted remotely, records of your rides to be downloaded and shared, and navigation mirrored from a phone app to the dash.
---
---
The result is an accomplished piece of two-wheeled design theatre complete with its own trademark quad exhaust delivering a haunting howl at high speed – remember, it has Euro 4 compliant silencing only. Yet for all its visual swagger and seemingly purposeful appearance, the Rush is rather improbably two bikes in one, well befitting the Jekyll and Hyde cliché – it can be a peaceable pussycat or a man-eating tiger, depending on your taste, and circumstances.
The Ride
My chance to ride it on open roads in the foothills of the Alps north of Varese – reaching which entailed a good half-hour of battling that city's traffic in getting the Rush to live up to its streetfighter syndrome – was followed 24 hours later by half a day track testing it at the Vairano test facility out in the rice fields (risotto, anyone?) south of Milan.
---
---
There, on the roads employed by Italy's government agencies to homologate new vehicles for road use, I could let rip with the Rush in getting it to live up to its name – though I did get told off for getting the rear tyre ready to race via a burnout or two ahead of a handful of launches down their dragstrip. Apparently, it spoilt the aesthetics of their track surface…!
The previous day riding in city streets in the Rain mode, or running in lines of traffic heading through Alpine foothills towards the Swiss border in Sport, I'd found the Rush to be an improbably friendly real world ride, aided by the surprisingly comfortable riding stance – as on the Brutale, you sit in the bike, not on it as you subconsciously expect to do on this jumped-up café racer.
---
The Rush doesn't just own the streets – it tears them up…
---
The reach forward to the clip-on 'bars isn't too extreme, and the bar-end mirrors work well and look cool, flexible and forgiving low down, with an unexpectedly light clutch action given the acres of performance it has to harness, the Rush is a switch-hitter of a motorcycle that's happy to be short-shifted at around 7,000rpm in everyday riding, when it's an improbably sweet-natured streetfighter.
---
---
But show it a stretch of open road, and it'll just rocket away from a standing start, though once on the move you must be ready to kick it down at least a couple of gears when a gap opens up in a line of traffic to be able to take advantage of that – there's not a lot of midrange torque in relative terms, and top gear roll-on in highway use isn't the greatest below 9,000rpm. But notch down on the gears to get the Rush exhaust screaming higher up the rev scale, and you must tense yourself to hold on tight as it catapults forward like an Exocet missile.
The Rush doesn't just own the streets – it tears them up. MV boss Timur Sardarov's objective of delivering a high level of performance that's "satisfying, but not scary" has been achieved. But how exceptional really is that? Well, how does a homologated top speed of 'over 300km/h sound – from a nakedbike that you can ride to work on your daily commute?
Obviously, there's no opportunity to use more than a fraction of that performance in real world riding, but the following day at Vairano I had a good go at accessing most of it. Such is the output of the Rush's motor, coupled with its long-legged gearing that I can't truthfully say I ever got it really motoring hard on in fifth gear before running out of room – even on the drag strip. So top gear is only there for German Autobahns and the Isle of Man TT Mountain Course in race fortnight when it's one way, and you can exploit that phenomenal top speed – but that's not to say you can't get heaps of thrills from this ultimate Roadster in lower gears.
---
---
The two-way powershifter is brilliantly set up, as befits the company with a longer experience of fitting this to their road bikes than anyone else – it's exactly as sensitive as you want it to be, i.e. not too much. But you do feel a step in the power delivery at 9,500rpm, when it seems the acceleration kicks in even harder. When this happens it's unbelievably exhilarating to experience – yet all achieved with minimal vibration at any revs, thanks to the effective gear-driven counterbalancer installed.
You can feel by the way this engine loves to rev that Gillen & Co. have indeed achieved their objective of decreasing friction on the Rush motor – but they've also reduced inertia via the ti-rods and lighter crank, resulting in acceleration that's so intoxicating you can't help going back for more – and more, and more again, each time checking out the G-Force reading on the TFT dash as you do so. Truly addictive, but – here we go again, so hold on tight!
Yet thanks to the eight-stage TC I gradually discovered that you can gas the Rush hard open at relatively high angles of lean – and the lean angle display on the dash is also very enticing, if you can tear your eyes away from the road ahead to take a quick glance at it mid-turn! I started out at TC level 4 at Vairano (8 for most, 1 for least) and ended up at level 2, which just a couple of times let the forgiving rear Pirelli start walking if I used a gear lower for a given turn, but with lots of warning so it was easy to control.
At the other end of the bike, the Rush held its line well exiting a turn – it doesn't push the front wheel when you get hard on the throttle to drive out of a bend. Indeed, the Rush's steering felt very direct and responsive as befits its naked superbike character, and after stiffening the electronic Öhlins suspension compared to my previous day's ride.
It had been improbably compliant with quite good ride quality over cobblestones and assorted road rash via the softer settings in Sport mode, let alone Rain, I found it ate up the few bumps on the Vairano track surface quite well on the stiffer settings of Race mode. And while those Brembo Stylema brakes are extremely effective in hauling you down from the terminal velocity which that MV motor has catapulted you to, they do so in an entirely progressive and predictable way.
---
---
On my second day aboard the Rush I was by now getting used to how it handled, and the extra confidence to increase turn speed this delivered made me reluctant to stop riding this seductive motorcycle that's so much more than just a hey-look-at-me designer bike, until they parked the fire truck on the track to make me pull in! The Rush really is the business, and pricey though it is, the lucky 300 people who have one in their garage – please, not the house as a display item: this bike deserves to be ridden hard and often! – can count themselves very fortunate, as well as perspicacious.
Dripping with desirability, the Rush 1000 is an enticing combination of matchless performance by Naked bike standards, coupled with peerless handling and arresting good looks that come stamped with the MV Agusta trademark. It's a fitting farewell to Adrian Morton's stellar 16 years at the company. But that's not the end of the Rush story, according to Brian Gillen…
---
---
"The Rush has entered into MV Agusta's heritage as a bike that's beyond extreme in terms of styling – but which our customers can actually ride and enjoy on the street," he proclaims. "It's not a race bike, though it has a race bike's performance. So, in future we may well see further iterations of the Rush, always using the four-cylinder Brutale 1000 RR platform, but each time with a different slant on the styling, while still retaining the Rush personality. However, these won't be subtle changes, only radical ones – the Rush is a bike that's beyond subtle, only extreme"!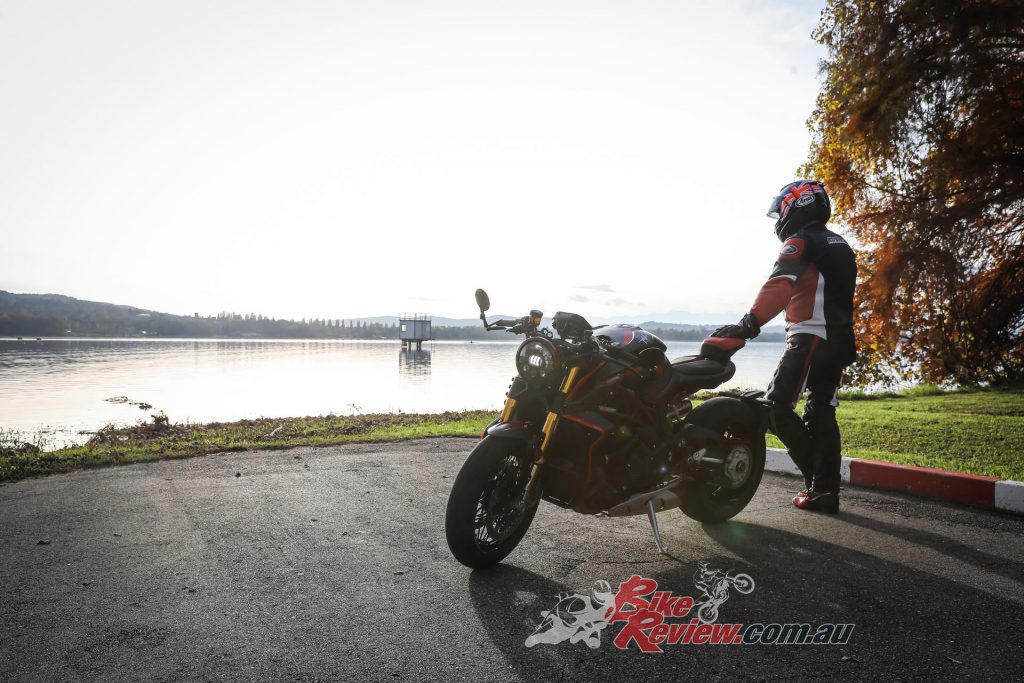 MV Agusta Rush 1000 Specifications
Price: $60,890 Ride Away
Claimed Power: 153kW[208hp]@13,000rpm
With race kit exhaust: 156kW[212hp]@13,600rpm
Claimed Torque: 116.5Nm[86lbs-ft]@11,000rpm
Dry Weight: 186kg
Fuel capacity: 16L
---
Engine: Four-cylinder, inline, DOHC, 16-radial-valve liquid-cooled, 998cc, 13.4:1 compression, 79mm x 50.9mm bore x stroke, MVICS, eight injectors, Magneti Marelli EFI, RbW and Eldor EM2.10 EMS.
Gearbox: Cassette-style six-speed, two-way quickshifter.
Clutch: Wet multi-plate slipper, Brembo hydraulic actuation.
---
Chassis: CrMo steel tubular trellis frame, alloy swingarm with pivot point adjustability.
Rake: N/A°
Trail: 97mm
Suspension: 43mm Ohlins Nix EC forks, 120mm travel, Ohlins TTX EC shock, 120mm travel.
Brakes: 320mm Brembo rotor(s) (f), Brembo Stylema calipers and Brembo radial-pump master-cylinder, 220mm rotor (r), Brembo two-piston caliper and Brembo PS13 master-cylinder. Bosch 9 Plus ABS system with Race Mode and RLM.
Wheels & Tyres: Alloy machined front wheel, 3.50 x 17in, forged alloy rear wheel, 6.00 x 17in, carbon-fibre cover, Pirelli 120/70 – 17, 200/55 – 17.
---
Dimensions
Wheelbase: 1415mm
Seat height: 845mm
Ground clearance: 141mm
Overall width: 805mm
Overall Length: 2080mm
Overall height: N/A mm
Instruments & Electronics: Multifunction 5in TFT, cruise control, Bluetooth connectivity, app MVRide, GPS, app controlled engine and rider aids setup, traction control, launch control, wheelie control.
---
---
MV Agusta Rush 1000 Gallery

The Verdict | Review & Feature: MV Agusta Rush 1000
The MV Agusta Rush 1000 is the most expensive super naked money can buy. It has the engine Leon Camier and Jordi Torres wish they could have had in WorldSBK, yet this 300-only limited run nakedbike is street legal. Alan Cathcart had this exclusive test in the countryside surrounding the factory, along with a day on a testing circuit. Here is his review…