After riding the new BMW R 18 First Edition, it's hard to believe the old R 1200 C came from the same manufacturer. This is one hell of a cruiser. Review: Jeff Ware Photography: Heather Ware
With a meaty 118ft-lbs at three grand, the mighty BMW R 18 First Edition is all about that big, super sized, boxer twin. The surprise though, as we found out, is just how well BMW Motorrad have managed to get the 'Big Boxer' powerplant around corners…
Back in the very early 2001, as a young Staff Journalist at Two Wheels, I was given the task of reviewing the BMW R 1200 C, a quirky cruiser that went down in my notepad as one of the worst motorcycles I've tested, and it has remained in that spot to this day.
---
---
The ABS system was so bad that I went through a red light on the bike, as the front-end design, combined with zero front weight transfer, meant the front tyre was pushed along the road rather than being forced into it on the brakes, thus causing the ABS to kick in… throw in a lack of power and ugly yellow paint and you get the picture. No thanks…
To think that the R 18 First Edition is a product of the same Berlin factory is hard to believe. The R 18 is a fantastic motorcycle in every way. In fact, I'm so impressed with the R 18 First Edition that I can happily say that I'd own one myself and I've never owned a cruiser or even considered having one.
---
---
So why the excitement and talking up of the R 18? Grin factor. This bike made me smile from the moment I fired it up at the dealership that BMW Motorrad Australia had delivered the press bike to, Worthington BMW. The sound. The rumble. The rhythmic dance of the 1802cc boxer motor as two gigantic pistons swing left and right…
---
---
A more engaging motorcycle would be hard to find. The R 18 has some seriously powerful mojo going on. BMW Motorrad have somehow made this motorcycle magical.
The Ride
This is one big machine. Its presence alone demands full attention. 345kg of Berlin's finest takes some experience and a good bit of muscle to lift off the sidestand. Seated on the bike, both feet easily planted on the ground and gripping the enormous chrome 'bars, I do the left/right test…
With a whopping 901cc cylinder hanging off each side of the motor, the bike is balanced like a seesaw and feels much lighter than expected while stationary. In fact, it's really very easy to manage…
---
---
I power the ignition up and fore the big twin into life. The torque reaction as the massive crank and flywheel spins up kicks the entire bike to the left, like all boxer twins do, but with a force equal to what feels like someone shoving the bike from the right! It catches me off guard but is easy to anticipate for the remainder of my test…
---
The R 18, a huge motor with handlebars and wheels
---
The sound and feel, through 'seat of the pants' and the 'bars, as the motor idles away, is like nothing else. It's an exciting, albeit a little intimidating, show of force from the R 18… I'm getting those butterflies in my stomach that I used to get just before a race. It's been a while since any bike made me feel that sensation and I would never have imagined it would be a cruiser, a BMW one at that!
An easy reach down to the left (behind the intake manifold) is a small chrome lever to activate reverse. I push it down and R appears on the centrally located LCD display. A push on the starter button (remember, the bike is running) and suddenly the bike and I are on our way backwards and out of the parking spot. Easy, slow, and very handy. My dodgy knees are safe…
I scroll through the dash using the Menu button on the left switchgear. Not much to see; odo, trip, time, service, ride mode, settings, fuel consumption, average speed, speed… No fuel gauge and no remaining range. Shame. I select Rock Riding Mode (full power, no point mucking about), click first gear (smooth, no clunk), ease the clutch out and head off for my first taste of 1802cc boxer power… Wow! Lock my licence and the key fob in a safe and don't let me near this bike again!
I'm only 500m up the road and already changing plans, I ride straight past the turn off to home and keep heading north, deciding to take a slightly longer route. Like I said, this bike has mojo. My grin is wide. I'm curious, excited and my heart is racing a little. Are cruisers meant to be this fun?
---
Are cruisers meant to be this fun?
---
A slick gearbox, smooth clutch, refined throttle control and a 1.8L twin all in the one sentence? Hard to believe but true. This massive 110kg 'Big Boxer' might be a 90-year-old design but it is supremely refined. The only vibes are when the revs ride through 3000rpm and it actually adds to the engaging experience of the ride. It feels like I'm holding the engine. I can almost visualise those massive conrods swinging away… The R 18, a huge motor with handlebars and wheels…
The sound from the dual fishtail pipes is cracking. It's loud for a stock bike and has a very distinctive, explosive note that really adds to the experience of riding such a beastly machine. I can only imagine how good it'll sound with a set of more liberating pipes on it. Even at idle it has a nice low beat and crackle. Idle speed fluctuates between a near stalling 800rpm and a smoother 950rpm.
---
---
As I cruise home in the urban environment, including a bit of lane filtering, I realise that although the R 18 is a massive machine, commuting on it could be a once per week treat. If there is a big enough gap, the lane filtering is not too hard from a balance point, the limitations being the width of the 'bars. But in terms of clutch action, seat height and low speed work the R 18 is not so bad.
---
It's loud for a stock bike, a distinctive, explosive note
---
Sitting at intersections, all eyes are on the R 18, more so than I recall with any bike for quite some time. It seems to attract all ages and lots of pointing. Blasting off the lights is so addictive, satisfying and tempting that this cruiser could easily be the end of your license if you lack self control. Dropping it into Rain or Roll Ride Modes dampens the acceleration dramatically but where is the fun in that?
The riding position is comfortable for me, most likely thanks to my sports and nakedbike background, but I don't expect that will be the case for everyone. With two ginormous cylinders sticking out, traditional feet forward cruising is out of the question. And with a super low 690mm seat height, knee flex is similar to your average sports nakedbike.
---
---
The span adjustable levers are well placed, they are chunky but more slender than Harley levers and therefore give more feel at the fingertips. The chrome 'bars are wide but naturally positioned and both the foot brake and the gear lever are in just the right spot. A dab of rear brake is all that is required for the urban work, it's a powerful back stopper and only locks to ABS when pushed harder than it should be. Using both brakes together, the front activates the rear, and the stopping force is exceptional.
---
---
To be honest, in my opinion, the leg flex is a good thing, as with 90mm of rear suspension travel and a rock hard seat, taking some weight through my legs (as I would do on a naked or sportsbike), really gave my back and butt a good break from the sudden hits from our less than smooth Australian roads. Suspension at both ends is on the firm side, and I'm feeling every road irregularity there is, even at these town speeds… But the engaging nature of the bike allows me to forgive any discomforts.
---
---
I stop off at my local bottle shop and buy some beer just for this occasion (following my Dad's wise advice, I only drink when I'm with other people, or on my own). So, after parking the R 18, I enjoy a half dozen cold imported Radeberger Pilsners as I admire this behemoth that is taking up the space of two motorcycles in my shed. I've reviewed nine cruisers this year. Have I found one with my name on it? The plan for the next day is to head out for a big test loop. Freeway, country roads, mountain twisties… I throw everything at the R 18…
I start the day with a blast up the M1 motorway. Sitting on 110km/h, the Big Boxer is barely ticking over in top gear but crack that throttle and the Berlin built beast lunges forward, with a cracking exhaust note to further increase the excitement level. Settle into a rhythm, though, and the enormous pistons produce a hypnotising state that makes cruising along a zen experience. Smooth as silk with an underlying beat, like tuning out to a deep house mix…
---
You really know you are alive on the R 18
---
It was about this time, however, I cursed Motorrad for excluding Cruise Control standard across the board. A BMW cruiser without cruise control just doesn't make sense and the R 18 First Edition should have the feature… A few moments later the fuel warning came on and the trip meter reset to zero. No range remaining and no gauge. I took the first exit and filled up, just in case. Average? 6.2L/100km.
Onto some scenic, sweeping yet mildly bumpy country roads, I notice that the harsh suspension, particularly the back, improves as the pace increases. Like a sports or nakedbike, the set-up seems to work best deeper in the stroke so BMW have perhaps chosen to lose a little comfort in exchange for great (by cruiser standards) handling and the trademark low back end stance. If only they fitted a more plush seat, then the R18 would offer the best of both worlds, comfort and handling.
---
---
Rolling the throttle on out of 100km/h-plus big sweepers, surrounded by lush green fields and under a bright blue sky, a thumping 1802cc flat twin under you – that's living. You really know you are alive on the R 18. No fairings to protect you from the elements and an upright seating position ensuring you feel every bit of torque off the turns. It's a great experience. With the character of that 'Big Boxer' and the geometry of the chassis, the R 18 offers a unique experience in the cruiser segment. It's a refreshing change to the same old stuff available out there…
In the silky smooth twisties, in cruiser terms, the R 18 is a blast. Initial turn-in from off-centre is quick and the steering accurate. And as I climb a particularly tight, twisty and freshly hot-mixed section of road, there is no sudden transition or weight shift off-centre to footpegs down, the R 18 will sit anywhere on the lean angle and stay put partly thanks to the horizontally opposed cylinders.
---
Initial turn-in off-centre is quick and the steering accurate
---
On or off the brakes, I can adjust my line with a dab of rear brake, a bit of 'bar input or throttle, and in Rock, the engine braking is fairly minimal, it'll run into turns with speed. As I pull over at the top for a break I'm a bit stunned to be honest! I'm also impressed with the Michelin tyres. The ABS, MSR and ASC obviously all work very well…
Conclusion
I had the pleasure of taking part in a Microsoft Teams round table with Global Head of BMW Motorrad, Dr Markus Schramm, recently. After listening to, and taking part in, the Q&A with Dr Schramm and General Manager of BMW Motorrad Australia, Andreas Lundgren, the enthusiasm and confidence the brand have in the R 18 platform shone through. In fact, the big boss himself bought the very first R 18 to be road registered in Europe, even though he is from a sports and nakedbike background.
---
---
After riding the bike myself, I can see why. Sure, it's not the most comfortable cruiser on the market. It lacks connectivity and TFT goodness and the self cancelling indicators get confused. But it is highly engaging, entertaining, and one of those bikes that seems capable of taking away all of your worries and troubles every time you open up those 48mm throttle-bodies and laugh out loud…
---
For our full Tech Talk Details on the BMW R 18 First Edition including Engine, Chassis, Electronics, Design and Options please click here…
---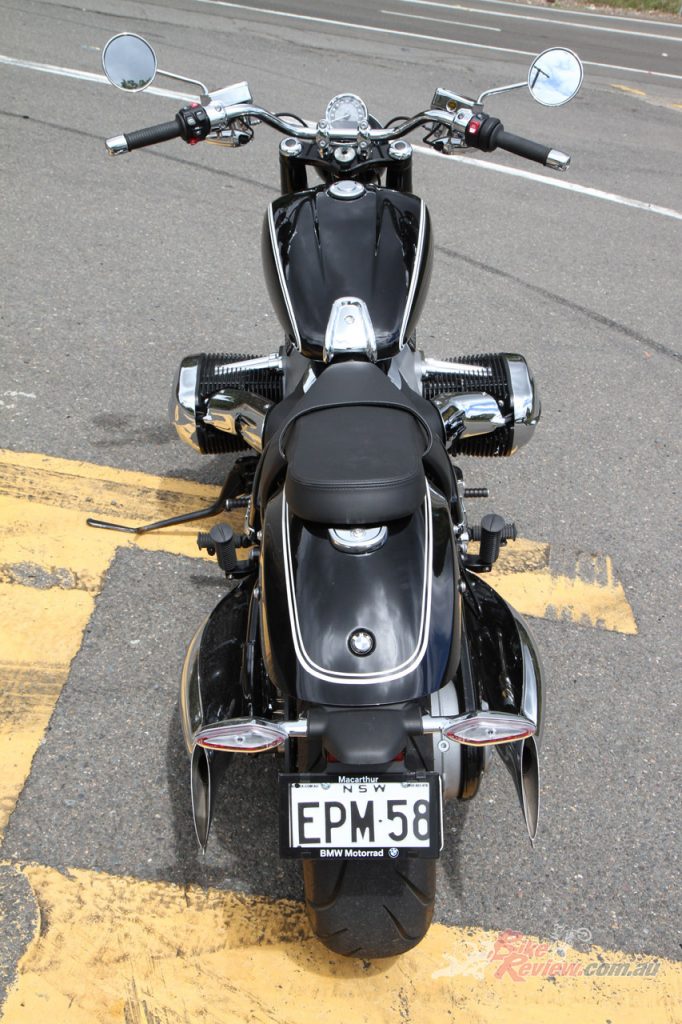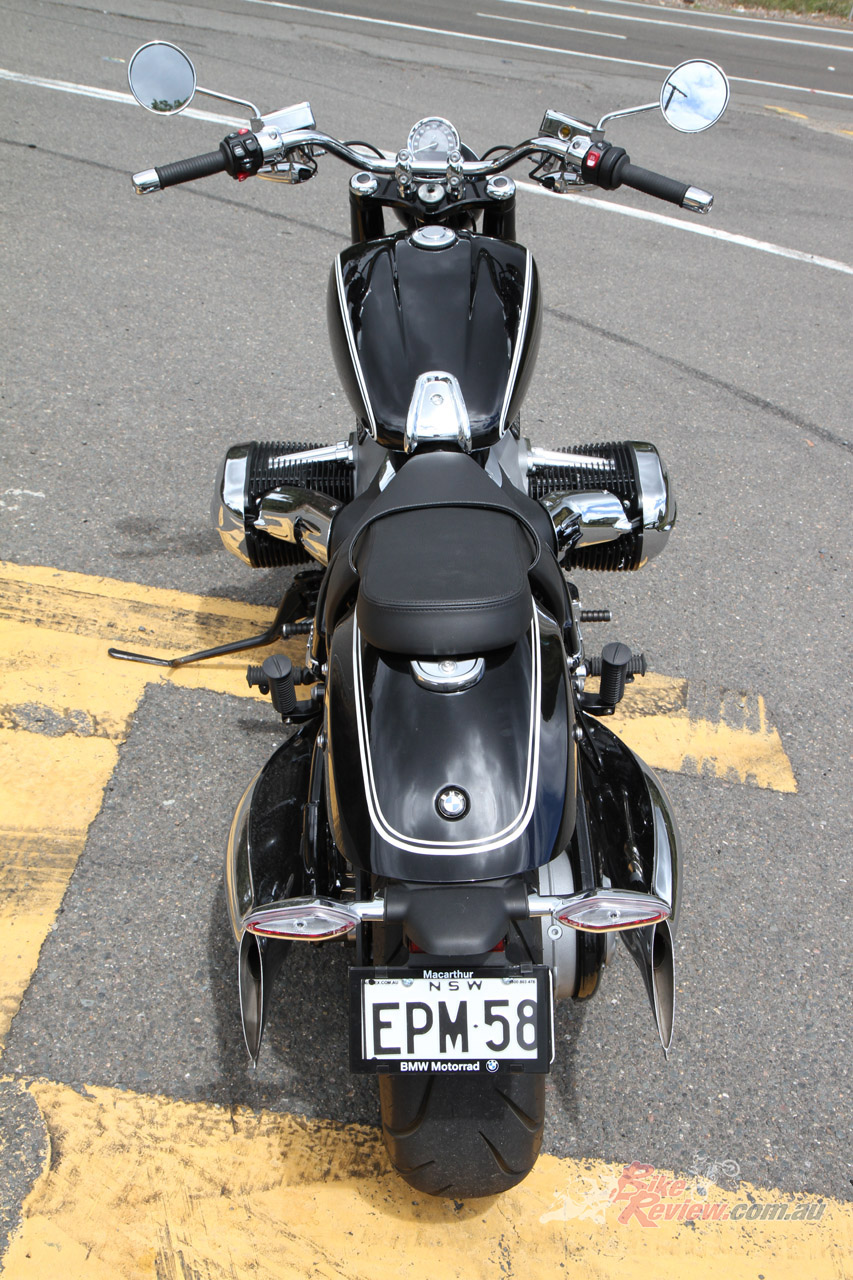 2020 BMW R 18 First Edition Specifications
Price: $31,690 + ORC (First Edition with Reverse)
Claimed Power: 67kW[91hp]@4750rpm
Claimed Torque: 158Nm[118lbs-ft]@3000rpm
Wet Weight: 345kg
Fuel capacity: 16L
---
Engine: Air-cooled/oil-cooled twin-cylinder, four-stroke eight-valve twin-cam pushrod OHV, EFI, 48mm throttle-bodies, twin exhaust system, 1802cc, 107.1 x 100 bore x stroke, 9.6:1 compression, EU5 compliant. Gearbox: Six-speed seperate housing. Clutch: Dry single plate, hydraulic actuation.
---
Chassis: Double-loop steel tube frame and steel tune swingarm
Rake: 57.3°
Trail: N/A
Suspension: 49mm forks, non-adjustable, 120mm travel, single cantilever shock, preload adjustability, 90mm travel,
Brakes: 300mm rotors (f), dual four-piston calipers and conventional master-cylinder, 300mm rotor (r), four-piston caliper, linked brakes (front activates rear), ABS.
Wheels & Tyres: Spoked tubeless wheels, 3.50 x 19in (f), 5.50 x 16in (r), Michelin Commander 120/70 – 19, 180/65 – 16.
---
Dimensions
Wheelbase: 1731mm
Seat height: 690mm
Overall width: 964mm
Overall Length: 2440mm
---
Instruments & Electronics: LCD multi-function centrally mounted dash, ASC, DTC, ABS, MSR, Ride Modes, LED lighting, self-cancelling indicators, keyless start, electric reverse.
---
---
BMW R 18 First Edition Gallery

The Verdict | Review: First Aussie Ride, 2021 BMW R 18 First Edition
BMW's first attempt at a cruiser for almost 20-years, the BMW R18 First Edition is an incredible motorcycle. Endless grunt, sweet steering, amazing brakes and unrivalled looks… Here is our review on the mighty Berlin Built Boxer R18…