The 2020 Suzuki V-STROM 1050XT featured a host of upgrades, from the styling to the suspension and more advanced electronics. How good are the changes? We spent one month with the bike as a daily rider to find out...
The V-STROM first appeared almost 20-years ago and has been developed into one of the most refined and reliable bikes available. You can check out our Video Review here on this now further refined machine. Here's our written review on the latest DR-Big lookalike!
The freshly revised Suzuki V-Strom 1050XT to me, is bang on the money in terms of updates that needed to be done. Suzuki haven't RE-written the model, they've simply further refined it with updates styling, some new electronics and engine changes. Just like the legendary Hayabusa, the big V-STROM has served Suzuki incredibly well over the years. It is a platform introduced way back in 2002 that proved rock solid as a genuine all-rounder touring machine capable of taking riders a little further from the sealed surfaces than your average long-distance hauler.
---
---
But touring isn't the only thing the 'STROM is good for. It's a reliable workhorse for daily riders, commuters, couriers and excels at just about any application aside from hardcore scratching- but it'll have a go and many a sportsbike rider has been shocked by a V-STROM…
---
The cruise control is long overdue and a well-developed system, with the big twin responding to small speed increases or decreases quickly and accurately…
---
Just like the case with the Hayabusa, if Suzuki did a full-blown relaunch and redesign, fans wouldn't be happy. The new 'Bird has retained its original Gen2 engine and chassis… the V-STROM has too. It's not Suzuki being cheap, it's Suzuki being smart. When you are onto a good thing… You can read about the updates in our full technical spiel… but in short, the new model has updates in the following areas…
---
New Suzuki V-STROM 1050 Highlights
New Suzuki Intelligent Ride System (S.I.R.S)
New Cruise control system (XT model)
New Hill hold control system (XT model)
New Slope dependent control system (XT model)
New Load dependent control system (XT model)
New Suzuki Drive Mode Selector (SDMS)
New Height adjustable windscreen
New LED headlight and LED rear combination lights & Styling
Updated Euro 5 compliant V-twin engine boasting higher output


---
I had the 1050XT, fitted with a Voyager Pack (details on Voyager and Trekker Packs here), for a month or so and during that period I used the beast as a daily rider. We were a one car family at that time and with four kids and multiple sports, the chances of me getting my hands on the car keys were slim to none, so the big 1050 and I bonded over that time.
---
---
The luggage option is brilliant – a 38L top box and 37L panniers, all lockable and very easy and quick to remove. They are lightweight 1.5mm sturdy anodised alloy and feature stainless steel locks and hinges. I used it to carry my beer, bike parts to and from my local bike shop, shopping and camera gear. It's a premium price but good quality kit.
---
---
The only negative aspects of the panniers is that it is tricky to swing a leg over the bike to hop on and off. I also skinned my knuckles on more than one occasion while lifting the bike onto the centre-stand as the clearance between the pannier and the grab rail is too small. This is also a problem for pillions.
---
---
The bike had Pirelli Scorpion STR tyres, which are great on tarmac but offer that bit extra off road, meaning I was able to venture into the bush tracks and spend a fair bit of time roaming around the State forests near home, plus enjoy a few days riding West of Sydney (see the Video Review). The styling is the big standout feature, with Dr-Big looks, particularly the large front 'beak'.
Suzuki have modernised the look and with the spoked wheels, the XT really looks tough and ready for adventure. It is finished with typically high Suzuki fit and finish and that's from the fasteners to the switches, seat and the paint. The new dash is jam packed with features and about as comprehensive as you get, however, it's only an LCD display and is difficult to read.
---
The luggage option is brilliant – a 38L top box and 37L panniers, all lockable and very easy and quick to remove…
---
TFT would be appreciated and BT connectivity… there is a charge point up front though, so I ran with my phone on a holder and used that for GPS. The key is a normal immobiliser key, which is great, so no fob to carry around (I can't stand fobs). The switches and menus are easy to navigate and use. Changing Ride Modes, traction control level, ABS level and scrolling through the info menu is simple and intuitive, just a little hard to see when on the move.
---
---
The cruise control is long overdue and a well-developed system, with the big twin responding to small speed increases or decreases quickly and accurately. There are no heated grips but they are available from Suzuki here, for $449, however, the plastic hand guards do help somewhat.
---
---
Despite a relatively high seat height of 850mm (+-20mm available here) and a weight of 247kg ready to ride, the V-STROM 1050XT doesn't feel too big. The seat is quite narrow therefore it is easy to reach the ground when sitting on the bike. At 187cm my feet are flat on the ground with a decent bit of knee flex there. The bike has an overall narrow feel to it, the advantage of a V-Twin, and the reach to the handlebars is relaxed yet gives a commanding riding position when you want to get serious and punt the 'STROM along at a fast rate – something it loves.
There are 12V charge points at both ends, as mentioned, one at the front but there is also one under the pillion seat. This was handy when the pillion in a million and I went riding, she could charge her phone off the back one while I used the front. Pretty handy… Speaking of two-up riding and touring, I got 19km/L at one point from the 20L with over 380km before I stopped for a top up.
---
---
Out on the road, the bike is smooth and vibe free. The mirrors remain clear and the bike is supremely comfy, sans the screen height. I could not seem to find a happy medium with the height, copping buffeting up or down so I ended up leaving it on the lowest setting. It is also a pain having to hop off and adjust the screen, as the clamp is at the front of the bike, which makes very little sense to me.
---
---
The cruise control is a very welcome addition and helped eat up the big miles. The twin is more peaky than it used to be and quite a rev-happy engine now, with peak power and torque higher up the re range, however, highway overtaking with top gear roll-ons is not a problem at all. It still has the grunt.
The suspension is fantastic. It is really quite plush and soft but on those typical fast bumpy country Aussie roads it is really nice. It just soaks up all the bumps and with 160mm of travel at each end you can hit big bumps and washouts or corrugations hard and fast with no dramas at all. Up front we have 43mm fully adjustable KYB forks, out the back a KYB shock with preload and rebound adjustment. The remote preload adjuster is handy…
---
---
On the smoother roads when you really start pushing hard, it pays to add a little front spring and comp and some rear spring and rebound, which helps settle the bike. It's not 100 per cent necessary, and I'm talking when really pushing on, but it does make the chassis a bit more of a neater package once there is some grip – and you will be surprised how much road grip the Pirelli's give. Incredible.
With small 310mm rotors and Tokico calipers up front, squeezed by a conventional master-cylinder (with adjustable lever, as is the clutch lever), braking, although good, is not perfect on the V-STROM 1050XT. There is very impressive initial bite on offer, followed by good power and modulation, however feel is lacking somewhat and there comes a point in the braking process where there simply isn't any more stopping power on offer, like the brakes hit a wall. This caused a few heart-in mouth moments for me when rushing at apexes, however, I soon adapted my entry speeds and braking points/timing to be slower/earlier. It was a tad frustrating and the only thing holding me up on the V-STROM.
---
---
I'm sure pad material may help… Use both the front and rear 260mm Nissin unit hard together, and the bike stops very well. I tried both ABS1 and ABS2 and a few different scenarios. With the Suzuki Intelligent Ride System and the cornering ABS/Load Dependent Braking in full swing, it may be a software thing also… The rear brake is also a tad dull and weak, possibly a pad issue with ours.
Road handling is otherwise excellent, with progressive yet agile steering that allows for accurate corner entry, the ability to clip apexes at will and the same to carry fast corner speeds and decent lean angle. It all makes the V-STROM a much better roadbike than it should be and with that long travel suspension, not many sportsbikes will stay with one on a fast bumpy road.
---
---
There are only three levels of traction control but that is enough. Keeping the revvy twin in the higher rpm is the best way forward now. That mid-range oomph of old is gone but that means the V-STROM can really have the taps opened early in a corner and by the time it hooks up and goes, that 1050 is making strong power and torque. It has an exciting hit of top-end power and is super stable off the turns as well, even when that power comes in. It really is fun and has a lot of character.
---
---
The only time I missed the middle range punch was off road in the bush tracks and on medium speed dirt roads. It is a better road engine in my opinion but not as good on the loose stuff as it just needs a lot more revs to spin up that rear tyre and help steer, or to tool around slowly in the tighter stuff it needs more revs and more clutch slipping via the light and smooth clutch.
The SDMS Ride Modes are: A (Full Power), B (Softer Response) and C (Wet Map). I used all three, a lot, depending on the weather and situation. They all come in handy and are easy to switch between. TC can be turned off, or there are three levels to choose from. ABS cannot be turned off but ABS2 works OK out on the dirt roads and in the bush. There is also a Hill Hold assist, handy for those hill starts in the forest. I have to admit, I didn't use it.
---
---
Overall, the V-STROM 1050XT is a winner. I really enjoyed the ride experience, no heat on the legs thanks to the narrow V-Twin, exciting power delivery, smooth cruising and fun on and off road. Would I add anything? A one-way QS, Heated grips, a bash-plate and a radiator guard would be it. To me, it is almost as though the V-STROM 1050XT was built for Australia…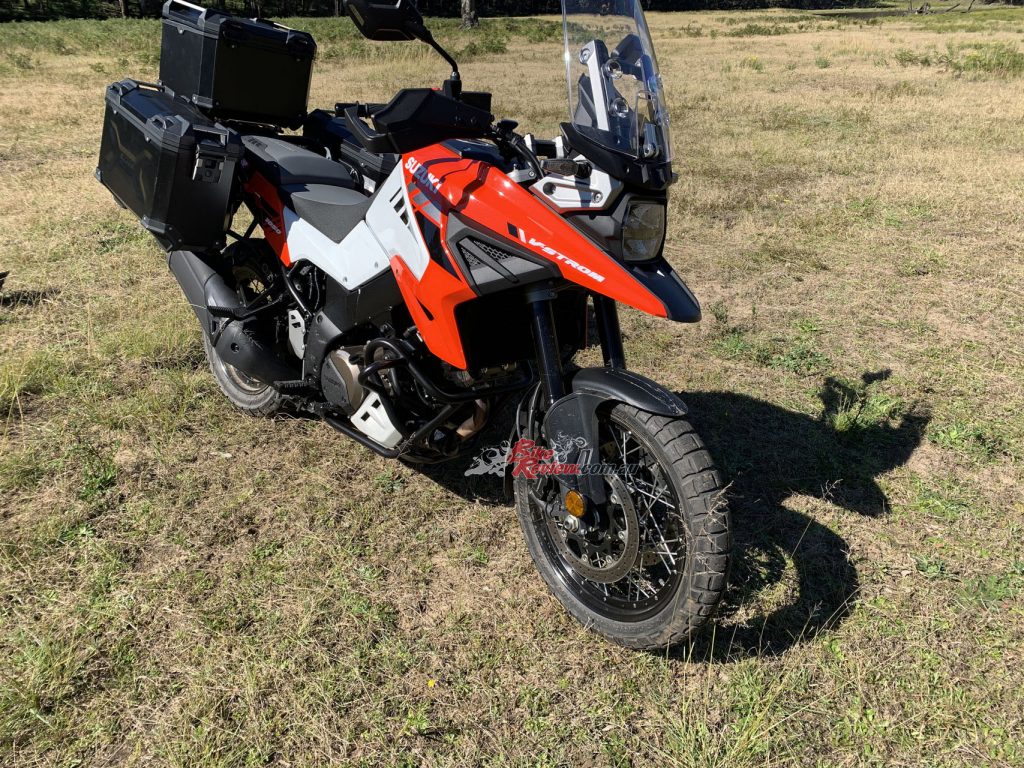 The bike is modernised enough and still comes in at a very reasonable price. OK, no TFT and no quickshifter, but really it is hard to complain for twenty grand. The looks are the best in the class as far as we are concerned and we know that, from front to back, the package has proven itself bullet-proof. Spares are available readily as the platform goes way back and Suzuki have a strong dealer network. What's not to like? If you are after an all-rounder Adventure bike, with no frills and built on a sturdy, reliable and proven platform then it is hard to dismiss the V-STROM 1050.
You can find a Suzuki dealership here.
---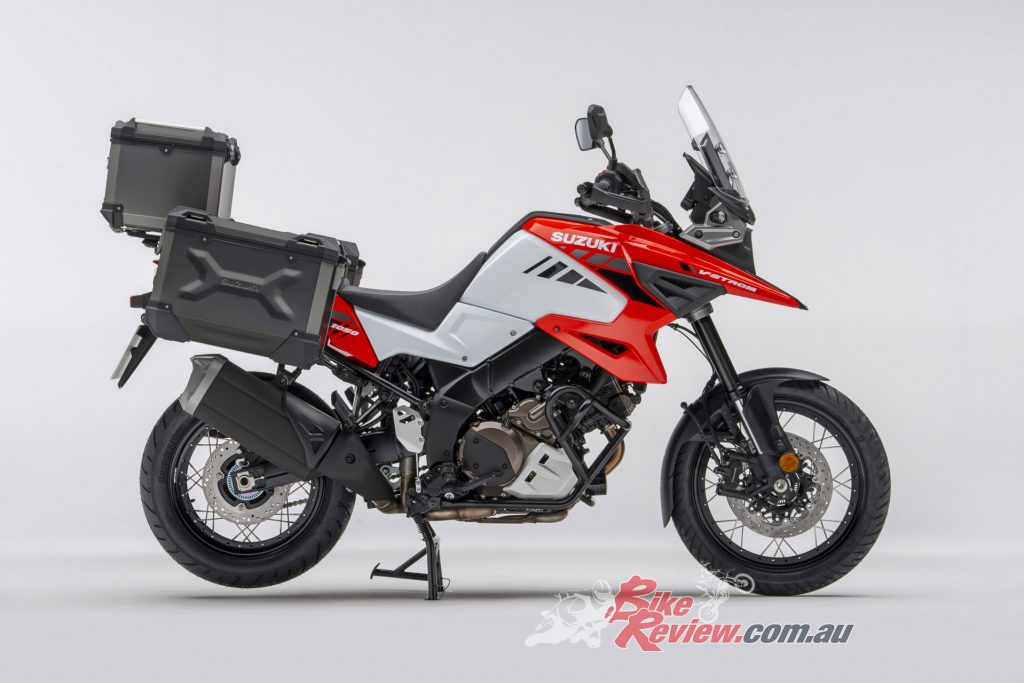 ---
2021 Suzuki V-STROM 1000XT Specifications
Price: $20,990 Ride Away (standard XT)
Warranty: Two years/unlimited kilometre
Colours: Glass Blaze Orange (tested), Glass Sparkle Black, Champion Yellow No 2
Claimed power: 79kW [106hp]@8500rpm
Claimed torque: 103Nm [77ft-lbs]@6000rpm
Wet weight: 247kg
Fuel capacity: 20L
---
Engine: 90-degree V-Twin, liquid-cooled, four-stroke, DOHC, four-valves, 1037cc, EFI
Gearbox: Six speed
Clutch: Wet multiplate
Final drive: Sealed chain
---
Chassis: Alloy frame
Rake: 25.3 degrees, Trail: 109mm
Suspension: Fully adjustable 43mm KYB USD forks, KYB remote shock, preload and rebound adj, 160mm travel
Brakes: Dual Tokico radially mounted four-piston calipers, 310mm rotors, single 260mm rear rotor and Nissin caliper, combined braking system, cornering ABS
Wheels & Tyres: 17in tubeless spoked alloy rims, 110/80-19 – 150/70-17 tyres.
---
DIMENSIONS:
Wheelbase: 1555mm
Seat height: 850mm (+-20mm)
Overall length: 2265mm
Height: 1465mm
Width: 940mm
Instruments & Electronics: LCD display, ABS, Cruise, Traction Control, LED Lights, Ride Modes, Hill Hold, S.I.R.S
---
2021 Suzuki V-STROM 1050XT Tech overview
Thanks to new camshaft profiles and timing, peak horsepower on the V-STROM has increased from 74kW@8000rpm to 79kW@8500rpm (106hp). Not much more detail is available on the engine, however, there are plenty of updates to the chassis, styling, electronics and rider aids to talk about.
The distinctive new styling incorporates elements of both Suzuki's legendary DR-Z desert racer and the large off-road model DR-BIG. The beak design first adopted by Suzuki stays true to Suzuki's heritage
---
---
ELECTRONICS
The most technologically advanced production Suzuki motorcycle in company history, the latest generation V-Strom XT is the first to boast Suzuki's new Intelligent Ride System (S.I.R.S). Combining an array of electronic aids and controls as well as several unique features only available on the XT, further enhancing rider useability and convenience.
---
---
An advanced cruise control system works in conjunction with the new Ride-by-Wire throttle system. Cruising speed can be set from approximately 50km/h to 160km/h at fourth gear or above. A switch on the right handlebar can be pressed to put cruise control into standby, and the selector switch (up/down) on the left handlebars allows the rider to adjust the speed up and down accordingly.
Suzuki's famous Drive Mode Selector (SDMS) is now available on a V-Strom for the very first time, offering riders the choice of three difference output characteristic modes. A-mode provides the sharpest throttle response, B-mode provides a slightly softer throttle response and C-mode provides the softest throttle response.
Another Suzuki first is the Hill Hold, Slope Dependent and Load Dependent control systems available on the XT. Hill hold control automatically applies the rear brake when the motorcycle is stopped on an upward slope to prevent rollback when the brakes and clutch are released. Slope Dependent control constantly monitors posture and if required controls brake pressure to prevent rear wheel lift during downhill braking. Load Dependent system supports optimal braking by compensating for varying load conditions such as the difference between riding solo or with a pillion and loaded luggage vs unloaded.
An updated traction control system now features three modes of control. Mode 1 is for spirited riding with minimal level of intervention. Mode 2 is ideal for commuting and regular riding conditions and Mode 3 is best suited for poorer riding conditions such as wet or cold roads. We are not sure if it can be switched off yet but will check with Suzuki Australia.
---
---
An upgraded Bosch inertial measurement unit (IMU) equipped on the XT model now works on 6-directions along 3-axis rather than the 5-axis of the previous system. This allows it to detect pitch, roll, and yaw movements based on the angular rate and acceleration. This new high-performance 6-direction IMU combines a 3-axis angular rate sensor (gyrometer) and a 3-axis acceleration sensor in a single compact unit.
The motion track brake system exclusive to XT combines information on the posture of the vehicle from the new IMU with the front and rear wheel speeds. This allows the ABS to activate not only in a straight line but also when the vehicle is leaning. When the brake lever or pedal is operated, this system instantly assesses the need of ABS operation by calculating the posture of the vehicle and front and rear wheel speeds. When judging the need of operation, ABS unit decreases braking pressure, and continues to control the increase/decrease of the pressure according to the traction available.
This latest ABS system allows the rider to select from 2-levels of intervention. Mode 1 provides minimal intervention and is suitable for flat dirt roads, whilst Mode 2's intervention timing is earlier than Mode 1 and is ideal for normal tarmac roads. A newly added Combined Brake System automatically applies pressure to the rear brake to help stablise the motorcycle when the front brake pressure rises to a certain degree. Hopefully this can be switched off when needed.
---
---
The instrument panel presents all required information on a full LCD screen using a clean and intuitive layout with information displayed in order of priority. Included in the display are the speedometer, tachometer, gear position indicator, odometer, trip meter (A, B), instantaneous fuel consumption, average fuel consumption, driving range, fuel level indicator, engine coolant temperature indicator, ambient air temperature indicator, clock, voltage meter, service reminder, SDMS mode, traction control mode, cruise control indicator, ABS mode, hill hold indicator, engine rpm indicator light, frost indicator light, turn signal indicator light, high beam indicator light, traction control indicator light, ABS indicator light, and neutral indicator light.
A USB port is located left side of the instrument panel. It can be used as a power source for charging a smartphone, navigation system, or other similar device.
CHASSIS
Utilising a cast aluminium twin-spar frame featuring the optimal rigidity balance for exceptional stability and handling performance the frame supports everything a rider requires to embark on their next big adventure from straight line stability to smooth and natural cornering with high levels of traction.
The 43mm KYB inverted front fork features adjustable compression damping, rebound damping and spring preload. The KYB rear shock features adjustable spring preload only, via an external hand dial to easily facilitate adjustments between riding solo, with pillion or fully loaded with luggage.
---
---
Tokico Monobloc radial mounted front brake calipers handle stopping duties matched with dual 310mm floating rotors at the front. The footrests are constructed of steel and have been redesigned to make it easier for the rider to stand on flat dirt, and are also wider than the previous version.
Protection and convenience on the XT is taken to the next level with an aluminium under cowling and accessory bar guarding underneath and side of the engine whilst stronger hand guards have been employed to protect rider's hands from wind, rain and flying stones. The lightweight centrestand is useful when performing maintenance tasks and loading luggage.
Wire-spoked aluminium rims are fitted as standard on the XT model offering improved road absorption whilst the standard model is equipped with 10-spoke cast aluminium wheels. Both variants are shod with Bridgestone Battlax Adventure A41 tyres.
A vertically stacked LED headlight and LED rear combination light are featured and the XT also features LED indicators as standard equipment.
Other niceties include Suzuki's Low RPM assist system which monitors and automatically raises the idle speed when taking off from a stop or when riding slowly through traffic and
Suzuki's Easy Start System which provides ultra-convenient one-touch engine starting.
---
---
The Verdict | Review: The New Suzuki V-STROM 1050XT, Voyager Pack