We jump on the big bird and head to the hills of Malaga then the curves of Ascari to test the all-new Metzeler SPORTEC M9RR... Review: Simon Harris Photography: Metzeler
Metzeler turned 150 back in 2013. To celebrate, they committed to the most extreme racing we know, the madly fast and dangerous North West 200, the Ulster Grand Prix in Northern Ireland and the renowned Manx Grand Prix in the Isle of Man.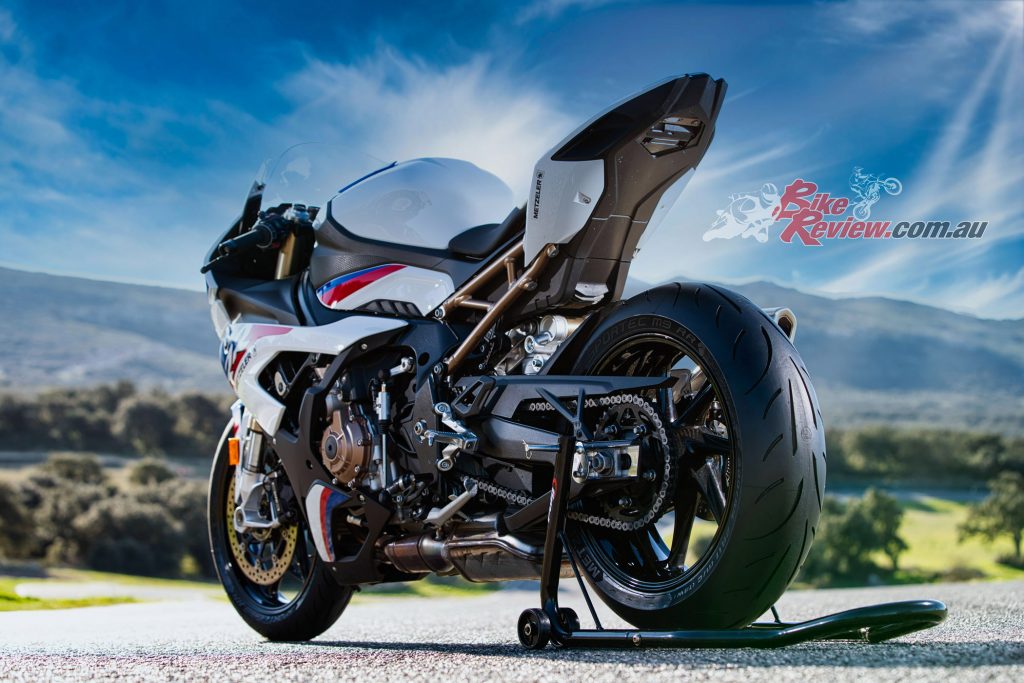 If there is an ultimate challenge for racers, motorcycles and tyres in terms of outright speed, weather conditions, surface variation and the possibility of complete surprise, it is at these events.
Rewards for Metzeler have been significant and consistent since 2013 with 58 victories across various classes at these events.
---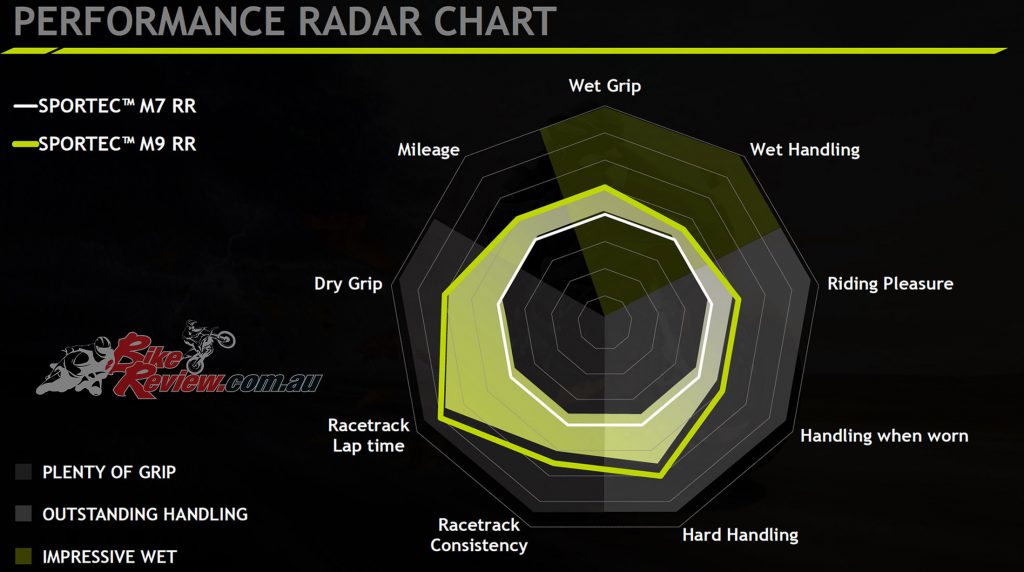 ---
This initial foray and the knowledge gathered spawned Metzeler's flagship SPORTEC M7 RR supersport radial tyres for us wannabe road race warriors. The challenge with setting high standards is, if you are a company that takes innovation and improvement seriously, bettering it. That challenge began for the Metzeler R&D team in 2017, with the results now in the SPORTEC M9 RR.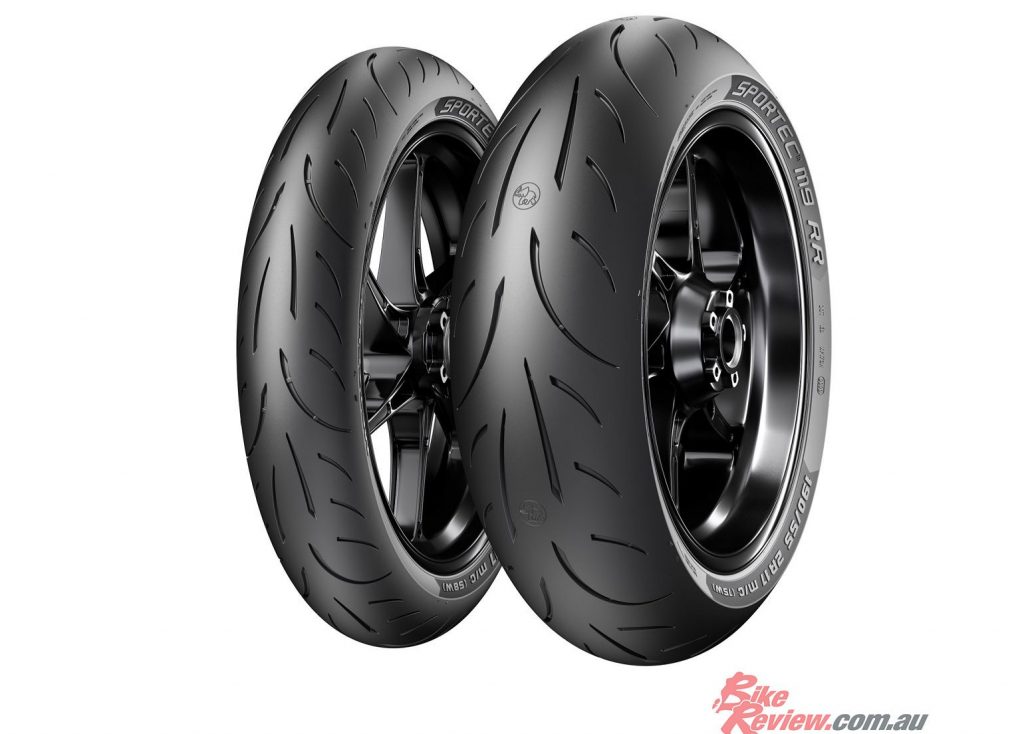 Matteo Torchiana (Hypersport R&D Chief) expressed among many words and hand gestures that compromise is not a term he likes to apply to his art, but real and measurable improvement in key areas to reduce the reality of compromise is his aim. He is a realist that understands that the better things get, the harder it is to enhance.
The pillars of his team's quest for genuine improvement are centred around the real-world needs of today's supersport and hypersport road riders – ultimate grip at lean, rider feedback from the interface between tyre and road, comfort and feel, and reliable wet weather performance.
---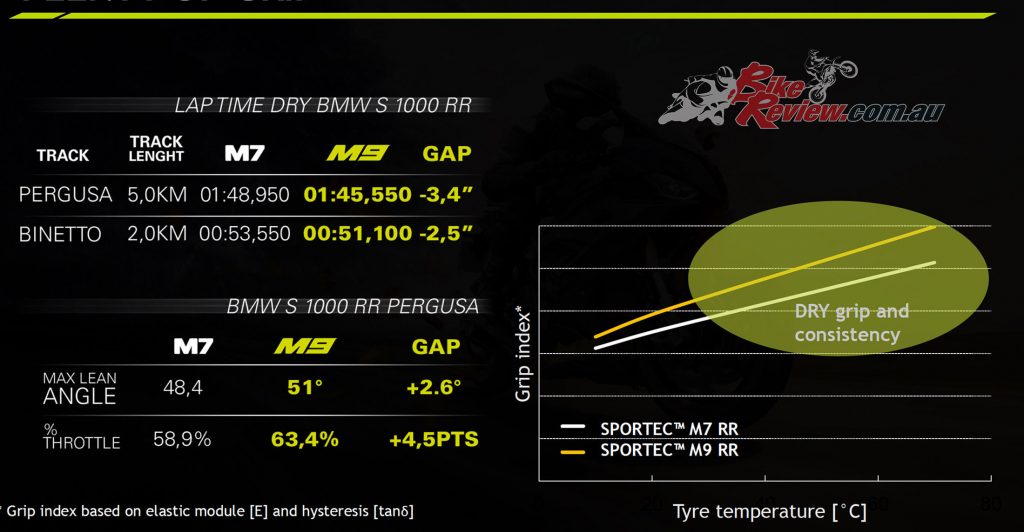 ---
The data logging and analysis charts show measurable improvement in virtually all areas of tyre performance over the SPORTEC M7 RR. Due to the tyre having a prospective life in the hands of spirited road riders that tend to spend some time at the track, lap time analysis was vitally important.
---
---
Using several test tracks in dry and wet conditions, the M9 RR trumped its predecessor in all areas including lap times, ultimate lean angle, and braking. In the hands of professional test riders that can explore the limits of adhesion with tyres, these are unmistakably signs of greater confidence.
---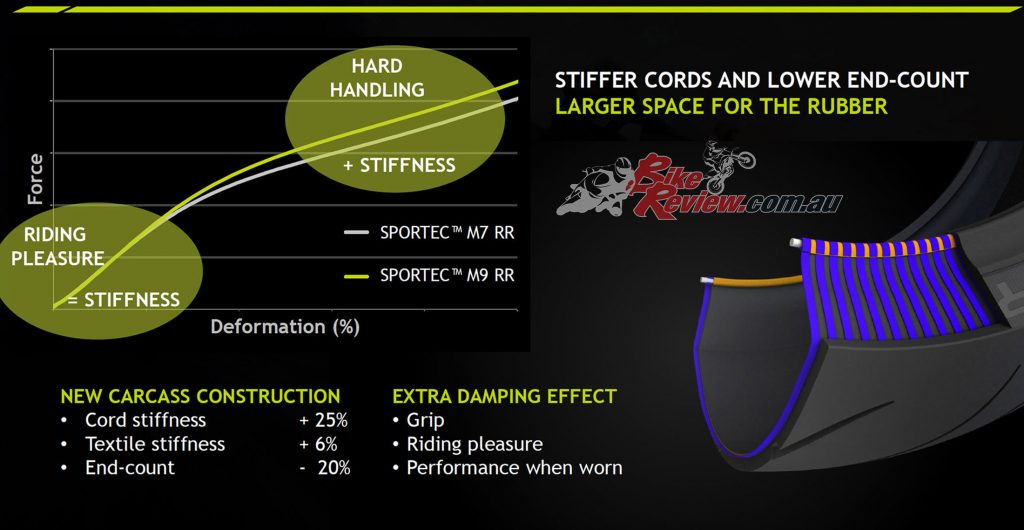 ---
Martin stressed the detailed homework carried out in analysing riding habits and needs for their target customer base. The results yielded around 40 per cent of the overall market is super/hypersport tyres, with most bikes being ridden several times per week and regardless of climatic conditions.
To meet these demands requires a tyre that has the dynamic performance to not only reliably deliver the power and loads generated by these motorcycles to the road surface but also to be adaptive to large variations in surface conditions and temperatures. Metzeler emphasises that they have listened carefully to riders needs and responded accordingly.
---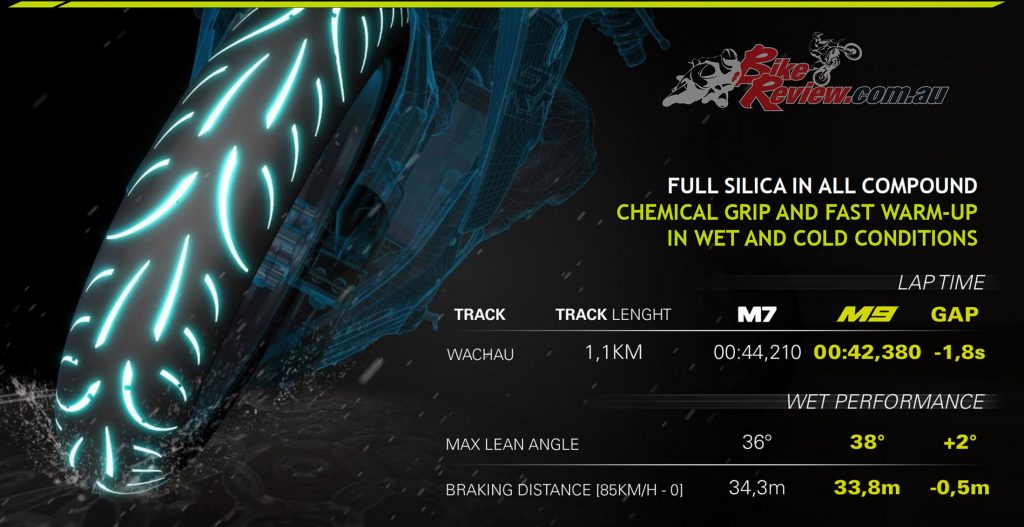 ---
SPORTEC M9 RR CONSTRUCTION
To best meet a complex amalgam of performance requirements, a multi-prong approach was required that started with the basic structure of the tyre, being the filaments of cords that make up the skeleton to which the rubber is bonded. The cord material has been stiffened by 25 per cent, which means that the overall number of cords required to hold everything together is reduced by 20 per cent.
The effect of this is a carcass that provides a greater proportion of actual rubber, which provides the innate grip-feel communication from the tyre to the rider's senses. This is a very important factor in the tyre being able to deliver not only useful feedback but also comfort and a sense of reassurance and rider confidence.
---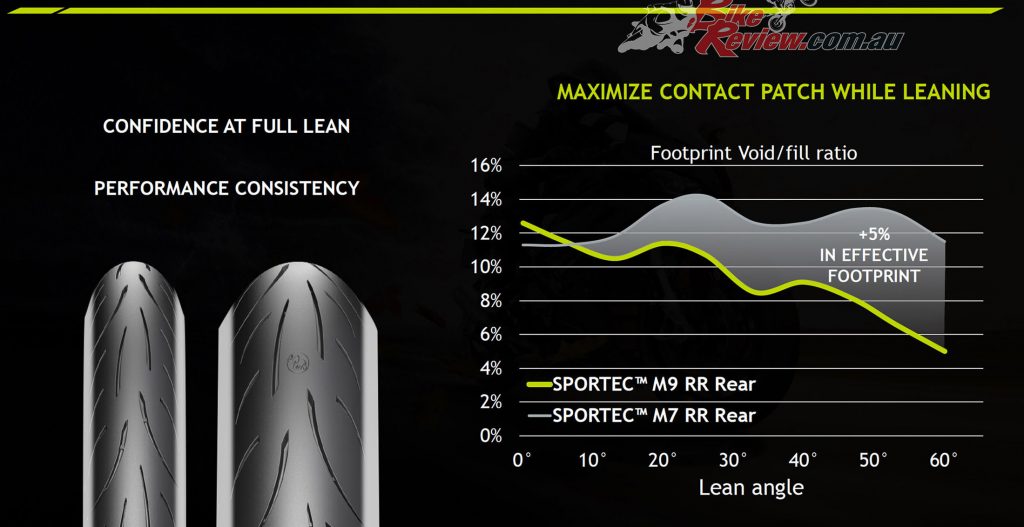 ---
Matteo described how comfort / handling / feel from the tyre to the rider has been an important aspect in design. Ultimately, if the rider is not comfortable, he / she will be tense, and this will not result in the smoothest or fastest or most enjoyable experience. I suppose that when you boil it down, the tyre is the first component of your suspension.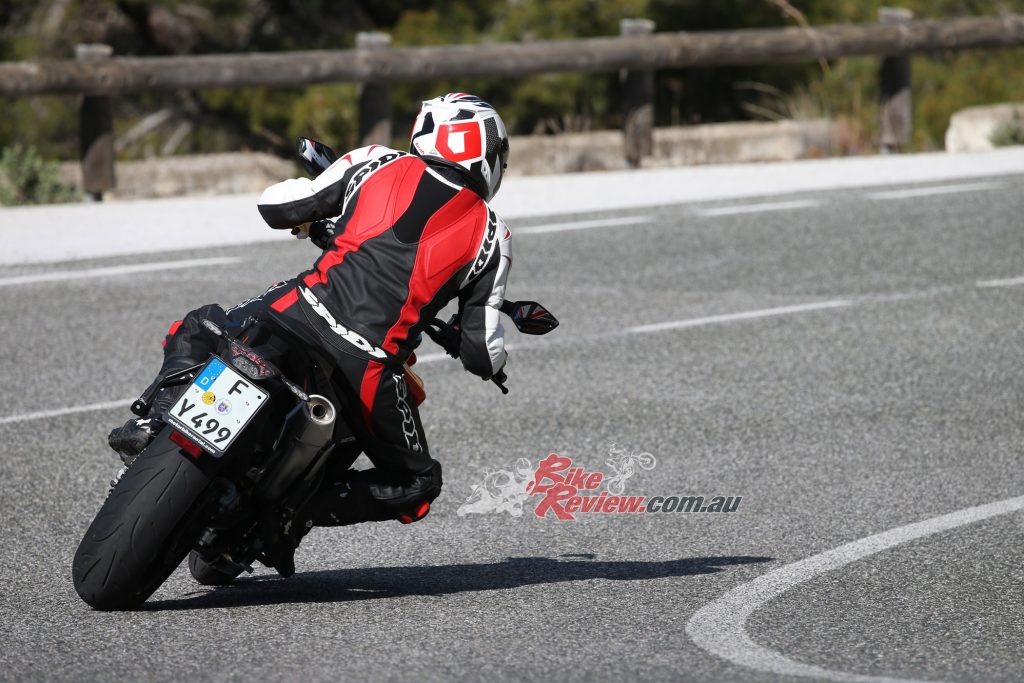 Not only was handling decisive, but the design mandate also included complementing current rider-aid technology that the bike may have, such as traction control, ABS, sophisticated suspension and chassis design. Again, the outcome was to formulate a package that maximises available traction and rider feedback. Heat dissipation is also improved due to the additional volume of rubber in the construction and this helps maintain a more reliable and consistent communication from the tyre as well as improving tyre life.
---
---
SPORTEC M9 RR COMPOUNDS
Rubber compounds are vitally important for obvious reasons and in this case both front and rear tyres feature dual, full silica compounds for wet performance and wear resistance. The cross-sections of front and rear tyres vary in proportion, with the front using distinct, full depth, compound zones for the hard centre and soft shoulder compounds. The rear features a hard centre that steps down in thickness and extends toward the shoulders, like a foundation, and is covered on the shoulders with a layer of soft compound.
---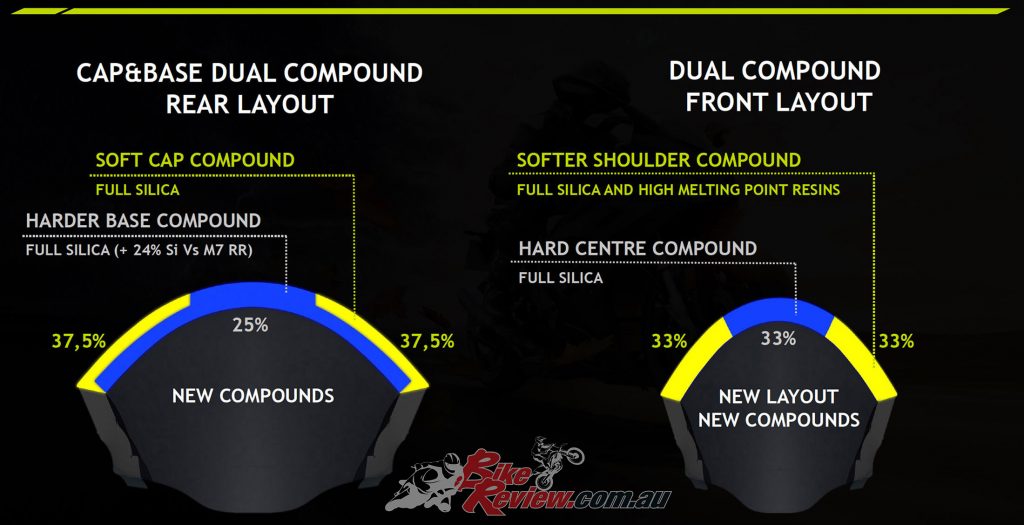 ---
The foundation compound helps in controlling heat and keeping a more consistent feel to the tyre as the lean angle increases. Metzeler use a patented technology called compound continuous mixing (CCM) in the rubber construction that maximises dispersion and regulates distribution of the chemical components of the tyre polymers. This, they say, increases chemical stability over a broad temperature range, resulting in more predictable response as the tyre temperature increases.
Temperature remains the greatest enemy of the tyre, so any improvements in controlling or mitigating its effect are key, especially during prolonged abuse (as witnessed at the circuit). The siping / tread features a central 'Claw Groove' that was developed directly from road racing experience to improve straight line and braking stability and effectively slice through surface water.
---
---
The off-centre tread patterns are inspired by the Greek letter pi (recall school geometry), with a focus on basically effectively shifting water so the rubber has direct contact with the road surface but also to enable a controlled amount of block movement between grooves that reduces warm-up time, even at lower operating temperatures.
Note that the tyres are designed to basically abandon the idea of extensive water evacuation at lean angles >30°. 30+ in the wet, which takes commitment that I am not hankering to explore really. The tyre shoulders at high lean angles are basically slick to provide zero block shift for greatest stability / predictability and maximum tyre to road surface area.
SPORTEC M9 RR ROAD EXPERIENCE
The group I was in were first out on the road trip. This was good news since it was bright out but also quite cool (about 10°C) at that time of morning. Our route was up and down dale as you would expect, with a mountain pass and much meandering B class roads that had some acne but honestly a mere rash compared to the shite we pay for and risk life and limb on.
---
---
Our lead rider was mature, quite motionless en-route but smooth as silk and obviously fast. Admittedly, keeping focus at times when traversing such lovely countryside was difficult, especially when groggy from jet-lag (no, not hungover, Jeffrey). I spent the first half on a KTM 790 Duke, which was a real treat for me and a bike that was highly suited to the jaunt. I have to say that I was bee-lining the poorer parts of the road at times to get a feel for the comfort and it was good in that the tyres were absorbent of the undulations but also exhibited no tendency to follow cracks or splashes of over-banding.
The early pace was OK and soon I think everyone was comfortable on new bikes, unknown roads and the stars of the show, the M9 RRs. Turn-in, on and off the brakes, and overall feel at road speed was unquestionable. We stopped for photos, which took a while due to traffic and, God forbid, cyclists, then continued to the lunch stop.
---
---
Undoubtedly, the pace had upped a little and, coincidently, some new experiences were to be had. I most certainly felt the rear of the bike sliding on occasion – nothing too alarming, which is the important thing, but I felt it happen several times when accelerating out of corners.
---
---
Another journo had a big moment with a front-end slide just ahead of me that really confirmed things. The big hippy was a little less gung-ho after that… I discussed the slides with fellow riders at our pit stop and we all seemed to have felt a bit of it.
To lay it to rest we put it down to concrete dust on the roads or something as it was not present before photos. After coffee we swapped bikes and I got the Suzuki Katana to ride back. Again, there was occasional movement from the rear as I lazily sailed the hearty bottom-end of the old GSX-R K5 engine, but it was happening in a way that was not sudden or massively disturbing and the basic TC took control without fuss.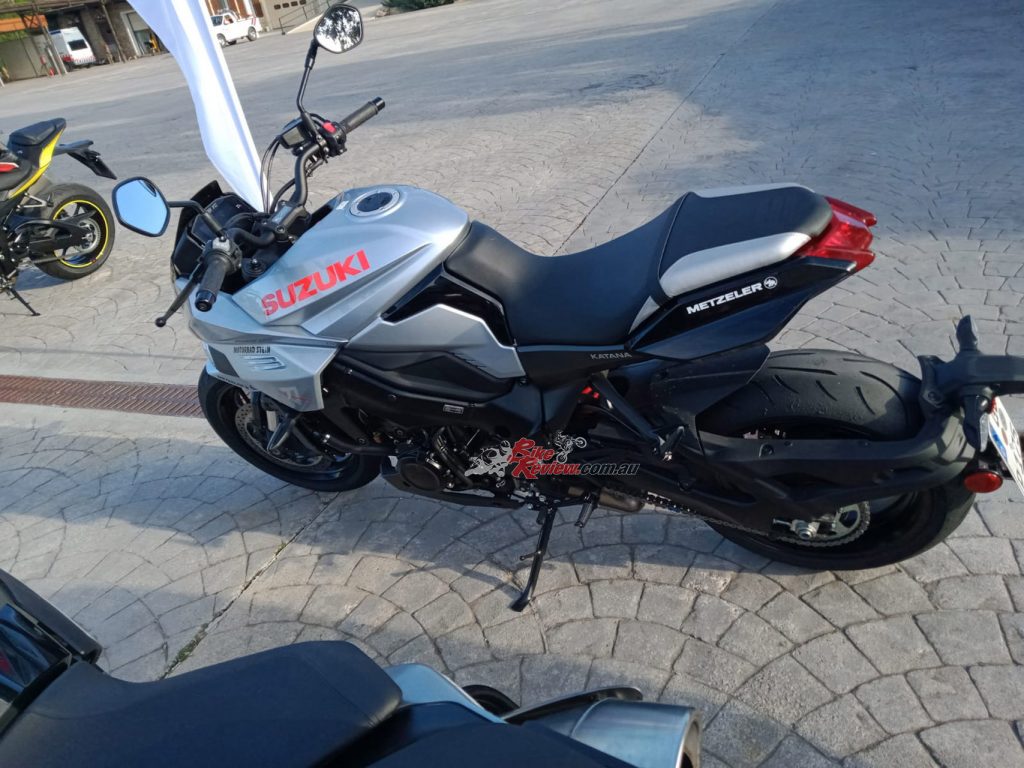 Wherever we were it was a beautiful place to ride, for sure, and one that I would cheerfully spend my Sunday mornings doing. A great place to start the test of the M9 RR and they proved a fantastic road sports tyre in both grip and handling character over a wide range of surfaces, both good and bad.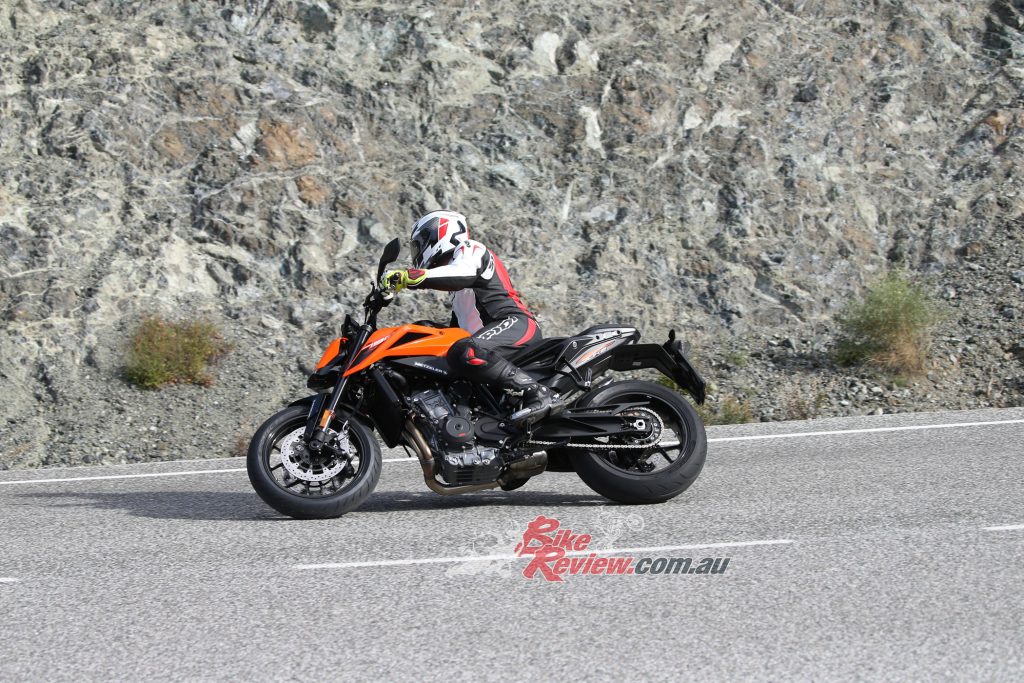 SPORTEC M9 RR TRACK EXPERIENCE
The privately owned Ascari Race Resort is a 5.42km asphalt gem that is dedicated to a lucky and, dare I say, affluent, clientele. It is nestled in the Andalucian Hills, with 26 corners sculpted after famous track corners around the World, and offers a complex and exhilarating ride-scape that does not let up in terms of excitement.
---
---
There was a plethora of bikes to grab, including a 2020 Yamaha YZF-R1, Honda CBR1000RR Fireblade, KTM 790 Duke, Suzuki GSX-R1000R, BMW S 1000 RR and the Kawasaki ZX-6R. Sadly, other bikes present were not available, such as KTM 1290 Super Duke R that was dumped earlier in the day. Not to worry. I had an initial session on the 'Blade, which was used to basically learn one corner from the next on the challenging Ascari Circuit, with its 100m elevation changes, following the coaches and to revive a hitherto flat-lined track-oriented brain.
---
---
For the second session I was on Suzuki's dreadnought GSX-R1000R, which although incredibly fast, just seems to be getting on a bit along with the 'Blade. Anyway, who cares? It's about the tyres, man.
I began to be a bit more exploratory with the copious gas on offer and managed to will the rear M9 RR into squirming a couple of times on corner exit. I am no A grade road racer by any stretch of even the wildest imagination but I have been test riding for near on 15-years now so have some experience. With all of the electronics these days, bigger bikes can tend to get into a situation where sidewall pump can start when hard on the gas off turns but there was no such issue with the M9 RR rear.
---
---
At one point, I was almost in control for a second or two, driven by some additional confidence from the tyres (no, Jeff, no beers before the track session as you recommended!) and the neutral, natural and progressive rotation about the cross-sectional radius that the tyres provided in, through and out of corners, gave me confidence while learning the track…
---
---
Session three came and I was keen to abandon bikes with more horsepower than I have any sense for and opted for the pick of the crop, the KTM 790 Duke. More confidence-inspiring, useable and accessible power for me and great engine and handling characteristics and I felt delighted to start getting the corner speed up and being a little more aggressive. Hell yeah, the whole bike felt simply excellent on the M9 RRs – planted, even in the very fast section with kink just before the pits, and stable as, even under very ham-fisted application of the brakes.
---
---
Be assured that the M9 RRs played a pivotal role in really providing a bigger envelope for me to play in – they felt rock sold even after multiple sessions of abuse beforehand. Exuberant. Then, stupid as I forgot track position and lost the plot, grabbing the front brake at lean and speed like a novice to follow my wandering eyes to the safety of the green, green grass mid-circuit. Dammit! Did I learn anything there? Probably not, but I did realise that the tyres coped with my childish behaviour and I remained safe. Cursing my carelessness, I rode back to the pits and took a few deep breaths.
The last session was on a section of track cordoned off and soaked with water just for our pleasure. For a cycle, I seemed to have been defaulted the Yamaha YZF-R1. I did not feel ergonomically comfortable at all on it as my head was paralysed by my back protector being forced against the back lip of my helmet. Tootling around I managed to have a front and rear tyre tango experience as I changed directions while transitioning from wet to dry track. This was a bit disconcerting as I was right in front of the Metzeler dudes (arms folded, watching) when it happened.
I feel that it probably shouldn't have – perhaps the tyres were tired as the bike had been mercilessly thrashed the whole day through. In the end, I spent around 15-minutes lapping in the wet test and was impressed by the tyres in that particular situation on that Ascari surface.
As for the slides, I made sure that it did not happen again, and I was kind of happy to finish the wet test tired, yes moderately, stirred but not shaken and importantly, rubber side down!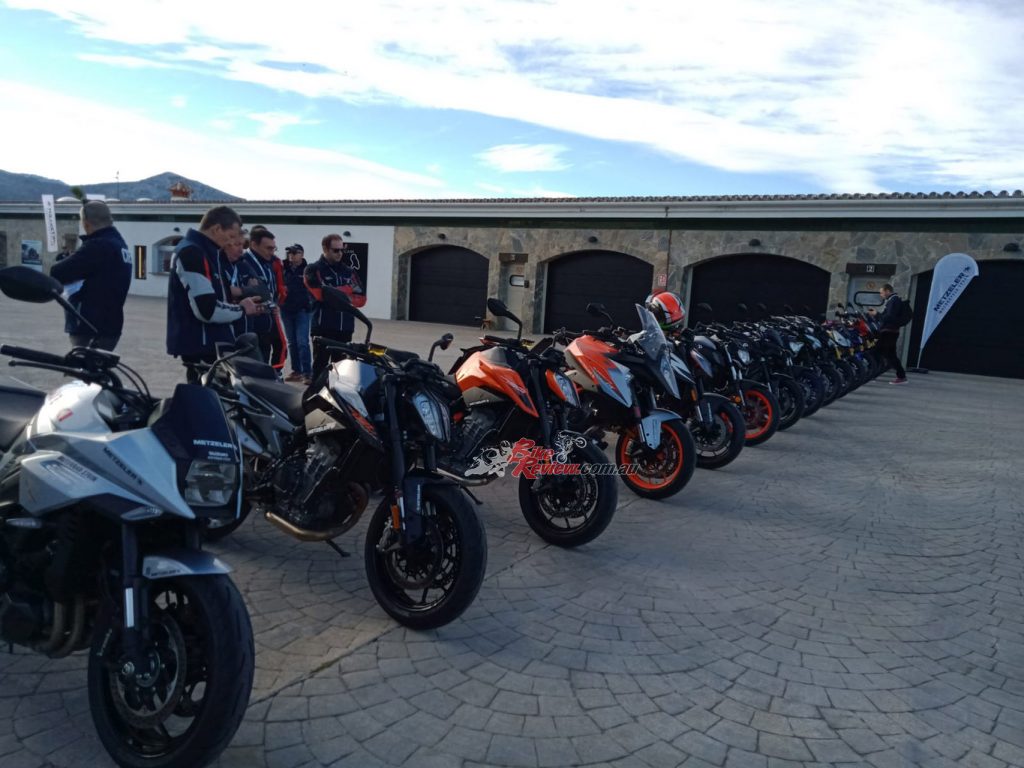 ---
---
CONCLUSION
When you are next replacing tyres on your hypersport, supersport or supernaked, it's worth considering the Metzeler SPORTEC M9 RR and seeing how they perform in your riding habitat. From my brief experience riding them and from the discussions I had about the tyres with the Metzeler team and fellow riders, they are a very capable product that has been designed and developed for real-world applications and with the latest motorcycle weaponry in mind.
I'll reserve the true wet weather performance for testing here over a longer test period, along with durability and wear, bigger road sports miles and more track days. Stay tuned for our usual long term tyre test some time this year…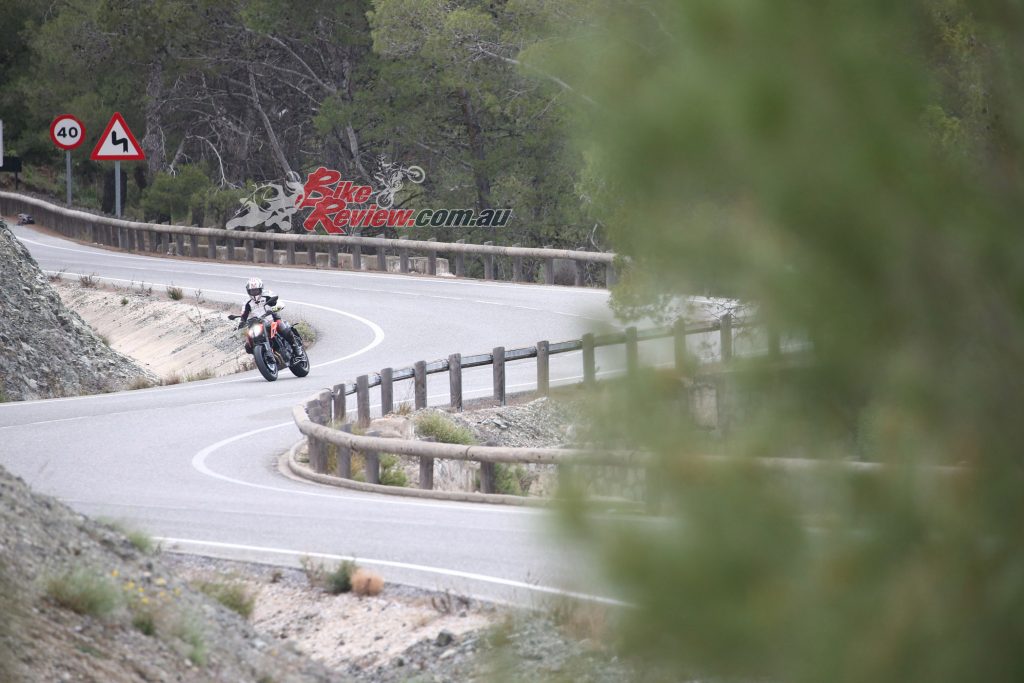 ---

M9RR SIZES AND PRICES (available now)

110/70ZR17 $209.95 (F)
120/70ZR17 $229.95 (F)
150/60ZR17 $279.95 (R)
160/60ZR17 $289.95 (R)
180/55ZR17 $309.95 (R)
180/60ZR17 $319.95 (R)
190/50ZR17 $319.95 (R)
190/55ZR17 $319.95 (R)
200/55ZR17 $339.95 (R)
---
Special Thanks
Belinda Fesl (event manager) and Martin Schaumloeffel (brand manager) from Metzeler organised the event meticulously, with us being able to sample the M9 RR at an exclusive private circuit secreted in the beautiful hills around Ronda in Spain, relish their wonderful hospitality and technical knowledge and take in some of the magnificent and inspiring scenery that is in abundance in this area. Geoff Wood from Cassons Australia and Marcel Bode from Metzeler APAC were fantastic as well. I am eternally grateful that I got home in time to stock up on bulk toilet rolls. Cheers, Simon.
---
---
The Verdict | Tyre Test: World Launch, Metzeler SPORTEC M9 RR
When you are next replacing tyres on your hypersport, supersport or supernaked, it's worth considering the Metzeler SPORTEC M9RR and seeing how they perform in your riding habitat. From my brief experience riding them and from the discussions I had about the tyres with the Metzeler team and fellow riders, they are a very capable product that has been designed and developed for real-world applications and with the latest motorcycle weaponry in mind.