Simon tests Royal Enfield's famous cafe racer, the Continental GT, here's the full review. Test by Simon Harris Photography by Kris Hodgson
Jeff asked me if I wanted to have a ride and jot down a few words on the Royal Enfield Continental GT review, presumably because of my age, greying beard and fondness for old school. Not being foolish enough to decline a ride opportunity, I grabbed the key gleefully.
Admittedly, I was not expecting a great deal in the performance stakes after reading up on the machine… learner legal with a tad under 30hp and 29 stone (184kg) of bike to lug, ultimate performance is not really a significant blip on the radar, but it's not about that. Have a look at the thing. It is all about image and heritage and celebrating the bygone but glorious original café racer era. I think it comes up trumps in this regard.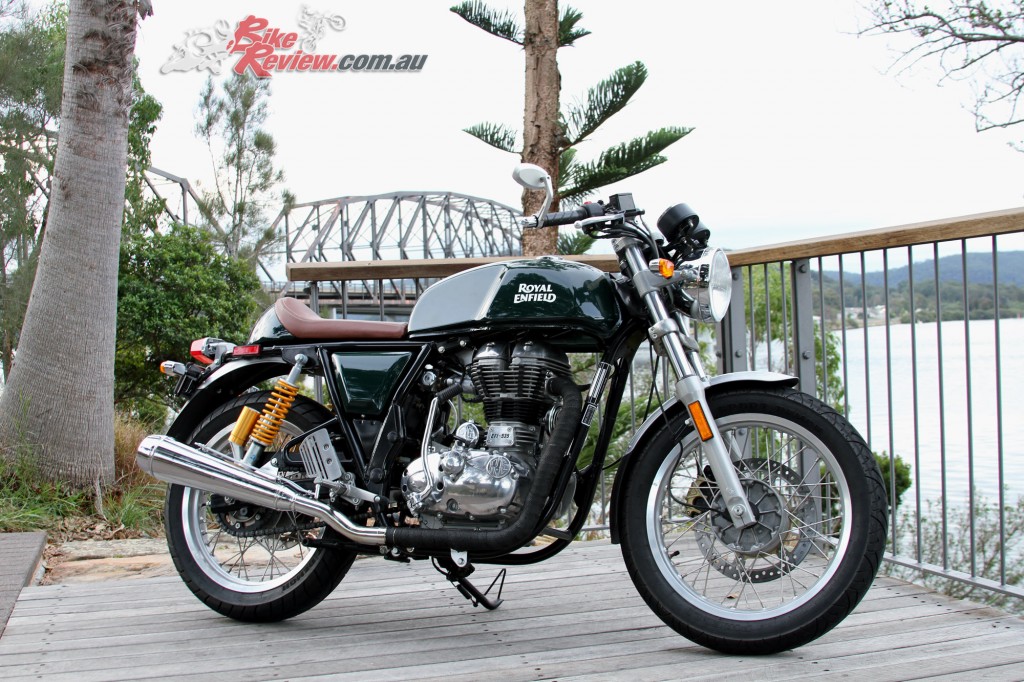 In terms of being genuine, how could you argue with a kick-start air-cooled pushrod big British single on full display in a steel tube cradle frame and spectacular era styling? The styling will not be adequately translated by images, sadly – it is rather handsome in British racing green livery.
In fact, I had to force myself not to reach for the autosol and polish the engine cases as soon as I had the bike in my garage, such is its effect. The GT has been around for a couple of years now and is the pinnacle of the current crop of Royal Enfield offerings, boasting an array of improvements over its siblings.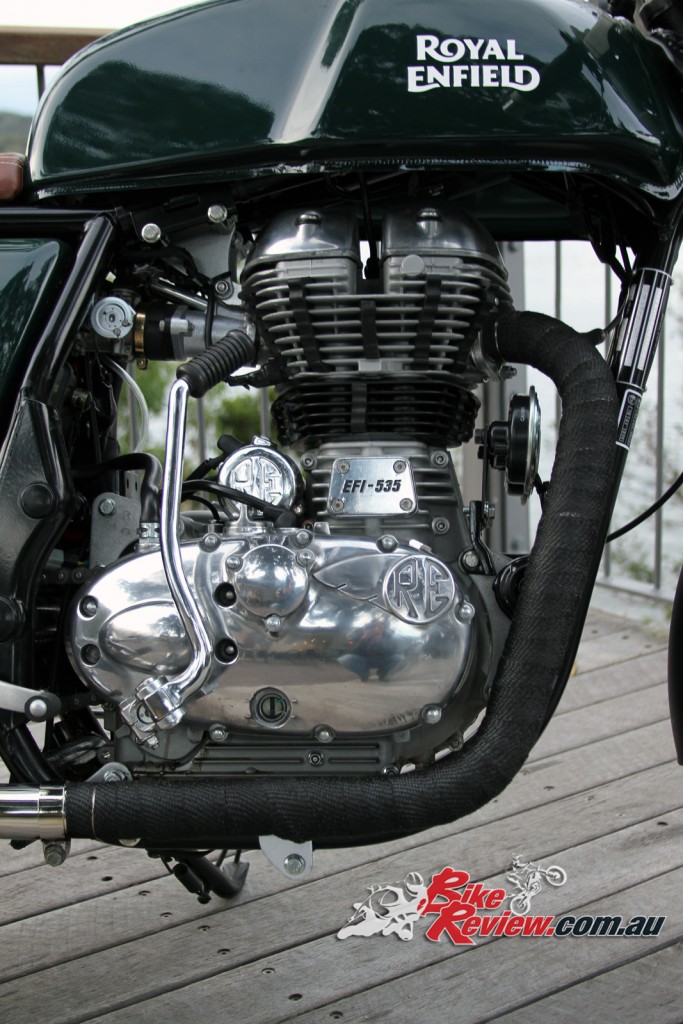 Main technological aspects are limited to electronic ignition, fuel injection and electric start, with kick-start an option should you feel energetic or have the need. Remember, the original engine design is from between two world wars (1933) and has been consistently manufactured ever since. That is an incredible testament to design strength and reliability.
Enfield began manufacturing arms in Blighty in 1891, then engines and bikes from circa 1901, making it one of the oldest automotive manufacturers. The UK plant folded in 1971, however, manufacturing of the "Bullet" had prior been moved to India along with majority share ownership. The Bullet, and subsequent models, have been born in Madras/Chennai since 1955.
My first experience with starting the bike was not good – 10  minutes of fruitless electric start and even a couple of kicks would not get the thing to fire. Thinking that something was wrong, I called Jeff and tried a few things – choke, yes, there is one, clutch pulled in, etc. The problem turned out to be me trying to start the engine with the side-stand down – this is a no-no and I think is a safety feature to prevent the bike possibly vibrating off the stand.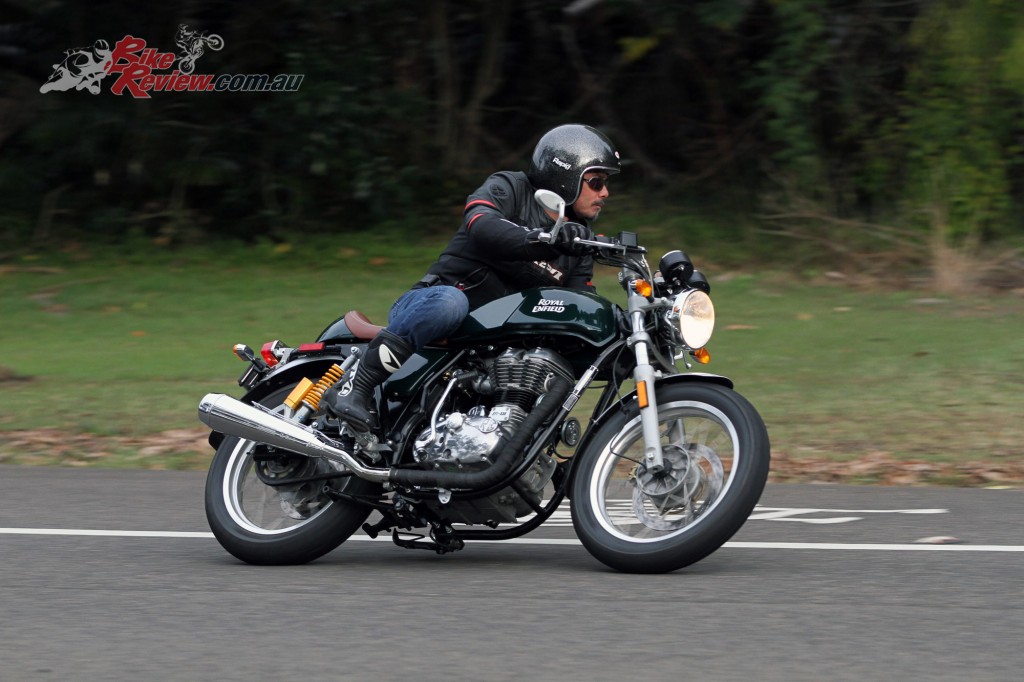 Now that it ran, it was time to ride. Unfortunately, the clutch set-up was poor, with all the takeup in the last couple of degrees of lever movement. This did not make for elegant launching nor accurate gear changes, particularly downshifting as there is a fair amount of flywheel effect at play.
Anyway, once rolling the bike is easy to get along with. The ergonomics are just fine and the clip-ons are well placed for leverage as well as positionally with the comfy non-pillion seat and footpegs. The reach over the pleasantly sculpted tank is spot-on for a café racer.
The gearing is pretty short and the available operating rev range is quite limited, so you will be using the 'box a fair bit to keep the engine in its sweet zone of about 3000 to 5000rpm. This is OK as both clutch the gear change actuation is quite light. You will know when you're at either end of the ratios as the gear lever seems to "slacken" as though the detent spring is broken. Quirky, but no big deal.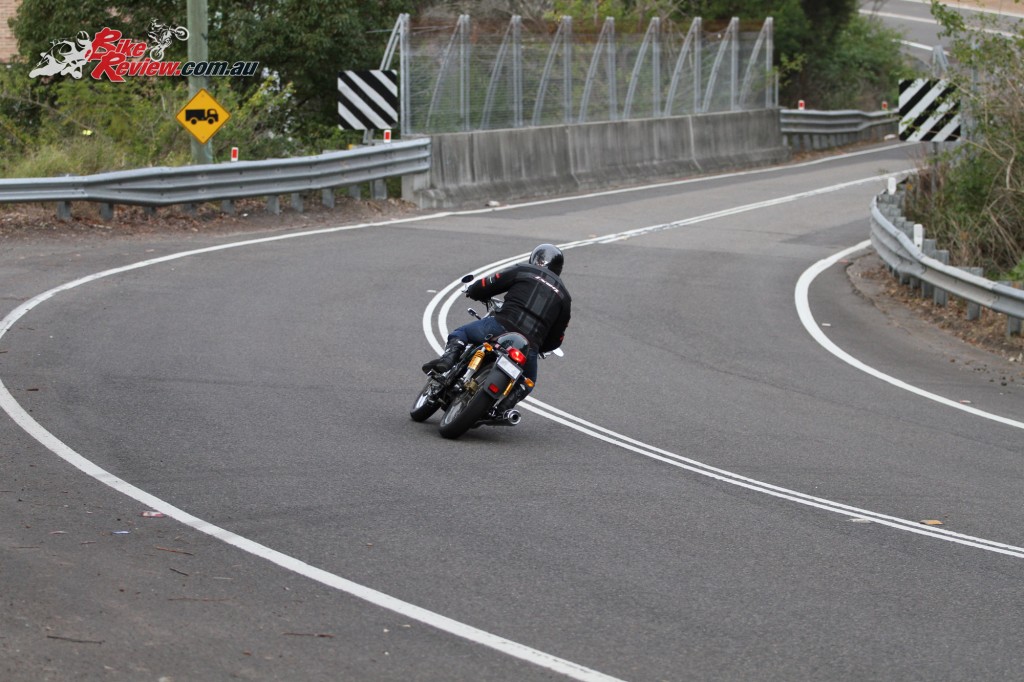 You will find the riding experience pretty unhurried. Don't expect fireworks if you crack the throttle wide. The go is to not be aggressive with the right hand but more to wind things on progressively to match the available torque and to maintain velocity rather than constantly and furiously accelerating/decelerating.
In this manner and unhampered from expectation, the ride is rather cool. After all, you are cruising on brand new vintage with ace looks, man. The burble from the exhaust is nice and sounds very grizzly in tunnels. Jeff assures me that it's actually bloody loud, which is a boon for safety as well as head turning.
Don't be overly worried about evil plod either, you're a less likely candidate for subjugation on an Enfield. I was able to cruise steadily at motorway speed relatively easily and actually with little hand fatigue as the vibes are lower in frequency than on a multi-cylinder. Having said that, being exposed to the elements can take its toll at faster velocities if you're a sissy. So instead, grow at least your sideburns and bare a maniacal grin in your open face and embrace the discomfort like a proper hard bugger.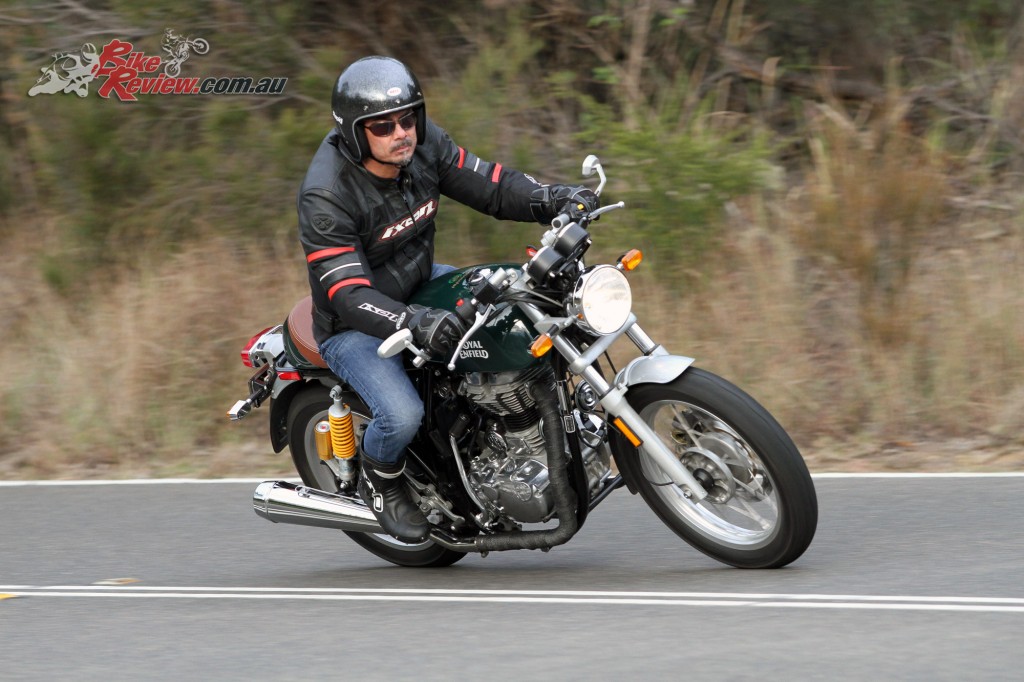 The frame has been designed with the assistance of Harris Performance in the UK. This is a real coup for the GT in terms of establishing cred. The frame is a double cradle affair that has well matching chassis components of swingarm, wheels/tyres, Paioli suspension and Brembo brakes. Being narrow, running on relatively narrow, high profile rubber and with longer than average wheelbase and trail, cornering is old school in terms of physics.
No squeezing the rotors hard and dumping it into bends, the GT likes to be ridden with more deliberation in terms of setting up for bends early and executing the radius. The reward for keeping up reasonable corner entry speeds, maintaining faith, and getting on the gas early is there and it won't be long before your confidence increases.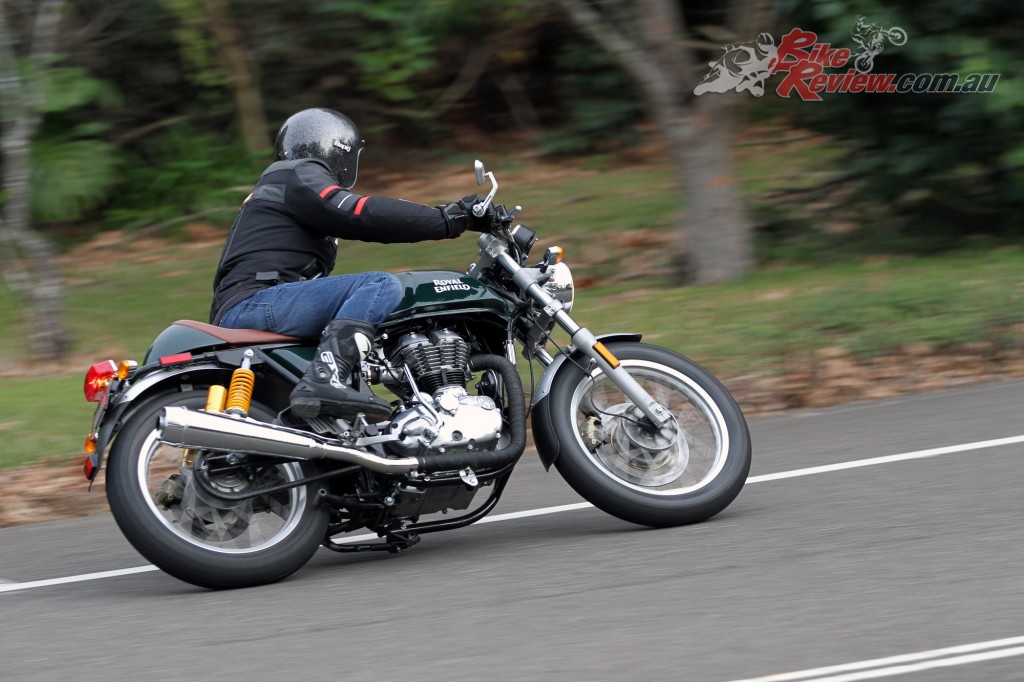 You may be surprised at how planted it actually feels at the modest speeds it is most comfortable in, and this is certainly not to say that you cannot crank it over. The weight, ergonomics and clip-ons make corner set-up nice and simple and the ground clearance from the fairly high set footpegs is abundant.
For the money you will get a lot of machine with a long and proud lineage that is essentially hand built. Sure, some aspects of the manufacturing, such as some welds, paint and chrome may not be as perfect as from other manufacturers, or some creature comforts are lacking, such as lots of adjustability, but that is part of the reality and mystique of Enfields.



With your change, buy the necessary gear and don't forget to ride over your Brando jacket a few times and bung some oil on it to "age" it appropriately. With your additional change, perhaps shave off 20kg and add 15hp to surprise your riding friends with.
The Continental GT is about sheer and straightforward motorcycling enjoyment with heaps of real style and attitude in the mix. It is  an absolute classic of the modern era as a desirable anachronism that is within reach of many riders seeking a machine that is truly and distinctly different.
Specifications: 2016 Royal Enfield Continental GT
Price: $9,990 + ORC
Warranty: Two years/unlimited kilometre
Colours: GT Red, GT Green, GT Black
Claimed power: 21.4kW[29.1hp]@5100rpm
Claimed torque: 44Nm[32.5ft-lbs]@4000rpm
Dry weight: 184kg wet
Fuel capacity: 13.5L
Engine: Air-cooled overhead valve four-stroke single cylinder, 535cc, 8.5:1 compression ratio, Keihin EFI, digital electronic ignition, steel exhaust system with Lambda probe
Gearbox: Five speed, constant mesh
Clutch: Wet multi-plate with cable actuation
Final drive: Chain
Chassis: Tubular steel double cradle
Suspension: 41mm non-adjustable forks, 110mm travel (F), Paioli twin preload-adjustable gas charged shock absorbers, 80mm travel (R)
Brakes: Single 300mm Brembo floating disc with two-piston Brembo caliper (F), single 240mm disc and single piston caliper (R)
Wheels & Tyres: Spoked with alloy rims, Pirelli Sport Demon 100/90 -18 (F), 130/70 -18 (R)
DIMENSIONS:
Wheelbase: 1360mm
Seat height: 800mm
Instruments: Analogue style speedometer and tachometer with warning lights
The Verdict | Review: Royal Enfield Continental GT