Royal Enfield Sydney... Feature & Images: Kris Hodgson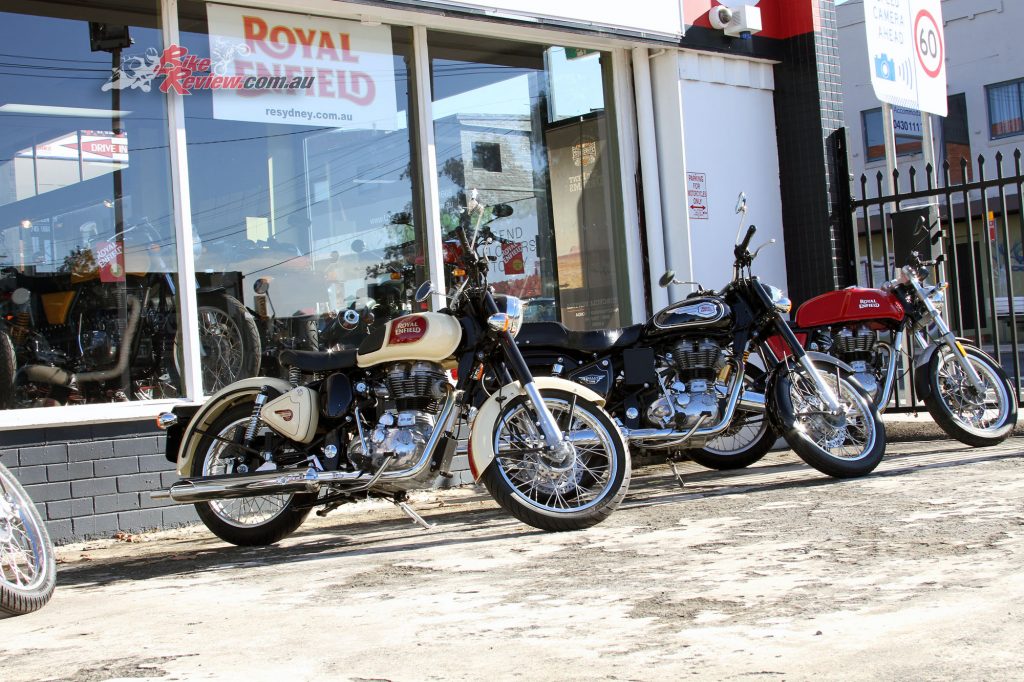 If you're interested in Royal Enfield, or are considering adding one of their motorcycles to your shed then there's one place for Sydneysiders to go and that's Royal Enfield Sydney, the only exclusive full line Royal Enfield dealership in the city.
Inside you'll find the full variety of Royal Enfield motorcycles, from the Continental GT 535 through to the Classic 350, with the dealership maintaining an atmosphere in keeping with the brand's long held history.
Savvy on-lookers will notice that Royal Enfield Sydney shares a building with EagleRider Sydney, with both being run by Will Keith, with a bevvy of Harley-Davidson's available for hire.
Chatting to Will it's easy to see the passion he has for the Royal Enfield brand, which extends to include his own custom Bullet 500 (Hannibal), a work in progress that currently dominates his bike lift, with Will confiding that this kind of build requires real attention to detail to ensure the end result not only looks great, but is also mechanically A1.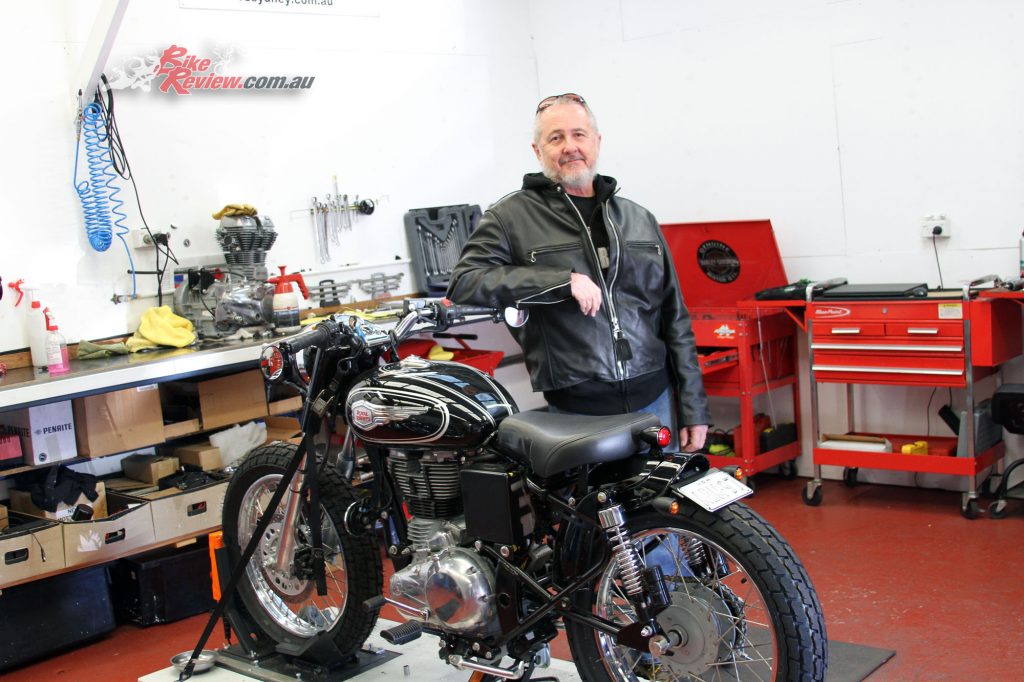 Royal Enfield Sydney also have everything you need to get started motorcycling, from motorcycle gear, through to oils and accessories, with genuine Royal Enfield accessories also in the works for the near future, with customising these machines proving incredibly popular.
Located in the convenient and central location of Burwood on Parramatta Road, Royal Enfield Sydney is your one stop shop for everything Royal Enfield and the friendly and helpful staff will go out of their way to help you in any way they can.
We had a chat with Will about starting the business.
Royal Enfield Sydney – Quick Chat

BR: HOW LONG HAVE YOU BEEN IN THE MOTORCYCLE INDUSTRY? 
RE Sydney: In 1970, when I was 13 years old, I started at J & W Cycles and have remained in the industry ever since.  My greatest education was at Rodney's Cycle House where I was taught the difference between a mechanic and a craftsman.  That knowledge and appreciation of attention to detail has helped me with all the jobs I've held in the industry over the years.  A large chunk of my career was at the Harley-Davidson Motor Company where I started as an instructor and ended up running training worldwide.  We could talk all day about the different rolls I've had in the industry but suffice to say that this is what I do, it's what I have always done and I hope my legacy will be that I left it better than I found it.
BR: DID YOU START THE BUSINESS?
RE Sydney: Yes.  We started in this location renting motorcycles and expanded the business to include the Royal Enfield dealership.
BR: WAS IT DIFFICULT TO START THE BUSINESS? 
RE Sydney: Everything worth doing is a challenge.  The motorcycle industry is getting more challenging all the time so you have really love it and want to be involved to commit to it. 
BR: HAVE YOU ALWAYS HAD AN INTEREST IN BIKES?
RE Sydney: Always.  I grew up in a place where I could ride trails out of my yard for 100s of miles in any direction.  I spent my childhood on a dirt bike racing my friends down pipelines.  When I was old enough to get a street license I got a street bike too.  I've never been without at least one motorcycle since that day.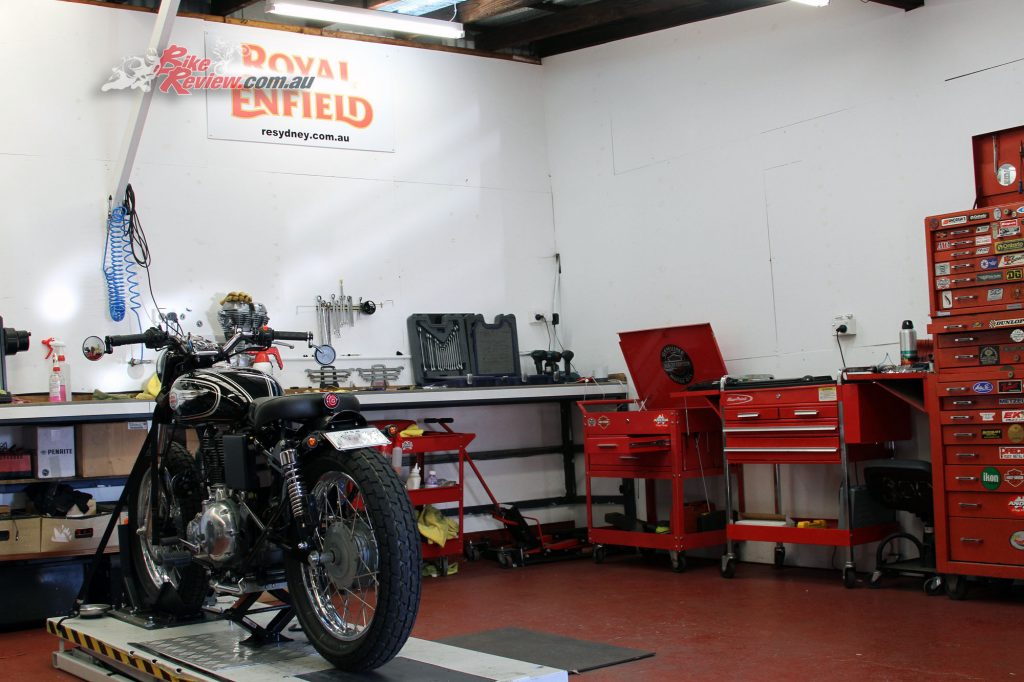 BR: WHAT MACHINERY DO YOU HAVE IN THE WORKSHOP?
RE Sydney: Everything we need. 
BR: WHAT TOOLS DO YOU USE THE MOST?
RE Sydney: The right one for the job.  There are no bush mechanics here.  We do it the right way every time but while wearing a t-shirt.  We like to call ourselves casually professional.  After years of being required to wear a uniform I just can't do it anymore. Since I'm the boss I get to make that decision.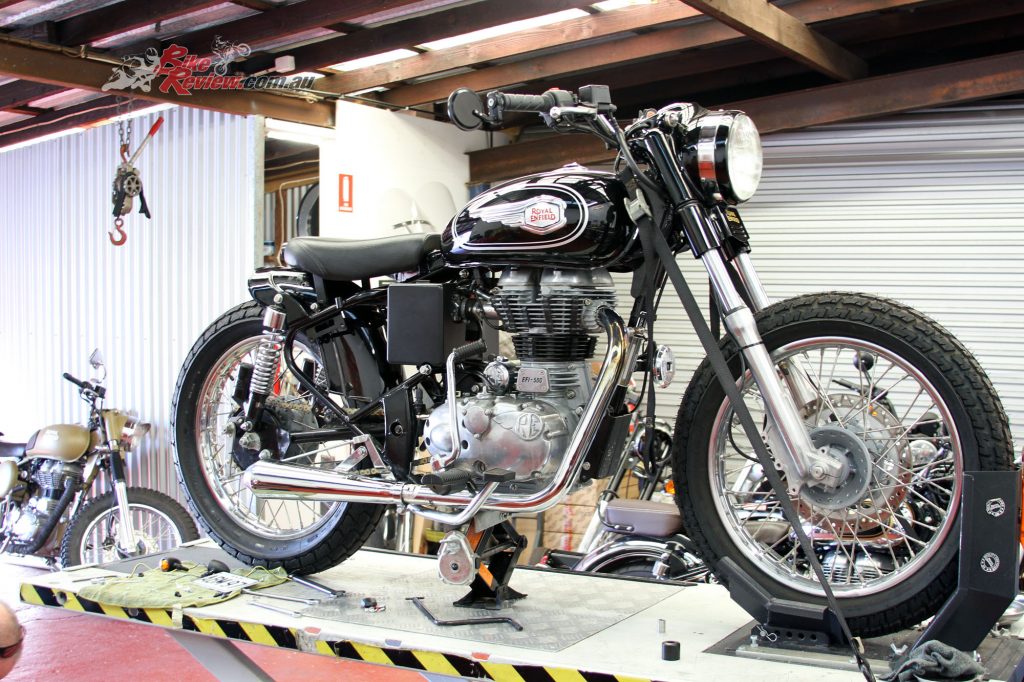 BR: WHAT BIKES ARE YOU CURRENTLY WORKING ON? 
RE Sydney: Currently building a Royal Enfield Bullet 500 flat tracker. Bullets make great platforms for customising. We do servicing on Royal Enfield and Harley-Davidson motorcycles.  
BR: WHAT IS UNIQUE ABOUT YOUR BUSINESS?
RE Sydney: Us. We firmly believe that people make the difference. We love what we do and we respect our customers.
BR: WHAT'S ONE OF THE MOST INTERESTING PIECES OF WORK YOU HAVE DONE? 
RE Sydney: So many years, so many bikes. My most favourite bike is my '59 Harley-Davidson, Jayne. I built Jayne for a friend and ended up swapping motorcycles with him. A few years ago we hosted a drag race and when I rolled up with her everyone said I was crazy to race my vintage bike. They didn't say that after I beat all their new Screamin' Eagle CVOs!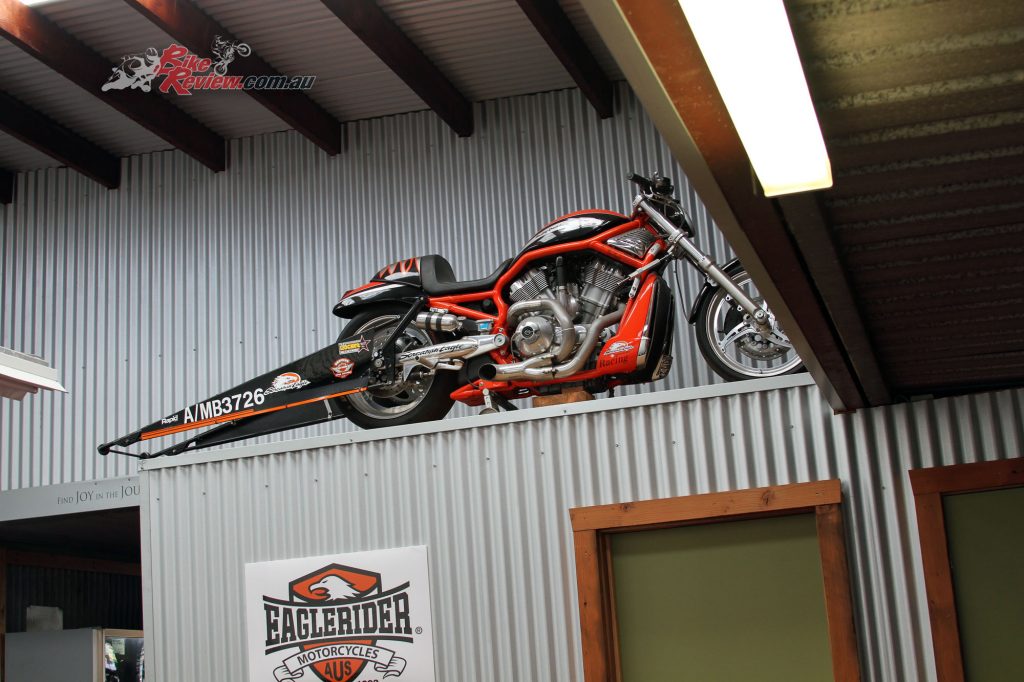 BR: WHAT DO YOU LOVE MOST ABOUT YOUR JOB? 
RE Sydney: New bike day. When you see someone buy a new motorcycle you know that there life is about to change in a dramatic and profound way. Motorcycles are awesome.
BR: ANY REGRETS? 
RE Sydney: I believe that we regret the things we don't do more than the things we did.  I've done plenty.  Maybe I could have done things differently along the way but I am happy where my path has taken me.  You can't ride far if you're always looking in your mirrors.
BR: WHAT ARE YOUR PLANS FOR THE FUTURE?
RE Sydney: Professionally we are going to grow the shop into a flagship Royal Enfield dealership and help support the community of riders with good products, good service and honest information.   Personally I have plans for epic rides all over the world with my wife. 

Royal Enfield Sydney Gallery:
Click the images for full size viewing.