We have just taken delivery of a brand new 2017 KTM 350 EXC-F long termer and we're pumped! The 2017 KTM enduro range was heavily updated for the year (you can read the tech info below) and the 350 was the perfect choice for us.
Kris is a newby to off road and is keen to get into something new, and has been talking about enduro bikes for a while, so he will do some courses and start to gain some experience on the 350. I'll be using it for dirt track for fun, without going crazy on set-up as it will still need to be an enduro bike, and for trail riding around my local area while I am still in the rehabilitation period after a knee rebuild.
Unfortunately I had to have a meniscus resection, so my right knee is bone on bone, severely limiting my ability to ride off road (I can't stand up on a bike for long), however, I have been out running the bike in and had a ball so far, just not going to nuts. The dirt track, however, should be OK on the knee and I can't wait to give it a crack!
In the meantime, Mark Stenberg has taken the bike for a while to do some serious riding and have a play with the suspension. Mark currently owns a 2017 KTM 500 EXC-F and is looking forward to trying the 350 engine out.
Mark will be making a few changes to the bike as well, we plan on upgrading the hand guards, sump guard/bashplate, fitting radiator guards, mousse tubes, anti vibe bar mounts, a fuel filler sock and front and rear straps and do a test for us, we will get it Ben O'Brien to do a full review as soon as he gets home from his epic trip on his KTM 500 EXC-F, he is off to ride the Canning Stock Route.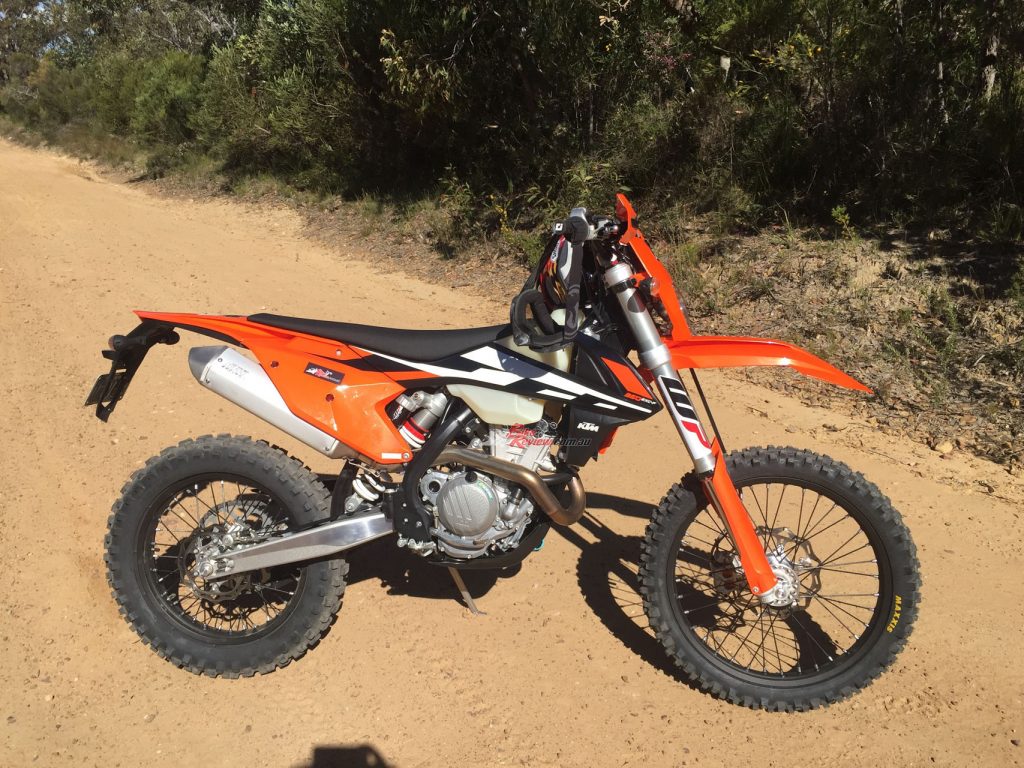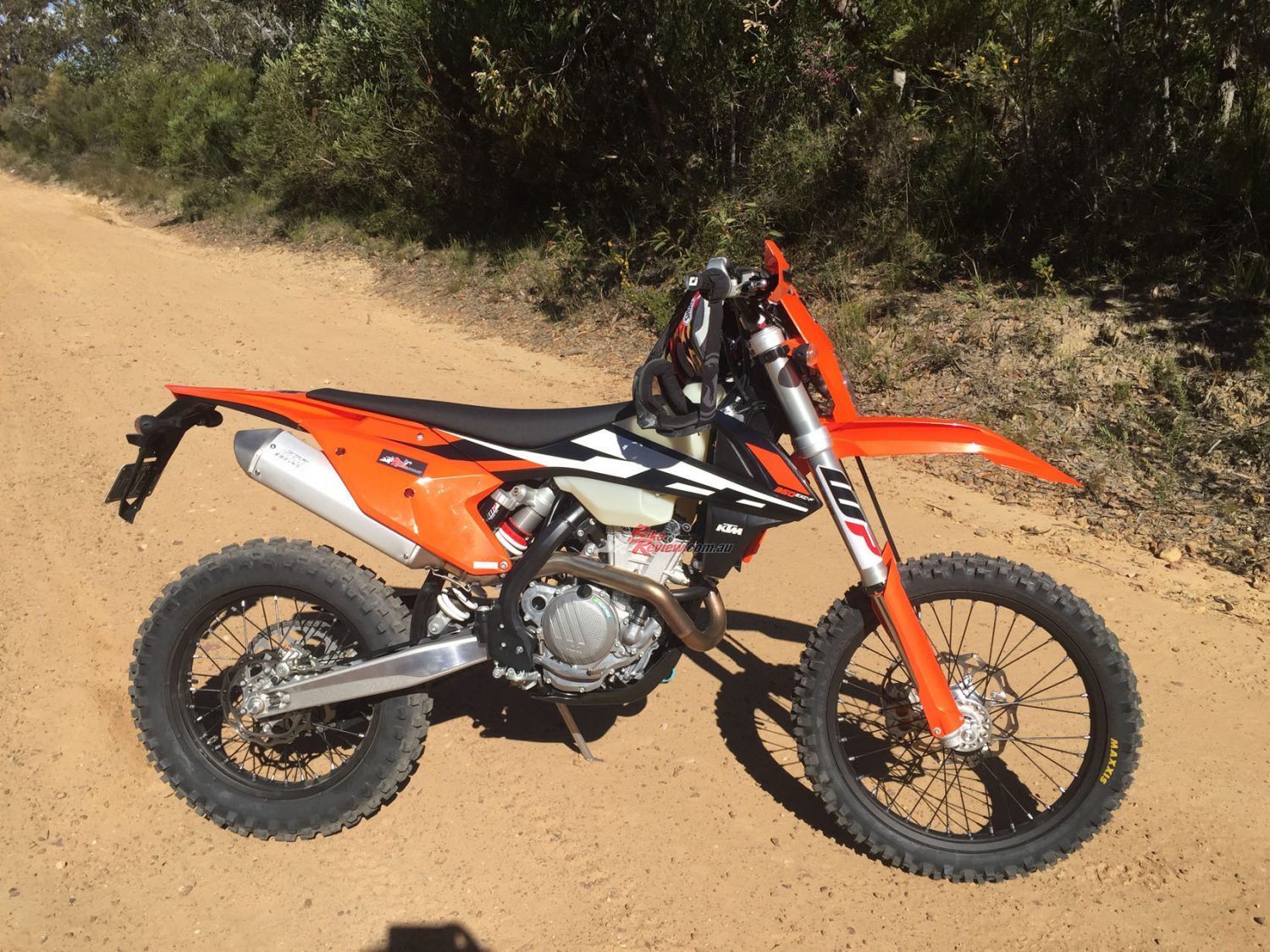 Stay tuned for more as we ride more and learn more about this awesome enduro weapon! With experts like A grader Ben, seasoned off roaders like Mark and newbies like Kris and I, you will get a great range of opinions from all angles and levels. Talk Soon!

2017 KTM 350 EXC-F Chassis
Following a similar geometry to the 2016 KTM enduro models, the 2017 frames feature a new design and flex characteristics. The 6mm wider and 2mm lower steel tubes offer 20 per cent higher torsional rigidity for improved stability and agility, while longitudinal stiffness is reduced by 30 per cent for better bump absorption and suspension functionality.
New laterally mounted head-stays increase handling agility while reducing vibration. As standard the frames are fitted with protectors and a new engine guard. Weight is reduced by 0.6kg.
The hollow, cast aluminium swingarm is designed to offer optimum stiffness and reliability at the minimum possible weight. KTM engineers have machined the rear axle in order to allow for the chain adjuster markings to be seen from above for easy maintenance.

CNC machined triple-clamps offer an offset of 22mm. They are expertly crafted using superior techniques and materials to provide high levels of quality and reliability. A two-way handlebar adjustment also comes as standard and allows for customised ergonomics.
Developed by WP Performance Systems specifically for enduro riding, the WP Xplor 48 forks are a completely new feature in the MY17 KTM enduros. They feature an open cartridge layout with a spring in each leg and split damping functions. Compression is adjusted from the left side and rebound on the right via easily reachable clickers situated on the top of the tubes. A standard pre-load adjuster allows for easy pre-load adjustment without the use of tools.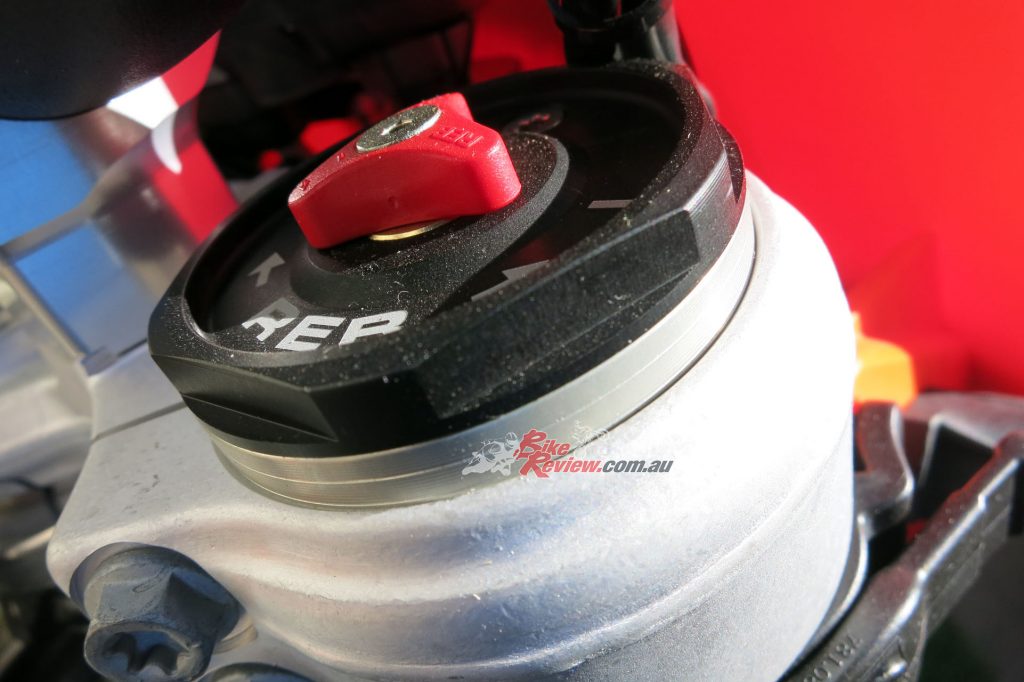 The sub-frame is new. Featuring carefully calculated rigidity, the sub-frame enhances overall ergonomics.  All models feature a new, lightweight fuel tank made of translucent plastic so the fuel level can be checked quickly and easily. The capacity varies between the 2-strokes (10L) and the four-strokes (8.5L). All fuel tanks feature a quick release fuel cap for quick refueling, while four-stroke models are fitted with an integrated fuel pump and fuel level sensor.
The new WP shock weighs only 3.7kg and is 0.36kg lighter than the previous version. A pressure balancer inside the shock improves damping resulting in greater rider comfort and handling. The corrugated outer contour of the reservoir increases cooling. The component is also fully adjustable.
The ODI lock-on grip on the left side does not require gluing, while on the right, the vulcanised grip features an integrated throttle mechanism. The assembly has easy free-play adjustment and, by changing a cam, throttle progression can be altered on all four-strokes.
New bodywork and graphics are featured on the 2017 enduro models. Offering completely new ergonomics, the bodywork enhances control and comfort allowing the rider to perform at their best for longer periods of time. The seat has a low profile design and a new high grip seat cover, which keeps riders planted under hard acceleration or in slippery conditions.
The radiators are by WP Performance Systems using high strength aluminium. CFD (Computational Fluid Dynamics) is utilized to channel air through the radiators more efficiently and provide optimal cooling in all conditions. The cooling system is integrated into the frame increasing heat dissipation by channeling coolant through the frame while eliminating the need for additional hoses.
Additionally, the radiator protectors do not only protect against flying debris but also act as a brace and divert any energy from an impact around the radiator and into the frame.

The new airbox is designed with precisely positioned inlet ducts aimed at preventing air deformation and ensuring maximum airflow and protection. The airfilter is accessible without tools. Easy maintenance is guaranteed by the airfilter and filter cage design that features a simple fail proof mounting system for safe and accurate filter installation.
Featuring an enduro-specific design the new self-cleaning footpeg mounts prevent the build-up of dirt collected in deep ruts or muddy terrain. The footpegs are also positioned 6mm higher than in KTM's motocross models to further increase ground clearance over rocks and deep ruts.
High quality Brembo calipers and controls combined with GSK rotors deliver superior stopping power. The rear brake caliper feature a 24mm piston (26mm on previous models). A 10mm longer rear brake lever provides better modulation and feeling while braking.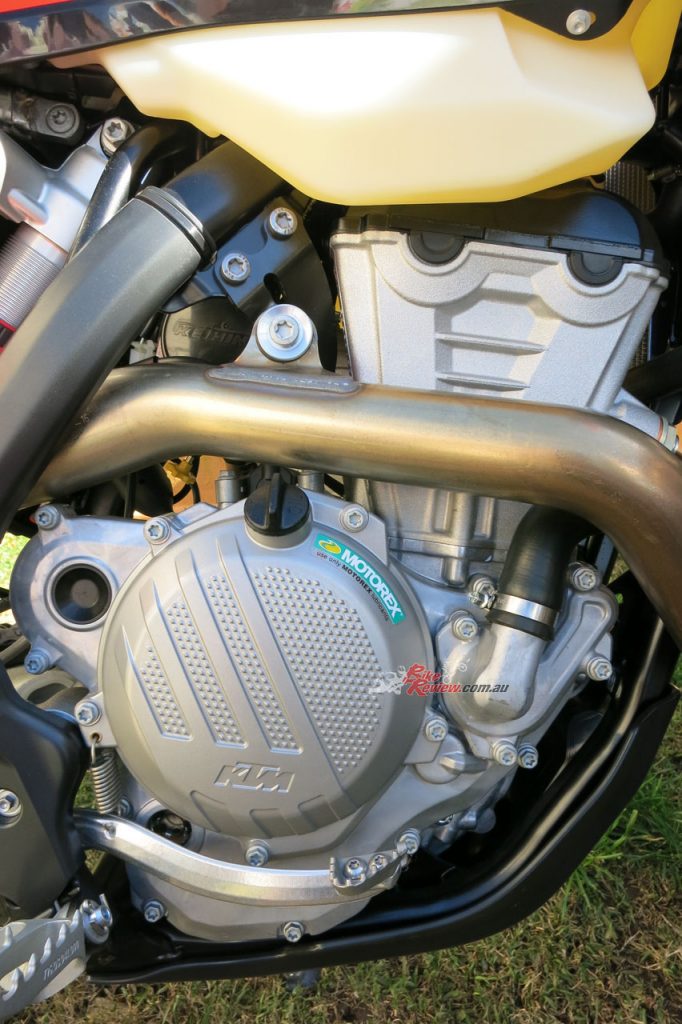 2017 KTM 350 EXC-F Engine
The 2017 KTM 350 EXC-F engine is designed to be more powerful, lighter and more compact than the previous model – as are the 250, 450 and 501 variants of the same engine.
The new engine is 20mm shorter and 700 grams lighter than the 2016 engine, weighing in at 28.5kg including starter motor. Power delivery has been refined throughout the 12,000rpm range.  
The 88mm cylinder has a CP forged piston of box type, and a compression ratio of 12.3:1.
The head has been revised with new polished camshafts reducing frictional and torque losses. The four titanium valves (36.3mm IN, 29.1mm EX) are actuated by 30 per cent harder DLC coated finger followers and the camchain, guides and sprockets are revised to reduce frictional losses. New valve springs and retainers increase torque at lower rpm.
The new crankshaft is stiffer and features a 6mm shorter stroke giving a freer revving engine response and the crank and main bearings have a service interval of 135 hours. A multifunctional balance shaft reduces vibes and also drives the water pump and timing chain.
The cases are new and reposition shafts to optimize mass centralization. The clutch shaft has moved 11.1mm back and 26.9mm up, making the engine 20mm shorter in total.
The gearbox is a new six-speed unit with wide-range enduro gearing. The shift fork is coated in a low friction coating and a new gear position sensor allows the engine management system to run a specific map for each gear.
The 350 EXC-F engine features a DDS (Damped Diaphragm Steel) clutch. This clutch has a single diagram spring rather than multiple coil springs, making the clutch feel lighter, while the basket is CNC machined steel unit rather than alloy, and actuation is via a hydraulic Magura master and slave cylinder.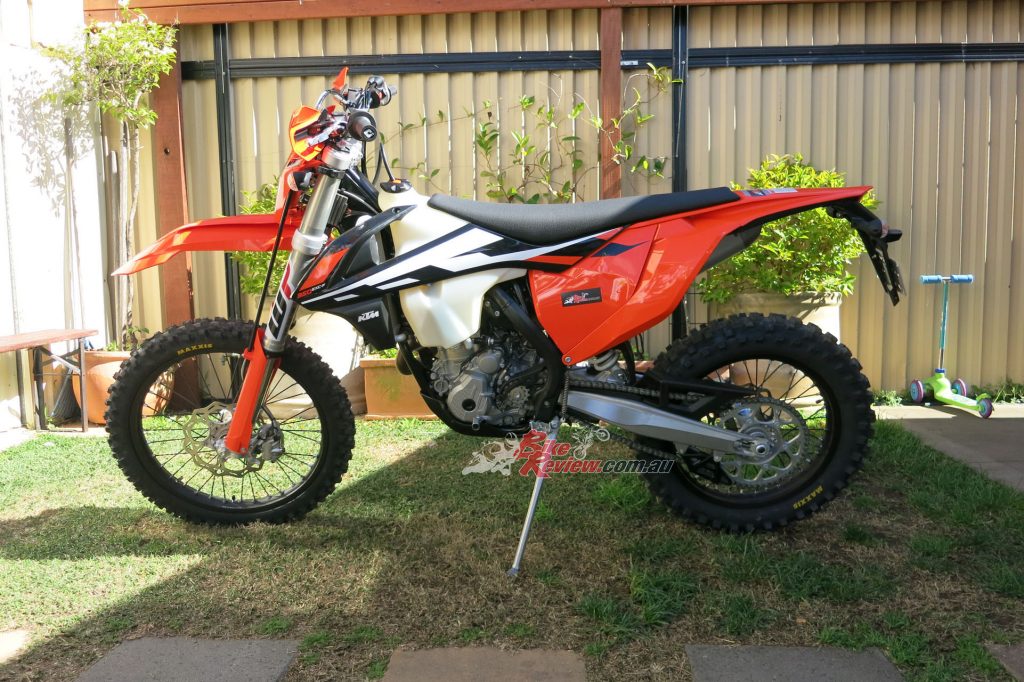 2017 KTM 350 EXC-F
 Specifications
Price: $13,995 + ORC
Claimed power: N/A
Claimed torque: N/A
Dry weight: 106.8kg
Fuel capacity: 8.5L
Engine: Single-cylinder DOHC, four-valve four-stroke, Keihin EMS and EFI.
Gearbox: Six-speed.
Clutch: DDS wet multi-plate.

Frame: Central Double Cradle ChroMo steel.
Rake: 63.5°, Offset: 22mm.
Suspension: WP Xplor 48mm forks, 300mm travel, WP monoshock, 330mm travel, both fully adjustable.
Brakes: 260mm/220mm rotors, Brembo calipers and master-cylinder.
Wheels & Tyres: D.I.D 1.60 x 21in, 2.15 x 18in, Maxxis  90/90-21, 140/80-18.
Dimensions:
Wheelbase: 1495-2005mm.
Seat height: 970mm.
Ground clearance: 370mm.

2017 KTM 350 EXC-F
 Gallery