Simon jumped on our long term Harley-Davidson LiveWire for the first time since he attended the Australian launch last year! See what he thought... Words & Photos: Simon Harris.
As soon as Jeff told me that Bikereview was getting hold of a H-D LiveWire for a long-term test bike, I started hounding him for a turn immediately. I already had an opportunity to ride the LiveWire at the Aussie launch last year and it left an indelible effect on me…
Despite some short-comings that you might have heard whispered or shouted, such as variable range and charge time and sometimes crude design, as an electrically powered motorcycle it is simply a revelation to ride.
---
Check out Part One of our long-term review on the LiveWire here…
---
I have had the bike for the last two weeks, sullied somewhat by current stay at home "orders" and have been banged up within a limited distance from home to "partay", as it were. That said, what time I did spend on the LiveWire reaffirmed my zeal for it. Yeah, you've heard it all before – max torque, max torque, max torque. I shan't bother you anymore with that, except to say that if the word "propulsion" appeals to you, you get the picture.
My aim was more to savour the delights of the propulsion and the sweet, sweet handling on my local roads. Honestly, I was not intending on living with it as an everyday bike, more because I couldn't, given the current crisis. At least in the normal commuting kind of way. That said, as a runabout to the shops for essentials and sometimes not quite so essential, it was so easy – wheel the behemoth out (a heavy bastard, it is), perform the two-button silent start routine, then, whisk away. No idling, throttle blipping, racket, warm up, fumes. Just go.
---
---
Once on the move, the quarter tonne mass seems to just evaporate. A trip to the shops and back is an opportunity to detour slightly. With this in mind, I kept the charger out of the bike and at the ready in the garage. As soon as I got home, I plugged in. Doing this, I made sure that I was always at 100 per cent before setting off. Being new to the bike, I had to call Jeff to ask him how to charge as I had forgotten to plug the bike charger end of the charger into the bike (under the faux fuel cap). That is after having it non-charging the whole night. Ha!
I was able to nab a few hours off work a few times during the sunshine hours, albeit pretty cool, to get some extra verve into my riding on some favourite stretches and really feel that propulsion on corner exit. In Sport mode it has a very instant response and it's a different feel to the typical character of a combustion engine, where there are many factors at play including rpm, gear, available power and torque and so on that affect drive.
---
---
The LiveWire is quite different, there is no lag or wait time to "get on the cam". The sweet-spot is all encompassing and tethered by the wonderful job the H-D boys have put into how the motor responds to rotation of the throttle – simply lush. This thing hauls, and in a way that is very deceptive. Because there is no interruption to drive by way of gear change or changes in engine character, you hit relatively blistering speeds in what seems like no time at all – in a single surge. The big brakes are up to it, make no mistake. I just wish that the overly chunky lever had span adjustment. Oh, the independent left-right side indicator switch set-up remains a real kill-joy.
---
---
As my faith grew in the tyres more, it became natural to further explore the handling. The devil may care about what anyone else tells you, this thing goes around corners easy-as. Directional changes are natural and neutral, especially with the 'bars and the central, low-slung "turbine" between the wheel axles. Such a pleasure to ride.
Toward the end of my tenure with the LiveWire, it became possible to light the wick on the back tyre exiting some bends. At least until traction control pulled the plot back into line. Similarly with banging throttle open and feeling wheelspin before the plot digs in and pulls the horizon toward you. For a bike that tops out at about 180km/h and can pull an 11-second quarter mile, you can see that it is not at all dawdling in getting to that (relatively) mediocre stop speed then having to 'coast' the rest of the way, where other bikes like 1000's might be hitting 230km/h or more at the trap and still accelerating. 
Pillion? Forget it. My daughter tried out the perch – bloody precarious and she is tiny. It's not a happening thing. Touring? Plan it to hit fast charge spots within range and learn to ride the LiveWire properly for the occasion, using regen mode or a suitable custom map, and you have a chance.
Riding hard on one run it used 47 per cent battery juice gleefully used in 47 minutes. You have no option but to be wary about energy consumption and your distance from a "safe zone". At least, until every second servo has a dozen rapid fast chargers on hand. Given another opportunity to live the LiveWire life, yes please, I will definitely take that!
---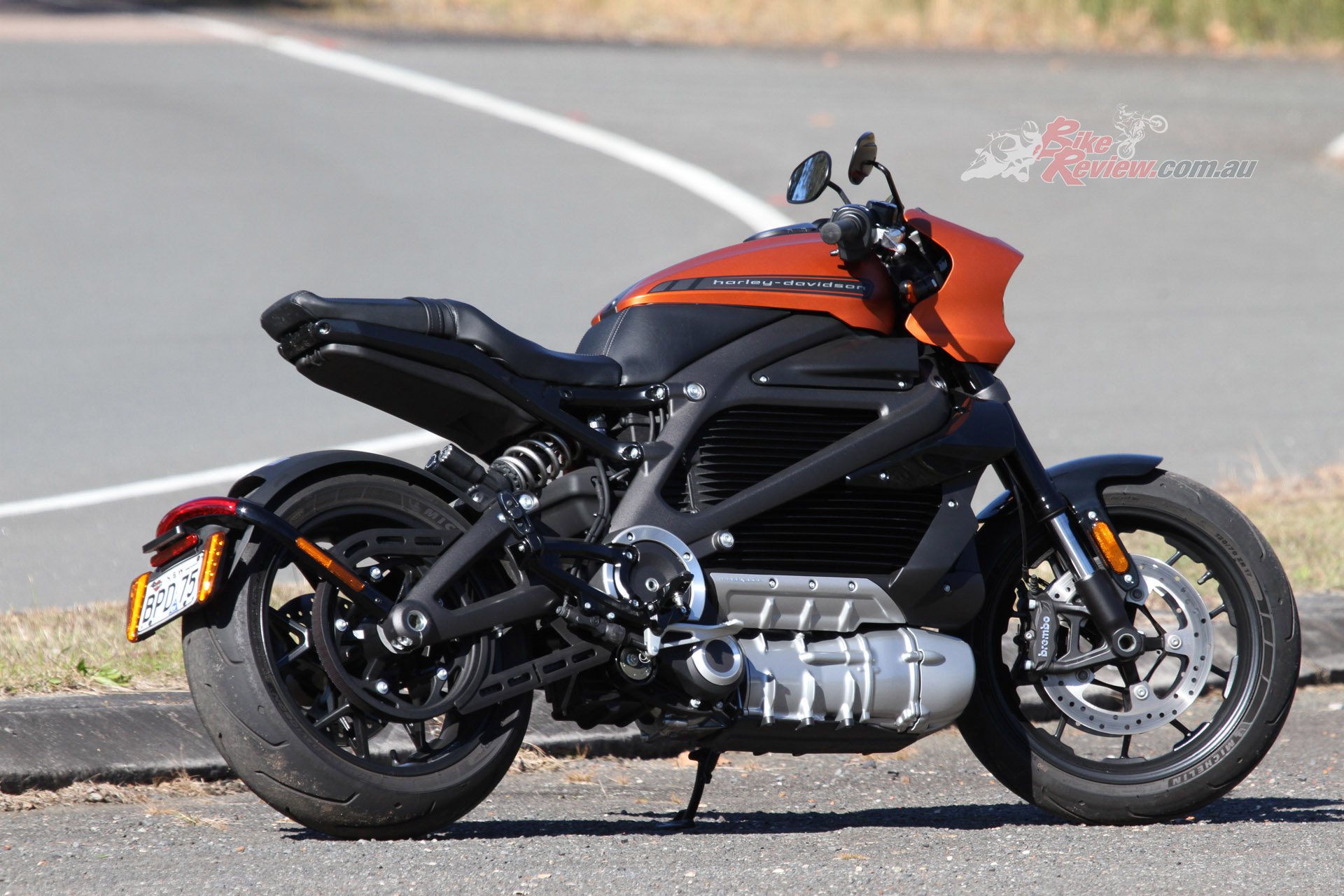 2021 Harley-Davidson LiveWire Specifications
Price:  From $49,995
Colours: Vivid Black, Yellow Fuse, Orange Fuse (our bike)
Claimed power: 78kW [105hp]@10000rpm
Claimed torque: 116Nm [86ft-lb)
Wet weight: 251kg
Fuel capacity: Er, it's black magic!
---
Engine: Water-cooled Revelation permanent magnet electric motor, single speed
Battery: 24kWh
Range: 235km Claimed (City)
---
Chassis: Cast alloy
Rake: 24.5° Trail: 108mm
Suspension: USD Showa SFF-BP forks, fully adjustable,114mm travel, Showa BFRC shock, fully adjustable, 114mm travel
Brakes: ABS, four piston radial-mount Brembo monoblock front calipers, 300mm dual rotors (f), single 260mm floating rear rotor, dual-piston caliper (r), ABS
Wheels & Tyres: Cast alloy five-spoke, HD Michelin Scorcher Sport , 120/70–17in (f), 180/5–17in (r)
---
DIMENSIONS:
Wheelbase: 1490mm
Ground clearance: 130mm
Seat height: 780mm
Overall height: N/A
Overall length: 2135mm
Overall width: N/A
Instruments: Full digital TFT multi-function display, Bluetooth connectivity via H-D Connect app.
---
2021 H-D BikeReview LiveWire Gallery
---
---