We head to the Harley Australia LiveWire launch and spend a day in the city, suburbs and Nasho on the ultra-fast electric beast... Review: Simon Harris Photography: Mark Watson
Harley Australia recently held a LiveWire launch in Sydney, covering city traffic, urban sprawl and a fang through the Nasho. You can check out our International Launch Report here and a techo rundown on the LiveWire here. So how did it perform on Aussie roads? 
Sometimes bad timing can be fortunate for the less suspecting. In this case, it was Jeff's perfectly badly timed knee reconstruction that led to him opening the door for me to be his proxy at the Aussie launch of Harley-Davidson's ground-breaking LiveWire EV (electric vehicle) bike. When he had his other knee done, I was shipped off to Ascari Circuit, Spain, for a Metzeler launch. I wonder which limb is next?
---
"The electric linearity of the bike provides a relentless and liquid feel when accelerating that not only defines the experience, but also defies it in how quick the bike actually is"…
---
To be honest, I was a little sceptical about the machine after rumours of puny range, heft and it possibly being some kind of poseur machine for the perhaps overly affluent. Well, wash my filthy mouth out with the most lethal hand sanitiser if I was not more wrong. Just looking at it is explanation enough that this is a radical departure for the brand that traditionally prides itself on heritage and consistency to an enduring theme. You have to take your hat off to Harley-Davidson to be at the cutting edge of this new frontier in motorised transport. It is definitely a bold and decisive move that without doubt, will stir the loins, if not be a slap in the face, for other big manufacturers.
Before this day, never would you associate silence with Harley-Davidsons. We went through the start routine, which is a two-step process after inserting the key and the thing is running. Apparently. You would not know it except for tiny rhythmic pulse sent to your pants, which is "haptic", whatever that means. We were more than a dozen strong in the car park at H-D HQ, motors running, looking at one another and encapsulated by a surreal silence. No clutch, no gear lever and no sound. It really is a little disconcerting, and so not Harley in the traditional sense.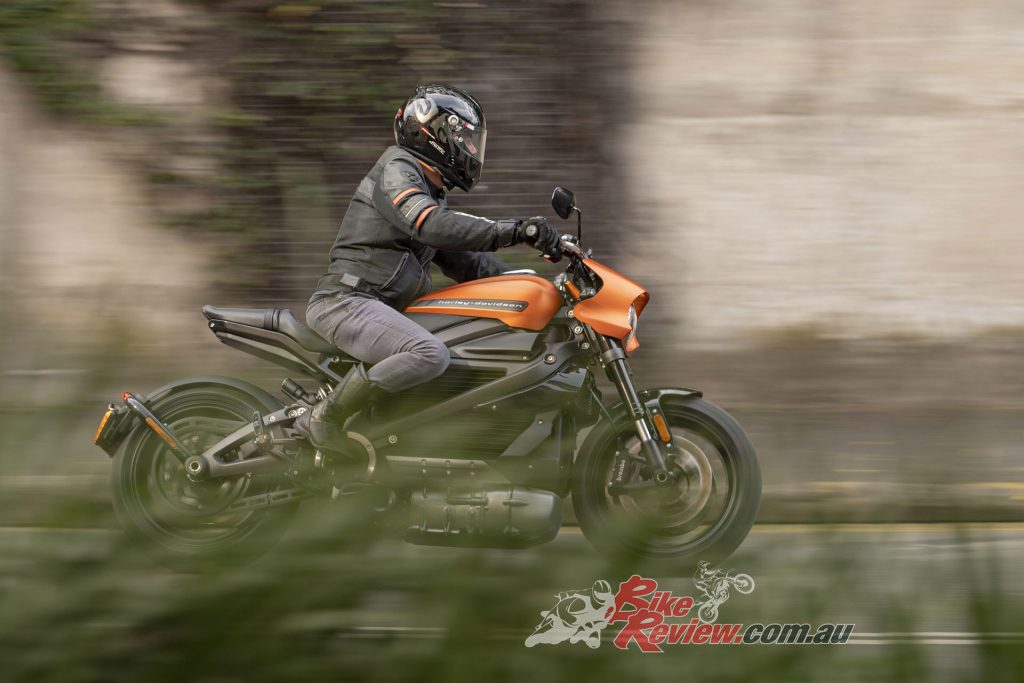 THE RIDE
Gingerly (I know I was – these are fifty grand bikes), we all roll out and onto the road, escorted front, rear and middle by the delightful and enthusiastic HD LiveWire crew. Our first foray is a somewhat tortuous route into and out of the city and among some typically dense traffic. It's a good opportunity to sample the bike in commuting conditions. Initially, you have to keep reminding yourself that the machine is "on" – the dash helps when you understand it and constantly keeps you updated on mileage and remaining charge among other things.
---
---
Undoubtedly, the LiveWire is not light at 251kg, mostly battery, but the bike is narrow, with a sensible seat height and centre of gravity that disguises the weight exceptionally. The actual inherent balance of the machine is remarkable, without crankshafts, rods, pistons to help, or even combustion events to disturb things. This makes you almost unconcerned with the mass at play, without even realising it.
---
---
It's difficult to explain the feeling of riding the LiveWire without wanting to do somersaults and giggle. Seriously. Within five minutes of being behind the 'bars, the bike feels just so right in how you can use the throttle and motor that it truly is a revelation. The throttle action and control here leaves everything I have ever touched before it for dead. Everything… and I've been testing for 15-years.
---
---
It is purely intuitive and almost toy-like in its simplicity – you need do nothing but rotate your wrist and enjoy absolutely perfectly measured, linear power delivery without even needing to think – it just does what your brain wants. And that is without any need to employ clutch and gears etc. I could keep on and on about this, but until you have actually felt it, from rolling perfectly straight, feet up, comfortable and balanced at walking speed to crouching and finding maximum speed, it is absolutely flawless.
The nature of electric motors is the reverse almost of the combustion engine, which is all about salvaging wasted energy. Electric is maximum torque at zero revs. And lots of torque, we are talking about. Although this seems nonsense, what it means is that you have instant thrust off the line and, in all practicality, anywhere else. Instant!
---
---
To be propelled forward with gusto without complications of clutch and gearbox is surreal almost to the point where it could well be outlawed because it's so damn good. As for noise, I have to tell you that when you uncloak the power of the Revelation motor, there is a banshee-like sound that is sweetly addictive and reminiscent of Star Wars space fighters.
Be aware that due to the fact that the drive-train from motor to driven wheel is a single 3:1 ratio and that the speed of the motor has a limit (15000rpm), the overall performance characteristics of the bike are tightly controlled for realistic and optimal results.
The recipe that H-D has provided offers blistering acceleration and marvellous response, but a relatively mild overall top speed. A speed that, mind you, can still cause you much grief with our armed highway keepers, if you allow. I didn't top it out, of course, I would never do something so irresponsible and illegal… Errr… Let's say it is fast enough!
Harley have invested five solid years of R&D into the LiveWire project and they have not skimped on the machine, nor making sure that its prowess as a sporting motorcycle is thwarted in any way. You are not on a trad H-D here at all. The rider triangle is suitable for most sizes and is in no way reclined or passive at all – you are here to ride, not cruise.
Whatever the case, once you starting leaning in on the LiveWire, it responds diligently, like a much lighter machine – very light on the arms due to the wide handlebars, and able to respond properly and obediently to input from bum position and shifting weight on the footpegs. H-D claim a full 45° lean angle clearance either side, and although we did not get a real opportunity this day to attempt full monty, it's probably true and quite achievable and not too bad for a nakedbike.
---
---
The chassis is centred around the battery housing and underslung electric motor but is definitely configured for exploring the available riding parameters. Front suspension is a Showa 43mm inverted big-piston fork arrangement with rebound and compression dampening control in either leg. Rear suspension is a very conveniently accessible (no exhaust pipes in the way), fully adjustable Showa unit that looks very science-fiction.
---
---
Suspension adjustment was not really part of the ride plan, but lucky for me the machines were set-up for 100kg riders, so the general plot felt sporty, firm and predictable for me at only 70kg, to the point that there was little call for change given the type of riding at hand.
The feel of the bike was stable but nimble enough for quick, accurate changes of direction, with the suspension well matched to the characteristics of the geometry and weight distribution. The brakes are top spec and fantastic in both power and modulation. Into turns or upright, braking is a strong point and confidence-inspiring as an overall package. The brakes include radially mounted Brembo calipers, however, could be perhaps more tactile in terms of lever feel. A higher spec master-cylinder would not be asking too much and would improve the set-up.
---
---
It was after a few hours of riding, however, I began feeling a bit tender in the derrière. The handlebars could be rotated or reshaped for more comfort for shorter-armed people, and I must say that H-D should dump their traditional left-right handlebar indicator switch set-up as its madness to compromise the throttle hand for indicating when the left hand has nothing to do.
The battery is air cooled, featuring nostalgic, but real cooling fins, with the motor and controller module being water-cooled. The motor / drive-train is not exactly maintenance-free, but it is pretty close (along with brake fluid, pads etc).
Electronics is a major focus of the machine, especially in terms of rider skill and inherent safety. The TFT display provides all necessary data and includes light sensing to adjust contrast as required and was always clearly visible. Similarly, there is connectivity and associated functions for in-riding communications and "infotainment" via H-D Connect the app.
---
"The LiveWire is an extraordinary and spirited glimpse into a possible future of personal transport, however, one that is not only realistic in its use, but also capable of sparring with traditional fuel based competitors in many areas"…
---
That aside, what is most important is the ride modes. You have the now typical Sport, Rain and Road modes, which are pre set for how much traction control/wheelie mitigation, available power and ABS are configured, however, the LiveWire has a Regen mode also. There are also three Custom Mode spots that you can set-up, where you can adjust all settings to your liking. It's all pretty clever and H-D have done an excellent job on the user interface for this.
---
---
This mode uses the kinetic energy of the machine to recharge the battery in a dynamo-like fashion. When you throttle off in Regen, the retardation created by the recharging system feels as though you are braking. Incidentally, the brake light illuminates when regenerating, which is a good safety feature. When conferring with the H-D crew, a few have been regularly commuting on the LiveWire and are seeing an impressive ~260km range, with a need to charge just once a week – that is impressive.
---
---
Charge time, when not using a "fast charging" system, is up to 15km range per hour. Conversely, at a HD sanctioned fast charger, you can be from nowt to 100 per cent in about two Bud lights and a haat-dawg. There are also three Custom Mode spots that you can set-up, where you can adjust all settings to your liking. It's all pretty clever and H-D have done an excellent job on the user interface for this.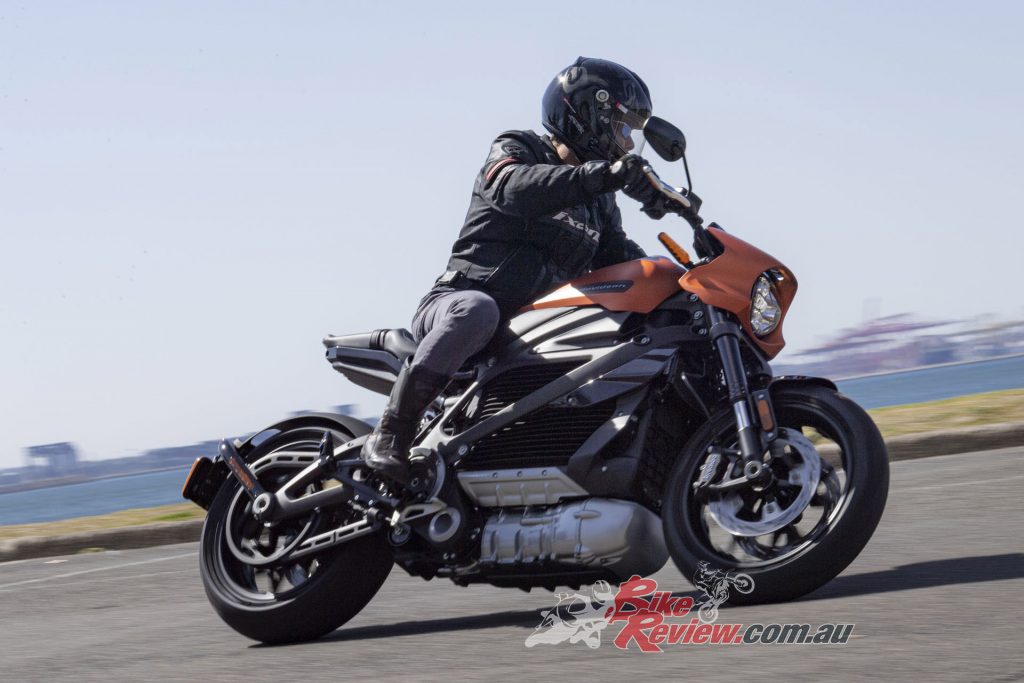 After a hefty burger fuelled lunch, we did get an opportunity to get slightly ragged with the LiveWire in Sport (full power) mode. This allowed us to experience the jet-like thrust of the bike from go to maybe whoa, as well as experience the machine dynamics at a faster pace. The electric linearity of the bike provides a relentless and liquid feel when accelerating that not only defines the experience, but also defies it in how quick the bike actually is.
If that makes no sense but does, then you are feeling my happily confused vibe. Higher speed cornering demonstrates a machine that has been thoroughly thought-out and developed for enthusiastic riding, with stable tracking and light turn-in that is made even better by that faultless throttle response. Note that the big torque pick-up when spurting out of corners is exhilarating and, after a time, capable of getting the rear tyre feeling quite squirmy.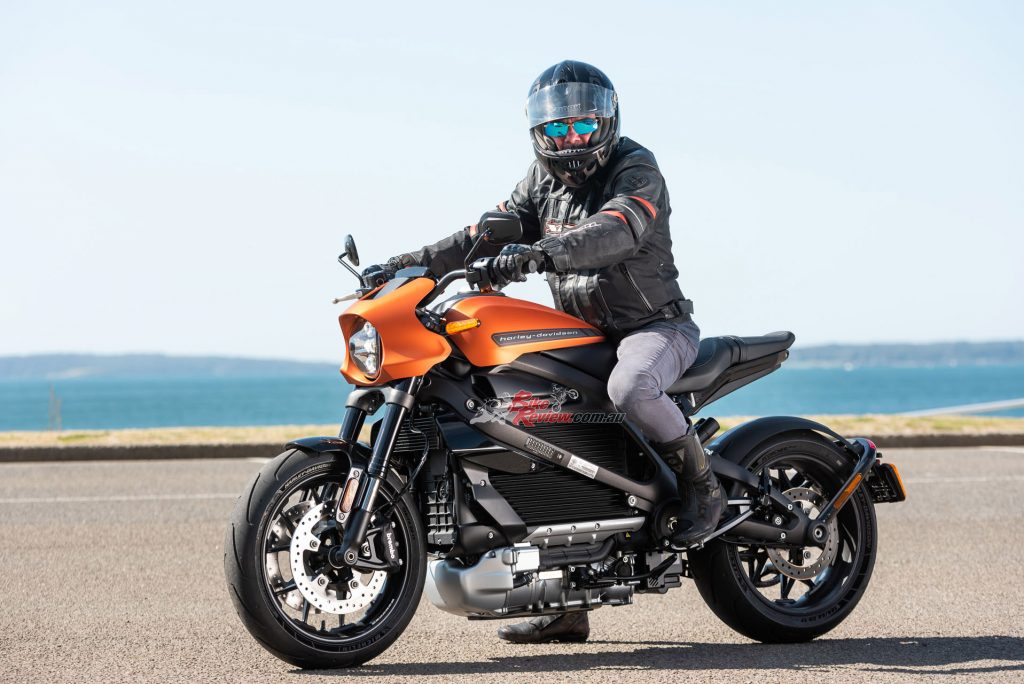 CONCLUSION
Is it like a dodgem on steroids? Maybe… but in reality, so, so much better. Price is prohibitive to some, however, in evolutionary terms, will certainly reduce. The LiveWire is an extraordinary and spirited glimpse into a possible future of personal transport and performance cycles, however, one that is not only realistic in its use, but also capable of sparring with traditional fuel based competitors in many areas. Congratulations to Harley-Davidson for such daring and achieving an extraordinary accomplishment. This is one hell of a motorcycle.
---
Check out our Electric section here for many more Electric Motorcycle reviews and videos.
---
---
2020 Harley Davidson LiveWire Specifications
Price: $49,995R/A
Colours: Vivid Black, Yellow Fuse, Orange Fuse
Claimed power: 78kW [105hp]@10000rpm
Claimed torque: 116Nm [86ft-lb)
Wet weight: 251kg
Fuel capacity: Er, it's black magic!
---
Engine: Water-cooled Revelation permanent magnet electric motor, single speed
Battery: 24kWh
Range: 235km Claimed (City)
---
Chassis: Cast alloy
Rake: 24.5°
Trail: 108mm
Suspension: USD Showa SFF-BP forks, fully adjustable,114mm travel, Showa BFRC shock, fully adjustable, 114mm travel
Brakes: ABS, four piston radial-mount Brembo monoblock front calipers, 300mm dual rotors (f), single 260mm floating rear rotor, dual-piston caliper (r), ABS
Wheels & Tyres: Cast alloy five-spoke, HD Michelin Scorcher Sport , 120/70–17in (f), 180/5–17in (r)
---
DIMENSIONS:
Wheelbase: 1490mm
Ground clearance: 130mm
Seat height: 780mm
Overall height: N/A
Overall length: 2135mm
Overall width: N/A
Instruments: Full digital TFT multi-function display, Bluetooth connectivity via H-D Connect app.
---
---
The Verdict | Review: 2020 Harley-Davidson LiveWire, Aussie Launch