It's halfway through winter and a particularly freezing one at that. Over the next couple of months, Jack will be staying warm testing this new kit from DriRider and Shoei...
Staying warm on the bike is essential during winter – you'll remain comfortable, stay healthy and reduce fatigue. McLeod's Accessories sent Jack a fresh set of winter gear from DriRider and Shoei, which he'll be snuggled up in over the coming months into Spring.
DriRider's Urban Hoodie 2, Air Ride 2 Pants, Adventure 2 Gloves, IRIDE 3 Boots and Shoei's NXR lid make up Jack's new kit. The reviews will come over the next month or two, but for now here's some product information and prices.
---
DriRider Urban Hoodie 2
The Urban Hoodie 2 offers riders good comfort, versatility, styling and protection all at a relatively affordable price. $299.95RRP buys you this casual-look winter jacket, that comes with features such as CE armour at the shoulders and elbows, an EVA back pad, a waterproof and breathable 'DRI-TEC H2O' liner, a detachable thermal quilted liner, a mesh comfort liner, a detachable hood, adjustable cuffs and waist, multiple pockets including a phone pocket, hand warming pockets, reflective print and a connecting zip for pants.
---
---
DriRider Air Ride 2
The Air Ride 2 is a vented sports-touring pant from DriRider, available for $199.95RRP. The pants have CE armour at the knees, EVA padding at the hips, a double layer seat, a waterproof and breathable 'Reissa' removable liner, a mesh comfort liner, stretch panels in the waist, thigh, crotch and behind the knees, dual waist adjustment, reflective print and a connection zip for a jacket.
---
---
DriRider Adventure 2
The Adventure 2 is an affordable winter-touring glove priced at $89.95 RRP. It has a Nylon stretch fabric and cowhide construction, a 'HIPORA' waterproof and breathable membrane, a 'Thinsulate' insulated thermal liner, Super fabric protection on the palm, PU knuckle protectors, a reinforced silicone printed 'Clarino' palm for enhanced grip, stretch comfort panels, pre-curved fingers, dual adjustable velcro closures at the cuff and wrist, and a 'TPR' visor wipe.
---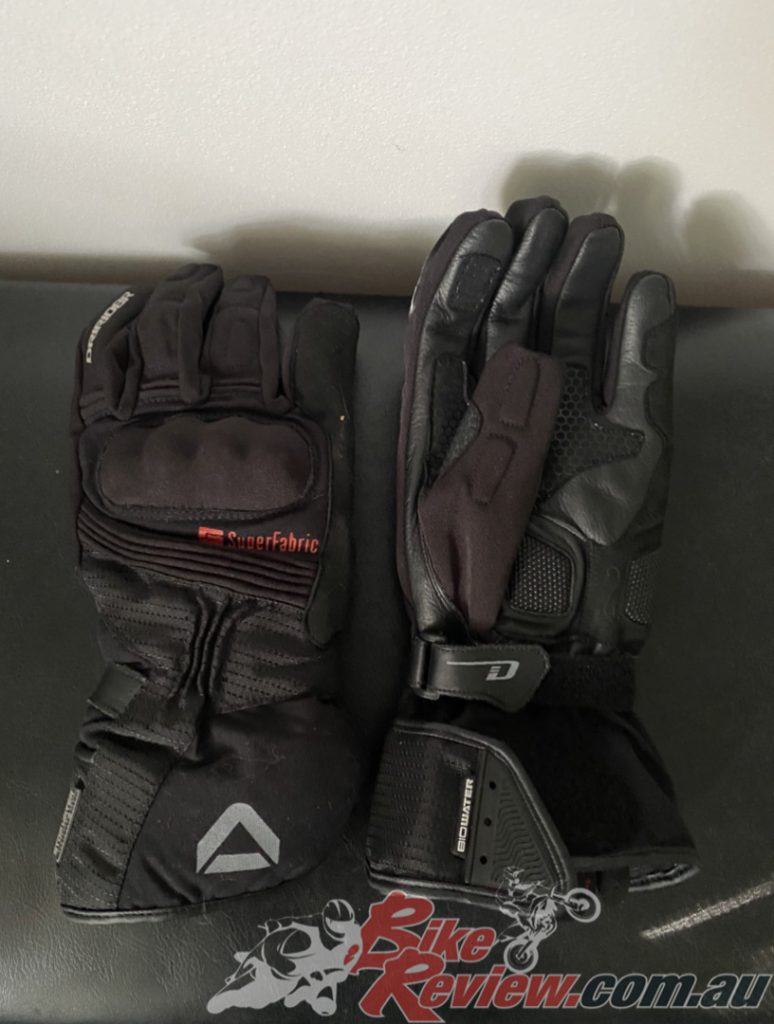 ---
DriRider IRIDE 3
After some riding shoes that offer good protection, look stylish and won't break the bank? The IRIDE 3 waterproof protective sneaker from DriRider could be what you are looking for. It features a real leather construction, with a 'HIPORA' waterproof and breathable liner, a moulded Nylon ankle guard, a polyester lining with open cell foam for comfort, a 'Techno GI' thermoplastic toecap and heel, an anti-twist moulded Nylon mid sole, and a vulcanised high-density anti-slip sole. The IRIDE 3 is available for $169.95RRP. Jeff and Nick both wear them and swear by them, even as normal shoes!
---
---
Shoei NXR
The NXR is a premium sports lid from Shoei. The $749.95 RRP starting price gets you a helmet with features such as a multi-ply 'MATRIX AIM' shell with an integrated spoiler, dual-layer/multi-density EPS liner, anti-fog visor with UV protection, 'QR-E' dual stage baseplates which allow for fast visor changes and good weatherproofing, a fully customisable, removable, washable and replaceable interior, an emergency quick release system and is intercom compatible.
---
---
---