Teaser: BMW E-Power Roadster electric bike, drag race versus S 1000 R…
Adam Child heads to the highly guarded Miramas test facility, in France, to test the BMW E-Power Roadster electric hyper naked. Here's a sneak preview of the test, which was under embargo until late last night. Full test on the way...
I'm at BMW's highly guarded Miramas test facility, in the south of France, sitting in perfect silence on BMW's E-Power Roadster concept bike – and about to participate in a drag race like no other. I've been exclusively invited to not only test ride BMW's highly valuable 'one-off' prototype, but also been asked if I'd like to drag race against a BMW S 1000 R ridden by one of their very experienced development staff. I couldn't turn the opportunity down, could I?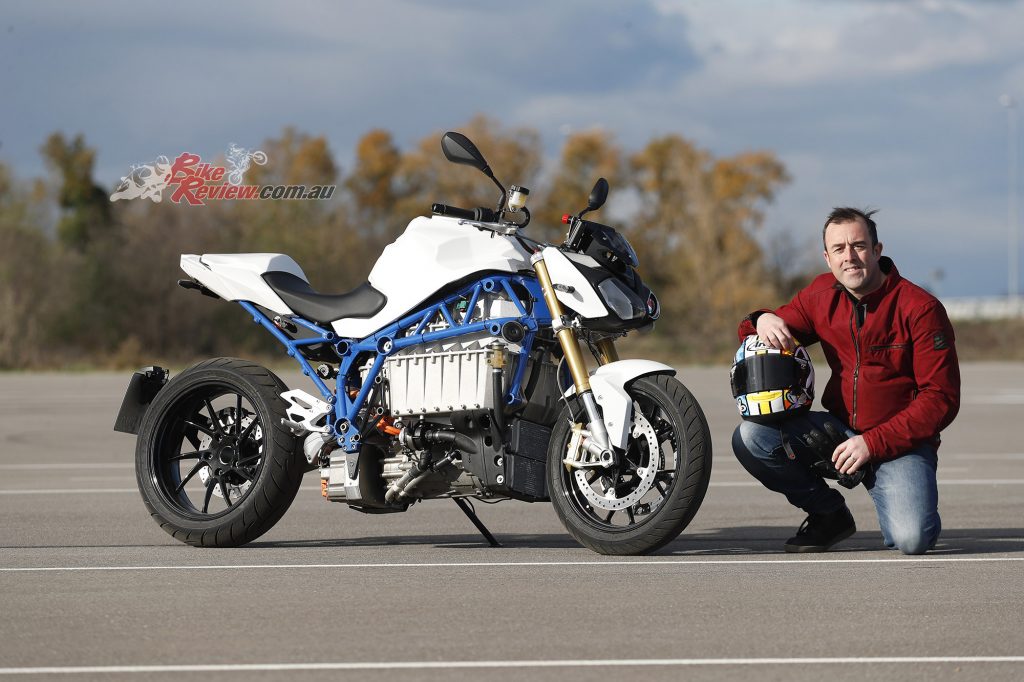 The E-Power Roadster is powered by a battery from a BMW 5 Series car – a long-wheelbase hybrid version only sold in China – while the powertrain is from a BMW 2 Series plugin hybrid. The end product makes 100kW of power, which translates to 136hp. Torque is an immense 200Nm, or 147.5ftlb, all of it pretty much instant.
The dash is stolen from the C Evolution Maxi-Scoote; the forks are from an S 1000 R, with modified internals to take the extra weight; the rear wheel and Paralever/swingarm are R 1250 R items… It's fair to say the prototype, attractive as it is, is a bit of a mongrel, built up from a collection of BMW bike and car parts. Everywhere you look, you see bits you recognise from other BMW products. Only the frame and a few key parts are unique and bespoke to this prototype.
Full story to come…