Almost a decade ago Carlos Checa won the WorldSBK crown on a Ducati RS11 privateer backed superbike. We rode it at at Portimao... Test: Jeff Ware Photography: Studio Zac
Carlos Checa dominated WSBK in 2011, winning his first ever world title at the ripe old age of 38. With 15 wins and 21 podiums all up on the privateer Ducati. Of all the bikes I rode at the 2011 end of season press test, the Althea Racing Ducati RS11 was the most exciting…
Watching King Carlos dominate on what is essentially an old superseded customer spec RS11 race bike that anyone could buy for just shy of $200,000 AUD as a base model had been great from a fan point of view. And even when speed deficits on the ultra fast Alitalia Aprilia or Yamaha machines was as big as 18km/h at the fast tracks, Carlos would still win.
---
---
With this in mind and after studying his sector times on the infield of all the tracks this year, it was clear that this machine is a weapon in the parts that count… and with my own 1198 project in Australia at the time, I was keen to see how much of an animal a WSBK championship winning machine really was.
THE RIDE
It's a warm Monday morning at Algarve International Circuit, a place that feels like my second home such is its popularity for tyre tests, bike launches and other events. It's a long haul 40-hour trip from home, though, but I've had the weekend to recover and soak up the WorldSBK atmosphere…
Once the team fire the beast up and start warm-up my heart gets beating. I'm rarely nervous or intimidated by a motorcycle but the pulsing of massive two-ring 106mm pistons is getting the heart racing. I'm focussed today as I have 11 bikes to test in a row. All of the top WorldSBK and WorldSSP machines. No time to be worried… just get on and go…
Climbing onto Checa's machine, the first thing I notice is how flat the bike feels. I expected some radically jacked up machine, particularly with Checa's Grand Prix past, however, the bike is surprisingly conservative feeling. The seat is low.
The 'bars are also low and dropped down the forks old-school style and I really feel in the bike rather than on it. It's a great seating position that feels like and old-fashioned racer… The bike is super narrow as expected but aside from the obvious things like the Marelli dash and race 'bars, seat etc, it feels like a regular road 1198… very familiar to me.
---
---
Checa is small of stature like many racers but I found the footpeg position roomy and overall the riding position just gave instant confidence and control. Years of experience means Carlos has nailed the riding possie on this bike and he looked comfortable in all situations on the Ducati during 2011…
I head off, needing mega revs and a good push to get going as first gear is really tall. I exit pit lane and short-shift to third gear for the run down to turn one. Wow! Serious torque. All the other bikes have needed second gear through turns one and two but the Ducati stomps off the turns with ferocious punch. In fact I can't keep it from wheel-standing and need to get the revs up once I settle down.
I settle in and feel really confident and comfortable on the bike. It feels agile and light and nimble. Initial turning is so quick and accurate. Change of direction from full lean to full lean is not as fast as the fours, however, here at Portimao that is not an issue. It is only out of turn 13 (left) and into 14 (right) that I notice that slightly heavier direction change.
The torque is incredible and not easy to get used to. Carlos rides with such finesse and grace that I was convinced this would be a big pussycat to ride. But it is not. The acceleration can only be described as violent and the throttle response instant in every sense of the word. In the lower gears I found I had to really spend attention on cracking the throttle smoothly with a bit of rear brake on.
---
---
Once open the bike jumps off the turns like you would not believe. Do it with urgency or lack of care and the bike responds by bucking, shaking and trying to twist its trellis frame into knots. Smooth is the key and once I calmed down and got settled on the bike I started to 'get it'.
Power is linear and acceleration so strong that the bike feels faster than the other superbikes. But once the revs reach 11,500rpm the power drops away rapidly. The bike is very flat up top so early shifting and long gears are required, which takes time to get used to after riding all of the fours and some 600s.
One surprise on the Checa bike is the level of engine braking Carlos likes. It helps him get the bike turned and jammed into corners but caught me out a few times. Most racers like a lot of clutch slip however the number 7 machine has more engine braking than a Mack truck! Back shift into turns above 9000rpm and the rear wheel will hop and the bike shudder. I found myself having to downshift one less gear and/or later than usual. I even gave the bike a big old school rev on backshifting into some of the tighter turns.
With so much torque and drive the bike is not the easiest to control in a quick test and would take some time to learn to ride smoothly and to not upset the bike with inputs. It's clear Checa has that nailed but I can see why many riders never adapt to Ducati motorcycles.
---
---
The brakes on the Althea Ducati are simply stunning. I'm glad I had ridden a few other machines the morning I rode Checa's as I thought I knew what strong brakes were! Well, as incredible as some of the others are, the set-up Carlos runs is incredible. Braking in anger is an experience right up there with the thrill of the acceleration from the engine. And the feel is incredible. As is the grip from the SC1 Pirelli slicks, which were not grooves as they are in the static imagery.
The suspension on the Althea Ducati is surprisingly plush, although I do weigh in at 18kg more than Checa! The bike sits so balanced on the springs and the level of feel from the stunning Ohlins forks is out of this world. The wheels and tyres remain firmly on the tarmac and the bike settles so, so quickly as proven in Carlos' amazing 170km/h 24m slide coming onto the chute in the race on Sunday.
Overall an experience to remember and one of the biggest thrills of my life…
---
---
TECH TALK
Sitting on the scales, Ducati's 1198 Testastretta evoluzione engine weighs in at just 56kg and the 90-degree L-twin desmo engine generates a claimed 200CV or 197hp at 11,000rpm at the crankshaft with a 50mm air restrictor in place. Restrictors vary from 46 to 52mm.
Internally, this engine includes a pair of two-ring Omega pistons that reduce weight and frictional losses. Obviously, the crankshaft is also lighter than the stocker and was re-balanced accordingly. If you had x-ray vision, you'd see that the pistons have very short skirts and extra ribbing under the crown. Very similar in design to what's used in the MotoGP Desmosedici.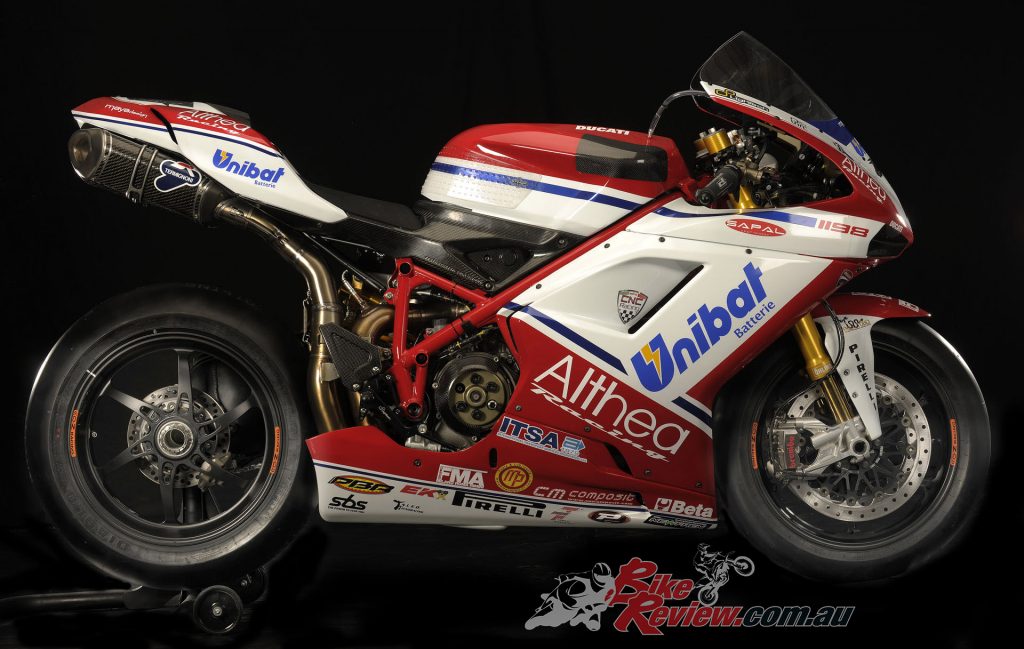 When asked about the compression ratio, engineers looked out the window but did confirm that the stock heads receive love and attention in the ports to make intake and exhaust flow happy. Camshafts offer the same lift as stock but longer duration to allow deeper breathing. Imparting motion to the valves is a set of ultra-polished rocker arms that offer longer life expectancy at the 12,400rpm redline.
Each cylinder head carries a pair of standard injectors. Control of these is the domain of the Magneti Marelli ECU that determines the exact amount of fuel required to keep each cylinder in its happy place at every combination of throttle opening and rpm.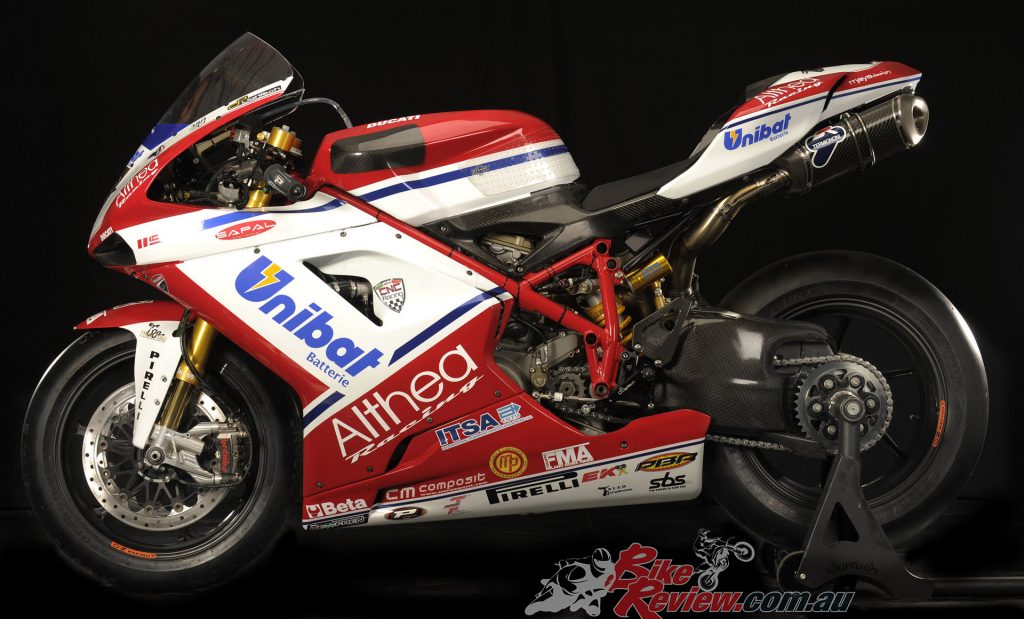 Removing exhaust gases is a Termignoni exhaust. The two-into-one-into-two kit item uses 52 and 57mm tubing with a wall thickness of just 0.8mm! Mufflers are made of titanium and carbon-fibre.
Transferring power is the dry slipper-clutch and the cartridge-style six-speed transmission from the Ducati race kit. The pinions from the gearbox are all shot-peened before fitting to lengthen their life.
---
---
All of this is loaded into a frame that's as stock as the day it left the factory. Fitting a 6.25×16.5-inch wheel and 190/65-16.5 slick into the stock swingarm doesn't work so a new, stronger replacement is part of the kit. Linkages for the Ohlins RSP40 shock also differ to stock.
Holding the 3.50×16.5-inch front wheel is an Ohlins TRVP25 42mm fork that is race-only. At the lower end, they carry fully-machined assemblies to hold the front axle clamps as well as the mounts for the front calipers and pressure accumulators.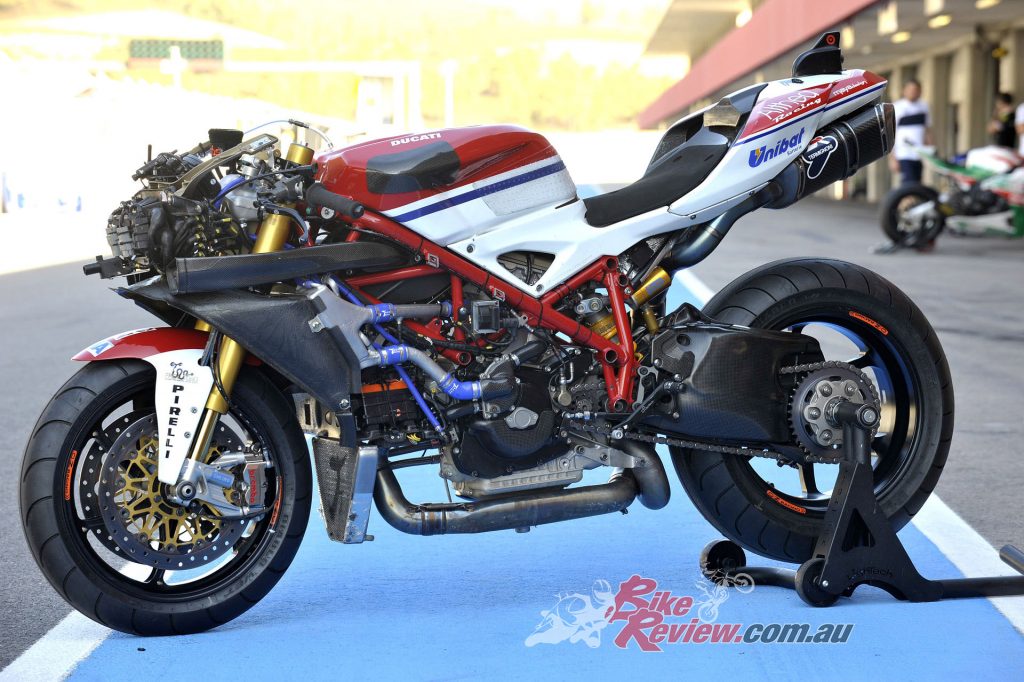 Front brake calipers are P4X34-38, matched with a pair of 320mm rotors also from Brembo. The differential-piston caliper bodies are machined from solid blocks of lithium-aluminium. Indicating how little it is used, the rear brake rotor is 218mm, smaller than the stock 245mm jobbie but still gripped by a P2X34 twin-piston caliper.
---
---
SPECIFICATIONS – ALTHEA RACING DUCATI RS11 1198
Power: Over 200hp@11,000rpm (with 50mm restrictor)
Wet weight: 162 – 171kg (variable, managed by FIM pending results)
Fuel capacity:  23.9L
---
Engine: 90-degree L-twin Desmodromic four-valve per-cylinder liquid-cooled four-stroke
Bore and stroke: 106mm x 67.9mm
Displacement: 1198cc
Fuel delivery: Magneti Marelli Marvel4 ECU, elliptical throttle-bodies with air restrictor between 46 and 52mm diameter (FIM regulations), Magneti Marelli 162 + 189 twin injectors per cylinder
Exhaust: Termignoni, stainless and titanium, two-into-one-into-two with titanium/carbon-fibre mufflers
Gearbox: Six-speed cassette with straight cut gears
Clutch: Dry, multi-plate slipper clutch, hydraulic actuation
---
Frame type: Tubular steel trellis frame
Wheelbase: 1435m
Rake: Adjustable
Trail: Adjustable
Front suspension: 43mm pressurised Ohlins TRVP25/TTX25 fork
Rear suspension: Single-sided swingarm, Ohlins RSP40 shock
Front brakes: Brembo radial P4X34-38 calipers and 320mm rotors
Rear brake: Brembo P2X34 caliper and 218mm rotor
Front wheel: Marchesini, 3.50×16.5
Rear wheel: Marchesini, 6.25×16.5
Front tyre: Pirelli Slick, 120/75 – 16.5
Rear tyre: Pirelli Slick, 190/65 – 16.5
Instruments: Magneti Marelli
---
---
Gallery, Carlos Checa 2011 WorldSBK Champion!