Taka put close to 6000km on a set of Pirelli Diablo Rosso IV sports street tyres and came away from the test very impressed. Check out his review of these versatile hoops...
Our resident tyre tester Taka has finished a long range test on the Pirelli Diablo Rosso IV, putting close to 6000km on them on his street going MT-10, coming away impressed with the all-weather sports/sports touring street tyre from Italy… Check out his review.
As always I was super excited to get another set of Pirelli tyres to review. I test quite a lot of different tyres on both my road and track bike, it's a special interest for me, so I always get a kick out of a fresh set of tyres arriving at my place and I had been anticipating the arrival of these new Rosso IV (pronounced Rosso Quattro) tyres from Link International, the Pirelli importer and distributor.
The first thing I noticed about the tyres was the name embossing on the edge of the tread, which I think looks really cool. I also like the style of the new grooves. The sizes for my MT-10 are 120/70 – 17 and 190/55 – 17. I soon had my wheels out and the tyres fitted.
---
Within a very short distance I said to myself, "These have that special Pirelli feel"…
---
I always fit my own tyres the old fashioned way with tyre levers, I am just used to it after many of my younger years spent racing in Japan and changing tyres all weekend long. The DRIV's went on easily and the sidewalls were soft, that is always the good first notification for me on what the type of tyres are and what I might expect…
I set the front and rear tyres to OEM (Yamaha) recommended pressures (cold) for the MT-10 and geared up ready for my first ride on the tyres. It was 15ºC and sunny and I planned on a short ride to scrub them in and get a feel for them. Interestingly, within a very short distance I said to myself, "These have that special Pirelli feel". I think if I was blindfolded when my tyres were fitted and sent off on a ride to identify them, I would be very confident in saying they were Pirelli's. Maybe we can run a competition Jeff? The prize can be the tyres!
---
---
Scrubbing in was very easy. I just rode cautiously and with no sudden leaning or braking, just progressive lean angle as the tyre temperature increased. Scrub in generally takes around 100km on the road depending on conditions and corners available, unlike the track where a lap in enough. The past days of very slippery new tyres is gone, all tyres are much safer to scrub in these days.
Over the next few thousand kilometres of riding I was always impressed with the Pirelli Diablo Rosso IV, they are a great street sports tyre with good wear characteristics, no drop off in performance and still have good grip and feel. The handling is natural and neutral when leaning into a corner lightly, and not aggressive like a more sporty tyre such as the Rosso Corsa II.
---
Check out Taka's other tyre reviews here…
---
The DRIV is still sticky, but gives a more natural progression in cornering compared to a more racy type of tyre. Bump absorption and cushioning is also more mild than, say, a Rossi Corsa II or more sports/race tyre of tyre, giving a more comfortable ride on our bad roads.
On the twisties in the mountains my MT-10 felt lighter and easy going through the corners, I really enjoyed the handling characteristics of the DRIV, it made riding a pleasure. When pushing closer to the limit, I started to feel some bumps and I dropped the pressures generally 3psi at both ends for hard riding, which helped me get some more feel from tyre, I like to feel the bigger footprint.
---
"These Pirelli's deliver great grip but also provide good information/feedback and provided me with confidence in every condition on the road"…
---
At the suitable tyre pressure, these Pirelli's deliver great grip but also provide good information/feedback and provided me with confidence in every condition on the road you are likely to encounter, both front and rear, neither end let me down or gave any nasty slides or surprises. Wet weather performance if good, with plenty of grip and feedback at both ends.
---
---
Overall, I would call the Diablo Rosso IV an advanced sports touring tyre. Tyre life for me was around 6000km, but that will vary from rider to rider. There was very little performance drop off and the balance between performance and touring is just right for a bike like my MT-10 and the type of riding I do. If you haven't tried Pirelli tyres, I suggest you give these a go, and if you are already a Pirelli fan, you will definitely be impressed with these.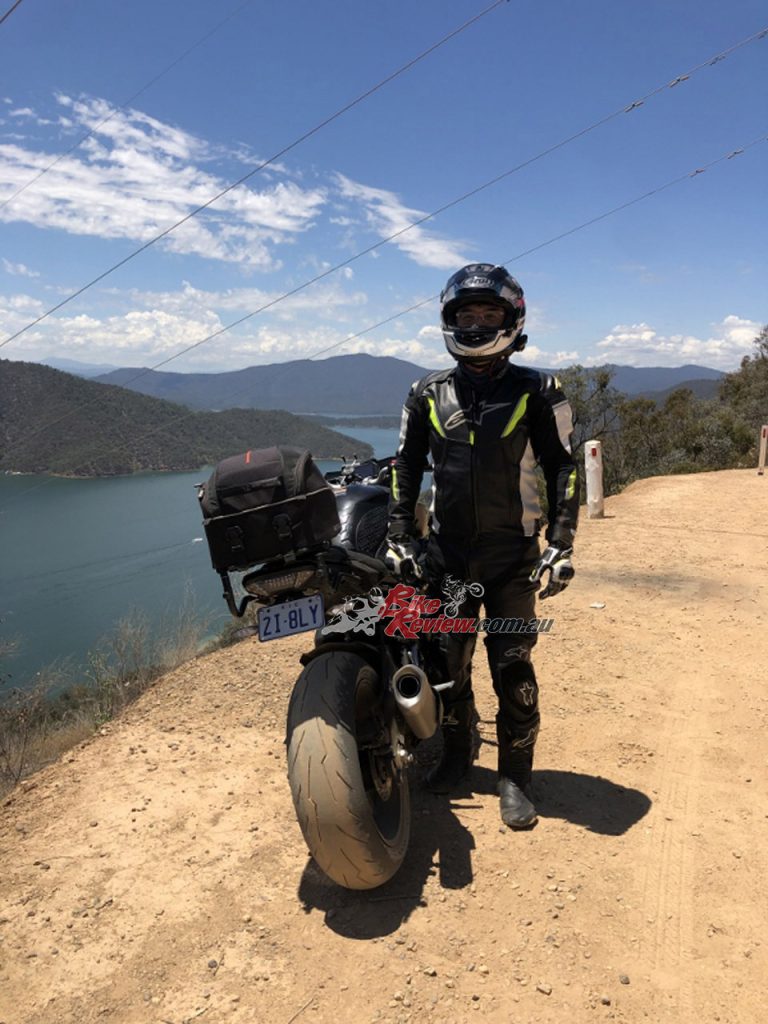 ---
TECH TALK
Pirelli's wide range of Diablo tyres got bigger and better with the arrival last year of the Rosso IV. Pirelli said at the time the all-weather tyre caters for supersport, hypersport and naked models, offering fantastic performance to road riders of all levels, which we found out is true.
The tread pattern design of the Diablo Rosso™ IV features slicker mid-lean areas. This is an evolution of the Diablo Rosso™ III, giving support at lean angles where water drainage is useless (over 35°). This means a large slick area on the shoulders, which results in excellent grip and line holding while cornering at extreme lean angles. 
The Diablo Rosso™ IV tread pattern is developed around the Flash™ icon which is synonymous with all Pirelli sport tyres. Flash™ features two prominent centre grooves providing directional stability and ensuring wear stability. They also provide water drainage from the centre out for the contact patch when upright. Flash™ tails of varying lengths are distributed around the centre design, outlining the mid-lean grooves. These tails are an important element for the tyre's behaviour, providing the right tyre flexibility, efficient water evacuation and wear uniformity.
The Rosso™ IV boasts a Silica-enriched, multi-compound in both the front and rear tyres, combined with WSBK-derived structures and contours. Pirelli has spared no expense in development, this is demonstrated in the confidence that the Rosso™ IV inspires. It offers superb grip under braking, thrust boost in extreme lean angles and brilliant traction when powering out of corners.
---
---
The hard layer on the front tyre delivers outstanding grip in cold and wet conditions. The softer side layer (accessed when in lean angles over 35°) offers excellent grip and delivers a brilliant contact feeling. The new Diablo Rosso™ IV' has increased the Rayon cord stiffness, obtained through a larger section of more twisted strands, adapted along the contour, which differentiates stiffness depending on the lean angle. Combined this gives the rider the option to adjust the trajectory while cornering or to delay braking ahead of entering into lean.
The dual-compound rear up to 195/50 r17 features a Rayon 2-wire strand structure. The chord stiffness has been raised by more than 30 per cent over the Diablo Rosso™ III, reducing the end-count freeing up the space available for the compound to perform. The full silica dual compound rear offers a quick warm-up and a significant grip level irrespective of lean angle, even in wet conditions. In relation to the dimension of the tyre, and therefore of the contact patch, a dual compound with more continuity ensures the best stress distribution and wear uniformity.
---
---
This endurance-racing compound features a 5-zone layout, which trades wet grip on high lean angles for thrust boost to cope with the extreme cornering speed and the astonishing engine outputs of modern performance motorcycles. It features a 3-wire strand Lyocell structure which translates to a deformation ratio considerably lower than usual street tyres. The soft full silica mid-rubber strip ensures performance, whilst delivering a safe sporty ride across all weather conditions.
The Pirelli Diablo Rosso™ IV is available now, click here to find out more! Check out the sizing chart below to find a suitable size for your bike.
---
Pirelli Diablo Rosso IV Sizing Chart
Front
110/70R17 M/C 54H TL

DIABLO ROSSO IV FRONT

61-397-84

$199.95

110/70ZR17 M/C 54W TL

DIABLO ROSSO IV FRONT

61-397-85

$219.95

120/60R17 M/C (55W) TL

DIABLO ROSSO IV FRONT

61-397-88

$219.95

*120/70ZR17 M/C (58W) TL

DIABLO ROSSO IV FRONT

61-397-86

$229.95




---
Rear
140/70R17 M/C 66H TL

DIABLO ROSSO IV REAR

61-397-89

$209.95

150/60R17 M/C 66H TL

DIABLO ROSSO IV REAR

61-397-90

$239.95

150/60ZR17 M/C 66W TL

DIABLO ROSSO IV REAR

61-397-91

$279.95

160/60ZR17 M/C (69W) TL

DIABLO ROSSO IV REAR

61-397-92

$289.95

*180/55ZR17 M/C (73W) TL

DIABLO ROSSO IV REAR

61-397-93

$329.95

190/50ZR17 M/C (73W) TL

DIABLO ROSSO IV REAR

61-397-97

$339.95

*190/55ZR17 M/C (75W) TL

DIABLO ROSSO IV REAR

61-397-96

$349.95

200/55ZR17 M/C (78W) TL

DIABLO ROSSO IV REAR

61-397-98

$349.95




---
Tyre Review: Pirelli Diablo Rosso IV