We head to Phillip Island and then Broadford Raceway to put a combined three hours track use on Metzeler RACETEC TD SLICK tyres... Test: Taka Nagata Photography: SD PICS, Steven Hendy
As promised in our tech article on the Metzeler RACETEC TD SLICK, Taka has put them to the ultimate test over two track days, one at a Phillip Island Ride Day and one at Broadford Raceway. After the original launch was rained out at SMSP, we now have the results!
In October 2020 Jeff was all set to spend a day at Sydney Motorsports Park testing the exciting new Metzeler RACETEC TD SLICK. Well, it was rained off on both days that Metzeler had booked time on track. A major bummer. The dates were re-scheduled for March and two days booked.
The tyres were fitted to brand new BMW S 1000 RR track bikes and the media were all pumped and set to go. Then it literally flooded for a week in the heaviest rainfall since the 1960s. Everyone was gutted… However, Metzeler sent us a set to test so I decided that Phillip Island and Broadford would be perfect to try them!
I fitted the tyres myself to my CBR600RR track bike, which is a pretty trick old machine with engine and chassis upgrades including suspension by GASD suspension. They were easy enough to fit, no problem. The sizes for the CBR600RR are 120/70 – 17 and 180/55 – 17 and the cost for those sizes is just under $400 for the set RRP.
---
---
My CBR is a great track day bike. I raced in the 1990s on NSR50, RS125 and CB400 machinery, then took a long break to raise my family in Australia. About three years ago, I decided to buy a road bike and do track days but I soon began to worry about damaging it, so I bought the CBR and keep my MT-10 for the streets. It means I can focus more on the fun without the worry.
So, with the CBR, I decided I wanted to use slicks and it just happened that Jeff published some technical info about these tyres. I was interested to hear what he had to say about them after he attended the Sydney launch but as luck had it, I ended up doing the testing and I can confidently say, I will be using these TD SLICK tyres moving forward.
I was looking for high grip but good wear and the ability for the tyre to cope with multiple heat cycles. I also wanted something I could use without tyre warmers for times I don't have power, and the reverse-able rear tyre is an added bonus. The TD SLICK seemed to tick all of the boxes.
---
Amazingly, in all my years here, I had never actually ridden at Phillip Island. I have been to almost every MotoGP and WorldSBK round, to visit my friends in the pits, some riders some crew, but never ridden on this dream circuit. I was really excited to ride there on the Metzeler tyres and my family even came along to watch me ride. My wife was with me in my racing days but the kids were not born yet and had never seen me on track. It was an exciting day!
---
---
DAY ONE, PHILLIP ISLAND CIRCUIT
Arriving at the Island felt different, as normally I am not the rider. I signed on at the gate and headed through the tunnel. Mark Wilson had kindly organised a garage place for me and I got set-up for the day. I was dreaming and nervous for a few hours but the butterflies settled down. I'd always wanted to ride at The 'Island…
---
"I set pressures to the recommended range 33psi F and 29psi R hot"…
---
I used a warmer for the first test. Metzeler state it is not necessary but I had them and wanted to stay upright for the very first session. I tested them later without warmers, no problem at all, just take care warming up for a few laps. I set pressures to the recommended range 33psi F and 29psi R hot.
I headed out in the beginner group to learn the track. Fast, wide, amazing view. Awesome Aussie track! Straight away into turn one, out of pit lane, then turns two and three, I started to ease into the lean angle and tyres, while getting in a rhythm and working out the track. Before the end of my first lap I could already feel how safe the tyres were, they were grippy and stable and remaining in temperature.
---
The grip gave me confidence but also the steering and feel. The TD SLICK was telling me to push faster, however, I was in the wrong group for that but it gave me an opportunity to use the tyres at a lower pace, where traditional racing slicks can be slippery if they are not in their narrow temperature operating range. With racing tyres, you have to go flat out all the time or you risk a crash. The TD SLICK have a wide operating range, so suit all levels of rider and speed. At this slow pace, they worked well with good confidence and feedback.
---
---
When the first session finished and I came into the pit lane and into the box, I had a good look at the tyres. They were still quite warm, soft and sticky, even from the slower pace. This is a good sign. I was keen to go faster, so I went up to the faster group. That way I could learn more from the other riders, run a faster pace and more traditional racing lines to really get a feel for the TD SLICK.
---
"The rear tyre just hooked up so well, never sliding, and the front tyre was very planted and gave a nice rigidity feeling during really hard braking"…
---
I was able to increase the pace a lot and push the tyres, probably more than I would if I knew the track well because I was taking some incorrect lines, but the TD SLICK allowed me to make corrections to my steering, even during braking or when on the power. The rear tyre just hooked up so well, never sliding, and the front tyre was very planted and gave a nice rigidity feeling during really hard braking into Honda hairpin and MG corner.
High speed stability was perfect also, no headshake or weaving on the fast, long front straight. Lots of edge grip and very consistent grip all day. In the end, I did 1hr 20m and 35 laps on the demanding Phillip Island circuit. The front tyre still looked in very good condition, the rear right side also and the rear left side was around 70 per cent worn.
My best time was 1:49. Next time will be much easier. I was happy and enjoyed the very fast track, the amazing organisation of Phillip Island Ride Days, and I am absolutely going back to make better lap times. What a great track on great tyres!
---
---

---
DAY TWO, BROADFORD RACEWAY
I looked at the tyres and really wanted to use the right side so I booked Broadford a week later. I have been to Broadford previously so I was going to be more comfortable and able to concentrate on the TD SLICK, and having fun! My previous best time was a 1:03 but I expected to improve this time on the TD SLICK as previously I was on treaded sports tyres.
---
---
I started the day out and eased into it for a few corners but I felt confident quickly. I was able to push harder and harder and I particularly liked the grip and feeling from the front tyre for a harder compound slick, it is pretty amazing when you have been used to treaded tyres. I had strong expectations from the front and it delivered, particularly at Broadford, a track that is demanding on the front tyre.
Throughout the day I was able to run consistent 1:02 laps and also some 1:01 lap times, two seconds faster than I was lapping on treaded tyres previously. The CBR was on rails and the steering and stability very good, on the brakes or on the gas. I was able to maintain the same lap times over seven sessions and a total of 1hr 45mins, which is pretty amazing after so many heat cycles!
---
---
So after over three hours total use, the tyres gave good life with minimal performance drop off. Unfortunately I made a small mistake at the end of the day and lost the front after running wide, when I lost concentration. Nothing to do with the tyres, just my mistake. I did one session too many!
---
"Throughout the day I was able to run consistent 1:02 laps and also some 1:01 lap times"…
---
For the value of under $400 and to get that many laps is great value. A slightly reduced pace and one less session each day and they would have done a third track day I think, which is amazing. I think the the Metzeler TD SLICK is everything it is marketed to be and I didn't change my suspension settings. The tyres are really good for the serious track day rider who wants the best grip for the wide range of conditions and temperatures, or the club day racer that needs value and a broad operating range. If you try these, you will love them – Taka – english is my second language!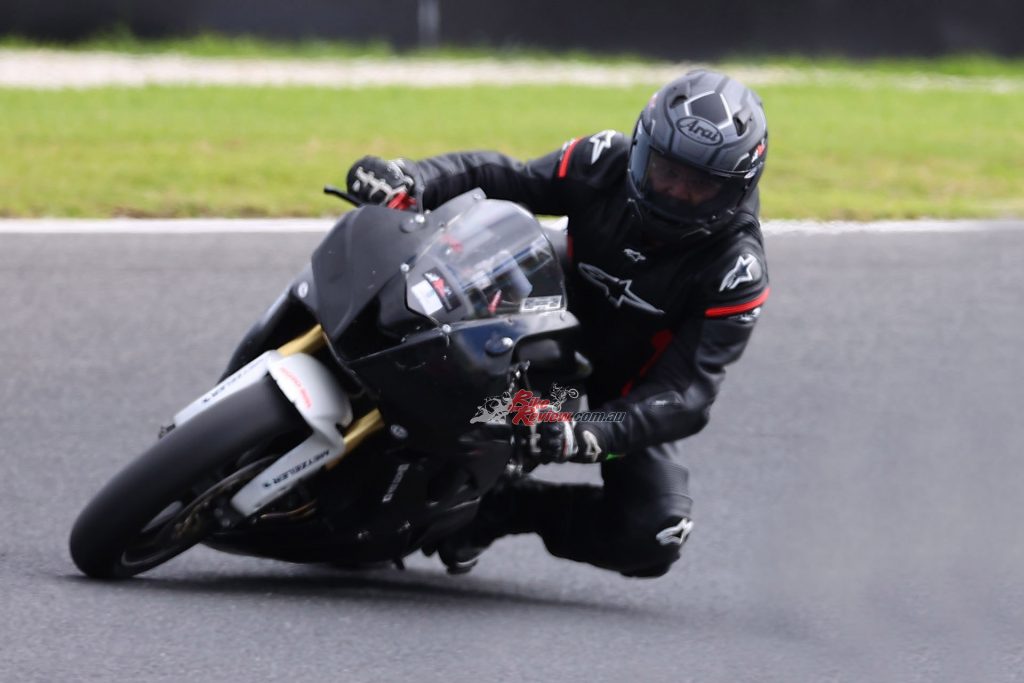 ---
TECH TALK – METZELER RACETEC TD SLICK
---
---
For those who have ridden a motorcycle with racing slicks, the first few minutes fresh off the tyre warmers can be quite sketchy unless you push immediately to make sure you don't lose temperature, as racing slicks only operate properly within a very narrow temperature and pressure operating range.
You wouldn't dare leave the pits on stone cold slicks if you want to finish lap around the track still on your bike. Metzeler, however, have found a way to eliminate the use of tyre warmers to keep the costs down and track days easier by having a broader operating range, with these essentially replacing the RACETEC INTERACT K3 from previous years, the hardest race slick from Metzeler.
The secret is comes from the TD SLICK featuring a racing compound that includes polymers with a low glass transition temperature, carbon black and high melting temperature resins. METZELER engineers have designed a compound capable of operating in a wide range of temperatures and asphalt conditions, in order to offer consistency in performance and resistance to cold tearing.
The exclusive patented CCM process – Compound Continuous Mixing process – maximises the homogeneity of the components in the polymetric matrix and allows the tyre to consistently offer high performances, from the first to the last lap, even if divided between several thermal cycles.
---
---
Thanks to this set-up, track day fans can get all the performance they can dream of out of their bike without needing to spend thousands on bike stands, climate controlled storage and tyre warmers. Riders can just kick their stand up, warm the tyres up slightly and apply maximum throttle.
---
Strengthened by the experience accumulated in road racing such as the Tourist Trophy on the Isle of Man, used as a testing ground to test the versatility of its products, Metzeler engineers have designed a compound capable of operating in a wide range of temperatures and asphalt conditions, in order to offer consistency in performance and resistance to cold tearing.
Metzeler have kept the sizing simple by providing the most common rear sizes, so you don't have to muck around with changing the rear setup. The Genuine rear sizes allow a smoother transition from OEM tyres geometries to professional racing tyres, and helps the rider skip some of the setup variables a professional racer is required to manage.
---
Check out all of our tyre tests here…
---
Everything about the TD SLICK has had value for money in mind, rear sizes feature a symmetric structure and seamless construction layers avoiding the junctions, which are sensitive to the stress direction. The rear is also fully reversible, offering the rider the chance to fully use the tyre, when riding at tracks featuring a predominant leaning side, which exploit just one side of the tyre.
The Metzeler TD RACETEC SLICK are available now, check out the sizing and price list down below. Contact Cassons to find a supplier near you so you.
---
Metzeler RACETEC TD Slick Sizes and Pricing
The Verdict | Tyre Test: Metzeler RACETEC TD SLICK
We head to Phillip Island and then Broadford Raceway to put a combined three hours track use on the new Metzeler RACETEC TD SLICK tyres…