Video Review: Evo Racing Pierobon X60R Racer
The Evo Racing FX Pro Twins F3 winning Pierobon X60R is one exotic bike. We recently had the chance to sample this work of art at our local proving ground.... Video Review: Jeff Ware
Riding a real racebike is always a good reminder of how great a motorcycle can be and all true racers have two key things in common ­– lightweight and good geometry.
One bike high on my bucket list to test has always been the Pierobon X60R, a super lightweight, compact, GP-style racer with a grunty Ducati Evo motor thrown in.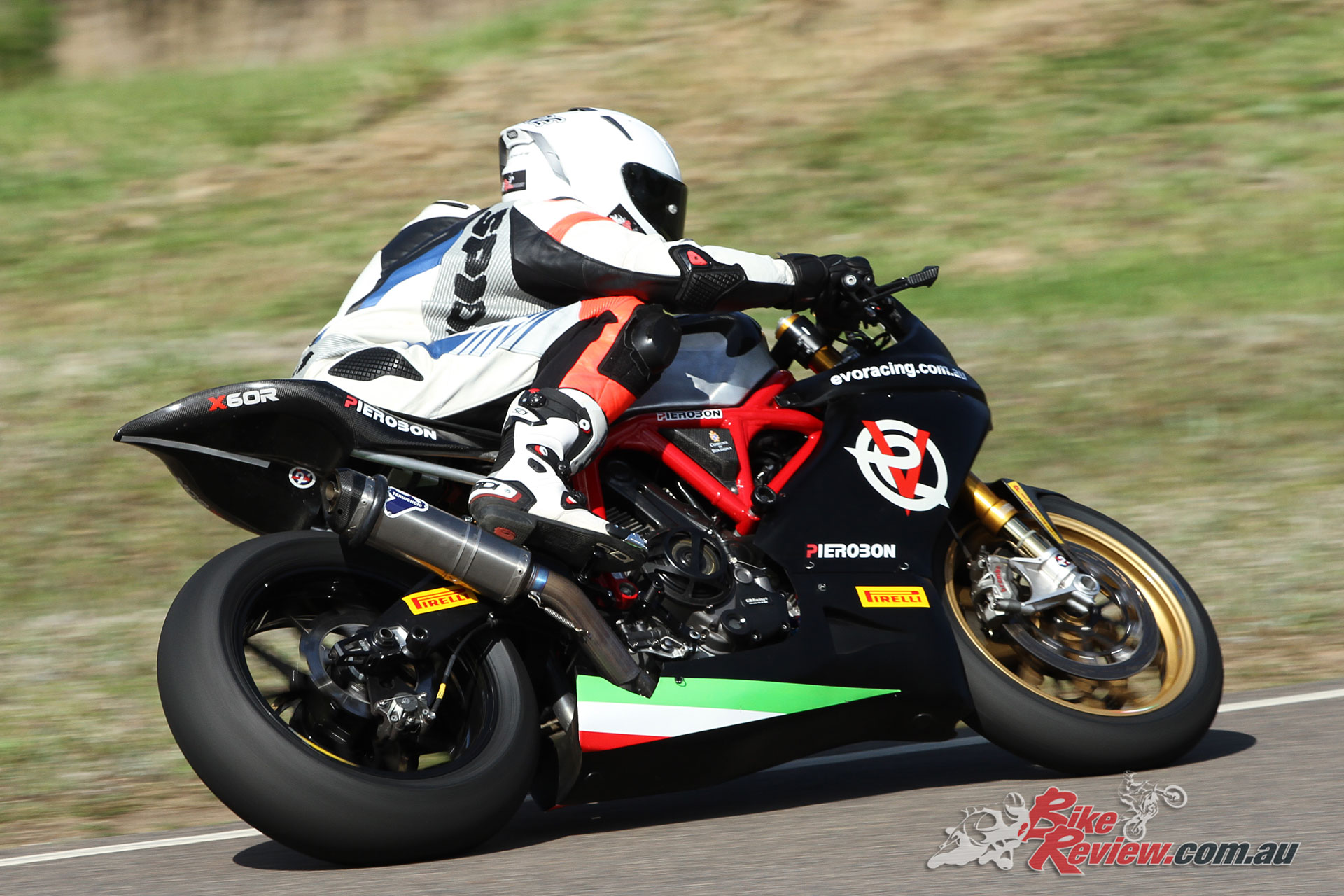 When Evo Racing owner Nick Byrne offered us a ride on the bike at the end of the 2018 season, I really didn't have to think twice. As quickly as I could, I lined up some time at our proving ground, the ultimate place to test such an amazing bike. Check out the full written review up next week.
Evo Racing Pierobon X60R Racer Specifications
ENGINE:
Ducati Hypermotard 1100 Evo (2010 – 2013), 98 x 71.5mm bore x stroke, 1078cc, 12.5:1 compression ratio, Pistal high-comp pistons, Pankl Titanium conrods, lightened and balanced crankshaft, Kaemna camshafts, 47mm (IN) and 41mm (EX) valves, Kaemna ported and flowed cylinder-heads, standard crankcases, 1198 oil cooler with additional Earls 13-row upper cooler with oil supplied to heads via cam covers, standard ignition, Power Commander V tuned by Serco on 98 PULP, 996 bellmouths, MWR filter, custom Termignoni exhaust system, stock Hypermotard gearbox with lower top gear, race pattern with reverse quickshifter, 15/39 gearing as tested, EVR CTS slipper clutch with sintered plates, Brembo RCS slave / master-cylinder.
CHASSIS:
2017 Pierobon X60R frame, Pierobon triple-clamps, billet alloy headstock and swingarm pivot points, box-section alloy Pierobon swingarm, Ohlins DU235 shock with progressive cantilever and 8.5kg spring, Ohlins FGRT203 43mm forks, 9.0kg springs, 150mm oil height, standard internals, Brembo M50 front calipers, MetalGear rotors, Brembo Z04 brake pads, Brembo RCS master-cylinder, Hel brake lines, Braking rear rotor, Brembo caliper and master-cylinder, Marchesini Magnesium wheels – 17 x 3.5in (f) and 17 x 5.5in (r), Pirelli SC2 slicks, Woodcraft 57mm handlebars
BODYWORK:
Pierobon fairing kit in fibreglass, carbon-fibre tail, handmade aluminium fuel tank, Pierobon seat.
PERFORMANCE:
115RWHP, 136kg dry.