We head to Yamaha HQ to share in the celebrations of their 64th birthday and leave a lot heavier... Words & Pics: Jeff & Heather Ware
On July 1 Yamaha Motor Corporation celebrated 64-years since their first bike rolled off the production line, the YA1 Red Dragonfly, with a global party called Yamaha Day. We attended the Aussie one at Yamaha Motor Australia HQ, where a great family event was put on by Yamaha for staff members, their families, friends, media partners and industry associates. We had a ball… and left a few kilograms heavier!
On arrival the smell of a wicked bbq fry up hit us and that was the first place we headed, to check out what was there to eat – the answer was, loads! Inside one of the warehouses there was a massive bbq set-up, with two huge hot plates on the go cooking beef, chicken or vegetarian burgers, onion, the works with just about every topping needed to make a perfect works burger, coated in sticky Sweet Baby Ray's Hickory & Brown Sugar BBQ Sauce – all washed down with a cold can of Coke.
Of course, that was only our first course… after a walk around and a stretch, it was off to the Coffee & Crepes food truck inside for a sugar, cinnamon and syrup crepe and an Apple syrup and cinnamon crepe washed down with a double-shot flat white each! After that effort, Heather and I were feeling like we'd definitely need to add a bit of extra preload to the shock on Project WR250R…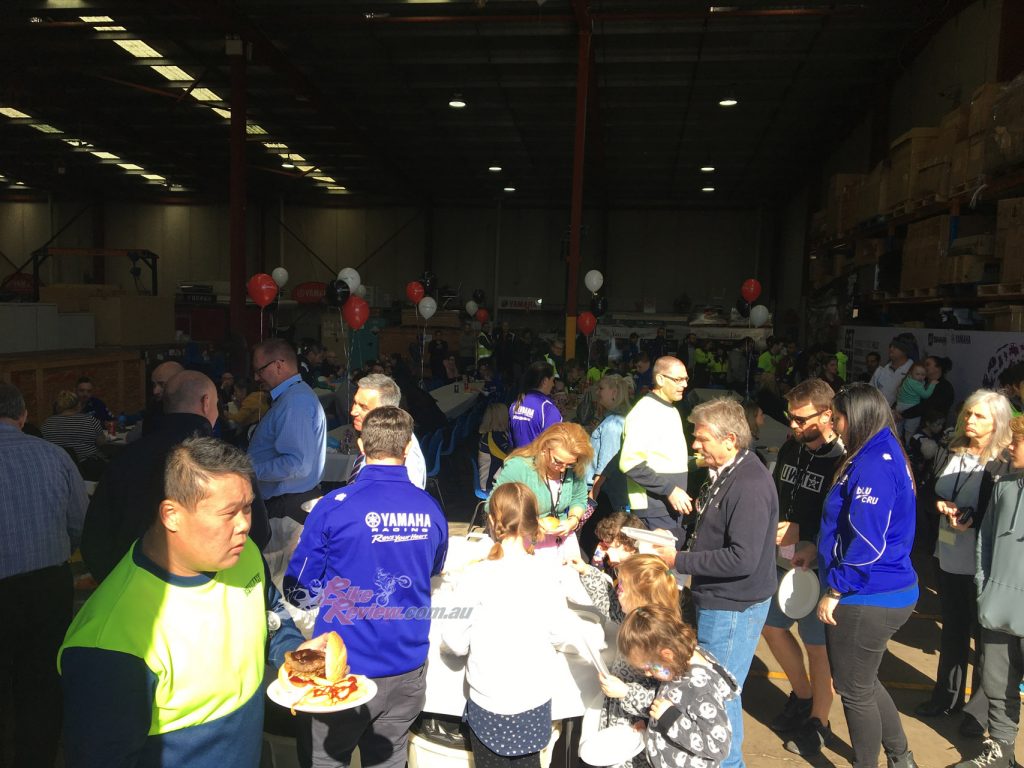 A walk was needed so we ventured outside and I quickly turned into a wide-eyed teenager as I soon spotted a mint YZ80K and my all-time dream ride as a kid, that I drew pictures of on my school books, the best looking YZ ever – the YZ80T with the white radiator shroud. Then, as I began to regain my composure I turn around and spot a childhood hero, Mr Motocross Steven Gall. Holy crap!
Just as I got over the YZs and had my picture taken with them by an amused Heather, I turned my now giant grinning face to the left and began drooling over an RZ350 that really took me back to my youth when I owned a mint RZ250FN as a 16-year-old. I used to ride it to school!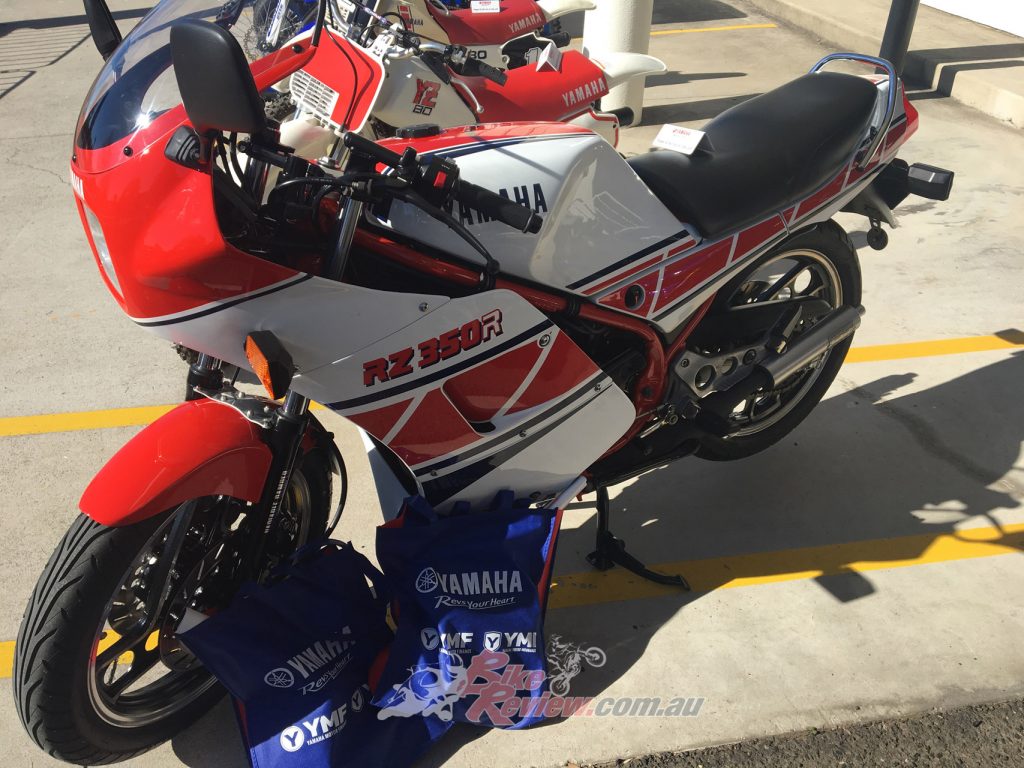 There was a top set-up for kids to try a quad bike or a PW50, with YMA staff member's kids lined up to do laps in full riding gear supplied by Ficeda. We watched the young future chamions lapping for ages, the smiles on their faces was priceless and the parents looked pretty excited too. I'd say there will be a few PW50s under Christmas trees in Sydney this year. The kids even got a participation certificate after riding. Too cool.
The new Tenere 700s were there in three colours, one with a lowering kit fitted and one with some extras including a screen and headlight cover, radiator guard, Akrapovic pipe, knobby tyres, comfort seat, chain guard and a few other parts. They all looked mint – we can't wait to review one.
There were some factory race bikes on display as well as a few utility vehicles and even the RMAX unmanned helicopter and some of the watercraft range.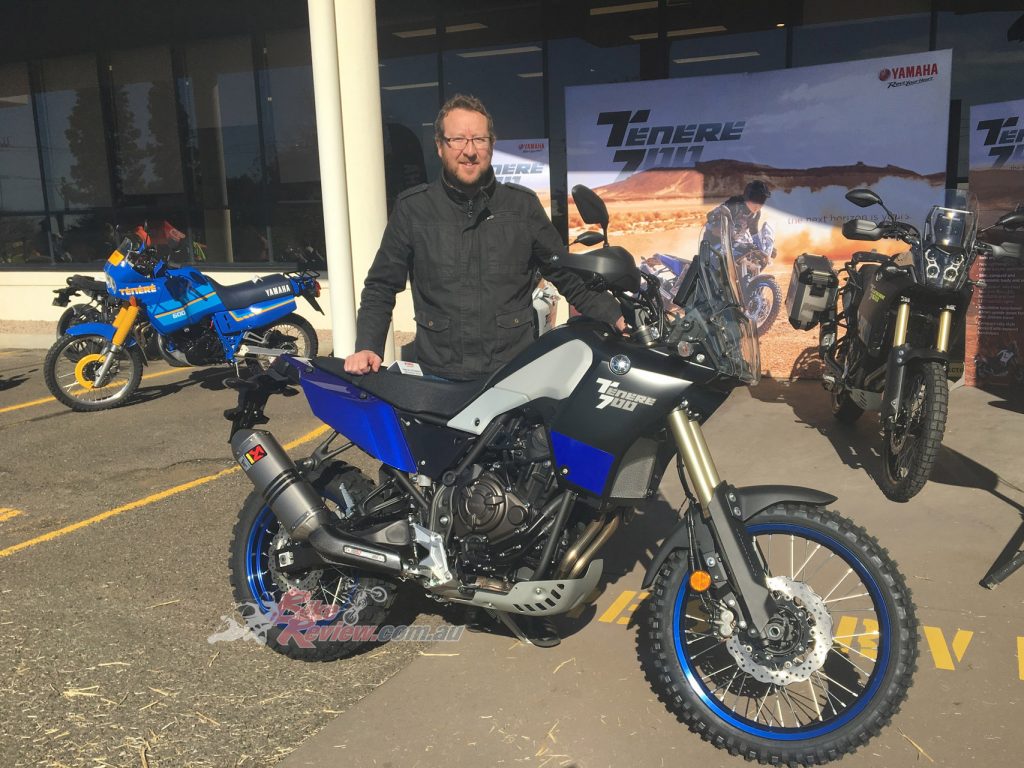 Inside there was a jumping castle, put-put golf, a ballon artist, face painter, fairy floss maker, plus a virtual reality set-up that was popular. It was a young rev-head kid's paradise and the show bags were a hit with the kids, including our own four who all went nuts when we handed them out at home.
Walking around and chatting with Yamaha staff that we wouldn't normally meet was a real pleasure, as was seeing everyone enjoy themselves around bikes. I had a good chat to a HP officer who's daily Police bike was there – an FJR, and he told me how attached he is to the bike after over 80,000km together. He said he did 90,000km on his previous FJR.
All up it was great idea by Yamaha and a really enjoyable way to kick a week off on a sunny Monday…