Review: Honda CBR650F LAMS
A good Learner option for the Honda fan... Here's our Honda CBR650F LAMS review. Test: Kris Hodgson Video Review: Jeff Ware
Honda's CBR650F LAMS is an interesting proposition and was introduced as a new sports model produced in Thailand, with simple styling that is atypical of Honda. Personally I think it's a sexy machine with the minimalist fairings and clean lines.

The 649cc four-cylinder CBR650F LAMS actually feels like a much more powerful bike thanks to the low down punch and provides great thrills for a package that some would undoubtedly discard out of hand.
The bike itself is an interesting mix of components, ABS as standard is definitely a selling point, while the hollow five-section wheels are elegant and dual 320mm wave front rotors with Nissin calipers suggest business. The seat is simple but not overly bulky and the tail is a pleasantly streamlined unit, no doubt helped by the exhaust exiting down near the swingarm on a single side – following the current craze and assisting weight centralisation.
The higher bars provides a bit more leverage and comfort than you would find on pure sport offerings with their traditional clip-ons, keeping you elevated off the large tank and looking well out over the front of the bike. The pegs also provide a sporty perch and reveal that the bike is quite narrow at this point, further assisting in a comfortable overall feel.
Firing up the inline-four the engine is buzzy but the bike tested is practically brand new and seriously tight with just a few hundred km on the clock. A quick check shows all the controls are as you would expect, with good vision through the fairing mounted mirrors.
Setting off one thing becomes instantly apparent, this bike feels absolutely amazing right from the second you crack the throttle. Power delivery is instantaneous and torque laden, giving the CBR650F real zip right off the line.
Low-down power is exceptional and transitions on and off the throttle aren't a chore, with fuelling being quite good.
This is where the real sportiness of the CBR650F becomes apparent however – with Honda definitely giving a nod to our heavily regulated roads – first gear becomes buzzy quickly, however from second gear you are encouraged to rev the little machine with phenomenal mid-range power on tap and flicking up through the gears provides solid and positive gear engagement.
The rev ceiling is lower than you'll find on a pure sportsbike, with power dwindling off rapidly at 8000rpm, but you don't need to have the CBR650F screaming to take advantage of the bike's engine, with that extremely tight delivery of power prompting aggressive acceleration through the meat of the torque available below 6000rpm.
Whether you're in traffic, a nice set of twisties or the open road you can really fang this bike and feel like a MotoGP racer without necessarily putting your licence on the line – although it's still definitely a possibility!
An amazing engine is all very well but you need everything else to create an all-round package and thankfully Honda have just about delivered in their typical fashion.
The steel diamond frame uses two 64mm by 30mm elliptical spars to provide flexibility, while the headstock is much stiffer providing a great balance of feedback and handling characteristics. A rake of 25.5 and trail of 101mm combine with the 1450mm wheelbase to provide a stable motorcycle, trading off some of the more aggressive handling that you'll find on a CBR600RR for instance, with a more balanced approach that suits the CBR650F's design brief – an easy-to-use riding experience.
However, I would have liked the bike to be more agile and less 'one-line'. This would be better for learner riders who may need to take two or three goes at steering before getting a corner right. The CBR likes to stay on one sweeping line…

Both cranking the bike over and enjoying a cruise up the highway to your favourite twisties are confidence inspiring and it's extremely easy to look down and find yourself traveling far faster than you would have guessed.
Where this can all come crashing down is with the suspension, which for my 180cm/70kg was ideal and performed like a personalised and well sorted system, keeping in mind that only the rear monoshock is preload adjustable.
I would guess that I fall almost exactly into the region of rider's the CBR650F was designed for, meaning that if you deviate from this weight to a great extent you'll probably want to consider setting aside some money to have the suspension set up for your specific needs – which shouldn't be a major drama with the low buy-in cost. If you are close to this weight though you'll find a very well sorted system, ideal for our often terrible roads, whether you're cruising, commuting or fanging.
What does this all mean? Well to be honest this is one of the most impressive Learner motorcycles I've tested in quite a while – keeping in mind I don't own a car and favour capable all rounders that need to do everything and do it very well. Combine this with a very impressive price of $10,599 and the CBR650F makes the very short list of bikes I would seriously consider buying if I were on the market and it's in a much, much lower price bracket than the rest… Plus if fairings aren't your thing the CB650F is also available.
2016 Honda CB650F Engine
The CBR650F benefits from an all-new engine, with the liquid-cooled four-cylinder using a compact internal architecture with a stacked six-speed gearbox and starter/clutch layout, while the cylinder-head employs direct cam actuation and cam timing for optimal performance, particularly below 4000rpm.
Internal water channeling from cylinder-head to cylinders also prevents the need for exterior hoses and the cylinder-sleeves feature ferrous spines on the outer surfaces to reduce oil consumption and friction with improved heat transfer.
Optimised con-rod length decreases side-force on the pistons, with breathing holes in the crankcase walls between journals reduces pumping losses at higher rpms, while the pistons were created with Computer Aided Engineering and feature asymmetric skirts to minimise bore contact and friction. A SV cam chain also reduces frictional loss thanks to a Vanadium coating on the pins.
The PGM-FI is fed through a down-flow airbox with narrow 30mm high velocity funnels, while information from four throttle body sensors on the 32mm throttle-bores provides crisp throttle response from the Keihin KN7SJ injectors.
Short valve overlap timing is also to thank in conjunction with a specific ignition map for efficient fuel economy even at higher speeds.
2016 Honda CBR650F CHASSIS
The CBR650F's steel diamond frame uses twin elliptical spars with a stiffer headstock and more flexible spar section to provide the ideal handling characteristics.
A forged swingarm pivot plate joins the gravity die-cast aluminium swingarm with the rear monoshock offering seven stages of preload adjustment.
The 41mm telescopic forks are designed specifically for the CBR650F and don't offer adjustability but are very well sorted.
Cast hollow-section aluminium five-spoke wheels are clad in radial tyres and 320mm wave rotors are grasped by two-piston Nissin calipers, with a 240mm rear rotor grasped by a single-piston caliper also from Nissin. Both are managed by a two-channel ABS system for additional safety.
A seat height of 810mm provides an easy reach to ground for most riders, with the low centre of gravity and high clip-ons providing a good balance between the bike's aggressive forward stance and relaxed riding position.
Rake is 25.5 and trail 101mm with a wheelbase of 1450mm. The tank is also hinged at the rear to provide easy access to the cylinder head.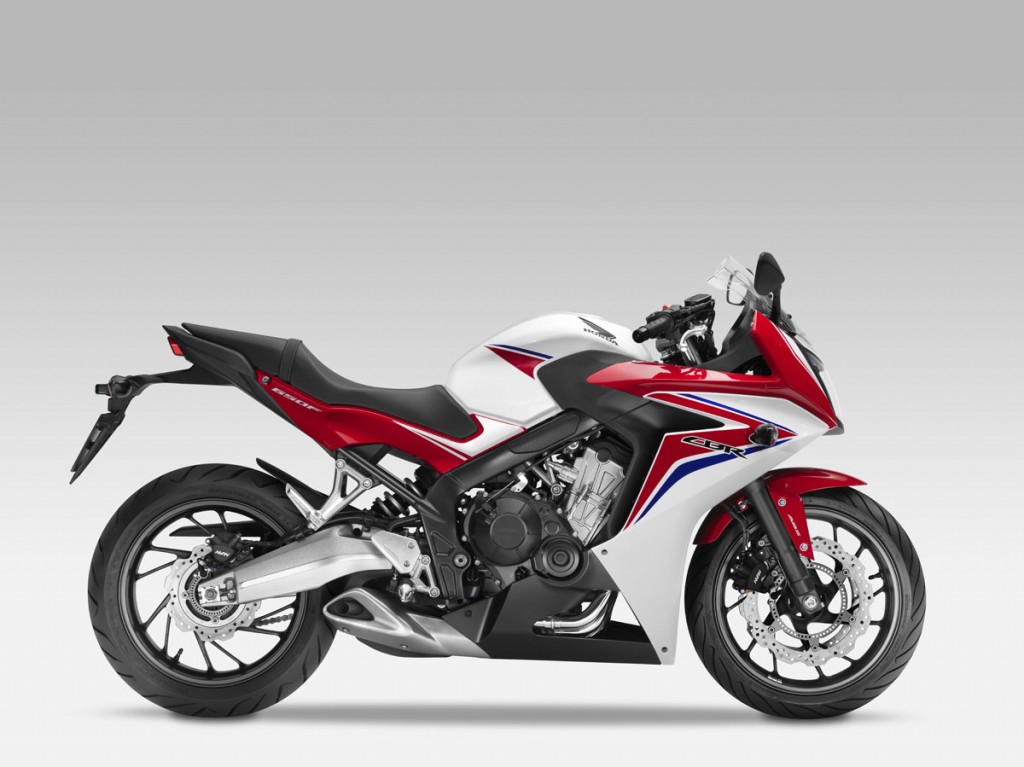 2016 Honda CBR650F LAMS Specifications
PRICE: $10,499 + ORC
WARRANTY: Two year/unlimited kilometre
COLOURS: Sword Silver Metallic, Pearl Metalloid White
CLAIMED POWER: N/A
CLAIMED TORQUE: N/A
CLAIMED WEIGHT: 211kg (wet)
FUEL CAPACITY: 17.3L
ENGINE: Liquid-cooled, four-stroke, 16-valve, inline four-cylinder, DOHC, 11.4:1 compression, 67 x 46mm bore x stroke, 649cc, PGM-FI EFI, Keihin KN7SJ injectors, four-into-two-into-one exhaust system, 'wafer' underslung muffler
GEARBOX: Six-speed
CLUTCH: Wet multiplate clutch
CHASSIS: Steel diamond frame with twin elliptical spars, gravity die-cast aluminium swingarm
WHEELBASE: 1450mm, Rake: 25.5 Trail: 110mm
SUSPENSION: 41mm conventional telescopic fork, 120mm stroke, Monoshock damper, preload adjustable, 43.5mm stroke
BRAKES: Two-channel ABS, dual Nissin two-piston calipers, 320mm rotors, Nissin single-piston caliper, 240mm rotor
WHEELS & TYRES: Hollow-section five-spoke cast aluminium, 3.50 x 17in, 5.50 x 17in, 120/70 ZR17 (58W), 180/55 ZR17 (73W)
DIMENSIONS:
Seat height: 810mm,
Overall height: 1145mm,
Overall length: 2110mm
INSTRUMENTS: Digital dash
2016 Honda CBR650F LAMS Gallery