The new 1100 Tuono V4 offered what can only be described as crazy levels of performance... Here's our 2015 Aprilia Tuono 1100 V4 RR review. Test by Kris Hodgson Photography by Tim Munro, David Hodgson
Having spent some time on board Aprilia's RSV4 RR I was pretty excited by the idea of trying out the new Tuono, there's been plenty of changes since last year and the bike's more impressive than ever before at a glance.
One sticking point for the Tuono for me, and many people I've talked to has always been looks, AND price is a consideration as so many nakedbikes are significantly cheaper than their faired version but most commonly the Tuono's front end was the biggest talking point.
In 2015 the new front fairing, which Aprilia claims offers better aerodynamics as well as reduced weight, brings the Tuono much closer to the RSV4 in looks and styling – a great move.
Specs are typically impressive as you'd expect from the asking price, with the Aprilia Performance Ride Control (APRC) system still featured and offering Aprilia Traction Control (aTC), Aprilia Wheelie Control (aWC), Aprilia Launch Control (aLC) and Aprilia Quick Shift (aQS), along with a Bosch race ABS system with Rear wheel Lift-up Mitigation (RLM) and Ride-by-Wire (RbW).
Three engine maps are on offer, Race, Sport, Track – that's right no wet mode, with power unchanged between maps but delivered with different levels of connection between throttle and engine. The most noticeable difference between the modes is the engine braking which is linked to the modes.
Jumping on board the Tuono's 'bars are wide and the seating position extremely upright, both which felt strange to start with but became natural once moving.
Controls are simple but the traction control is still a toggle behind and to the left of the regular switchblock on the left bar, which may be Aprilia's way of allowing the traction control to be ramped up with no rain mode on offer, on the fly, but can also be inadvertently knocked – normally on the plus side, which will keep increasing the TC until it turns off and starts back at the lowest setting.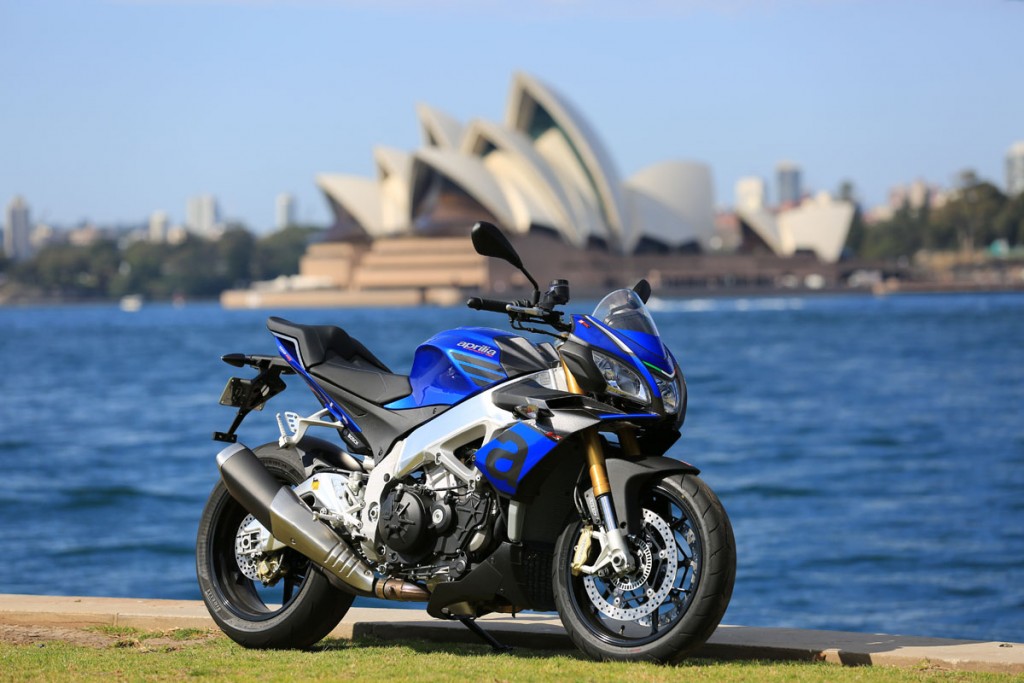 The seat is also a nice wide comfortable item, while the pegs were great for my proportions, allowing me to without thinking support my weight through them, which wasn't at all tiring over a full days riding. On the road I tested each of the ride modes and settled on Race, mainly because it had the lowest engine braking setting which was the most comfortable of the options, while the super tall gearing helps highlight the impressive torque on offer.
It's almost hard to believe in fact that the Tuono feels significantly crazier and more off-its-chops than the RSV4 in the mid-range, with stunning explosive delivery that really requires plenty of clear road to make the most of the tall gearing and exceptional torque.
The Sachs suspension front and rear both do an exceptional job, although I found myself transferring my weight forward the same as I was on the RSV4 to get the most confidence, feel and balance out of the suspension for rapid progress, especially through faster sweeping sections.
The revised geometry, frame and lengthened swingarm, with Sachs suspension and Pirelli Diablo Rosso Corsa tyres combine to provide exceptional grip, with agile handling that is easily controlled via the wide bars. Brembo brakes likewise provide stopping to match the performance on offer with great bite and modulation, both front and rear, with the rear particularly useful for trailing through corners.
Through the local sweepers the Tuono was absolutely planted, with great power and fueling, with the RbW system faultlessly converting my thoughts into drive.
With the gearing being so exceptionally tall however I found that in tighter sections I was loosing that feeling of control, even low in first gear as the engine braking would transition between a linear, smooth feel into a free spooling feeling that offered no confidence.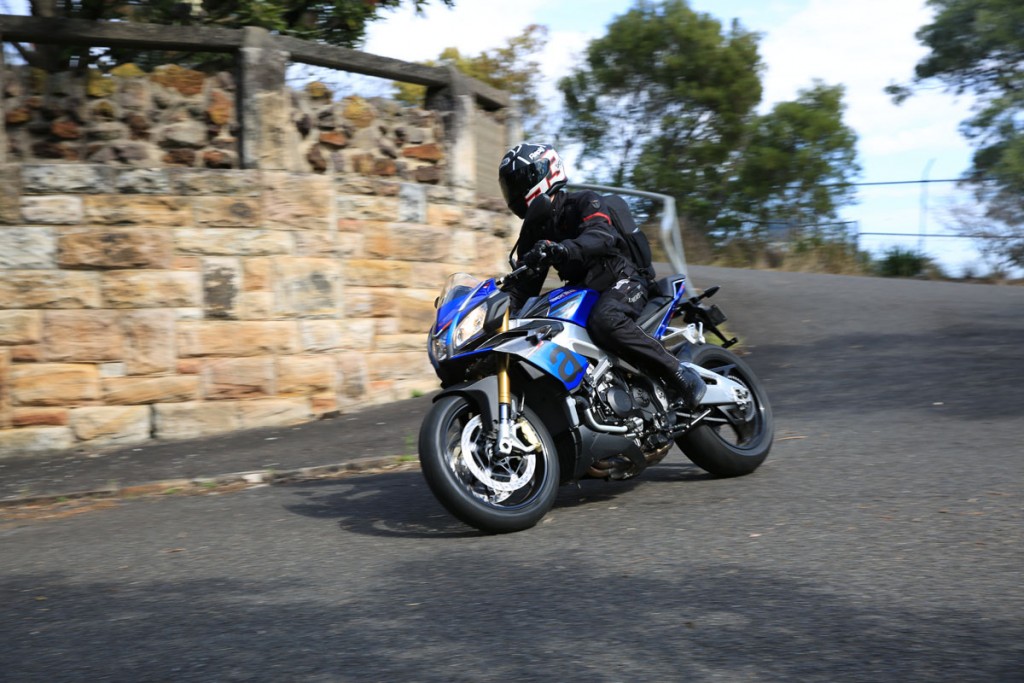 That tall gearing also meant it wasn't possible to pull the bike up enough to then transition back onto the throttle comfortably at these low speeds – at least not to the speeds I normally travel this route at, especially over some of the really poor sections. This probably wouldn't be such a concern at greater speeds avoiding this lower rev range and engine braking effect, but between cagers on the wrong side of the road every second corner and really poor road surfaces in the tighter corners I was left thinking my first mod would need to be revised final gearing, for much lower gearing. It's an inexpensive and commonly necessary mod with many of the larger capacity bikes these days, as gearing is chosen to reach emission requirements.
Trying each of the maps yielded the same results and this was particularly surprising and disappointing because the RSV4 RR tested had absolutely no issues in this area, with engine braking and fueling right down to a stop flawless and controllable, on and off the throttle.
It's obviously not the Tuono's chosen environment but the same problem found during really tight corners with poor surfaces was similarly an issue in stop-start traffic, with it being more comfortable to pull in the clutch and only use brakes to come to a stop – something that's a poor practice at best.
The new Aprilia Tuono V4 1100 is an absolute beast though and that addictive mid-range is the stuff of legend, with Aprilia doing an amazing job in every regard except the small problem I experienced.
Looks are better than ever before and closer to the RSV4, with the lineage directly recognisable, while the chassis, suspension and braking package leave nothing to be desired and with an electronics package that could probably send a rocket to the moon, there's plenty of room for tweaking settings.
2015 Aprilia Tuono V4 1100 RR Engine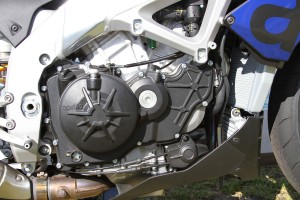 The engine powering the Tuono is a four-stroke 65 V4, with DOHC, four-valves per cylinder and a bore and stroke of 81 x 52.3mm, an increase from 78mm bore to reach the new 1077cc capacity. Compression is 13.5:1.
Peak power has been increased by 5hp to 175hp at 13,000rpm, with a claimed 20hp extra now available at 8000rpm, with the focus on mid-range. Torque peaks at 121Nm at 10,500rpm.
The compact V4 benefits from monobloc crankcase with integrated aluminium cylinder liners, with the upper engine case manufactured with a new shell fusion, and further lightened and reinforced. The air ventilation system for pressure inside the crankcase has also been revised to help reduce power loss.
Crankshaft connecting rod pins have also been reduced to 36mm diameter items, with new pistons and Pankl connecting rods helping reduce weight. The removable gearbox has also been retained along with the innovative timing system that uses a chain to move the intake camshaft that returns motion to the exhaust camshaft by a single gear, keeping the heads compact and narrow. A countershaft also helps dampen vibrations.
Four Dell'Ortto 48mm throttle-bodies with two Marelli injectors each are controlled by the RbW engine management system, with Magneti Marelli digitial electronic ignition integrated into the engine management and one spark plug per cylinder.
The exhaust is a four-into-two-into-one system, with twin O2 sensors and a single silencer, with ECU controlled bypass valve.The clutch is a wet multi-plate clutch with mechanical slipper system.
2015 Aprilia Tuono V4 1100 RR Chassis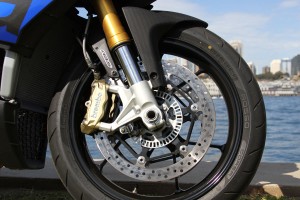 The Tuono features a double-rail frame of pressed and cast aluminium, derived from the chassis featured in the RSV4, with revised geometry including the rake now 24.7, down from 25.1, while trail has been reduced to 99.7mm. The aluminium double braced swingarm has also been revised and is now 4mm longer, while suspension is 43mm USD Sachs forks on the RR, with separate one-by-one hydraulic compression and rebound adjustment, with spring preload on both stanchions. Travel is 120mm.
A Sachs shock with built in piggyback is also compression, rebound and preload adjustable, with both the fork and shocks matched to the updated engine performance. Rear wheel travel is 130mm.
Brakes are top notch Brembo Monobloc M432 calipers on the front end, with dual 320mm rotors and stainless steel braided brake lines leading to a Brembo radial master-cylinder. On the rear a Brembo two-piston opposed piston caliper is mated to a 220mm rotor, also with stainless steel braided brake lines.
Wheels are Aprilia aluminium alloy rims with three-split spokes, with the front a 3.50 x 17in item, while the rear is a 6.00 x 17in item, both clad in Pirelli Diablo Rosso Corsa rubber – 120/70 -17 and 200/55 – 17.
The RR also features a non-adjustable Sachs steering damper and seat height is 825mm, with a dry weight of 184kg.
2015 Aprilia Tuono V4 1100 RR Electronics and Styling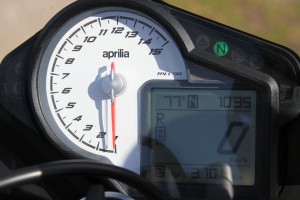 The Tuono features Aprilia's APRC system, including eight-level traction control (aTC), three-level wheelie control (aWC), adjustable launch control (aLC) and quick shifter (aQS), with a Bosch 9MP Race ABS system including rear wheel lift-up mitigation (RLM) with three levels of adjustability, as well as being able to be disengaged.
Ride-by-wire is controlled by the latest Marelli control unit, with three maps offering different power delivery but full power and engine braking management, with Track and Sport maps now joined by Race, with all three maps claimed to be both easier to manage and less aggressive than previous versions, for a better relationship between throttle and engine.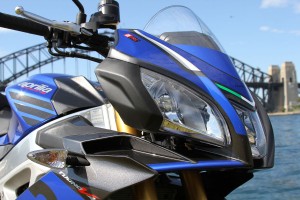 Styling has been revamped with a new headlight and front fairing, reducing weight from the previous item by 1.5kg and increasing the aerodynamic penetration coefficient.
Both the new headlight and rail fairing are derived from the RSV4, with the seat height lowered by 15mm from the previous model, with a new style of handlebar, and switchblock integrated traction control buttons.
2015 Aprilia Tuono V4 1100 RR Track Opinion
I had the opportunity to do a quick 15-minute session on the Tuono at Sydney Motorsports Park and came away impressed. I rode the RSV4 back-to-backwith the Tuono and enjoyed both equally on track.The Tuono is not your average nakedbike. It has firm suspension, an aggressive riding position for a nakedbike and radical geometry.
It handles unbeleivably well on track and is well above the other nakedbikes in class when it comes to track ability.I would say equal to the EBR 1190 SX on the racetrack and with more ground clearance and top end than the BMW, ahead of the S 1000 R.
A fantastic bike I look forward to spending more time on in the future.
– JEFF WARE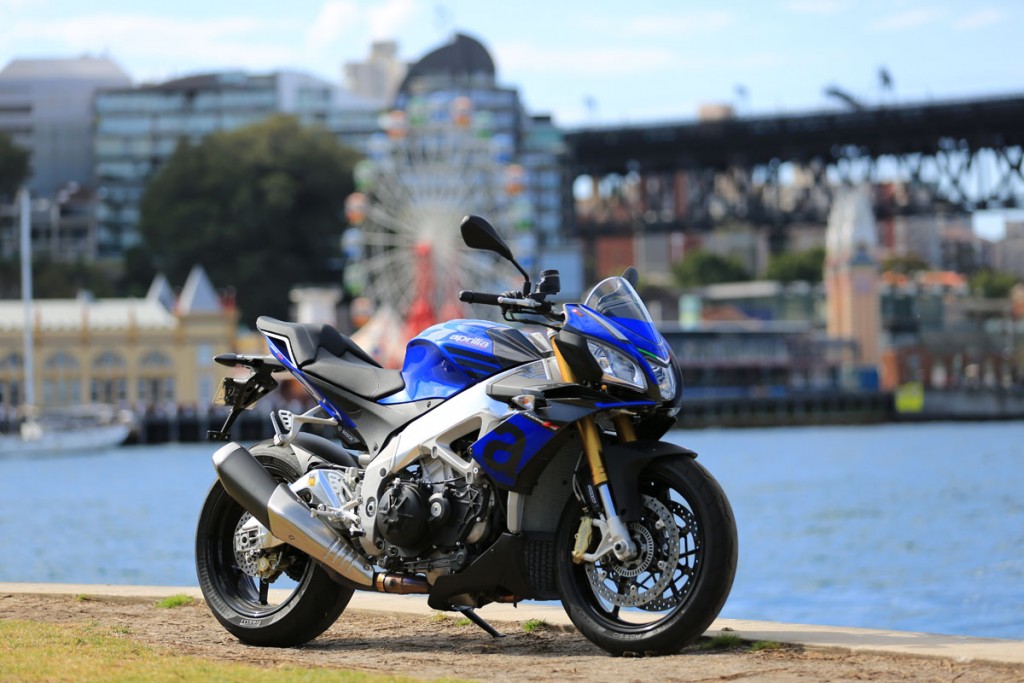 2015 Aprilia Tuono V4 1100 RR Specifications

PRICE: $23,000 Ride Away
WARRANTY: Two-year, unlimited kilometre
COLOURS: Blue, Silver
CLAIMED POWER: 129kW[175bhp]@13000rpm
CLAIMED TORQUE: 121Nm[89.2ft-lbs]@10500rpm
DRY WEIGHT: 184kg
FUEL CAPACITY: 18.5L
ENGINE: Liquid-cooled, DOHC 65 V4, 16-valve four stroke, 81 x 52.3mm bore x stroke, 1077cc, 13.5:1 compression, eight Marelli injectors, four Dell'Orto 48mm throttle-bodies, ATC, RbW, ABS, AQS, AWC, ALC, four-into-two-into-one silencer with twin oxygen sensors
GEARBOX: Six speed, cassette-type
CLUTCH: Wet multi-plate, mechanical slipper system
CHASSIS: Aluminium perimeter frame, Sachs steering damper, double-braced aluminium swingarm, Rake: 24.7, Trail: 99.7mm
SUSPENSION: 43mm fully adjustable USD Sachs forks, 120mm travel, fully adjustable Sachs shock, 130mm travel, APS progressive linkage
BRAKES: Bosch ABS with RLM, Dual 320mm rotors, four-piston radial-Monobloc Brembo calipers, Brembo radial master-cylinder, single 220mm rear rotor, two-piston Brembo caliper
WHEELS & TYRES: Aprilia aluminium alloy three-split-spoke, 3.50 x 17in, 6.00 x 17in, 120/70 – 17, 200/55 – 17
DIMENSIONS
Wheelbase: N/A
Seat height: 825mm
INSTRUMENTS: Analogue speedo and multifunction LCD display