This is the only known Bimota YB5 racer on the planet that is still active and winning. We rode it a few years ago at SMSP... Test: Jeff Ware Photography: Keith Muir
35-years-old and this highly modified and very rare Bimota YB5 could well be one of the best handling retro motorcycles on the planet. Back in 2016, Jeff headed to the Barry Sheene Festival of Speed to test this amazing and very successful T-REX Racing creation…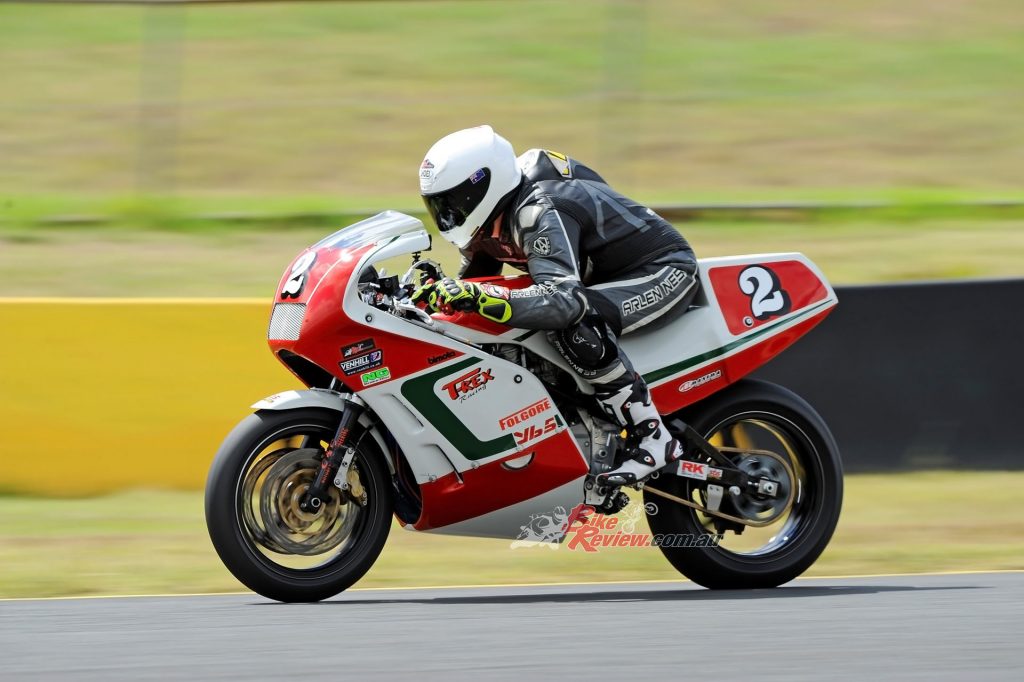 Back in 1987 the Bimota YB5 was one of the most amazing, expensive, out of this world and radical motorcycles on the planet. It was fast, real fast. It was draped in the highest specification grand prix quality running gear and it handled like a 250 despite housing the lump of an engine that the mighty Yamaha FJ1200 is. In comparison, the original FJ1200 was a boat.
---
T-REX Racing Bimota Wins 2016 Barry Sheene Festival & Sets Lap Record
---
Almost 35-years later the YB5 numbers don't even count but the legend of the bike remains and with only 208 units originally made, is as rare as it gets…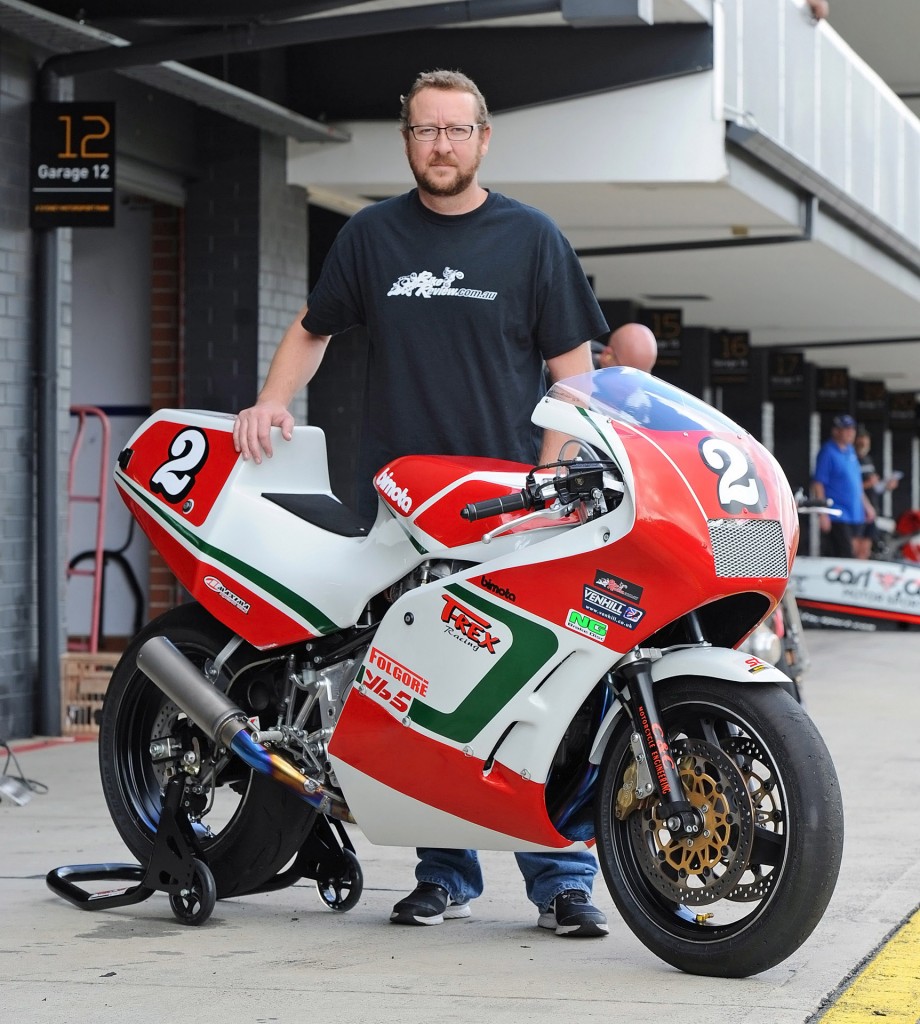 So rare, in fact, it took T-Rex Racing's Rex Wolfenden an eternity to find himself an immaculate low mileage example. But he did it. He got hold of one and landed it on the bench in his immaculate Melbourne, Australia, workshop that is famous Down Under for building championship winning motorcycles, particularly specialising in Honda 750 Fours of the classic Forgotten Era class.
So Rex got his hands on the immaculate and rare YB5 and, as you do, stripped it immediately and began the process of turning into what we think is the only YB5 racebike in the entire world. If there is another, we can't find it!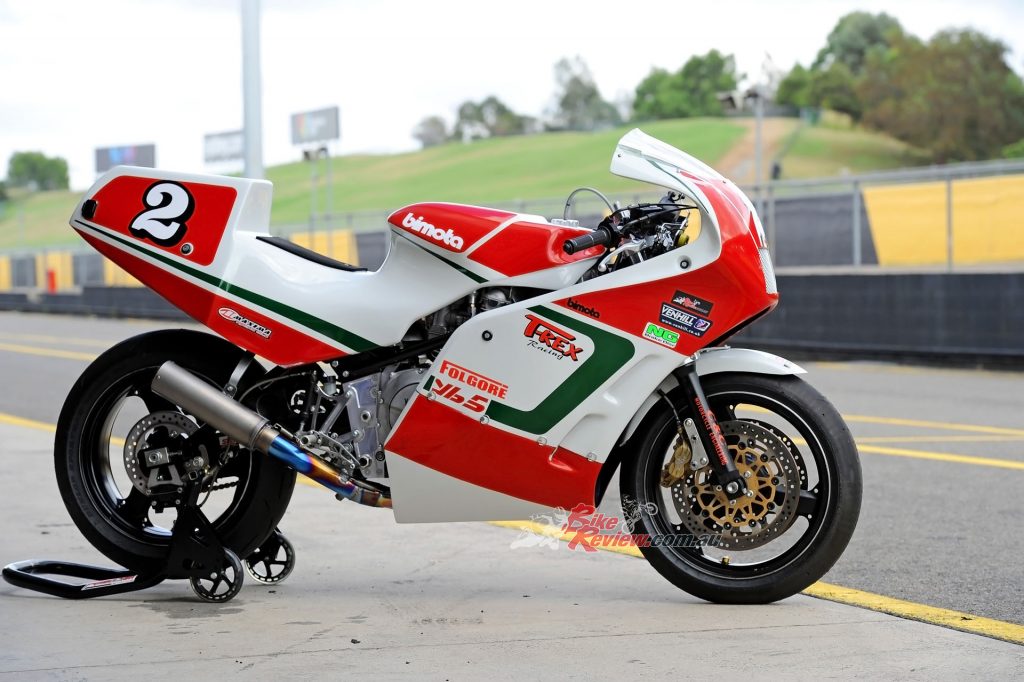 Rex first of all removed the standard FJ1200 engine and built it to his specification, which is already tested and proven with an FJ1200 racer that is very successful over here.
The engine was bored 1mm oversize and JE forged pistons fitted to Carrillo conrods, which swing off a lightened and balanced crankshaft on oversized main bearings. The cylinder-head was reshaped and ported by Rex, who also installed oversized IN and EX valves and the appropriate springs and retainers. Rex had some camshafts made to his specification as well. The original five-speed gearbox was undercut and a slipper clutch was fitted to the bike post my test (you can see the hop into turns in our on board video).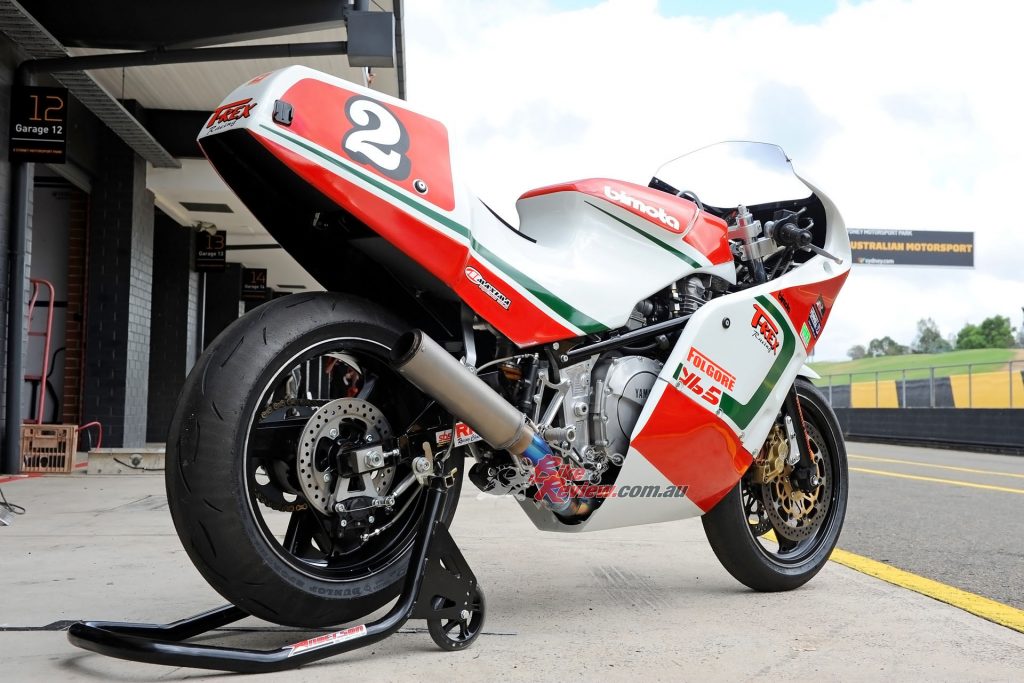 Feeding the FJ engine are four Keihin 37mm CR carburettors. Mixture is fired by a Dyna 2000 ignition system and gasses exit via a stunning Over Racing Titanium four-into-one exhaust system and T-Rex alloy muffler. As you can hear in the video, the sound is out of this world… at both ends!
With a comfortable 150-horsepower the chassis now needed setting up. Rex braced the spindly chro-mo swingarm heavily but aside from that the amazing YB5 frame is standard.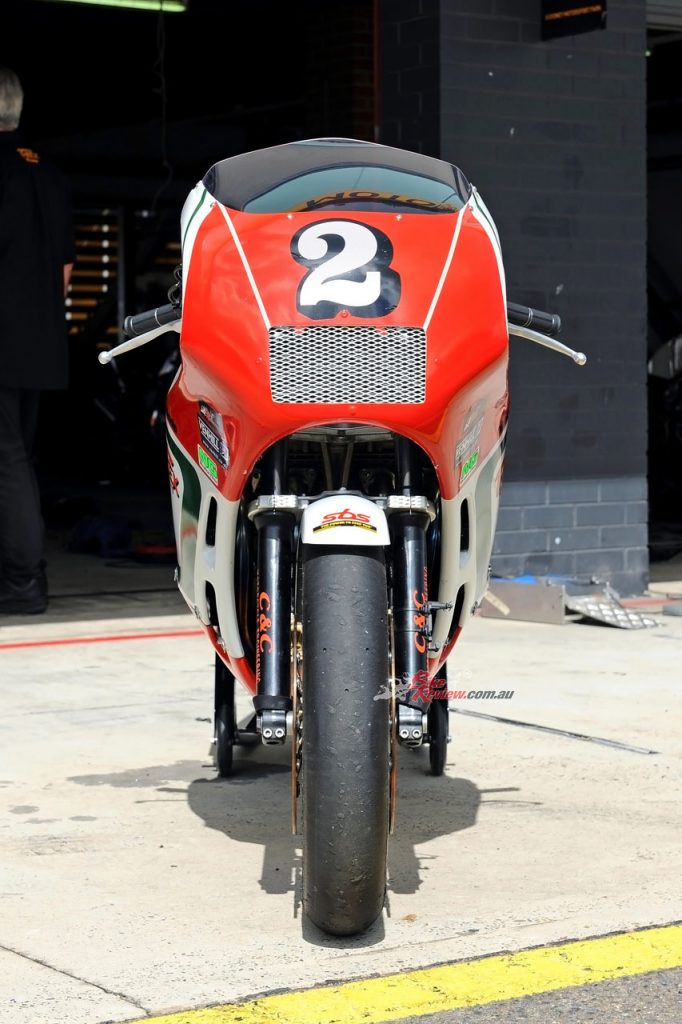 Kayaba 43mm units with T-Rex valving and 1kg springs, slotted back into the original YB5 triple-clamps, replaced the Marzocchi forks. At the back end a custom made to order Ohlins shock was fitted via T-Rex linkages. Wheels at both ends are cast alloy ZX12 items, while the old Brembo brakes were given the flick in exchange for more modern four-piston Brembo calipers.
These squeeze SBS race compound brake pads onto semi-floating stainless steel NG rotors via Venhill brake lines – at both ends of the bike. Tyres are Pirelli slicks.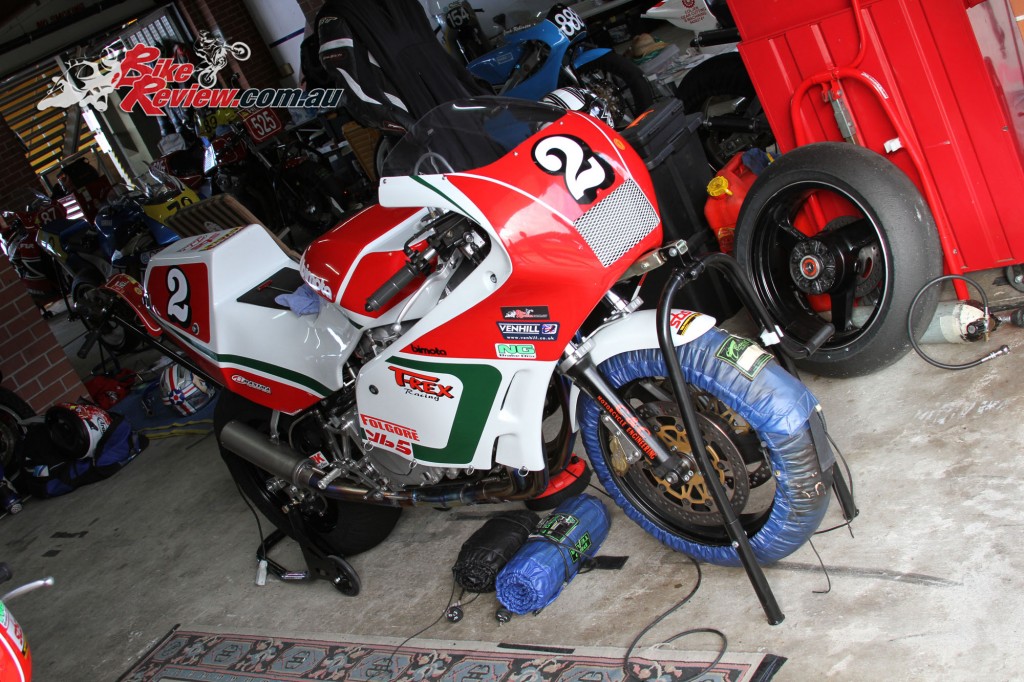 With the rolling chassis complete and the engine slotted back in Rex got to work on the controls, brackets and fairings. The original fairing was cut up (ouch!) and molds were taken off it to make a set of race fairings. These are wafer thin and ultra lightweight. The single seat unit is a work of art and the way Rex has retained the profile of the original fuel cell cover is a nice touch.
The steel fuel tank was replaced by an aluminium item made by Rex's equally as talented brother and ex long term Honda Factory Superbike Team Manager Clyde Wolfenden, at C&C Motorcycle Engineering in Victoria.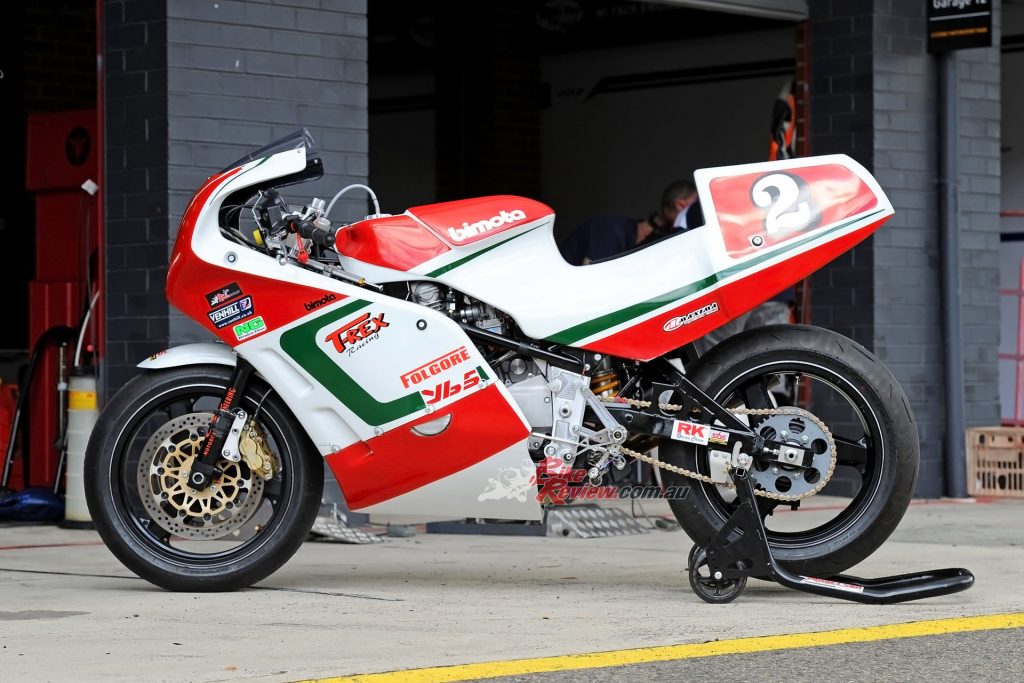 Clyde also knocked up the rearsets, 'bars and other billet bits and pieces. His work is stunning.
Once the bodywork was back from the painters the whole bike was assembled and you have to agree, it is an absolute stunner of a bike.
The bike debuted at the 2016 Phillip Island World Superbike round in February, where Rex slotted it up the back of his garage and quietly entered it in the support races. His hope of anonymity was short lived as soon the bike was the talk of the paddock and there were swarms of people looking at it.
---
---
A few months later after some more development the bike was raced in anger at the 2016 Barry Sheene Festival Of Speed. Originally pencilled in as a back up bike for rider Chas Hern, who planned on running Rex's Harris Honda, Chas soon found he was faster on the Bimota so chose that and won the weekend convincingly. No mean feat. The lap times were only seven seconds off domestic factory superbike record times…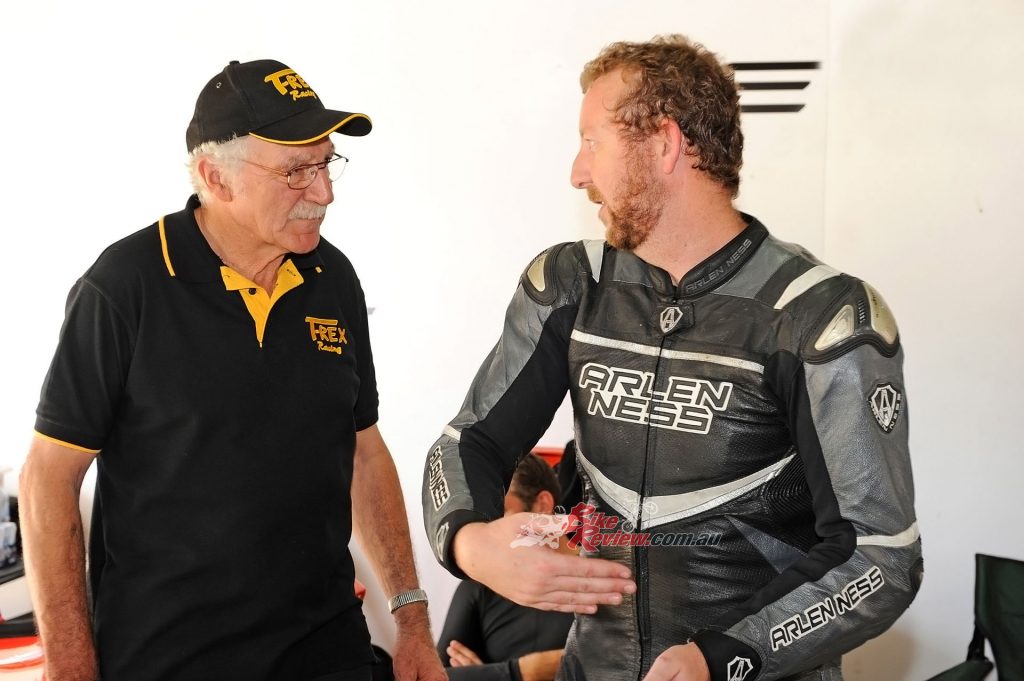 The Ride –  T-Rex Racing Bimota YB5
It was the Thursday before the BSFS that I had the opportunity to try out this amazing motorcycle that I had already drooled over at Phillip Island. Having ridden Rex's Harris Honda, I knew the bike would be good. Plus, with such an exclusive and irreplaceable bike, I was not too nervous about the test and damaging the machine as, like the Harris Honda, I could tell by watching it in action that I was going to feel comfortable on the bike within three or four corners. And I was right.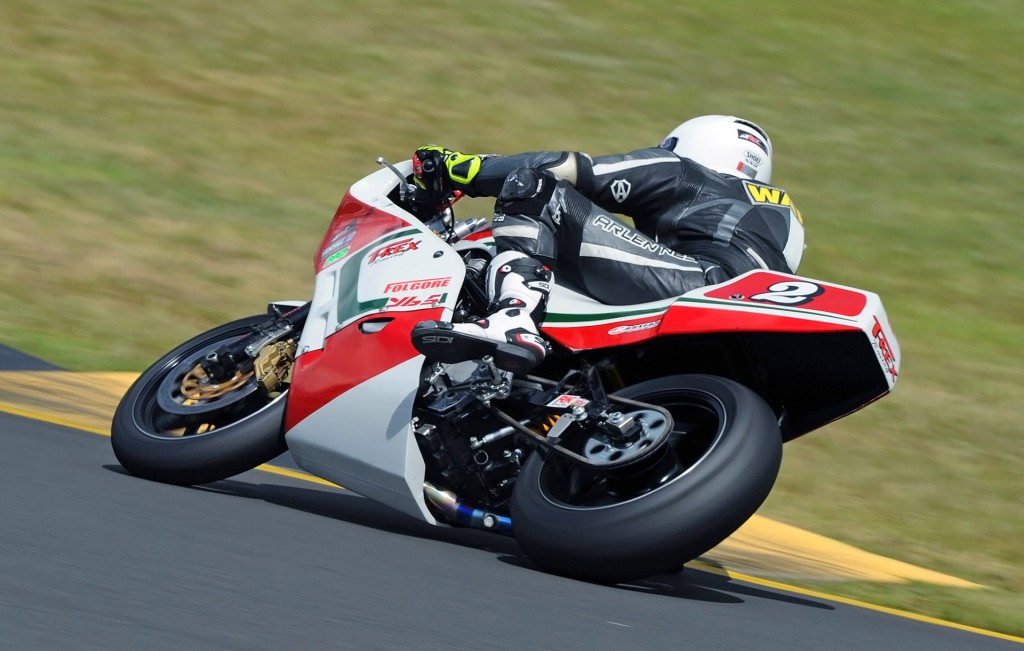 Rex has an ability to make a bike behave in a way that makes the rider confident and comfortable. It's a knack that takes most of the hard work out of going fast before even sitting on the bike.
Hopping on, the bike feels narrower than it looks, although it is still wide. The recess in the fuel tank cell cover is immediately annoying. The 'pegs are high and wide and feel good, the 'bars really wide but with a good angle and draw. The screen is enormous – when you are used to the miniscule screens these days. Reminds me of my 1985 GSX-R750.
---
---
With the bike fired up on the roller (starter motor removed) I select first via the reverse shift lever and head out of pit lane. The engine idles high as at this stage there is no slipper clutch fitted. The exhaust note is deep and angry. The bike is actually a little intimidating to be honest! However, I roll out onto the circuit and as expected within four corners my knee is on the ground and I feel like I have ridden this bike many, many times. I'm at home.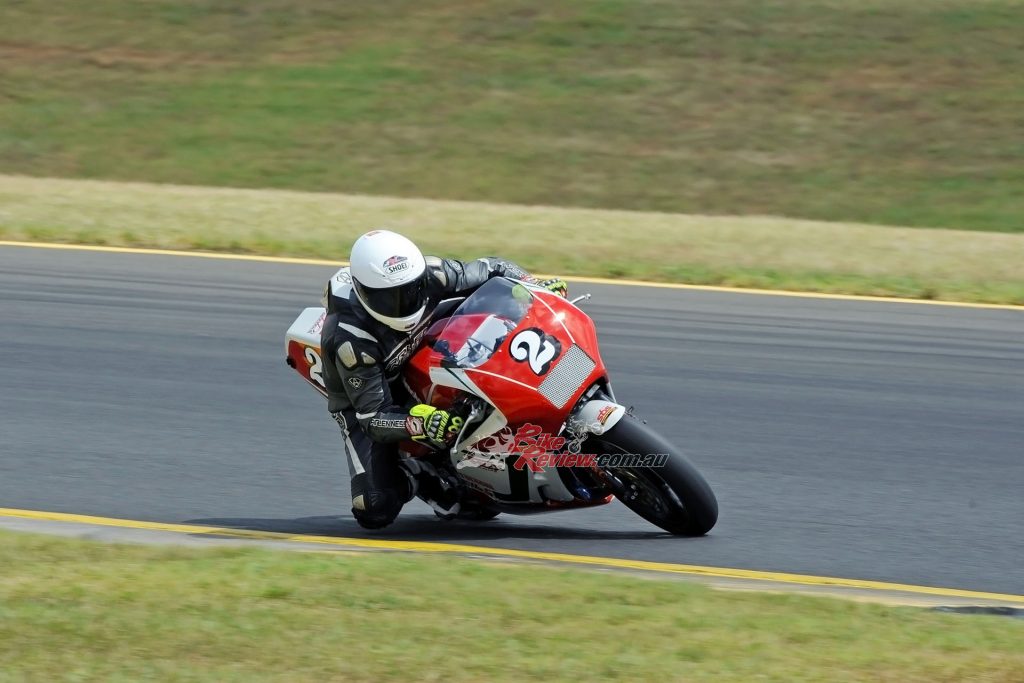 Before I can fully explore the glorious torque of the T-Rex FJ engine I start to get a feel for the chassis dynamics and immediately feel there is a problem at the back with the tyre. The rear feels like it is sitting low and there is a hesitation on initial turn-in, caused by the rear tyre shape.  It is also spinning up in a big way off turns. I stay out for the session to get photographs for the test and try to use the time to test the brakes, suspension and that stunning engine.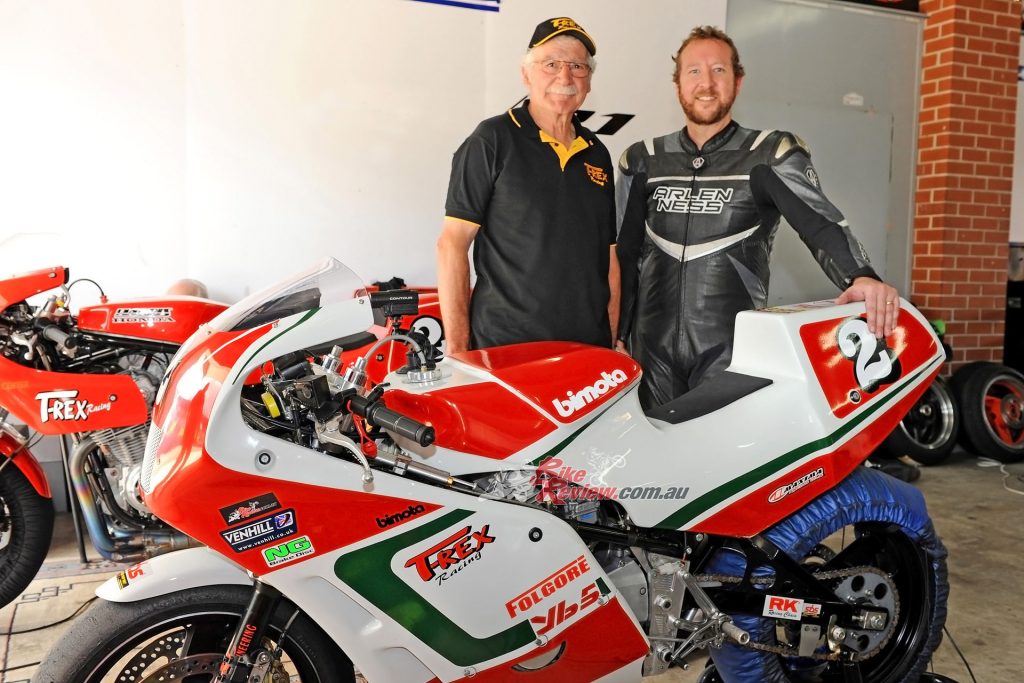 On return Rex agrees that the tyre is probably not right and swaps it for a new slick.
The profile lifts the bike and transforms it to heaven on two wheels. It's a little taller at the back but the tyre is also more triangulated.
---
---
Stability on the brakes is impressive aside from some rear chatter caused by engine braking, remember my test is pre slipper clutch. The brake package is fantastic and I'm surprised how good the Nissin mater-cylinder works, with good initial bite, feel and modulation at the lever right on lock-up point through the braking process.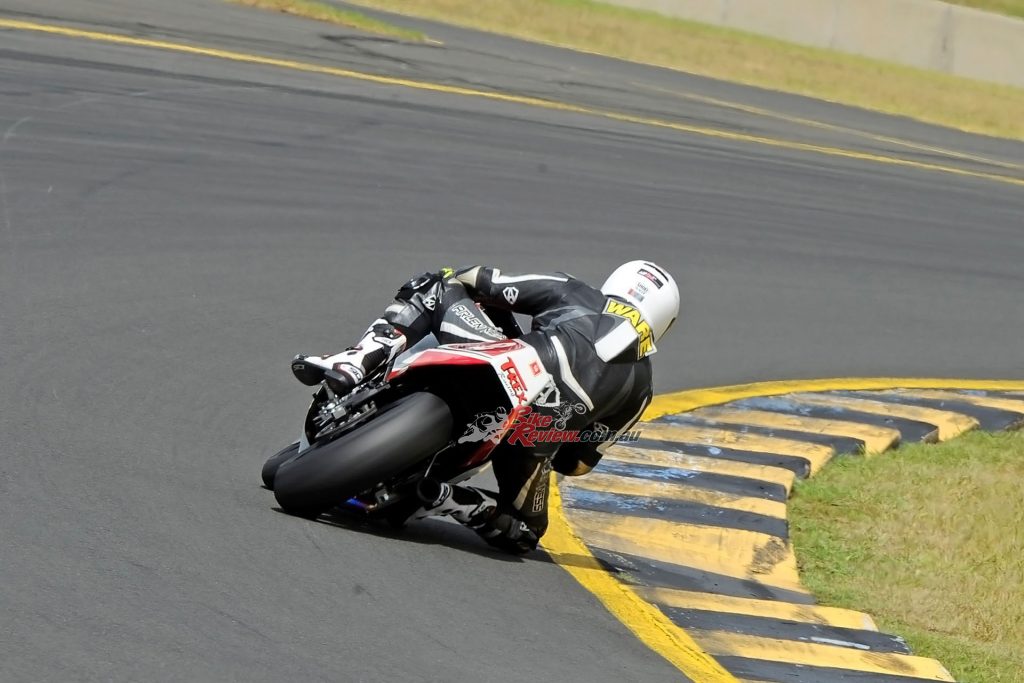 Braking hard on turn-in is the best way to get the ultra stable set-up into the turn quickly, along with a heap of muscle. But once that initial turn and commitment is made, the YB5 falls very gracefully on its side with absolute surprise-free progression. If I could get forward more it'd help but I would not sacrifice that original tank profile myself.
---
---
Once over, I could just about take my hands off the 'bars! The bike sits at full lean, planted, with incredible mechanical grip and turn of speed. It thrives on old school fast lines, which suits me fine.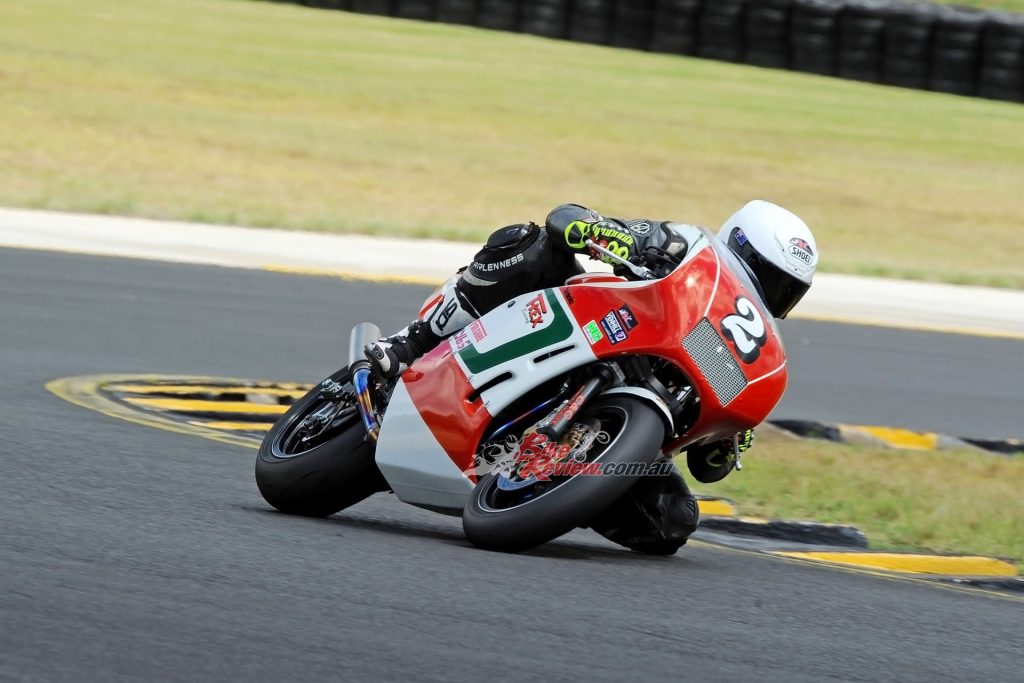 Cracking the quick-action throttle is just a real pleasure as the perfectly set-up Keihin CRs gently feed on, the cams coming in nicely, plenty of compression and all that together bringing the big 1200 to life. Just before the apex, I could wind it on hard and have it at full throttle exiting the turn. The Pirelli hooking up and driving the YB5 forward. It was like being fired out of a canon!
The front wheel paws for the sky in this situation and as I tuck in and grab another gear on the slick shifting 'box I can't help but smile. It reminds me of watching the on board footage of early era superbike races. I feel like Spencer, Rainey or Lawson heading onto the banking at Daytona… I just love these bikes so much. They have true character.
---
---
The power and torque is proper old school no electronics grow a beard and some big balls type of power  that is gone these days in most bikes. It is serious fun.
Clicking through the gears at full throttle, with a sharp pop to the next gear after a roll off of the throttle, I'm amazed at just how quickly the bike accelerates. It would eat any modern Japanese 1000 for lunch, sucking it up in the intake and spitting it out the exhaust pipe. From zero rpm to 9000rpm you better hold on because this Bimota will get you to the next braking zone in a hurry.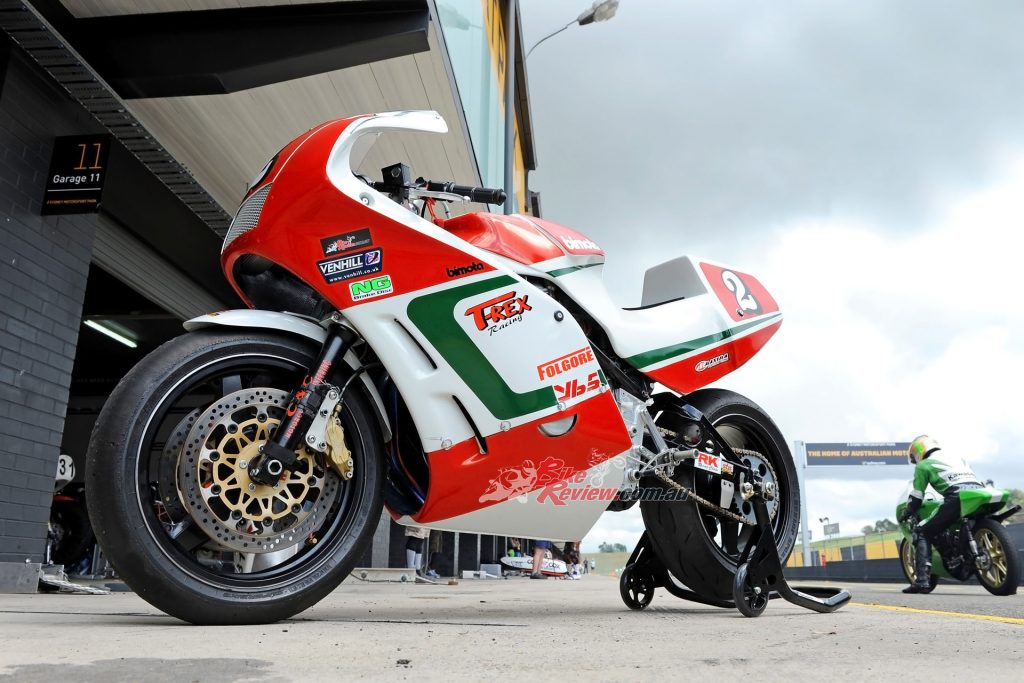 The riding experience of the T-Rex Racing YB5 was a memorable one and a true pleasure. I would not change it much at all, if anything, a tiny bit more raceable in the steering but that might take away the rock solid stability. Rex is already working on this with Chas and they are on the money.
I would rate this bike as one of the best handling motorcycles I have ridden in my career and it is not that much younger than I am! If only Rex was mass-producing these amazing motorcycles – I'm sure there'd be 40-something year-old riders whipping credit cards out all over the world…
Stunning. There is no other word for it.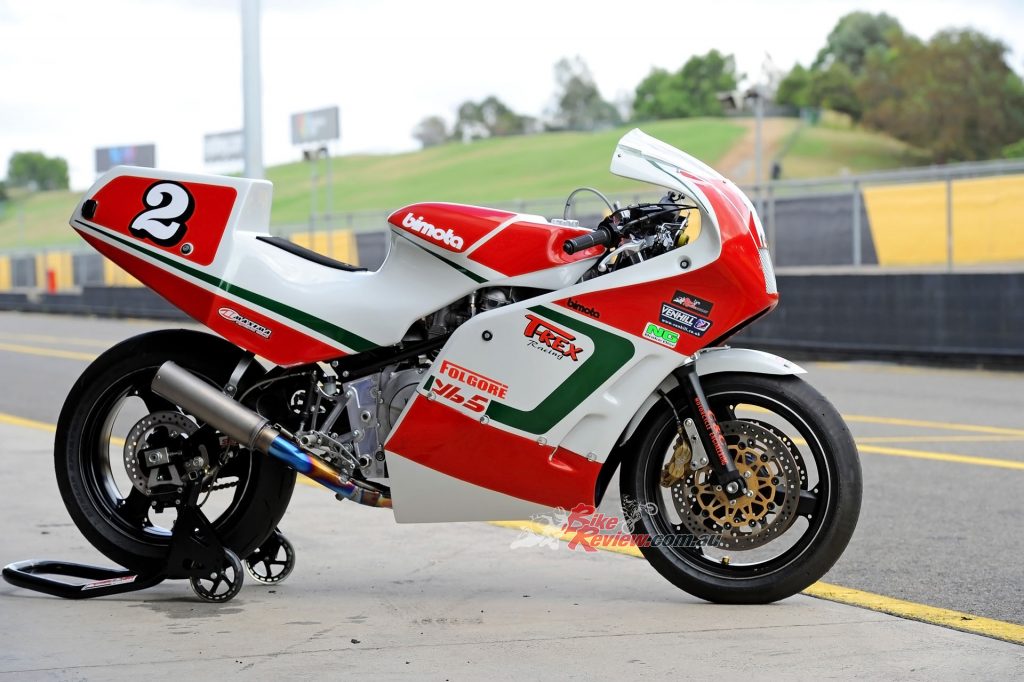 T-Rex Racing Bimota YB5 Specifications
---
ENGINE 1988 Yamaha FJ1200 engine, standard 63.8mm stroke, 1mm over 78mm bore, 11:1 compression up from 9:1, polished and modified standard crankcases, lightened and balanced crankshaft, Carrillo conrods, JE forged pistons, T-Rex Racing camshafts, T-Rex Racing cylinder-head porting and reshaping, oversized EX and IN valves, standard oil cooler and galleries, standard five-speed gearbox with gears undercut, slipper clutch, Dyna 2000 ignition system, Keihin 37mm CR carburettors, Over Racing Ti exhaust system, T-Rex Racing muffler.
---
CHASSIS & BODYWORK
1988 Bimota YB5 double cradle chro-mo frame and swingarm with T-Rex swingarm bracing, 43mm KYB forks with T-Rex valving, 1kg springs, 7wt oil, Ohlins custom made shock, 11kg spring, Brembo four-piston calipers, NG semi-floating rotors, SBS brake pads, Venhill line, Nissan master-cylinder (f), Brembo caliper, NG rotor, Venhill line (r), Kawasaki ZX12 wheels 3.5 x 17in, 6.00 x 17in, Pirelli slicks, C&C Engineering levers, rearsets, handlebars, fairing brackets, alloy fuel tank, remade Bimota bodywork
---
PERFORMANCE
150hp-plus at the wheel, 182kg dry
---
---
The Original Bimota YB5
The Bimota YB5 was otagged as the fastest, maddest, most expensive hyperbike on the planet when it was rolled out in 1987. With 130-horsepower from the amazing FJ1200 engine the YB5 was what the Hayabusa is now, only with the flair and exclusivity that comes with a bike that is hand built and one from a run of only 208 units, 12 of which were sold as kits and assembled by the owners.
The original YB5 was very trick for the era; with a double closed chrome moly steel cradle frame running machined billet aircraft alloy sideplates. It ran high end Marzocchi 42mm forks, a single Marzocchi shock, 280mm Brembo rotors, Brembo calipers, braided stainless steel lines, weighed just 463lbs and had a genuine top speed of 250km/h thanks to the FJ powerplant that was lightly tuned but still featured 9.7:1 compression ratio, a five speed gearbox and 36mm Mikuni CV carburettors.
By 1988 the production run was over and lucky collectors had a true piece of history.
The YB5 was designed for a pillion and Bimota, when releasing the bike at the 1986 Cologne Show, stated it was a bike designed as a two-up sportster.
The wheelbase was very close to an era 750 but the steering geometry was closer to a 250 with 23.5 degrees of steering angle and 112mm trail. It also ran 18in lightweight wheels but they were wrapped in ultra low profile Michelins that gave an aspect ratio closer to a 17in wheel anyway.
The YB5 cost close to a year's salary in 1987 at approx $11,000 USD and was much faster in acceleration than the GSX-R1100 and CBR1000. It could well have been the fastest production bike in the world back then.
---
---
T-Rex Racing Bimota YB5 Gallery
The Verdict | Racer Test: Bimota YB5 T-Rex Racing Classic Superbike
35-years-old and this highly modified and very rare Bimota YB5 could well be one of the best handling retro motorcycles on the planet. Back in 2016, Jeff headed to the Barry Sheene Festival of Speed to test this amazing and very successful T-REX Racing creation…