Kawasaki's Z125 PRO is an ultra fun commuter bike. Here's our full Z125 PRO review. Test by Kris Hodgson, Photography by Kris Hodgson, Jeff Ware
I'd heard about the Z125 PRO and seen a few pictures but it wasn't until the bike arrived that I truly understood what this little machine was all about. And the important word here is little.
The Z125 PRO is somewhere between a regular motorcycle size and a minibike. It's a very small machine and weighs in at 102kg, with a 125cc single-cylinder producing 10hp.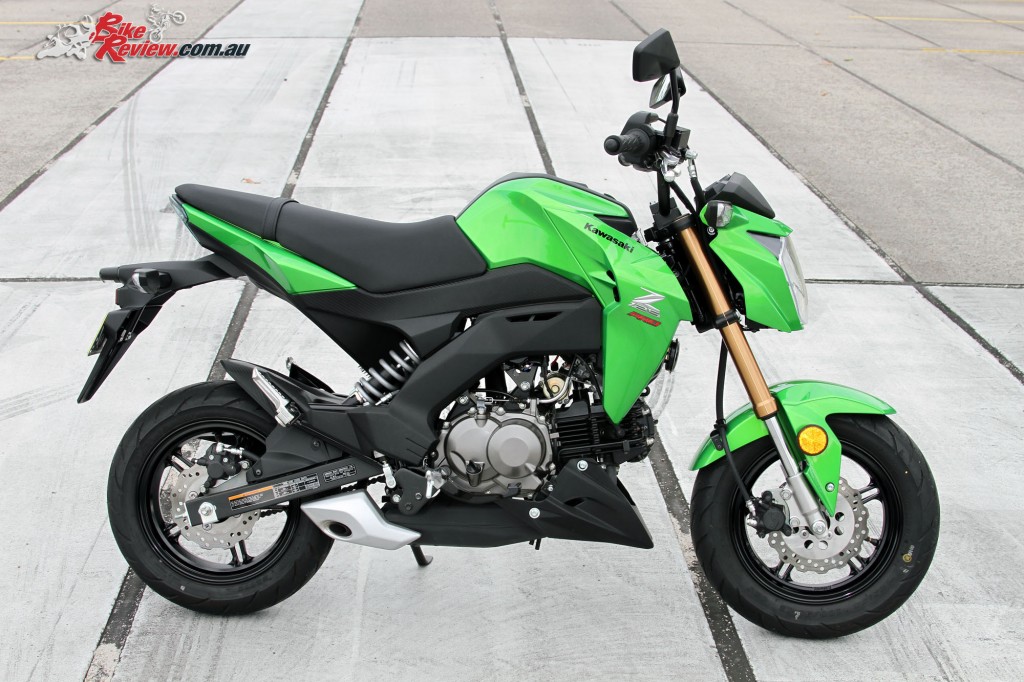 It's a basic machine but a fun one that is taking off in a big way in Asia, with small wheels, single front and rear brake rotors and calipers, non-adjustable suspension, except the rear preload, a four-speed gearbox and a very diminutive stature. The PRO in the name is derived from the bike having a manual clutch, while4 in Asian markets there is a semi-auto version called the Z125.

I'm around the 180cm height area and felt like I dwarfed the bike at first, a feeling which became more comfortable the more time I spent on the bike. Being such a small machine, I needed to push back in the seat to ensure my knees fitted into the 7.4L tank moldings, with the bike's short height meaning there's not a huge distance between the 'pegs and the top of the tank, making U-Turns tricky.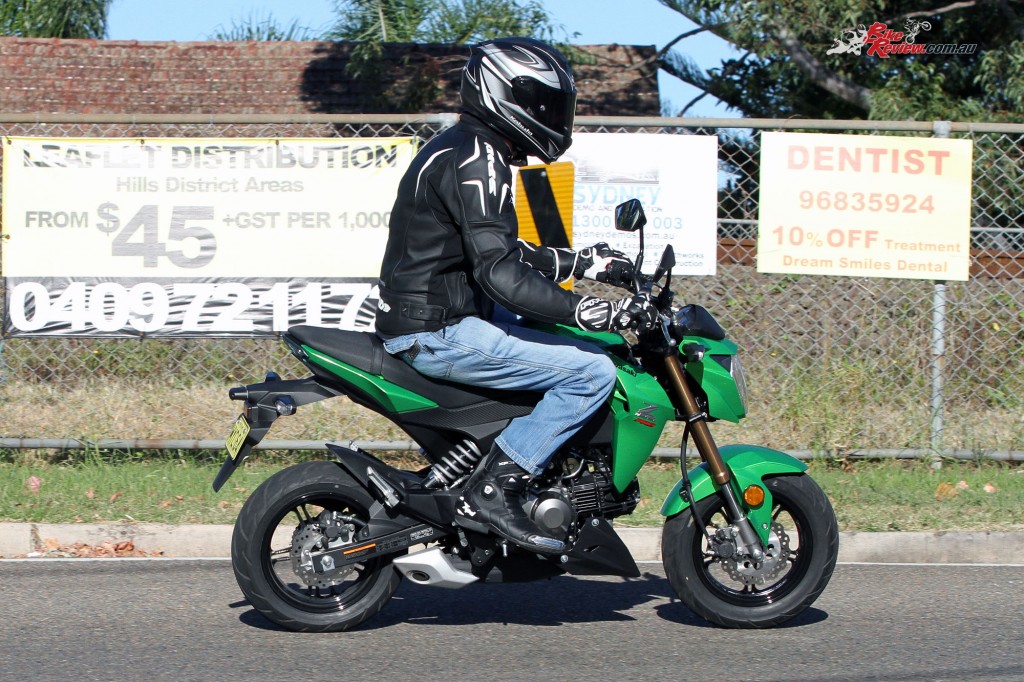 The four-speed gearbox gives ample access to the 10hp on hand. It's enough to hurtle you along at up to 80km/h comfortably, with 100km/h where I maxed it out at, but a steep ascent will really hinder progress. Being manual rather than auto like a scooter does give you more control over engine rpm.

You can outrun most cars at the lights but that's more a factor of most people being pretty slow at getting moving and you definitely don't want to be filtering to get in front of anyone in a hurry in outer suburbs. In stop start traffic though it would be an easy machine to filter through traffic in 50-60km/h zones, like the CBD.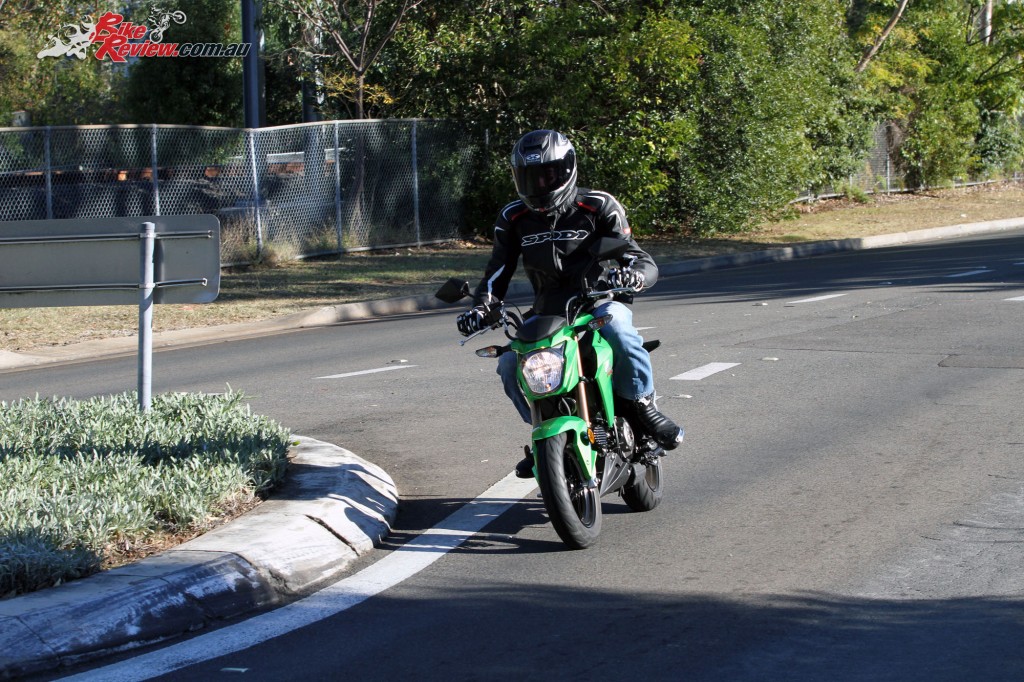 The finish quality on the bike is really good, with a digital display, all your regular switchblocks, good quality headlight, indicators and taillight and fuel economy which was impressive to say the least. During my test the bike ran at 40km/L, which was mainly with the throttle open as wide as it would go! I actually thought the fuel gauge was broken for a while, until I stopped at a servo to fill up and could pay in change. Amazing…

Kawasaki's Z125 PRO is very much a fun, urban-commuter designed for those with very limited space, short or low speed commutes and efficiency in mind.

It's a narrow niche, and these type of bikes have come and gone over the past few decades here but always been popular in Asian countries, particularly Japan where the NS150, NS50 and YSR80s had cult followings. This is a new injected modern version and it's also a machine I can see gathering quite a cult following. It's probably the easiest to ride machine I've ever tested, it's super agile thanks to those small wheels, there's not enough power to really get into a heap of trouble, but just enough to have some fun.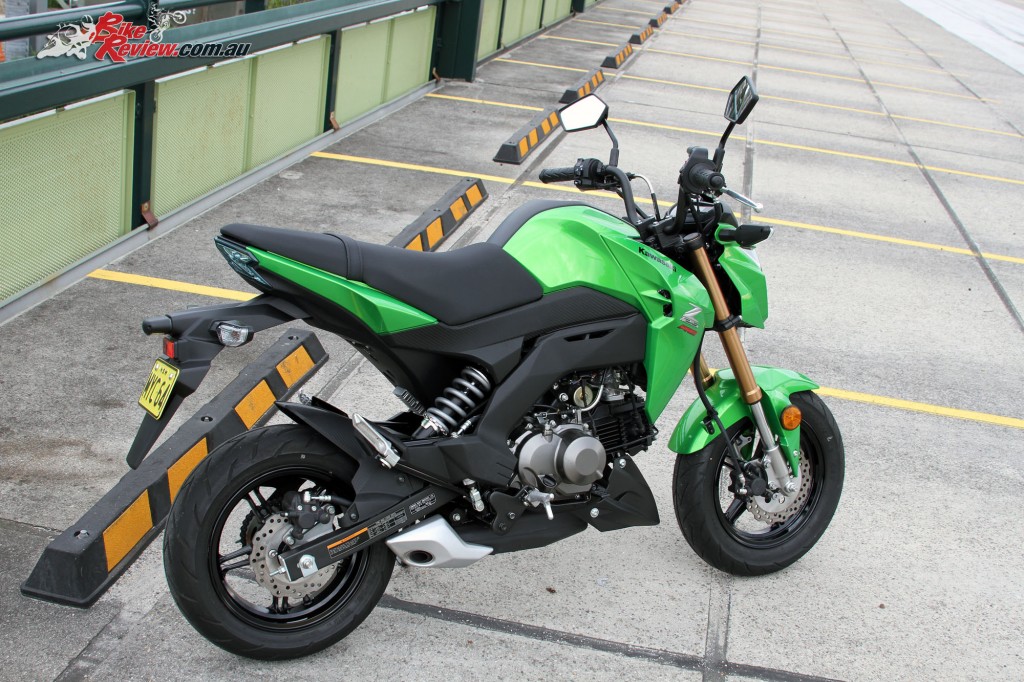 There's no ABS, and I did find it quite easy to lock up the wheels in the wet, but generally speaking it's a super compliant machine. The suspension is basic but was fine for my 70kg. The brakes offered good stopping power in the dry, but more care would be needed in the wet as I said, which might be more of a tyre issue, as different tyres for this size rim are probably not going to be hugely available, or performance orientated.
The gearbox offers easy, solid shifts, and it's easy to rev up to the redline for quick shifts to get moving as rapidly as possible. The Z125 PRO isn't a machine designed for longer periods of riding however, the seat is narrow and quite soft, which is fine for shorter periods, but spending a whole day in the saddle became a painful experience for me.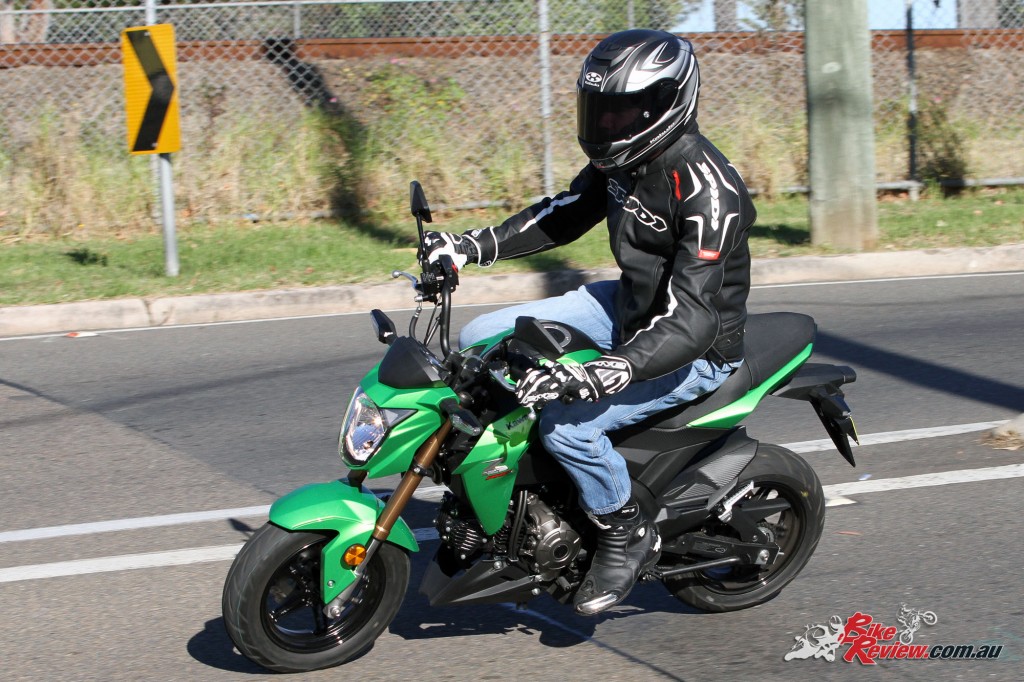 I can also see the Z125 PRO becoming a machine that benefits greatly from aftermarket modification and accessories, allowing owners to tweak various aspects of the bike, especially if there's more performance to be gained.
It's not a machine I'd consider if I frequently needed to take a pillion on though, it's just an ideal machine for someone who wants a good run-around.

Depending on your situation you could probably get it in your front door and park the Z125 in an entryway or hallway, or even fit inside a single car space with most small to mid-sized cars. It's hard to imagine you'd ever have an issue parking it at work, Uni or anywhere you might need to go.
After getting over the shock, and the many funny looks I received, I actually had good fun riding around on the Z125 PRO for all the daily duties. It's the perfect little urban run around, and I was happy to take it for any trip where I'd be doing up to 80km/h.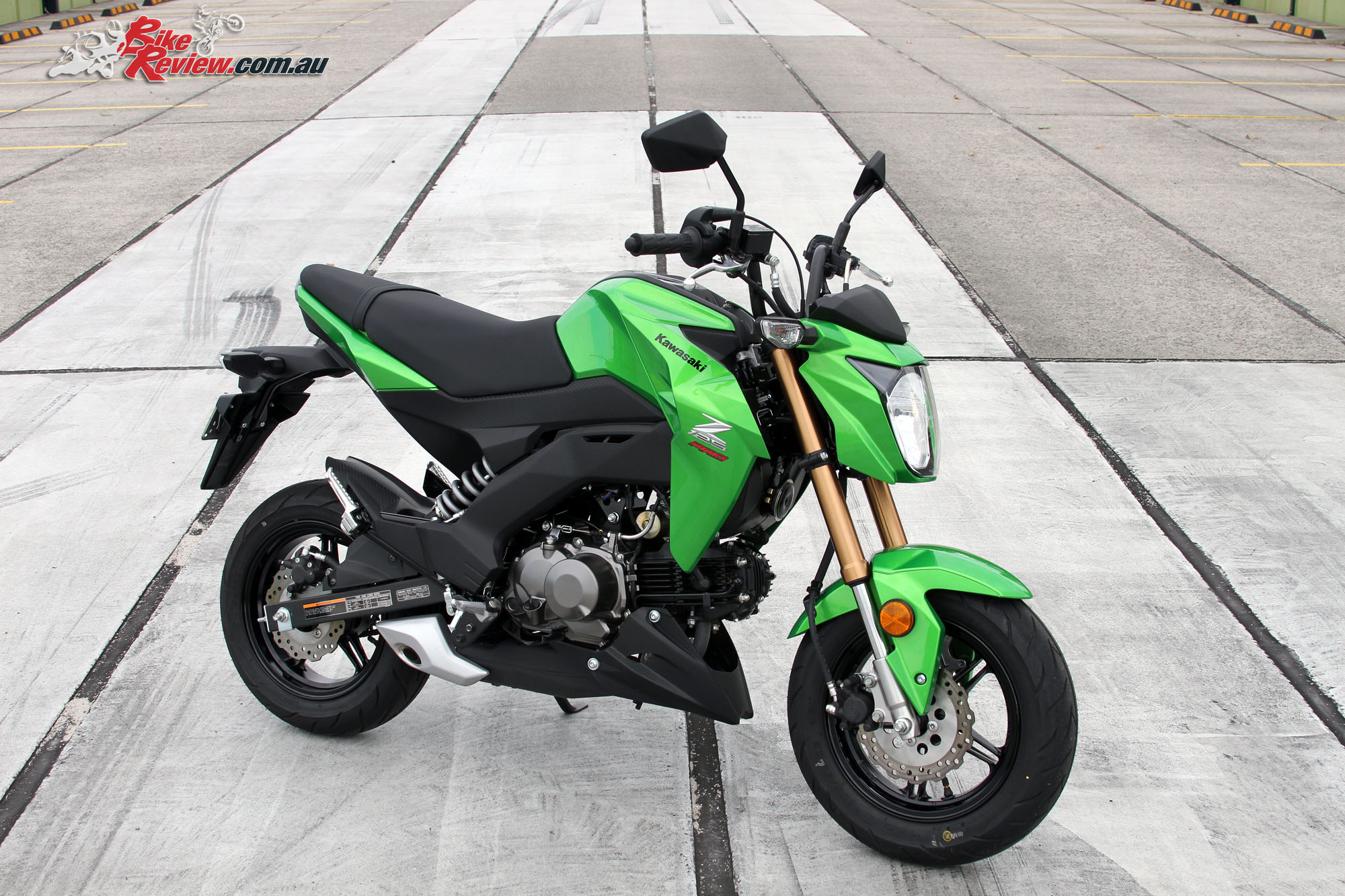 With the high attention to detail and great finish quality it's certainly deserving of the Z designation, but my only concern is the price, as I can see the Z125 PRO being a really popular machine at the right price point, as more of a discretionary purchase, or for those on a tight budget. It's priced at $4,099 + ORC but comes with a two-year warranty.

There's a lot of competition in the 125-250cc machine category though, and while the quality, reliability and finish of machines in this area can vary greatly I think it's more likely to be an area that's dominated by a low price tag, especially if you want the machine to be widely picked up and create it owns culture, but only time will tell!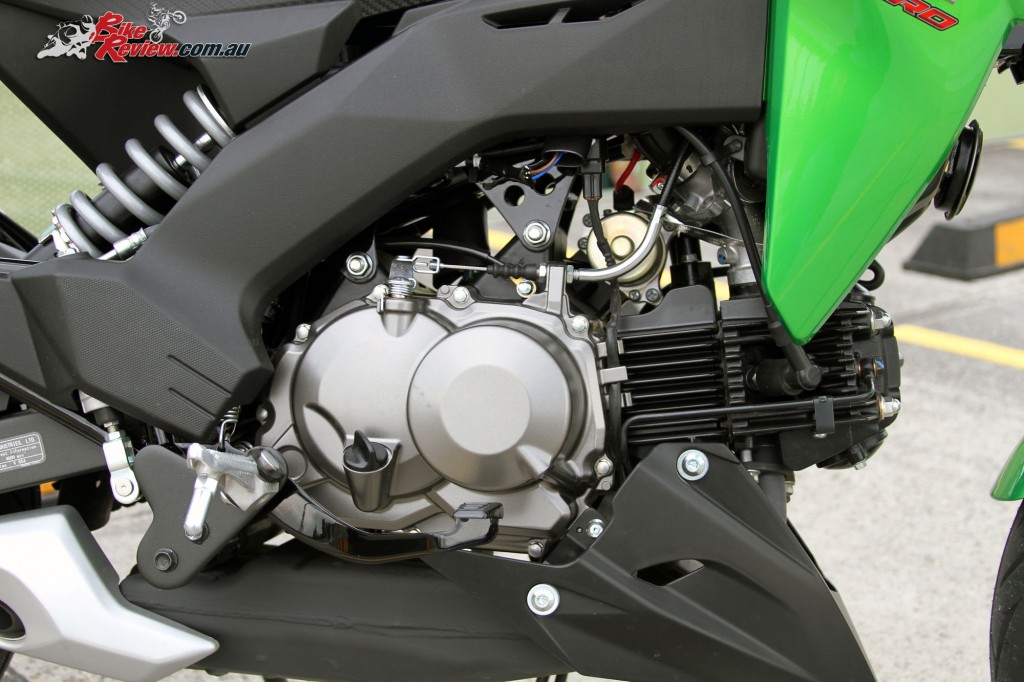 THE Z125 PRO TECHNICAL STUFF
The Z125 PRO is powered by an air-cooled fuel injected 125cc four-stroke single-cylinder, with two valves and a SOHC. The bore and stroke is 56 x 50.6mm, with a 24mm throttle-body, with long-nose injector assisting in providing a sporty feel, along with the larger 2.6L air cleaner, and specially designed cam profiles and intake port design.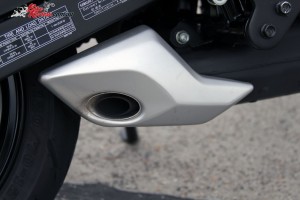 A stainless steel belly-mounted exhaust keeps weight minimised and centralised, and features a honeycomb catalyser and O2 sensor to meet emissions regulations. An AC generator offers the same precise fuel injection control as larger capacity machines, while a smart regular featuring a microprocessor aids fuel efficiency and battery charging.
An electric start also ensures easy, reliable starting every time, with the Kawasaki Automatic Compression Release contributing to this. The gearbox is a four gear unit, one down, three up, and gear changing is via a link-type shifter and the standard mechanical clutch.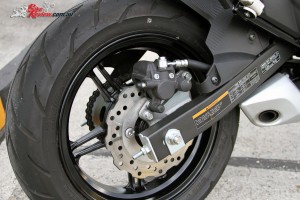 The chassis is a high-tensile steel backbone frame, with 48.6mm diameter backbone pope and 25.4mm diameter lateral pipes. The rear frame pipes are 22.2mm diameter items, and a rigid box-section swingarm is designed to allow for tandem riding. 30mm inverted forks have 100mm of travel and don't offer adjustability, with the offset laydown rear shock featuring four-way preload adjustment and 104mm of travel.
Wheels are 12in cast items, and take tubeless tyres, in 100/90 – 12 and 120/70 – 12 sizes, although the rear can also be fitted with a 130mm tyre. Brakes are a single 200mm front rotor with single-piston caliper, and a 184mm rear rotor with single-piston caliper. Both rotors are Kawasaki petal rotors.
The Z125 PRO weighs in at just 102kg wet, with a 7.4L tank and lockable fuel cap, a seat height advertised as 805mm, but feeling much lower, and a turning radius of just 2.1m.
Power reaches 7.1kW or almost 10hp, at 8000rpm, while maximum torque is 9.6Nm at 6000rpm.
Other features include an LED taillight, LCD instrumentation with gear position sensor, and analogue tachometer.
SPECIFICATIONS: 2016 Kawasaki Z125 PRO
Kawasaki.com.au
Price: $4,099 + ORC
Warranty: Two-year, unlimited kilometre
Colours: Candy Lime Green Type
Claimed power: 7.1kW[9.6hp]@8000rpm
Claimed torque: 9.6Nm@6000rpm
Wet weight: 102kg
Fuel capacity: 7.4L
Engine: Air-cooled, four-stroke, two-valve, SOHC single-cylinder, 125cc, 56 x 50.6mm bore x stroke, 9.8:1 compression,  24mm throttle-body, EFI, stainless steel muffler
Gearbox: Four-speed
Clutch: Wet, multi-disc
Chassis: High-tensile steel backbone frame, box-section swingarm, Rake: 26°, Trail: 69mm
Suspension: 30mm inverted forks, 100mm travel, offset laydown shock, preload adjustable, 104mm travel
Brakes: Single 200mm front petal rotor, single-piston caliper, single 184mm rear petal rotor, single-piston caliper
Wheels & Tyres: Cast aluminium, 10-spoke, 100/90 – 12in, 120/70 – 12in
Dimensions:
Wheelbase: 1175mm
Seat height: 805mm
Overall height: 1005mm
Overall width: 750mm
Instruments: LCD multifunction display, analogue tachometer