Review: 2016 Triumph Tiger Sport
Triumph's 2016 Tiger Sport is an exceptional value tourer and great all rounder.... Here's our Triumph Tiger Sport review. Test by Kris Hodgson, Photography by David H.
As a pretty big Triumph fan I was stoked to get my hands on the new Triumph Tiger Sport, especially having tested the Triumph Speed Triple earlier in the year.
In fact I owned a 2008 Speed Triple and Triumph have done an outstanding job in further evolving the powerplant since then. The power gains haven't been huge, however they've managed to further polish an already great engine with a raft of improvements to the fuelling, power delivery, gearbox and clutch.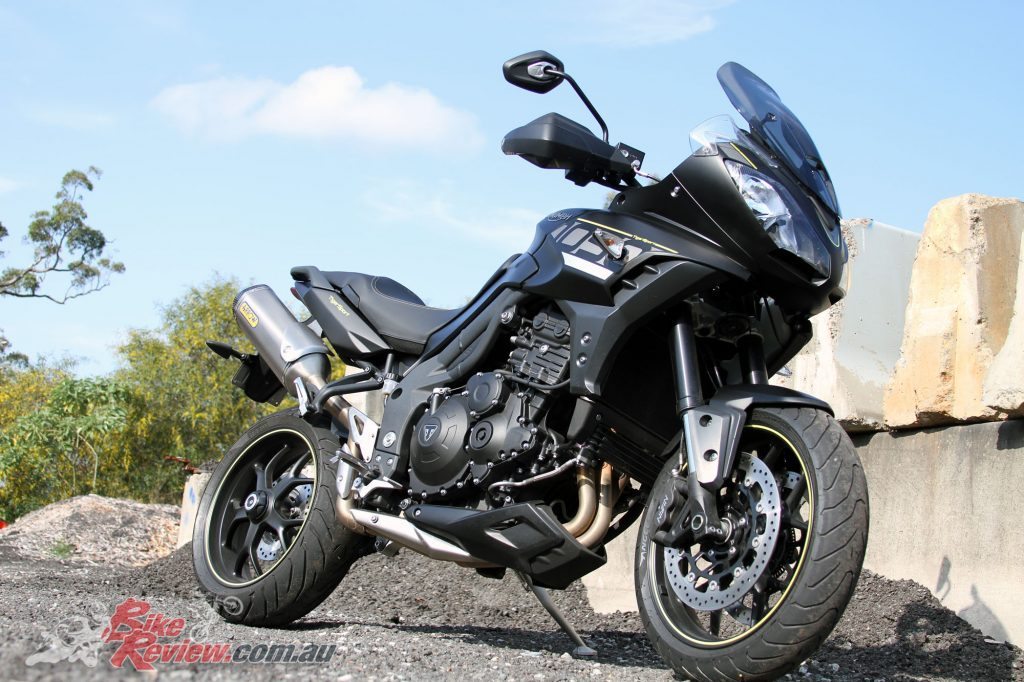 The Tiger Sport is obviously the brand's Sport orientated Adventure Tourer, with plenty of room for both rider and pillion, soft suspension, plenty of luxury and great handling. Combine that with the torquey triple-cylinder 1050 and you've got a great all-rounder that is super capable.
The latest model particularly benefits from Ride-by-Wire and a new ECU with features like Ride Modes, multi-level Traction Control and Cruise Control, putting the Tiger Sport in direct competition with the likes of the Multistrada.
Styling is a bit unusual but the Tiger Sport has grown on me over the time I've had the bike, with the Arrow exhaust a nice addition but surprisingly quiet!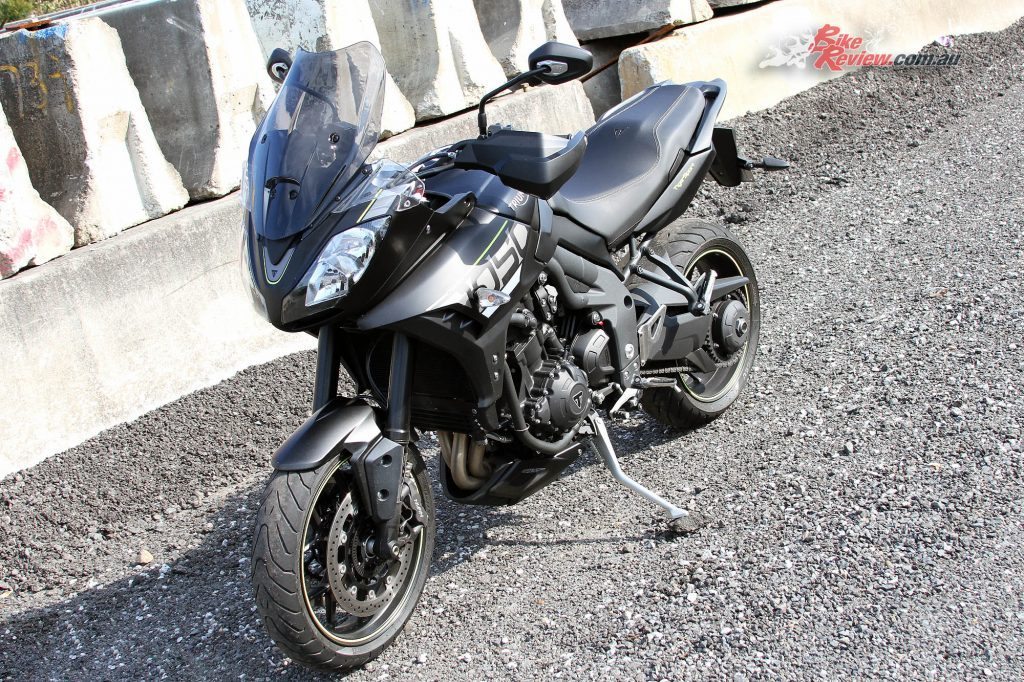 Jumping onto the Tiger Sport the bike looks tall, particularly at front end but the seat height is a relatively reasonable 830mm for this kind of machine and there's an easy reach to the ground for my 180cm height.
The 'bars also leave you seated comfortably with plenty of room above the tank, although the sight of all that tank and front fairing in front of you felt a bit strange for me at first.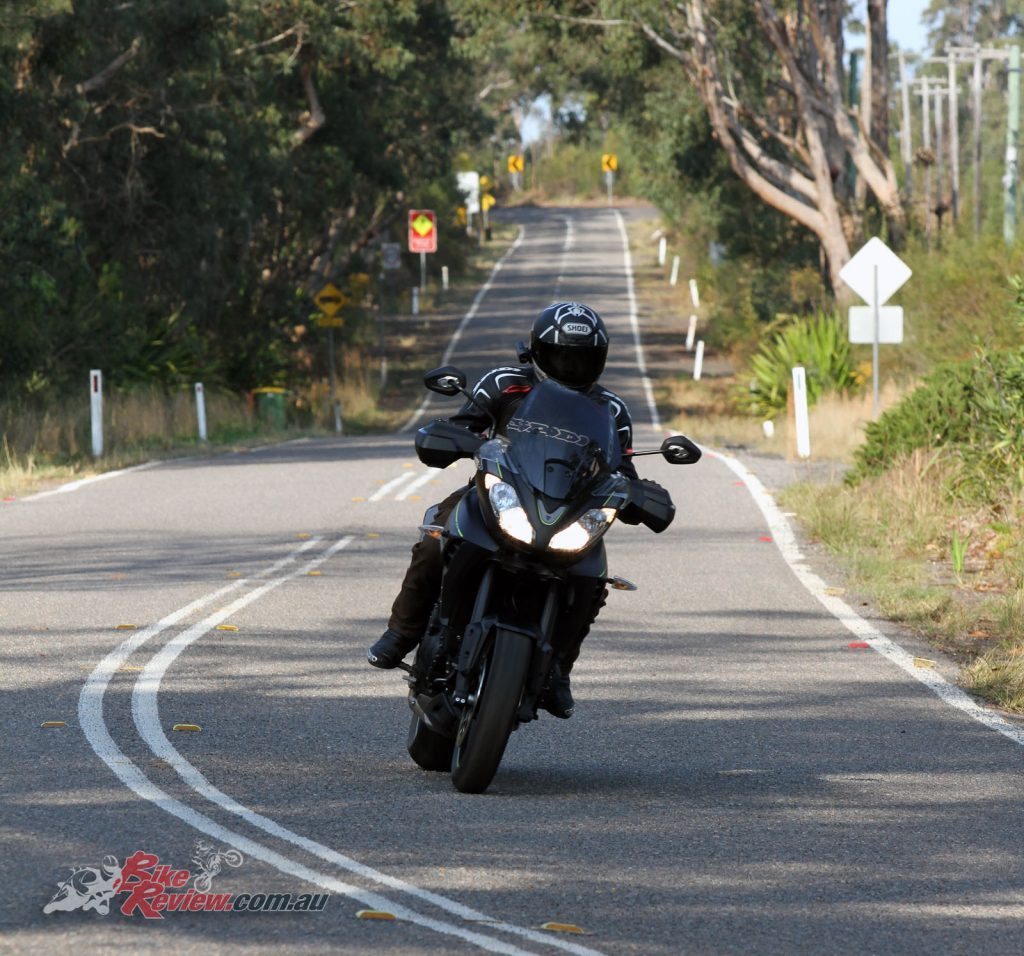 On the move your seating position is comfortable, with well positioned 'pegs, a wide seat and it's easy to take your weight through the 'pegs and grip through your knees, offering great ergonomics and control. The seat also remains comfortable over long distances, such as two or three hours in the saddle.
Vision through the mirrors is good at low speed but becomes distorted at higher speeds due to vibrations but there is plenty of adjustment and in the cooler weather the handguards offer great wind protection. The vibrations that effect the mirrors also aren't really noticeable through the 'bars or 'pegs.

The tinted screen adjusted to its highest setting also offers good wind protection with just a little buffeting at the top of my helmet, which caused more wind noise but a lot less actual buffeting of my helmet.
Low speed manoeuvring is exceptional with great balance and easy steering through the 'bars, with a soft throttle opening and linear but responsive throttle action. Gearing is also tall which lends itself to an easier riding style. U-turns are easy with plenty of confidence, largely thanks to that super smooth power delivery and easy brake control.
Despite weighing in at 218kg dry the Tiger Sport is a great around-towner with that weight disappearing the moment you've got both feet up and proving nimble and easily manoeuvred through traffic although I was a bit hesitant to lane split in the narrower areas.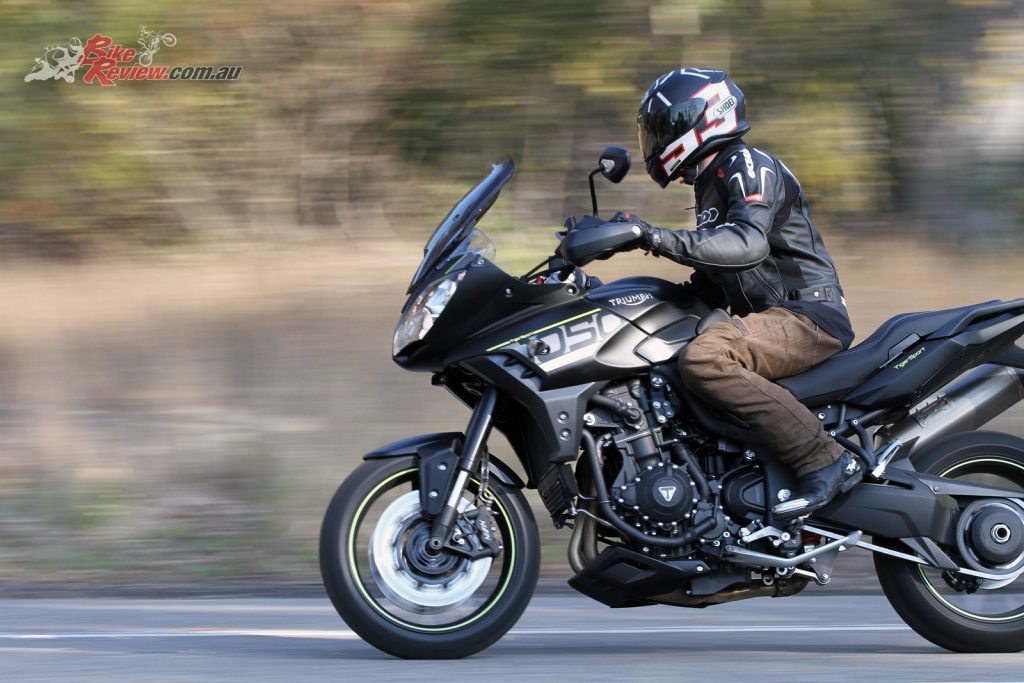 Combining that awesomely smooth throttle control and power delivery with the bike's good handling ensures you wouldn't be stressed commuting on the Tiger Sport, although naturally it's always going to be more top heavy than the more common commuting options.
Naturally touring the country is where the Tiger Sport is primarily designed to excel with the bike proving a flawless highway commuter, with the addition of cruise control helping to make longer trips effortless, as well as helping to protect your licence.
Through the Australian country roads is really where the real test lies, whether that's through twisties on roads sign posted for 80-100km/h, or over the rougher sections that aren't always so interesting.
So far I've mainly mentioned how smooth the fueling and power delivery is, but what really stands out is just how much punch the Tiger Sport has once you start really aggressively opening that throttle.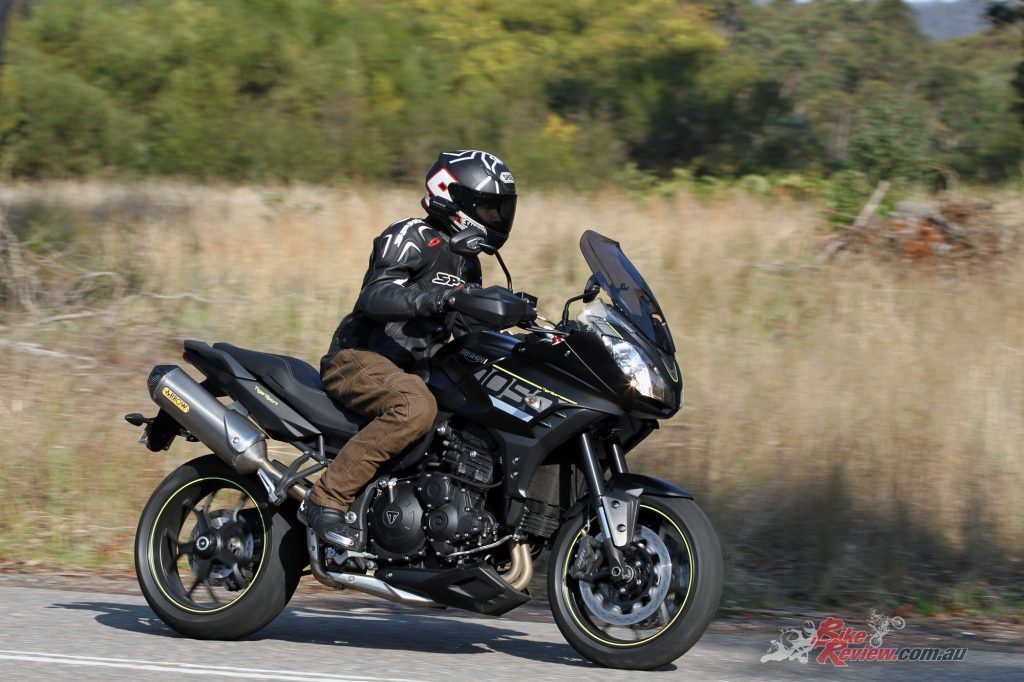 The triple warble multiplies and the Tiger takes off like a bat out of hell with the tall gearing meaning you barely have a chance to open the bike up before to start hitting the legal limit – or the speed you consider your own limit. Never mind hitting the rev limiter!
Gearing is also tall, ensuring long distances at low rpm is possible for good fuel economy, and helping keep the bike a little more placid during regular riding. I was almost thinking to myself I might considering lowering the gearing if I owned the Tiger Sport, but there's plenty of torque from right down low that lets you punch away from the lights or traffic on demand, so it's really unnecessary.
Through the twisty bits the Tiger Sport is also exceptionally planted and handles like it's on rails, especially once the bike is leant over, with only light front brake needed, with plentiful torque allowing you to ride the mid-range and string all those corners together effortlessly.

Picking up the throttle remains smooth from any points, with the assist and slipper clutch ensuring aggressive downshifting is a relatively carefree exercise, with light gear shifts. Only the shift between first and second is noticeably clunky.
The suspension is also reasonably soft, without giving up that sporty edge that ensures you can still push hard, without experiencing rear end wallow.
The forks in particular offer great support on the brakes, which are dual Nissin four-piston calipers on 320mm rotors on the front, which offer good modulation and reserved bite, ensuring plenty of control and no sudden braking action.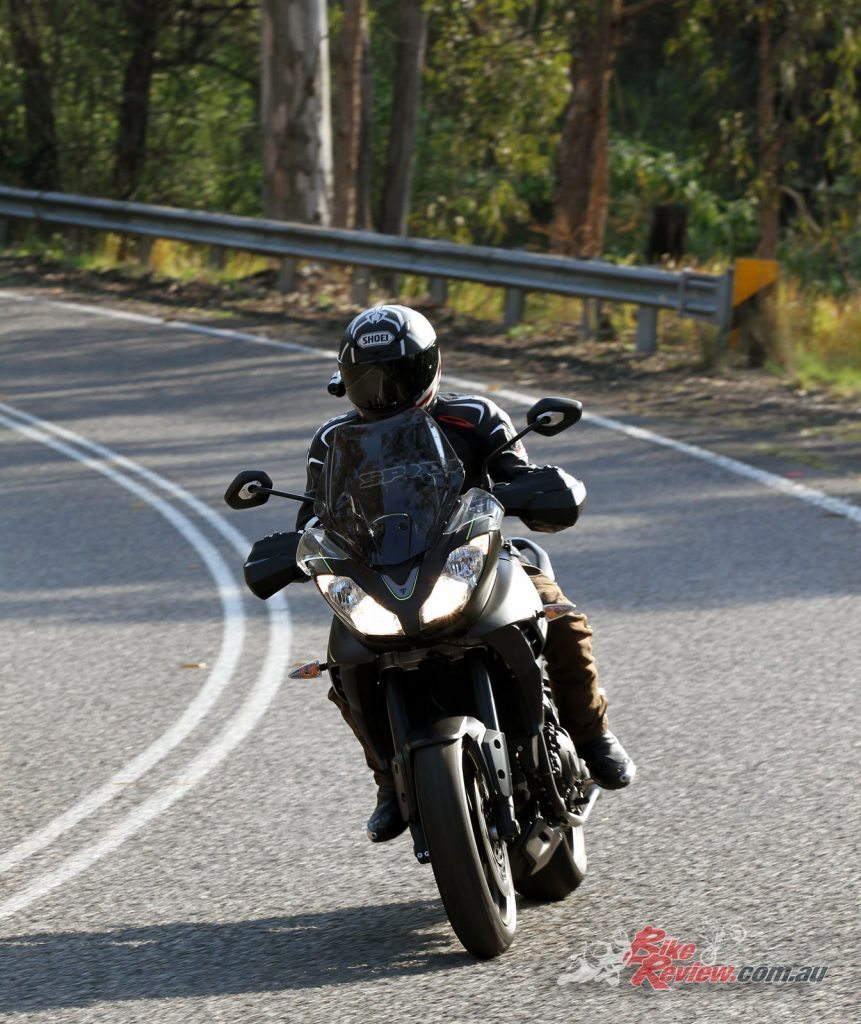 I did find the taller front suspension could feel a little vague as I started to think about turn in if I wasn't committing but once past that moment the Tiger Sport would carve through the corner and hold a line effortlessly.
I wasn't getting a knee down but was still getting some good lean angle and the bike felt composed regardless of mid-corner potholes or annoying trenches.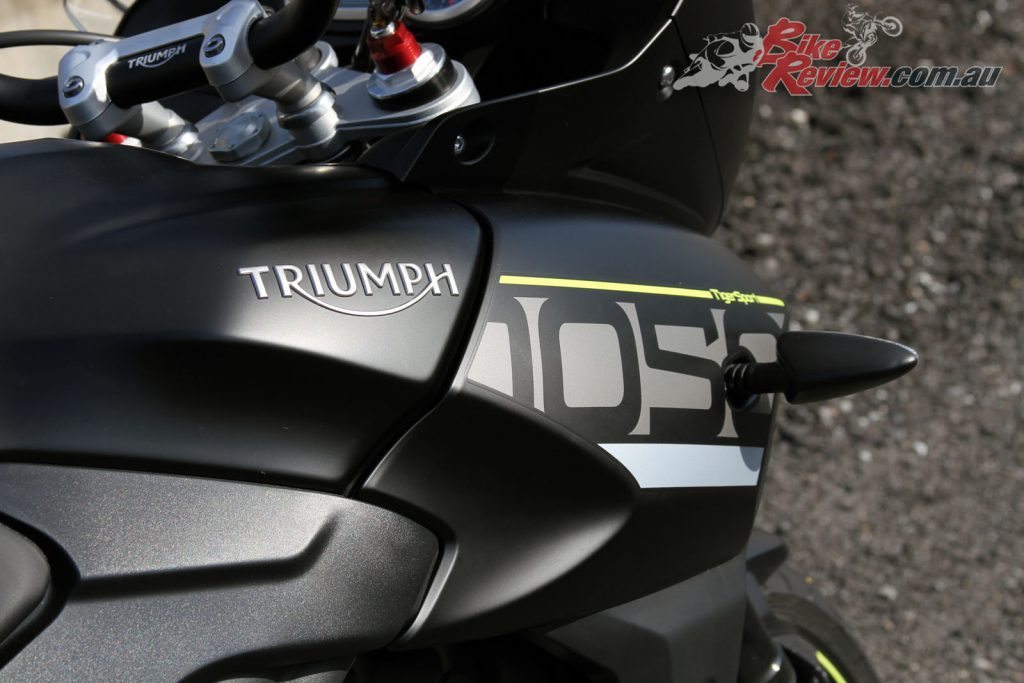 TWO-UP
Another big area is naturally two-up riding capability, making for a great riding experience if you take along your significant other, but also making a new bike a much easier sell if they are on board with your choice from the start.
As a motorcycle-only family I had a great opportunity to test out the Tiger Sport with some limited open road riding and quite a bit of city and suburban weekend riding.
With a pillion on the back the Tiger Sport remains comfortable and well balanced, although the front end feels a little lighter, which isn't exactly surprising. The ride provided by the suspension without adjustment remained good, with plenty of damping over rough sections for both rider and pillion.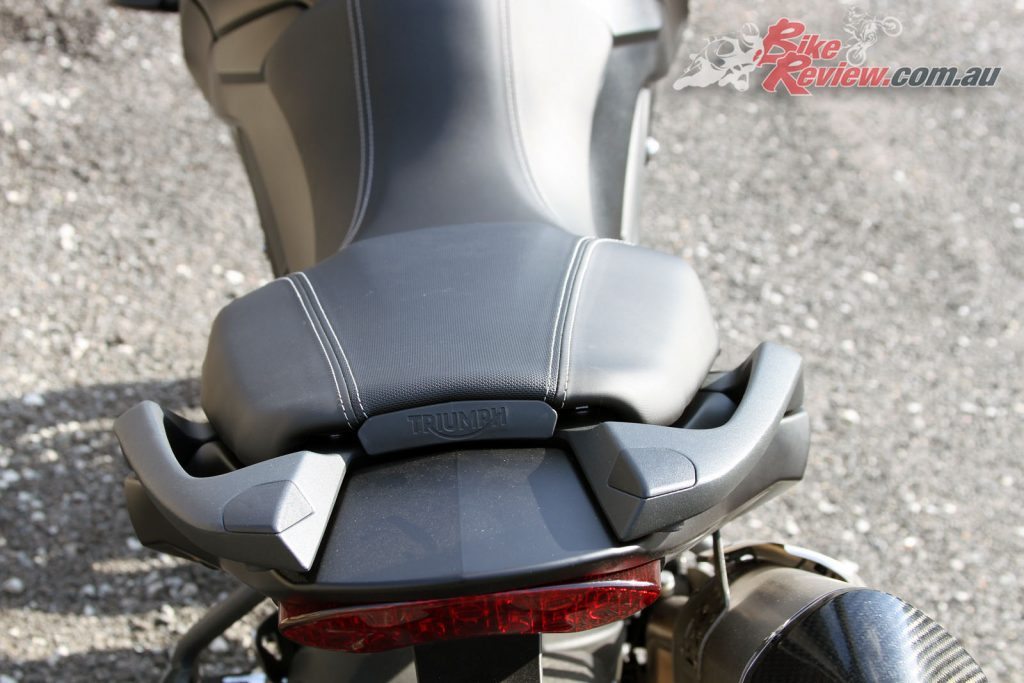 Low speed manoeuvring remains a strong point although I did have to ask my pillion to use the rear grab rails otherwise on the brakes I was feeling the weight transfer to the front wheel coming to a stop, through my forearms and wrists. Out on the open road with the occasional town it wouldn't be a concern, but in start and stop Sydney traffic it's a noticeable strain. Once the grab rails were being used however the issue was resolved.
From my pillion's perspective the Tiger Sport got a big thumbs up. The wide seat, grab rails and good stretch to the pillion 'pegs all got top marks, with the smooth fuelling and gentle initial brake action all ensuring a relaxing ride.
Taking off with a handful of throttle or giving the bike a bit – on an open section of road and hearing your pillion giggling in delight is always a good sign.
CONCLUSION – TIGER SPORT
Triumph's 2016 Tiger Sport is a wickedly good all round offering. It doesn't offer 200hp but the triple engine is characterful, fun and torquey, ensuring it'll be more than capable of any regular road needs with plenty to spare.
All the technology you'd want is incorporated into the bike as standard, ensuring all your touring needs are met, and the bike remains a machine that could be used every day without a problem.
What really sets the Tiger Sport apart for me is just how polished it is as a motorcycle.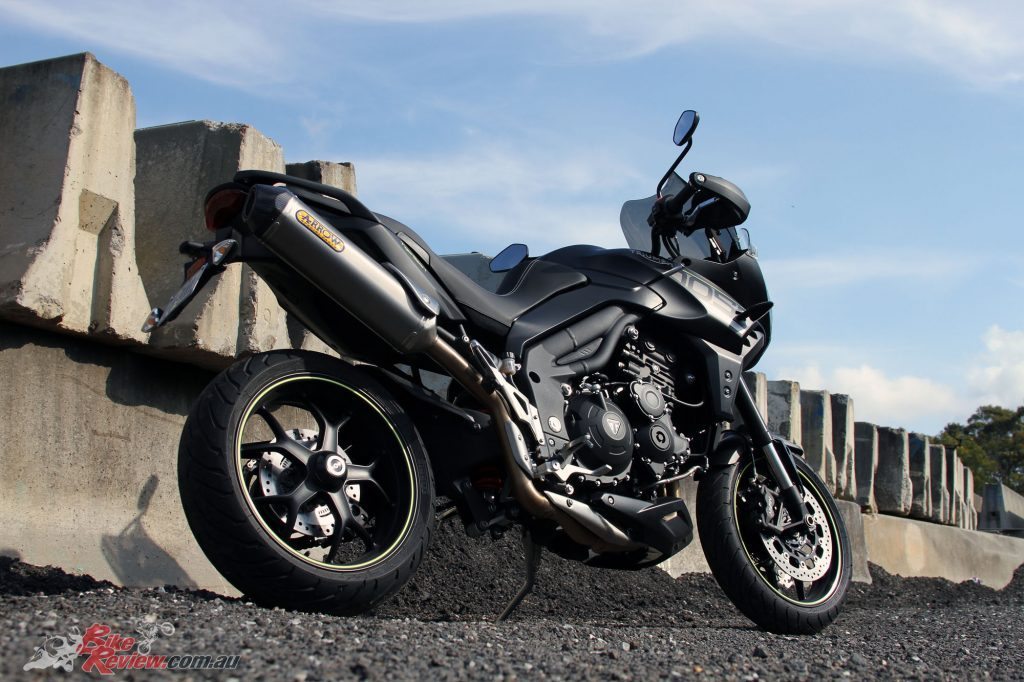 Typical of Triumph the fuelling and throttle control is exceptional, however the overall package combines great suspension and handling with a braking system ideal for this bike. I spent most of my time in Road mode, but the Riding modes can add extra safety or a more aggressive feel as needed.
The single-sided swingarm, sporty front end design and eye catching profile are all just bonuses and the Tiger Sport really retains that raw motorcycling feeling and spirit, despite traction control, ABS, RbW and the significant technology involved. At the super competitive price of $17,150 plus on-road costs, what more could you ask for? The Tiger Sport has to be one of the best, if not the best value tourers available. 
KRIS'S GEAR: 
Shoei NXR Helmet (Photographs) | Kabuto RT-33 Helmet (Video) | Spidi Track Leather Jacket | Five RFX1 Gloves | DriRider Rapid Jeans | XPD XP3-S Boots 
TECH TALK – 2016 TRIUMPH TIGER SPORT



The 2016 Triumph Tiger Sport is powered by the infamous 1050 triple-engine, with the new model boasting 104 engine changes, offering improved performance, power, torque and fuel economy.
Some of these changes include all new cylinder heads, as well as revised inlet ports and pistons, with the adoption of Ride-by-Wire and a new ECU also allowing the addition of multi-level traction control, Rider Modes and Cruise Control as standard.

Ride Modes are Road, Sport and Rain. Road offers your standard baseline mode, with Sport offering the strongest connection between throttle and engine, for maximum punch while riding sportily, while Rain offers softer reduced power throughout the range for more confidence in tricky conditions.
The slip-assist clutch also offers lighter lever action and more controlled engine braking compared to earlier 1050 engines were compression lock on aggressive downshifting was a real possibility. The six-speed gearbox has also been optimised for both torque and top-gear cruising, offering a great combination of both.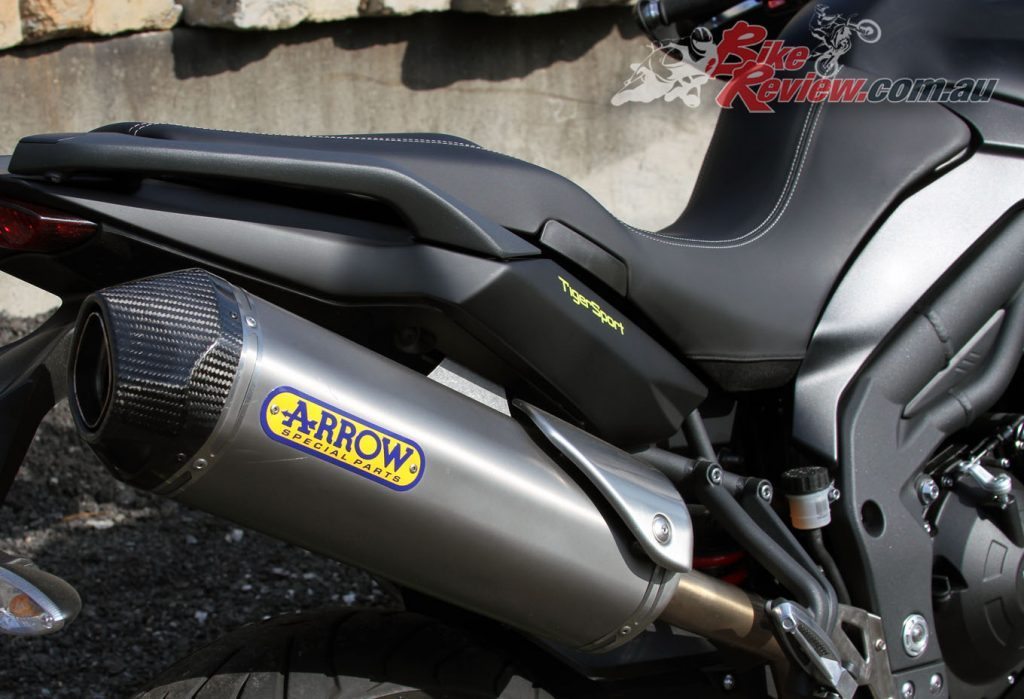 The standard exhaust has also been updated and is now 48 per cent freer flowing, offering an improved exhaust note, although on the model tested we had the Arrow Slip-On Silencer which offers a 2.6kg weight saving over the standard item and features a Titanium body and carbon-fibre end cap.
Styling and ergonomic changes include the all new look with Matt Black and Aluminium Silver colour schemes, revised mirrors, bellypan and heat shield, as well as all new footpegs, adventure hand guards as standard and badging. The adjustable tinted screen is also standard, with Aero diffusers helping to shape airflow away from the rider at higher speeds.
A USB and 12V power socket are also standard, and Cruise Control is controlled via the right switchblock.
SPECIFICATIONS: 2016 Triumph Tiger Sport
Price:  $17,150 + ORC
Warranty: Two-year, unlimited kilometre
Colours: Matt Black, Aluminium Silver
Claimed power: 93kW[126hp]@9475rpm
Claimed torque: 106Nm[78.2ft-lbs]@7000rpm
Dry weight: 218kg
Fuel capacity: 20L
Engine: Liquid-cooled, DOHC in-line three-cylinder, 12-valve, 1050cc, 79 x 71.4mm bore x stroke, 12.25:1 compression, RbW, Ride Modes, TC, stainless steel three-into-one exhaust, stainless steel silencer
Gearbox: Six-speed
Clutch: Wet, multi-plate assist and slip
Chassis: Aluminium beam twin-spar, aluminium alloy single-sided swingarm, Rake: 22.8°, Trail: 88.7mm
Suspension: Showa 43mm USD forks, adjustable preload, rebound, compression damping, 140mm travel, Showa Monoshock,  adjustable preload, rebound damping, 155mm travel
Brakes: ABS, Dual 320mm floating rotors, Nissin four-piston radial calipers, single 255mm rotor, two-piston Nissin caliper
Wheels & Tyres: Cast aluminium alloy multi-spoke, 3.50 x 17in, 5.5 x 17in, 120/70 – 17, 180/55 – 17
Dimensions:
Wheelbase: 1540mm
Seat height: 830mm
Overall height: 1385mm
Overall width: 850mm
Instruments: LCD multifunction display, analogue tachometer
The Verdict | Review: 2016 Triumph Tiger Sport
The Tiger Sport combines Triumph's iconic 1050 triple with exceptional technology to create an amazing tourer and great all-rounder.