Review: 2016 Victory High-Ball
Jeff puts the 2016 Victory High-Ball to the test in real Australian conditions. Here's our review. Test: Jeff Ware Photography: Kris Hodgson Video: Heather Ware
With the torque and grunt of the 106 cubic inch Freedom V-twin on tap grins are only natural on the High-Ball – and you only need one glance to see it has the attitude and style to match the grunt. Here is our Victory High-Ball review…
Priced from $22,495 ride away the Victory High-Ball is a lot of bike and the same in price as a Street Bob. Both bikes are good and you can read about the 2017 H-D range here but everything is personal and those who know me would know I like to be a bit different, so I would opt for the High-Ball based purely on its looks and road presence.
It looks tough, sounds even tougher, is all blacked out and stands out from the crowd but in the subtle way I like. So what is it like to ride?
The Ride – Victory High Ball
Kris, our Deputy Editor, picked the bike up from Victory & Indian Motorcycles Sydney and headed off for a bit of a burn on his way to BikeReview HQ. The grin on his face as he sat at his desk for a coffee gave a lot away. Clearly the High-Ball is fun. I could not wait to take the keys off him… time to dust off the open facer and black leather jacket. I love this stuff.
You probably know my background is mainly slanted towards the performance side of motorcycling with over 20-years and more than 400 road races under my lid. Obviously being the founding editor and publisher of Rapid, Knee Down and UCBE for over a decade also says something and of course before that I was editor of Performance Streetbike.
However, what many of you won't realise is that I started my journalism career back in 2000 at Two Wheels magazine as a Staff Journalist and Test Rider. We shared an office with Live to Ride and so not only did I test plenty of cruisers and other big twins for TW I also got the call along to help out with LTR a lot, which gave me a lifelong appreciation for big twins. I've owned a few in my time and enjoy cruising around on a noisy American beast just as much as drifting the rear end of a superbike at 250km/h onto the chute at Phillip Island.
No that I'm 41-years-old and have four kids, I've quit racing and lately I've been enjoying different bike experiences. Off road, adventure and very much the cruiser scene but they have to be tough and loud. I reviewed the Octane before the High-Ball and although I was a big fan it wasn't offensive enough to the general public for me to really get hooked on. The High-Ball is…
With the sun shining I grabbed my jeans, jacket, back protector, sunnies, boots and gloves and got changed and headed out the door, key firmly in hand and phone switched off. I had my credit card and licence in my top pocket and that's all I needed. Fuel and ID. This was my ride time.
The High-Ball fires into life with a slow but strong crank and settles into a loud idle. It sounds awesome just pulsing along on its side stand, the open pipes cracking out every time the exhaust valves open. Crack crack crack brap brap brap. I'm smiling as I swing a leg over the low 635mm high seat and I familiarise myself with the beast.
The 'bars although appearing super tall are actually really comfy and natural feeling. The switchegear all falls to hand well and the central tach/dash is a glance away. The mirrors are smallish but look good and the view is fine and swing the bike upright reveals that is hold its 304kg weight low and easy.
I flick the stand up, blip the throttle and let that big 'ol Freedon V-twin give a loud roar through the open pipes fitted, pull the heavy clutch in and clunk the lazy gearbox into first. It all adds to the experience. This is no silky smooth high-tech Japanese bike. This is old school modernised American muscle…
The clutch action is smooth but the engine needs a blip as I feed it out to head off up the road. I roll on gently in first, short-shift through second, third and click fourth to cruise off at around 80km/h. There are some flat spots that need tuning in the lower rpm range, probably due to the pipes going on, but as revs rise the engine runs smoothly. I'm smiling within a minute and loving the noise and the attitude.
I decide to loop around the beaches and pose a bit. The High-Ball is easy to ride at low speed despite the way it looks and although I find the bike a bit more top heavy on a full tank of fuel than expected, it is easy enough to ride on the clutch in first at crawling pace past the beaches.
It's a busy day and there is a lot of traffic. There are also plenty of walkers and runners on the esplanade looking this way as I blip the throttle like a goose. Can't help myself… The low down fuelling on this example is making the bike stall occasionally if I don't quite catch it on the throttle. It's almost as if spark is flaming out occasionally. A quick press of the starter and the bike fires up each time before I lose my balance.
Using rear brake and clutch/throttle action it is easy to balance the bike at low speed. Overall a bike that is fine in heavy traffic but not one you would want to commute on too often as it is too big to lane split on!

Out on the open road the bike really comes alive. I decide to head to the freeway first to see for myself what the riding position is like. I've read reports about the ape hangars on the High-Ball making the rider a windsock but in all honesty as I head down the M1 at 120km/h, the big twin singing a sweet song in top gear overdrive, the wind blast is not that much worse than most nakedbikes.
OK it would not suit autobahn interstate runs in the EU but if that is what you want in a bike don't buy a bobber! If you need to ride for a few hours on open highway, the High-Ball is fine. Pull the speed back to 100-110km/h and you could ride it all day. At least I felt I could, I'm 185cm tall.
Exiting the M1 I hit my local countryside type twisties for a bit of cornering fun at a cruising pace. The sound of the exhaust pulses booming off the sandstone wall as I roll from corner to corner using the big long stroke lazy nature of the 1731cc monster engine is massively grin-inducing and once I have the maximum entry speed in my mind (no second chances once you run out of cornering clearance), I start really having fun exploring the grip of the D421s.
Initial turn-in is good, in fact with the 'bars it is as quick as the Octane on initial turn and the first quarter of the corner. Being feet-forward means 'peg input is out the door and as with all cruisers it takes time to get used to having such a huge amount of rider control taken away, but once I revert to using arms and upper body english to corner it's happy days.
Obviously I'm not carrying MotoGP pace through the turn from that point but I am having a ball and the best bit is rolling that throttle open and feeling the pull of 106ft-lbs through my shoulders and butt as the High-Ball launches off the apex of each turn. It's addictive and massively fun. My grin is stupid.
I start getting busy on the bike and it doesn't like it. I realise pretty quickly that the High-Ball won't like to be rushed. Shift too fast and it'll either give you a false neutral or won't engage. Snap that throttle open too abruptly and the engine will hesitate. Turn too fast or brake too hard and the chassis will tie itself into a knot. The messages are there to give me warning that I need to slow down to go fast.
I do this and I'm rewarded. The High-Ball is very communicative for a big bike…
I notice quickly that the weakest point on the bike is the braking system. The 300mm rotors are probably the biggest that could go on the 16in wheels and they lack initial bite, progressive power and feel for modulation at the lever.
It is hard to feel the lock up point of the back so I keep locking it up activating the ABS. I tried to lock up the front wheel to test the ABS but the brakes are not powerful enough in the dry weather. I would change pads and go from there if I was an owner looking to improve the brakes… and I might end up one so watch this space!

Suspension action is also a point I have read some negative feedback about but as I blast through this smooth mountain road the support and damping control from both ends is spot-on. The forks offer good spring support and the damping control is adequate, supporting the heavy bike on the brakes and also over bumps. The rear is also good and it is not until I reach the bumpy sections that the rear begins to fall away. The front remains well damped and sprung but the rear shock loses damping control after repetitive bumps, failing to keep the heavy unsprung weight in check. Still, this is not a sportsbike!
Overall the High-Ball is a lot of bike for the price and has loads and loads of personality. There are heaps of customising options from Victory to make the bike yours and the finish and quality is up there.
If you are a hoon that wants to cruise then this could be the bike for you. Get out there and head to your local Victory dealership and throw a leg over one but make sure it has the loud pipes as the standard ones sound piss-weak!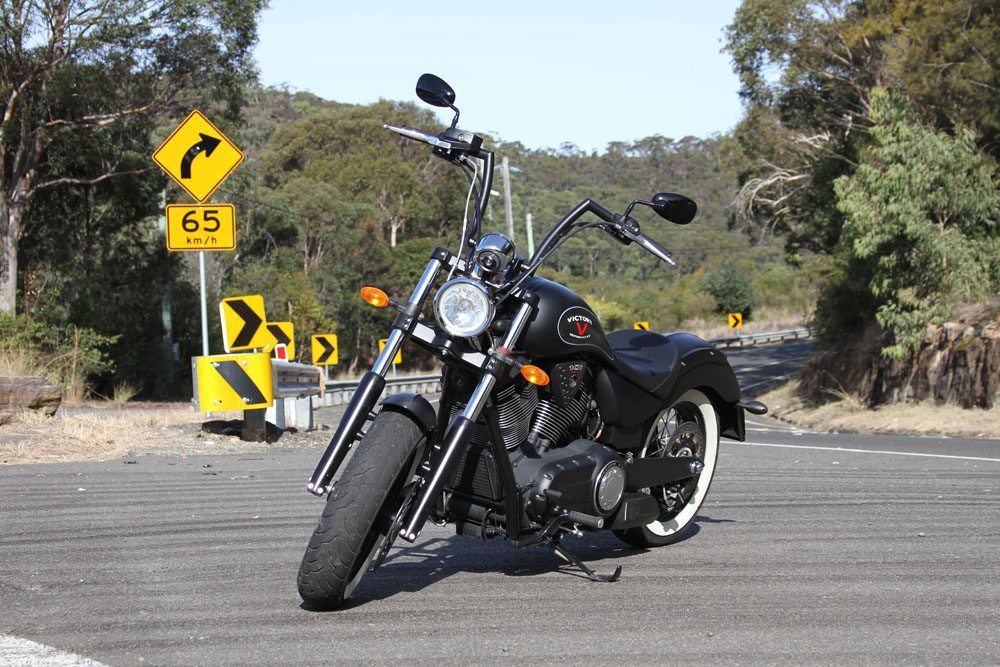 SPECIFICATIONS: 2017 Victory High Ball

Price: From $22,495 ride away
Warranty: Two-year
Colours: Suede Black with Silver Pinstripes

Claimed power: N/A kW[hp]@rpm
Claimed torque: 143Nm[106ft-lbs]rpm
Dry weight: 304kg
Fuel capacity: 17L
Engine: 106 Cubic in Freedom V-Twin, 1731cc 50-degree four-valve single-cam V-twin, 101 x 108mm bore x stroke, 9.4:1 compression, air/oil cooled, wet multi-plate clutch, EFI with 45mm throttle-body, slash-cut dual exhaust system, belt final drive, six-speed gearbox.
Chassis: Steel backbone, steel swingarm, alloy triple-clamps and controls, 32-degrees rake/170mm trail.
Suspension: Monoshock rear with gas shock, 75mm travel, 43mm conventional forks with 130mm travel
Brakes: Single 300mm semi-floating rotor and four-piston caliper (f), 300mm semi-floating rotor and two-piston caliper (r), conventional master-cylinder (f) and rear. 
Wheels & Tyres: Dunlop D421 White Wall tyre, 130/90-16in (f), 140/90-16in (r), spoked wheels. 
Dimensions:
Wheelbase: 1647mm
Seat height: 635mm
Overall length: 2372mm
Overall width: N/Amm
Instruments: Single central clock style display with analogue speed and digital rpm/multi-function display, white face background, chrome surround. 
JEFF'S GEAR: DriRider Jeans, Spidi Jacket, RXT helmet, RNT gloves, Sidi boots

2017 Victory High Ball Gallery
The Verdict | Review: 2016 Victory High-Ball
Loads of grunt and lots of grins!