The Victory Vision was a class leader from it's introduction, featuring the Freedom V-twin engine. Photography: Victory
While the Victory Vision may have only appeared in 2007 and become available in 2008 the story stretches a fair bit further back, all the way to 2000, when Victory first contemplating entering the luxury-touring segment, teaming up with Visteon to create a concept bike that Visteon could festoon with its advanced automotive technology.
The Visteon Vision would be displayed in a Victory store in Sturgis by 2001 but it wouldn't be till 2004 that the Victory team received project approval to start developing a luxury-touring model and by mid 2004 the project is further green-lighted to include the next generation Freedom engine.
The Victory Vision sets an interesting new record for parent company Polaris, as the vehicle with the largest use of plastic bodywork, even including its ATVs.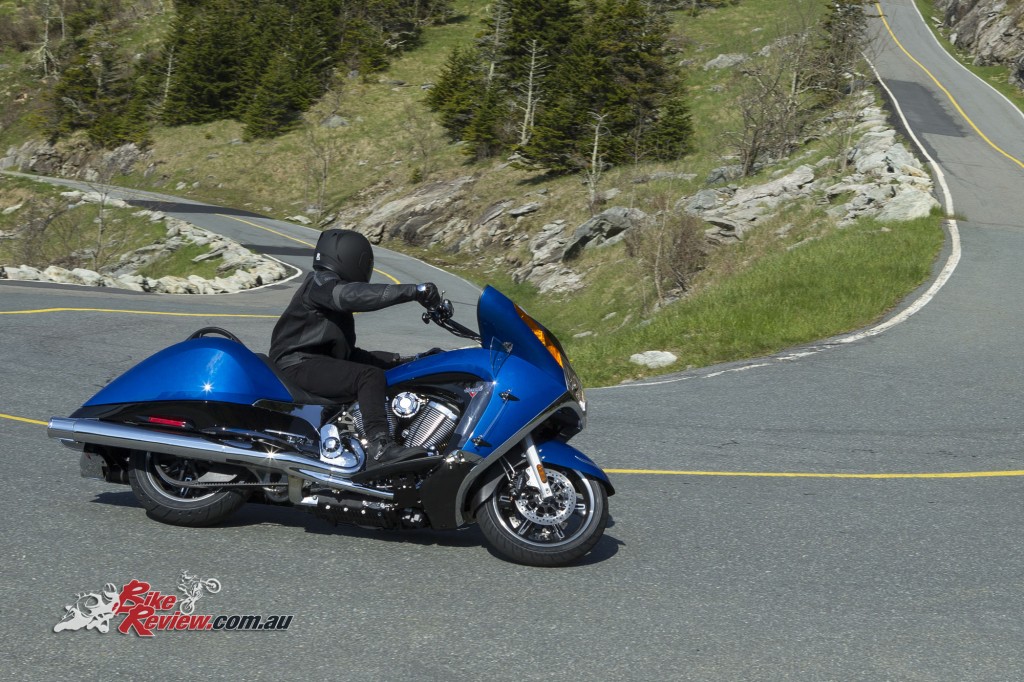 The Victory Vision would be officially unveiled at the International Motorcycle Show in New York, with customers able to place a deposit on the bikes for 2008, with a Street and a Tour version available, with the Tour including a hard baggage trunk for additional storage.
With 2008 celebrating Victory's 10th anniversary, the Victory Vision featured Victory's Freedom 50° V-twin, with a six speed transmission, adjustable rear suspension, plenty of storage – particularly on the Tour – and styling that was sure to turn heads, whether in surprise or awe.
Of particular note was the engine, proudly displayed among the sweeping lines of bodywork, as a true jewel on display.
Victory promised, "Handling and performance never found before on an American V-Twin tourer," which is a tall claim but specs included 43mm USD forks (46mm forks from 2009 onwards) with 130mm of travel, while a single mono-tube gas shock was mated to a cast aluminium swingarm with rising-rate linkage and featured preload adjustability.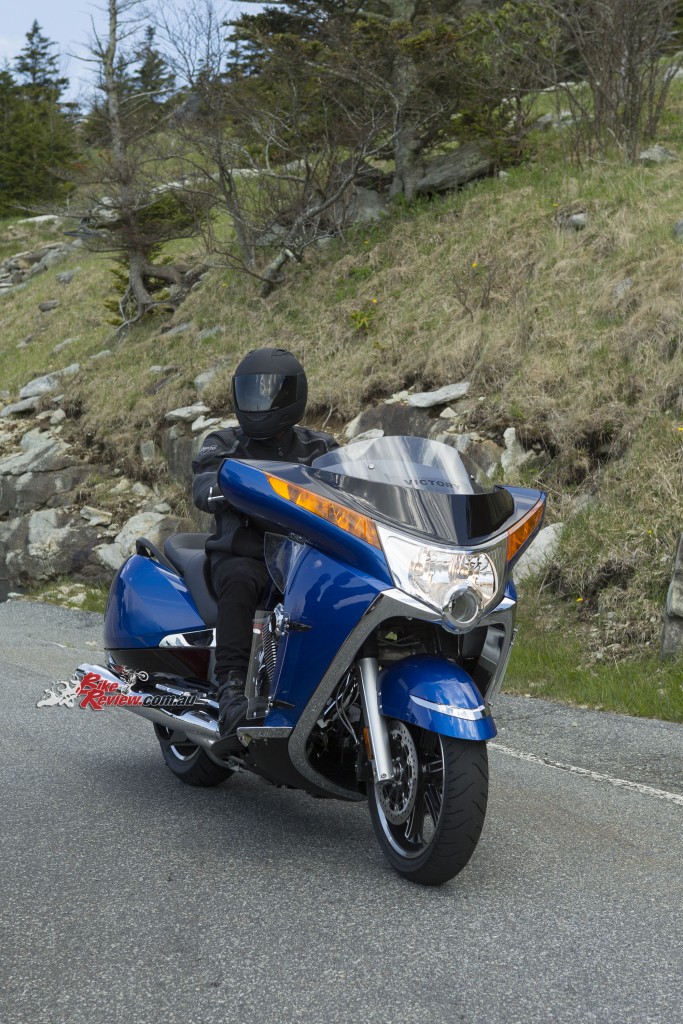 Brakes were three-piston calipers grasping 300mm floating rotors on the front, with a dual-piston caliper also mated to a 300mm floating rotor on the rear, with the Vision weighing in at 365kg all up, including a 22.7L fuel capacity. The Freedom engine was an air-cooled four-stroke, 50° V-twin, with four valves per cylinder and a capacity of 1731cc, or 106cu, with a bore and stroke of 101 x 108mm and compression ratio of 9.8:1.
Power was a reasonable 92hp, with 109ft-lbs of torque on tap, with the bike remaining relatively unchanged until 2011, when ABS would be added along with four-piston calipers to the front end.
2013 would further see the addition of heated seats and grips, cruise control and linked braking, with everything else remaining relatively unchanged.
The same is true of the 2015 model, with no major changes – a testament to the quality of the machine that Victory have developed, having seen so few changes over it's life so far, something certainly intended by Victory when developing the bike, in leading technology and development in the segment.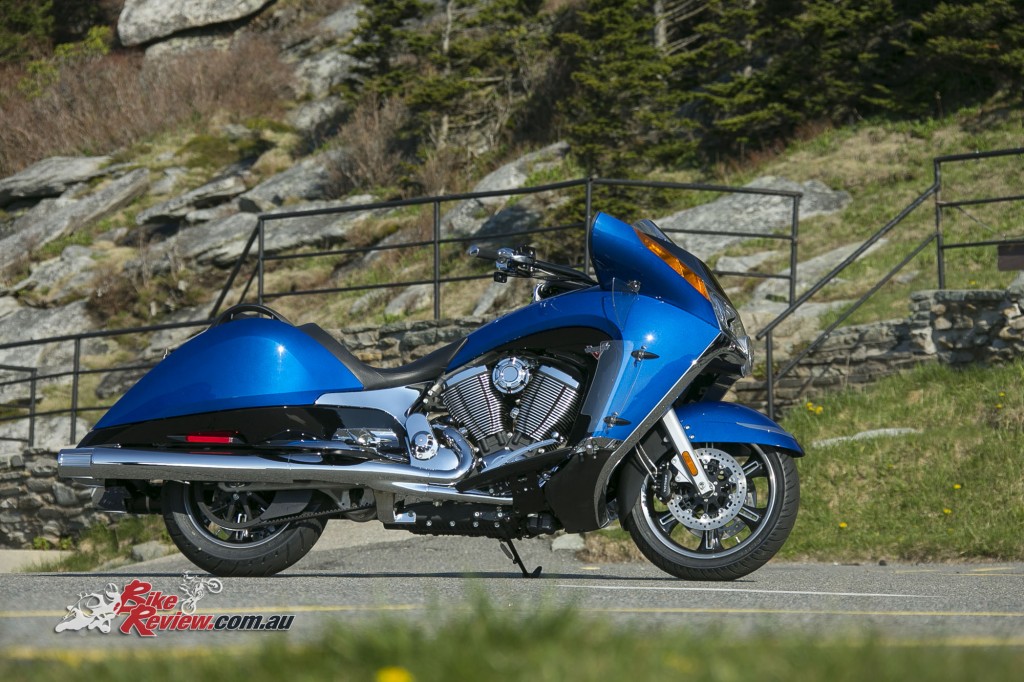 ENGINE
The Victory Freedom engine was a class leader when it first graced the Vision, with its four-stroke 50-degree V-twin taking a capacity boost over its HD competition, thanks to a bore and stroke of 101 x 108mm. Power and torque were likewise ahead of its main competitor, however since then the bike's powerplant has remained relatively unchanged.
It does feature SOHCs with four-valves per cylinder, self adjusting cam chains and hydraulic lifters, with dual 45mm throttle-bodies, with cruise control available on later models as standard. The Freedom also uses gear driven primary rather than a chain, to reduce maintenance and allow the torque produced to be transmitted, without effecting engine size, while keeping driveline lash tight.
Victory also maintained the engine-frame geometry of the earlier V92 engine, with the crankshaft aligned to the axles in order to handle and perform more optimally, with the offset of the crankshaft from the wheel centerline minimized, keeping the turning mass's centre of gravity close to the vehicle's centre of gravity – improving maneuverability. Final drive is a carbon-fibre reinforced belt.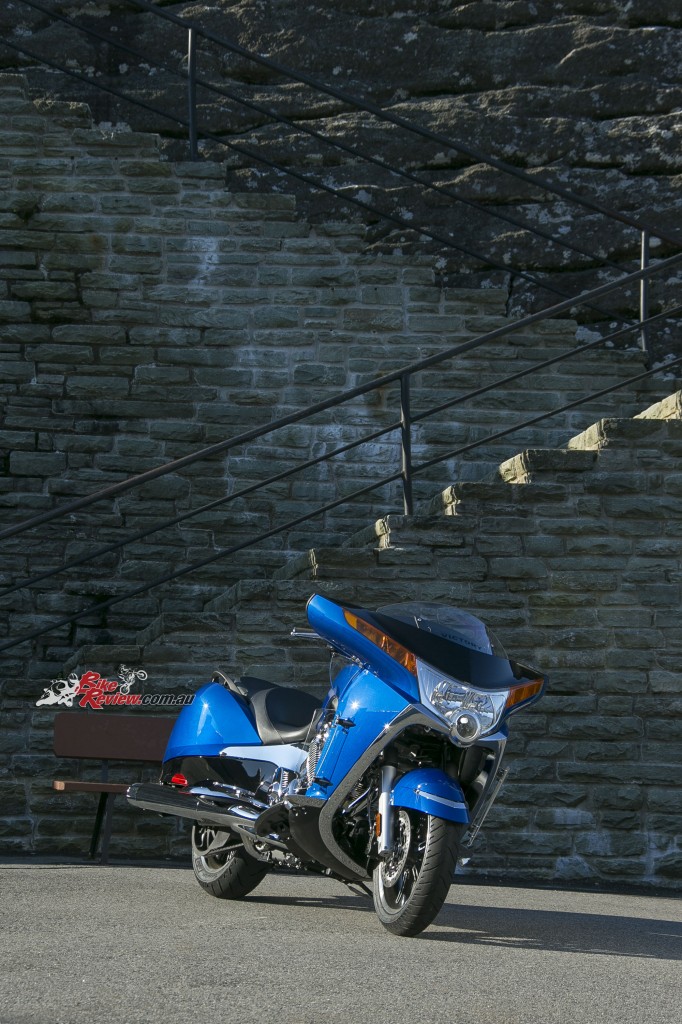 CHASSIS
The Victory Vision makes use of a three-piece cast chassis, comprising a main aluminium cast backbone frame through which the 11L airbox directs airflow to the engine, with the engine a stressed member allowing down tubes to be eliminated, while the rear sub-frame and swingarm are cast aluminium. This allowed Victory to keep weight down, saving 25 per cent over the previous frame setup used on the Vegas.
Forks are 46mm inverted units, while the rear is an air-adjustable single-shock with a constant rate linkage and air-adjustability. Travel is 130mm on the front and 120mm on the rear.
Brakes are a set of four-piston calipers on the front, grasping 300mm floating rotors, with a single 300mm rotor on the rear held by a two-piston caliper. ABS comes as standard and the brake system is linked. The front wheel is a 3.50 x 18in item and the rear a 5.00 x 16in item, with 130/70 – 18 and 180/60 – 16 tyres. Total weight is 386kg dry, with a 22.7L fuel capacity. Seat height is a low 673mm but the wideness of the seat slightly offsets that figure.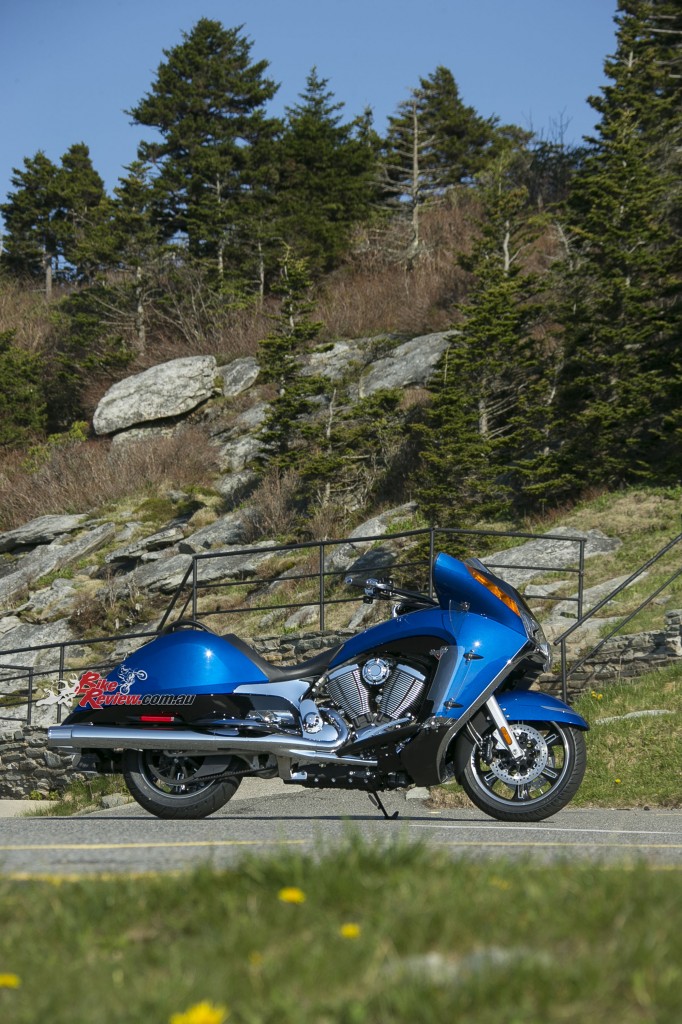 STYLING AND ELECTRONICS
The Victory Vision uses a closed loop EFI system with dual 45mm throttle-bodies, with cruise control as standard, along with ABS. Other standard features include heated seats, which can be set separately for rider and pillion, as well as heated grips.
Styling is unique with the Victory Freedom V-twin contained within full wrap-around fairings that help accentuate the massive donk, not to mention providing huge air-flow protection to the rider and impressive storage room, although the panniers are renowned for holding a relatively small amount, with the rear case providing the majority of storage space, being able to hold two full face helmets. The screen is also adjustable to suit a larger variety of rider heights.
On either side of the tank are also storage areas with a 12V socket and connection for the audio system, with the fuel cap hidden under the other.
SPECIFICATIONS: Victory Vision 
Claimed Power: N/A
Claimed Torque: 146Nm[108ft-lbs]
Dry weight: 386kg
Fuel Capacity: 22.7L
Engine: Air-cooled, Freedom 106 50° V-twin, 101 x 108mm bore x stroke, 1731cc, 9.4:1 compression, EFI, dual 45mm throttle-bodies, split dual exhaust with crossover
Gearbox: Six-speed
Clutch: Wet, multi-plate
Chassis: Cast aluminium backbone frame, sub-frame and swingarm, Rake: 29°, Trail: 137mm
Suspension: 43mm USD forks, single mono-tube shock, constant-rate linkage, air adjustable
Brakes: Linked, ABS, dual 300mm floating front rotors, four-piston calipers, 300mm floating rear rotor, two-piston caliper
Wheels & Tyres: Six-spoke, 3.50 x 18in, 5.00 x 16in, 130/70 – 18, 180/60 – 16
DIMENSIONS:
Wheelbase: 1670mm
Seat height: 673mm
Overall length: 2702mm
Instruments: Dual analogue gauge, digital display